A simple Grilled T-Bone Steak is an amazing meal. Join as we explain the difference between a T-Bone and a Porterhouse, and the best way to cook a T-Bone.
Looking for how to set up the grill with charcoal? Check out our summary of how to grill using the two-zone method.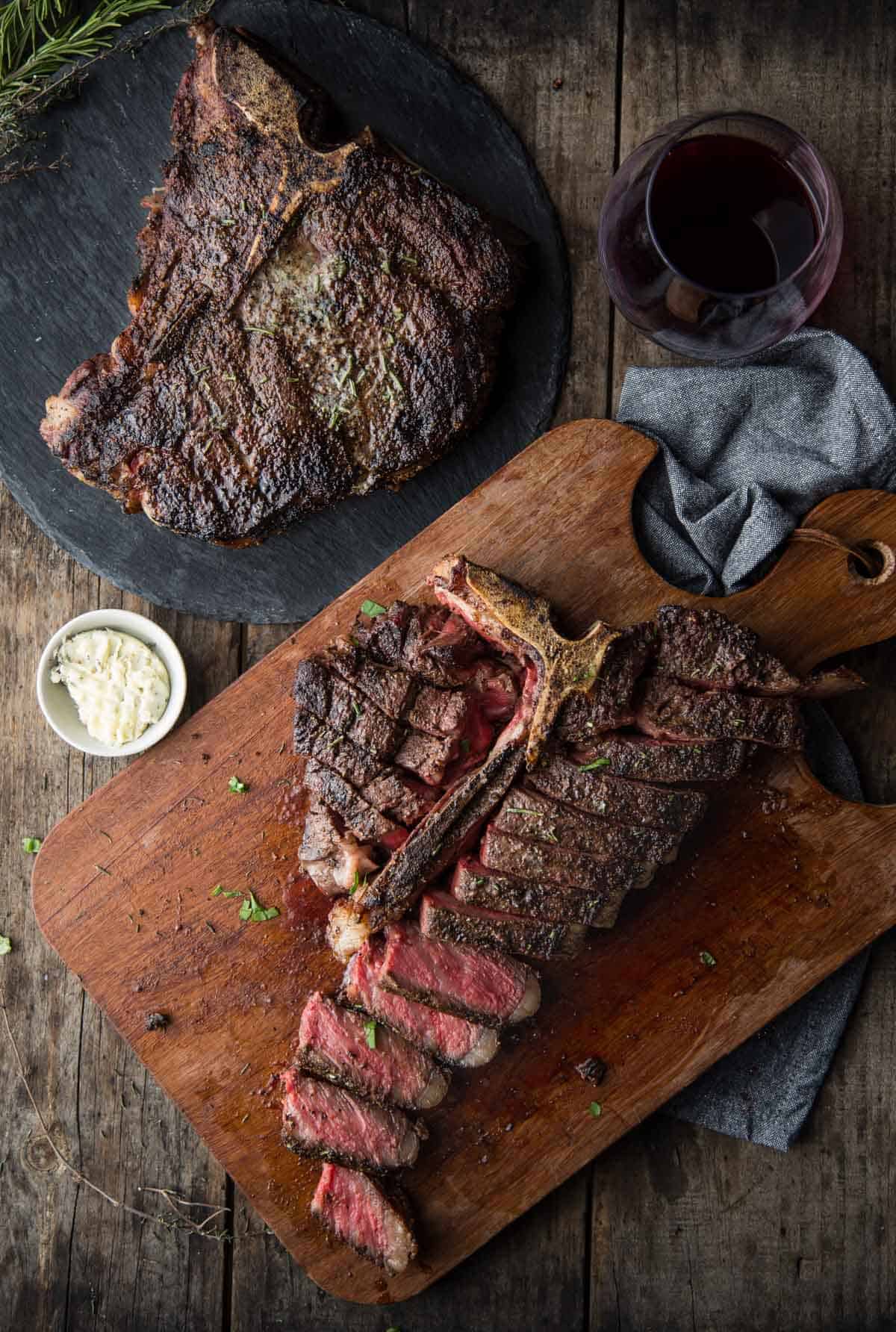 Jump to:
Porterhouse Versus T-Bone
They are the same steak from different ends of the short loin. The cuts are made up of the strip loin (NY Strip) as well as the tenderloin. They are left attached to the T-shaped bone, giving the best of two amazing cuts.
The Porterhouse is the larger of the two cuts and has a more distinct tenderloin as it comes from closer to the rear of the cow. Because the T-Bone is further toward the front of the short loin, there is a much smaller portion of the tenderloin as it tapers off. Technically for a T-Bone the tenderloin cut needs to be between .5 inches and up to 1.25 inches. Over 1.25 inches you are in Porterhouse territory.
Where to get the Steaks
If buying locally, be sure to look for marbling, or the white deposits in between the meat. And if you are wondering about rating quality you can see a summary in our article about Choice vs. Prime.
Online purveyors of steaks will occasionally have T-Bones like Snake River Farms, Double R Ranch for Choice and Prime, or D'Artagnan for small farm focused meats. In the end, any local butcher should have these cut up for you.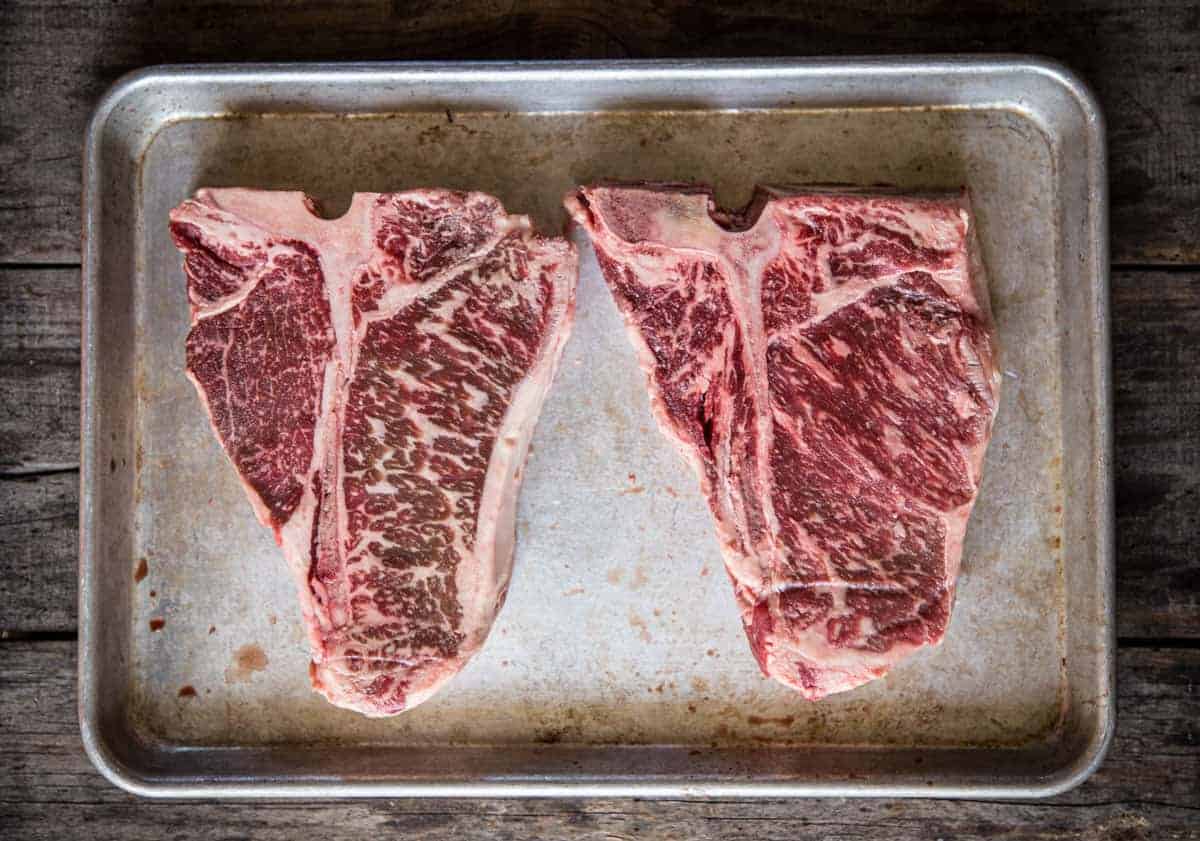 Grilling Versus Oven
You can certainly cook the T-Bone by searing in a pan and finishing in the oven like a restaurant. But if you want to know how to cook a T-bone steak for the most flavor, it has to be grilled. The reason is the rich flavor that comes from lump charcoal and the high heat sear you can get is tough to replicate using a pan and an oven.
Should Steak Come to Room Temperature Prior to Grilling?
No. There is a debate as to whether you should have your steaks come to room temperature prior to grilling. The idea is that it allows the steak to warm and sear better. Frankly you will get a negligible change in the internal temperature by letting them rest and increase the likelihood of foodborne pathogens.
How to Grill a T-Bone Steak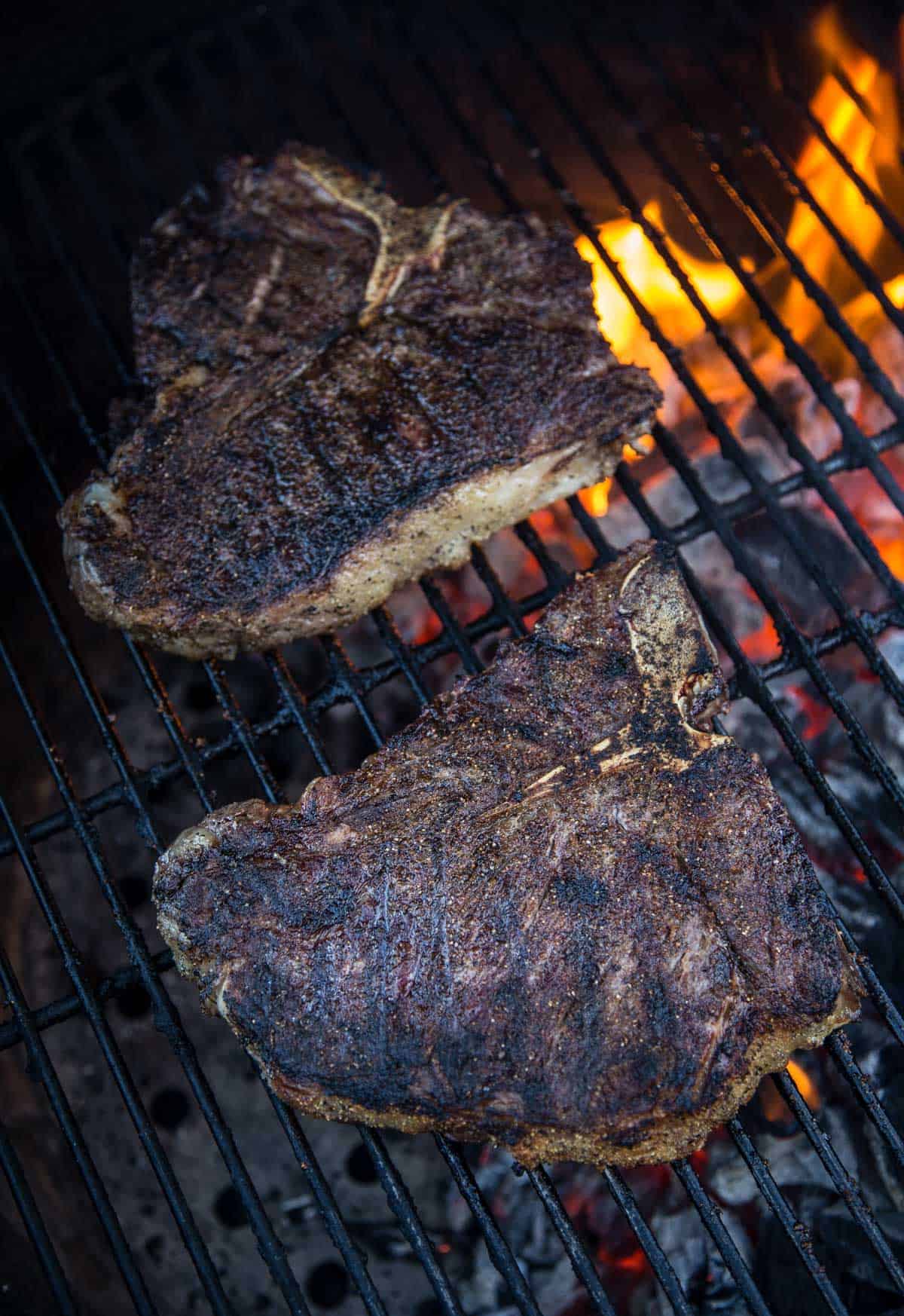 Prepare a grill for two zone cooking. This allows one side to be searing hot, targeting 500 degrees Fahrenheit over the direct side, and then to have a side without charcoal, making it easier to finish the steak and not burn the outside.
Add a light coating of extra virgin olive oil. Season the steak simply with equal parts kosher salt, coarse black pepper, and granulated garlic (not garlic powder or garlic salt).
Grill the steak over direct heat, roughly 3-4 minutes or until a nice crust develops.
Flip the steak over direct heat and sear the other side another 3 – 4 minutes or until a nice crust develops, and then move the steak over indirect heat.
Finish the steak over indirect heat until the internal temperature of the steak is at your desired doneness. Use a high quality instant read thermometer like the Thermoworks MK4 Thermapen to get an accurate read of the temperature.
Let the T bone rest for 10 minutes and then serve for two, or cut up and serve.
A note about taking the temperature of the T-Bone. We check the temperature in both the strip and the filet. However, we tend to pull the steak when the filet is at our desired temperature because it is leaner and will tend to come up in temperature faster. This is based on personal preference but something to note as you cook this awesome cut.
Chef Steak Temperature Ranges
Rare: 120-130 degrees F
Medium Rare: 130-140 degrees F
Medium: 140-150 degrees F
Medium Well: 150-160 degrees F
Well Done: 160 degrees F (and not recommended)
Modifications
You can always reverse sear the steak for even more flavor. Another way to add flavor is to use a compound butter. Simply add spices and herbs to room temperature butter and place on the steak as it rests.
Wine Pairing for T-Bone Steak
Something big and red works for grilled T-bone steaks. Cabernet Sauvignon is a standard and great go-to for this cut. A bolder style Merlot also works well. For an affordable option check out Malbec. Or this is also a good opportunity to open that Barolo or Sagrantino di Montefalco that you've been saving for the right occasion!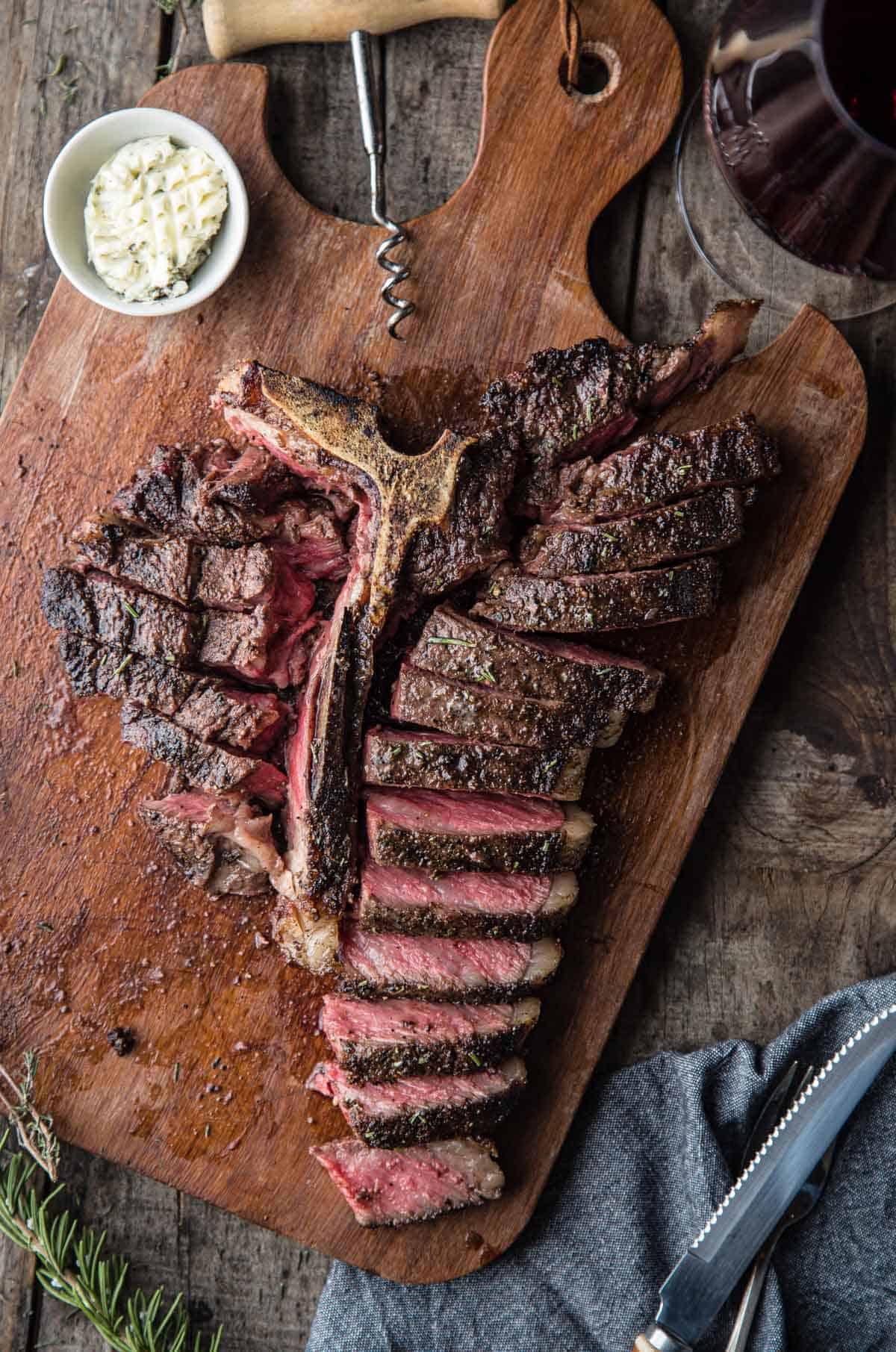 If you are looking for more steak inspiration head over to our steak roundup.
Sides For T-Bone Steak
This post may contain affiliate links. This means if you click on the link, we may receive a small commission if you purchase through the link. We partner with brands we know and love and use and it helps keep the blog going!
---