I like to review wines the way most people taste them, with food. Many of the wine reviews you'll see on this site are accompanied by a recipe. When we test recipes we usually open a few different wines of various styles that we think will work, then write about the best pairing.
But often we taste wines — either those sent as samples for review or those we purchase on our own – that are definitely worthy of mention even though they weren't part of a recipe post. These wines below fit that bill.
I'm not gonna lie, we've had the best October (weather wise) EVER here in the Portland area. The weather has been ridiculously fantastic all month, with the exception of a few days here or there. It's crisp in the mornings, warm and sunny in the afternoons. Perfect for so many different styles of wines, which is why you'll see various styles that we've been drinking this past month.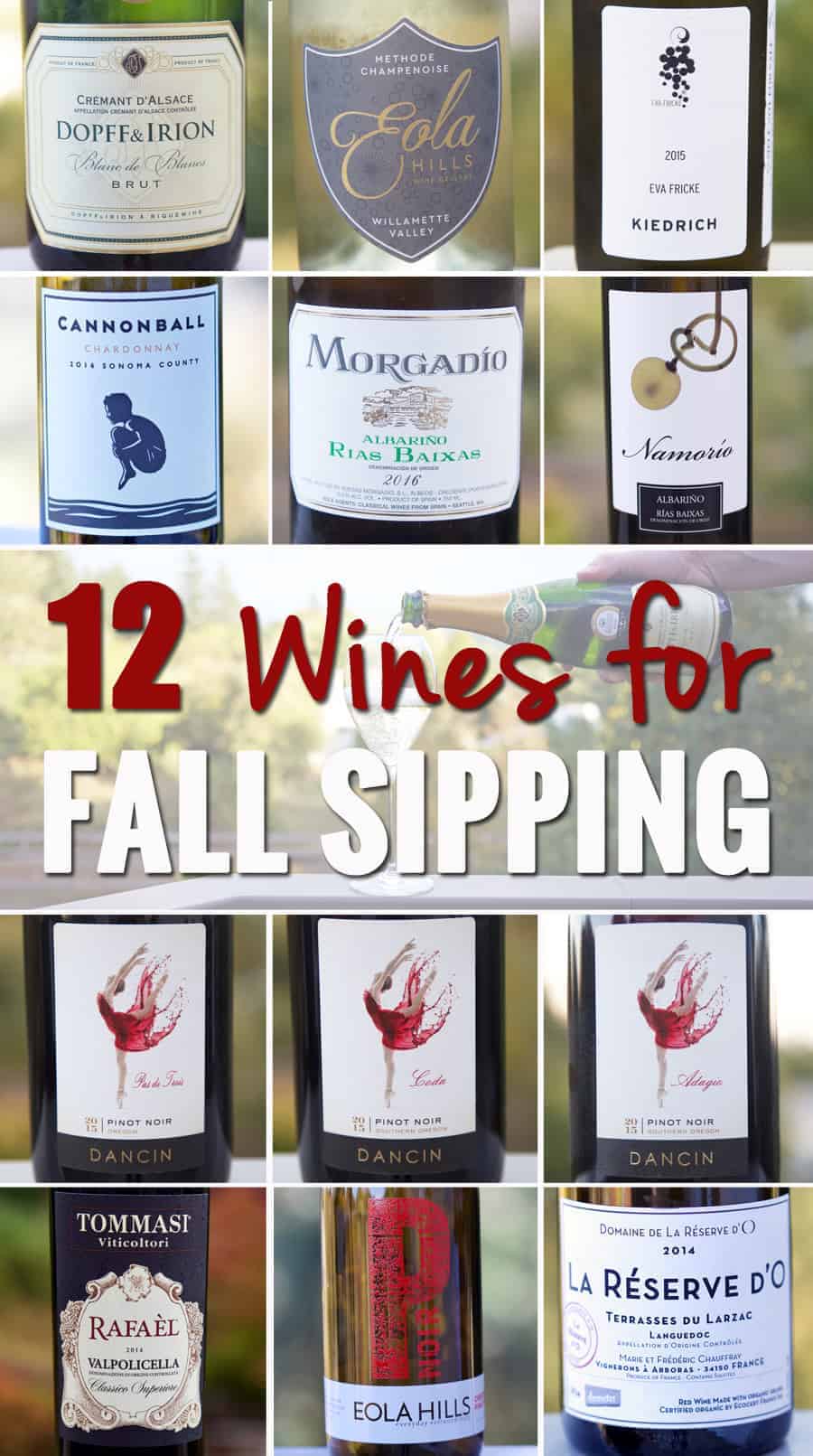 NV Dopff & Irion Blanc de Blancs Brut Sparkling (Crémant d'Alsace, Alsace, France)
Bright and fruity with lots of flavors that reminded me of fall and apple cider (a little spice, crisp apples as well as baked apples), and a touch of fresh brioche and baked pears. Vibrant and fruity, yet has that touch of intriguing fresh bread. 12% abv | $20
2015 Eola Hills Sparkling Chardonnay (Willamette Valley, Oregon)
Sweet lemon flavors mixed with baked apples and a kiss of brioche and spice. Quite savory, and lingers on your lips. Really nice! 12.1% abv | $30
2015 Eva Fricke Kiedrich Riesling (Rheingau, Germany)
This delicious Riesling from the Rheingau in Germany has gorgeous tart green apple, lemon zest, and a stony/steely minerality. It all works so great together with a dry and crisp finish. I could drink this style Riesling every day. 12% abv | $20
2016 Cannonball Chardonnay (Sonoma County, CA)
Easy drinking and approachable. A little apple, a little honey, and touch of citrus. Not overly oaked. Nice everyday Chardonnay 13.7 % abv | $15
2016 Morgadío Albariño (Rías Baixas, Spain)
Really like this! Great fruit with a mix of citrus (lemon, lemon peel, and grapefruit) along with some tropical notes and a hint of minerality (almost flinty-ish). Bright and juicy with balanced acidity. 12.5% abv | $19
2016 Valdamor Namorio Albariño (Rias Baixas, Spain)
Quite ripe and fruity with bright tropical flavors (pineapple, passion fruit), with a touch of honey and melon. Balance of creaminess and crisp acidity. We paired it with a kuri squash soup (similar to butternut squash but with loads more flavor) and it was an excellent match! 13.5% abv | $12
---
The following trio from DANCIN Vineyards was quite interesting to taste side by side. All 100% Pinot Noir, and each has fruit selected from different vineyard sites and some with a mix of clones. While all were similar in many ways, they each had their own intricacies making them unique, and making geeks like me intrigued.
2015 DANCIN Vineyards, "Pas de Trois" Pinot Noir (Oregon)
Made from the Dijon 777 clone from three different vineyards sites, this one was aged for 11 months in 27% new French oak. This one stood out for its darker and more concentrated fruit (some red, some black berry, and even blueberry), with some great baking spice notes (cinnamon stood out), and a hint of vanilla. Nice balance of tannins and acid on it as well. 13.3% | $37
2015 DANCIN Vineyards, "Coda" Pinot Noir (Southern Oregon)
The fruit in this one was a blend of Dijon and Pommard clones from their Estate Vineyard in Southern Oregon. This one stood out for its spice and perfumed nose. It had some high-toned red berries (lots of cranberry, red and black cherry), and struck me as bigger than the first one. I liked this one a lot. 13.5% abv | $37
2015 DANCIN Vineyards, "Adagio" Pinot Noir (Southern Oregon)
This one was made exclusively with the Wadenswil 2A clone grown on their estate vineyard and aged for 11 months in 47% new French oak. This one had a tartness that stood out. Tart red berry fruit that opens up nicely to creamy vanilla and rich cherry flavors along with some savory herbs and spice. A bigger style for an Oregon Pinot, but I quite liked it for this style. 13.5% abv | $37
2014 Tommasi Rafaèl Valpolicella Classico Superiore (Veneto, Italy)
Tasty with bright red berry fruit (lots of strawberry, cherry, cranberries), and a touch earthy along with some herbal notes. It opens up to some almost cherry menthol flavors on the palate with some stewed notes (almost like slowly stewed tomatoes, but better), some leather and spice. Pretty versatile wine and could pair with a charcuterie board but also works great with rich tomato sauces or even a roast. 12.5% abv | $15
2015 Eola Hills Pinot Noir "Everyday Extraordinary" (Oregon)
As the subtitle of this name suggests, this is quite a delightful under $20 Pinot Noir. It has nice strawberry and cherry fruit, some mild herbal tones, and good acid balance. I've seen it for around $14 on sale, and for that, it's a great deal for a Pinot Noir of this quality. 13.4% abv | $19
2014 Domaine de La Réserve d'O "La Réserve d'O" Terrasses du Larzac (Languedoc-Roussillon, France)
From southern France, this wine is made from a blend of 45% Syrah, 45% Grenache and 10% Cinsault, and is really nice from the beginning, but gets even better as it has some time to open up. It has abundant mix of both ripe and concentrated berry fruit, lots of spice, and a touch of minerality. It's savory, balanced, has bright acidity, and lots of intrigue. Lots to enjoy with this wine! 14% abv | $31 (but can be found as low as $20)
---
*Most of these wines were were media samples for review. See my sample policy here.
---