I must confess something. Gewürztraminer is something I've never had any interest in. I'd even go so far to say it was my least favorite wine ever (whether a stand alone wine, or blended in with other grapes). Key word = "was"
My problem with many of the Gewürztraminers I've had over the years is their tendency to be oily, sweet, and über floral. I'm talking potpourri floral. Like the fake stuff you'd buy at the dollar store, or what you might find in your friends bathroom back in the 80's as an air freshener. Those are the worst offenders. And I've had so many examples that are too sweet and unbalanced. Unless I'm in a multi-course meal that specifically has a dish to pair with a sweet wine, it's usually not something I pour for myself or order at a restaurant. I prefer to keep 'em dry.
That being said, I was reluctant to open a bunch of Gewürz that had been piling up. But after a certain Steven Thompson, co-owner and winemaker of Analemma, gave me a bottle of his 2013 Atavus Gewürztraminer from the Columbia Gorge, promising that it's not yo mama's Gewürz (not his exact words), I finally opened them all up. Steven had already won me over with his impressive sparkling rosé, so I had to give his Gewürz a shot. Hot damn, way to prove a girl wrong!
Though Gewürztraminer originated in Germany, you'll find examples all over Europe (mostly France and Italy outside of Germany), and has made its way to the New World. Incidentally, the versions I liked most from this recent tasting were the New World examples as well as two Italian stand outs.
Food Pairing for Gewürztraminer
Most will recommend Thai and other Asian-style cuisines for Gewürztraminer. This is because of intense aromatics and spice notes that will mimic those found in the cuisine, and often, a bit of residual sweetness that will help cool the palate from any spice. These examples below go far beyond those pairing recommendations.
I held a Gewürztraminer tasting of all the samples I had been provided with. Some were winners, and some were the perfect example of why I've always steered clear of the floral-y wine.
These were among the favorites.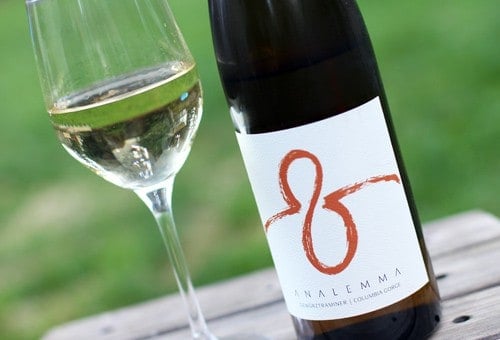 Analemma Atavus Gewürztraminer 2013 (Columbia Gorge, Oregon)
The grapes from this wine came from nearly 50-year-old vines in the Columbia Gorge region (a region that straddles both the OR and WA sides of the Columbia River). This is not your super floral or oily wine at all. The first things I noted were more citrus tones, lime, crisp pear, some herbal notes, and then some mild floral undertones hidden underneath. Crisp and clean, instead of oily and heavy, not a sip of this wine went down the drain. This would be great with a wide variety of foods, like light salads, grilled white fish, or just sipping alone. Nice job. 13.2% abv | $27 (media sample) | Find the wine here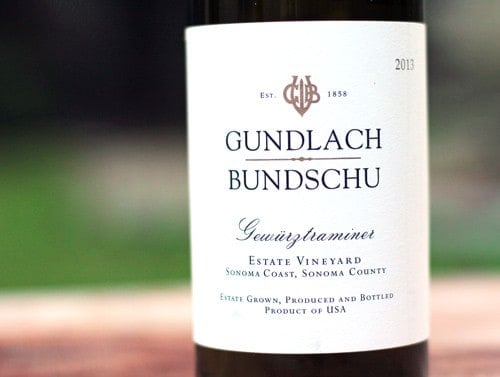 Gundlach Bundschu Gewürztraminer 2013 (Sonoma Coast, California)
Very fresh, with slight floral notes, the predominant flavors are dry spice notes (cloves, allspice, pepper), citrus, grapefruit, and lychee. The palate feels slightly rich, with a touch of residual sugar, but finishes clean and crisp. No oily residue to be found. I had this with some smoked cuban sandwiches (recipe coming soon) and it was a fantastic pairing. I'd also like to try this with a roasted chicken. 14.3% | $22.50 (media sample) | Find here
Elena Walch "Kastelaz"Gewurztraminer Alto Adige 2012 (Trentino-Alto Adige, Italy)
Very honeyed aromas on this one along with some lush tropical fruit and Meyer lemon, and a little weighty and rich on the palate. Far cry different from the first two New World examples, as this one is more rich and textured, but still pleasing. This strikes me more as the one you want to bring to Thanksgiving dinner or pair with the traditional Thai cuisine. 14.5% abv | $32 (media sample) | Find here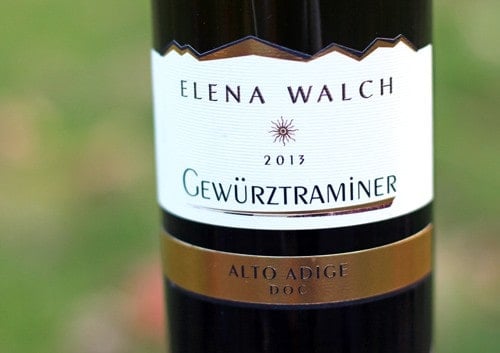 Elena Walch Gewurztraminer Alto Adige 2013 (Trentino-Alto Adige, Italy)
Alternatively, another from the same producer as the one directly above, this example is very different. Lighter, more fresh, with more of a citrus focus (less floral). This one is bright with some mineral and savory characteristics. Quite pleasing. For my palate I'd chose this one to drink by the glass, sans food, and the one above with a hearty meal. 14.5% | $20 (media sample) | Find here
There was a time when anyone would ask me if there was a varietal I couldn't stand, I used to say Gewürztraminer. I still never order it at a restaurant. But I'm slowly becoming more and more curious knowing there are more and more talented winemakers out there really showing what it's capable of. And I am sure that if I went to the mother country of this varietal my eyes would be opened much further, as there would be many producers with wines that likely never make here to the US. So I am always willing to give it a shot. Never say never.
---
Mary (a certified sommelier and recipe developer) and Sean (backyard pitmaster) are co-authors of the critically acclaimed cookbook, Fire + Wine, and have been creating content for the IACP nominated website Vindulge since 2009. They live in Oregon on a farm just outside Portland.