By contributing writer Sean, aka "the hubby"
Um, it costs how much?
That was my initial response when challenged to understand the unique flavor of dry-aged beef. I've had it in restaurants, but you come to expect big prices at a big meat house. But buying it raw from a local butcher? I had to understand why. Why does dry age carry such a premier label and price tag to it?
But first, I had to find it. I realized, even in a foodie town like Portland, OR you have to go out of your way to locate this elusive meat. No, it's not available at your average grocery store or butcher. So after a few internet searches and phone calls I was able to find the Whole Foods, downtown Portland location, that proudly featured this unique cut of meat. There were others too, but Whole Foods was the closest to me. And with Portland's horrendous traffic I wasn't about to trek an additional 15+ miles for a piece of meat.
So, what is this so called "Dry-Aged" meat you speak of?
Dry-aged beef is beef that has been hung or placed on a rack to dry out for several weeks (usually a minimum of 4 weeks, or 28 days).
Why is it so expensive?
Well it seems that only your higher grade meats (higher marbling content) make it to the dry aging process. So naturally more money. Then there is the hardware. Coolers that keep the temperature very precise and can hang a side of beef (or three) for 28 days or longer take up space. In this case I seriously thought it was as big as our first apartment in San Francisco. Lastly, and I assume this is the case, the yield for the butcher is much smaller than a non-aged cut because as it ages it loses water weight.
So what actually happens when dry aging?
Simply put, while hanging in that case, the beef moisture evaporates and the exterior forms a crust of enzymes or mold that tenderizes (and increases need for trimming). This loss of moisture does not mean your finished product is dry; instead what I found was the aging and drying intensified the "meatiness" of the cut and allowed the marbling (or fat) to really pack a punch for flavor. Basically the loss of moisture concentrates the meat flavor, the longer the aging, the more concentrated it becomes. A food scientist can probably elaborate more on the natural tenderizing process, but realizing what was actually happening was good to know, especially as I learn to appreciate the high price tag.
While at Whole Foods the butcher told me the two most common cuts were the strip and the ribeye. So of course I went ribeye. $50 later (for two 28-day aged pieces) I was on my way home to get my grilling on.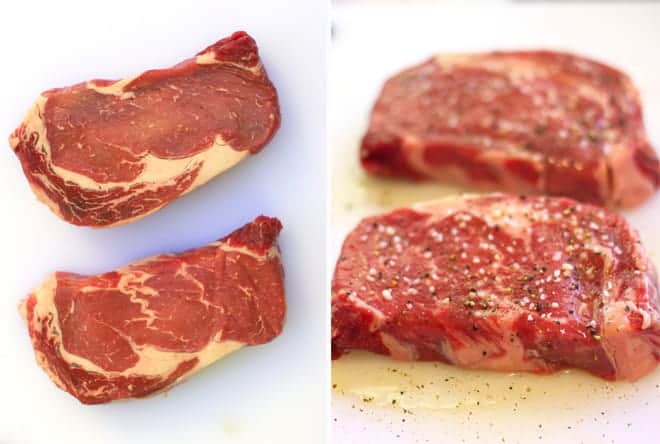 (the cut of meat we bought — 28-day dry-aged ribeye)
I fired up the grill and prepared the meat. I wanted simple, primarily because I wanted to taste the beefiness of the meat (I paid $50 for it after all, why the hell would I douse it in a sauce detracting from its flavors?!). So basic olive oil, salt and pepper. I also let the meat come to room temp, which I rarely do, but in this case I figured, why not.
So lesson learned number one, keep any added flavors simple.
Do I cook it at direct heat? Indirect heat?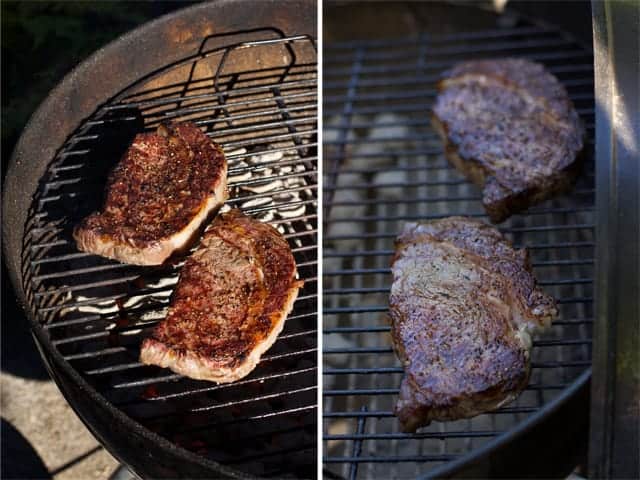 I elected for a direct heat at a high temperature to lock in a nice sear, then a minor amount of time on indirect. Why? Most of what I read mentioned that dry-aged beef tends to cook faster, so I wanted to get a quick sear outside and then if needed, finish the internal temp and avoid burning the meat. This definitely turned out to be the case and due to such a lower moisture content it needed much less time to come to temp.
Lesson number two was reducing grill time to avoid overcooking.
Finally I let it sit, as I would any meat, which was definitely needed to allow what moisture it did have to redistribute. I served it with some basics, a nice black bean and grilled corn salad and grilled baby broccoli. The wife encouraged me to do a chimichurri sauce, but I wanted to utilize some of the produce we recently cut from our garden. Plus, I thought a chimichurri would take away from the flavors of the meat, and perhaps conflict with the wine she chose.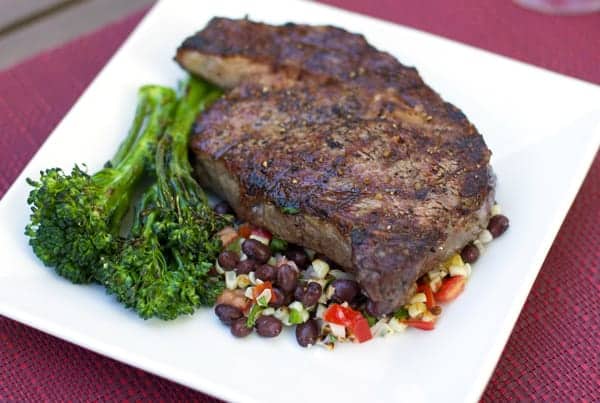 The verdict?
I definitely saw a texture difference when cutting into the finished product; it was juicy but not too much. The meat was cooked to a medium rare and, when cut, was like butter. The flavor was richer, accentuated by the salt and I definitely agree with the beefiness characteristic. Everything about it was richer in flavor and texture.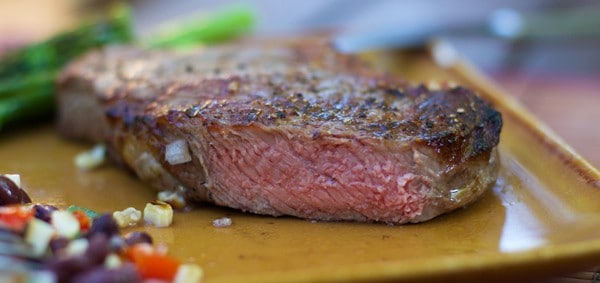 Next time I see a dry-aged steak on a menu, I will have a new found appreciation for the process in which the beef is flavored. And for $50.00 for two decent size pieces of ribeye, I am not exactly saving money by trying this at home. However, just telling a neighbor who asks what was on the menu tonight and my response of testing out a 28-day dry-aged ribeye on the grill? That was pretty cool and the flavor exceeded my expectations, even if the price tag did also. Worth it.
WINE PAIRING
(Where Mary, the author of this site, gets to chime in and add her two cents… or rather two wine pairings)
For this experiment I thought it would be fun to pair this unique, high-quality meat, to a unique, high-quality red wine, Amarone, while also comparing it to a more common pairing, Cabernet Sauvignon.
What is Amarone?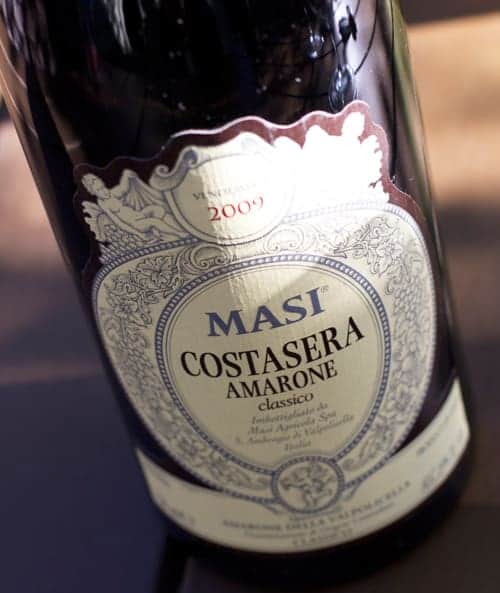 Amarone is dry red wine made from dried ("passito") grapes, produced in northeastern Italy's Veneto region.
How Amarone is Made?
Amarone wines are made from carefully selected bunches of indigenous Italian grapes (primarily Corvina, Rondinella, Molinara). Once picked these grapes are spread out on mats and left to dry out (and dehydrate) before fermentation. This process can take anywhere from 3 to 4 months leaving the grapes looking more like raisins by the time they go through fermentation.
The result is a dry, full-bodied, wine with deep concentration and high alcohol.
Though the traditional method was to dry the grapes out on wooden racks, today's producers often use temperature and humidity controlled rooms to dry out the grapes to ensure quality control.
So why are they so expensive?
These wines start at around $50 and go up from there.
Just like dry-aged beef, this is a time consuming process, beginning with the most high quality grapes, and requires time, separate equipment, and lots of space for the grapes to dehydrate. Since the grapes will have lost nearly half their weight, it will require twice the amount of grapes to make a single bottle.
Basically Amarone is the dry-aged beef of the wine world.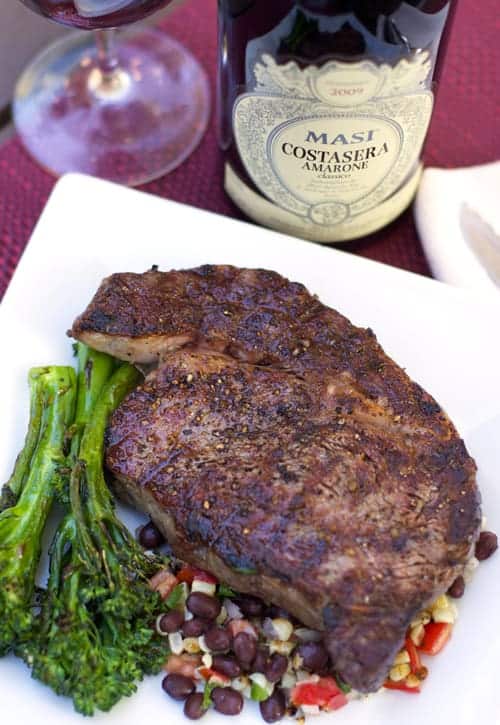 2009 MASI Costasera Amarone della Valpolicella Classico
Region: Amarone della Valpolicella Classico DOCG, Italy
Grapes: Corvina, Rondinella and Molinara
15% abv | $62 (media sample)
The wine has a very rich and intense nose. Not raisiny, but intense with some plum, baked dark fruit, dried herbs, rich cherry, and cocoa aromas. More intensity follows in the mouth, with concentrated plum, chocolate, with an exciting amount of acidity. As the wine opened it developed more savoriness on the nose and the plum flavors evolved.
It was fantastic with the meat. The juiciness of the tender meat mellowed out some of the intensity of the wine. I was worried about the corn salad, but it really didn't conflict with it at all, perhaps it was the lively acidity in the wine that balanced out the sweet and acidic salad? This is definitely a wine that needs a cut of meat like this to balance everything out.
What about the Cab?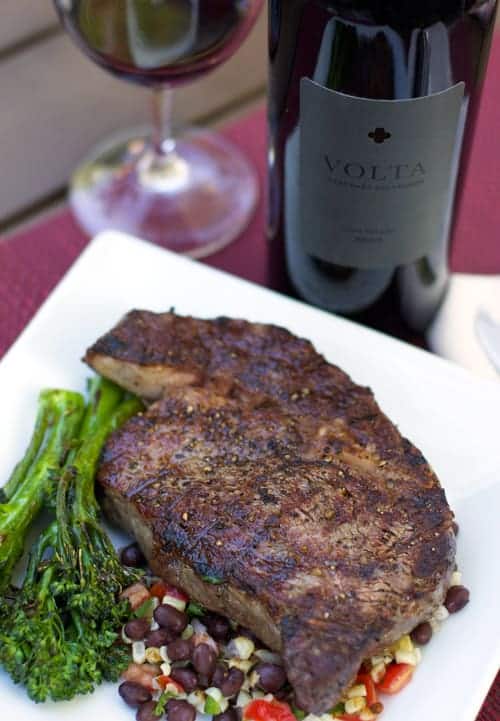 2009 Volta Cabernet Sauvignon Mission Ridge Vineyard
Napa Valley, California
14.5% abv | $60 (media sample)
Volta is a boutique producer of single vineyard Cabernet Sauvignon from Napa Valley.  This gorgeous Cab opened with lots of rich aromas of black berries, black cherry, plum, mint, with sweet (but not intense) oak. Lots of concentration of the dark berry fruit with some herbal flavors and chocolate in the mouth. The wine is big, yet well structured, in the mouth with velvety tannins that were well integrated (not in your face!). Lovely lovely wine!
Like the Amarone, the steak really balanced out the big berry flavors of the Volta Cab and the tannins were softened. The richness of the wine would hold up well with a glaze or sauce, but was certainly a great match for the simply prepared steak, especially with the charred smoky pieces on the outside.
 *****
Both examples were spot on pairings with this steak. The Amarone, given its uniqueness, and the uniqueness of the cut of meat, had to be the winner though, if I had to choose.
About the author:

Business by day, BBQ by night. Father of twin toddlers. Husband of the author of this awesome blog.  Fan of PBR.

*****
Want More?
For some grilling and BBQ recipes check out the recipe index.
Don't want to miss anything in this BBQ Basics series?  You can subscribe to Vindulge and have new posts delivered directly to your inbox.