Back in the day (read before-twins) I started a series about the region of Bordeaux (part I and part II), with the intention of doing a part III shortly thereafter.  Well, then I went and had my babies and my life was shifted into high gear and thus the series was put on the back burner (yes, these things happen).
Recently, however, I participated in a twitter tasting of all Bordeaux wines, all white and rosé wines in fact, and it prompted me to continue what I started.  I was motivated to do this because I'm still meeting people who have this idea that Bordeaux is only about red wines.  Yes, the majority of the wines produced, and certainly the most famous, are indeed red.  There are some fantastic whites produced as well, not to mention dessert wines (but alas, those will have to wait for another day).
If you have read the previous installments in the series, you may remember from part I we discussed the basic facts about the region, grapes, and wines.  In part II, we discussed some of the most important appellations of the region, the famous Grand Crus Classé (Great Classified Growth) wines from the 1855 Classification system and what makes them so special, and also explained how to read a Bordeaux wine label so you know what you're getting yourself into.   If you need a refresher please read part I and II here.  Don't worry; I'll be here when you return.
Which brings us to part III: (which I have taken the liberty of changing up the topics a bit)
The white and rosé wines of Bordeaux & How to find good values
In addition to the more famous red wines of the region, Bordeaux does make a rather large amount white and rosé wines. Both sweet and dry white wines are made in the region.  The most famous are the sweet wines from the regions of Sauternes and Barsac (though this style will be saved for a later segment).  Most of the dry white wines of the region are blends of Sauvignon Blanc, Semillon, and Muscadelle.  The rosé wines are made from the red grapes of the region.
The following wines described are some of the whites and rosé wines from Bordeaux that I recently tasted for a #PlanetBordeaux twitter tasting.  Since I wrote these notes for the intention of being posted on twitter my notes are limited to 140 character tweets.  This should come as a relief to some of you (eh-hem, my hubby) who think I often ramble too much.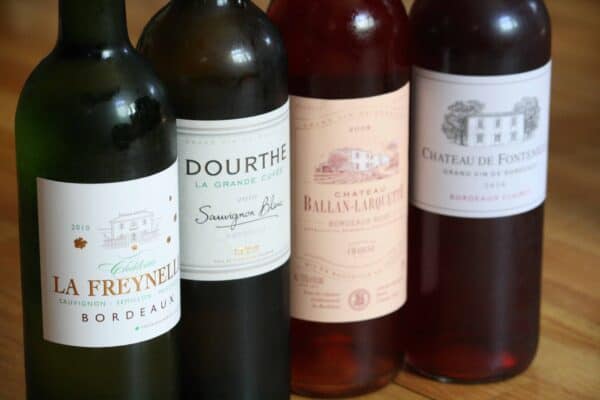 Dourthe Grand Cuvée Sauvignon Blanc 2010
Grapes: Sauvignon Blanc
Retail:  $12
Grassy like many Sauvignon Blancs from elsewhere (but not intrusive), fun, fresh, bright, zippy mouthfeel, balanced.
This is a nice representation of a balance between citrus and mineral vs. a New Zealand style that can be super citrusy.  Overall the wine is bright with lemon & lime citrus, fresh, crisp acidity, dry and mild w/long finish.  Pretty darn nice for $12!
Château La Freynelle Blanc 2010
Grapes:  Blend of Sauvignon, Sémillon and Muscadelle
Retail:  $13
Fresh and fragrant with light honey and grassy notes. Very spring-like! Bright on the mouth with lemon freshness. Good acid. Softer and more mellow than the Dourthe.
Château Fontenille 2010
Rosé wine made from Cabernet Franc (95%) and Cabernet Sauvignon (5%)
Smells like Bubble Yum (i.e. candied strawberries) & fresh raspberries.  Refreshingly sweet on mouth with bursts of more Bubble Yum throughout. Strawberries & more strawberries.  This wine would be good for big red wine fans on a hot day where it's just too darn hot for a big red. Serve cold.
For me the rosé wines of the tasting were not really representative of my preferred style of rosé (which is a post coming up soon- get excited!), but they are definitely worth mentioning since they are made from the traditional red grapes of Bordeaux and therefore tend to produce a style of rosé with more power, color, and umph than from, say, southern France (where I could drink the rosé wines for breakfast, lunch and dinner, everyday, period).
Next time you're in your local wine shop and feeling experimental, ask for a white Bordeaux or rosé and see what you may find.  You will likely encounter great to decent values in terms of price so why not experiment.
How to find good value in Bordeaux
Here's what I have learned to do when it comes to finding good values in Bordeaux: When I go to my local wine shop, I find a château I've never heard of. If it's from Pauillac (which we learned from part II is an excellent region), from a good vintage, and it's around $20-$25, I'll buy it. My chances are good that I will like it.  Otherwise I find a retailer I trust and let them know what I have liked in the past and go with their recommendation.  It usually works.
Another way to avoid the often insane prices of the famous Bordeaux château prices is to take the time to look for their second-label wines.  This term refers to a second label wine made from cuvee not selected for use in the Grand vin, or first label, of a larger Bordeaux château.  Because they typically come from the same vineyards and are made by the same winemaking team as the estate's first wine, second-label wines are often of high quality, capturing the distinctive terroir elements of the château at a fraction of the price.  They are usually lighter in style and quicker to mature and are much less expensive than the château wine. Some examples of second labels are:
First Growth Estates – (Second Wine)
Château Margaux –  (Pavillon Rouge de Château Margaux)
Château Latour –  (Les Forts de Latour)
Château Lafite Rothschild – (Carruades de Lafite-Rothschild)
There you have it.
Remember, Bordeaux is a BIG region and can certainly be overwhelming.  But hopefully this series, so far, has given you some insight into the region and lessened the intimidation a wee bit, no?
So my question for you now is this, do you drink Bordeaux wines (reds, whites, rosé)?
What is your style? And how do you shop for your Bordeaux wines?
Related Reading: