Throughout this past summer I was able to teach quite a few wine classes that introduce various important wine regions of the world. My goal when I teach these classes is to do my best to introduce participants to the regions, provide them with key information, with no intimidation.
What I discovered when prepping for a recent Bordeaux class was that there seemed to be some intimidation and confusion regarding this, one of the most famous wine regions in the world. So, instead of trying to teach everything I knew about Bordeaux, I chose to keep it simple and discuss the key things one should understand when thinking about this huge and important region. Bordeaux can indeed be confusing, but by knowing a few simple facts the "aha" factor can easily sink in.
Jump to:
For me, my Bordeaux "aha" moment came when I actually traveled there during the spring of 2008. Before then, it was my hubby who was the big Bordeaux fan, and I never understood why. I had already taken my first level Sommelier exam through the Court of Master Sommeliers but the region was still like a foreign language to me. I still seemed to think that all good Bordeaux was the über expensive stuff. The famous wines nobody but auction houses could get their hands on. I thought that all of the wines needed decades to taste like anything I wanted to drink, and I didn't quite understand the layout of the land, all this "left bank" vs "right bank" stuff and why it was so important to the wines of the region.
---
Drinking Wine in Bordeaux
We stayed in the gorgeous city of Bordeaux and made day trips to the many sub regions (or appellations) throughout the area, visiting wineries, and sampling as much Bordeaux wine as we could in the few days we were there.
One of my moments came during a lunch at La Tupina restaurant in the city of Bordeaux. The particular day we went was a special day for the restaurant. It was the coming of spring and apparently this one day out of the year the chefs go out to the Pyrenees to find pigs for the meal of the day. There was no à la carte menu that day, just the one menu du jour created by these chefs, which (unbeknownst to me) comprised of all parts of the pig (yes ALL parts). I was just excited to be eating here, so I was prepared to eat anything they served us and didn't want to know what I actually ate until after lunch was over and fully digested. Before lunch began the server placed a bottle of red Bordeaux wine on our table with no description. Just sat it down, already opened. We started drinking. Before the many courses of lunch were over the bottle was finished. The server asked us if we would like more wine. We responded, "no, we are fine". He looked at us like we were crazy Americans, and promptly returned with another bottle anyway, opened and set it on the table. Okay then! When in Rome, or Bordeaux for that matter, drink the wine! So we moved on to our second bottle. I had no idea what the wine was, and noticed that every table had a different bottle of wine; the only similarity was it was all red Bordeaux. And it was good!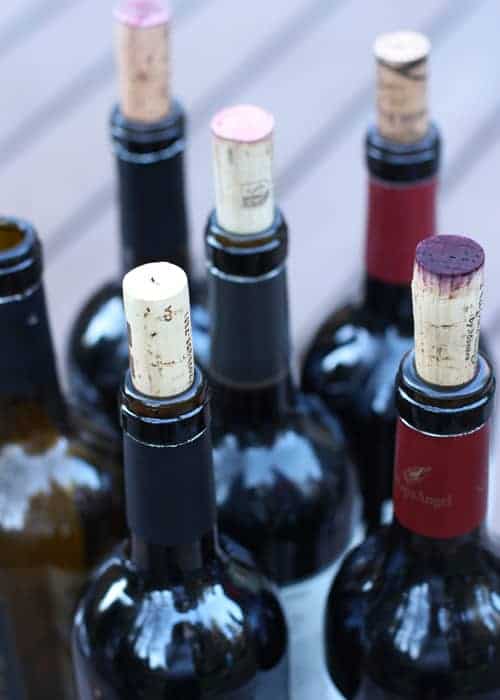 To me this is when I realized that there in the restaurant, it really didn't matter what the producer was, what side of the river it was from, or vintage, or anything, it was simply about sharing the wine at the table, no pretension, no intimidation.
This type of wine service was similar to many we received at restaurants throughout Bordeaux. It was just about having wine at the table, and not about anything else. At another well known restaurant we dined at we had the choice of rosé wine or red wine. That was it. Same story, every table had a different bottle, but it was all Bordeaux.
I figured if the locals aren't making a big deal of each and every producer, why should we? It was then I stopped being so afraid of Bordeaux and its many many wines and just embraced every opportunity to taste more wines from the region. Nowadays, I am not fixated with producers or vintages from Bordeaux, I just simply experiment, or when possible make friends with the wine steward or wine shop owner and simply take his or her recommendations on new Bordeaux finds.
---
What We Will Cover in This Series
Bordeaux, the series:
With this three part series, hopefully some of your Bordeaux questions will be put to rest and you can enjoy the wines of the region without intimidation, confusion, or headaches.
With part I, I will start with the basic facts about the region, the grapes, and the wines. Then part II I will explain some of the most important appellations of the region, discuss the famous "First Growth" wines (or Bordeaux's Grand Cru Classé wines), and explain how to read a Bordeaux wine label so you know what you're getting. Finally, with part III, I'll explain how to select a Bordeaux wine, discuss vintage and it matters, and of course the food of Bordeaux.
The important thing to understand about France in general is that all of the major regions are strictly regulated.  Each region has separate rules regarding which grape varieties that can grow, where they can grow, specific vineyard practices, degree of alcohol (minimum levels), wine making practices, and labeling (i.e. with the exception of the Alsace region, putting the name of the grape variety on label is forbidden. If they do, they forfeit the name of the appellation and thus no AOC, or appellation name, on the label.)  This is very different from the way things are regulated in the US.  So once you understand some of the basic rules of each region, it is much easier to understand French wine in general. 
---
The Basics