After years of working in Hood River, OR, it was finally nice to get out and be a tourist this past weekend. Living in Portland, my commute to Hood River used to be 104 miles round trip. On top of long work hours I hardly spent any leisurely time in the Columbia Gorge. So at the request of a friend who encouraged a "Girls Weekend" (which I later christened "LadyCation") we decided on a weekend in Hood River for relaxation, lady-time, and wine tasting. Yes people, I went "wine tasting" in Oregon, and it wasn't in the Willamette Valley! Many folks outside of the NW are still unaware of this up and coming wine destination that is the Columbia Gorge Wine Region. With over 35 wineries (and growing) the Columbia Gorge is an incredibly unique area to be making wine!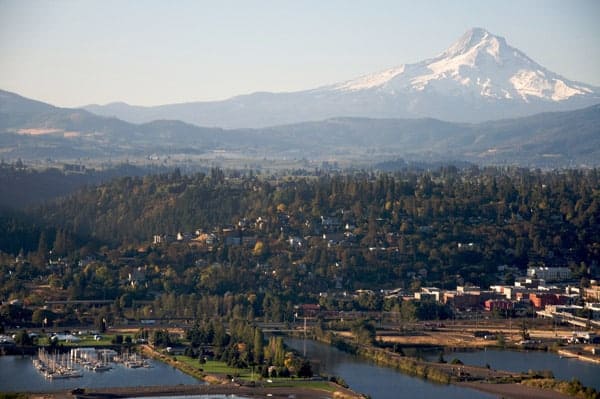 The Columbia Gorge Wine Region is a diverse region that encompasses wineries and vineyards on both the Oregon and Washington sides of the Columbia River. Simply put, by the Columbia Gorge Winegrowers Association, it is "A World of Wine in 40 Miles". Many of the wines within this region fit into the larger Columbia Valley Appellation, yet a growing amount of the wines fit within the smaller and more defined Columbia Gorge AVA. Climate changes from cooler, on the western side, with rains up to 36 inches per year, extending east to the high desert climate just beyond The Dalles, much warmer with rainfall at approximately 10 inches per year. Soil types range from silt and sand deposits from the historic Missoula floods, along with volcanic soils. These vineyards are well drained and ideal for grapevines. Because of the soil types and extreme weather changes within such a small proximity, a rather diverse amount of grape varietals can thrive here. Wineries produce everything from cooler climate Riesling, Pinot Gris and Pinot Noir, to warmer climate Rhone and Bordeaux style varietals, while also experimenting with some Italian varietals. It seems that right now grape growers are experimenting with a wide variety of grapes and will soon discover what will reign supreme in this region. So far, many of the wineries are making beautiful wines that are true expressions of what is possible within the Columbia Gorge.
Although there are approximately 35 wineries currently within the Columbia Gorge Wine Region, I was only able to visit a small handful this weekend. I have, however, been to most of them at one point or another within the past few years and look forward to sharing some of my favorites in the months to come.
The Pines 1852
My visit started out on Friday evening while visiting The Pines 1852 Tasting Room, located in downtown Hood River. A visit to Hood River isn't complete without a trip to downtown, and a trip to downtown isn't complete without a visit to The Pines Tasting Room. The Pines 1852 is a family owned and operated vineyard and winery. Owner and vintner Lonnie Wright first discovered, in 1982, century old vineyards that had been abandoned for over 20 years. Wright revived that vineyard which is now the grounds for his flagship Old Vine Zinfandel, and has since started his own vineyard management company where he manages close to 300 acres of vineyard land, including 40 acres of his own. Over the last 25 years Wright has become an integral part of the growth and success of the Columbia Gorge Wine Region.
Although the majority of the vineyards are further east, the beautiful tasting room is conveniently located in downtown Hood River and is the perfect place to start or end your wine tasting day and enjoy live music on weekend evenings and special events. Friday night I was there for one of their concerts and, of course, to taste some of their wines. Although I have tasted through their wines on many occasions it is always good to refresh my memory! The Zinfandel's have been some of my favorites in the past, but I did not taste them this trip. Besides, their Old Vine Zin (a favorite of many fans) is usually sold out within months of its release (usually in the fall). You gotta get it while it's hot! I opted to stick with mostly whites on this trip, enjoying:
2007 Pinot Gris
Crisp and citrusy with flavors of lemon, lemon peel, grapefruit and green apple. Awesome if you're looking for a crisp summer sipper. $18
2007 Satin
A white blend of 50% Pinot Gris & 50% Gewurztraminer. Softer than the Gris, with more floral notes. Another great summer sipper. $16
2006 Big Red
Red blend of Cabernet Sauvignon, Merlot, Syrah, & Zinfandel. With a name like "Big Red" the wine is much more balanced than one may imagine yet still maintains bolder and jammier flavors of blackberries, black cherries and spice and for just $20 this wine is a solid everyday red!
Other past favorites of The Pines include their Zinfandel, Old Vine Zinfandel, and Syrah.

Next Day… first stop:
Phelps Creek Vineyard
Phelps Creek Vineyard
, located in Hood River, is home to 30 acres of estate grown Pinot Noir and Chardonnay. In addition to their estate grown fruit, they source fruit from many other top vineyards within the Columbia Gorge. Although they offer seasonal tours of their gorgeous vineyards, you will find their tasting room situated along the Hood River Valley Fruit Loop at the Hood River Golf Course.
Owner Bob Morus is passionate about making the best Pinot Noirs and Chardonnays in the valley. A few months back Bob invited me on a tour of the Estate Vineyard and production facility along with a tasting of some of the wines still in barrel. I can't believe I went 2 years knowing about Phelps Creek and never once visited their breathtaking vineyard (actually if you have the chance to pick up the latest Oregon Wine Press you will find a picture of their vineya
rd on the cover)! Although I was scared for my life sitting as a passenger in Bob's truck weaving through the steep and windy vineyard roads, I did gain a deeper appreciation for the work they do!
I've tasted Phelps Creeks wines for a couple years now and I've found that they keep getting better and better with each vintage. This trip I was able to taste through and compare a good amount of both 2006 and 2007 vintages of some of their flagship wines. Note, most of the 2006's were made by then wine maker Peter Rosback, whereas most of the 07's were made by the now director of wine making Rich Cushman.
2007 Celilo Vineyard Chardonnay, Columbia Gorge
Grapes sourced from 100% Celilo Vineyards. 100% fermented in French oak barrels.
This wine was layered with citrusy notes of lemon & lemon peel, along with a fair amount of oak and vanilla. Great for people who like their Chardonnays full and oaky yet still maintaining bright citrus fruit. $24
2008 "Unoaked" Chardonnay, Columbia Gorge (newest release)
Stainless steel fermented (as the name implies), this wine was crisp, citrusy and fruity with lots of lemon, pineapple, green apple and ripe pear. Perfect for those who aren't into any oak on their Chardonnays. Also great to be able to taste the three Chards side by side to see the contrast. Especially compared to the next wine… $18
*2007 Estate Reserve Chardonnay, Columbia Gorge
Grapes sourced from 100% Phelps Creek Estate Vineyard. 100% barrel fermented (50% new French Oak, 33% One Year Old, 17% Neutral).
Although I can appreciate all styles of Chardonnay, and drink all styles, this one hit the spot at this particular tasting! Rich, creamy and full-bodied. This wine had an excellent balance of fruit, citrus and oak characteristics. Lemons and green apples, mixed with caramel, caramel apple, vanilla and butterscotch. I am such a softie when I find such rich butterscotch in a Chard. Yum. This is the kind of wine I would want to pair with richer dishes like crab cakes, pasta with rich white sauce, or baked salmon. $26
*2007 HELLFIRE White Wine, Columbia Gorge
Blend of Gewurztraminer, Chardonnay and Pinot Gris. Super refreshing crisp summer sipper, perfumed with fresh notes of citrus, melon, pear followed by a long crisp and dry finish. May have to add this to my quest for good value summer wines list! I've also seen this wine available in many Portland based wine shops and specialty grocery stores including New Seasons. $15
2007 Celilo Dry Rose, Columbia Gorge
This rose was made from Merlot grapes from Celilo Vineyard on Underwood Mountain (WA). Great summer rose, it reminds me of the southern France style that I like to drink in the warmer months. Sweet strawberry bubble gum nose along with cherry and ripe raspberry with a fresh mouth and a dry and crisp finish. And for $12… come on!
Now for the Pinot Noirs… A contrast of different vintages and different winemaker styles
*2006 'Becky's Cuvee' Pinot Noir, Columbia Gorge
A blend of Pinot Noir from 3 different vineyards within the Columbia Gorge AVA, this wine was smoky, dark, with notes of coffee, black cherry, black raspberry, and subtle oak. A fuller body, to me this one is more Willamette Valley in style (bigger, bolder, fruit forward & rich). $22
*2007 'Becky's Cuvee' Pinot Noir, Columbia Gorge
Definitely an expression of different vintage and a different wine making style (2006 Peter Rosback, 2007 Rich Cushman).
A blend of Pinot Noir from 6 different vineyards within the Columbia Gorge AVA, this wine was more of an earthier and lighter style Pinot Noir. Bright cherry and light raspberry in contrast with the darker richer fruit of the '06 vintage. $26
2007 Estate Reserve Pinot Noir, Columbia Gorge
Grapes sourced from 100% Phelps Creek Estate Vineyard. This is the wine for you funky barnyard Pinot lovers. This wine was the earthiest of the Pinots I tried from here. It had that "funk" that many Pinot lovers dream of, along with some nice smoky and oaky components balanced out with some fresh cherry and blueberry. Funky earthy Pinots are not my favorite style but for those who seek these flavors (and you know who you are) you will find them in this wine! $42
2007 BRIMSTONE Red Wine, Columbia Valley
A rich blend of 52% Syrah, 25% Merlot, 18% Cabernet Sauvignon, and 5% Pinot Noir, this wine is an excellent value for an everyday full-bodied red wine. Notes of rich plum and smoke balanced out with ripe cherries and coffee, chocolate more plum on the mouth. Screaming for a good summer BBQ. Read more about BRIMSTONE here $16.50
2007 Vin Dore Dessert Gewurztraminer, Columbia Gorge
Meaning "Golden Wine", this dessert wine is made from Gewurztraminer grapes from Oak Ridge Vineyard on the WA side of the river. The grapes are picked then artificially frozen, then pressed thus concentrating the flavors. The wine is rich and sweet (18.1% residual sugar) with intense lychee, sweet pear, and apples. This wine pairs well as an after dinner accompaniment to salty blue cheese; or one of my ways to drink this style wine is to put about ½ oz to 1 ounce into a champagne flute, then top it off with bubbles! Yum! $24, 375 ml
FINALLY… well, for this post… only because this is already a book… I'll wait for another time to share more reviews from the Columbia Gorge…

Located in Lyle, WA (about 13 miles east of Hood River, on the Washington side of the Columbia River) Syncline Wine Cellars and Tasting Room is a bit off the beaten path, but definitely worth the trip! Owned and operated by husband and wife team James & Poppie Mantone, their passion for Rhone style wines brought them to the Columbia Gorge where they thrive in creating wonderful Syrah, Viogner, & Roussanne, among a few others.
Their tasting room is small and simple, located inside the actual barrel room, providing for a fun and natural ambiance. Just outside the tasting room is a romantic view of their estate vineyard where you can sit, relax, and sip on a glass of wine.
2008 Subduction White
Blend of Chardonnay, Roussanne, and Viogner. Medium bodied crisp wine with notes of melon, banana, orange and green apple with a long lingering finish. A great wine for all seasons. $18
2008 Viogner
Along with the white blend, they also produce a 100% Viogner. Medium bodied with some nice crisp citrus notes of lemon and orange paired with some rich peach flavors. The wine didn't knock my socks off but if you're looking for an example of a Columbia Valley Viogner check this wine out because the body and fruit characteristics are typical of the varietal. $20
*2008 Roussanne
100% Roussanne, I liked this full-bodied wine in particular. Rich, bigger in body than the previous two, this wine was earthy, mellow and smooth with floral flavors along with some nice peach and pears. Nice overall balance. $22
2007 Pinot Noir
100% Pinot Noir fruit from Celilo Vineyards in WA, this is another of those Pinots in the funky smoky category. Again, not my favorite style of Pinot, but would be great for those who like their Pinots funky. Earthy qualities of smoke, mushrooms, and barnyard, along with some fruit characteristics of cherry and strawberry. $28
2007 Syrah, Columbia Valley
Rich, deep and dark in color, the wine expressed dark concentrated berry aromas, along with chocolate, espresso, black berries on the mouth. The wine maintained dark concentration throughout and finished dry with a nice spice. I've been a big fan of their Columbia Valley Syrah in past vintages. To be honest this was not my absolute favorite vintage of this particular bottling, but still great if you like your Syrahs rich, dark, velvety, and full-bodied. $24
*2007 Syrah, McKinley Springs Vineyard
98% Syrah, 2% Viogner. This is another Syncline wine that I have loved previous vintages of a bit more than this current one, but still a keeper! Dark full-bodied and rich, this wine is intense with loads of espresso and chocolate. This wine has that rich velvety mouth feel with an almost lip smacking dry finish. My only complaint was the lack of a fruit balance. It was intense and heavy on the spice, chocolate and espresso. I guess I can't complain too much because I still bought it. When I open it I plan to leave it open for awhile to soften the flavors. $30
******************************************
This was not the end of my journey through the Columbia Gorge, but I'm thinking it's enough for today. I am very familiar with the Columbia Gorge Wine region and will continue to report on the great wine finds from this up and coming region!
Contact me if you have questions about visiting.
Cheers and happy wine tasting!
( * denotes wines that I liked so much that I purchased them)