We were back on AM Northwest!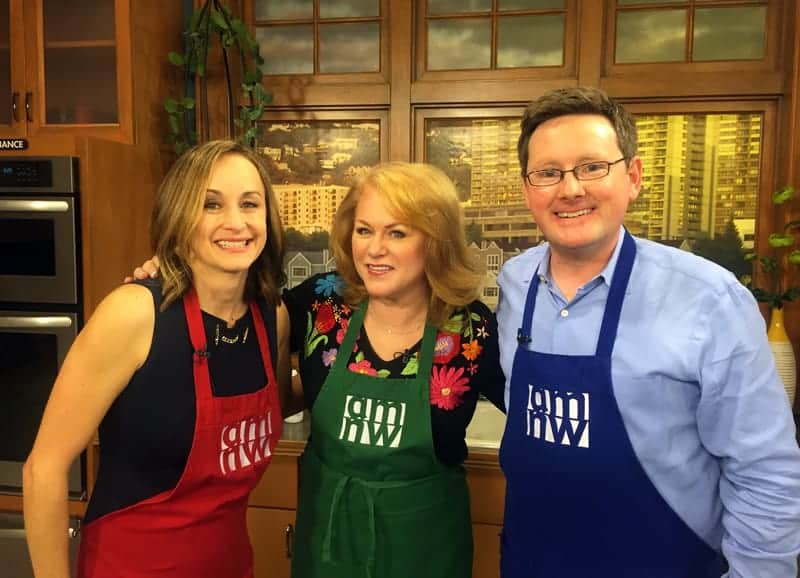 I still pinch myself each time we get the incredible opportunity to share our food with an audience like the awesome folks and viewers of AM Northwest. It's so surreal!!! This is seriously a dream come true for us, and no matter how many times we go on I am just as nervous as the first time. (ahhhhh!)
Today we talked about throwing an elegant and easy Oscar Party featuring some quick appetizers!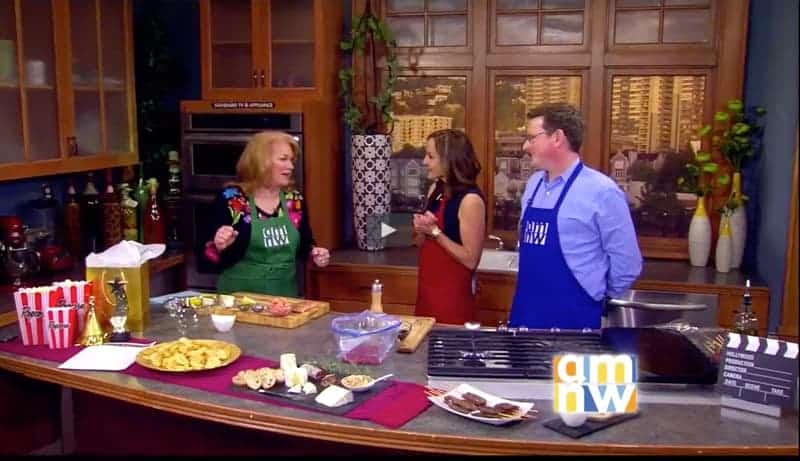 How fun!!!
The only problem is that we had so many ideas, and so little time! Serioulsy 6 minutes goes by SO FAST! I can't. even.
So since we ran out of time to talk about all the fun ideas I thought I'd share a few of them here.
But first…. The segment. Click on the center of the image below to start the video. 
[If you are having trouble watching the segment on your mobile device CLICK HERE to the AM NW site to view it]
The Academy Awards are all about the red carpet, the beautiful celebreties, and all things elegant and fancy. So when we throw a party at home we want to experience a little of that elegance, but we don't want to spend hours, days, or (in the case of the real Academy Awards) even weeks preparing.
With a few simple tips you can throw your own easy, yet elegant Oscar party!
1) Get some help from the store where you can, like buying a selection of cheeses and charcuterie for a beautiful cheese platter. Mmmmm.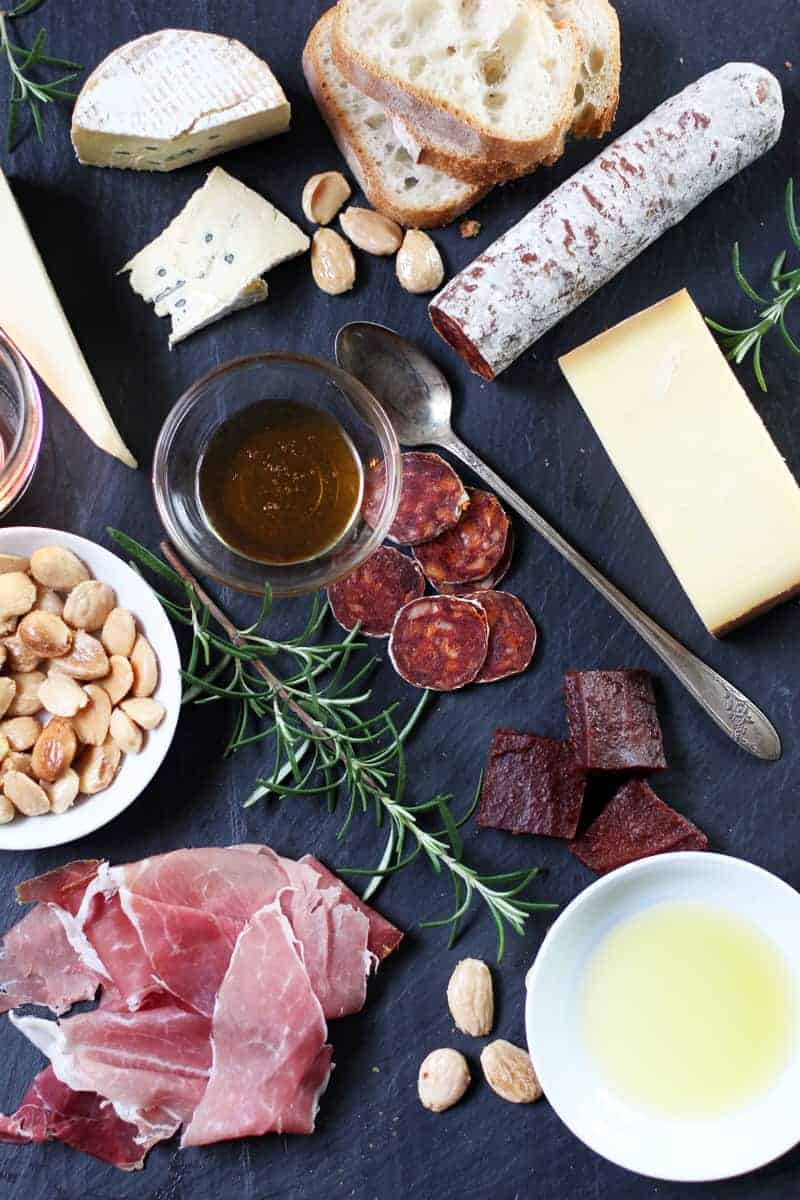 (I'll be telling you all about this specific cheese platter next week. Stay tuned…)
2) Prepare one cold appetizer that you can make in advance of the party, so you're not running around like a chicken with its head cut off throughout your awesome party. You want to be a PART of the action, right? Prep in advance. Then prepare one easy one hot appetizer that you can cook as your guests are arriving so that your house smells amazing and inviting as folks enter your home (like the smell of sizzling steak!!! who doesn't love that?!).
For the cold recipe, we shared one of our all time favorite recipes – Smoked Salmon Dip.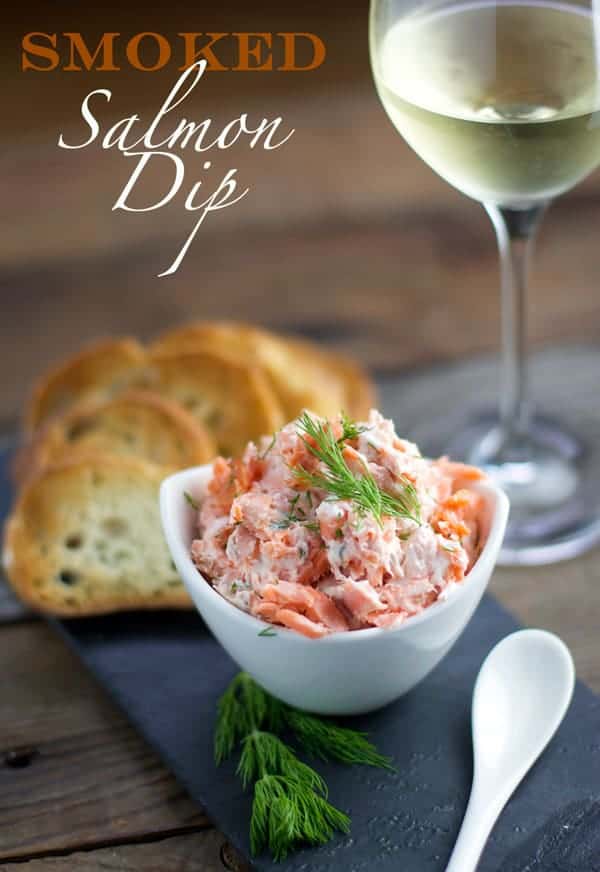 This recipe is so easy, yet so elegant! And you don't need a smoker to make it. You can easily grill your salmon on your regular outdoor grill or cook it in the oven. Whatever you need to do to get a fully cooked piece of salmon.
The second recipe was the Marinated Steak Skewer recipe I wrote for Wine4.Me over the holidays, but it's just as perfect for an Oscar Party. The whole idea is to have easy to make delicious finger foods. These grilled steak skewers are simple to prepare, full of flavor (not to mention the aroma of these grilling from your stovetop will be out of this world!), and beautifully presented.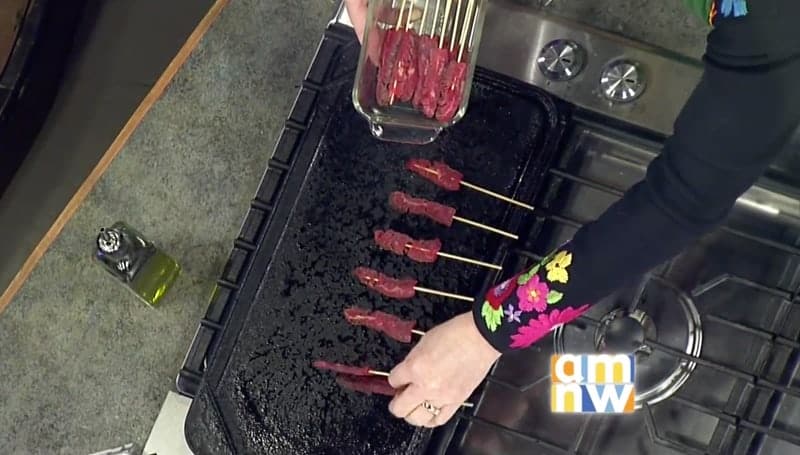 Once you have your appetizers in place, the rest is cake!
More Ideas for your Oscar Party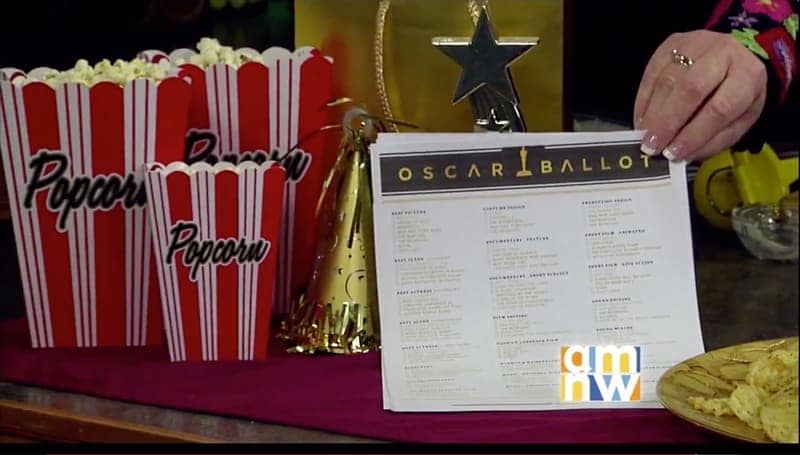 Decorations
Head to your local party store for some fun decorations. They will have everything from red carpets to fun backdrops, to glitter, balloons, Oscar trophies, and so much more.
Popcorn
We found some fun popcorn bags at the party store to fill with our favorite popcorn. Again, you can take some help from the store and buy popcorn there, or make your own. For the show we made some truffle butter popcorn and some topped with smoked salt (yum!!).
Oscar Ballots
Print some ballots with all of the nominations for your guests to fill out. You can get these easy over the Internet. Just search free Oscar ballot printable and dozens will come up. I found these ones from the website Sugar and Charm that I loved.
Swag Bag
Whoever correctly guesses the most winners can win a swag bag filled with some goodies of your choice, or you can present them with their very own Oscar trophy (again, party store find!).
Dishes from Academy Award Nominated Movies
One fun idea this year is asking your guests to bring a dish with the theme of their favorite nominated movie, and let them get as creative as they wish. One thought I had was from the movie The Martian.
[SPOILER ALERT: Matt Damon's character finds himself abandoned on Mars and has to survive there until he can get rescued. Let's just say there is a lot of potatoes involved over the course of the movie.] So for a fun play on that you could prepare your own potato dish, or keep it as simple as bringing a bag of potato chips. I bet Matt Damon wished he was crunching on salty potato chips instead of microwave potatoes doused in ketchup!
There were so many other ideas we wanted to share, but never enough time!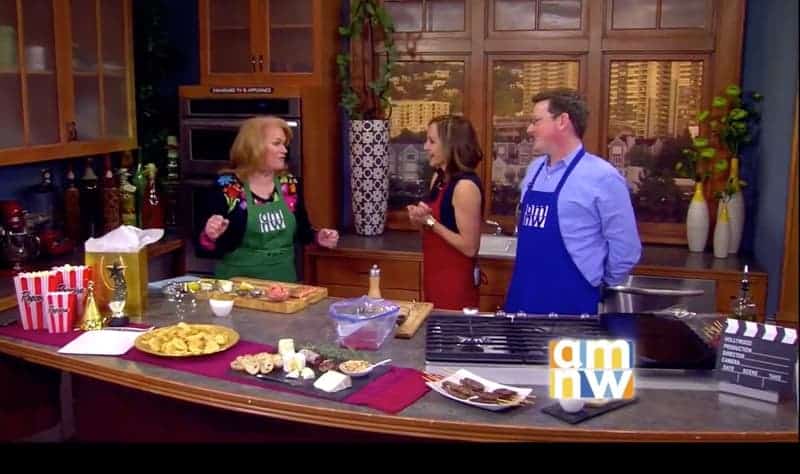 What are your favorite ideas for hosting an Oscar Themed Party?
And if you had to pick a dish themed after your favorite nominated movie this year what would it be???
---
If you had trouble watching our segment on your mobile device you can CLICK HERE to be linked to the AM Northwest page to watch it there.
And thanks again so very much to AM Northwest for having us back on! We are always so incredibly honored to share our food with you!
You can find the recipe for the Smoked Salmon Dip here and the recipe for the Marinated Steak Skewers here. 
If you're new to the site, welcome! You can find out a little more about us from the first time we were on AM Northwest, here.
---
If you want to hang around and learn more I'd love it if you subscribe to Vindulge and have new posts delivered directly to your inbox. I promise we won't spam you with too much (I have twin boys and writing jobs outside of this blog that consume much of my time!).