Smoked Salmon Dip is the perfect appetizer for smoked salmon lovers. This dip combines flavorful and tender chunks of hot smoked salmon (not lox, but you can use lox too) a mix of cream cheese and crème fraîche base, seasoned with a little dill and lemon.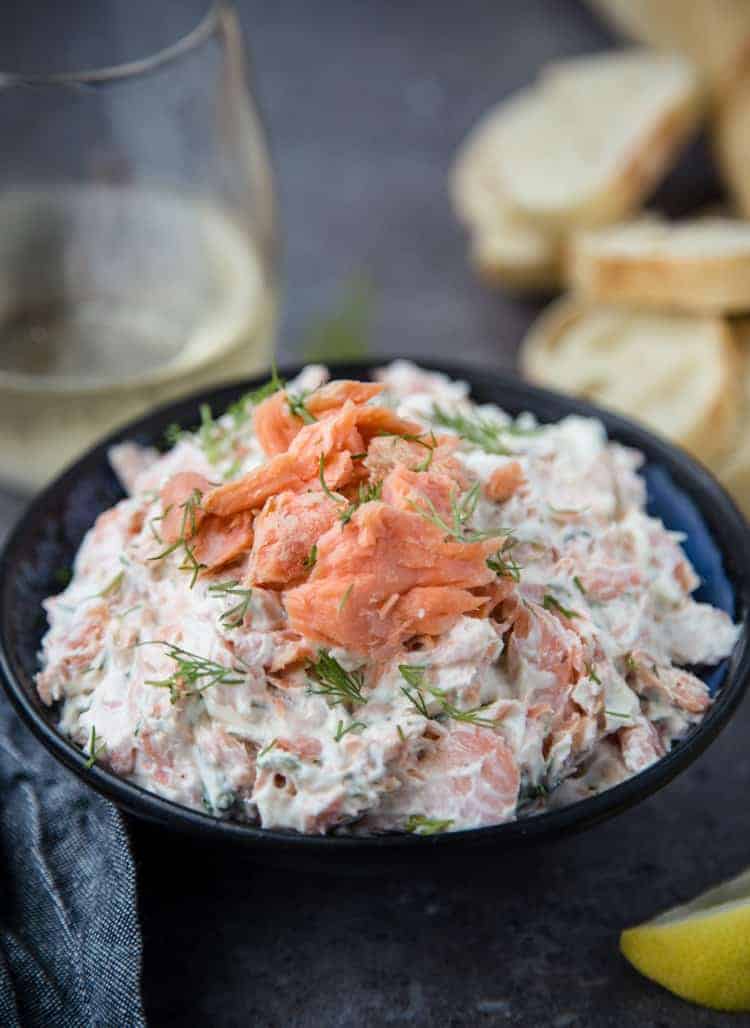 We have served this recipe at events throughout the Northwest and when it comes to a smoked salmon dip it's about starting with high quality smoked salmon. If you don't own a smoker that's ok, you can buy smoked salmon or you can use lox.
Jump to:
The Best Smoked Salmon
Salmon is one of the first things we cooked when we got our first smoker over a decade ago. It's amazing. Not cold smoked or cured salmon you'll find at the supermarket labeled as lox. I'm talking about warm smoked, cooked at a low temperature, on your smoker salmon.
It's revolutionary!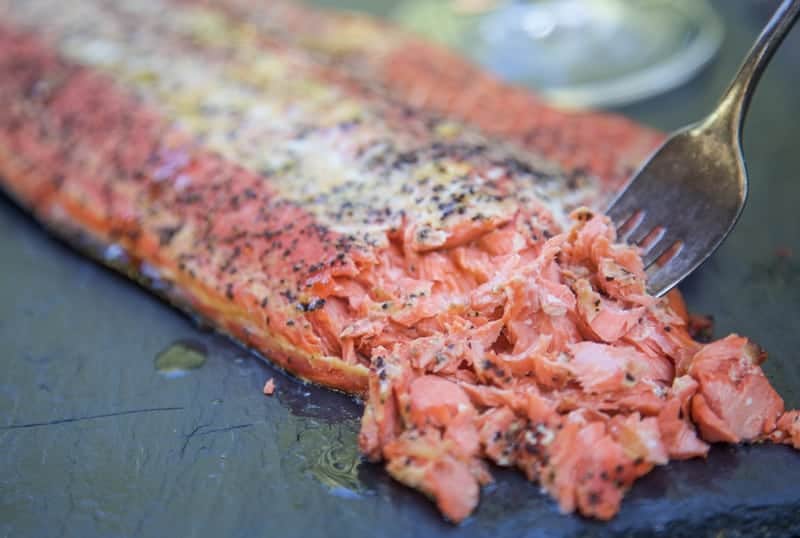 Salmon can be hard thing to do well on a grill (it dries out easily), but on the smoker it retains its moisture and texture and develops complex flavors, and results in tender and juicy meat.
Most smoked salmon dips you see online, however, are made with Lox or store-bought shrink wrapped cold smoked salmon.
What's the difference between Lox and Smoked Salmon?
Lox refers to salmon that has been cured in a combination of sugar and salt. Think of what you get with a typical bagel lox spread. True traditional "lox" comes form the belly of the salmon, although at most stores you will see "lox" fillets, and is richly textured. Lox is cured. This is not what we're using in this recipe. (But you can)
Smoked Salmon can mean a number of things: cold smoked, hot smoked, or cured or brined then smoked. The point is it's cooked on a smoker at low heat. You can buy "smoked salmon" in shrink wrapped packages from the store. But in this recipe we're doing it ourselves (it's sooo worth it!).
For this salmon dip recipe use hot smoked salmon that is cooked on the smoker. This is also a great idea for leftover salmon you may have.
Smoked Salmon Dip Ingredients
Another thing to note is that most recipes you find for a "smoked salmon dip," or "salmon spread," are very cream heavy. You'll find large proportions of cream cheese (or sour cream, mayo, etc.), and a small proportion of the fish. They also often use store-bought lox or shrink wrapped salmon.
That is not the case for this dip. I want to highlight the beautiful smoked salmon flavors, not drown them in mayo or creamy sauces. That's why the proportions of salmon to cream based ingredients are more in favor of the salmon.
Cream Cheese – This gives the dish its richness. Make sure it had a chance to come to room temperature or is properly softened.
Crème Fraiche – An alternative to heavy cream, this rich cream adds a light body without being overly cheesy.
Citrus – A squeeze of lemon adds a nice bite.
Dill – Fresh dill both in the dip and sprinkled over the top gives the salmon flavor a pop.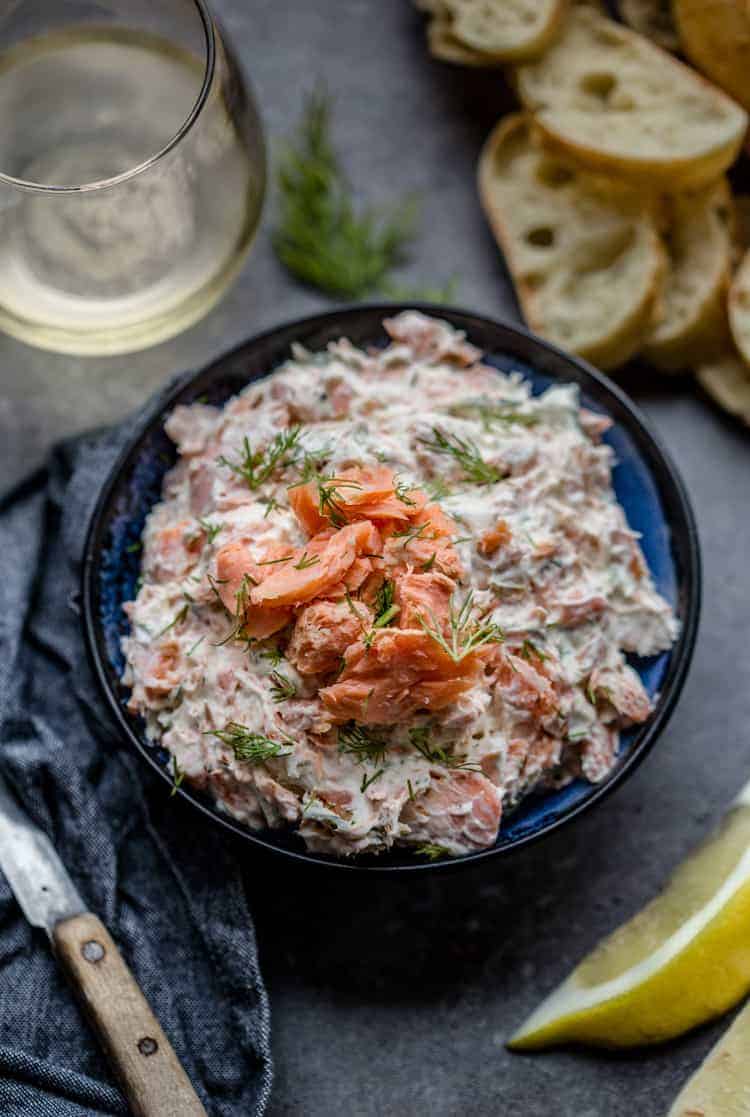 Feel free to adjust the ingredients based on how creamy (or not) you want your salmon dip. But just look at the close-up, you can see fresh pieces of the salmon that aren't drowned in cream cheese or mayo. SO GOOD!
How to Smoke Salmon for this Dip
We go into detail on how to smoke salmon over our easy and tender smoked salmon filet post.
But we'll do a quick recap here too: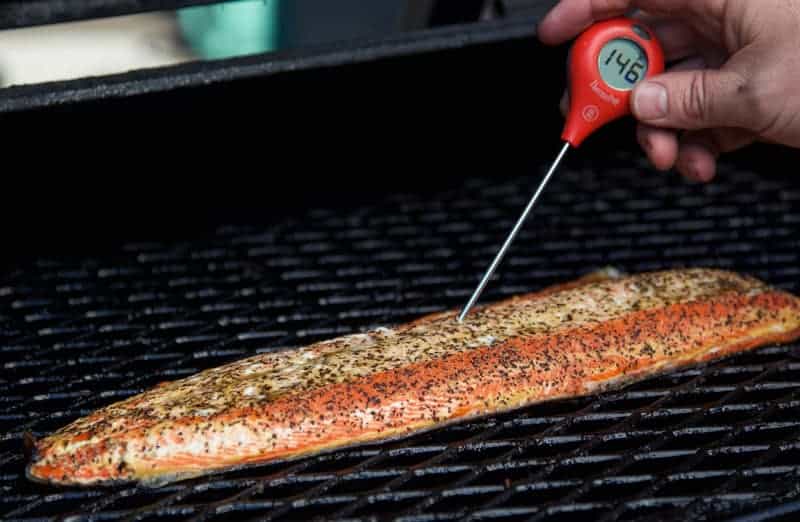 Start by seasoning your salmon with some salt and pepper, then rub the fish with a little Dijon mustard for moisture and flavor, finally sprinkle with a simple dry rub (you can find the dry rub recipe linked in this post).
Place the seasoned salmon on your smoker for roughly 90 minutes at 275 degrees. Look for a moist, slightly opaque, and pink interior. After you remove it from the smoker let it rest for about 15 minutes, don't forget you will have some carry over cooking from the residual heat
Break the cooled, smoked salmon into chunks (not shredded, we want to be able to SEE the fish pieces in this dip!).
The secret to perfect salmon, is to cook to the correct internal temperature. In our case we pull our salmon closer to 130 for a more rare texture and 145 for medium rare.
**If you do not have a smoker or grill but still want to use this recipe, you can use store bought smoked salmon, or even lox. If you use lox, be sure to only season with salt after the lox is combined with the cheese.
Making the Dip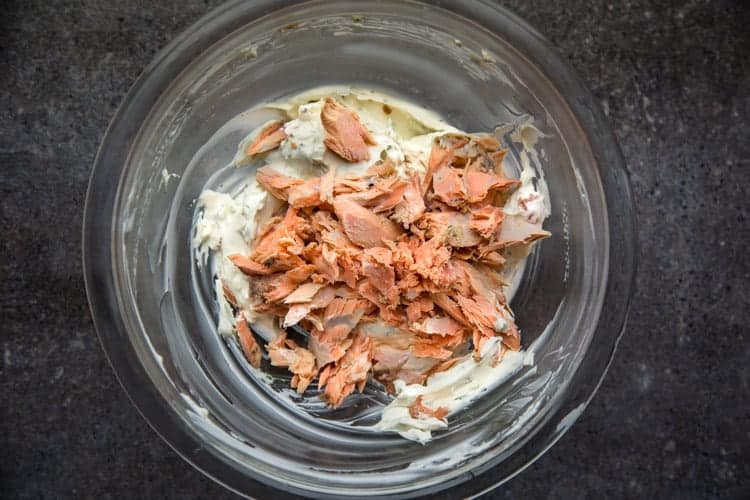 Start by combining all the ingredients, except the salmon in a large bowl. Mix to combine.
Add the salmon chunks and gently fold in the salmon. Reserve a few pieces of salmon to add to the top of the dip.
Place the dip in your serving bowl and then top with the reserved salmon. Add some smoked finishing salt for an added flavor bonus (or any flake salt).
What to Serve With This Dip
Warm baguette slices or crostini
Crackers
Vegetables (like celery)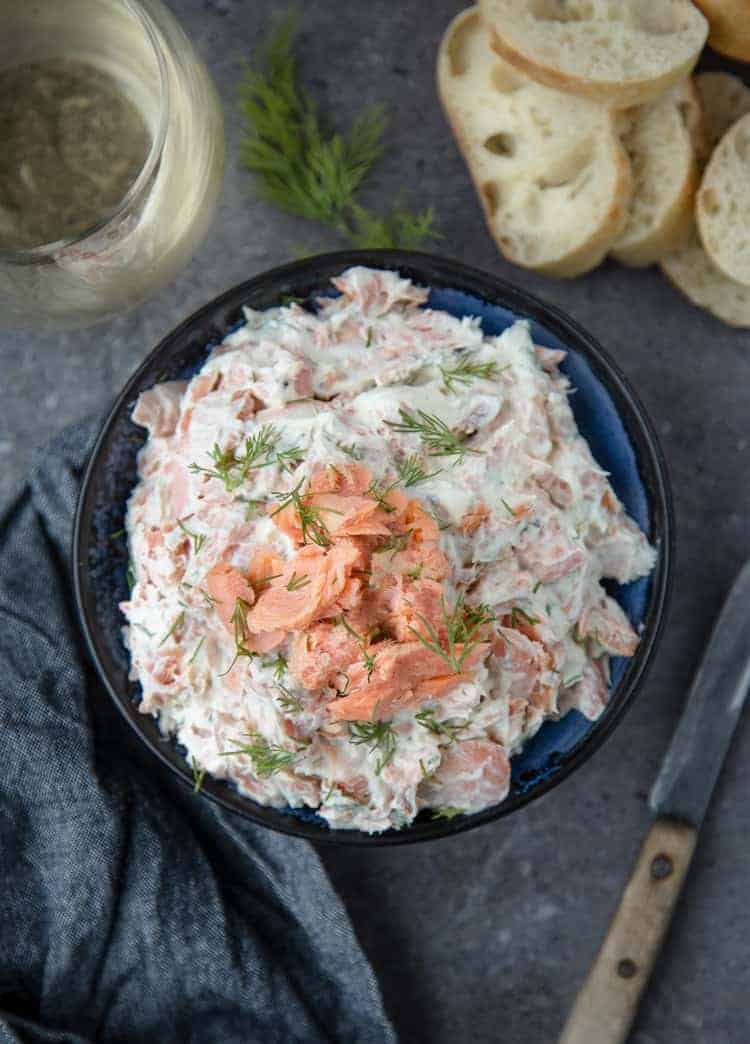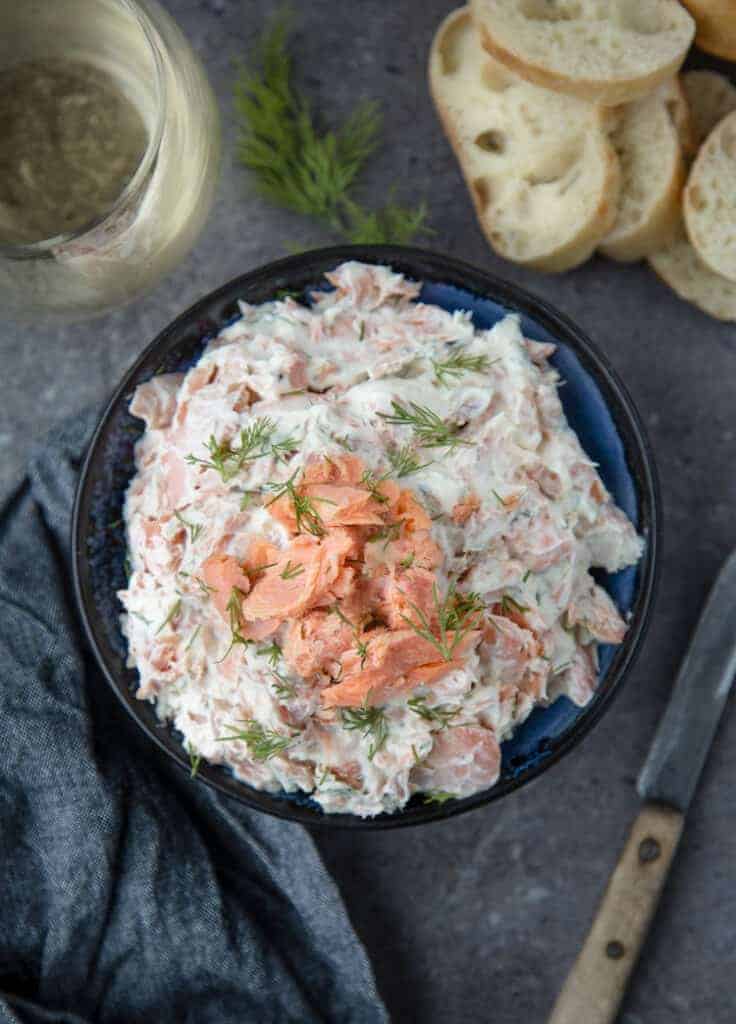 How to Store Smoked Salmon Dip
Keep the salmon dip in the refrigerator, in an airtight container, for 3-4 days. We will typically smoke and make the dip the day prior to eating it. Makes for a great make ahead smokes salmon dip for a group.
Wine Pairing
I've paired this salmon dip with a wide range of styles and wines. My favorites are domestic Riesling and sparkling wine (especially rosé sparkling). The creamy textures do well with a wine with high acidity. The acidity cuts through the cheese and refreshes your palate between bites.
Other Dip Recipe Ideas From the Grill
---
*This recipe was originally published in April 2015, and updated in 2019 with new photos.
This post contains affiliate links, which means should you click and purchase some of the items mentioned, we receive a small commission. This allows us to keep putting awesome content out there and we only partner with brands we love and use.
If you like this recipe we'd truly appreciate it if you would give this recipe a star review! And if you share any of your pics on Instagram use the hashtag #vindulge. We LOVE to see it when you cook our recipes.