Wine Marinated Beef Skewers make for an amazing holiday appetizer cooked on the grill. This easy 5 ingredient marinade, and simple cranberry sauce topping, makes for quick preparation and fast grilling.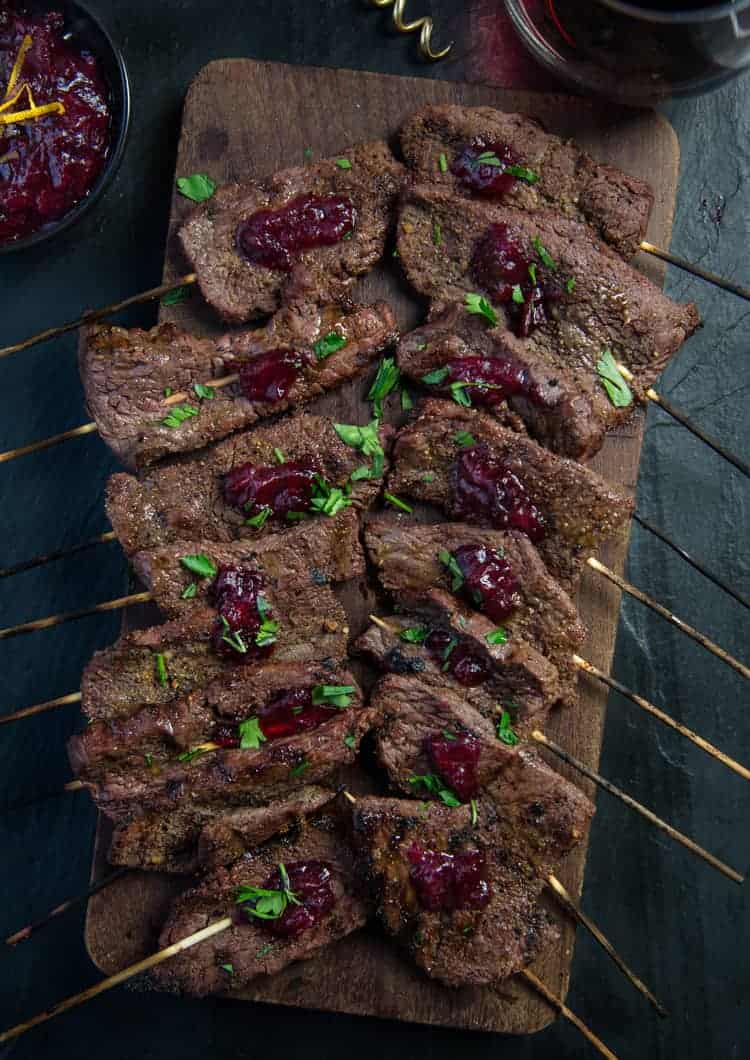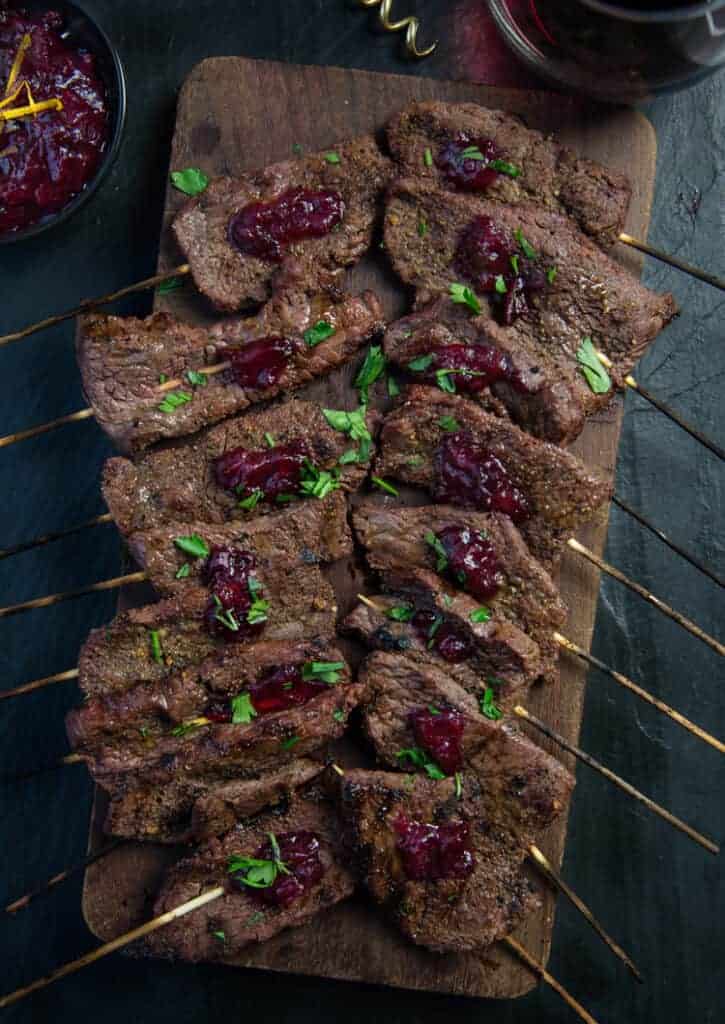 Jump to:
This festive appetizer has holiday party written all over it. Many of us will have leftover cranberry sauce unused from Thanksgiving that we need to repurpose. Plus, the colors and flavors of this dish scream holiday party!
And when it comes to hosting a party, simple is best! Wine Marinated Beef Skewers start with thin slices of beef, marinated a simple 5-ingredient marinade, then grilled fast and topped with a flavorful cranberry sauce (you can make our homemade sauce, or used what you may have unused from the holidays). This delicious dish comes together quickly and easily.
Best Cuts of Beef for Skewers
Budget will matter when picking a beef cut for a skewer. Lean cuts that are tender and cook quickly are best. Filet Mignon or a beef tenderloin is a great option, but also quite expensive. If looking for more affordable cuts, stick with leaner cuts that will take on a marinade well and cook fast over direct heat. We recommend:
Flank Steak
Sirloin
Bottom Round
Strip Steak
Check out Beef, It's What's for Dinner about all types of beef cuts.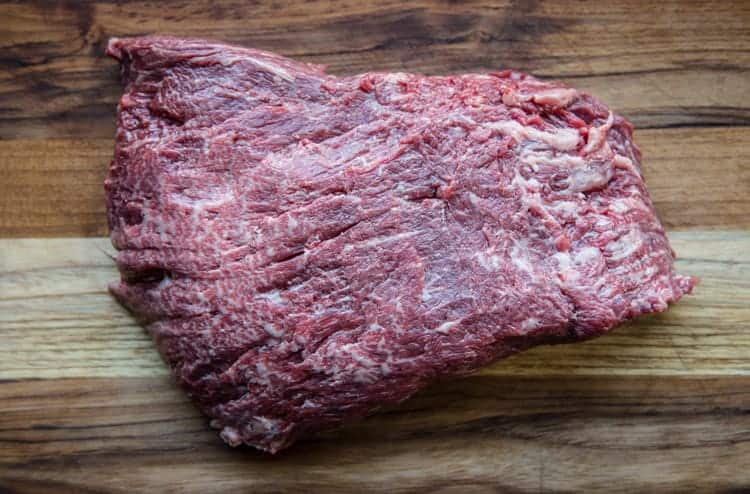 Preparing the Beef
An entire cut of beef can be marinade if doing a whole steak. For skewers it is best to expose as much of the bites as possible so more surface area of the beef is getting flavor.
Pre-slice the meat into the desired bite sizes.
For appetizers shoot for 1-ounce bites. We like thin strips for this recipe.
For a meal, consider a couple of ½ inch cubes per skewer versus smaller thin slices for appetizer bite size portions.
Chef's Tip – When marinading a skewer, cut up the thin slices and place into the marinade. This will allow more surface area of the marinade to connect with more beef and enhance the flavor.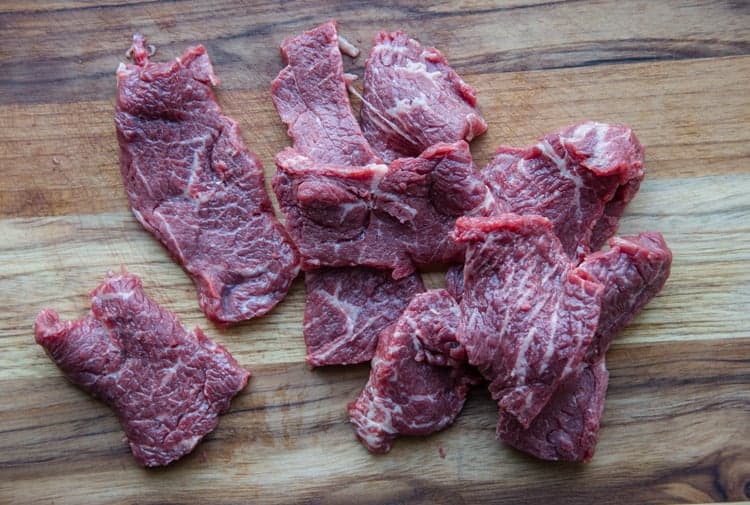 Simple Red Wine Steak Marinade
This marinade is made with 5 ingredients, and while simple, it has great savory flavor. This makes for a great basic steak marinade.
Combine the ingredients in a one gallon resealable bag and then add the steak. It's that easy. Elminate as much of the air as possible and marinate for 2-4 hours in the refrigerator. Marinating for any longer will start to overtake the delicious beef flavor.
5-Ingredient Marinade:
Dry and Fruity Red Wine, like Malbec, Merlot, Pinot Noir, or Zinfandel
Diced Shallots
Crushed Garlic
Soy Sauce (Low Sodium)
Red Chili Pepper Flakes
Sommelier Tip – It is not recommended to substitute red wine with white wine for a steak marinade. You can find great deals on reds for this marinade. You can also opt for a canned wine for this if you don't want to buy a full bottle (a can is 375 liters, or ½ a bottle)
How to Make Beef Skewers
If using wooden skewers be sure to soak in water for at least 2 hours prior to grilling. The best way for flavor is to grill the skewers on a charcoal or gas grill. Making on the stove is also easy if using a cast iron grill pan.
On A Grill
Grill over direct or one zone heat. Grill for two minutes per side or until each side has a nice crust.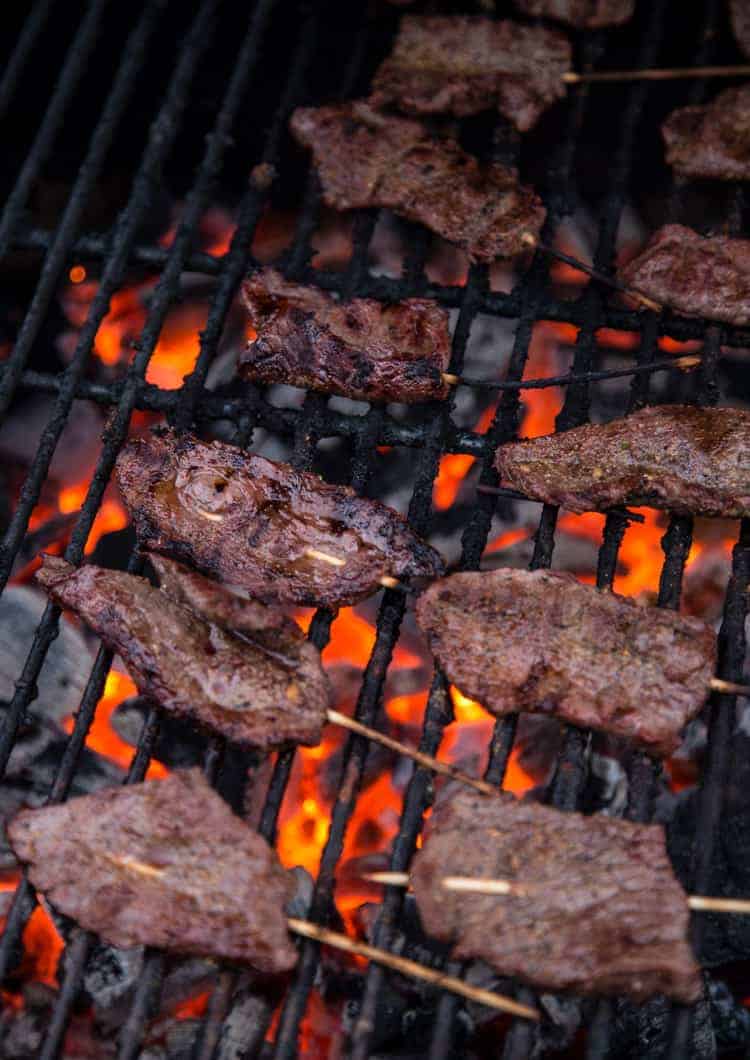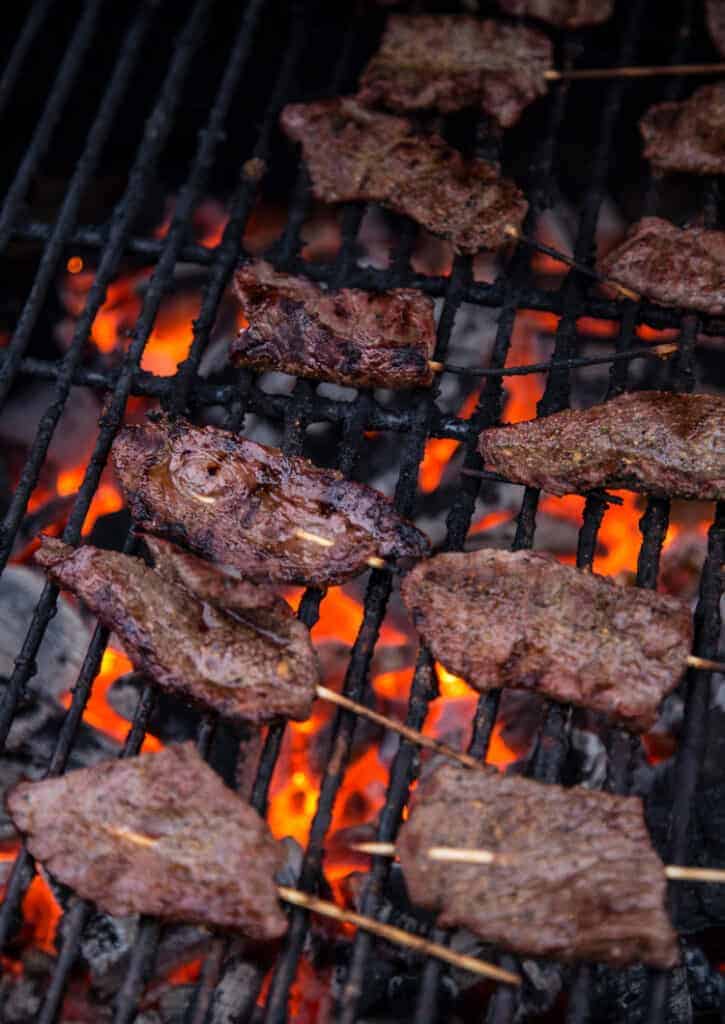 On A Stovetop
If a grill is not available an alternative is to use a cast iron skillet or grill pan. Grill pan's are best to replicate the grilled experience versus the oven.
For the cranberry sauce, use our red wine cranberry sauce. Then you can make the sauce in advance and use the same red wine for the marinade. And to add to your glass while grilling.
More Great Holiday Appetizers on the Grill or Smoker
And if looking for leftover cranberry sauce ideas check out our cedar planked grilled brie with cranberry sauce.
---
*This post was originally published in December of 2015, and updated in 2019 with new photos and more detailed instructions.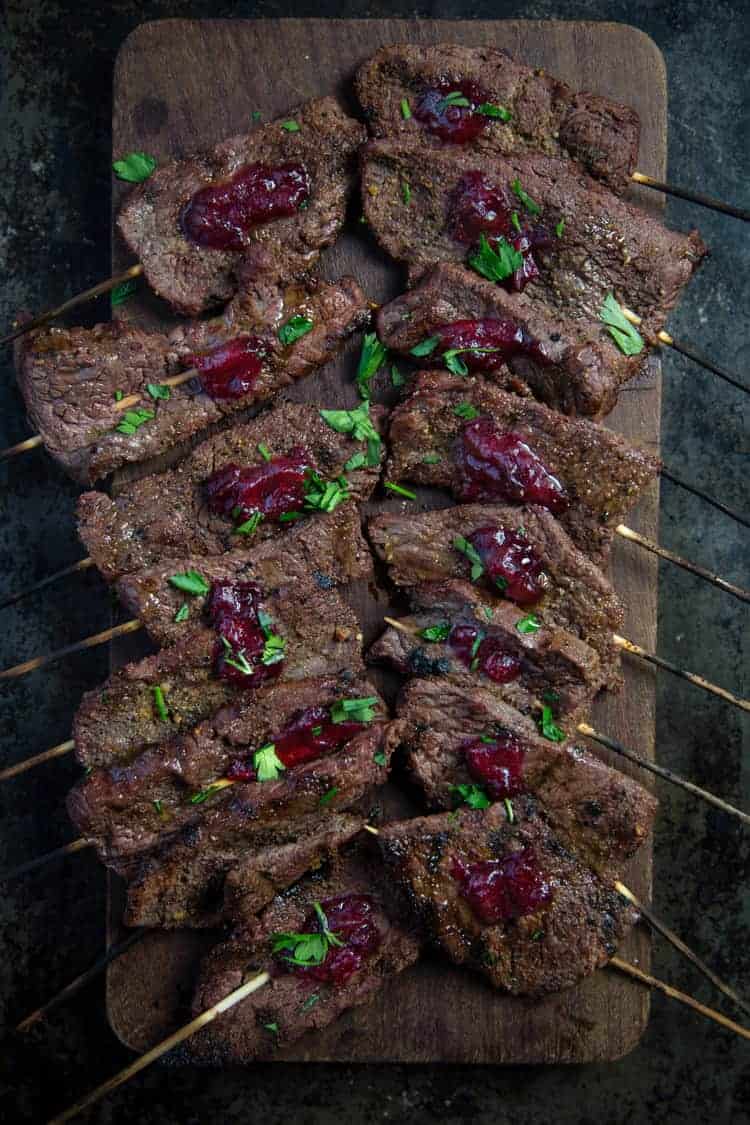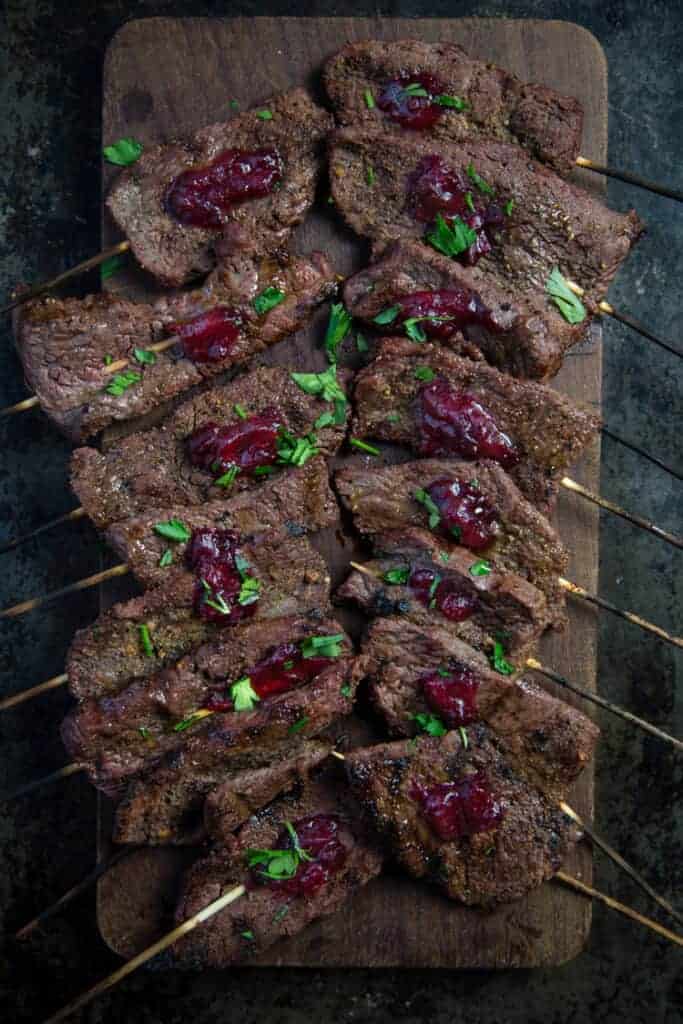 ---
Thank you for being part of our community. If you make any of our dishes we'd love to see them on social media using the hashtag #vindulge and give it a 5 star review.
This post may contain affiliate links. This means if you click on the link, we may receive a small commission if you purchase through the link. We partner with brands we know and love and use and it helps keep the blog going!
---