I like to review wines the way most people taste them, with food. Many of the wine reviews you'll see on this site are accompanied by a recipe. When we test recipes we usually open a few different wines of various styles that we think will work, then write about the best pairing.
But often we taste wines — either those sent as samples for review or those we purchase on our own – that are definitely worthy of mention even though they weren't part of a recipe post. These wines below fit that bill.
While the east has been getting pounded this winter we've had it pretty easy here in the Pacific Northwest. Aaaaaand as I say this, I likely am jinxing myself!
We had a rough (rough!!!) winter last year, particularly January, when I had to endure 2 weeks of school closure "snow days" due to never-ending ice storms.
So hey, I'll take the gift of nice weather we've been given this year.
That being said we've got a nice lineup of reds, ranging from light and fruity, to rich and comforting, that have been by our side this winter so far (snow or no snow).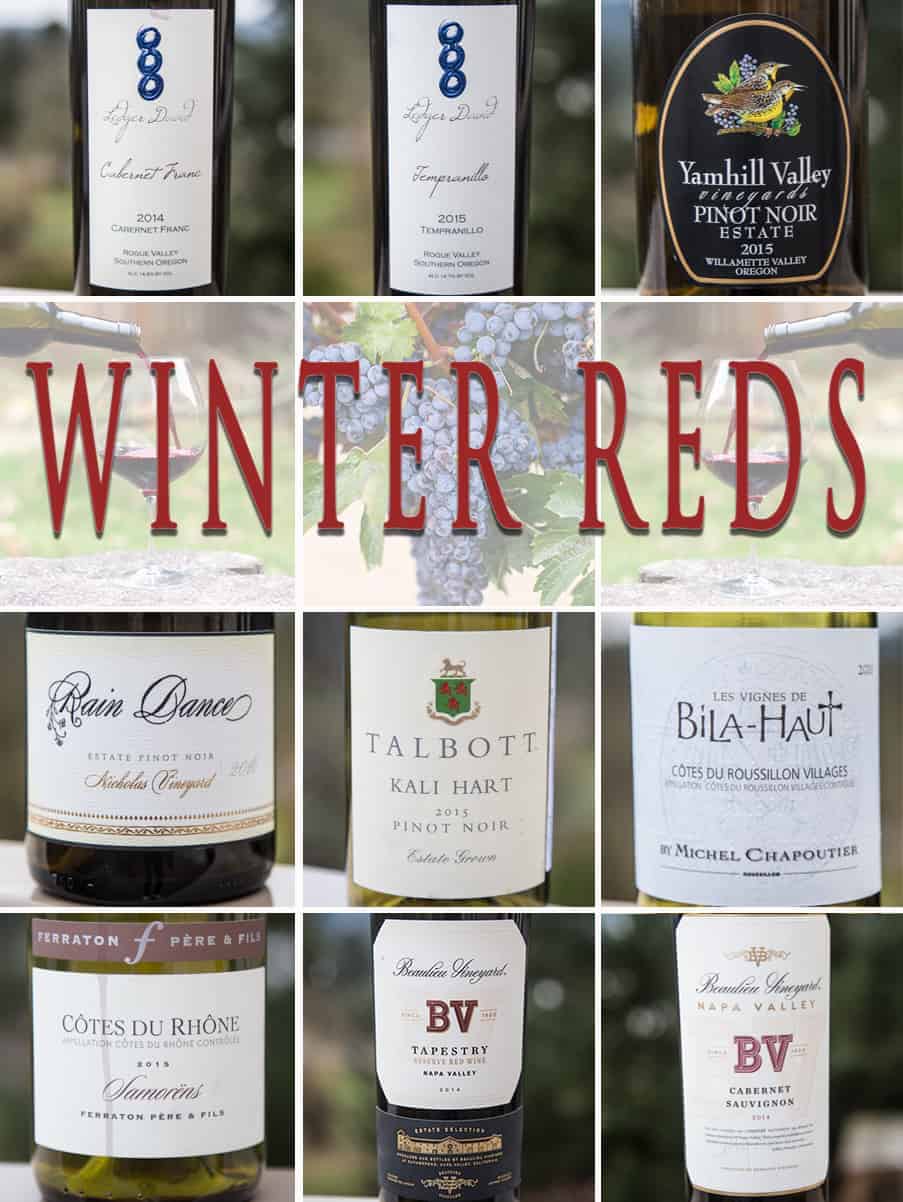 2014 Ledger David Cabernet Franc (Rogue Valley, Southern Oregon)
A pretty combination of dried herbs, chocolate, dark cherry, and spice. What's not to enjoy about this?! It has a lovely richness to it making it bold enough to stand up to a grilled steak or rich stew.
14.6% abv | $29
2015 Ledger David Tempranillo (Rogue Valley, Southern Oregon)
A little shy at first and strong on the oak, this opens up very nicely to express dark cherry, oak, lots of spice, some floral notes, and even some dark cocoa hiding in there. This makes me want to fire up the smoker and cook a brisket. Lovely!
14.7% abv | $35
Side note: If you're a Tempranillo fan and local to Portland, make sure to check out the Oregon Tempranillo Celebration happening this weekend!
2015 Yamhill Valley Vineyards Estate Pinot Noir (Willamette Valley, Oregon)
We tasted this one over the course of two days and found the second day it was really shining. It opened up to some nice bright cherry and cranberry flavors with medium tannins. Nice light and fresh style, with a hint of smoke and coffee.
13.6% abv | $22
2016 Rain Dance Vineyards Nicholas Vineyard Estate Riesling (Chehalem Mountains, Oregon)
Bigger and lusher style for Pinot, but that could be expected for this warmer vintage here in Oregon. This one is filled with rich cherry and tart cranberry flavors with some vanilla spice rounding it out. This one is screaming for some grilled lamb. Now that's an idea. You bring the wine I'll grill the lamb!
13.9% abv | $30
2015 Talbott Vineyards Kali Hart Pinot Noir (Monterey, California)
A shift from the Oregon Pinots from above, this one is from Monterey County, CA. This one is quite light and fruity with bright strawberry, cherry, and cranberry flavors. Fruit forward style, light tannins, and easy drinking. Had me craving a margherita pizza.
14.5% abv | $20-$25
2016 M. Chapoutier Les Vignes de Bila-Haut (Cotes du Roussillon Villages, France)
This wine is an incredible value for the price! A blend of Syrah, Grenache, and Carignan you get some fresh cherry, blackberry, a little bit of herbal notes, even some lavender, finishing with just a bit of peppery spice. It's a nice bright, fresh, and overall great everyday sipper.
14.5% abv | $12-$15
2015 Ferraton Pere & Fils Côtes du Rhône Samorëns (Côtes du Rhône, France)
Another great value wine, this time from the Rhone region. A blend of mostly Grenache (85%) with Syrah and Cinsault rounding out the blend, it has lovely red berry fruit (cranberries, raspberries, cherries) and blackberries, with some interesting spice flavors, and low tannins. Nice for everyday casual sipping.
14% abv | $12-$14
2014 Beaulieu Vineyard BV Reserve Tapestry (Napa Valley, California)
We opened up this wine a couple weeks ago. Seemed to be the perfect wine for some reverse seared ribeye steaks we were making. Woah! Powerful blend of 76% Cabernet Sauvignon, 13% Merlot, 11% of Petit Verdot, Malbec and Cabernet Franc. Full bodied with rich blackberries, currants, plum tobacco, cedar and mint. Rich and complex with well velvety tannins that flowed seamlessly through the juicy steak. This would be a good one if you're looking to impress for Valentine's Day next month.
14.8% abv | $50-$60 avg
2014 Beaulieu Vineyard BV Cabernet Sauvignon (Napa Valley, California)
We were actually holding off on this one, waiting for something "right" to pair it with (like the one above). But it turns out this is quite gorgeous on its own (meaning no food needed). We poured a small glass each, and then decanted the rest to see if it made a difference. Quite smooth off the bat, but certainly evolved a ton from decanting. Smooth, fruity, with deep black cherry, blackberry, plum, baking spices and toast. It has a lovely lingering savoriness on the finish that went on and on. Really enjoyable and nice value for a good CA cabernet.
14.6% abv | $30 (but can be found for around $20)
---
*Most of these wines were were media samples for review. See my sample policy here.
---