The Reverse Sear Method is an incredible way to cook a steak.
Here's how you can do the reverse sear method with a smoker.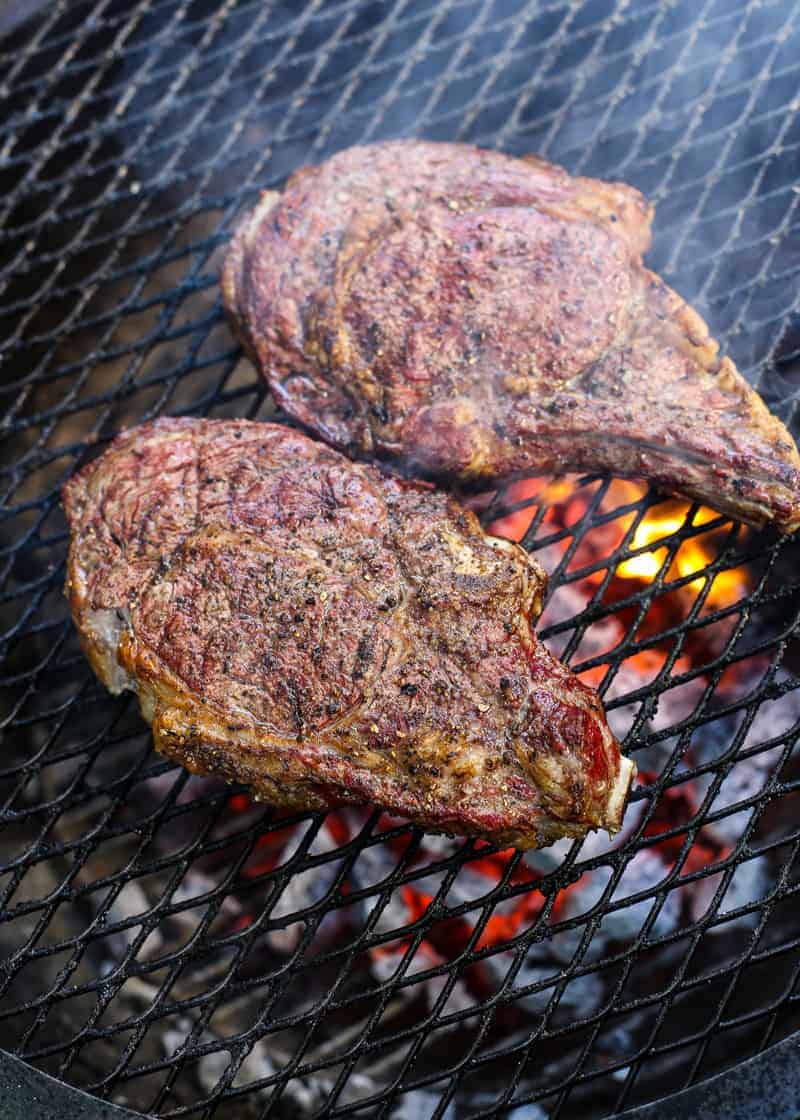 Steak has so many ways it can be cooked. On the grill, the stovetop, in a stew, in the oven, to name a few. But have you tried something referred to as the reverse sear?
It's a pretty popular thing right now, and for darn good reason.

MY LATEST VIDEOS
Let me explain. When you google "perfectly cooked steak," what you will typically see is the more traditional restaurant method, which is seared hot and then finished in the oven. But what I want to share is something that adds incredible flavor and allows you to finish with that beautiful crusted texture. The reverse sear. And better yet, the SMOKED reverse sear.
And here you thought you couldn't achieve a perfectly cooked steak on a smoker?!
The idea is, instead of sear first then finish in the oven, you cook it slow first to get the smoky flavor, and then finish it by searing (either on a grill or hot stovetop skillet) for the beautiful and flavorful crust. But first, let's talk about…
The Cuts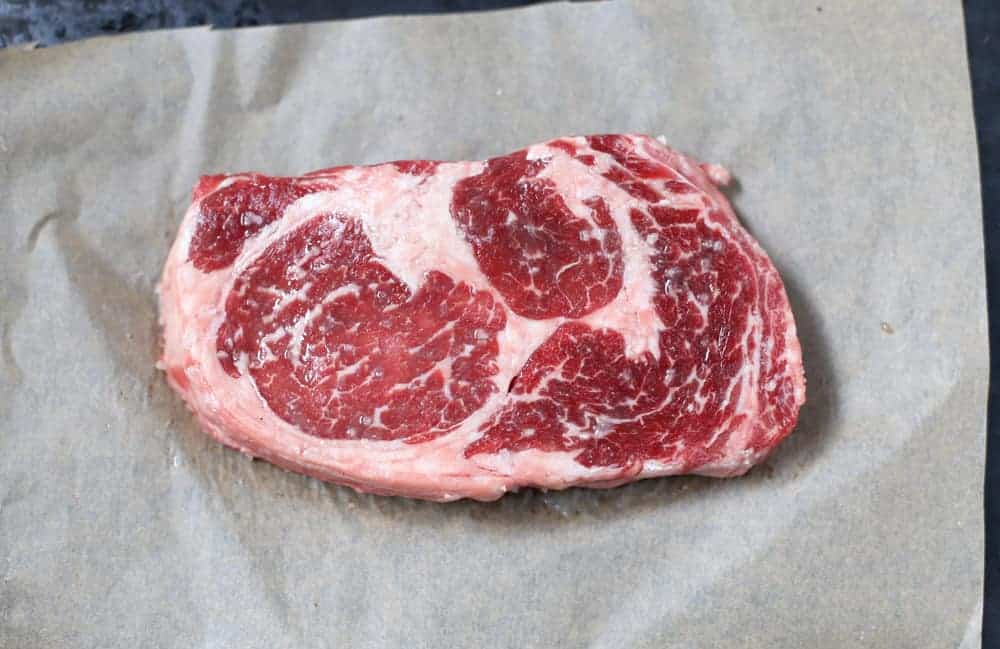 While this method works for any cut of meat, in this case I find it best with steak. And the thicker the cut of steak — like filet, ribeye steak, porterhouse, cowboy cut, or strip – the better. These thicker cuts can take on more smoke, which equates to more flavor without cooking to finished temperature which could result in an overcooked steak.

The Seasoning
Season simply with salt and pepper. That's it. Nothing more is needed for a good cut of beef (OK, maybe a little granulated garlic too). And if you're going to invest your money in a quality cut of meat (which is what we always recommend), why drown out those natural flavors with noise (aka too much seasoning). Good meat doesn't need it. S&P is all you need. In this case we used a choice ribeye steak. You can use prime, wagyu or something local. They key is marbling. We salted this cut on both sides lightly and then left in fridge for a quick dry brine. The salt disappears as it is absorbed into the meat.
The Cook
It all starts with smoking for flavor, and then finishing on high heat for that sear. This is a similar concept to sous vide cooking (which is also all the rage right now for good reason), only done on the smoker (no sous vide appliances necessary). This is also a similar method to those friggin' amazing smoked burgers with chorizo and smoked poblanos we did a couple months ago. Remember those? We smoked them at a low heat then finished on a hot grill for that irresistible sear.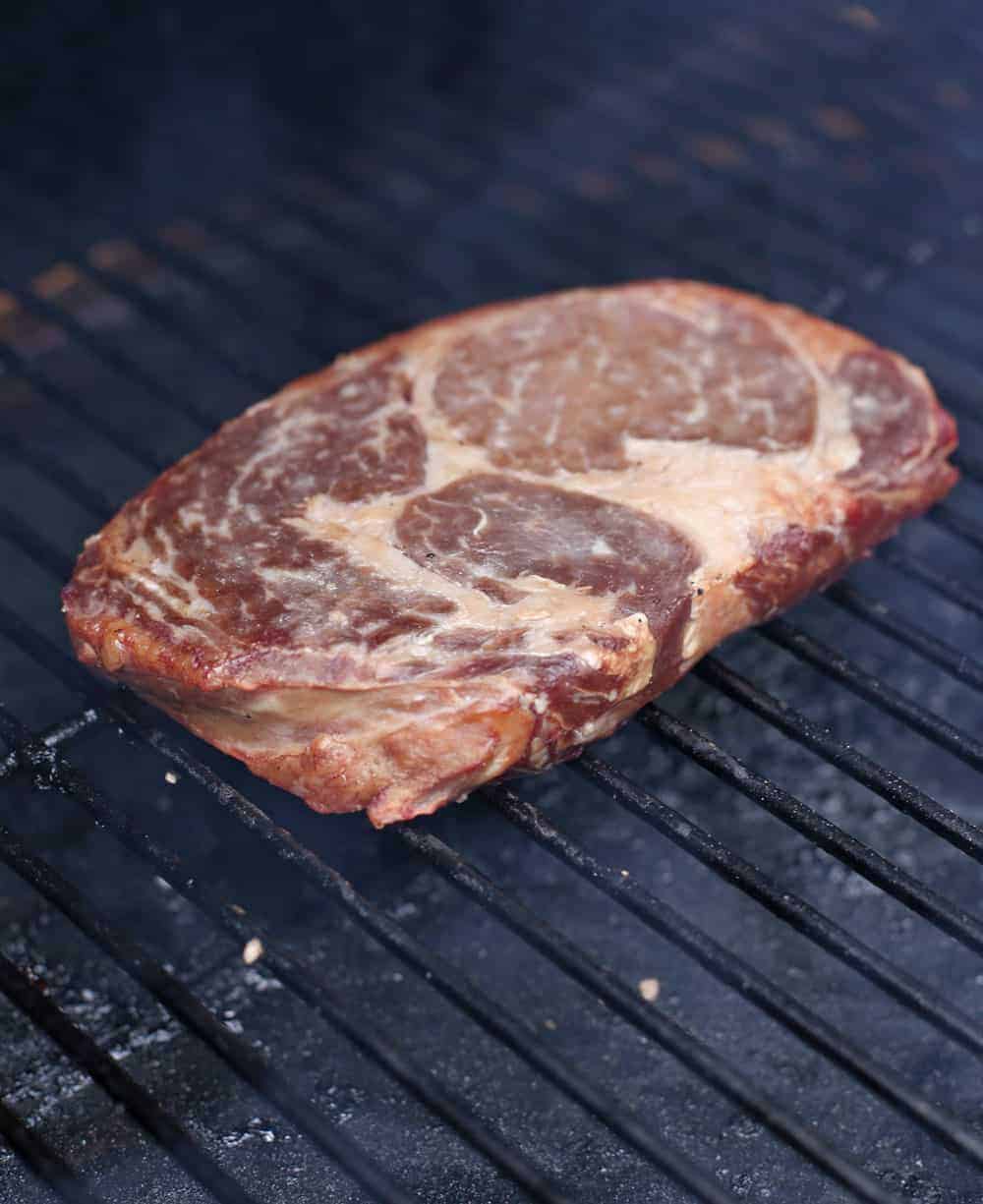 For this we get the smoker preheated to 225 degrees. And you slowly bring the internal temperature of your meat up while smoking, until the internal temperature reaches 110 degrees. (Note we like our beef rare or cooked to 125 – 127, if you are more a medium rare, take the smoke internal temperature up to 120 degrees).
You're not trying to cook the steak completely for this step, you're just adding a layer of incredible flavor while slowly and steadily warming up the meat. Depending on the thickness of the cut this should take around an hour – but temperature is king here! Always cook to temp, not time. This is where it's vital to have a good thermometer.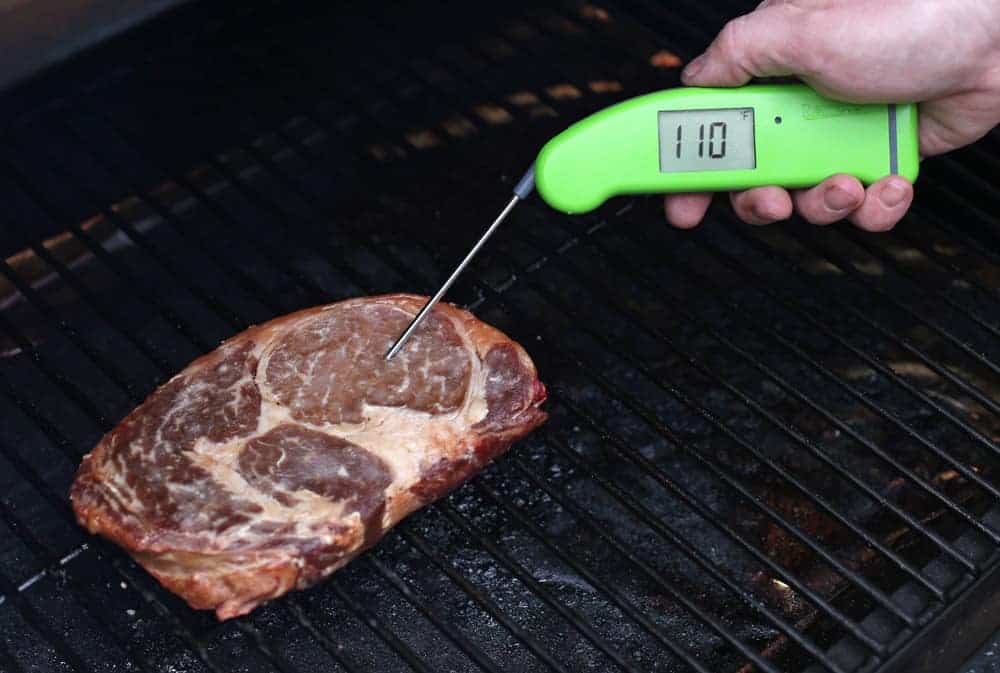 For something like this we use an instant read thermometer, like the Thermapen MK4 (pictured). You don't want to mess around with something that's going to take a long time to get a proper reading, not after you've already invested in a good cut of meat and not to mention the time it has taken you to cook.
Once your meat hits the 110 degree mark (or 120 for the end temp of medium rare), that's when you move the steak over direct heat and finish to get that sear mark. (We moved ours from the smoker to the Weber kettle grill that we have nice and hot while the meat was smoking. You can use whatever grill you have that can get hot hot hot.) Note that unlike smoking a brisket and rendering out all the fat, this method doesn't do that, you will still have that fat just like a grilled steak, but the flavor intensity will be that much higher.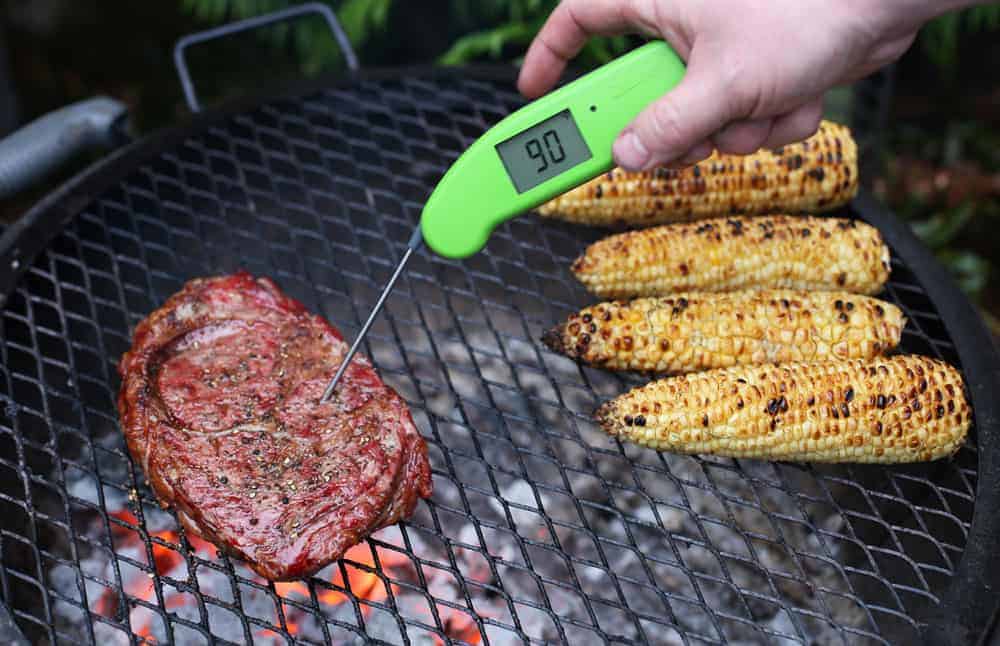 In this example, we removed the steak from the smoker after 110 degrees and it sat, wrapped in foil, for a few minutes until we were ready to eat (thus the decrease in temp while it was waiting). That's totally okay! Once you put it back on the hot grill check the temp, and let it come up to where you want it.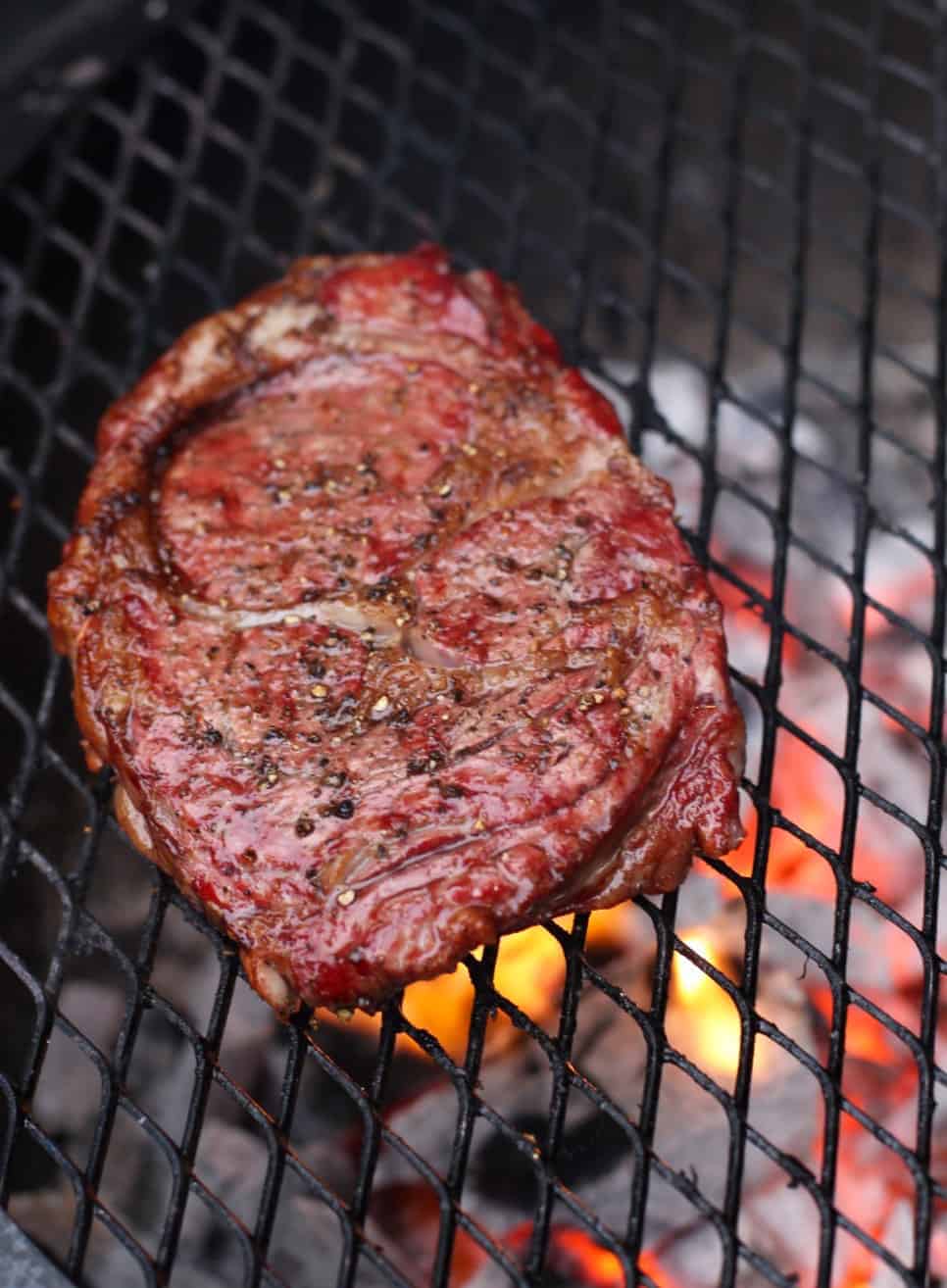 I like my steak rare to medium rare so I cook to 125 – 130 degrees Fahrenheit at the center. So once the internal temperature reaches your desired doneness, let it sit for a few minutes for the juices to redistribute and tent it with foil. It'll also keep cooking a little bit with that residual heat.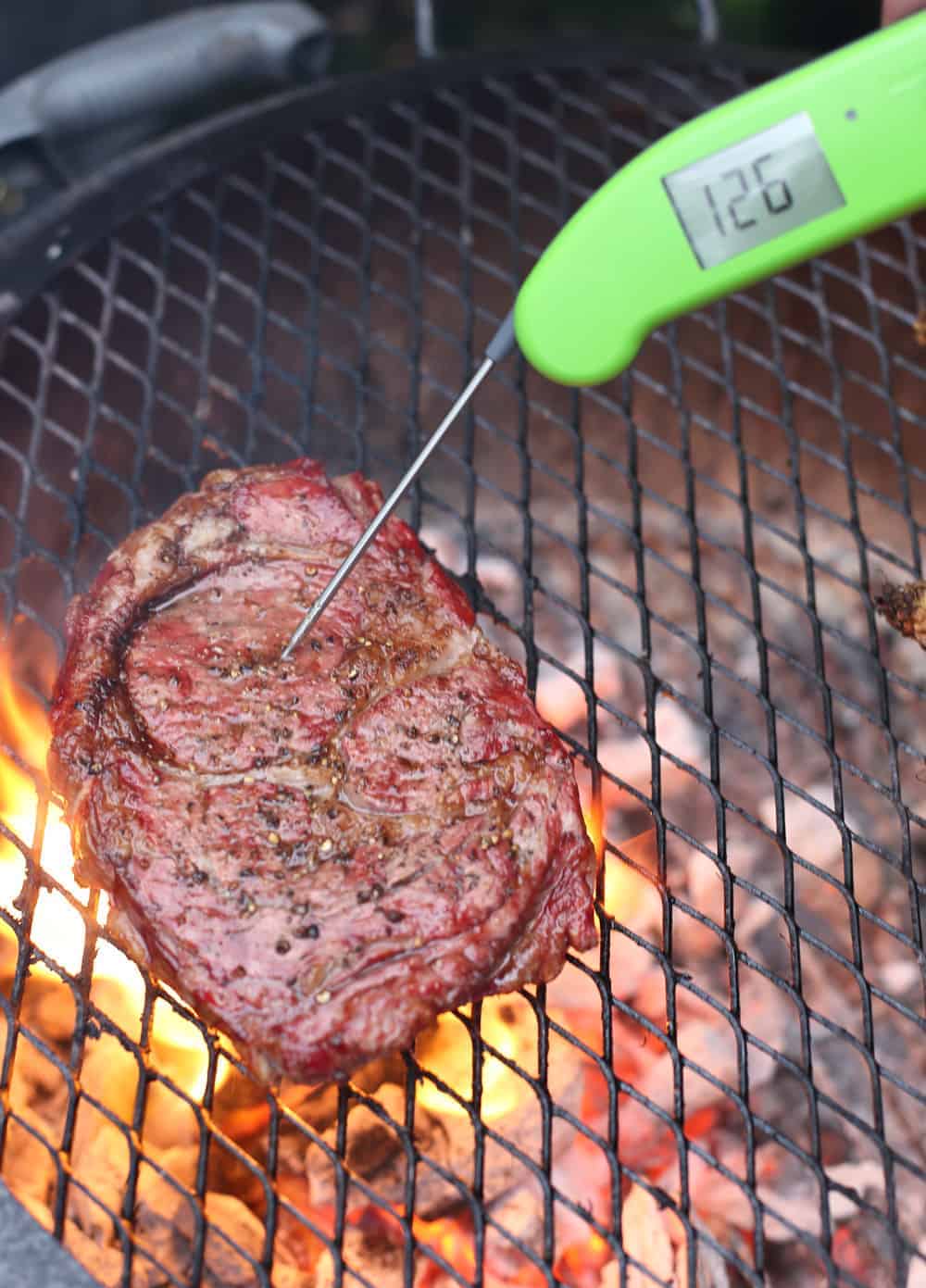 126 Boom!
Serve with your favorite sides and enjoy. The flavor will be out of this world. It's really hard to focus on any sides with the amazing flavor and perfectly cook steak, but we have some suggestions below.
When you have the incredible combination of a perfectly cooked steak with that sweet smoke infusion what more could you ask for?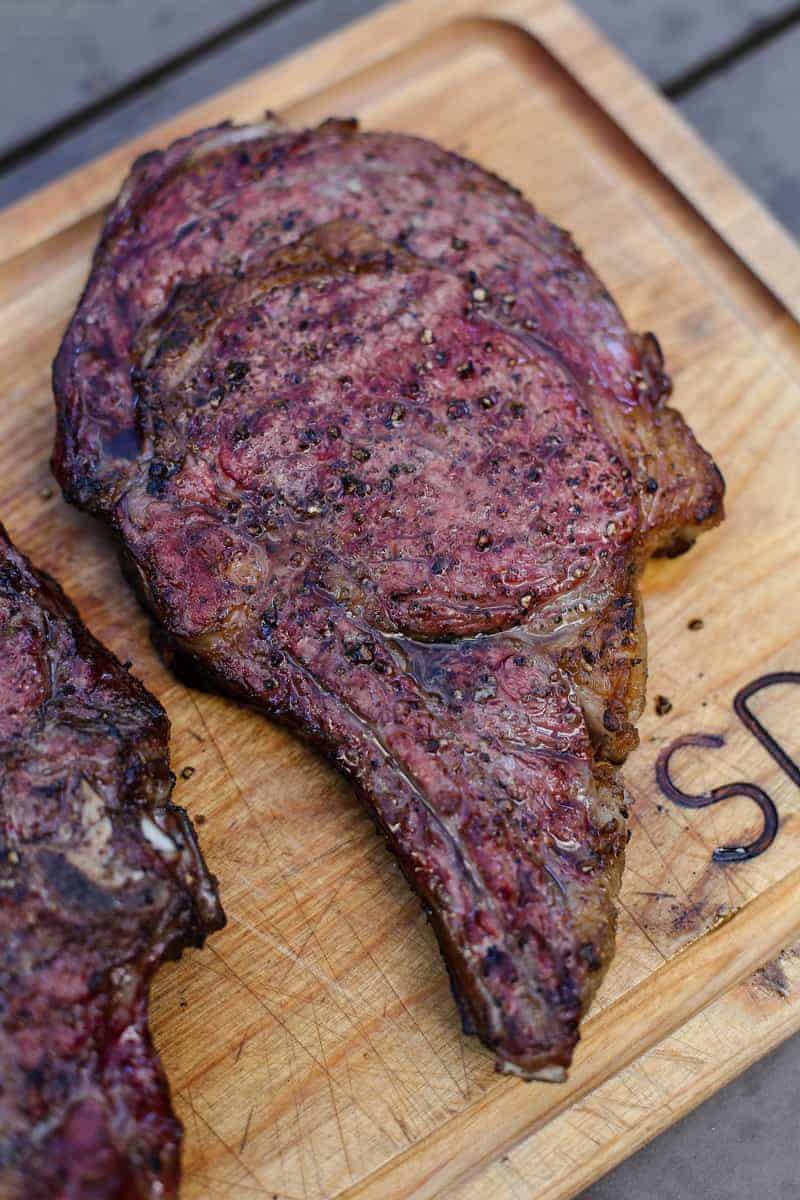 Tip: Have a gas grill?
Cook on indirect heat, and place foil pouches of wood chips over the fire for smoke flavor and finish on high direct heat.
Reverse Sear Smoked Ribeye Steak
The reverse sear is an incredible way to cook a steak. For this we are explaining the smoked reverse sear, by slow smoking a ribeye steak, then finishing it on a hot grill for char and flavor.
Cuisine:
American, barbecue, bbq, grilling, steak dinner
Ingredients
2

Ribeye steaks,

roughly 1 pound each, give or take a few ounces, the thicker cut the better

1/2

tablespoon

salt

1/2

tablespoon

pepper
Instructions
Preparation:
Salt the steaks on both sides and place them on a cookie sheet in a refrigerator for up to two hours for the dry brine. Remove about 20 minutes before smoking and add pepper. (we're not using an oil here due to the dry brine or salting)
Smoking:
Preheat smoker to 225 degrees (we like cherry wood), and remove the steak from the fridge.

Apply the pepper on the steaks, and then place them on the smoker. They will take on that flavor and start to turn a reddish hue. When the internal temperature (IT) reaches 110 degrees, remove from the smoker and prepare for the grill. This takes roughly an hour.
Grilling:
Prepare your cooker for direct heat. In this case we used a Weber kettle grill. You can also do this before the steak reaches 100 degrees. Or you can wait while you prep your sides.

Place the steak over the hot direct heat for about 2 minutes at the most. You're looking for a nice crust. The IT will come up fast on the steak, especially if you have just taken off the smoker. (* some folk may want to re-season at this point, it's up to you. We don't. The dry brine or salt with the pepper was all we needed. Try it without re-seasoning first and then adjust. Its easier to add salt and flavor later rather than taking it away)

Flip the steak for another two minutes until the IT reaches your desired doneness, we went for 125 - 130 degrees for rare. Let rest with a loosely tented foil for the juices to reabsorb into the meat then cut and serve.
Want a Fun Side Dish?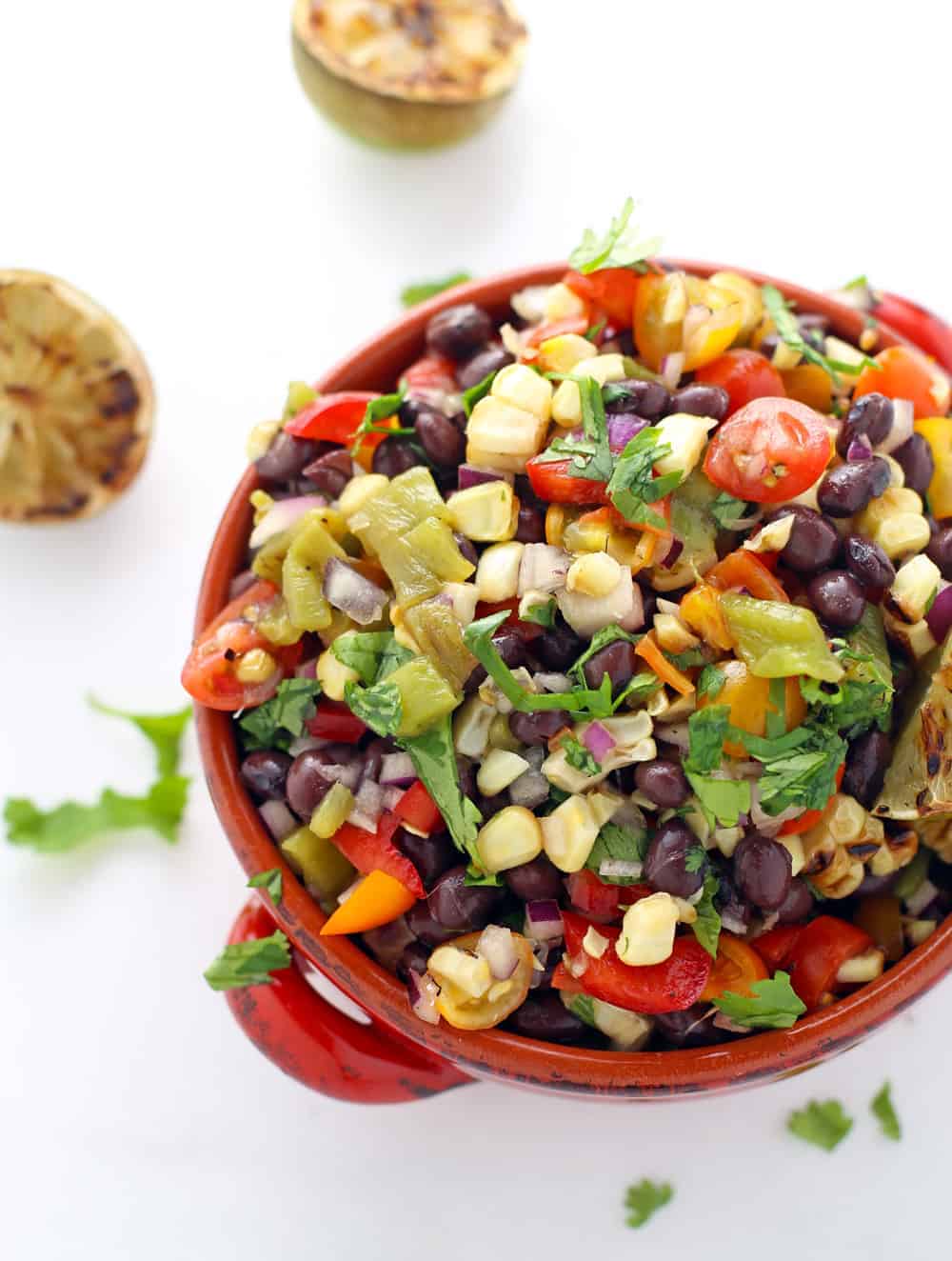 Sean has a thing for black bean and corn salads (sometimes called Cowboy Caviar) and has been asking me to put one up on the blog. I think they're fine, but we surely didn't invent this salad. They're everywhere. Basically you take some beans, some grilled corn, tomatoes, fresh limejuice, cilantro, and whatever the heck else you want to add (onions, red bell peppers, etc.). Layer that baby however you want it. It's fine, but usually it's pretty meh…
BUT… if you want to jazz up this salad, try this.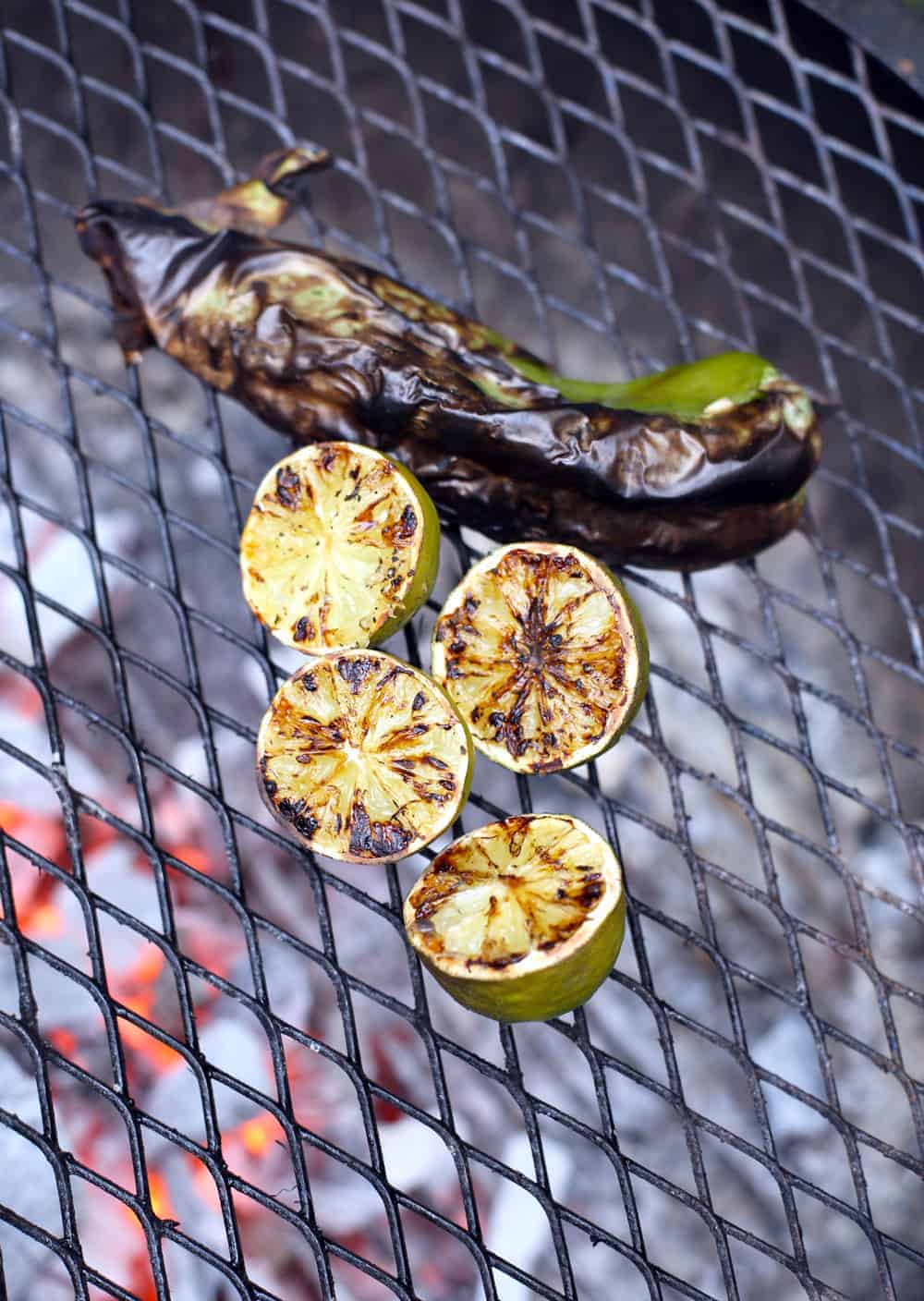 First make sure to grill your corn over a hot grill (you can see a photo of this above with the steak). This adds great flavor and char. Add some grilled Anaheim or Poblano peppers to the grill. These have great earthy flavors that aren't too spicy. If you want to dress the salad with lime, try grilling the lime first for another great layer of flavor.
This is a tasty side for pretty much anything you plan to cook up this summer. We like to serve it alone as a light lunch, or as a side to our favorite grilled meats. It's also great to add into tacos.
In fact, if you want to stretch your steak dollar, use the slices of this incredible steak as a base for tacos. Yum.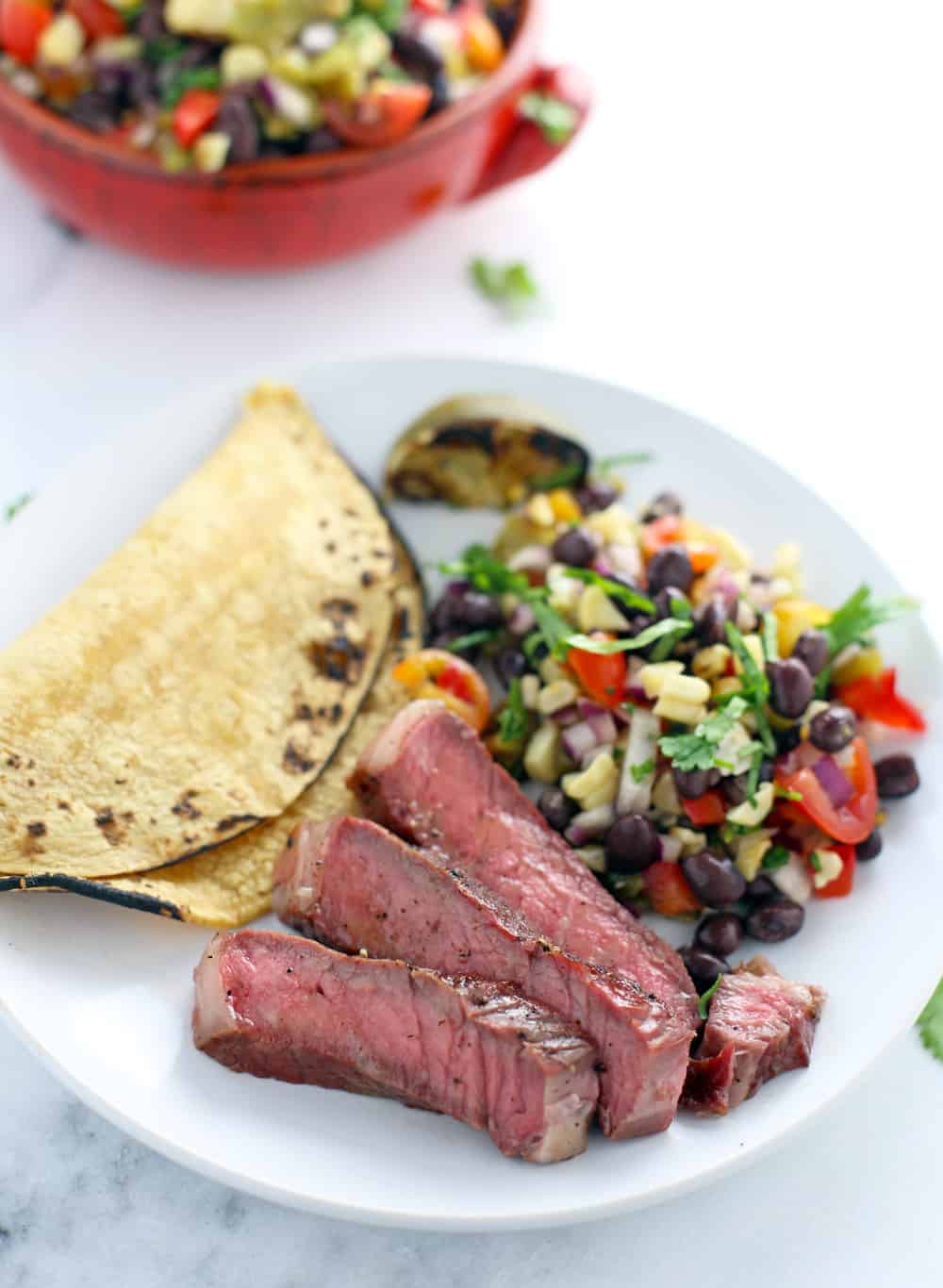 Have you ever tried the reverse-sear? What do you think about it?
---
***While this post does contain affiliate links, it is not a sponsored post at all, nor were we paid by anybody to write this! We are just huge fans of these thermometers and have been using our own Thermapen for years. Whether a Thermapen or not, we truly believe a good thermometer is absolutely essential for grilling and smoking meat, especially using a method like reverse sear! Your perfectly cooked meat will thank you (and so will the friends you serve it to).
---
For more awesome recipes for your smoker or grill check out the Recipe Index.
Want more? If you liked what you read you can subscribe to Vindulge and have new posts delivered directly to your inbox.
0