I like to review wines the way most people taste them, with food. Many of the wine reviews you'll see on this site are accompanied by a recipe. When we test recipes we usually open a few different wines of various styles that we think will work, then write about the best pairing.
But often we taste wines — either those sent as samples for review or those we purchase on our own – that are definitely worthy of mention even though they weren't part of a recipe post. These wines below fit that bill.
These were some of the highlights from this summer so far. I see a local trend in this particular list for many of my go-tos. Go PNW!!!
For more of my favorite wines make sure you're subscribed to our mailing list. Every Friday we list a "Wine of the Week" where we go into deeper stories and detail about the chosen wine. A couple of these have made that list.
If you're not already subscribed, click here so you don't miss our wine of the week and other fun finds in the newsletter.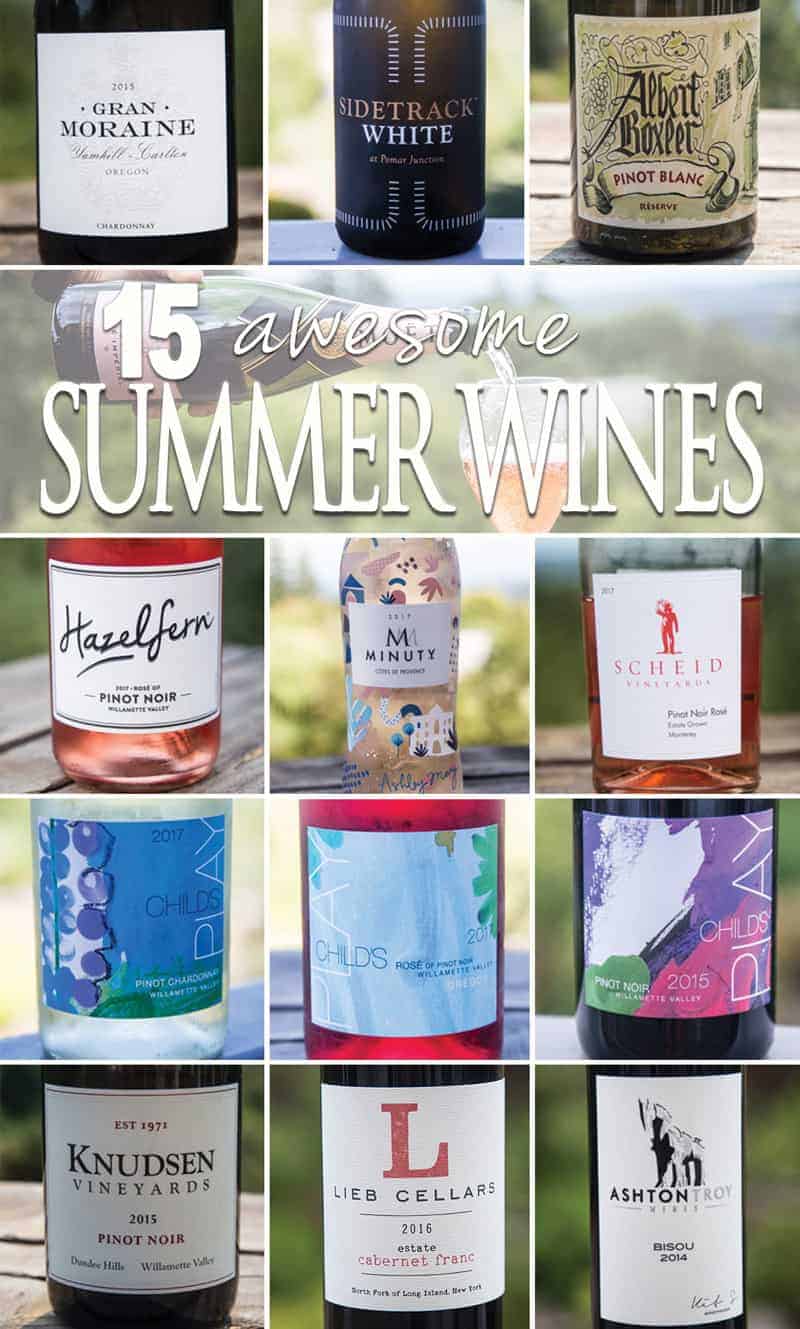 White & Rosé
2015 Gran Moraine Chardonnay (Yamhill-Carlton District, Willamette Valley, Oregon)
Lovely baked bread, baked apple, ripe pear, lemon curd, and spice. Super savory. Get a good amount of the oak, but it's well integrated and not distracting. Has a great lighter style body, yet boldly flavored and fresh in the mouth. Loved this one.
13% abv  |  $45
Sidetrack White at Pomar Junction, Pomar Junction Vineyard & Winery (Paso Robles, California)
With a blend of 50% Viognier, 35% Roussanne, 15% Grenache Blanc I was not expecting it to be so bright and citrusy. With grapefruit notes and tropical flavors, it reminds me of a big-ish style Sauvignon Blanc. Juicy apricot meets passion fruit meets grapefruit. Big flavors! Fruity and fun. I'm a fan!
14.2% abv  |  $24
2013 Albert Boxler Pinot Blanc Reserve (Alsace, France)
Loved the nose on this one. There's almost a sweet lychee note or apricot on the nose with some honey, but it tastes and finishes dry. It gets more complex with a mix of pear, citrus, and fresh minerality. Really nice! Intriguing, refreshing, vibrant, and delicious. Mental note: must find more of this!
Imported by Kermit Lynch
13%  |  $34 avg
2017 Hazelfern Pinot Noir Rosé (Willamette Valley, Oregon)
Big, bold, darker in color, mild lemon tone along with bright strawberries and sweet watermelon. It's a bigger style than I'm used to for Oregon Pinot Noir Rosé but I really  like it, especially that savory finish.
12.6% abv | $22
2017 Child's Play Rosé of Pinot Noir (Willamette Valley, Oregon)
By Tendril Wine Cellars
Dark in color, and deep in flavor, there's a richness to this one. It's not a light and bright style. It's got a little depth of it, and darkness (for rosé that is). Rich strawberry flavors, raspberry, and a touch of pomegranate, finishes dry. This is one to experiment with beyond just a warm summer day. Try this with some BBQ, grilled chicken, or dare I say grilled beef or pork? It will hold up to more than what most rosés are capable of, and that's a very cool thing.
14.1% abv | $30
2017 Child's Play Pinot Chardonnay (Willamette Valley, Oregon)
70% Chardonnay 30% Pinot Noir
Such an interesting blend, and one I don't think I've seen in the Willamette Valley before for a still (non-sparkling) white wine (though this would be a normal blend for a sparkling wine). There's a yin-yang of richness and brightness with fresh citrus aromas along with some peaches, pears, and even a stoniness. This is a really delicious wine! I also can't help but love the labels of the Child's Play line of wines by winemaker, Tony Rynders, which were designed by his daughters.
13.5% abv  | $30
2017 Minuty Cotes de Provence Rosé
Light and fresh, screaming of long hot summer days. While very pale pink in color it's full of flavor. Citrus starts the way into fresh strawberries, cherries, and a hint of grapefruit. I'm not ready for summer to end. Perhaps if I keep drinking this it won't?!
13% abv |   $17
2016 Scheid Vineyards Grüner Veltliner, Riverview Vineyard (Monterey, California)
Fresh, with green fruits. Lots of lime and lime peel and a hint of grapefruit and passionfruit. Lively acidity with a vibrant, racy and dry finish with some lingering tropical fruit. Would love to try this with grilled beets in a citrus vinaigrette, or grilled shrimp skewers. Yum. (not pictured in the collage above)
14.5 % abv  |  $22
2017 Scheid Vineyards Pinot Noir Rosé (Monterey, California) 
A little closed on the nose at first. Opens to lots of strawberry fruit (fresh strawberry, dusty strawberry, even strawberry chewing gum), and a hint of cranberry and some tart citrus (meyer lemon?). Nice summer sipper, good for picnics, snacking on dried fruit and charcuterie.
13.5% abv  |  $19
REDS
2015 Child's Play Pinot Noir (Willamette Valley, Oregon)
Bold flavors with lots of ripe cherries, strawberries, ripe red raspberries followed by some cardamom, baking spices, vanilla bean and plum. Dark and fruity with nice acidity, this is a very well made wine for this price. Great value for a Willamette Valley Pinot Noir.
13.9% | $25
2015 Knudsen Vineyard Pinot Noir (Dundee Hills, Oregon)
Beautifully fragrant nose with lots of rich cherries, cranberries, and herbs with nice savory note. Opens up very nicely. It's not a "big" or bold Pinot, but it does have great depth of flavor, elegance, and lots of character. Would love to try this with a roasted lamb, or pork tenderloin, though nothing too overly seasoned or spicy to take away from the delicate nature of the wine. Beautiful!
14.1% | $55
2015 Chehelam Pinot Noir Three Vineyard (Willamette Valley, Oregon) 
Cranberry focused and slightly tart with a touch of raspberry and cherry fruit, I quite like this and it opens up nicely. Nice savory and earthy note to this. A good one for a late summer evening, or to pair with herbed rubbed grilled pork tenderloin. (not pictured in the collage above)
14% abv | $30
2015 Child's Play Zinfandel (Columbia Valley)
Great fruit with good restraint! There's nothing "jammy" about this style of Zinfandel, with fruit sourced from the Red Heaven Vineyard on Washington's Red Mountain within the Columbia Valley. Nice fruit profile with red cherries, vanilla and fresh ground pepper. Went amazing with Smoked Tri Tip! Juicy meat, sweet smoke, fruity and spicy wine. Great match.
Very nice Zin. Very well balanced. Light and fun. (not pictured in the collage above)
14.2% abv | $30
2016 Lieb Cellars Estate Cabernet Franc (North Fork of Long Island, New York)
Blend of 80% Cab Franc, 14% Cab Sauvignon, 4% Petit Verdot, and 2% Merlot.
Filled with red berry fruit (lots of raspberry, deep cherry) and a touch of spice. Really nice. Would love to try this with some grilled lamb! Yaaaaas!
12.8% abv | $30
2014 Ashton Troy Bisou (Columbia Valley, Washington)
64% Merlot, 27% Cabernet Sauvignon, 9% Petit Verdot
Bright red and blueberry fruit with some deep cherry flavors and toasty oak notes and mocha. It opens up very nicely to some soft blueberry fruit and a lovely savory finish. Really nice! Thought takes some time to open. Give it a shot!
Ashton Troy is the second label wines from Lauren Ashton Cellars and designed exclusively for the restaurant market, so keep a lookout for them (especially if you're in the NW).
14.9% abv  |  $30
---
*Most of these wines were were media samples for review.  See my sample policy here.