Beets are incredible roasted on the grill, and even better topped with rosé infused cranberries and smoked bacon. This Grilled Beet Salad will be your favorite salad all summer long (and through the holidays!).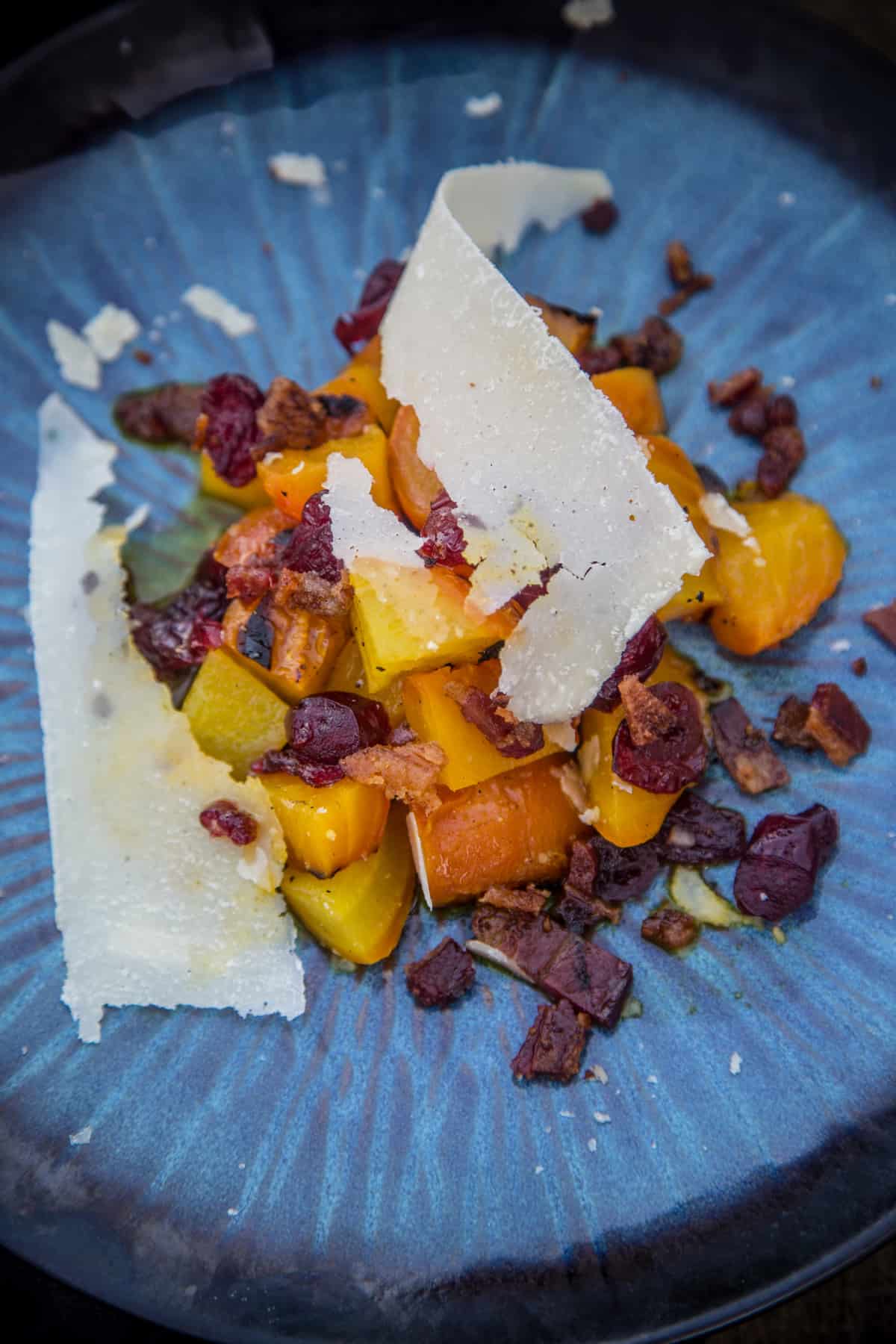 Beets are a family favorite vegetable. It's one we can all agree on. And while our kids prefer yellow beets, this recipe works great for both yellow and red beets.
Jump to:
We loved this recipe so much that we started cooking it for our Ember and Vine catering company events. And it's always a huge success.
So we decided to share it here for all the fans, and future fans, of this incredible salad.
It may seem complicated, but the process of making this beet salad is pretty simple.
Grill Roasted Beet Salad Steps
Prepare the rosé infused cranberries.
Roast beets and bacon at a high heat on the grill.
Peel beets, toss them in the dressing, and finish them on direct heat on the grill.
Toss salad ingredients and serve.
But first, let's start with the rosé infused cranberries, since they will take the longest.
How to make Rosé Infused Cranberries
Place dried cranberries in a small bowl and pour rosé over them until submerged. If the bowl is small enough you should only need about ¼ cup of rosé. Pour a glass for yourself to sip on while these infuse.
Let the cranberries infuse with the wine for a minimum of 2 hours, and up to 24 hours. Best to do the day before. Drain the cranberries and discard the wine.
Next up, roasting the beets on the grill and assembling the salad.
How to Roast Beets on a Grill or Smoker
The steps to roast beets and cook bacon are:
Roast beets on the grill at 400 degrees F for 45 minutes over indirect heat.
At the same time, place bacon on the grill. The bacon should only take no more than 20 minutes. Cook until crispy.
Peel beets, then finish them by grilling over direct heat.
Just like you would roast beets in the oven, you can cook them the same way in your grill. Prep your grill for between 400-425 degrees (F) setting up a direct/indirect coals. Place your beets on a sheet pan and place them on the indirect side of the grill (on direct they can burn on the bottom, so we recommend a sheet pan to help avoid this).
They'll take roughly 45 mins to roast in the grill. You want to cook them until they're soft, but not mushy! One way I like to test is to use a digital thermometer probe and see how easily it glides into the beets. It should go in easy (but not quite as easy as butter or mashed potatoes). Once they're soft, remove them from the grill and let cool enough to handle before peeling them.
Do I need to peel the beets before I roast them?
Nope! Just trim any beet tops (the greens), clean them and place them directly on the sheet pan and into the grill they go.
How to Grill the Beets to Finish them off
Increase the temperature of your grill: Get your grill hot and prepare for direct heat cooking.
Peel Beets: Now that the beets are softened and cool enough to handle, now is the time to peel them.
Toss Beets in Dressing: Once the beets are peeled, toss them in the citrus dressing. Let them marinate in the dressing for at least 10-20 mins, soaking in that incredible flavor.
Grill Beets Hot and Fast: Next, place the beets on the hot grill and let them sear about 2 minutes per side, rotating them just long enough to get that char on each side.
PREP TIP: Want to do this the day before? Then roast the beets first and peel them the day before. Then let them marinade in the dressing overnight. Then you can grill them the next day.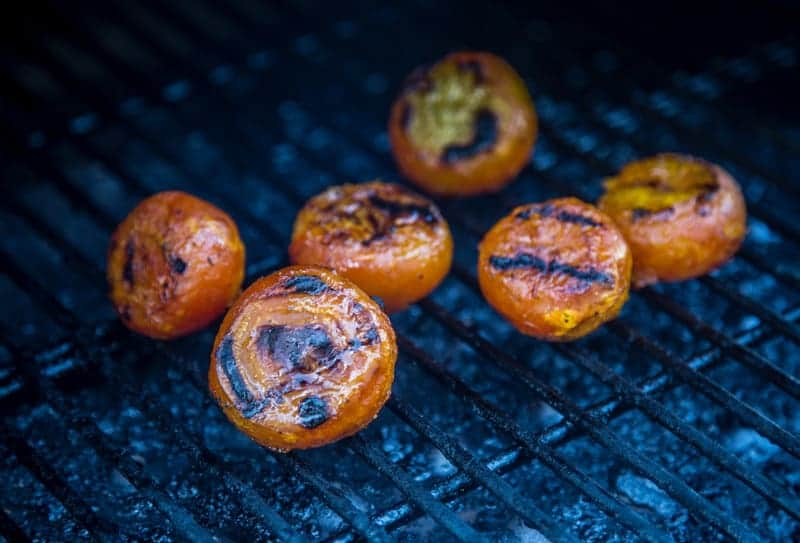 That's it. Now remove them from the grill and build your salad.
How to Assemble Grilled Beet Salad with Rosé Infused Cranberries
Cut the grilled beets into bite sized pieces. Depending on the size you can quarter them or cut into sixths.
Top them with the rosé infused cranberries and chopped smoked bacon, then drizzle with the remaining citrus dressing and some fresh shaved parmesan cheese. You can also sneak in some greens if you'd like. Boom!
Related Recipe: A great variation is adding smoked bacon.
Is this Salad Good for Backyard Summer Cookouts or Parties?
Absolutely. My recommendation would be to roast the beets (either in the oven or on your grill) at home, prior to leaving the house. Then let them cool, and place them in the dressing and transfer them and the rest of the ingredients to the party. Then at the party add the beets to the grill for the final step of grilling them to get that char. Then finish the salad from there.
Your friends will be crazy impressed, especially when you tell them the cranberries have rosé wine in them! True story.
Can This Beet Salad be Vegetarian?
Absolutely. If you're not into the amazingness that is bacon, then by golly feel free to leave the bacon out! But seriously, why would you? 😉 You can also replace bacon with grilled porcini mushrooms!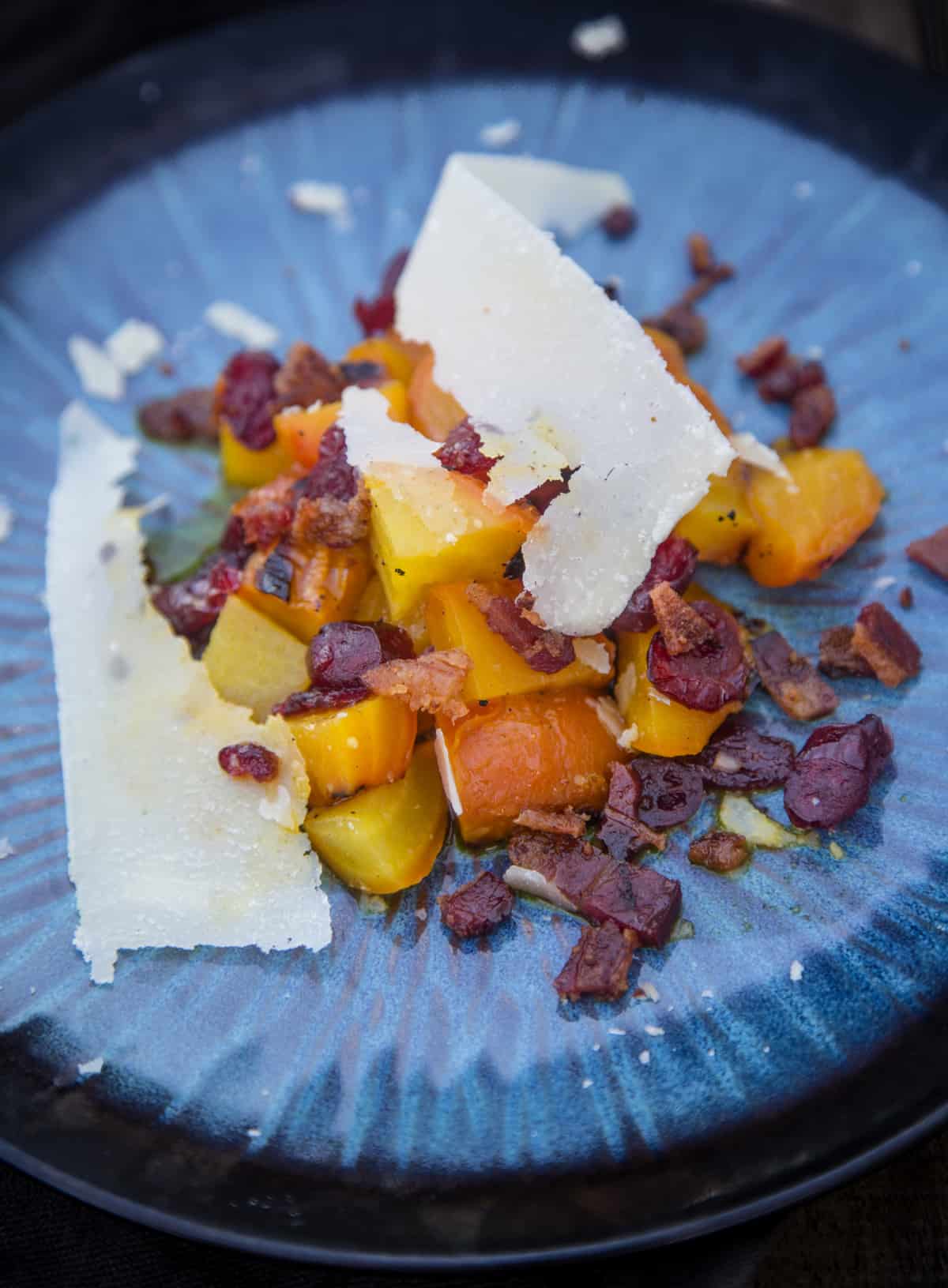 Wine Pairing for Beet Salad?
Rosé of course!
In all honestly, rosé really does pair incredibly well with Grilled Beet Salad! The cranberries are sweet and concentrated, but balanced by the dry acidic wine, and the bacon and cheese add both texture and savoriness. I really can't think of a better match. We recommend a dry fruity rosé for this. Oregon Pinot Noir Rosé's are the ideal match, but I think a Spanish Rosado or Italian, or a California Rosé made from Pinot Noir grapes, will work just as good.
More Grilled Vegetable Recipes
If you like this recipe we'd truly appreciate it if you would give this recipe a star review! And if you share any of your pics on Instagram use the hashtag #vindulge. We LOVE to see it when you cook our recipes.
---