This refreshing Cold Lentil Salad with Smoked Sausage is perfect for summer picnics or side dish to bring for a cookout or summer BBQ. It's served cold and full of incredible fresh flavors.
And speaking of picnics, we've also got some great tips for you to enjoy an elegant yet stress free picnic this summer!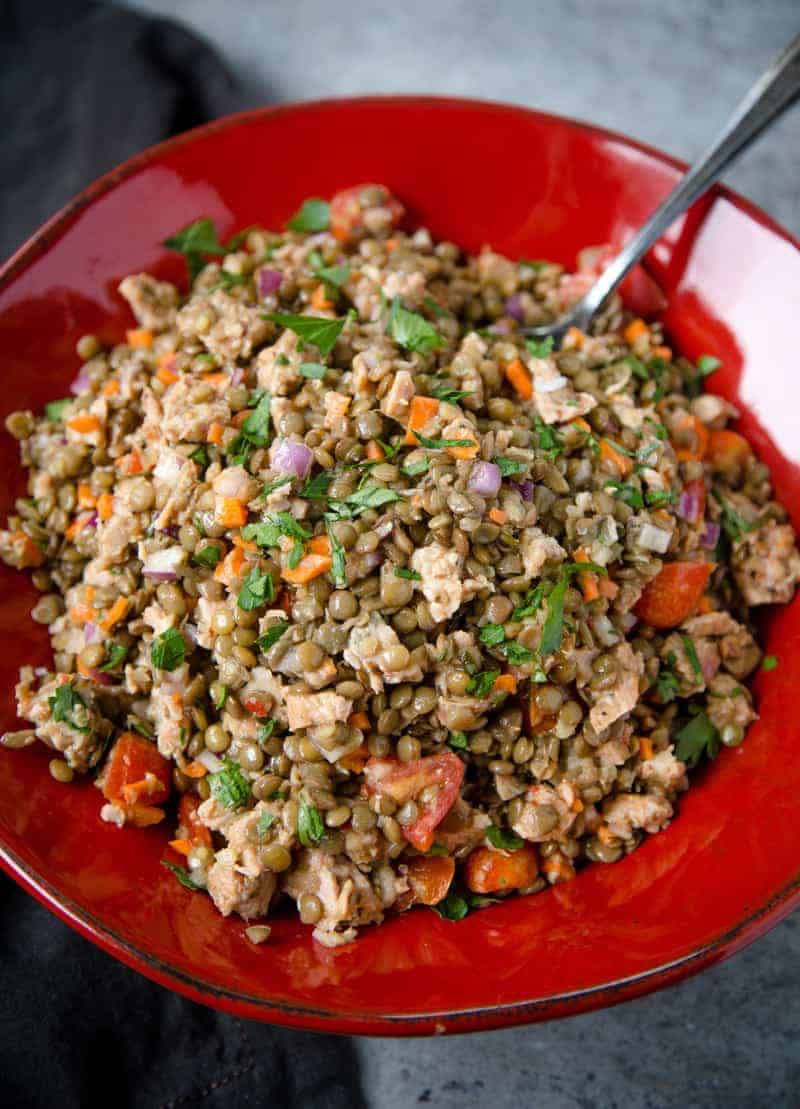 We cook a lot with lentils in my house. It started with this soup, and the fact that after we cooked it at an event for 400 people we were left with TONS of lentils to experiment with. So experiment we did. And along the way we learned our kids love lentils, however we prepare them (score!). So we keep coming up with new ways to use lentils. Like this Smoked Sausage Lentil Salad that can be served cold or hot.
But I have to be careful about using the "s" word in our house (a-hem salad). My boys associate the "s" word with boring green lettuce salads (which, hello, there's nothing wrong with those, but our kids are in one of those picky ruts with greens), so I just have to come up with new ways to describe salad-like meals. Like this, which I refer to the kids as "sausage lentil surprise in a jar". You do what you gotta do as a parent.
Also, please tell me I'm not the only one whose kids freak out about the "s" word?
We need a salad intervention.
At any rate, this is a jar full of delicious and flavorful lentils, savory sausage, crunchy vegetables, and a sweet and citrusy sauce drizzled throughout. And I say jar because I like to serve it in jars when we take it to a picnic, like below.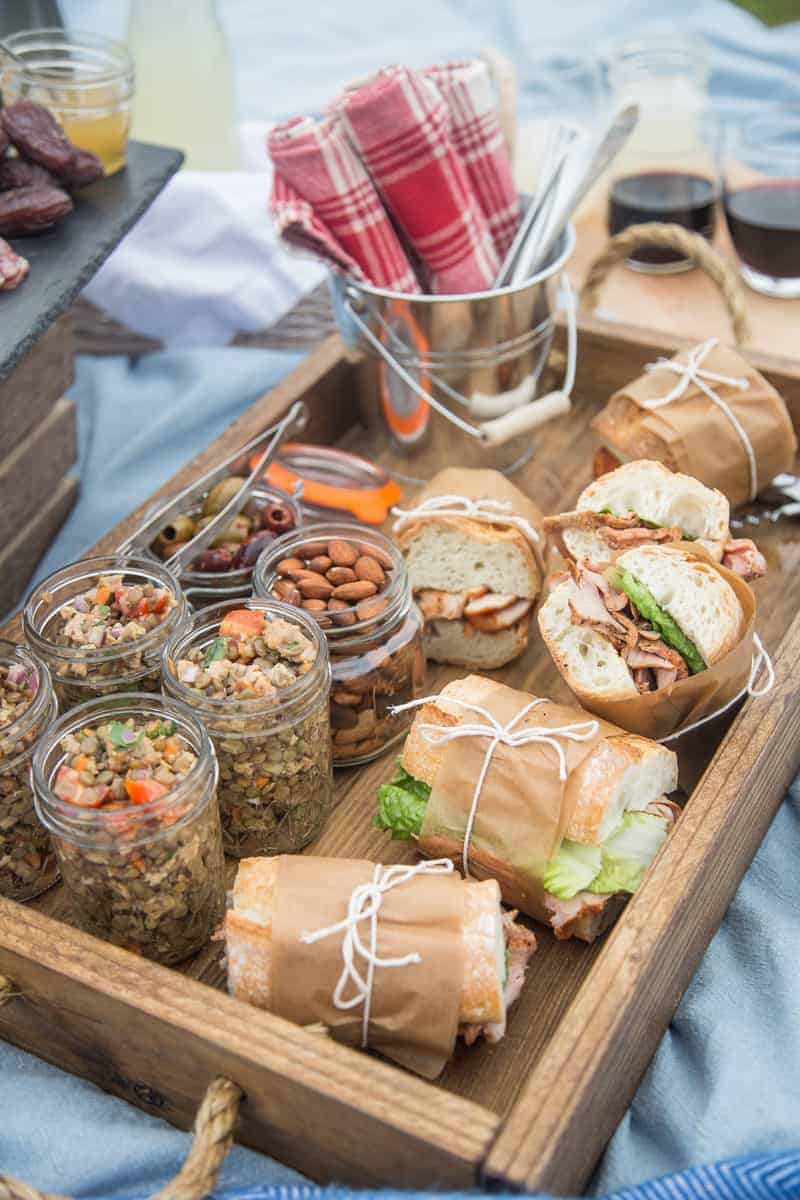 What I love about this dish is that you can prepare it in advance, either the night before, or morning of your picnic or event, and the flavors will just get better and better as they sit and merry together. It's great on the go as there's nothing that will spoil (y'all already know about my aversion to mayo, so this one is 100% mayo free).
Can you make this without a Smoker?
Yes! It certainly won't have that delicious smoky flavor, but you can cook your sausage on a frying pan or in the oven if you don't have a smoker. The salad will still be delicious!
Pork or Chicken Sausage?
You can use either! When we make it for events we use pork. But one of our kids has a pork allergy (whyyyyyyy!?) so we use chicken sausage when making it for the family at home.
Can you make this a Warm Lentil Salad?
Heck yeah you can, my friends! You gotta cook those lentils in the first place, so just cook the sausage and lentils at the same time, then mix in the other ingredients and serve warm.
But if you want to add something different as a 4th of July side dish, or to bring to a picnic, this works awesome cold. And on a hot summer day, do you really want to eat a warm salad?
Not so much!
Make it cold in the summah-time and warm in the winter.
So versatile.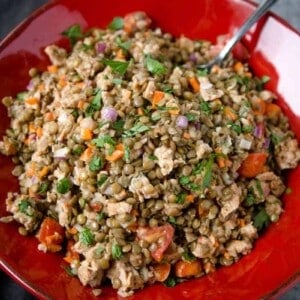 Cold Sausage Lentil Salad
A delicious and refreshing cold lentil salad with smoked sausage that can be served cold or hot.
Print
Rate
Ingredients
For the Smoked Sausage
1

lb

Italian style bulk sausage not in casings, broken up into quarter sized pieces (pork or chicken sausage)
For the Lentil Salad
2

cups

lentils

4

cups

chicken stock

2

bay leaves

8

thyme stems

2/3

cups

carrots, diced

2/3

cups

diced celery or onions

(one or the other, see notes)

2/3

cups

cherry tomatoes, halved or quartered

1

red bell pepper, diced

(optional)

3/4

teaspoon

salt
Dressing
1/4

cup

extra virgin olive oil

1

tablespoon

Dijon mustard

1

teaspoon

honey

1/2

lemon, juiced

1/2

teaspoon

red wine vinegar

salt

to taste
Instructions
To Smoke the Sausage
Preheat smoker to 275 degrees Fahrenheit.

Place sausage spread out on a large foil-lined cookie sheet in small clumps.

Smoke for 60-90 minutes. Look for a darker color on the exterior while still moist. Check the larger chunks for temperature, and pull when they reach 165 degrees F. Remove, and break up into smaller pieces if necessary. Set aside.
For the Salad
In a large stock pot bring the lentils, chicken stock, bay leaves, and thyme, to a boil, and then reduce heat to a simmer. Cook approximately 30 minutes, or until the lentils are slightly al dente. (Some styles of lentils may cook to different times, so check the recommended length from your package)

Drain the liquid and place the lentils in a large bowl.

Add the carrots, celery or onions, bell pepper, the smoked sausage, and salt. Toss together.

Mix in the dressing. Taste and adjust salt to your preferences. Serve now (warm), or let cool and serve later.
Dressing
Place all ingredients in a bowl and whisk together.
Notes
Depending on your preference you can add onions or celery to the salad. They both provide crunch and acidity. I find it's a bit too much adding both of them, so I like to stick to one. Some also may not prefer the flavor of raw onions, so in those cases it may be best to stick to the celery. 
Ok, now let's talk picnic!
Yesterday we gave you this awesome sandwich recipe that we love to take on picnics. You make one big sandwich, then cut it into small serving sides and voila – the work is all done.
Now we have this as a side dish.
All we need is the supplies.
TIPS FOR AN EASY, YET ELEGANT PICNIC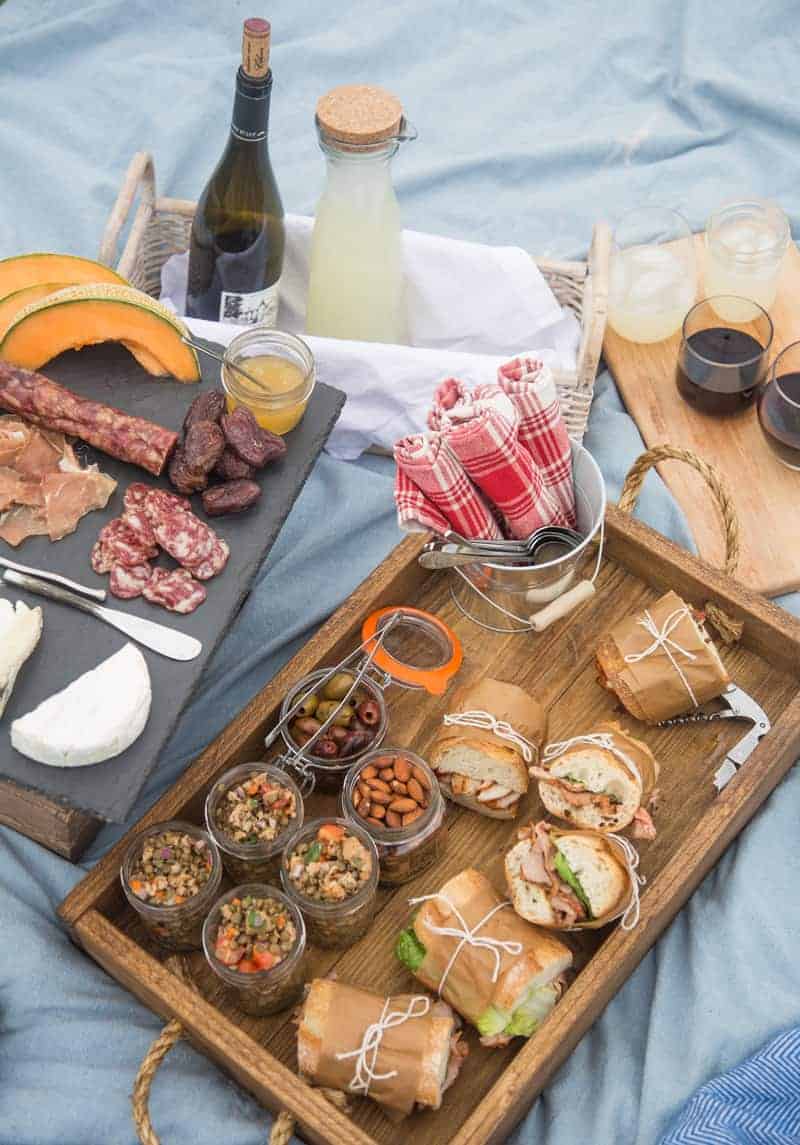 KEEP IT SIMPLE! Don't over think serving dishes or platters. Look for what you have in the house. Use a coffee tray or cutting board to serve your food on. We have one similar to this.
Use a basket to load up your supplies for easy transfer. This dubs as a small table once you arrive to your location (just turn it upside down and use the bottom to place food on). This is similar to the one we have.
Don't have a sleek picnic blanket? Use a tablecloth.
Wrap sandwiches at home using kitchen twine, and you won't need a plate for serving.
Serve sides (like the lentil salad) and drinks in mason jars. You won't need to transfer dishes like salads into another serving container when you show up to your picnic. Just twist off the top, eat your food, and then put the top back on when transferring food back home. This saves on dishes when you return, and also minimizes spillage or disaster. For the salad in the pictures I used an 8 oz mason jar, which holds about 1 cup of salad and is the perfect portion as a side dish.
Bring sturdy cutting boards in lieu of plates, these are also useful to put your drinks down on.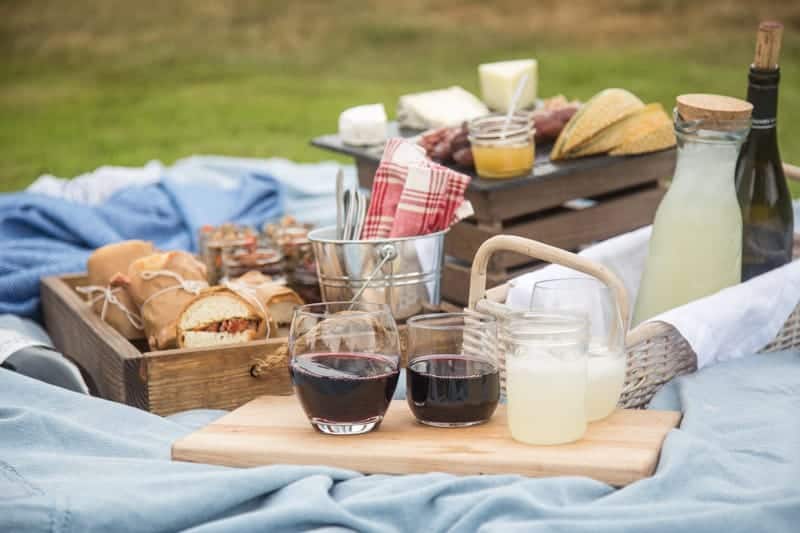 Serve wine in tumbler glasses or stemless wine glasses (or mason jars!!!). No need to be all fancy and bring your expensive breakable wine stems. This is a picnic and you're likely to be eating on uneven ground. Stemless glasses are just fine for this purpose. Use that cutting board or coffee tray to place your glass on vs the grass to help stabilize it.
For the kids. Prepare lemonade (or drink of choice) at home in a carafe with a cork lid, and serve on site (in, you guessed it, a mason jar). I believe I got my carafe at Target, but they're similar to these. The cork lid is key for preventing spilling, and also to keep any flying friends from entering the lemonade when you're at the picnic site.
Don't forget the corkscrew. Or better yet, choose wines with a screwcap! That way if you don't drink it all you can screw it back on tight and prevent any spilling if a cork were to accidentally pop out.
Want a cheese and charcuterie plate? Prep and cut everything at home so you don't have to be doing any slicing while on site (or use that cutting board). Keep it simple and do 1 or 2 meats and 2-3 different cheeses, and add some fruit (dried or fresh) or honey for drizzle. You don't need a lot going on for a satisfying and beautiful cheese and charcuterie plate. You can serve on a cutting board, or use this sleek slate board (ps, this is one of our favorite serving boards! You may recognize it, as we use it in TONS of photos here on the blog).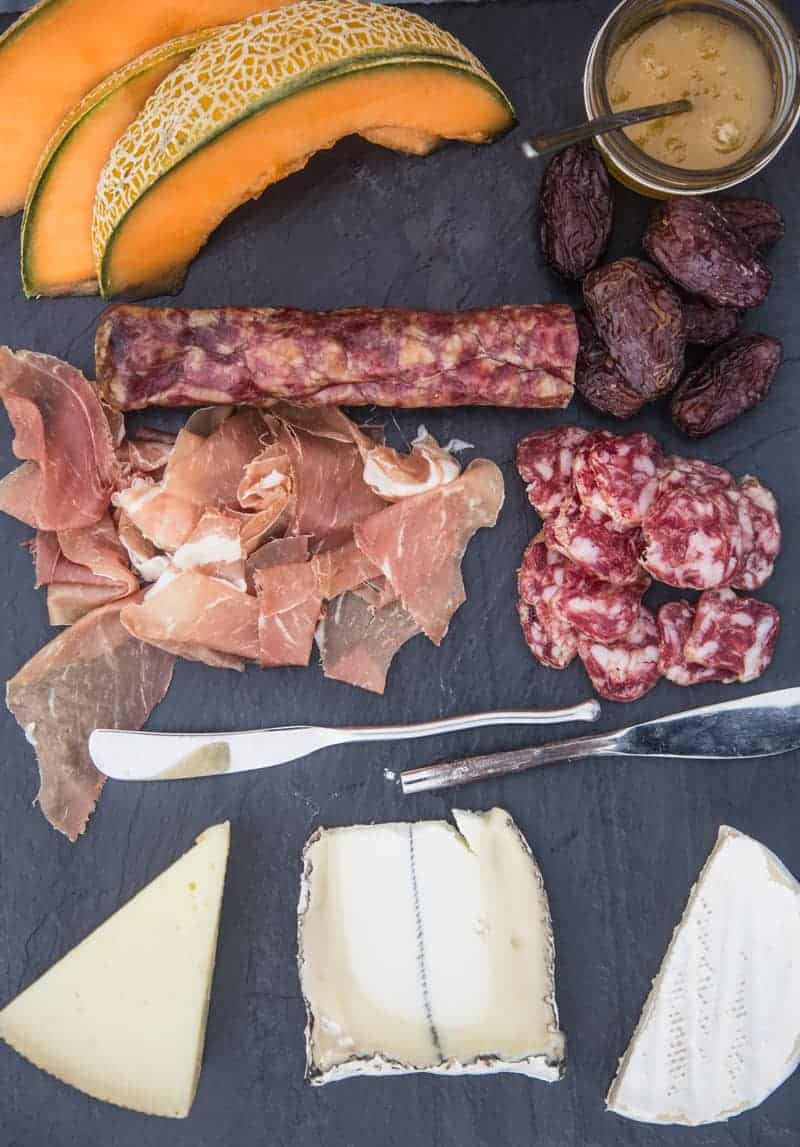 That's it.
You guys, I'm not a good planner or prepper, and even I can throw an easy and elegant picnic for the whole family! You can too!
And everyone wins. The parents are happy, and so are the kids.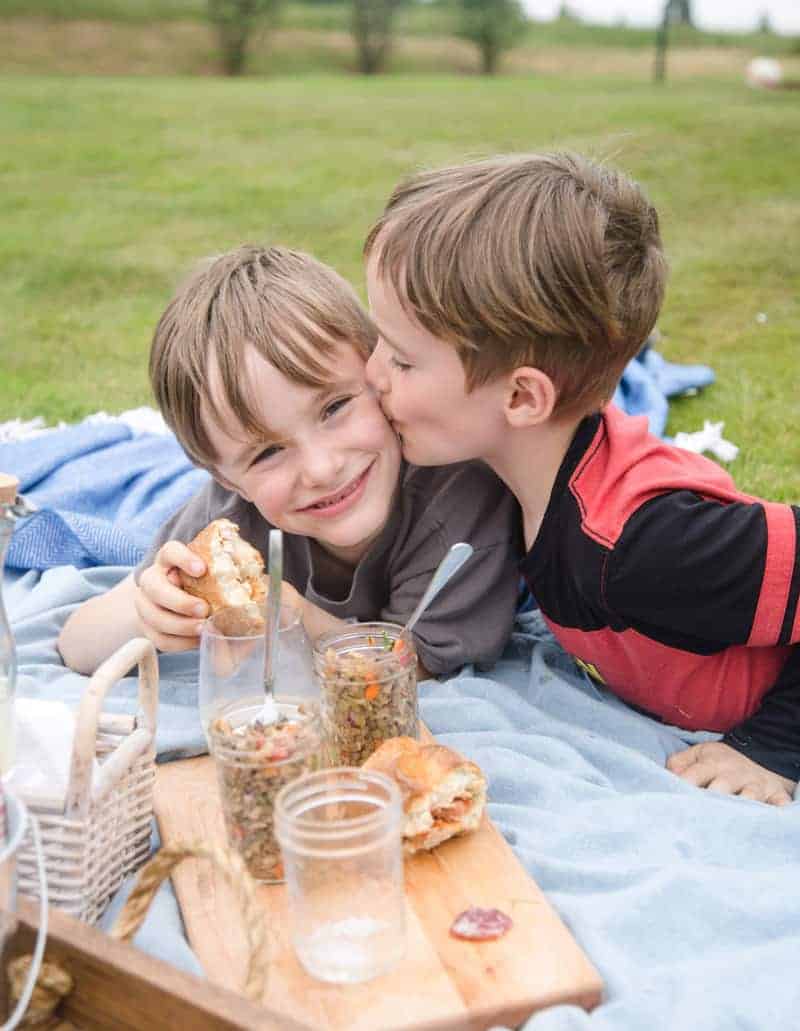 Related Recipes:
What are your favorite picnic tips? Share them below!!!
---
If you like this recipe we'd truly appreciate it if you would give this recipe a star review! And if you share any of your pics on Instagram use the hashtag #vindulge. We LOVE to see it when you cook our recipes. 
---
Want more? If you liked what you read you can subscribe to Vindulge and have new posts delivered directly to your inbox