Smoked Pork Ribs with zero added sugar, with a Sugar Free BBQ Sauce making them Keto friendly? Is it possible!? Why yes it can be done!
These Keto Ribs are made with a savory and sweet dry rub that has zero added sugar, as well as an incredible sugar free BBQ sauce that is naturally sweetened.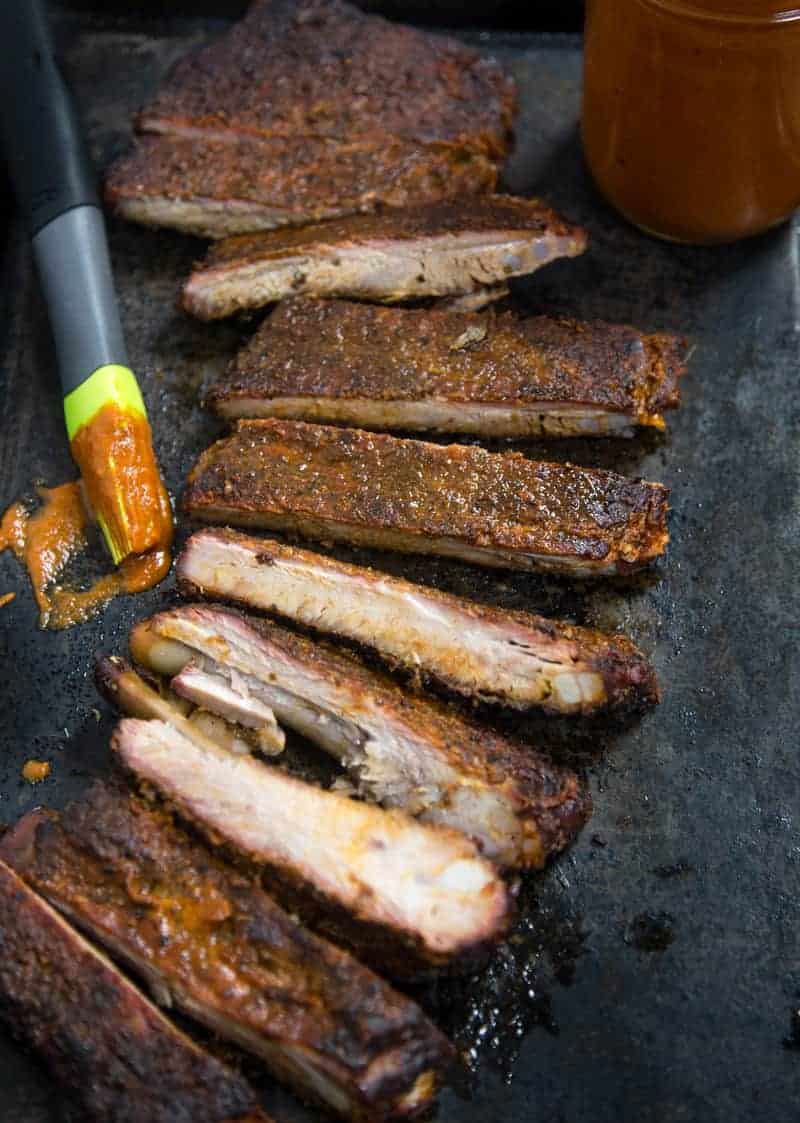 While we love our sweet sauces and pork rubs around here, we're also getting more and more requests for great sugar free BBQ recipes. Whether you follow a specific diet, like Keto or Paleo, or are just watching your sugar intake (like we are!), we've got several recipes that you can enjoy all year long without skipping any of that great BBQ flavor.
Jump to:
Keto Ribs
When it came to coming up with a full flavored recipe for smoked ribs, but without the sugar we typically use, we looked to seasonings that provide great savory flavor. And I'm not gonna lie, Sean was a bit skeptical at first.
Because he didn't even understand what Keto was. I mean, barbecue ribs with….no….added…sugar!?!
So after schooling him about the importance of low to no sugar diets we went straight into the challenge. We sat down and devised a plan to make a spare rib, with sauce, and try to get that sweet and savory flavor, plus tenderness, with….wait for it….no added sugar. We've made sugar free sauces before, so it was really a matter of creating a compatible sugar free dry rub, and applying it to our normal technique for great ribs.
And as you read this, our hope is that it's a guide for you to make your own changes for the flavors you like and adapt them to your taste and dietary preferences!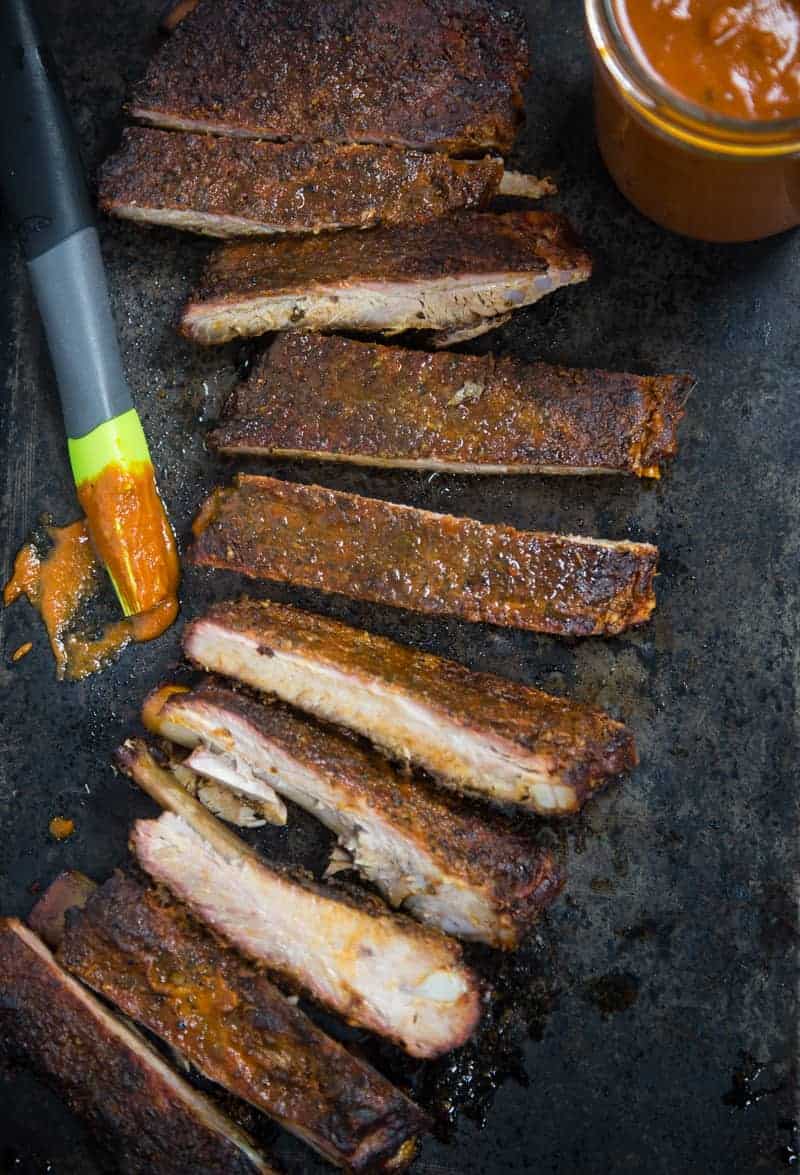 Keto Friendly Sweeteners
People have various reasons for cutting carbs and sugars from their diets. For us, it was because there were a number of people reaching out to discover if they could actually make delicious BBQ within a Keto diet. So we did some research and found some basics.
First, there are some sugars that are "okay", specifically naturally occurring sugars and sweeteners, like the Stevia plant. However, we personally don't have artificial sweeteners or those like Stevia in our regular pantry.
Honey? Depends on who you ask, but generally okay.
Molasses? Here is where it gets controversial, some say yes, but only if it is blackstrap molasses.
What Sweet Ingredients to Add to Keto Ribs
We tried to figure what is a sweetener aspect that we would eat, and still generally meet with the keto and paleo friendly crowd. Here was our approach:
Apple Cider Vinegar – ACV has a ton of health benefits. Some people do shots of it throughout the day. Good quality ACV is that good, you can drink it and it has a residual sweetness to it. So we use that in both our rib spritz and also our BBQ sauce.
Caramelized Onions – We start our BBQ sauce with slowly caramelized onions, which release tons of natural sweetness. Then we add our sauce at the end, which provides a little more flavor and thickens up as you finish the cook. So we skipped our typical brown sugar and instead use slowly caramelized onions which will add a sweet flavor to the sauce, and we add onions to sauce anyway.
Want more sweetness? You can add fruit to slowly cook into the sauce, if your diet allows. Our favorites are mango, pineapple, or cherries (but not all combined together, just pick one).
The Cut for Smoked Ribs
To keep it simple we used pork spare ribs, pre-butchered in the St. Louis cut style. Basically trimmed up and without the rib tips. You can use baby backs, or a full spare rib rack if you wish. It's your choice, but be sure to pay attention to the milestones. As a full spare rack or baby backs will cook at different times.
Preparing Keto Friendly Ribs
Take a look at the bone side of the ribs. If you see a small white film or silver skin, that needs to come off. If you cook it on, it will get crispy and not appealing. Using a paper towel and a sharp knife to lift a corner of the silver skin, pull it all off.
Next, we're simply preparing these ribs by coating them with yellow mustard and a dry rub. Our go-to is usually Dijon mustard, but Dijon has added sugars! So we went with regular yellow mustard. The mustard helps the dry rub stick to the ribs.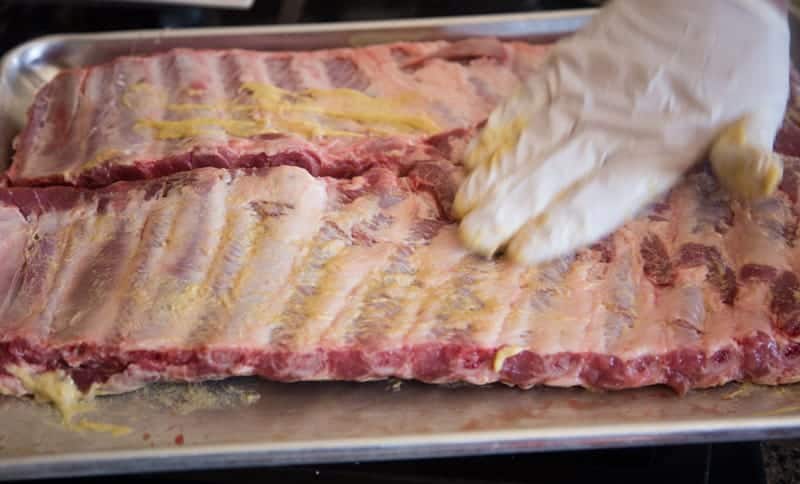 Keto Rib Rub
The keto rib rub is a combination of savory flavors. Since we aren't using a sugar substitute in the rub, we are balancing the sweet with the sauce at the end. Combine all the ingredients in a bowl and then dust the ribs literally. The rub should be enough for two racks.
coarse ground pepper
fresh rosemary, finely diced
sweet paprika
garlic powder
oregano
cayenne pepper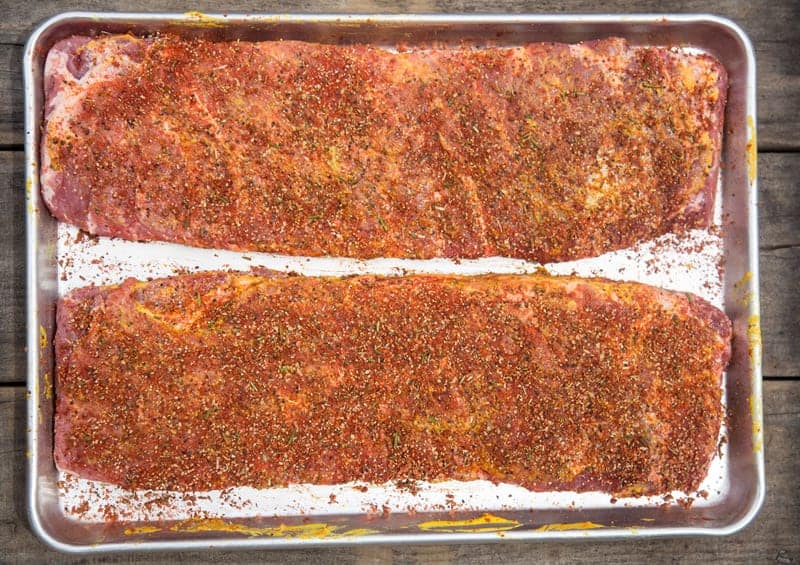 The dry rub is pretty simple and can be used for pork or chicken. It has great flavor, without sugar.
How to Smoke Sugar Free Keto Ribs
We are roughly using a 3-2-1 method here. What is that? Find more details on cooking ribs with the 3-2-1 method here, but basically it's a ratio of time (in hours) and milestones (wrapping and saucing). What is key, is knowing when to move from one phase to the next.
3 – This is the smoke phase, and also where you spritz. You move to the 2 phase when you start to see the bones showing on your ribs as the meat starts to render. You'd be looking for about ½ inch of bone showing.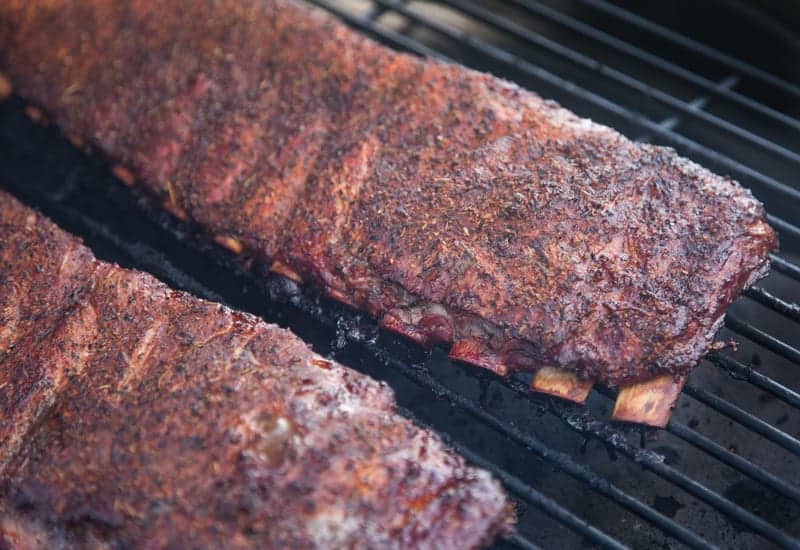 2 – This is the wrap phase, basically when you add additional flavor like butter, honey, sauce, etc., and then wrap. The meat will baste while it finishes and get that soft texture. You are done when you open the foil and can gently move the bones, they shouldn't come out, but wiggle a bit. And I use a thermometer and insert it between the bones looking for soft butter like texture.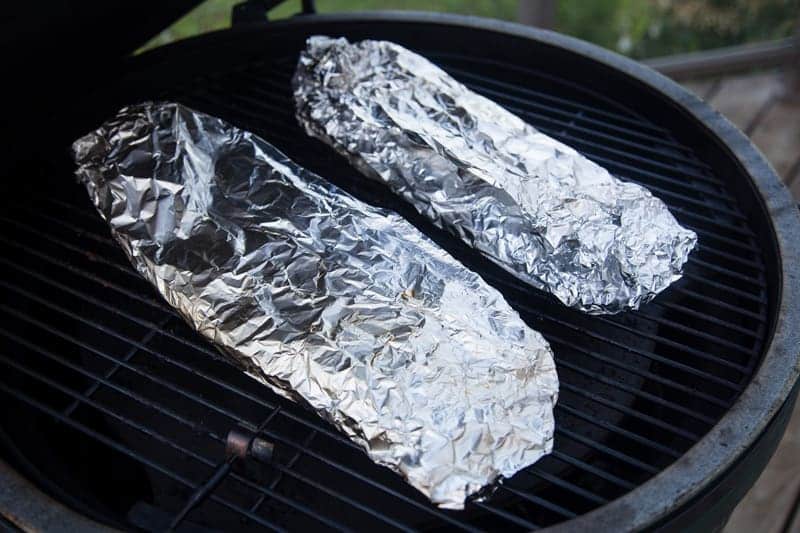 1 – The final step is unwrapping the foil (or simply opening the foil), saucing the ribs, and letting the sauce harden, or tack up. This will allow for a nice bite and that added sauce flavor to really take it over the top.
Pro Tip: Fall off the bone ribs in the BBQ circle is the cause of much debate (kind of like boiling ribs first, which for the record YOU DON'T DO 😊). Here at Vindulge we like one simple rule — this is your barbecue. You like fall off the bone tender? Then go for it, just keep cooking in the wrap phase until the bones pull right out. Technically, per BBQ competition rules and some preference, that means they are overcooked. But we say, do what makes sense to you, in the end, this is your kitchen!!!
Best Temperature to Cook Smoked Ribs to
Unlike pork shoulder, you are really looking for time and milestones versus a specific temperature. So use a good thermometer with a fine point, but I'm not taking an actual reading for temperature. I'm probing the ribs for tenderness as you try to identify when they are done or ready to move from the wrap to the last phase.
Adding Natural Sweetness for Keto Ribs
Here is the thing that we did to add layers of sweet. By layers I mean making sure each stage of the process will add layers of sweet so we can get that sugar sweet feel WITHOUT actual sugar.
The Rub – Use sweet paprika. If you are someone on keto who is ok with honey, buy honey powder from a specialty market. It's amazing! And watch the salt, too much salt or umami flavors will drown your added sweet (and we aren't big fans of Stevia so yes, you can add that too, I guess).
The Spritz – If you looked in more detail at our post on 3-2-1 competition ribs, you'll see the spritz is key. Spraying moisture on the ribs so you get smoke flavor to adhere to the meat. In this case, we use 100% apple cider vinegar, no dilution. Spray several times before wrapping and add some of that into the wrap.
The Sauce – You can add some sauce when you wrap and for the finish. For these we just added the sugar free BBQ sauce in the finish. You can do one, or both. Adding the sauce adds the flavor when basting, so by making the sauce with tomatoes and caramelized onions, you get a nice natural sweet. If you want more sweetness, and if your diet allows, experiment with adding about ½ cup of fruit to the sauce and let it simmer and soften in your sauce. Mango, pineapple, peach, and cherries work especially well in this. Pick your favorite and experiment.
Wow, I need a glass of wine now – cause we just shared a lot. So, go do your buy list and get cracking, season the ribs the day before if you can (though not necessary).
How many ribs per person?
For a main meal, plan ½ rack per person. For a buffet, plan ¼ rack per person.
This recipe was first published in June of 2018, and updated January of 2021 with new details for the keto rib rub and recipe steps.
If you like this recipe we'd truly appreciate it if you would give this recipe a star review! And if you share any of your pics on Instagram use the hashtag #vindulge. We LOVE to see it when you cook our recipes.