This Mango BBQ Sauce gets a spicy kick from the jalapeño and is naturally sweetened with mango. There are no added sugars in this recipe, making it a great one for anyone on a low sugar, keto, or paleo diet!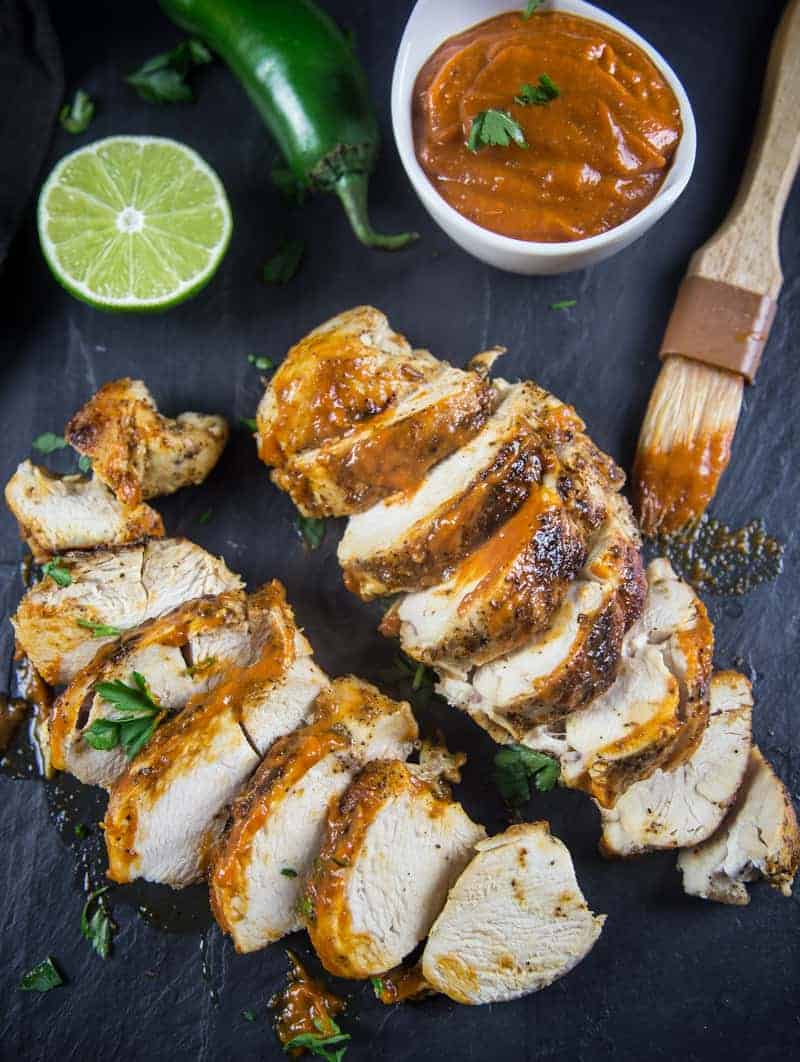 Eating a No-Sugar, Low-Sugar Diet
Last year the hubs and I did a 10-day sugar detox. I know I know, these darn fad diets and challenges!!! Honestly it's one of the only ones I've ever done. I like to think we live a pretty balanced life? But shoooooot, last year was cray-cray, and we were in need of a change.
We tested out a simple 10-day challenge of eating with no added or refined sugar, just to see how we'd do. We allowed ourselves naturally sweet things (like fruit, honey, plain yogurt, etc.).
And you know what? We loved it. Sean, above all, loved it.
During that time we also started making homemade sourdough bread (thanks Katy for all your help!), and continued to do so for weeks and months after the challenge. It taught our kids how to read labels (which they still do to this day) and helped us become aware of how much added sugar is in pretty much everything we eat. And it honestly felt good!
So we're doing it again, starting this Sunday. Just because.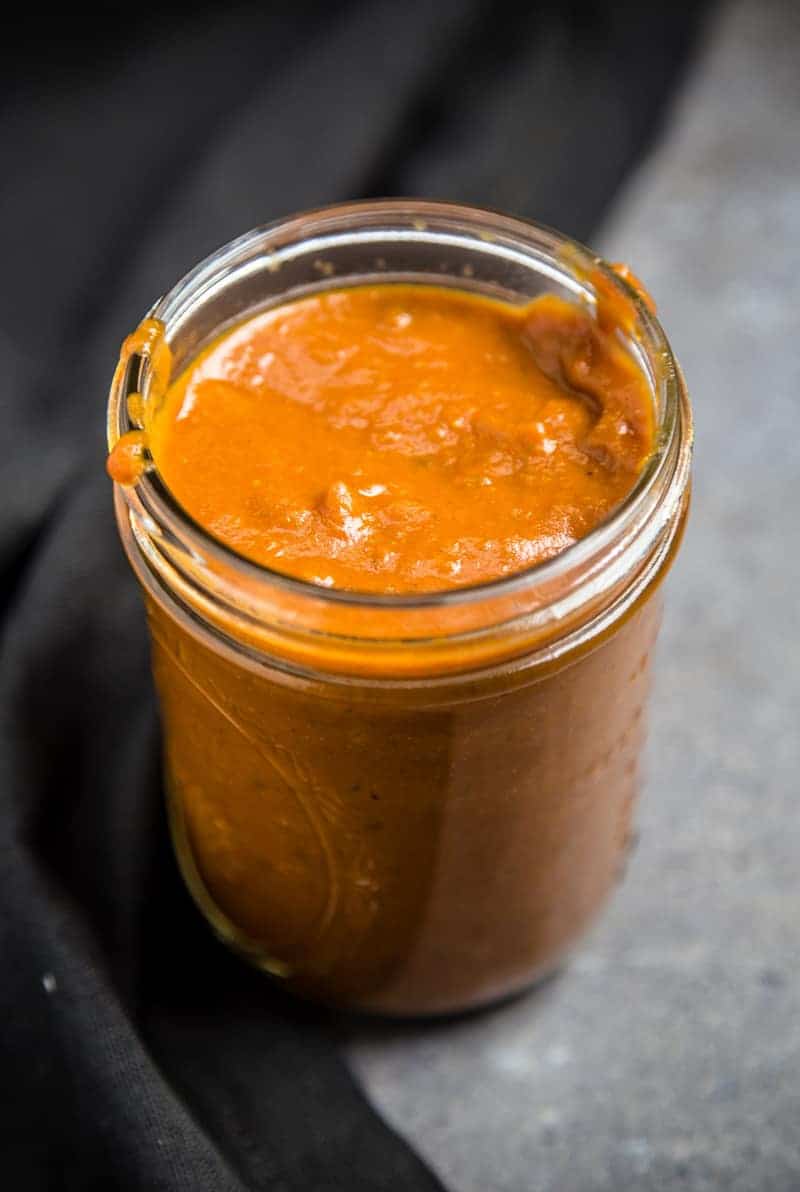 No-Sugar-Added Mango BBQ Sauce
To prep this year, we played around with the low-sugar BBQ sauce we came up with last year. The version last year still had some added sugar to it (in moderation). But we wanted to to see if we could eliminate all added sugar with this version. Albeit we still have some variations if you're NOT too strict about your sugars. And if you are you probably can read the recipe and adjust it to your own diet and preferences.
Many who participate in de-toxes or diets have different definitions of sugars. To some, any sweetener is a no-no (even natural sweeteners like honey). To others, things like honey and maple syrup are okay, but they say no to refined sugar like granulated sugar or molasses, things like that.
We're in the former group. For our upcoming challenge, natural things like real fruit, dried fruit, honey, maple syrup, are all okay. But processed or refined sugars (like brown sugar, cane syrup, white sugar, etc.,) are all no-go.
This recipe contains no "added sugar". Meaning every ingredient in it has no sugar added to it that is not natural (like fruit).
The sweetness in this comes naturally from, a) the caramelized onions, which add great natural sweetness, and b) the mango.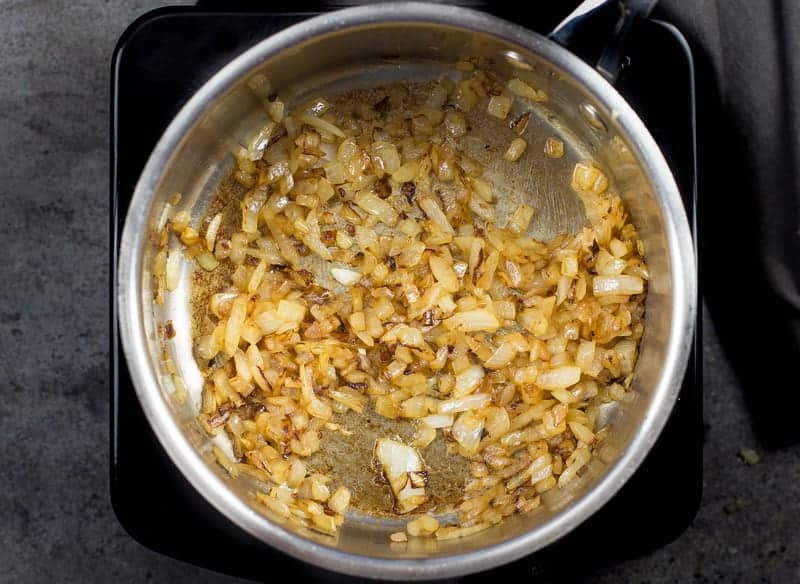 When you cook diced onions for longer than 20 minutes on low (or med-low) it will bring out great natural sweetness that adds incredible flavor to this sauce. 
Variations on Mango BBQ Sauce (no sugar added)
If you're flexible, and able to add some additional sweeteners, we recommend 2-3 tablespoons of either honey, maple syrup, or molasses. Whatever you feel comfortable with.
You can also add Worcestershire sauce for some kick (which we do), but note that most Worcestershire sauces may contain sugar as an ingredient. It's super minimal in the grand scheme of the recipe, but feel free to leave it out if you're going hard core!!!
Either way, whatever you may or may not add, I applaud you for trying something new and taking care of your body!
*Please not that I am nooooooo nutritionist! So take my advice and recipes with a grain of salt. If you are on a specific diet please use your own discretion or consult your own nutritionist.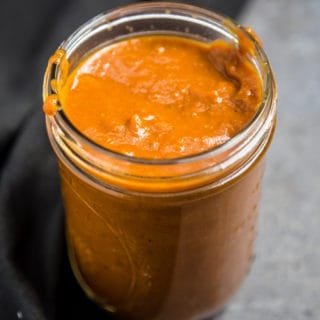 Spicy Mango Jalapeño BBQ Sauce (no sugar added)
A Spicy Mango BBQ Sauce that is naturally sweetened with a kick of heat from the jalapeno. This is a no-sugar-added bbq sauce.
Print
Rate
Ingredients
1

tablespoon

butter

1

tablespoon

olive oil

1

small to medium yellow onion

chopped

3

cloves

of garlic

minced

1

jalapeno

diced (optional: remove stems and seeds before chopping to avoid too much heat)

1

cup

apple cider vinegar

1

15 oz can tomato sauce (*with no added sugar, see notes)

3

oz

tomato paste

1/2 of a 6 oz jar, or about 2 ½ tablespoons

½

teaspoon

cayenne pepper

½

tablespoon

smoked paprika

½

tablespoon

dry mustard

½

teaspoon

kosher salt

½

teaspoon

ground black pepper

½

teaspoon

fresh lime juice

1

cup

mango cubes

I use frozen
Optional additions (if not too strict about added sweeteners)
1

tablespoon

Worcestershire sauce

adds great kick

2

tablespoons

honey

Maple Syrup, or Molasses (or a combination of 2-3 of these)
Instructions
In a large pot set to medium heat melt 1 tablespoon butter and 1 tablespoon olive oil and add the onions. Stir occasionally until the onions are soft (golden/starting to caramelize), and sweet to the taste (at least 20 minutes). * you may need to adjust the heat and turn it down if they are browning too fast.

Next add the garlic and jalapeno and stir together for 2 minute.

Add the apple cider vinegar, tomato sauce, tomato paste, and mix.

Add your dry seasonings, Worcestershire (optional) and lime juice, and the mango cubes and bring to a simmer. Cook for 15-20 minutes, or until the mango cubes have softened.

Using a hand immersion blender, or countertop blender, blend your sauce until smooth and there are no chunks.

Taste and adjust seasonings to your preference. If too thick add water or more apple cider vinegar. If you're flexible on sweetness, add some sweeteners (honey, maple syrup, etc. to your taste preferences).
Notes
Make sure to read your labels. Many tomato sauces have added sugar. Make sure to use a brand that does not add any sugar.
Same with the Worcestershire sauce. Most of them contain added sugar.
Read your labels!
Recipes for your Mango BBQ Sauce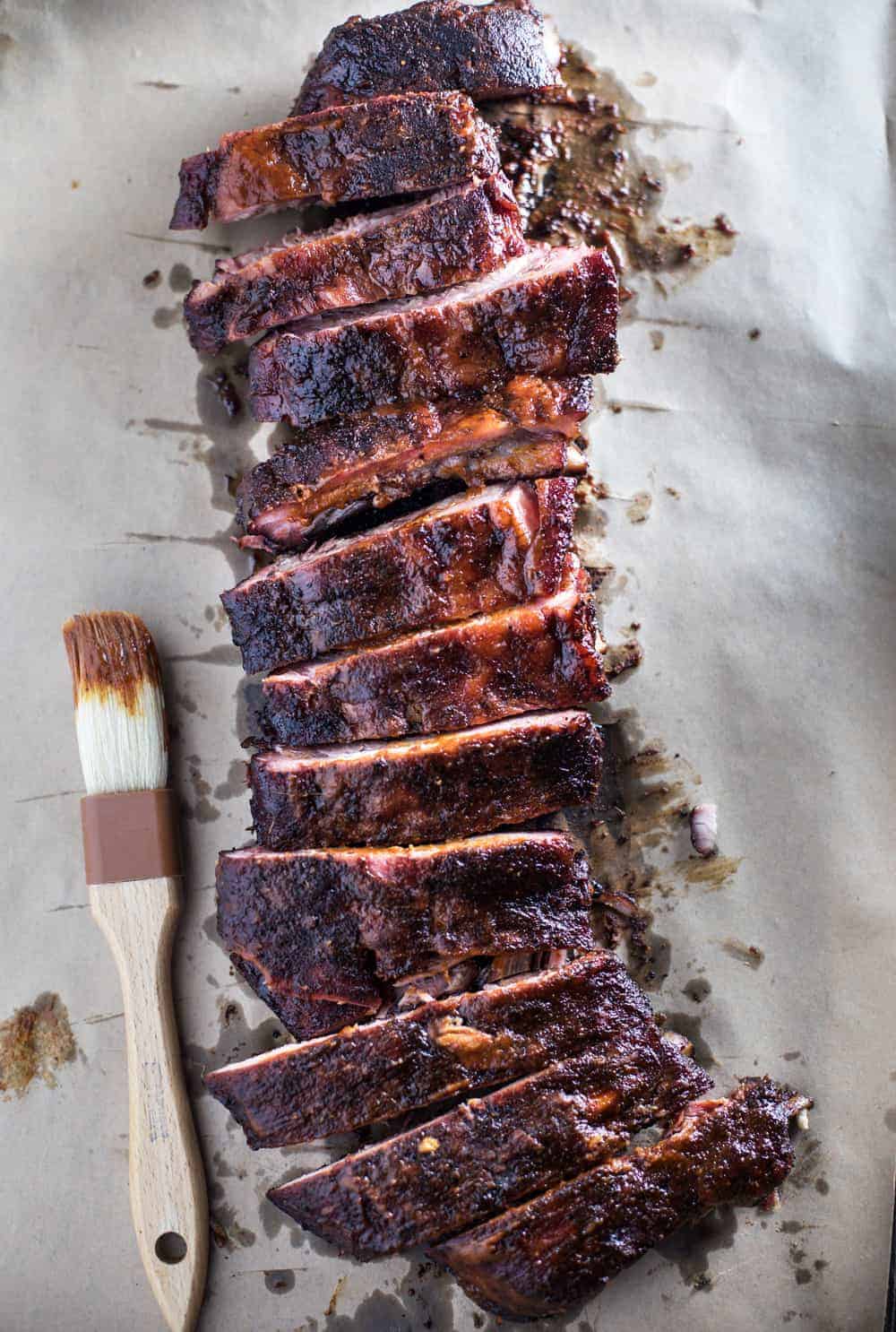 Or top simple grilled chicken breasts with this sauce.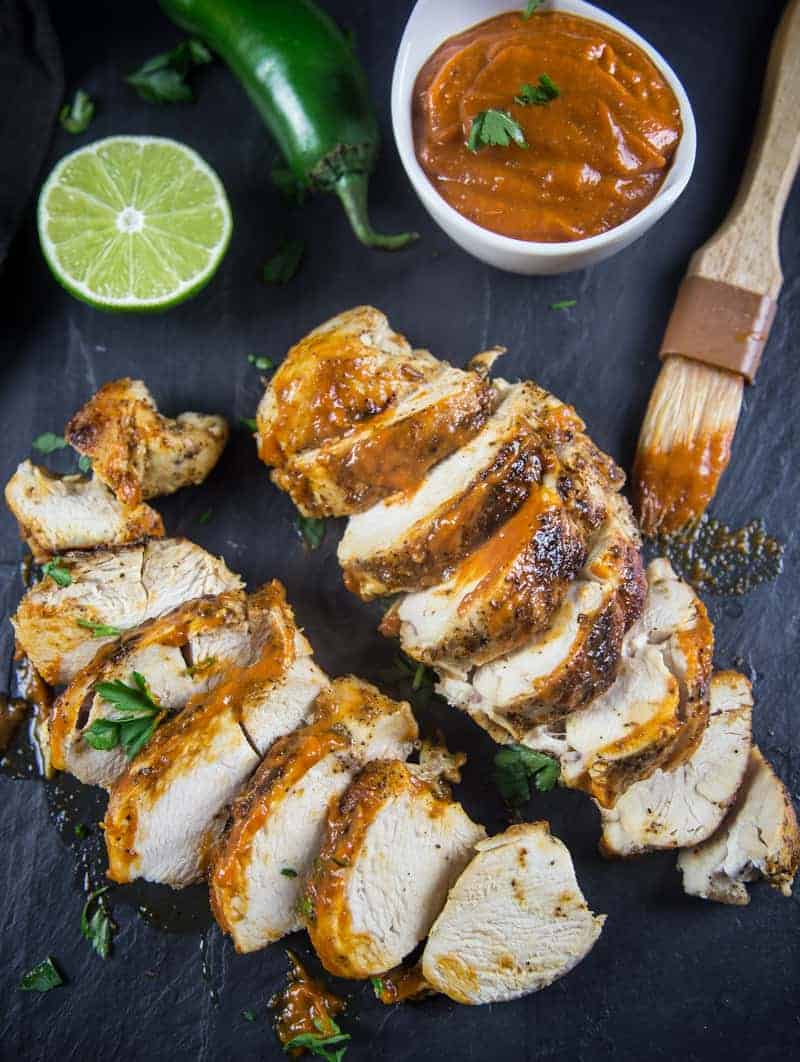 The Mango BBQ Sauce VIDEO
What about YOU?
Have you experimented with making sugar free sauces like BBQ sauce? What are some of your tips and tricks? We're going to continue experimenting, especially as more and more folks are becoming conscious of the impact sugar can have in your diet.
---
If you like this recipe we'd truly appreciate it if you would give this recipe a star review! And if you share any of your pics on Instagram use the hashtag #vindulge. We LOVE to see it when you cook our recipes.
---