This Mango BBQ Sauce gets a spicy kick from jalapeño and is naturally sweetened with mango and caramelized onions. There are no added sugars in this recipe, making it a great one for anyone on a low sugar, keto, or paleo diet!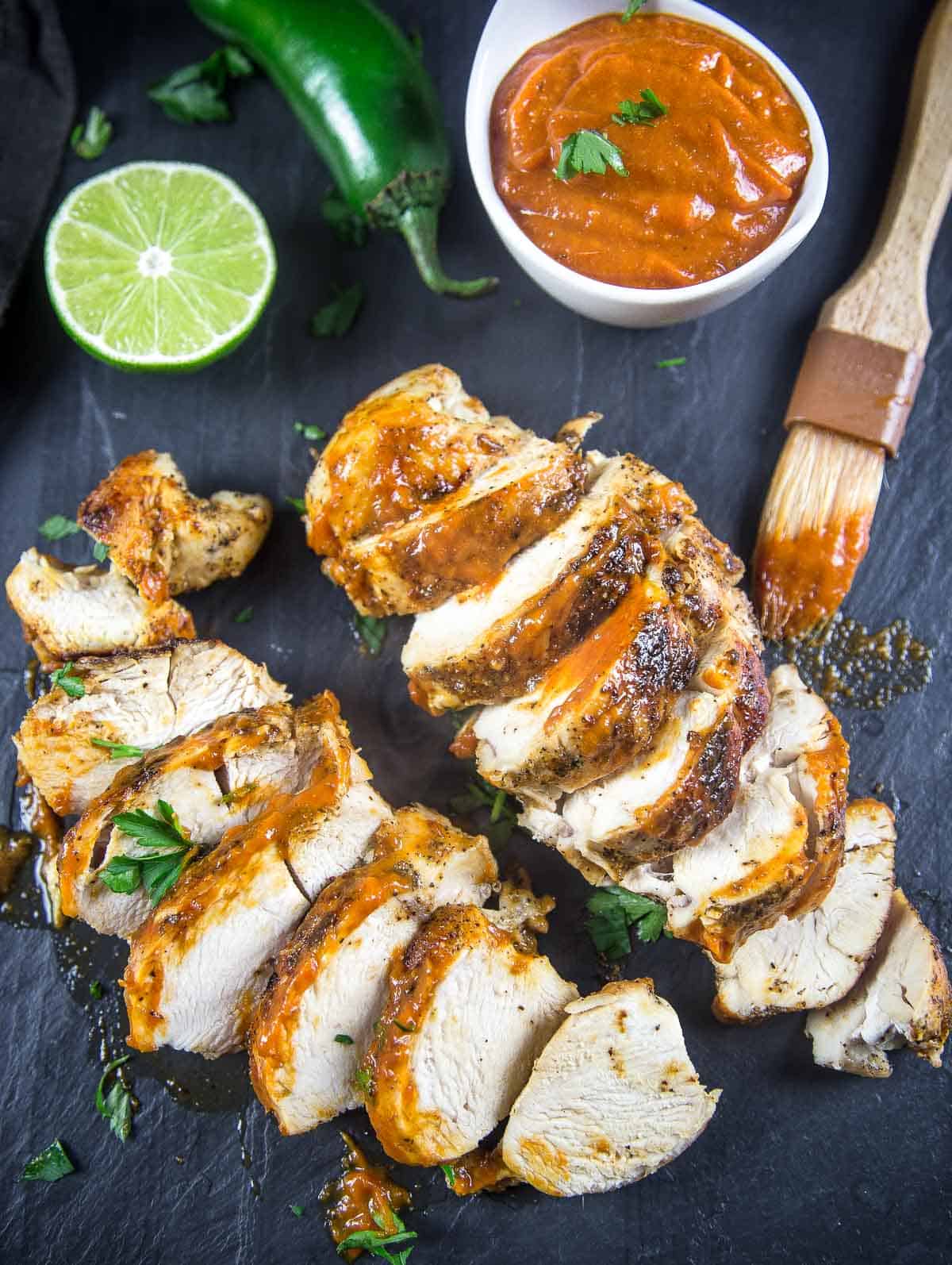 Every January my family does a 10-day sugar detox. I know I know, these darn fad diets and challenges! But for us it's a great way for us to start the year feeling fresh and the commitment is doable. But we also don't want to have a flavorless food experience. So we made this mango BBQ sauce with natural sweetness and free of added sugars. You can also visit our full list of our favorite styles of BBQ sauce.
Jump to:
Ingredients
We combine savory, heat, sweet, and seasoning to balance the flavors. You can modify however you want, for example to avoid heat.
Unsalted Butter and Olive Oil for sautéing.
Savory Flavors: Caramelized yellow onion, garlic, tomato sauce, tomato paste
Heat: Jalapeño (stems and seeds removed), cayenne pepper
Acid: Apple cider vinegar, lime juice
Sweet: Frozen mango cubes (or you can cut up a fresh mango)
Seasoning: smoked paprika, dry mustard, kosher salt, black pepper
We are using frozen mangos because they are available all year. You can also use fresh mango if they are ripe.
Optional: If you want to add some sugar to it then consider using honey, molasses, or even maple syrup.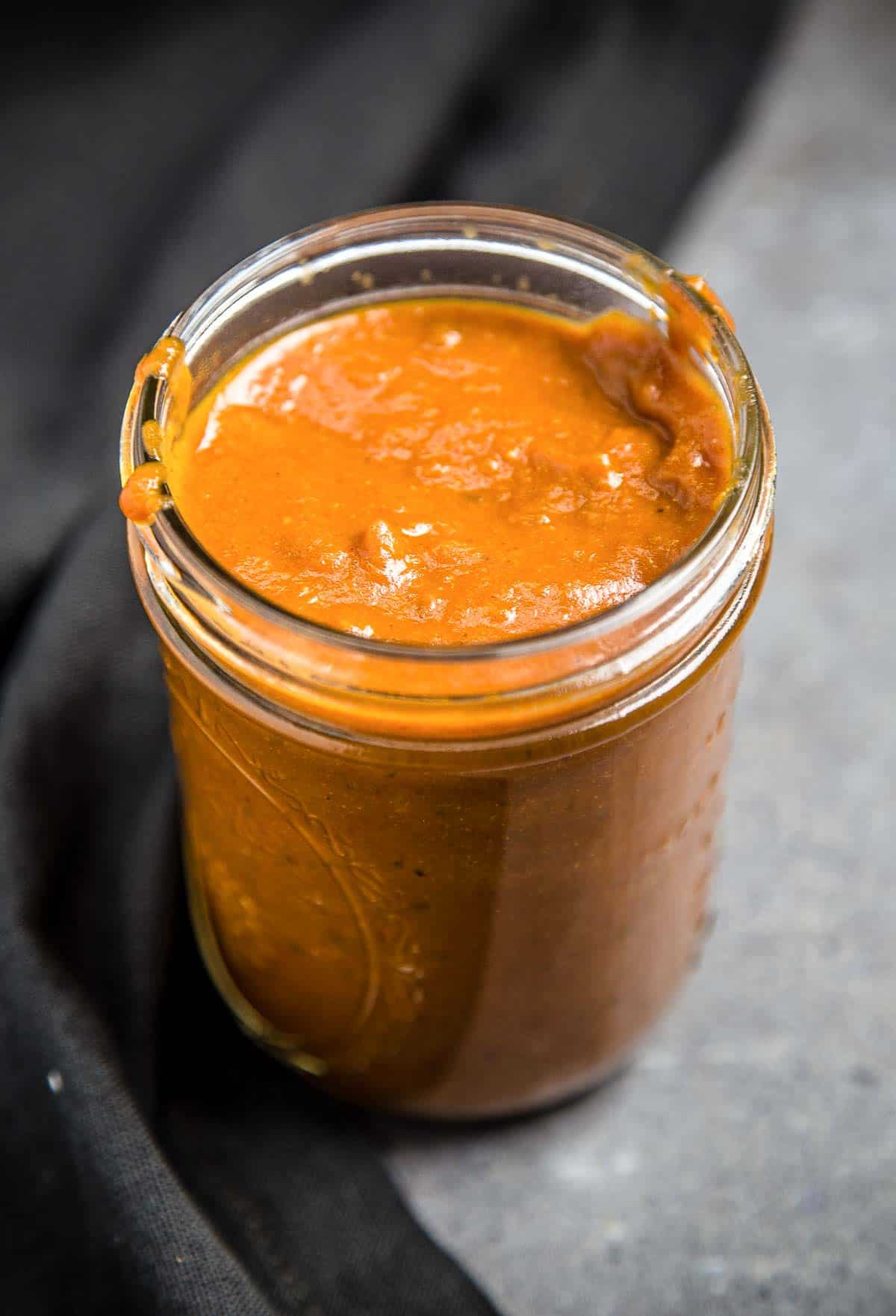 Our Definition of No Sugar Added
Many who participate in detoxes or various diets have different definitions of sugars. To some, any sweetener is a no-no (even natural sweeteners like honey). To others, things like honey and maple syrup are okay, but they say no to refined sugar, like granulated sugar or molasses, or other things like that.
We're in the former group. For us, natural sweetness found in real food, dried fruit, honey, maple syrup, are all okay. But processed or refined sugars (like brown sugar, cane syrup, white sugar, etc.) are all no-no.
Please consider your own restrictions when using this recipe.
This recipe contains no "added sugar". Meaning every ingredient in it has no sugar added to it that is not natural (like fruit).
The sweetness in this comes naturally from: a) the caramelized onions, which add great natural sweetness, and b) the mango.
Adding Natural Sweetness to BBQ Sauce
For most people, BBQ sauces are best when they are balanced. To add some natural sweet flavors and avoid the sauce from tasting flat we are using both caramelized onions as well as ripe mangos.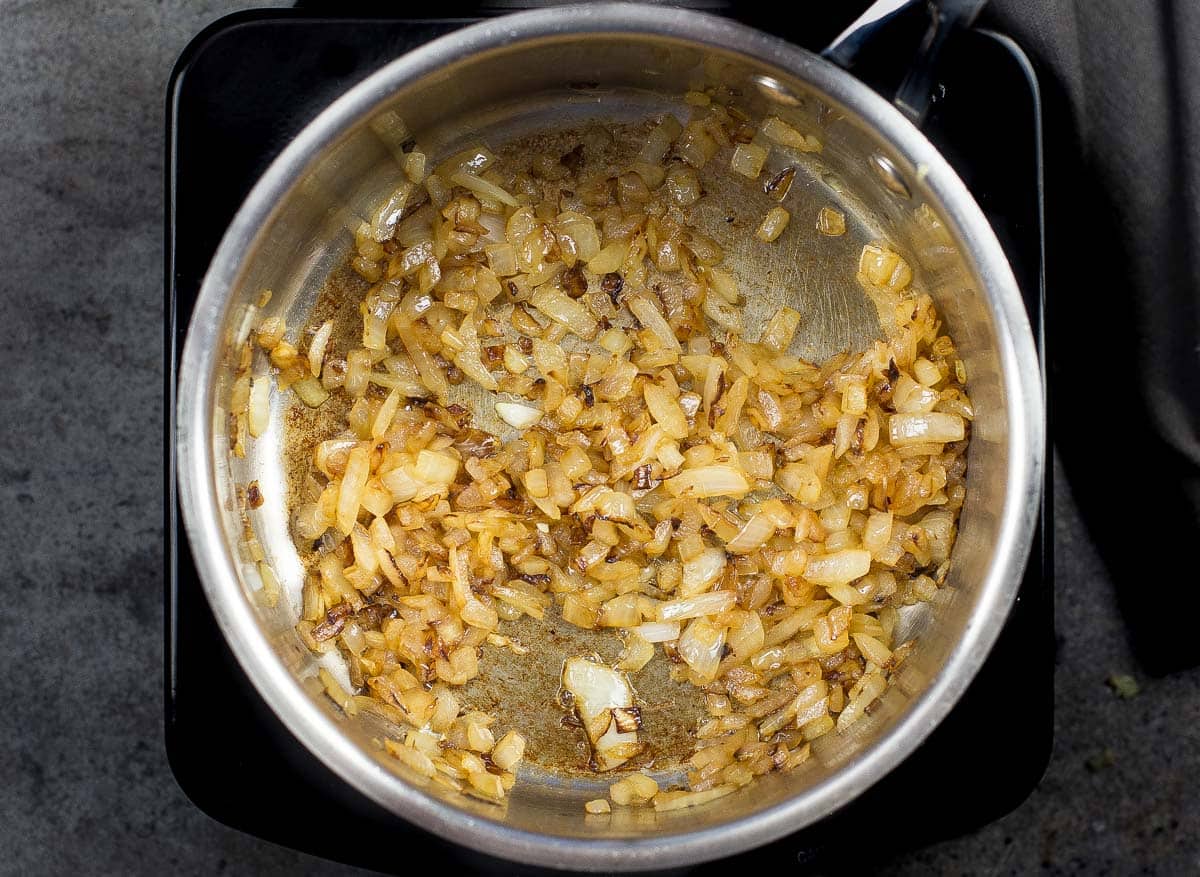 How to Make No Sugar Added BBQ Sauce
Caramelize onions: In a large pot set to medium heat cook onions until soft, starting to caramelize, and sweet to the taste.
Add garlic and jalapeño and stir together for 2 minutes.
Add remaining ingredients and bring to a simmer. Cook for 15-20 minutes, or until the mango cubes have softened.
Blend: Using a hand immersion blender, or countertop blender, blend your sauce until smooth and there are no chunks.
Taste and adjust seasonings to your preference. If too thick add water or more apple cider vinegar.
See recipe for details.
Variations on Mango BBQ Sauce
If you're flexible with this Mango BBQ Sauce, and able to add some additional sweeteners, we recommend 2-3 tablespoons of either honey, maple syrup, or molasses. Whatever you feel comfortable with.
You can also add Worcestershire sauce for some kick (which we do), but note that most Worcestershire sauces may contain sugar as an ingredient. It's super minimal in the grand scheme of the recipe, but feel free to leave it out if you're going hard core!!!
Either way, whatever you may or may not add, I applaud you for trying something new and taking care of your body!
*Please not that I am nooooooo nutritionist! So take my advice and recipes with a grain of salt. If you are on a specific diet please use your own discretion or consult your own nutritionist.
Recipes for your Mango BBQ Sauce
Mary (a certified sommelier and recipe developer) and Sean (backyard pitmaster) are co-authors of the critically acclaimed cookbook, Fire + Wine, and have been creating content for the IACP nominated website Vindulge since 2009. They live in Oregon on a farm just outside Portland.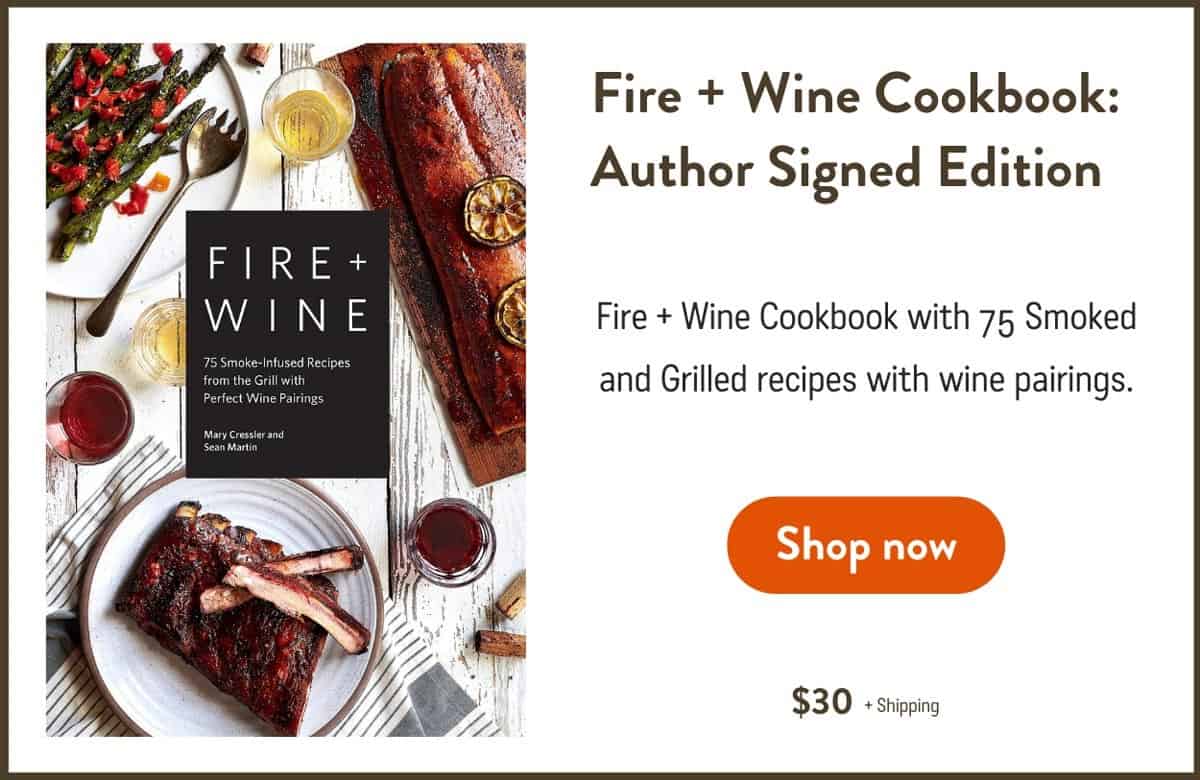 This post may contain affiliate links. This means if you click on the link, we may receive a small commission if you purchase through the link. We partner with brands we know and love and use and it helps keep the blog going!
If you like this recipe we'd truly appreciate it if you would give this recipe a star review! And if you share any of your pics on Instagram use the hashtag #vindulge. We LOVE to see it when you cook our recipes.