Your complete guide to the 3-2-1 Rib Method of Smoking Ribs. This fool proof method is perfect for those just starting out and also wanting to master ribs with just a few key techniques. The cooking process is smoking low and slow using spare ribs for a tender and delicious rack of ribs.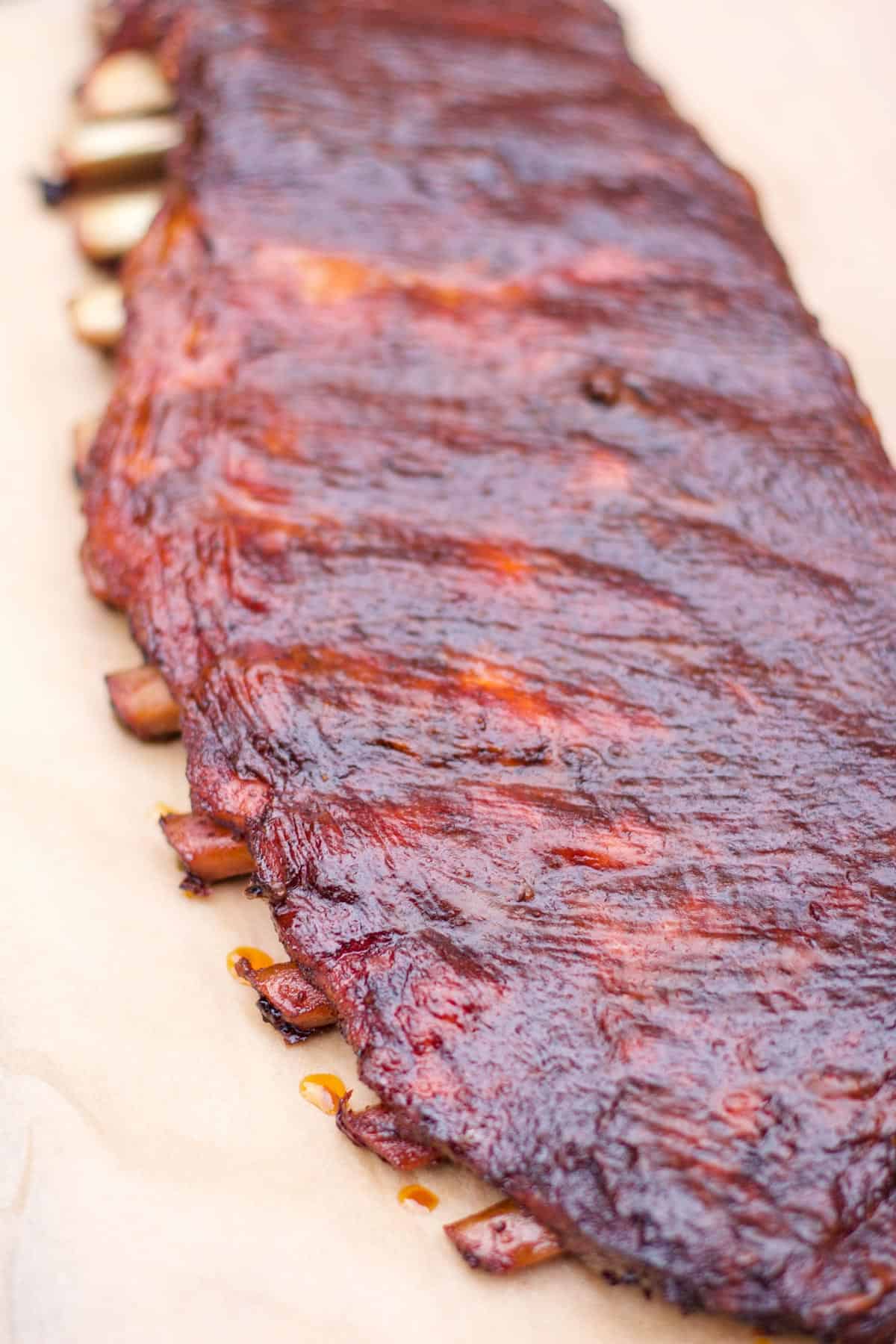 Vindulge Rib Recipe Highlights
This method works on any type of smoker from an electric smoker, offsets, Big Green Egg, or even a pellet smoker.
It's the best way for your first time smoking ribs because you can easily adjust the ratio to your preferred flavor.
It's best to use spare ribs or St. Louis Cut ribs for this recipe. We also have a guide for smoked baby back ribs too.
Sean and I came from two different worlds of Smoked Ribs. I used to like finger-licking juicy, fall-off-the-bone ribs and drowning in sauce. He liked them just tender enough to bite, but not fall off the bone like barbecue competitions. When done correctly this 3-2-1 rib method will achieve the perfect ribs based on how you like them.
And if you like fall off the bone bbq ribs, that's fine too! Either way, learn this simple technique for bbq ribs and then adjust it based on how you like the tenderness of your smoked ribs.
Jump to:
What is the 3-2-1 Method for Smoking Ribs
This method comes down to three phases of smoking ribs. It totals 6 hours of smoking at a low temperature.
3 – The first stage you smoke at a low heat, unwrapped for 3 hours.
2 – The second stage you smoke at a low heat, wrapped in aluminum foil or butcher paper.
1 – The last hour you smoke, unwrapped, and typically add some kind of sauce or glaze for finishing flavor.
The 3-2-1 Ribs Method is a great starting place to find your balance of flavor and texture. Some may argue that the 6 hour ratio will overcook the ribs, but we've never found that to be the case.
Sourcing – Spare vs Baby Back Ribs
Spare ribs or baby back ribs? I find 3-2-1 ribs work best on spare ribs. A St. Louis cut spare rib (rib tips removed) will tend to be meatier and flatter than baby backs as they come from the belly area of the pig versus just off the spine. It is also trimmed in a way to make more even shape. The connective tissues render using low and slow cooking.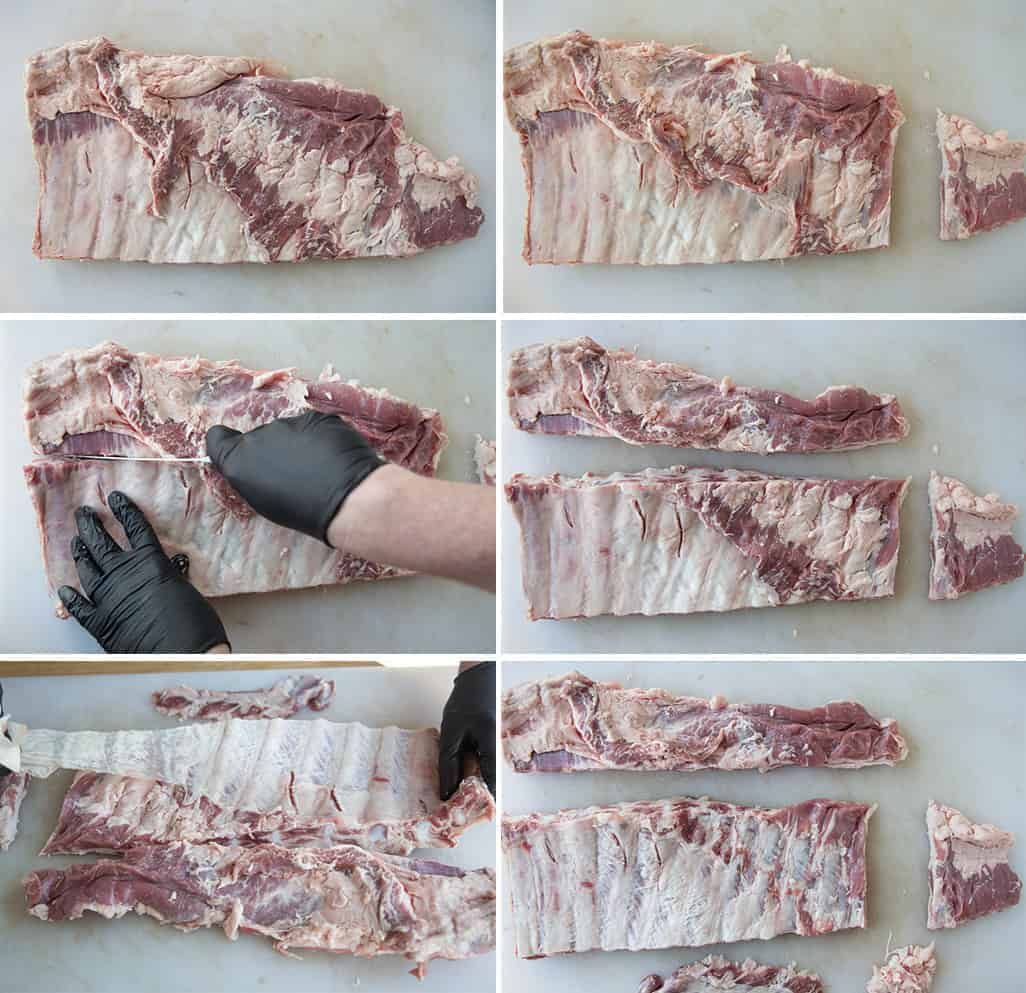 Baby back ribs have less meat and generally cook faster than spares. They also have a distinct curve to them versus the flatter spare.
Our hands-down favorite type of ribs comes from Snake River Farms. The quality, marbling, and flavor are tremendous.
Preparation
Before applying a dry rub the ribs need to be trimmed. There are two sides of the ribs. The meaty side and the side with a thin membrane that should be removed.
Remove any hanging fat from the meaty side.
Remove the silver skin membrane on the bone side of the ribs (or back of the ribs) using a sharp knife. If you leave that membrane on, the texture is not pleasant as it cooks. Simply remove a small bit of the silver skin from one corner, then use a paper towel to pull it off the rest of the way.
Pat down the ribs and get ready to season the spare ribs.
Chef's Note: You can also insert a butter knife under the membrane halfway along the bone side of the rib. Then slowly lift up the membrane and pull off in one clean pull. However don't use a sharp knife with this method as it will cut through the membrane.
Seasoning
When seasoning ribs, the key is to lock down that smoked flavor during those first 3 hours using a slather and then a dry rub.
Slather – Add a liquid element, like olive oil or yellow mustard, to allow the dry rub to stick. We actually use Dijon mustard.
Dry Rub – Add your favorite rib seasoning that will add flavor while the ribs smoke and caramelize ideally with brown sugar or cane sugar. We love our Ultimate Dry Rub for this.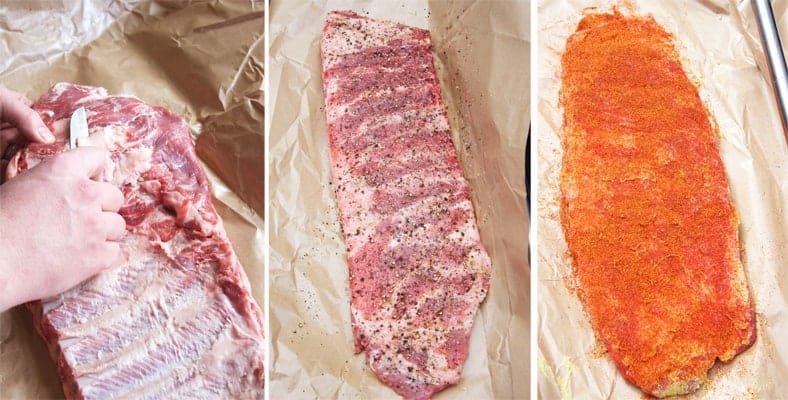 A rub that has sugar in it will really help in creating that color and bark that is the first taste factor when you bite into the ribs and an important factor in achieving the right color.
Cooking Temperature For Smoked Ribs
Target 250 degrees F for 3-2-1 Ribs. If you smoke at 225 it will take longer to render.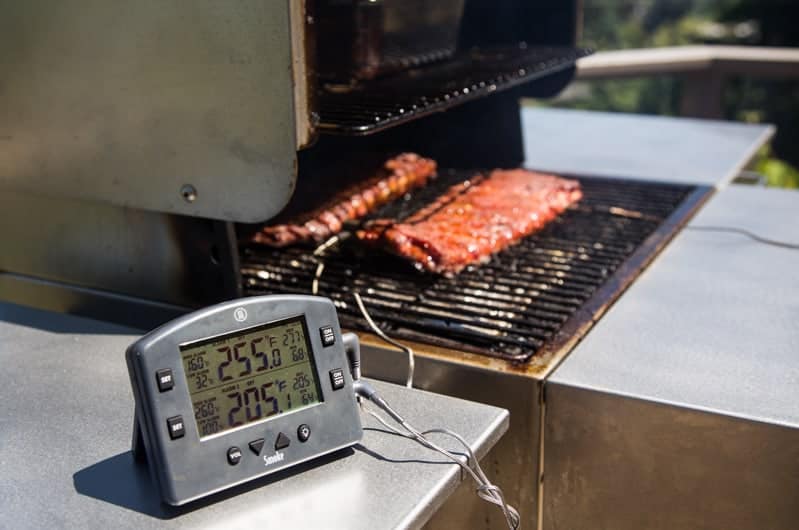 I like using a leave-in thermometer to monitor the internal temperature of both the meat and the ambient temperature of the smoker, such as the Smoke Unit by Thermoworks. It has a remote unit so you can monitor the temps from afar without having to open and close the lid.
And unlike most meats, we don't cook the ribs to a specific internal temperature, but when they are done, they tend to be in the 205 degree F range and are very tender. The important part is monitoring the ambient cooking temp of the grill while the bbq ribs are smoking and so you don't have to open the smoker that often.
Adding Moisture while Smoking Ribs
I always cook with a water pan in a pellet grill or offset and a personal preference. We also use a spritz while the 3-2-1 ribs are smoking. A simple rib spritz is equal parts apple cider vinegar and apple juice or water. So for one cup of apple juice you add one cup of apple cider vinegar.
The added moisture to the cooking chamber really helps with color on the smoked ribs and keeping the texture moist.
For our kamado-style grill we do not use a water pan as we find the moisture holds really well within our Big Green Egg, but we still use a spritz.
How to Smoke Ribs with the 3-2-1 Method
3 – The time we take to get that smoke influence into the ribs (the first 3 hours)
When we look at smoking 3-2-1 ribs, we want to pack flavor. Start with the wood — I like fruit woods for ribs, and especially cherry, because the smoke flavor is mild and the color is a rich red (we use a lot of applewood too). Meat should be laid bone side down.
During the three hours I also like to keep adding moisture to the pork with a spritz. A spritz is simply a spray bottle with liquid. In our case, it's equal parts apple cider vinegar and water (you can also add equal parts apple cider vinegar and apple juice for a little more sweetness).
Start spritzing after the first 90 minutes. After those first 90 minutes, I'll then spritz every 30 minutes for the next 90 minutes. Moisture helps that smoke influence stick to the meat. And with the sugar, this helps with the caramelization.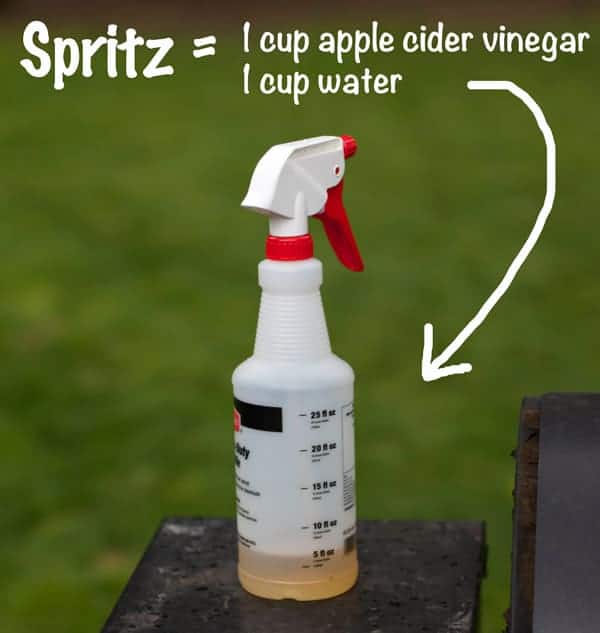 2 – Wrap for two hours
By now the bones from the ribs should start to show.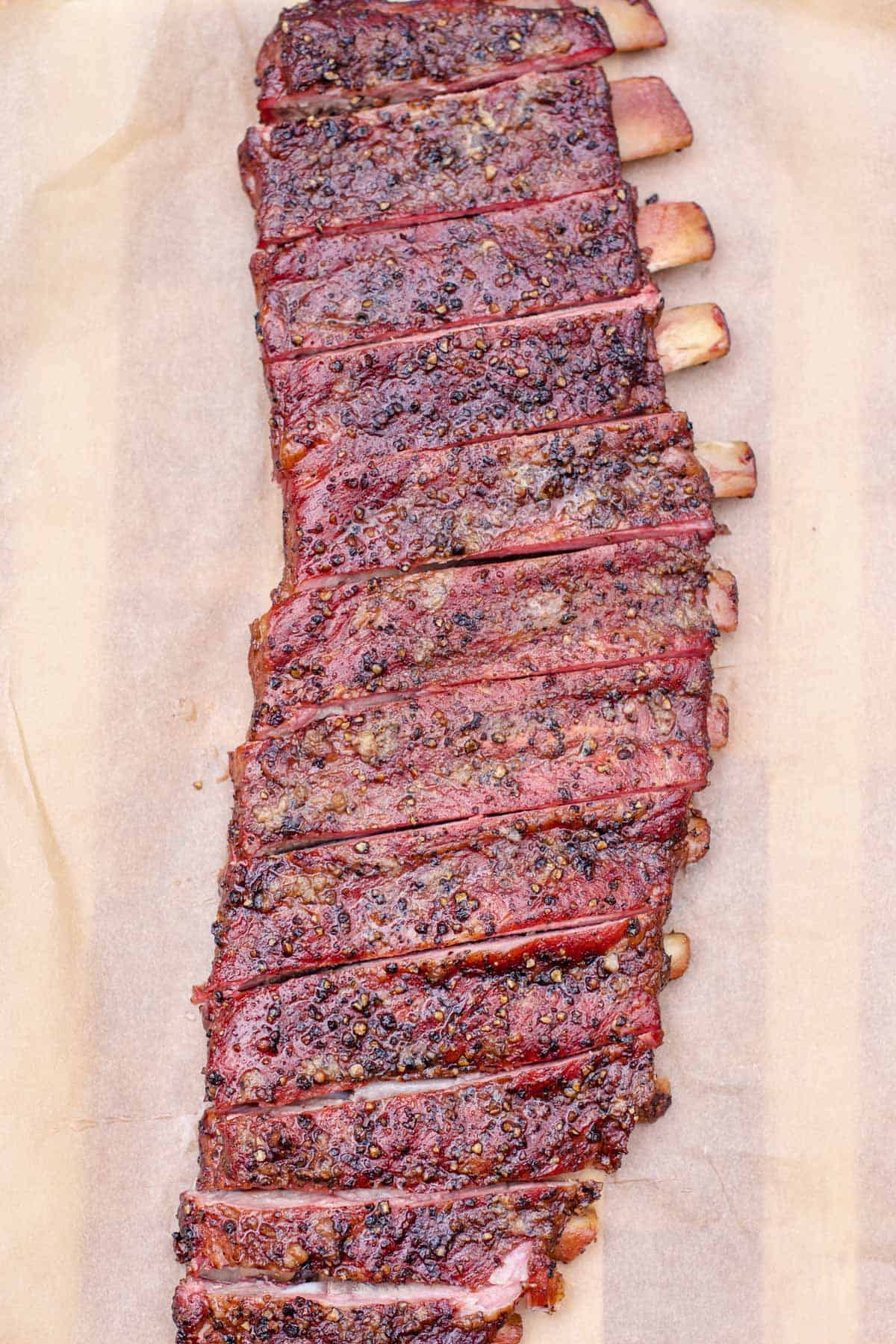 The wrapping will allow the meat to baste with a modest liquid to create tenderness. Lay out aluminum foil (or use a foil pan). Squeeze out some agave nectar or honey and butter chunks on the foil. Feel free to add some of the spritz liquid too. Then enclose the ribs in a tight foil pouch and place meat side down your cooker. Over the two hours it will steam and baste in the liquid creating that soft texture.
At the end of those two hours, remove the foil: you'll see that the bone in the rib is showing more. This is where that butter and agave you used basted the smoked ribs and added a ton of flavor.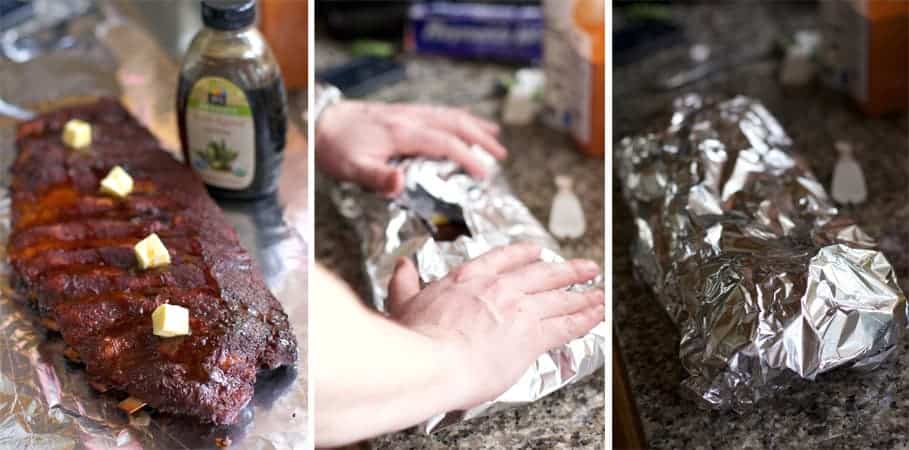 1 – The final step is one hour unwrapped
Here the focus is on that last flavor element — The sauce or glaze. Remove the smoked ribs from the foil, or simply open the foil and cooked unwrapped, for the remaining time.
Brush your favorite BBQ sauce onto the ribs for maximum flavor (but don't add too much!) just when you unwrap (you are still trying to taste the meat and smokiness, so don't overdo it).
You know it's done when you can wiggle the bones and they are slightly able to come out with a tug. Technically if the bones just fall out, that indicates that the meat is overcooked. Yes, some of you may like fall off the bone and that's ok too. But hey, this style is all about home cooking versus a professional competition (so you cook what YOU like!) 🙂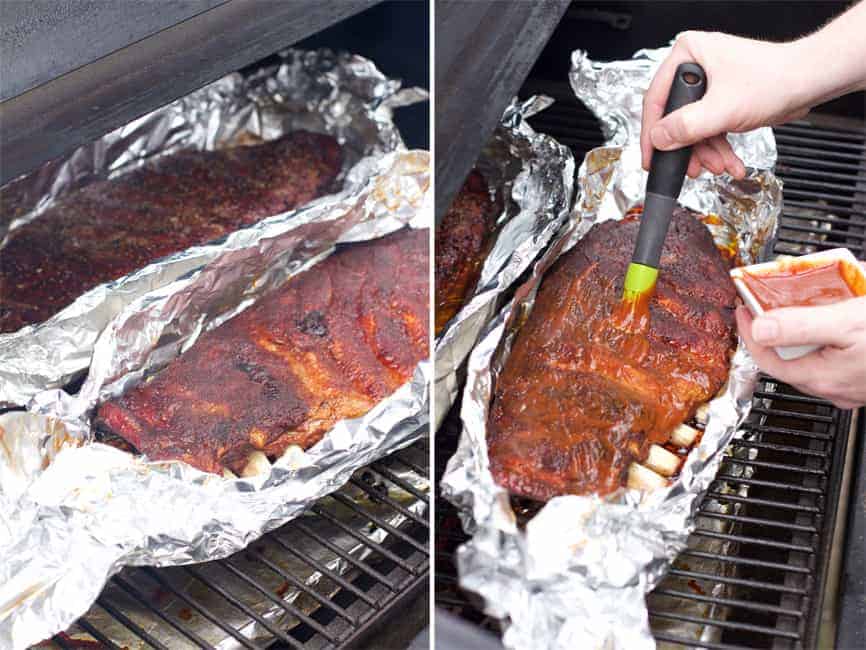 Modifications
You can modify the times on this method, but try to avoid exceeding the six-hour limit. If anything you'll likely pull back on the time.
Want more smoke? Use a 4-1-1. The key is not that the 3-2-1 method is the only one, it's really about finding a style that works for you. This adds more smoke up front.
Want more balance and tighter texture? Use a 2-2-1 method. Smoke-Wrap-Sauce. It won't braise as much in the wrap but it will still be tender.
After you pull the ribs off the smoker – slice, serve, and enjoy! Want a simple rib without the sauce? Just rub with salt and pepper and for the last hour skip the sauce step.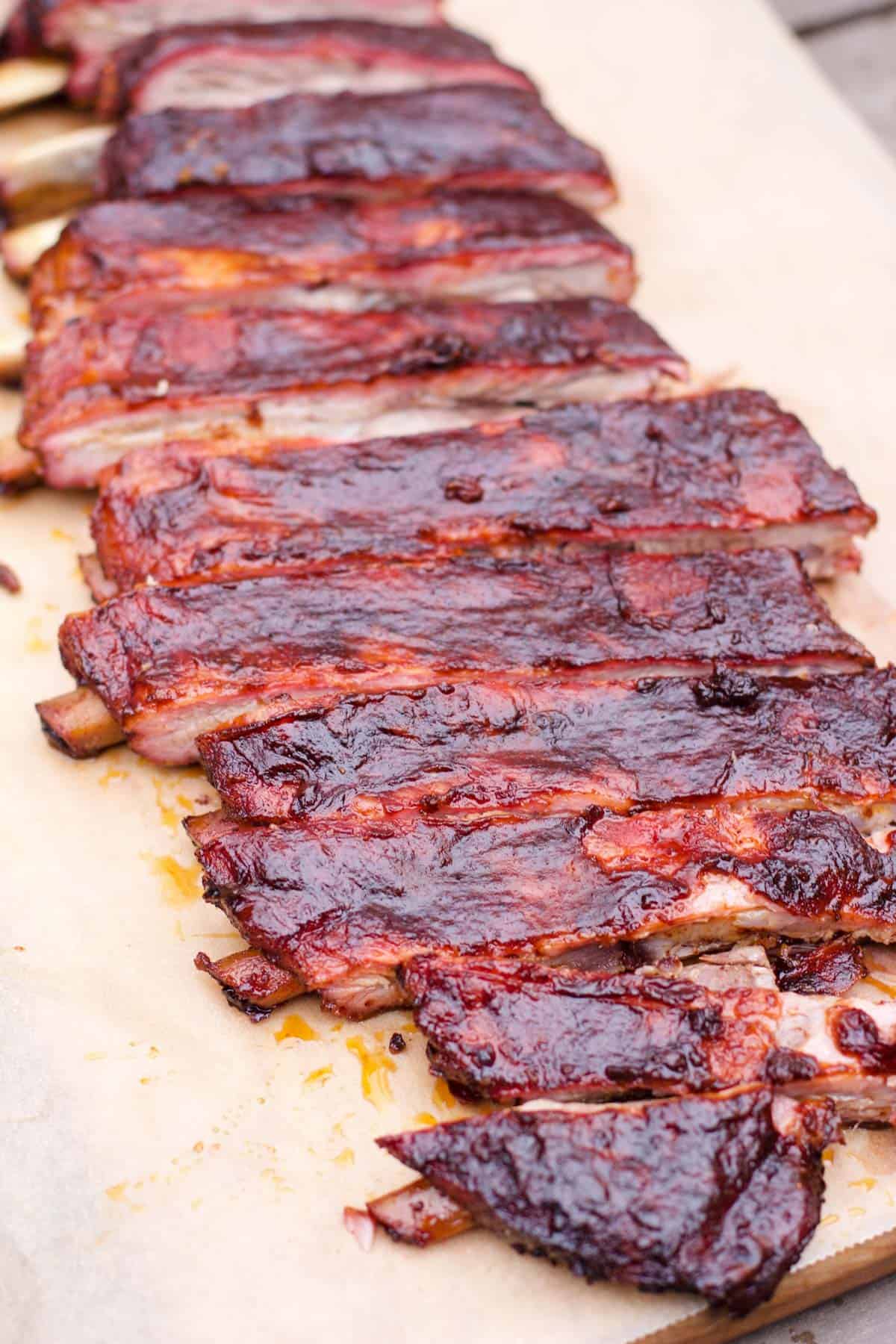 Wine Pairing for 3 2 1 Ribs
For this style of ribs I'm looking for a wine that can stand up to the sweet and spicy flavors from the BBQ sauce and dry rub, yet not overpower the gorgeous smoke flavors from the tender meat. For something with great flavor, but not too overpowering, I like bolder red wines that aren't too high in tannin, like Syrah, Malbec, Merlot, or Zinfandel. I tend to lean towards reds from Washington State when we do ribs.
Explore wines from the Vindulge Wine Marketplace perfect with BBQ ribs.
---
Want More Smoked Ribs Recipes?
---
*A previous version of this 3 2 1 Ribs recipe was published in 2016 and edited in September of 2022 with more details, updated photos, and reader questions answered.
This post may contain affiliate links. This means if you click on the link, we may receive a small commission if you purchase through the link. We partner with brands we know and love and use and it helps keep the blog going!
If you like this recipe we'd truly appreciate it if you would give this recipe a star review! And if you share any of your pics on Instagram use the hashtag #vindulge. We LOVE to see it when you cook our recipes.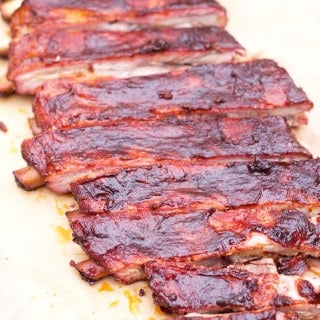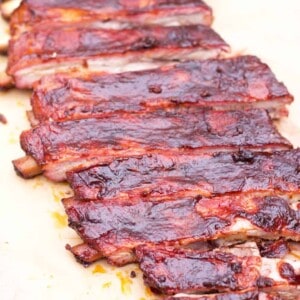 Easy 3-2-1 Ribs Recipe
Recipe for competition style smoked pork ribs, and an explanation of the "3-2-1 Method" of smoking ribs.
Print
Pin
Rate
Ingredients
For the Spritz:
1

cup

apple cider vinegar

1

cup

water (or apple juice)
For the Wrap (at the 3 hour mark):
4

tablespoons

butter

(2 per rack)

¼

cup

honey

(2 tablespoons per rack. Agave nectar is a great alternative as well.)

2

tablespoons

spritz (from above),

To lightly spray prior to wrapping
For the Glaze:
1

cup

Barbecue Sauce

* You may not use all of the bbq sauce. You're just glazing it on both sides of each rack.
Instructions
For Prep:
Preheat smoker to 250 degrees Fahrenheit (we like cherry and apple).

Trim excess fat off the ribs and remove the membrane off the bone side of the ribs using a paper towel (it is slippery).

Pat ribs dry with a paper towel, and then coat both sides of ribs with the Dijon mustard. Apply the dry rub to both sides.
To Smoke The Ribs
Place ribs, meat side pointing up, on the smoker. Plan to smoke for about three hours. Start spritzing 90 minutes into the smoke and then spritz every 30 minutes.

After the third hour, take 2 long strips of aluminum foil. Place ribs on them bone side down. 

On top of the ribs, add the butter and agave nectar evenly over the meat side of the ribs (1 tablespoon of butter and nectar per rib, per side) and then wrap the ribs tightly. Place back onto the smoker, meat side down, for two more hours.

After the end of this second hour, remove ribs from foil gently. The meat should be tender and bones showing. Place the ribs back on the smoker, meat side up, and glaze with your barbecue sauce. Cook one more hour, uncovered, (the last hour helps set the meat and give more flavor). Remove. When you remove after this last hour, glaze one last time before serving, then slice and serve.
Notes
Seasoning: You can use any mustard, it's meant to help the rub stick to the ribs. For the rub, we like rubs with a balance of salt and sweet. You can also do this with a simple salt and pepper rub as well.
For the Spritz: Combine the liquids into a food safe spray bottle. 
Modifications: The 3-2-1 method is a great starting place to find your balance of flavor and texture. You can adjust this ratio any way you like from 4 – 2, or even less time. Some will argue that the ratio will overcook the ribs. Technically that's a preference for you. Play around with ratios that work for your palate.
Find the perfect wine pairing at the Vindulge Wine Shop
Nutrition
Calories:
338
kcal
|
Carbohydrates:
38
g
|
Protein:
7
g
|
Fat:
17
g
|
Saturated Fat:
8
g
|
Trans Fat:
1
g
|
Cholesterol:
50
mg
|
Sodium:
705
mg
|
Potassium:
314
mg
|
Fiber:
1
g
|
Sugar:
32
g
|
Vitamin A:
418
IU
|
Vitamin C:
1
mg
|
Calcium:
63
mg
|
Iron:
2
mg
---