I like to review wines here the way most people taste them, with food. Many of the wine reviews you'll see here are accompanied by a recipe. When we test recipes we usually open a few different wines of different styles that we think will work, then write about the one that was the best pairing.
But quite often we taste wines — either those sent as samples for review or those we purchase on our own – that are definitely worthy of mention even though they weren't part of a recipe. These wines below fit that bill.
January was rough! Portland's winter is out of control with snow, ice, wind… you name it. I've lost count of how many "snow days" our kids have had. Not gonna lie, there were quite a few days of bourbon rather than wine. But these here wines, this time an equal mix of whites and reds, also helped us get through that cold winter month.
Dear February, please be kinder than January was. And by that I mean lay off the ice already (and a couple sunny days would be nice too). Thanks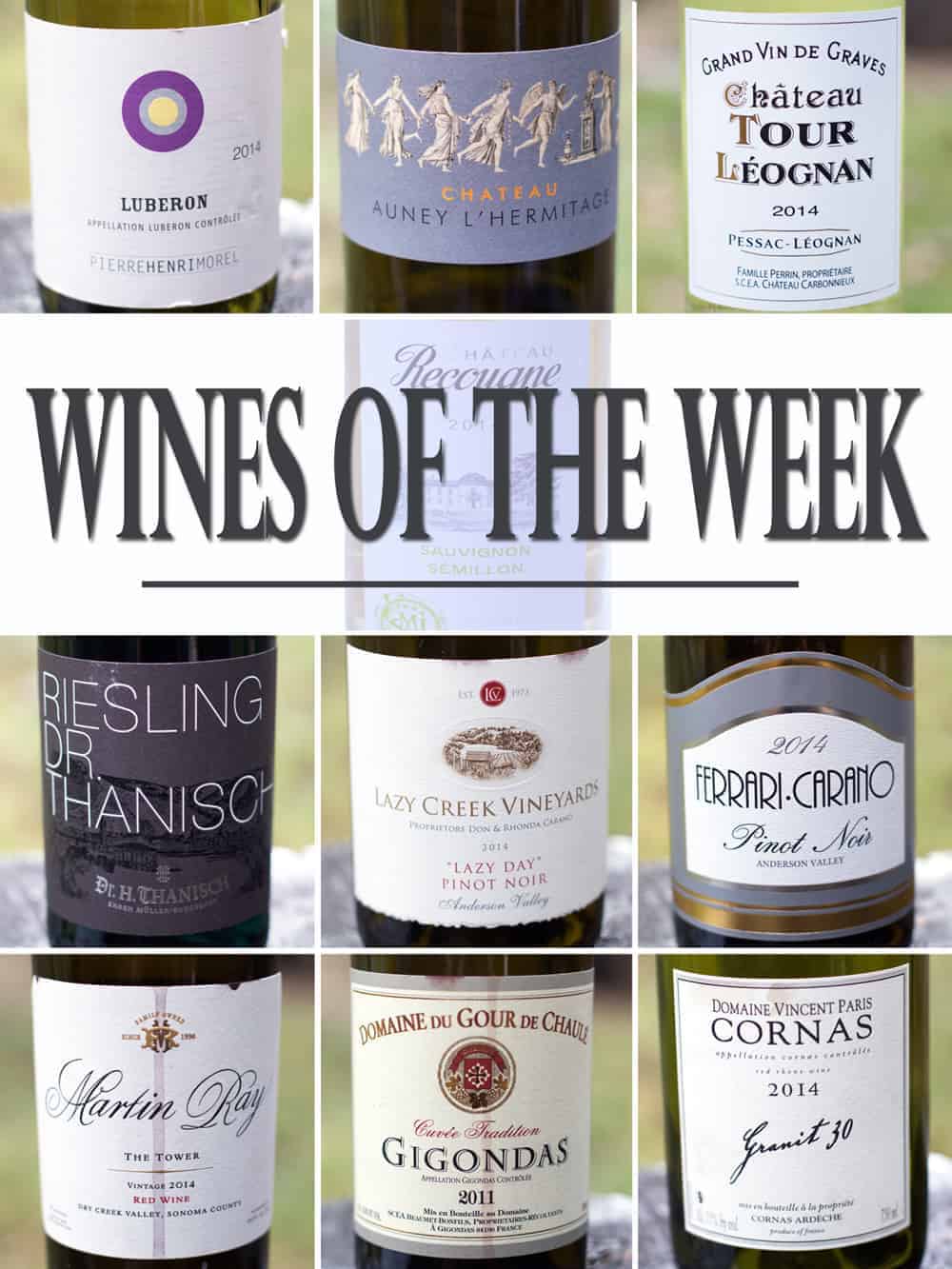 2014 Domaine Pierre-Henri Morel Luberon Blanc (Rhone, France)
This white Rhone blend is a mix of 60% Grenache Blanc, 20% Rolle, 10% Viognier, 10% Clairette, with bright citrus notes with a nice lemon fresh feel. Nice tropical flavors with juicy pineapple and a dry crisp finish. Overall big flavors, fresh and zesty. Really liked this wine for its freshness and juicy fruit.
13% abv | $16
2014 Chateau Auney L'Hermitage, 'L'Hermitage Blanc' (Graves, Bordeaux, France)
This is a head turner. At least it was for my husband, who thinks he doesn't like white Bordeaux. This one, which is a gorgeous blend of 65% Semillon, 20% Muscadelle and 15% Sauvignon Blanc, starts off with some intriguing honey notes, followed by some pineapple, peach and mango, fresh lemon, and even some caramel notes. It had nice richness and interesting textures, likely from spending some time aging in oak barrels. This is one I'll definitely be keeping my eyes out for again, especially knowing I can stump my hubby with it.
12.5% abv | $29
2014 Château Tour Léognan Blanc by Château Carbonnieux (Pessac-Leognan, Bordeaux, France)
Nice value Bordeaux Blanc with 70% Sauvignon and 30% Semillon. It showed some white grapefruit and lemon peel, but also some peach and tropical notes. It had some juicy and sweet notes up front but finished dry, crisp, and a little minerally. Quite nice.
12.5% abv | $20
2014 Chateau Recougne Blanc (Bordeaux, France)
I dig this blend of Sauvignon Blanc, Sémillon and Sauvignon Gris for this price. It has a mix of tropical and concentrated lime (making it almost mango margarita-ish) with some fresh grapefruit mid-palate. Would be a nice party wine to have on hand at this price.
$12
2014 Dr. H. Thanisch (Erben Müller-Burggraef) Feinherb Riesling (Mosel, Germany)
This one was like biting into a big juicy peach followed by a fresh apricot. It had vibrant fruit with just a touch of petrol mixed with some sweet honey. Juicy, fresh, bright acid, and just a kiss of sweetness. This is a tasty Riesling that could pair with anything from fresh salads, shrimp, or even mildly spicy and sweet Asian dishes.
10% abv | $14
2014 Lazy Creek Vineyards "Lazy Day" Pinot Noir (Anderson Valley, CA)
Such a pretty nose with rich black cherry, cocoa, spice, and some mildly dusty earth, and even a little graham. I appreciated the milder nature of this. It almost reminded me more of Oregon than California. It had nice structure and body, but wasn't over the top. We actually enjoyed this one better than their Estate Pinot, which was almost double the price. I can see this wine pairing nicely with some richer cuts of meat (maybe even this stew?).
14.5% abv | $35
2014 Ferrari-Carano Anderson Valley Pinot Noir (Anderson Valley, CA)
What starts with a little tight earth opens up into a very pretty blend of red berry fruit (cherries, cranberries, raspberries). Nice balance, bright fruit, with mild tannins and some lingering spice on the finish. Quite nice. This would be a great one for some pulled pork or even smoked pork tenderloin.
14.5% abv | $38
2014 Martin Ray Winery Dry Creek Valley Tower Red Wine (Dry Creek Valley, Sonoma County, CA)
Dark and rich with deep black berry, blueberry, and currant aromas, along with some mocha and toast. This Bordeaux-style blend of Petit Verdot, Cab Franc and Malbec is a big wine, but nicely balanced with enough acidity to have me salivating. This is a roast wine followed by sipping by the fire.
14.5% abv | $48
2011 The Gour de Chaule Gigondas Cuvée Tradition (Gigondas, Rhone, France)
Ohhh, this wine was rustic, leathery, and a little musky at first. A little gamey on the palate and almost floral in the mouth. It has a big personality, with some black raspberries and black cherries mixed with the spicy, earth, and peppery finish. I want to pair this with something savory to bring out its herbal notes, something hearty, like roasted lamb perhaps.
14.5% abv | $35
2014 Domaine Vincent Paris Cornas "Granit 30" (Rhone, France)
Deep black berry and black cherry with lots of fresh ground black pepper and just a touch of violet. It had a nice balance of richness, minerality (a little stoney), and a hint of smoke. We paired it with these exact short ribs, making for a memorable meal.
13% abv | $43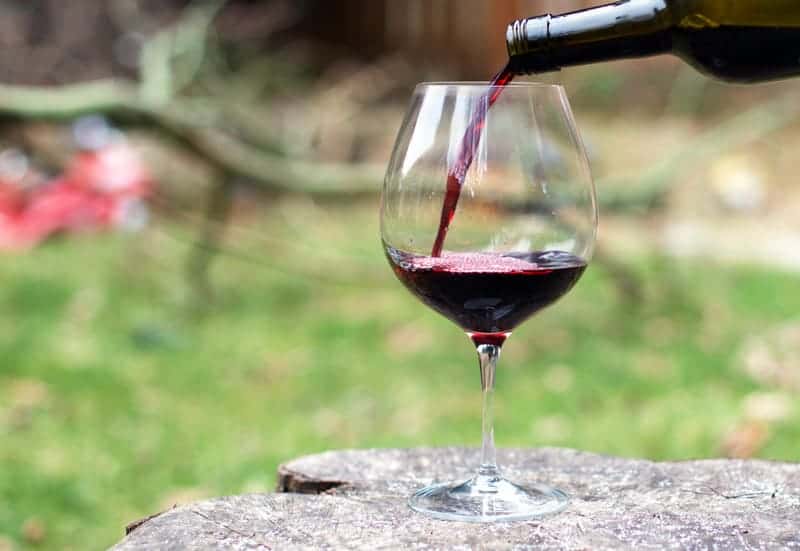 ---
*Most of these wines were were media samples for review. See my sample policy here.