How to cook incredibly tender beef short ribs on the smoker and finish them in a rich and indulgent stew. You're going to go crazy for this Smoked Beef Short Rib Stew recipe!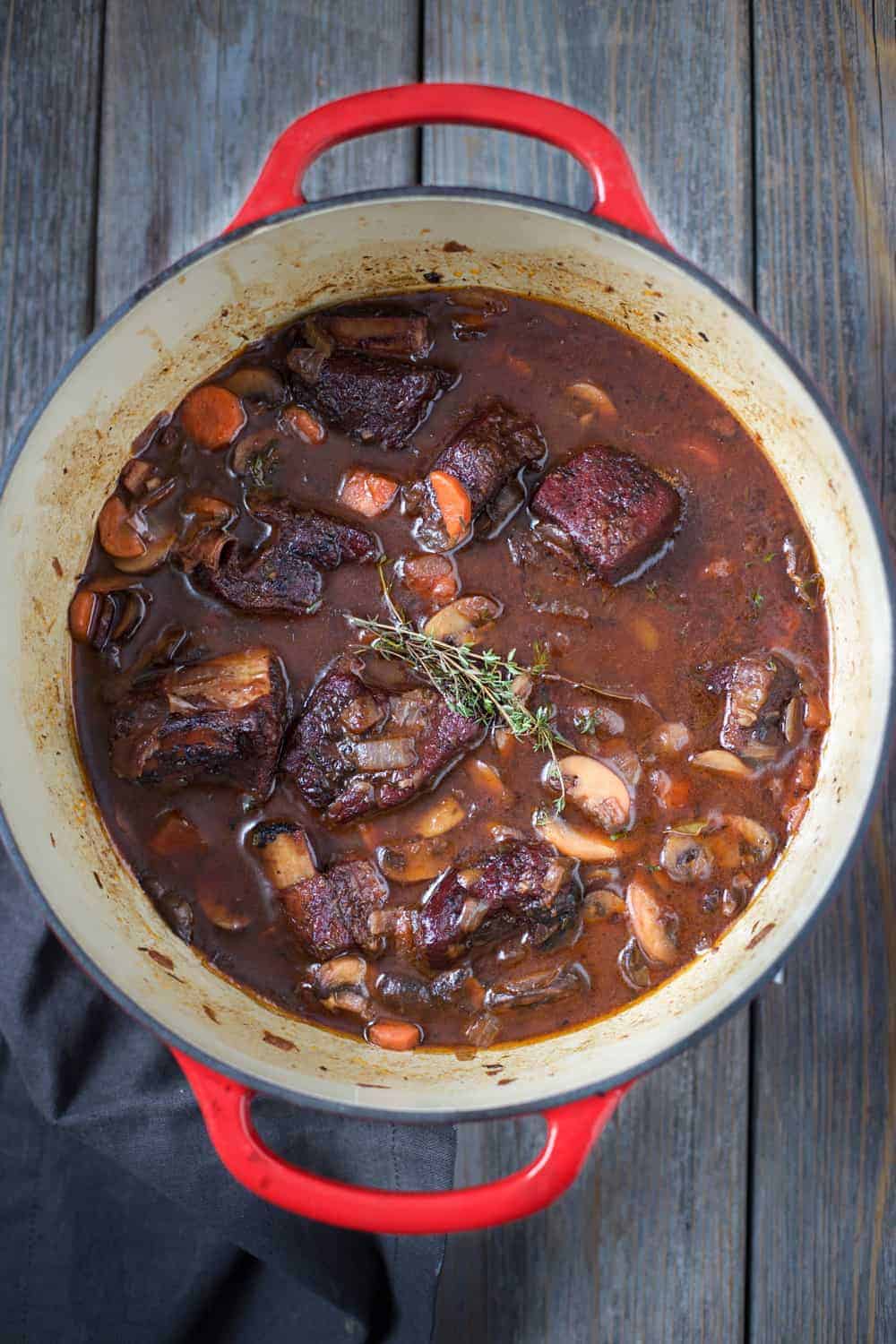 Beef short ribs were a game changer for me. Years ago, before we bought our first smoker, I was a (mostly) vegetarian.
Everything changed the day we ate at Chef Mavro Restaurant in Honolulu. The restaurant offered a strict pairing menu, and I wasn't going to tell a James Beard Award Winning Chef to alter his tasting menu, so I went with the flow. One of the courses he served was a braised beef short rib. It had to have been slowly stewing in the most incredible and savory sauce for hours and hours. The texture was like butter, and I was in love. I exclaimed to my husband I would eat beef every single day if it could taste as good as that one memorable meal. After that day I started incorporating beef back into my diet. And it's been my mission ever since to recreate that meal at home, or at least come close.
Fast forward a few years and we found our version, that we could make on this side of the pacific!
It's now my go-to when I want the ultimate comfort food.
THE MOST INCREDIBLE STEW EVER
Typically you'll find recipes for "braised beef short ribs" where the meat will start with a quick sear, then set aside to soften the vegetables, then placed back in with the liquids to continue cooking.
This recipe starts by smoking the beef short ribs on the grill or smoker. Then using those delicious smoked short ribs to incorporate into a classic stew.
When you're craving a rich and hearty winter stew, that incorporates the smoky flavors and textures of beef short ribs cooked on the smoker, you can't beat this
Tender, buttery, rich, smoked beef short rib stew.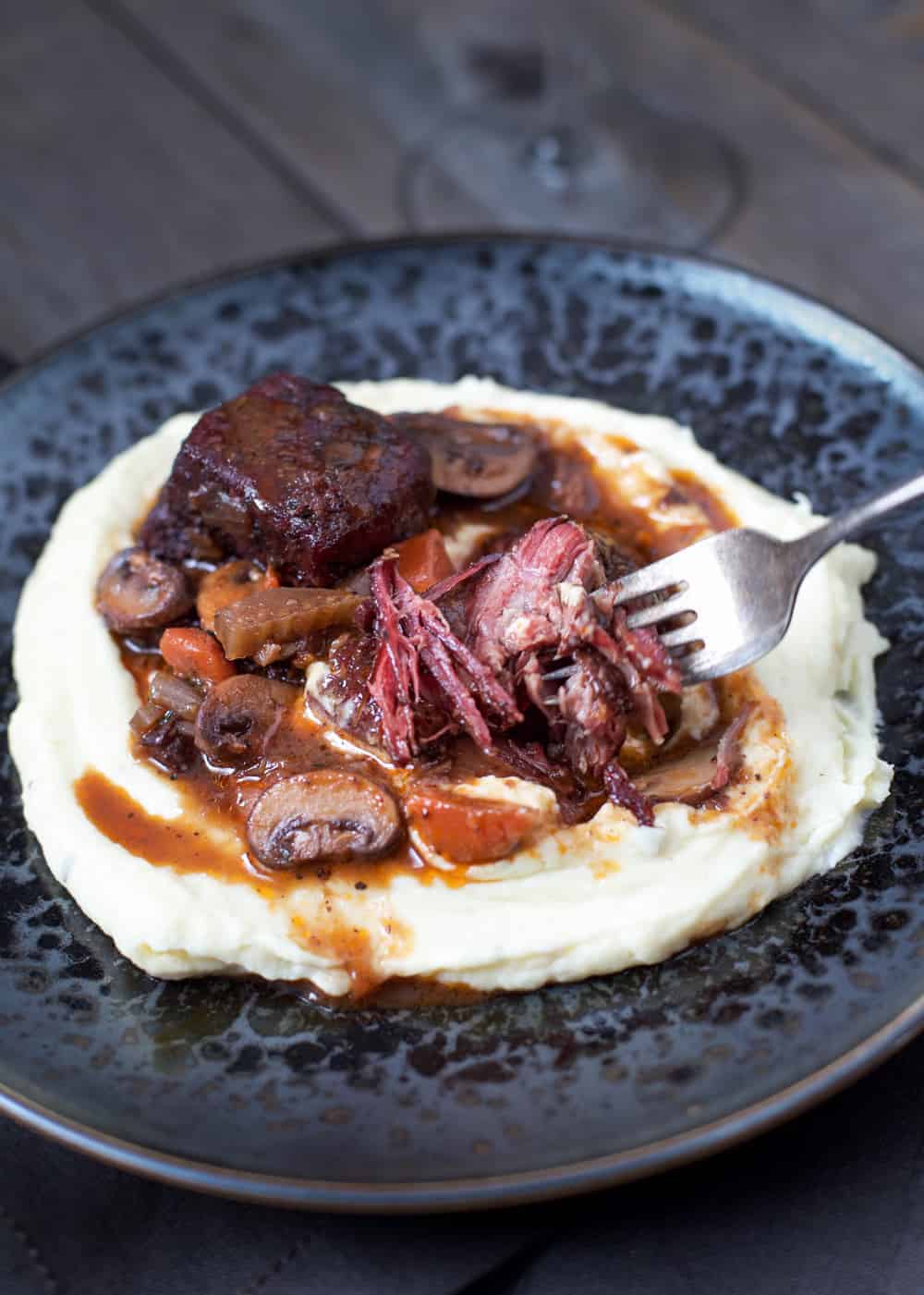 THE BEST CUT OF BEEF FOR STEW
We're using beef short ribs for this stew. These are typically smaller cuts (around 3-inches of bone) and meaty; and that's likely how you will see them in the butcher case. Buying Prime, Choice, or even Wagyu cuts for marbling is key so that you get that flavor that makes them magical.
HOW TO PREP THE MEAT
Start by trimming off excess fat off of the top of the meat. You'll see a thin membrane that, when removed, will expose that gorgeous meat that will pull that smoke in. Unlike pork ribs, you don't need to take the membrane off the bone side. Leave it there so it can hold that beef on the ribs. Coat the ribs in olive oil, salt, and pepper, or feel free to use your favorite beef rub.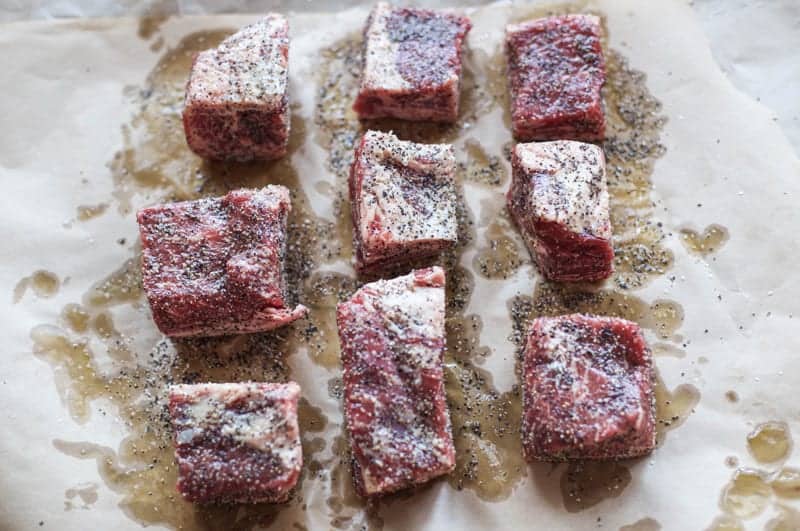 HOW TO SMOKE SHORT RIBS
Set smoker to 225 degrees and using a fruit wood or oak. That way you complement the beef flavor and not over power it. It'll also take hours to cook, like five hours or more depending on how thick the meat is.
Spritz. While the short ribs are cooking I like to spray with an apple cider vinegar and apple juice spritz. The acidic flavor really complements the beef. After the first hour of cooking I spritz every 30 minutes or so.
Cook the short ribs to around 165 degrees F. You'll see the color below and that bone exposed. The plan is to finish on the stove top in the stew until butter like texture so the smoky flavor melds with your stew, so don't be alarmed that they are coming off so early.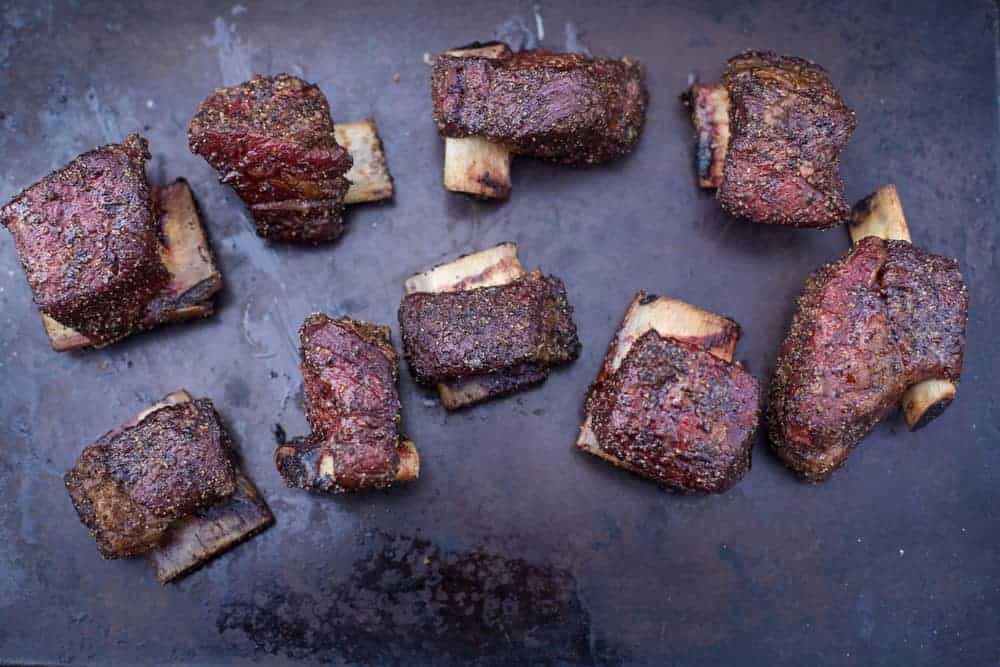 HOW TO MAKE BEEF SHORT RIB STEW
When you see your meat on the smoker getting to to roughly 150 degrees F on the smoker start your stew.
Cook bacon in a large dutch oven (or cast iron pot) until crispy. Remove bacon and set aside, discard most of the bacon fat.
Cook Vegetables: In the same dutch oven soften the veggies, and then add your liquids and seasonings. Stir, and then add in your smoked short ribs.
Simmer: Cover and simmer together for around 90 minutes, or until your short ribs come up to 203 degrees Fahrenheit and are tender as butter. Always use a good thermometer for a cut like this for a proper read. We love the Thermapen Mk4 for its quick and accurate read.
At this point you may want to test one of the short ribs. Test it in the pot or remove it and poke it with a fork to see how tender it is. If you want it to cook more, just allow it to continue simmering at a low heat for another 20-30 minutes, or until it gets to the tenderness and textures you're trying to achieve.
Cook Mushrooms: In the meantime, cook up your mushrooms separately and then add them to the stew. At the same time you add the mushrooms to the stew add back that crispy bacon to the stew too!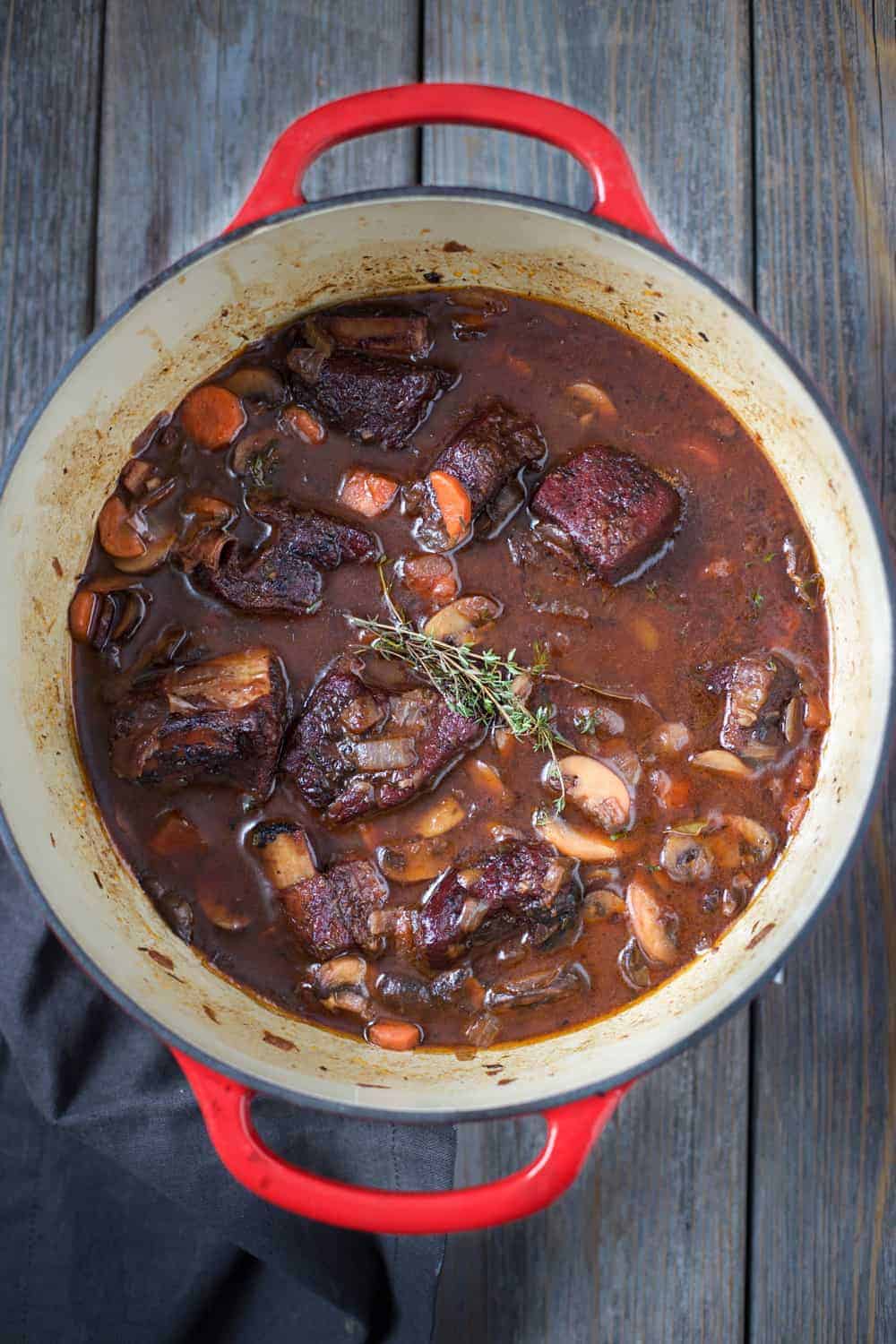 When the stew is the consistency you like, and the meat has come up to 203 degrees and is tender as butter, you've got yourself heaven in a pot, ready for you to serve up with your favorite side dish to soak all of the incredible sauce (we like parsnip puree or celery root puree, but feel free to use mashed potatoes too).
Wine Pairing for Beef Stew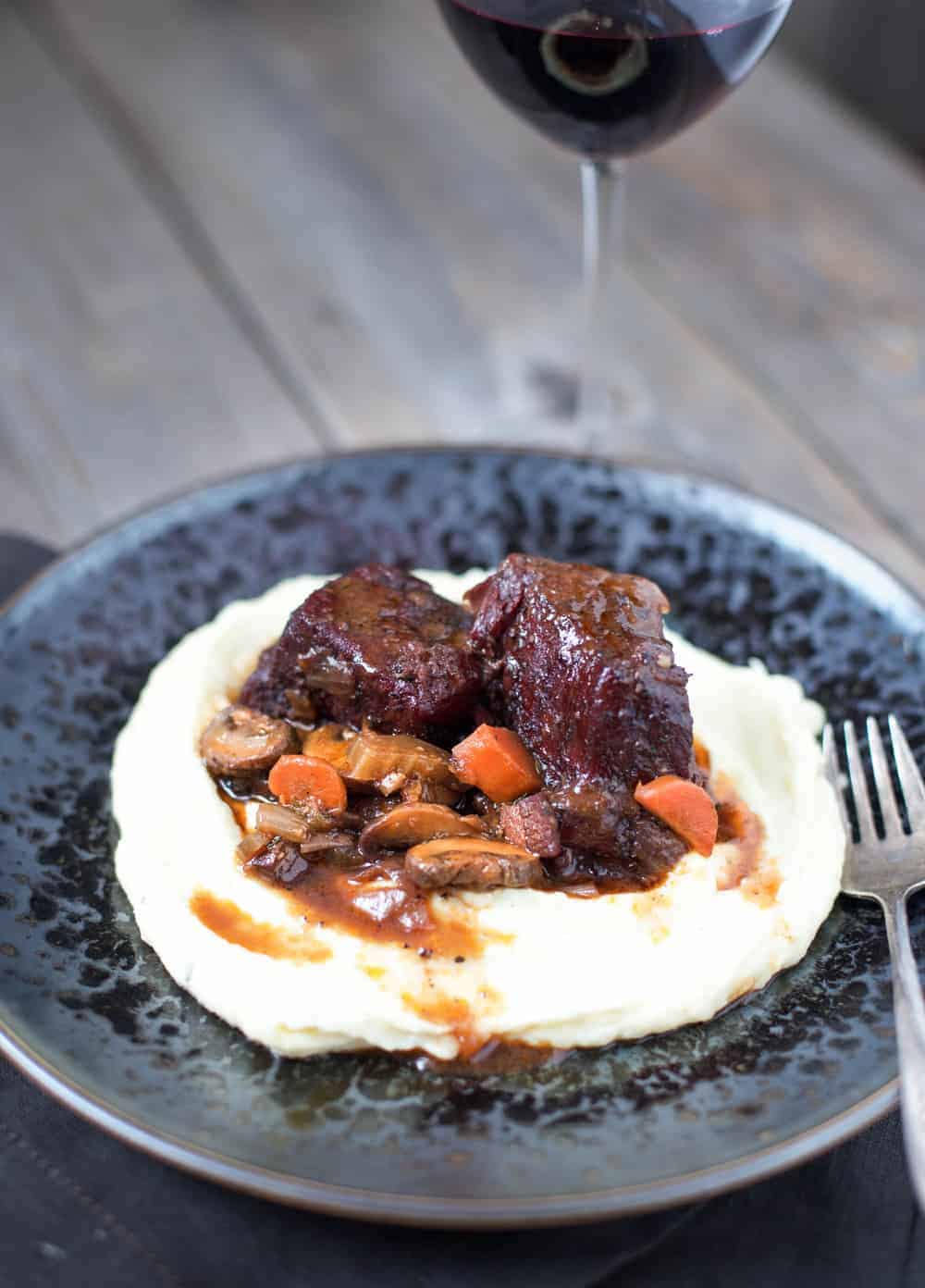 This dish is truly incredible. The meat is smoky and tender, and the broth is rich and savory with herbal notes in the background. You don't want wine that's too intense, but try to balance out the flavors. Look for something with medium tannins, on the earthy side. We've tried this with several options and find that a high tannin fruit forward wine is a little too much. Stick to old world style red wines from France or Italy. Rhone style reds have been our favorite so far because they have just enough fruit but also have that savory, herbal, and earthy notes we're looking for to match the dish.
Want More Beef Short Ribs Recipes?
SMOKED BEEF SHORT RIB STEW RECIPE
If you like this recipe we'd truly appreciate it if you would give this recipe a star review! And if you share any of your pics on Instagram use the hashtag #vindulge. We LOVE to see it when you cook our recipes.
---
*This post contains an affiliate link for the Thermapen Mk4 digital read thermometer. We only recommend products we use and love! And you can't smoke meat to the perfect temperature without a good thermometer, and this one is awesome.
*This post was originally published in January 2017, and updated in November 2018.
---