This Smoked Pork Tenderloin recipe is fantastic and easy to make with a rich and flavorful Blackberry Bourbon Sauce drizzled over the top. Follow these easy steps for one of the juiciest tenderloins ever.
And check out this grilled pork tenderloin recipe if you are looking for a hot and fast recipe.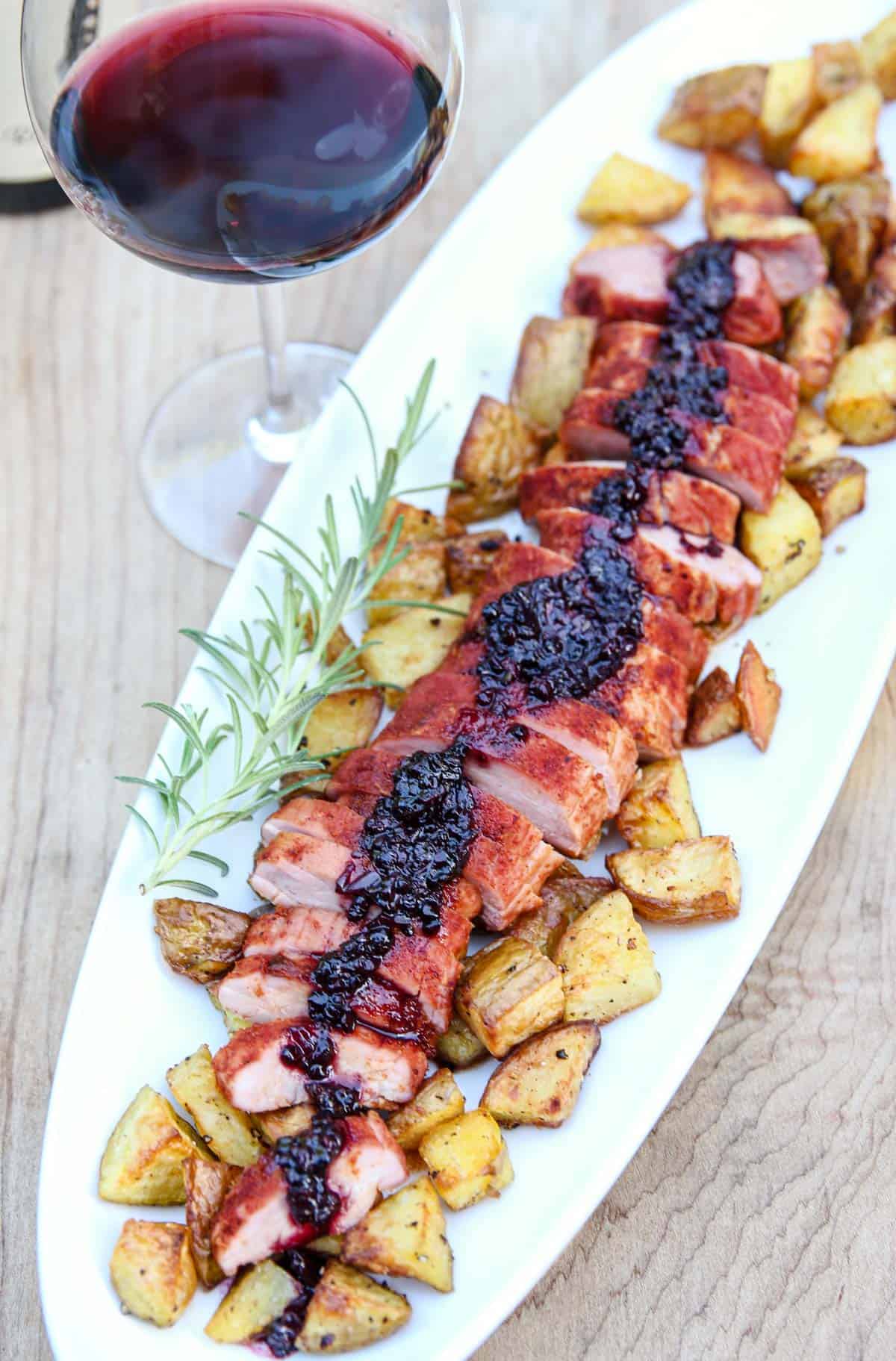 Pork tenderloin was one of those gateway meats that brought me back to the dark side — or rather, eased my transition from being a pseudo-vegetarian to a smoked-meat-loving carnivore.
Shortly after we started getting serious about smoked foods, we even won our first food competition because of this pork tenderloin recipe.
What I've learned is simple: Smoked pork tenderloin, seasoned lightly and smoked slowly, is da bomb. And the blackberry bourbon sauce is just the icing on the cake!
Jump to:
Pork Tenderloin vs. Pork Loin
Let's be clear that this recipe is for the smaller pork tenderloin, not the pork loin. Even Google gets it wrong in search queries. Pork tenderloin is a lean and tender pork roast that comes from the central spine of the pig versus the loin which comes from along the rib cage and is a much larger and longer cut.
It will be a long and thin roast that tapers from thick to thin. It will also have a small amount of silver skin on one side of the pork. The texture is very tender when cooked to the proper temperature, and the flavor is a rich pork bite that is juicy.
Sourcing
When sourcing pork tenderloin look for marbling on the outer edge. Most packs come with two of them. If buying from the butcher case, be sure they have a nice pink color and get two of them for four people to be on the safe side.
We have purchased pork tenderloin from the following online sources and they are amazing. They are shipped right to your doorstep and support sustainable small farm practices.
D'Artagnan Fine Foods sources pork tenderloin from small sustainable farms from around the US. Their Berkshire line is amazingly tender and full of flavor.
Snake River Farms produces Kurobuta Pork, also source from small farms and of Berkshire heritage and has a rich and buttery flavor.
Preparation and Seasoning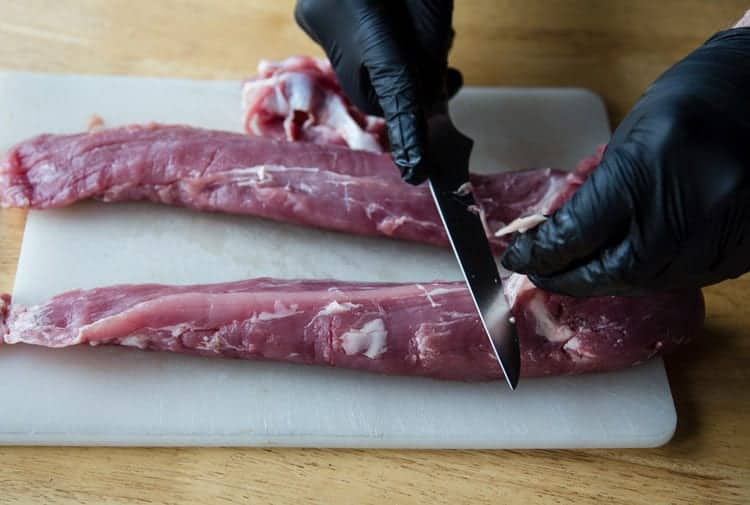 The first step is to remove the silver skin using a sharp boning knife or filet knife. Gently run the knife under the silver skin and remove it. Also remove any remaining fat pockets on the outer side of the tenderloin.
Next coat the pork with a small amount of Dijon mustard (yellow works too). This liquid coating helps the seasoning stick.
Finally add seasoning. When seasoning pork tenderloin we use our pork seasoning for ribs, it has a nice mix of sweet and savory with no real heat. The sugar caramelizes well.
Another fun seasoning is our ultimate dry rub for pork and chicken.
How to Smoke a Pork Tenderloin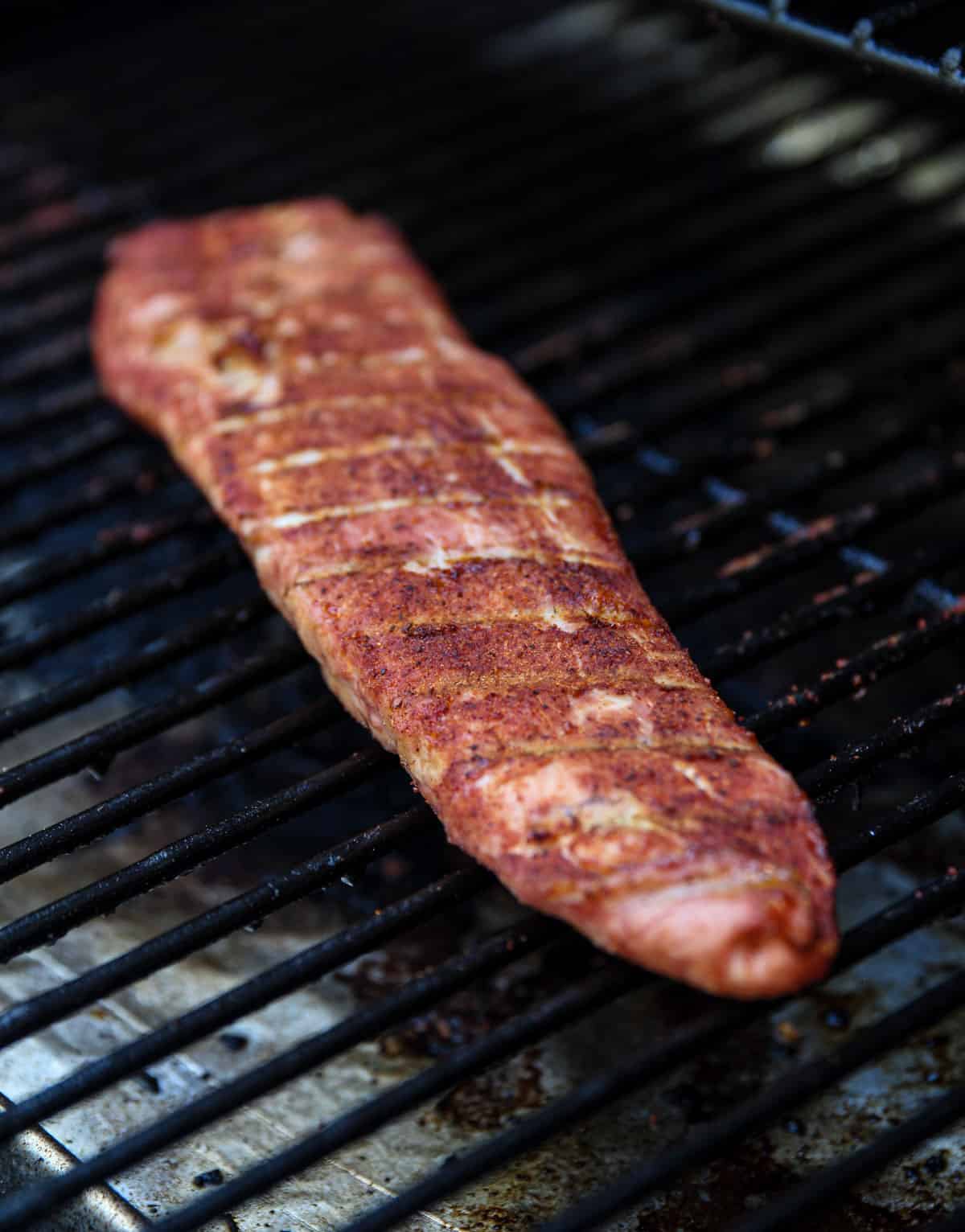 Smoking a pork tenderloin couldn't be easier.
Preheat smoker: Set smoker between 225-250 degrees F.
Season the meat: Coat the pork tenderloin with a layer of Dijon mustard (just to coat and allow the dry rub to adhere), and season with dry rub around the entire pork tenderloin.
Smoke the pork tenderloin: Place on smoker for roughly 60-90 minutes, or until the internal temperature reads 140 degrees F.
Remove: Let rest 10 minutes.
Sauce it up: Slice and drizzle the blackberry bourbon sauce over the top.
If you haven't smoked berries you're missing out.
When is it Done
Whenever cooking low and slow, the pork will be done based on the internal temperature, not time. Start checking the internal temperature with a remote thermometer probe or a Bluetooth unit around 45 minutes into smoking.
Be sure to use a good Bluetooth wireless Thermometer, like the Thermoworks Smoke Unit. We like 140 degrees Fahrenheit to allow carry over cooking to occur while it rests. This will allow the pork to continue to cook another 5 degrees after you have removed it from the heat source.
How to Smoke Berries
Smoking any kind of berry (strawberries, cherries, you name it), softens them and brings out deep concentrated sweetness of the berries, and adds a fascinating smoky element. We wanted to add something dark and rich to contrast the sweet fresh berries, so we cooked them with a little bit of bourbon. We also wanted to add just a little bit of liquid to the berries so that they didn't dry out. Bourbon did the trick!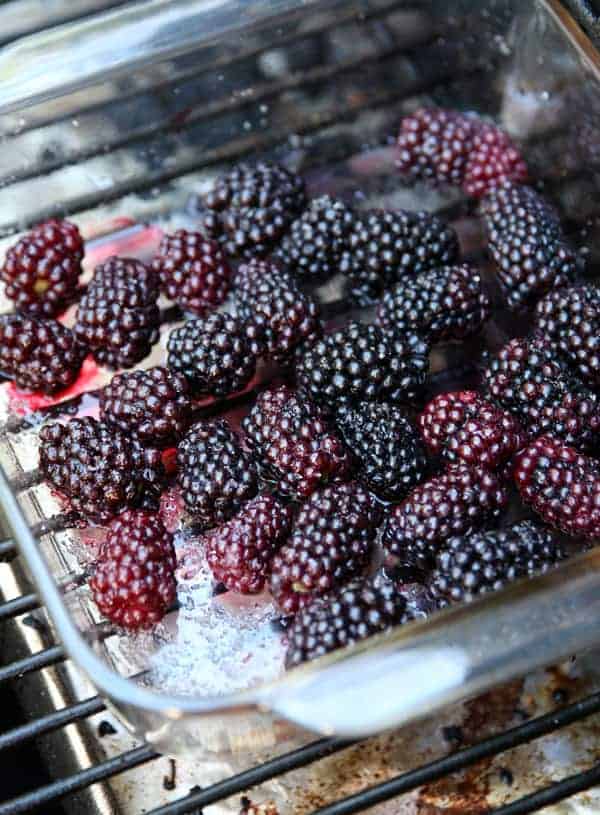 Place a pint of the berries in a glass dish mixed with a tablespoon of sugar, a touch of salt, and ¼ cup of bourbon.
Place it in the smoker, along side your pork (see photo below) for about 1 ½ hours.
To Make The Smoked Blackberry Sauce: Transfer the berries and juices to a small saucepan with softened shallots, and mix with some balsamic and rosemary, until the berries start to break down and it turns into a rich thick sauce (about 5 minutes).
Press down with a fork or potato masher to break up the berries and turn into a chunky sauce. Taste and adjust flavors. If not sweet enough add an additional ½ teaspoon of sugar at a time.
Remove and drizzle over the smoked pork tenderloin.
No Bourbon? If you don't want bourbon you can substitute wine. If you don't want any booze at all, try a few tablespoons of apple juice or orange juice (just know that juice will accentuate the sweetness of the berries).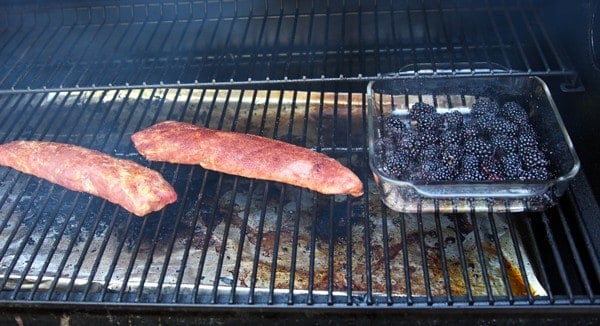 You can smoke the berries the day before and reheat after the tenderloin is done. Or you can start with the berries and then add the tenderloin halfway through the berry cooking process.
Related Article: Our favorite recipes using blackberries.
Wine Pairing for Smoked Pork Tenderloin
I love love love pork and Pinot Noir, no matter how the pork is cooked. And here in Oregon we've got Pinot a plenty!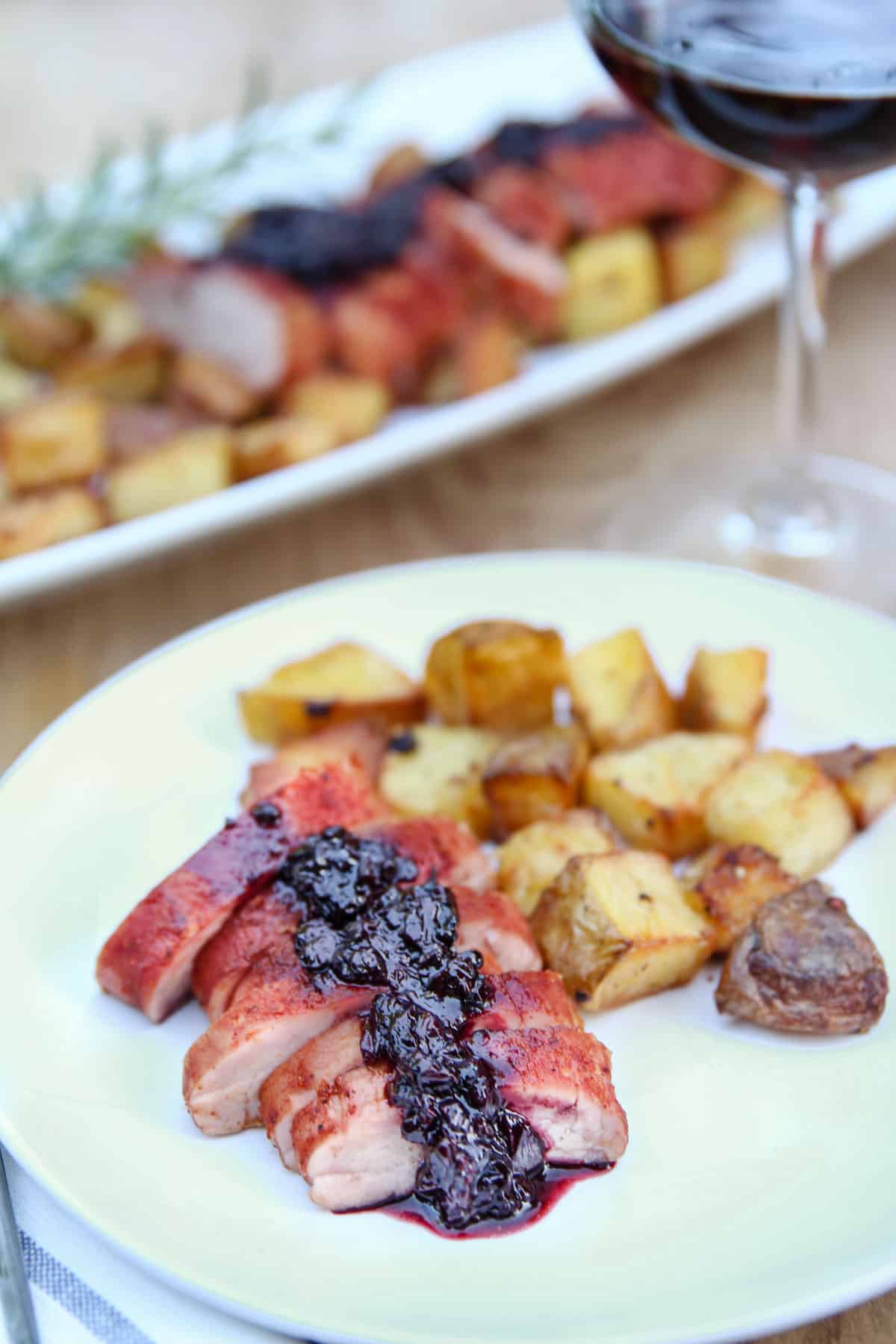 Look for a big Pinot Noir, like a California Central Coast or Sonoma County. Something with good fruit with a lot of substance. You'll find rich cherry and black berry flavor and some concentrated pomegranate that goes well with the sauce, and some baking spice and smoky notes that melded well with the pork.
Blackberry Recipe Ideas
We have several blackberry recipes from appetizers to the main meal. Check them out for some additional blackberry recipe ideas.
Other Pork Recipes We Love
Mary (a certified sommelier and recipe developer) and Sean (backyard pitmaster) are co-authors of the critically acclaimed cookbook, Fire + Wine, and have been creating content for the IACP nominated website Vindulge since 2009. They live in Oregon on a farm just outside Portland.
This recipe was originally published in July of 2015 and updated in August of 2021 with new recipe steps, nutrition information, and details on the photos.
This post may contain affiliate links. This means if you click on the link, we may receive a small commission if you purchase through the link. We partner with brands we know and love and use and it helps keep the blog going!
---
---