This time of year everybody seems to be weighing in on the best wines to buy as gifts.  With any type of gift (wine related or not) I believe the process should be as uncomplicated and stress free as possible.
Whenever I am asked for wine gift ideas (any time of the year) I simply recommend giving something memorable, or something that has meaning to the gift giver.  This could be anything from a favorite $5 Trader Joe's find, a $100 Grower Champagne, or a unique local wine purchased from a small producer within your region.  It doesn't always need to be unique or expensive, just something that has meaning or a story behind it that you can share with the recipient.
This year, one of my most memorable wines happens to also be unique.  A wine that reminds me of one of the most beautiful places I have had the pleasure of visiting in my life.  A wine I would gladly give to everyone on my list if I could.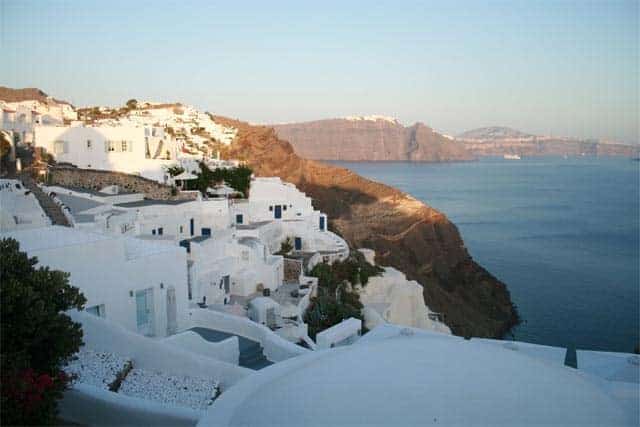 Vinsanto from Santorini 
Earlier this year I had the honor of traveling through the Greek island of Santorini, visiting every wine producer, and tasting most of the wines produced there, a majority of them being made from Assyrtiko grapes.  In addition to the dry, minerally, and highly acidic white wines made on the island that I have written about previously, most wineries also make a traditional sweet Vinsanto — a wine that has been made for centuries on the island.
Originally named "Vino di Santo" (or "Wine from Santorini") by the Venetians this sweet wine is made from mostly Assyrtiko (minimum 51% by law) with Athiri and Aidani rounding out the remaining grapes.  Not to be confused with the Italian "Vin Santo" (which is made from different grapes and dried in the shade*) this sweet wine is made from late harvest grapes that are laid out in the hot Santorini sun to dry out for approximately two weeks turning them into raisins.  The intensely concentrated fruit is then crushed, fermented, and aged for a minimum of two years in oak barrels developing its unique flavors (though many producers will age it for much longer).  The end result is a wine high in both sugar and acidity with alcohol ranging from as low as 9% up to 13%.
Younger versions of this wine, which can be enjoyed simply as an aperitif, can have beautiful honey and lemon aromas and a lighter texture.  Aged versions may display more of a maple syrup look and texture with intoxicatingly rich caramel, butterscotch, toffee, coffee, and fig flavors.  Young or old, this complex wine will coat your mouth with deep long-lasting memorable flavors.
One of the most fascinating things about Vinsanto is how vastly different an experience it is tasting the dry versions of the same grape (Assyrtiko) and comparing it to those made into Vinsanto.  Though they couldn't be more different styles of wine, they share the same bracing acidity demonstrating the rich versatility of this unique grape.  Even those aged over 50 years (which I had the pleasure of tasting) still had Assyrtiko's characteristic acidity present.
If you don't believe me I encourage you to get a bottle of dry Santorini Assyrtiko and a bottle of Vinsanto from the same producer and taste them side by side. Same grape, same producer, same small island, stylistically worlds apart, though still related.
Never have I been so intrigued and mesmerized by a sweet wine before.  This is a wine worth seeking out and trying at least once.  And while I had many remarkable wines this year, I don't think any were quite as memorable as the Vinsanto's I tasted while in Greece.
So, yes, if there were a wine I would gladly give to everyone on my list this year it would be a bottle of Vinsanto from Santorini, so they too can experience the uniqueness for themselves.  An incredibly delicious and memorable wine to share with friends and family this holiday season.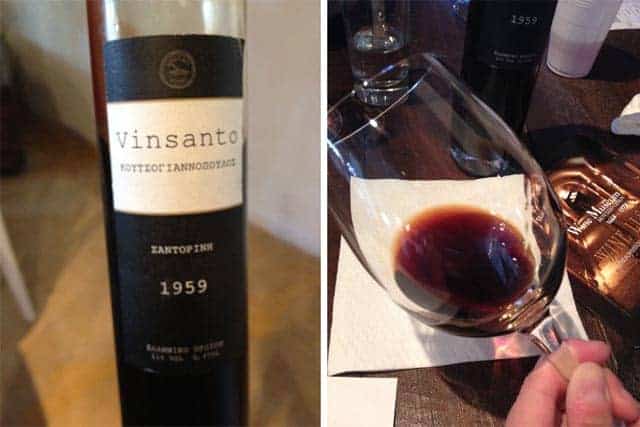 1959 Vinsanto from Koutsoyiannopoulos Winery
Only 50 bottles of this wine were made (!) and I had the pleasure of trying one of them.  The color of this wine resembled that of motor oil, but smelled like a beautifully aged sherry.  And though this wine was over 50 years old it still had lively acidity.  Truly fascinating.

Side by side, tasting an 8 year old Vinsanto next to a 45 year old Vinsanto from Gavalas Winery  – The 45 year old wine  (produced in 1967, bottled in 2012) had almost an aged balsamic note and texture.  Wow! Just wow!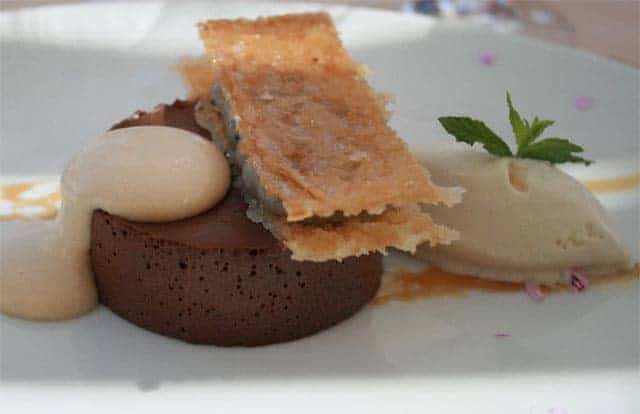 Smoked eggplant ice cream with smoked eggplant mousse from Selene Restaurant paired with Vinsanto from Hadzidakis Winery   
One of the most intriguing wine pairings I've encountered (one that has inspired me to smoke my own eggplant on a number of occasions since. Though I have yet to try to make my own smoked eggplant ice cream!)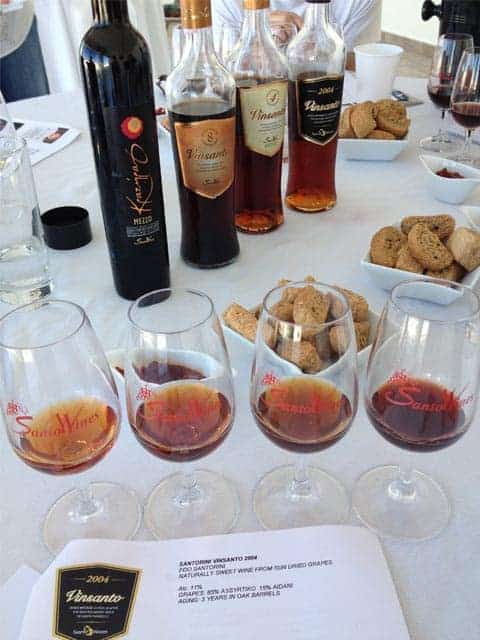 Tasting through the different styles of Vinsanto produced at Santo Wines
*Note, when shopping make sure to specify Santorini Vinsanto (from Greece), and not the Italian Vin Santo. Though the names sound the same they are two very different wines. 
Look for producers:   Argyros, Domaine Sigalas, Gaia, Gavalas, Hadzidakis, Koutsoyiannopoulos, and Santo Wines.
Related Reading: