Get to know the primary grapes of Santorini, Greece, wine region.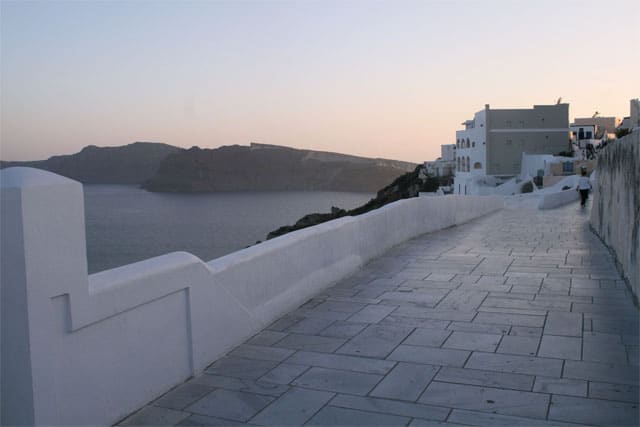 Santorini is a special place. A place like no other with something incredibly unique about it. A true wonder of the world. Walking alone along the ancient city streets, taking in the breathtaking views and unique architecture, you feel something big, something deep, even spiritual.
When you eat the food and drink the wine you begin to feel connected to the land — both the food and the wine reflect the unique terroir of the island. Something so unique that it doesn't exist most places I have visited the way it does here. Now I don't go throwing the "t" word out there that often. But when I do, I do it for a reason.
People often talk about the unique terroir of the wines from places like Burgundy, or Bordeaux for example (referring to the effect that specific characteristics — such as geography, soil, climate, and even people — have on a resulting wine). Both places I have also been to and I agree. But I also believe the wines of Santorini reflect their own unique terroir worthy of understanding. And with a place that only cultivates indigenous grapes it is important to develop an understanding of them since you are not likely to find them outside this region.
Santorini Wines
I must first confess, before I starting learning about Greek wines, I had no idea how to pronounce most of the grapes. It admittedly became a source of intimidation for me and was almost afraid to seek them out. This was years ago. Understanding how to pronounce the grapes was the first step in becoming more confident in seeking out these wines in public. I'm shy like that okay.
So if you are nervous about walking into your local wine store and seeking out any of these wines, fear not. At the end of this post I've included a very short video with the pronunciations of these grapes by three individuals who know these wines best. You can watch it in the comfort of your home and practice the pronunciation. Nobody needs to know.
The Main White Grape Varieties of Santorini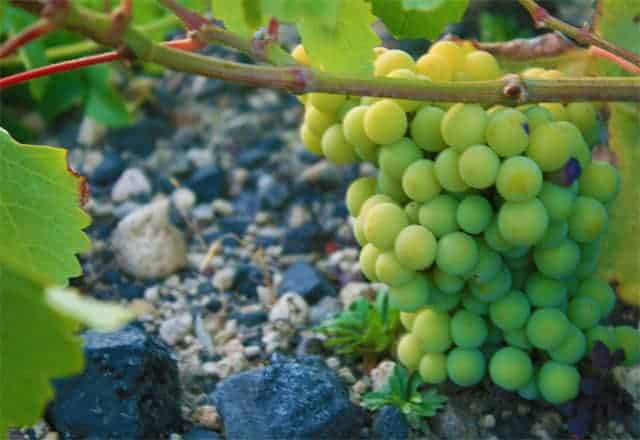 I was told by various people on the island there was somewhere around 35 native varieties currently being cultivated in Santorini, but the three below make up close to 80% of the plantings and are the main grapes used in the two most important wines of the island. And while both red wines and white wines are made on the island, it's the later that are drawing international attention – and for good reason.
Assyrtiko
Thought to be the oldest known grape variety in all of Greece, where it is planted throughout the country. It is in Santorini, however, where it becomes its most special and displays its greatest expression through its signature minerality and acidity derived from the volcanic soils of Santorini. It is also the most planted grape on the island, making up to 70% of the vineyards.
Assyrtiko is a very fascinating grape producing full-bodied wines very high in acidity, strong in minerality, with aromas of citrus, leaving behind a salty/briny finish.
This is a grape not only high in acidity but also alcohol (averaging around 13-14%). This is usually not the case with other grapes. Typically you will see high acid and low alcohol, or vice versa. Assyrtiko from Santorini is special – it gets both – making it also a grape with very long aging potential.
Oenologist Xara Mavrommati from Domaine Sigalas describes how the wine evolves with age – "When Assyrtiko is young it is reminiscent of a Chablis because of its striking minerality, but when it ages it becomes more reminiscent of a Riesling because of the way the aromas change – more petrol notes start to emerge as it ages." The wine starts to change after 2-3 years, softening and becoming more round on the palate, yet maintaining the strong acidity.
If you are a fan of wines with strong acid, this grape is for you. And if you are a fan of fresh seafood (think ceviche, shellfish, oysters, all splashed with fresh squeezed lemon), I dare you to try this. It may become your next favorite seafood pairing.
Athiri
An ancient Greek variety indigenous to Santorini, Athiri is most often blended with Assyrtiko to provide rich and elegant aromas. Alone, Athiri is aromatic, with a softer mouthfeel and lower acidity. When blended, it helps to balance out some of the power and strong acidity of Assyrtiko while providing floral aromatics that Assyrtiko lacks.
Aidani
Another grape indigenous to the island, Aidani is also most often blended with Assyrtiko to provide rich, floral, and elegant aromas. Aromatic with lower acidity, Aidani contributes aromatic bouquet found in both Santorini blends and Vinsanto (to be discussed later).
---
The Main Wines of Santorini
Santorini, Appellation (PDO Santorini), Dry White Wine
A dry full-bodied white wine with strong acidity, minerality, citrus aromas, and aging potential. By law, the wine with "Appellation of Origin Santorini (PDO)" must contain at least 75% Assyrtiko, and 25% of Aidani and/or Athiri. You will find examples of Santorini PDO both 100% Assyrtiko and also blended with the other two grapes. It is interesting to taste examples side by side to see which you may have a preference for.
The wines can be produced both in stainless steel and also oak. However to say "Santorini" on the label it implies stainless steel production, as explained to me by Margarita Karamolegou of Gavalas Winery. Winemakers that use oak must specify it on the label that oak was used in the production of the wine.
Nykteri, Appellation (PDO Santorini), Dry White Wine
Karamolegou, of Gavalas Winery, also explained to me the story behind Nykteri. Meaning "Harvested at Night" this wine was traditionally harvested and pressed at night, after the sun had set. This is no longer standard for the wine, but the name remains the same.
By law the wine must contain a minimum of 75% Assyrtiko, with Athiri and Aidani filling in the remaining blend, be a minimum of 13.5% alcohol, and spend at least 3 months aging in oak barrels.
Vinsanto, Appelation (PDO Santorini), Sweet Wine
---
Wines To Seek Out from Santorini

All ten producers on the island make a variety of wines to chose from, but they all produce their own version of Santorini PDO. I recommend starting with Boutari's Santorini, 100% Assyrtiko, to get an idea of pure Assyrtiko grape. Boutari is widely distributed so you shouldn't have to work too hard to find a bottle of their Santorini. It has the traditional fresh lemon flavors with a salty minerality and strong acidity. Another widely distributed Santorini bottling, also 100% Assyrtiko, is that by Santo Wines Co-op. Both wines are classic examples of the grape and provide a good introduction to the wine.
To see what the minor grapes add to the blends check out Domaine Sigalas Assyrtiko-Athiri Santorini (75% Assyrtiko, 25% Athiri) and find out how much the wines change with the addition of the Athiri. It has much more aroma, a slightly lush body, and directly from my notes, "I love the flavors that Athiri brings to the wine. It adds a whole new dimension."
For a nice example of Nykteri look for Gavalas Winery (100% Assyrtiko), (not pictured), aged six months in the barrel giving it a richer body and flavors of butterscotch and caramel in addition to lemons and pears.
To try Aidani all on its own seek out Hadzidakis Winery Aidani, PGI Cyclades (100% Aidani, organic farmed). With only 4,000 bottles produced it may difficult to track down, but it is worth it if you do. Very aromatic with floral aromas, it reminded me of a Viogner. The label (pictured to the far right), created by his 3 ½ year old daughter, is also quite adorable.
These wines should be a good place to start, with more wine recommendations coming up in later posts. Next up, in learning about the terroir of Santorini (there I went using the "t" word again), is learning about the fascinating people behind the wines. I hope you continue to follow along.
Related Posts: