GAIA Winery, located on the east coast of Santorini, overlooking the sea, is the home to excellent wines made from indigenous Greek grape varieties. It's also the home to quite possibly the oldest vineyard in the world.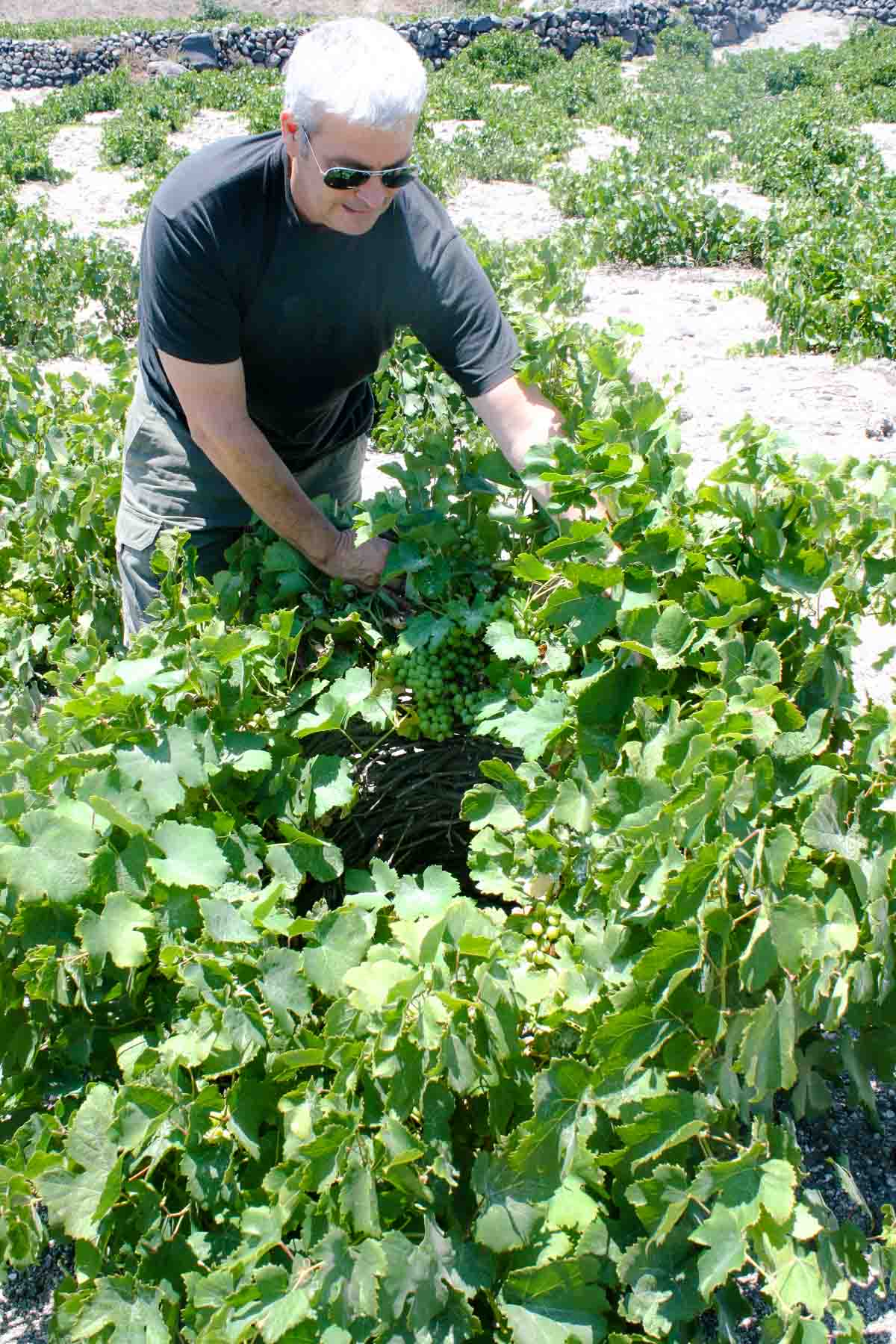 In this video and transcript Yiannis Paraskevopoulos, oenologist and owner of GAIA Wines, explains the uniqueness of vineyards in Santorini and why he believes them to be the oldest living vineyards in the world.
Background
On my last day in Santorini, several years ago our group was lead by Yiannis Paraskevopoulos, oenologist and owner of GAIA Wines, on a tour of what he believes to be the oldest living vineyard in the world.
Many wineries claim to possess "old vines", and depending on where in the world you are this could mean anything from 30-year old vines to over 100-year old. But the vines Paraskevopoulos showed us are, he explained, close to 500 years old!
Is this the Oldest Vineyard in the World?
One of the reasons the vineyards in Santorini are so old is that phylloxera has never struck this island unlike most wine regions around the world in the late 1800's and early 1900's. Vineyards that were devastated by phylloxera had to be completely pulled out and replaced with young vines grafted onto (phylloxera resistant) American rootstock. So, while many wineries may have been producing wine for centuries, the actual vines themselves are not that old.
The vines in Santorini, unlike those in most other wine regions, are still planted to their original rootstock.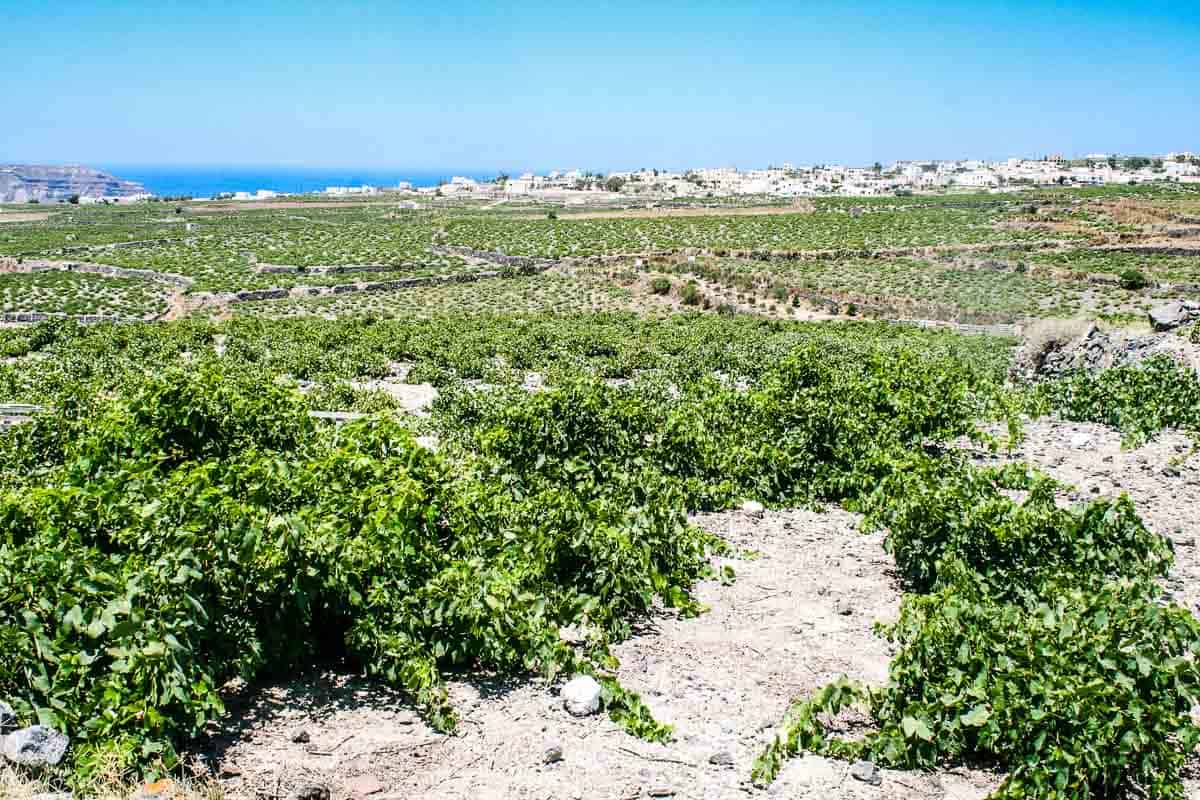 Video of the Oldest Vineyard in the World
In this video Yiannis Paraskevopoulos, oenologist and owner of GAIA Wines, explains the uniqueness of these vineyards in Santorini and why he believes them to be the oldest living vineyards in the world.
*Disclaimer. You must forgive me for the quality of the video. I am not a professional videographer and did not carry a microphone on this windy day. So, if you have a hard time hearing the sound, or following along, I have transcribed every word Paraskevopoulos says in this four minute video below. I still encourage you to watch the video though, to see shots of these fascinating basket vines on this historic vineyard.
Transcription Of Video
"What do we have? Granite, heavy. Pumice, it floats. We have the volcanic sand. We have the minerals. Iron. If we look more closely we will see yellow of these, historic ones. Like this one. See the difference?
Minerality, everyone now speaks about minerality. I'm not sure everyone knows what minerality really is. Minerality, yes it's minerals, obviously, and in volcanic soils you tend to have far more minerals than other soils. But this is not enough. You also have to have a very mature root system to express this minerality, otherwise regardless of the amount of minerals you have in the soil, that will not be expressed in the wine.
What do we have here? We have THAT. How old is that?
What does this system [of the basket vines] do? It protects [the grapes] from the wind. But also the leaves protect from the very direct sunlight. If we had a normal trellis system the sun will damage the berries.
If we count the rings of wood that we have on this vine, this one specifically is more than 120 years old.
Wow!? The wow is not there. The wow is that the reality that these vines have never been replanted.
So imagine all the meters of the wood, that the elements from the soil have to go around and around and around in before they reach the Assyrtiko [grapes]. If we would stretch this coil it would be many many meters of wood. So at the end of the day the already low yield drops even lower. So what the locals do, they decapitate the vines, and the same root that still remains in the soil, regenerates a new plant.
So what you can see is what you can count, is 120 years old. What you do not see, the roots, [that] are at least 4-5 centuries old. Why is that? Because roughly they cut the vines every 80 years, and they do that roughly 5 times per vine. So if you average 80 years by 5 times this vine (points to a group of basket vines), this vine (points to a different group of basket vines), each vine that you see, regardless of how old that you can see, the roots are at least 5 centuries old.
Talk about a mature root system that expresses minerality? This is what you get.
This is why it is so unique.
Also it is the proximity to a very salty sea, the Aegean Sea, it is far more saltier than any ocean. So very gusty. We end up having actually sea spray on the berries and you sense this salinity in the wines. And this salinity also enhances the minerality. It is a very unique thing. It is extremely difficult to create. It is very time consuming. It takes four times more time to prune that than a normal trellis system. But hey!
I'm sure that you are standing in the oldest most historic [living] vineyard in the world."
Recommended GAIA Wines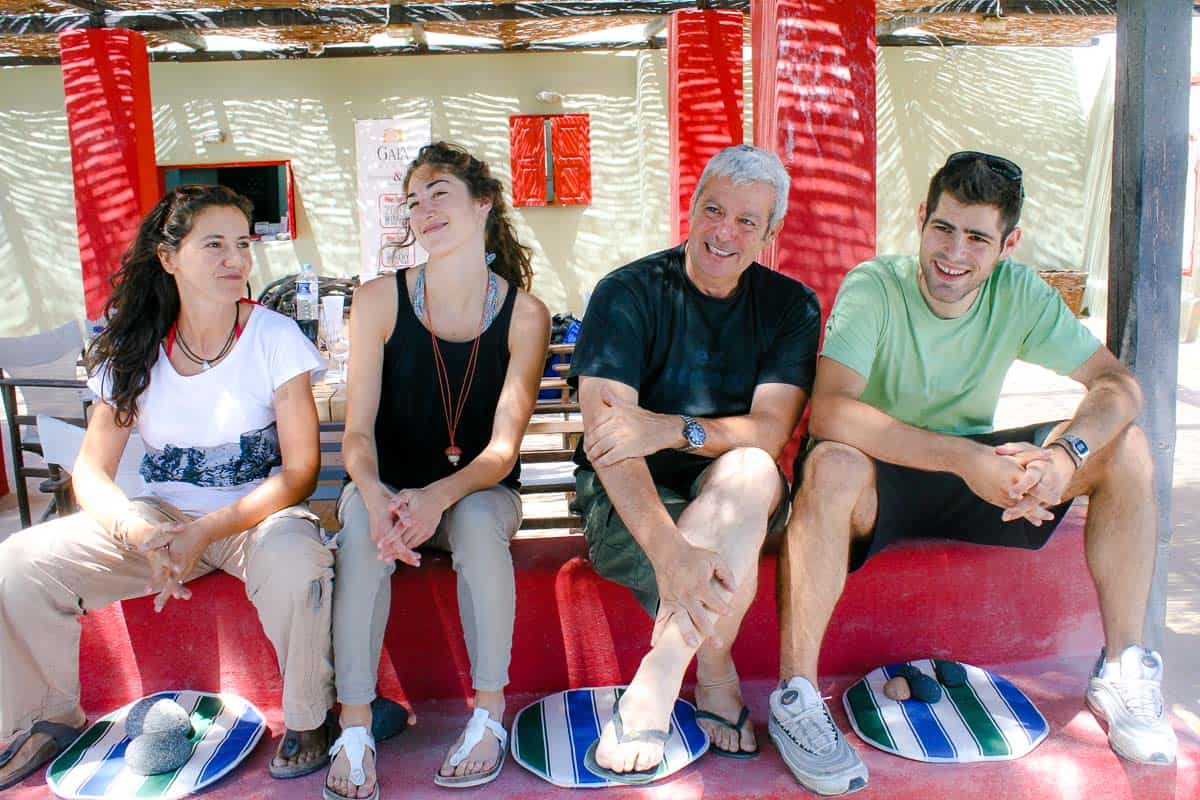 Gaia Thalassitis Oak Fermented 2010
100% Assyrtiko | 13.5% abv | avg retail approximately $30
Though this wine spent five months aging in 100% new French oak you would think it was neutral oak. Savory aromas of toasted caramel lead you to the rich and lush body with the typical strong and mouthwatering acidity coming from the Assyrtiko grapes. I really enjoyed the contrast between the rich body of the wine and bright refreshing acidity. A great example of a responsible use of oak on Assyrtiko further demonstrating the control and balance Paraskevopoulos has on the use of oak in his wines.
Gaia 14-18h Agiorgitiko Rosé 2011
100% Agiorgitiko | 13% abv | avg retail $16
The grapes for this wine do not come from Santorini, but from Nemea, in southern Greece, where GAIA's second winery is located. I had to include it, however, because I enjoyed it so much and it is one you are likely to encounter at your wine store. This wine gets its name from the 14-18 hours the berries spend cold soaking before they are pressed. This also gives the wine its bright strawberry color and red berry aromas. Fresh, dry, and crisp with great acidity this is a nice rosé perfect to sip on as the warm summer months continue.
Related Reading
---
Mary (a certified sommelier and recipe developer) and Sean (backyard pitmaster) are co-authors of the critically acclaimed cookbook, Fire + Wine, and have been creating content for the IACP nominated website Vindulge since 2009. They live in Oregon on a farm just outside Portland.