This is a sponsored post written by me on behalf of Serious Bean Co. All opinions are 100% mine.
A jazzed up Queso Bean Dip featuring ground sausage, green chilies, smoky chipotle pinto beans, and real shredded cheese. Smoky Chipotle Bean and Sausage Queso dip is a fantastic dip for summer cookouts, game day, tailgating, or even camping.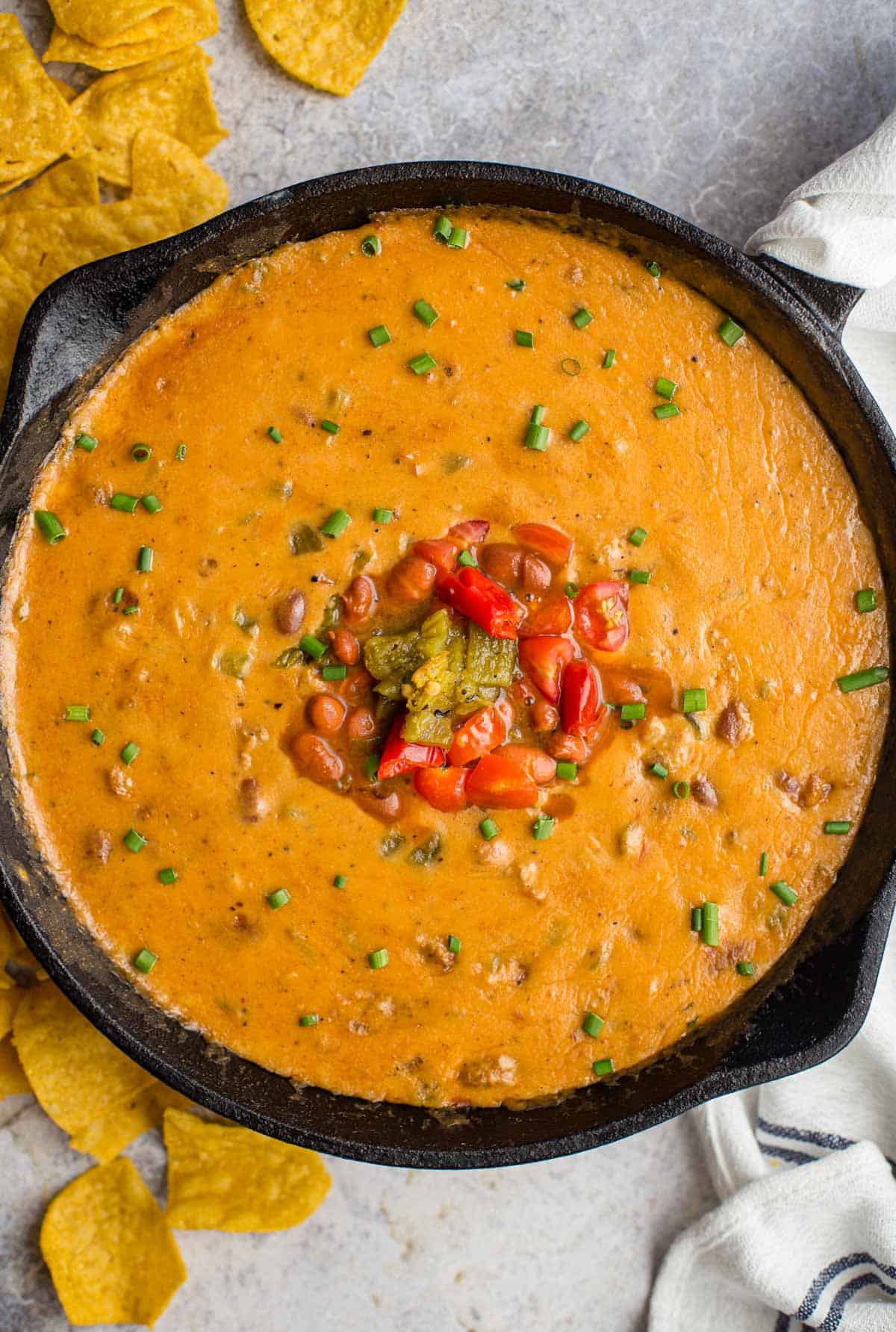 Queso bean dips are a regular rotation at our house. What can I say, we love cheese! And it's always fun to find ways to jazz up your typical creamy cheesy dip, and bonus points for adding a little extra substance (like meat or other proteins). Adding a can of beans to your queso dip not only adds great flavor, but also protein, fiber, and other nutrients.
That means this dip kind of counts as a meal, right? Just kidding.
In all seriousness, this dip is super easy to make, cooks together in one dish, is packed with rich and smoky flavor from the beans, and comes together in no time.
Ingredients for Sausage Queso Bean Dip
This dip is made with a few simple but key ingredients, including: ground hot Italian sausage, a basic roux (flour/butter/milk) to add the creaminess, real cheese (not the processed stuff), green chilies, and a can of Serious Bean Co. Chipotle Pinto Beans.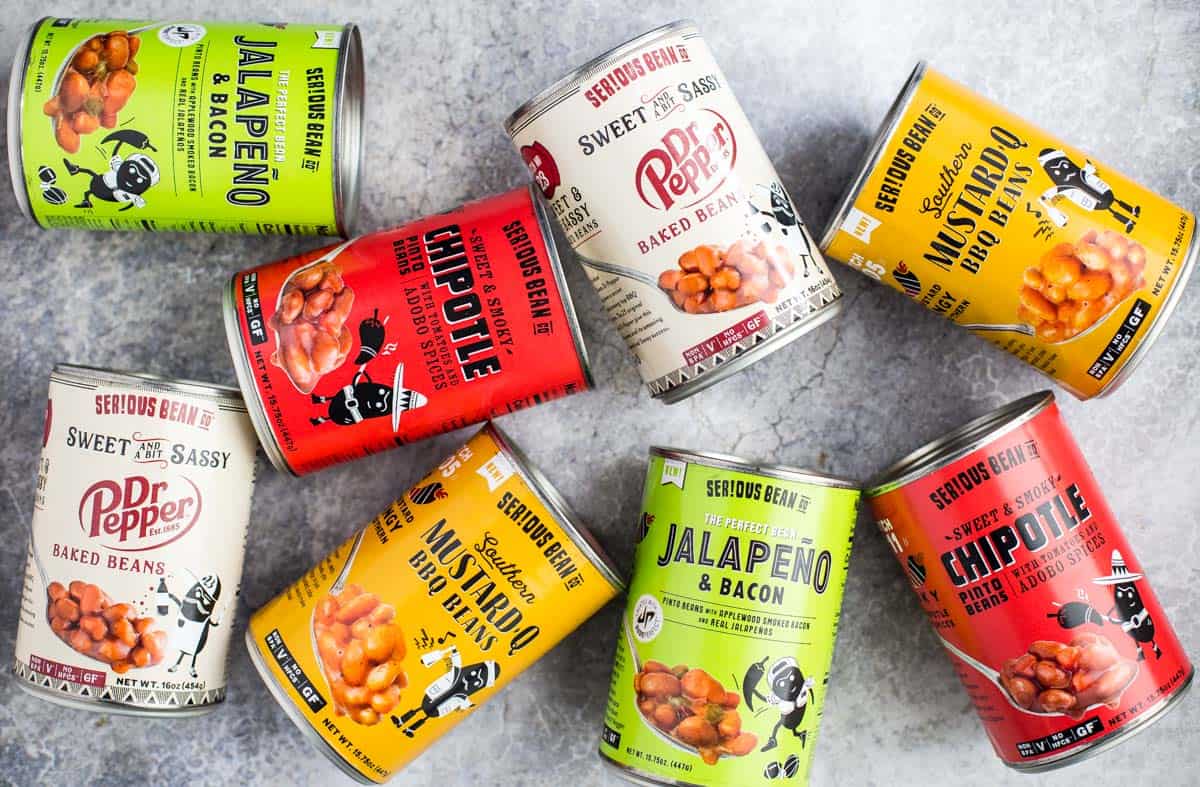 Serious Bean Co. Pinto Beans are a fantastic option to add to jazz up your next queso dip. There are several exciting flavors to choose from, including Dr Pepper, Jalapeño & Bacon, Sweet & Smoky Chipotle, Southern Mustard-Q BBQ, and Buffalo. But my favorite for this dip is definitely the Sweet & Smoky Chipotle, because I'm a sucker for all things chipotle flavored. Not only are these great beans for jazzing up recipes like this queso dip, but they're also fun for grilling and camping. Or even "crack open" and enjoy straight from the can if that's your thing!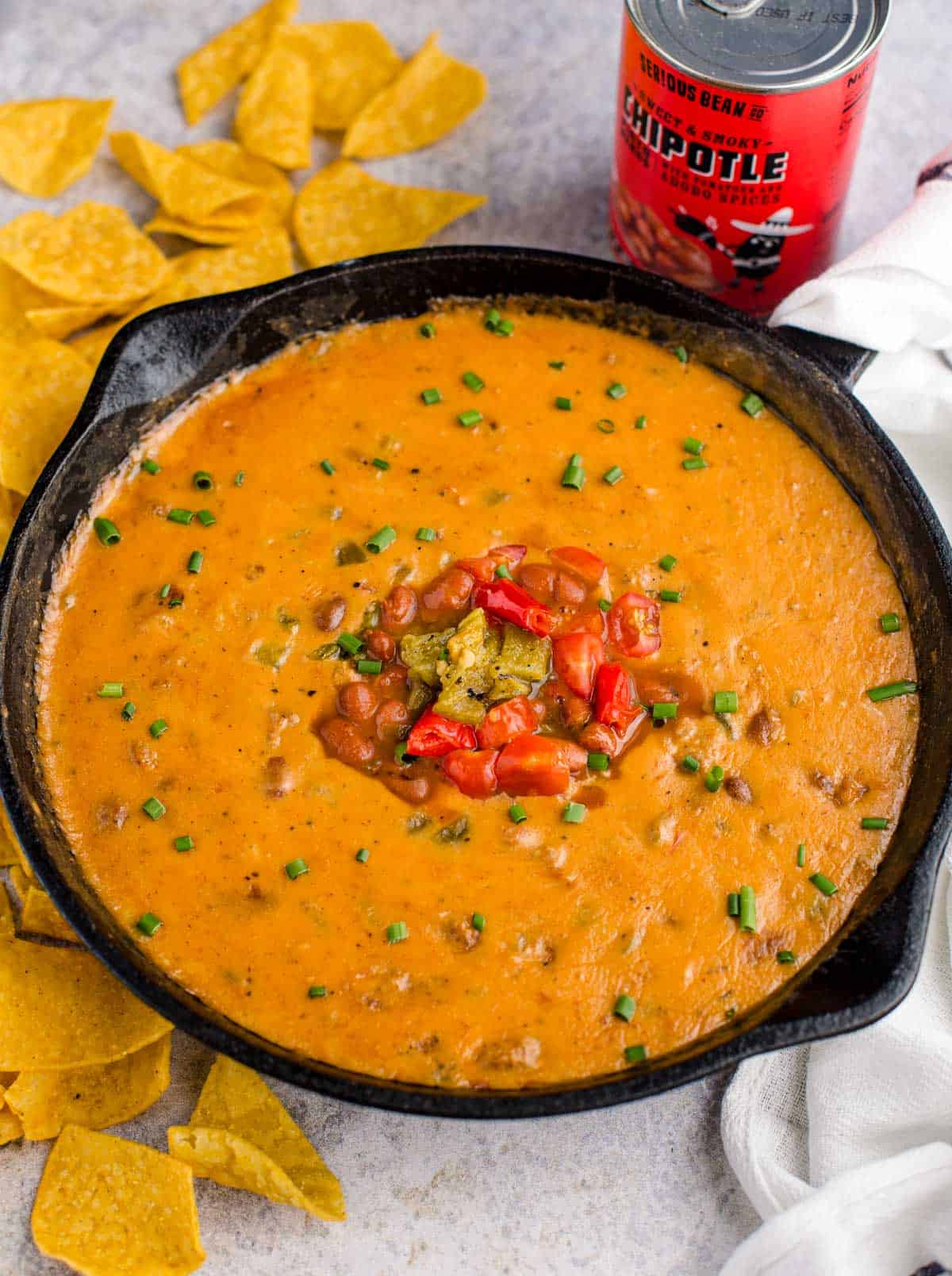 The Roux
One of the key techniques for this cheese dip is using a roux, which is an equal mix of butter and flour that is combined over heat to act as the thickening agent when you add the liquids. You can even use gluten free 1:1 flour if you want to keep the dish gluten free.
How to make Sausage and Smoky Chipotle Queso Bean Dip
Cook Sausage: Heat up a cast iron pan over the grill and cook the ground sausage.
Make Roux: Next you'll want to make your roux. Just add the butter and flour to the hot pan, and whisk consistently to make the roux. Then add the milk and Dijon mustard and let simmer for a couple minutes to thicken up.
Finish the Dip: Add in the Chipotle Pinto Beans, green chilies, and the cheese and stir until the cheese is melted and combined.
Serve: Remove from the grill and enjoy with chips.
If serving this at a party or gathering, transfer the dip to a small slow cooker to keep warm. Leaving it over a low heat will keep it creamy and indulgent.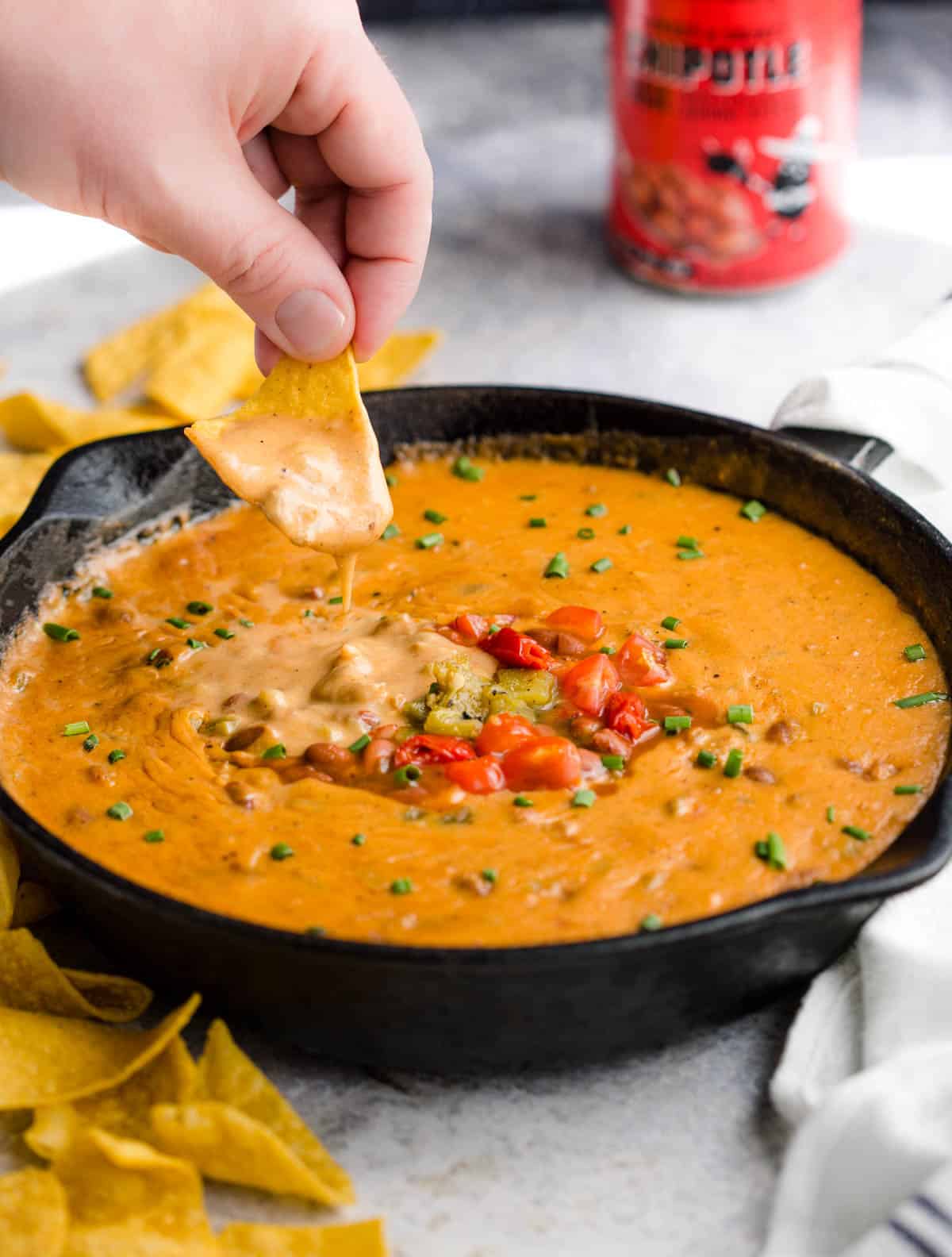 On A Grill
If you want to cook this dip on the grill, prepare the grill for two-zone grilling and target 375 degrees Fahrenheit as the internal temperature of the grill. Warm up a cast iron pan over direct heat and follow the directions. If the pan gets too hot while making the dish, move to indirect heat and continue cooking. The dip should take on a small smoky profile from the charcoal.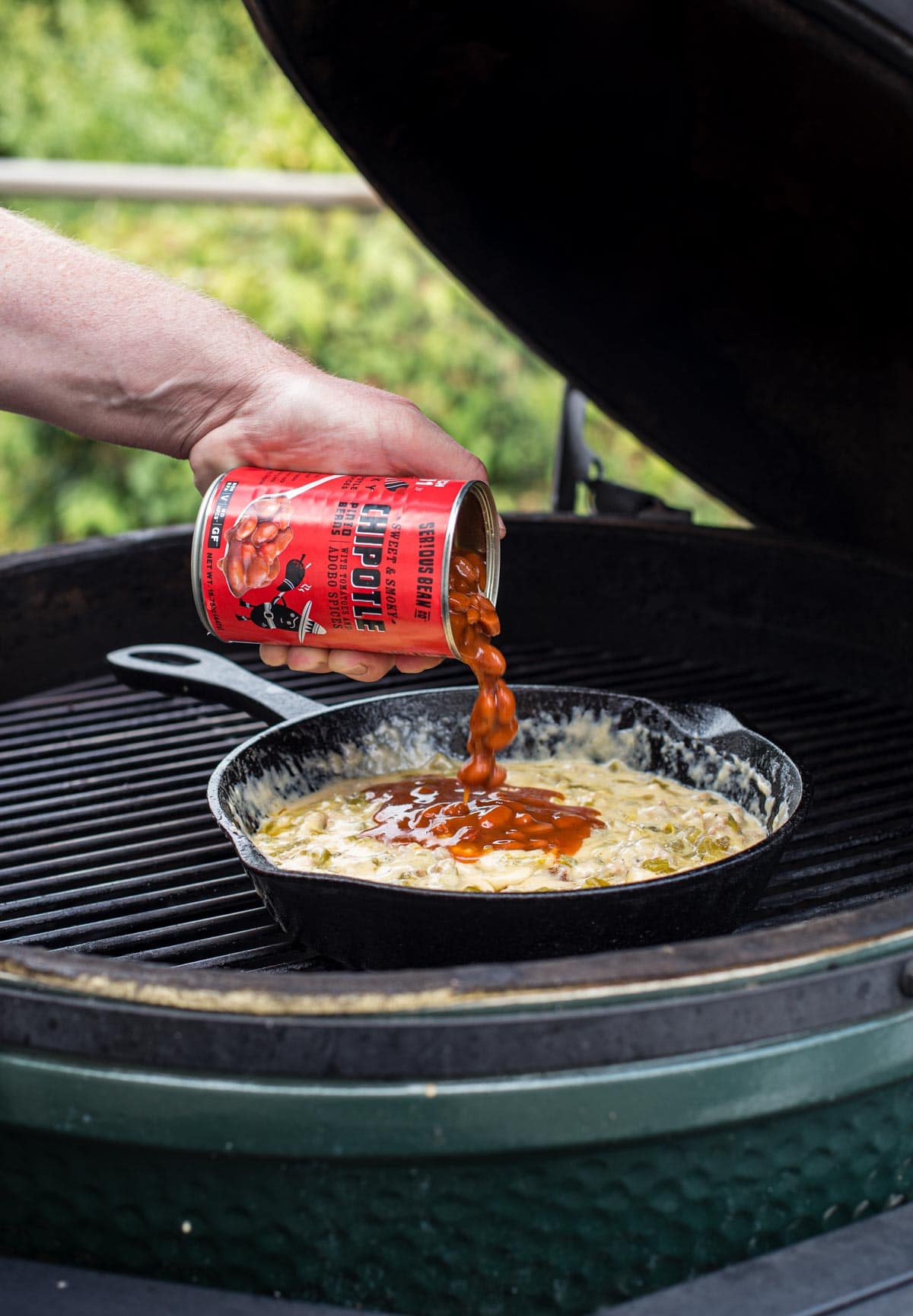 Variations
This queso bean dip is very versatile and can also be used in other recipes too.
Change up the bean flavors. Whatever sounds good to you. Are you a Buffalo fan? Try that flavor. Or more of a Jalapeño & Bacon fan? Go for it!
For a smoky version, smoke the sausage prior to making the dip, like in this beer cheese dip.
Add a can of drained tomatoes for color and flavor.
Leave out the meat all together for a vegetarian friendly version.
Mix in some cooked pasta and toss together for an incredible "mac and cheese" variation.
How about tossing this over nachos and then broiling for 2 minutes. You're welcome.
Related Recipes
---