This Cheese Fondue Recipe is inspired from a trip to the Jura mountain region of eastern France, where the famed Comté cheese is produced. We're combining two classic cheeses (Emmental and Comté) with wine and grilling it for the best outdoor fondue experience.
Jump to:
Comté Cheese
Several years ago I had the honor of traveling to the Jura Mountain Region of Eastern France to learn about Comté cheese, the prized cheese of the region. Comté, a hard cow's milk cheese made with strict regulations and only within this small region, is similar to Swiss Gruyère, and as I discovered, is incredibly versatile. It's absolutely delicious on its own with flavors and textures that range from light and creamy to hard and nutty depending on its age. It can also be used in dozens, if not hundreds, of different recipes.
One of my favorite dishes of the trip was eating it at a local fondue restaurant. One of the fondues that day was a simple, all cheese fondue. The other had locally foraged wild mushrooms mixed in. That one was my absolute favorite! The earthy mushrooms mimicked some of the flavors found in this complex cheese. It was the perfect meal. And while fondue may seem to be one of those meals that come in and out of fashion here in the states, it is timeless in this small mountainous region of France, as well as neighboring Switzerland (where it shares a border).
I had to recreated this dish as soon as I returned. It since has become one of our favorite indulgent treats, and one we make at least a few times a year.
What is Fondue
Fondue is a dip in which cheese is melted with other ingredients and used as a base to dip bread and vegetables into. Fondue can also be broth based, or even sweet (think chocolate). This recipe is inspired from the fondue's of Switzerland and France and a classic flavor with good melting cheeses.
Most fondue recipes are nearly identical. They typically start with some white wine, some cornstarch (to keep the cheese from separating once warm and melted), Kirsch for added flavor, and about a pound of cheese, and maybe some fresh herbs.
The locals told me that it's best to use at least two different kinds of mountain cheeses for fondue (examples of mountain cheese are Swiss Gruyère, Emmental, and French Comté). If you use all Comté, try using two different ages: a young Comté (around 8-12 months old), and an older one (12-18 months). Or, like in this example, I used half Comté and half Emmental (a Swiss cheese that sometimes goes by simply "Swiss Cheese"). Feel free to use the sautéed mushrooms or leave them out. But I loved the earthy and savory flavors they added to the dish. Kirsch (cherry brandy) is another optional component. I've made it with and without, but I do like the subtle flavor it adds to the overall dish.
Fondue Cheese Options
A classic cheese fondue will have Gruyere and Emmental. But in this case we're using a cheese from France. Comté cheese, from the Jura Region of France, is very similar to Swiss Gruyere with a slightly nutty flavor. The Jura borders Switzerland so the styles of cheeses are very similar.
Balancing the two cheeses in equal parts gives optimal flavor. So if you can't find Comté (pronounced Cohn'te) go with Gruyere. You can also see a photo gallery of my last trip to the Jura Region.
For balance we're also using Emmental, which melts well and balances nicely with the Comté. Emmental can also be found labeled simply "Swiss" cheese. This is a semi-hard yellow cheese with a slight nutty flavor and identified by it's signature holes of varying sizes.
Ingredients
In addition to the cheeses, some additional ingredients add a classic flavor to fondue.
Garlic – The trick I learned in France was to add the garlic flavor by rubbing a whole peeled clove around the cooking vessel.
White Wine – The Jura makes some very distinct wines. You can use a Chardonnay, or Pinot Gris for flavor.
Kirsch – This is cherry brandy, giving a very distinct flavor. Apple brandy also works well. If you don't have a flavored brandy, any brandy or cognac will do. You can also just substitute more wine. Don't go out of your way to get a brandy just for this recipe (unless you're hard core!).
Cornstarch – Cornstarch allows the cheese to bind and avoid separation of fats and solids. We add the cornstarch to the Kirsch to make a paste.
Sautéed Mushrooms – This is not traditional but really good, and what I remember from the fondu I had in France. They used wild foraged mushrooms, but we're keeping it simple with cremini. Chanterelles make an amazing alternative.
How To Make Fondue on the Grill
A good fondue needs to be slowly melted and incorporated. On the grill we are using lower heat and the two-zone (or indirect) method of grilling.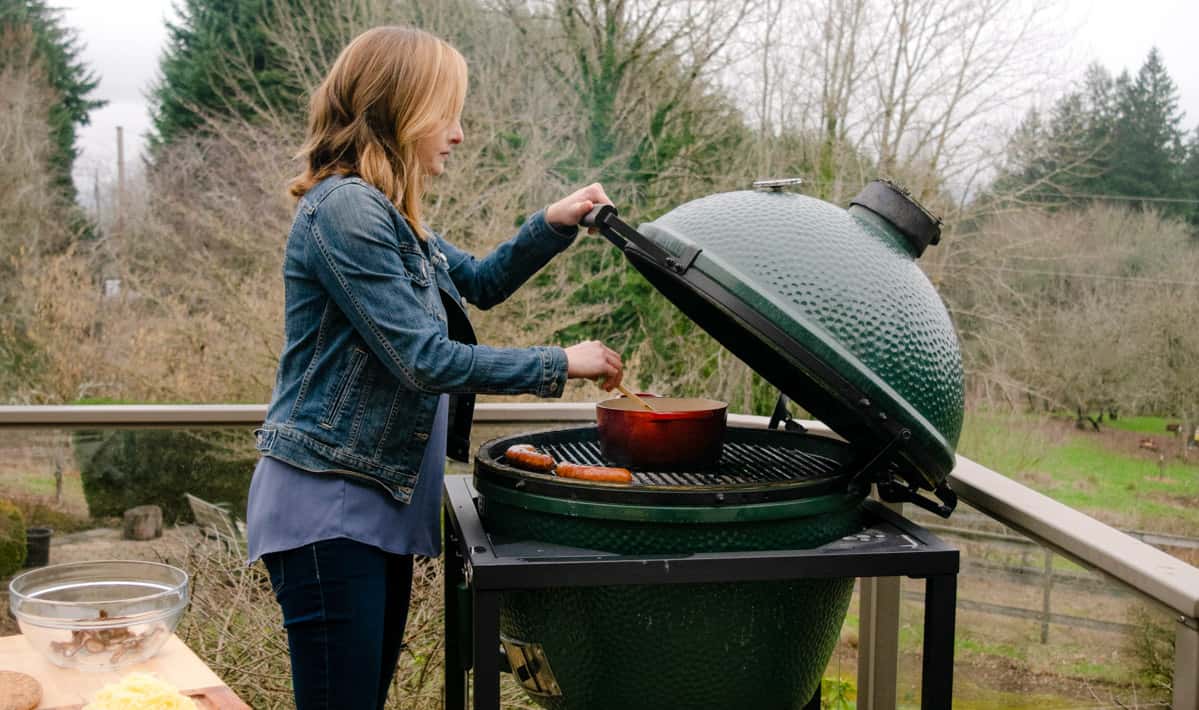 Preheat the grill using indirect, or two-zone grilling, targeting 350 – 375 degrees Fahrenheit. Place a cast iron pot in the grill over indirect heat to let the pot warm up.
When the grill reaches target temperature add butter and mushrooms and sauté until browned (around 8-10 minutes). Remove the mushrooms from the pot and set aside. If the mushrooms are big, or the pot is small, consider browning in two batches. You want one layer of mushrooms cooking at a time (otherwise they will steam and feel soft).
With mushrooms removed, take the clove of garlic and rub it all over the warmed pot to give a flavor and essence of garlic to the pot (then remove the garlic). Add the wine, cover grill, and bring to a simmer (about 4 minutes).
In a small bowl, combine the cornstarch and the Kirsch and whisk to combine. Then add to the simmering wine.
Next, add the shredded cheese, a little bit at a time, and stir to incorporate. Continue stirring the fondue to incorporate the cheese and the liquid. After about 5 minutes the cheese should be combined, the look should be shiny, and the fondue should be thick and stretchy.
Remove from the heat, and serve immediately in the pot, or transfer to a fondue pot for serving.
Serving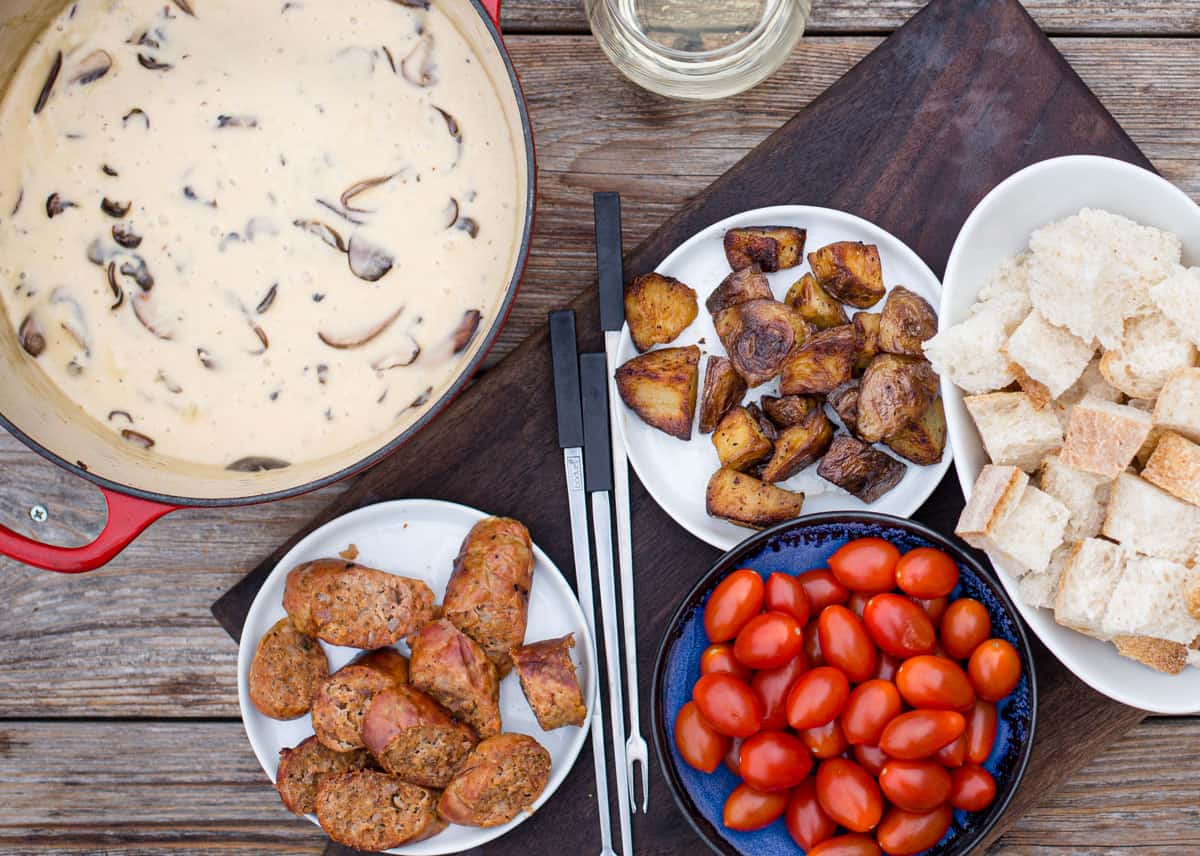 Because we grilled it, we are serving warm immediately on the table. We then use Fondue forks and dip ingredients right into the pot.
If serving over a period of time, transfer to a propper fondue pot. The best pots that don't burn are versions that act as a double boiler. You add water into a base pot, and then a insert the fondue into a secondary pot that sits in the simmering water. A candle or can of sterno keep the pot warm.
As the fondue starts to cool it will thicken up. No worries, just place it back over a burner (or back on the grill) to let it warm up and re-melt while stirring. If you keep it warm in a fondue pot, or over some very mild heat source, it should stay warm enough to remain melted. Stir the pot from time to time to keep the cheeses from hardening or separating.
Leftovers
We have made this many times and as the fondue cools it will harden. You can reheat any leftovers in a small pan over very low heat by stirring constantly.
What to Dip into Cheese Fondue
Crusty bread cut into 1-inch squares
Grilled or smoked sausage that has been cut into small bite sized pieces
Other grilled meat, such as chicken or beef
Fresh cherry tomatoes
Apple slices
Roasted potatoes
Pairing Wine with Fondue
Whenever we enjoyed this meal in the region, it was always served with local Jura wine. Jura is probably best for its oxidative white wines, but I learned there is so much more to the region than this. They have light red wines, fresh rosés, crisp sparkling, and fruity white wines. Many of the whites were dominated by Chardonnay, similar to it's neighboring region of Burgundy. So while Jura wines may be difficult to come by (I know it is where I live), look to its next closest region, Burgundy, for good examples to try with this dish. Chardonnay is excellent with fondue. Aside from Chardonnay I tend to reach for sparkling wine to pair. Sparkling has great acidity that will cut through the rich cheeses and freshen up your palate.
Other Cheese Dip Recipes