This Baked Brie Cheese Recipe features a simple combination of cheese, white wine, thyme, salt, and pepper and cooked directly on the grill. The cheese is grilled over direct heat for minutes for an elegant (yet easy!) brie appetizer that will wow your guests at your next dinner party.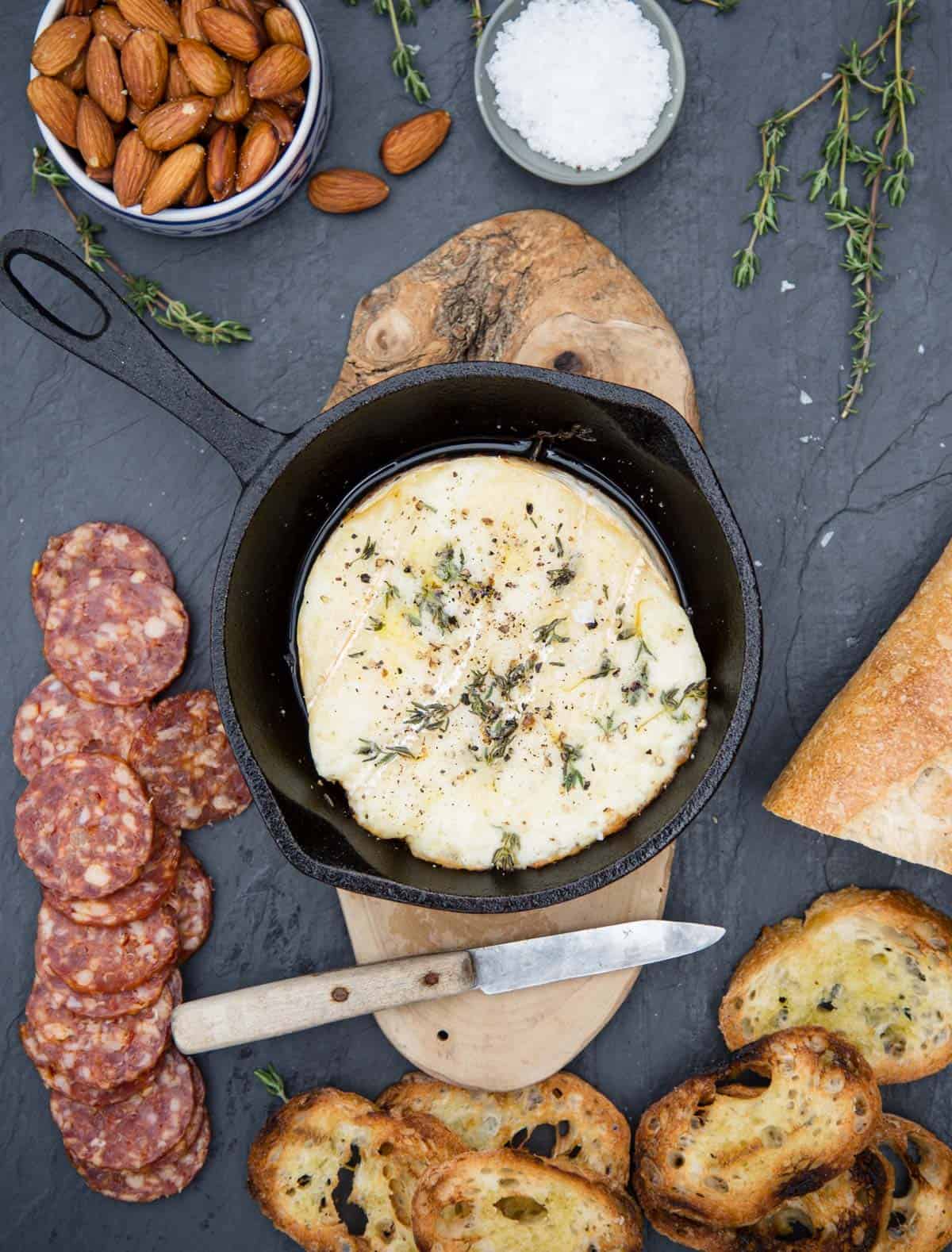 Jump to:
This baked brie recipe is inspired by Ina Garten and her warm vacherin. I was looking for an elegant appetizer to serve for Father's Day and this recipe stood out from her cookbook. But I couldn't find Vacherin, so I substituted Brie. It was an excellent choice! Vacherin has a very specific flavor profile and is not always easy to find. Brie, on the other hand, is much easier to find in most markets at various sizes and has a similar texture when melted.
The simplicity of flavors, combined with the grilled element, gives this dish an elevated flavor. It's a great one for summer entertaining!
Brie — The Cheese
Brie cheese is a cow's milk cheese that originated in France. The texture is soft with a rind on the outside and has a slightly acidic flavor to it. Baking Brie cheese is great because it allows the cheese to melt, creating a smooth and creamy texture. Brie-style cheese can be made anywhere in the world, and can even be made from goat's milk. Any Brie style cheese, or double cream, will work for this dish.
Brie comes in rounds and slices. For this recipe I encourage you to buy the entire wheel if you can. Often you can find them in 8-ounce wheels or larger. The bigger the crowd, the larger the brie you want to buy. Plan to buy 2 ounces of brie per person. So an 8-ounce wheel is great for 4 people as an appetizer.
Ingredients for Grilled Brie
Brie Cheese Round
White wine
Fresh Thyme
Kosher Salt
Fresh Cracked Pepper.
Preparation
For baked brie on the grill, the best pan to use is cast iron. It can handle high heat and provides the perfect surface for melting the brie. We use a pan that best matches the size of the brie wheel. No matter what you use, you want a pan that will hold the cheese and ingredients and closely match the size of the brie wheel. If you don't have a cast iron pan alternatively you can use stainless steel pan.
Use a sharp boning or filet knife to carefully remove the rind off the top of one side of the brie. Discard the rind.
Place brie wheel into the seasoned cast iron pan and add a couple tablespoons of white wine. Top with fresh thyme and that's it. Ready to grill.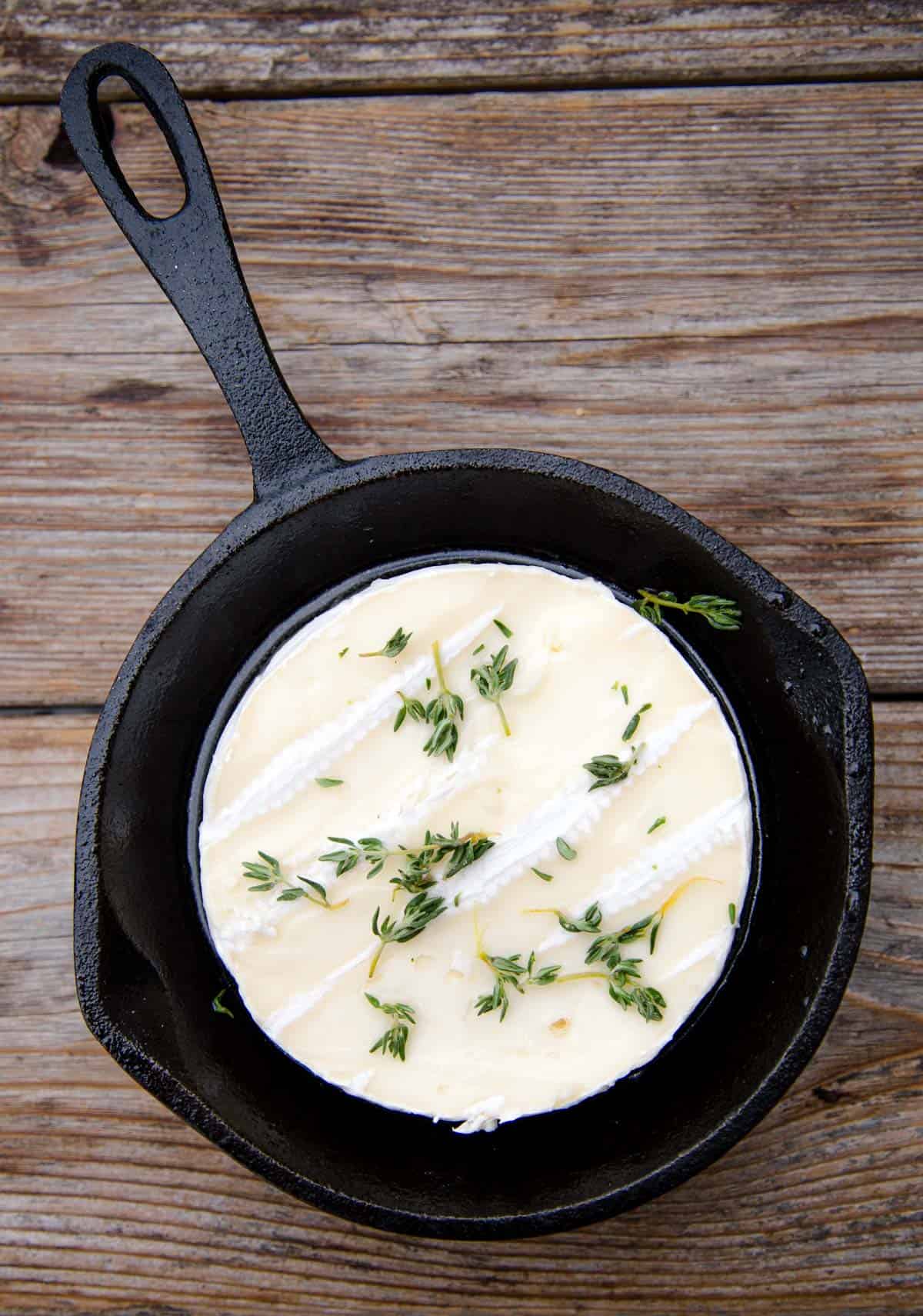 Chef's Note: Do not use glass dishes over direct heat when grilling. The high temperature can provide heat much higher than their intended ranges and can cause the glass to shatter.
Grilling Brie
Prepare the grill for direct heat, targeting 400 – 425 degrees Fahrenheit over direct heat. We're using our MAK Two-Star General because it's awesome for direct heat with the Flamezone feature. Any hotter than 425 degrees F and you risk the chance of scorching or burning the brie.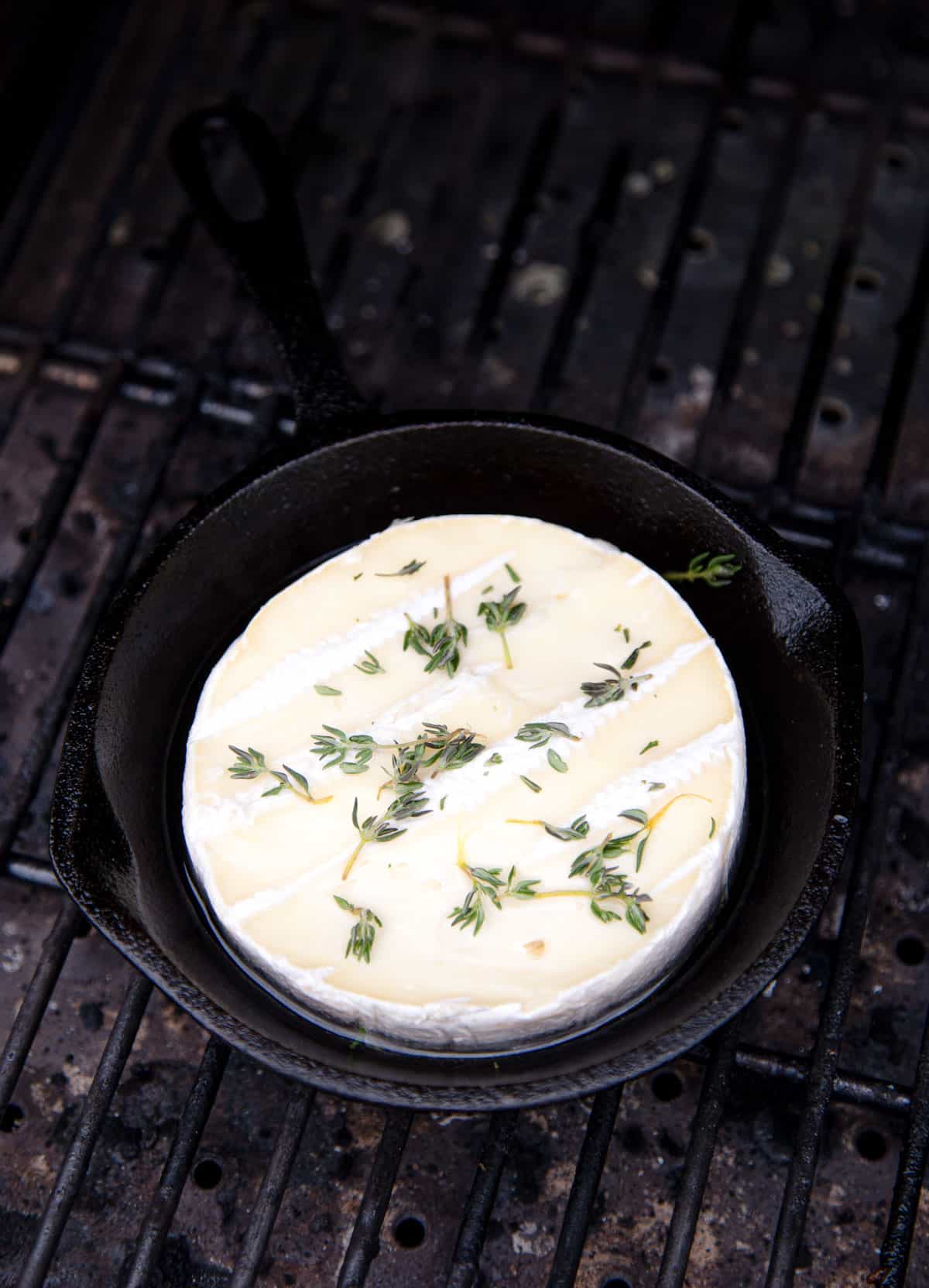 Place the cast iron pan over direct heat.
Close the lid and grill over direct heat until the cheese melts and starts to bubble on top. About 6 – 8 minutes.
Remove from the heat with high heat gloves. Immediately add the salt and pepper.
Add the baguette slices to the grill to make the crostini. They grill fast, so stay there with tongs and flip them to make sure they don't burn.
That's it. Now it's ready to eat and has slightly cooled enough to serve right from the cast iron pan but is still warm and creamy.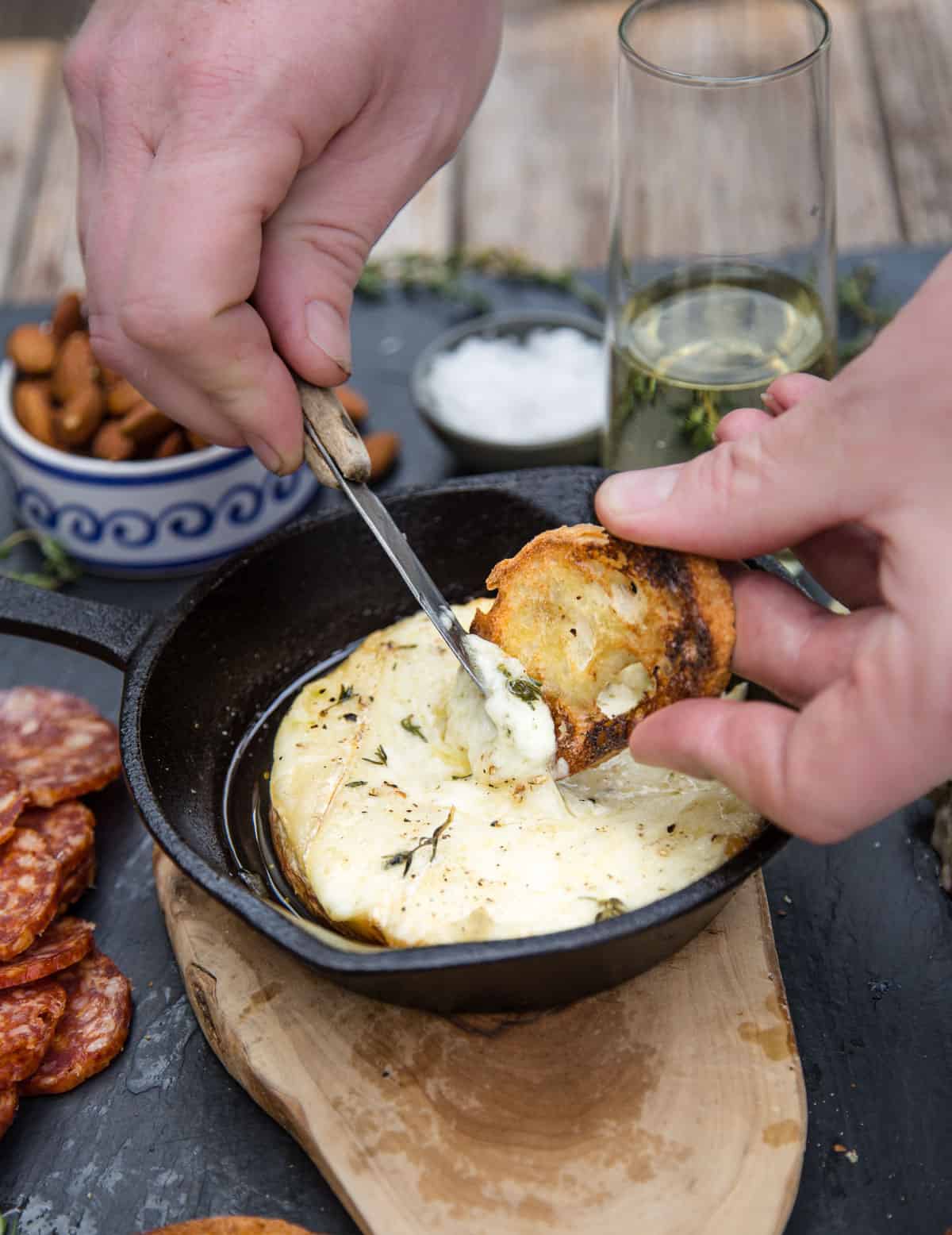 This is great for an easy appetizer on the grill.
Modification: Baked Brie in the Oven
To modify this for the oven, make the crostini in advance. Preheat the oven with the broiler on high and the cast iron pan set midway in the oven. Place pan under broiler and cook until the top is bubbling, about 2-3 minutes (depending on the size of your brie wheel).
Grilled Crostini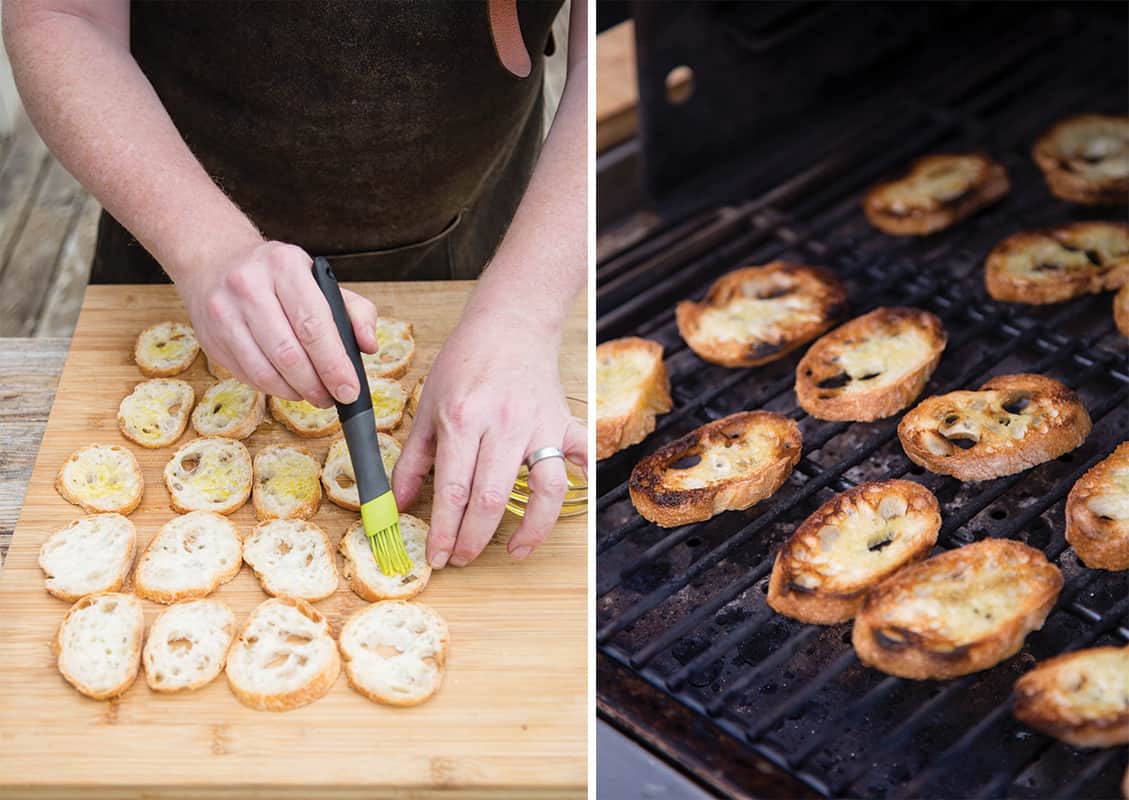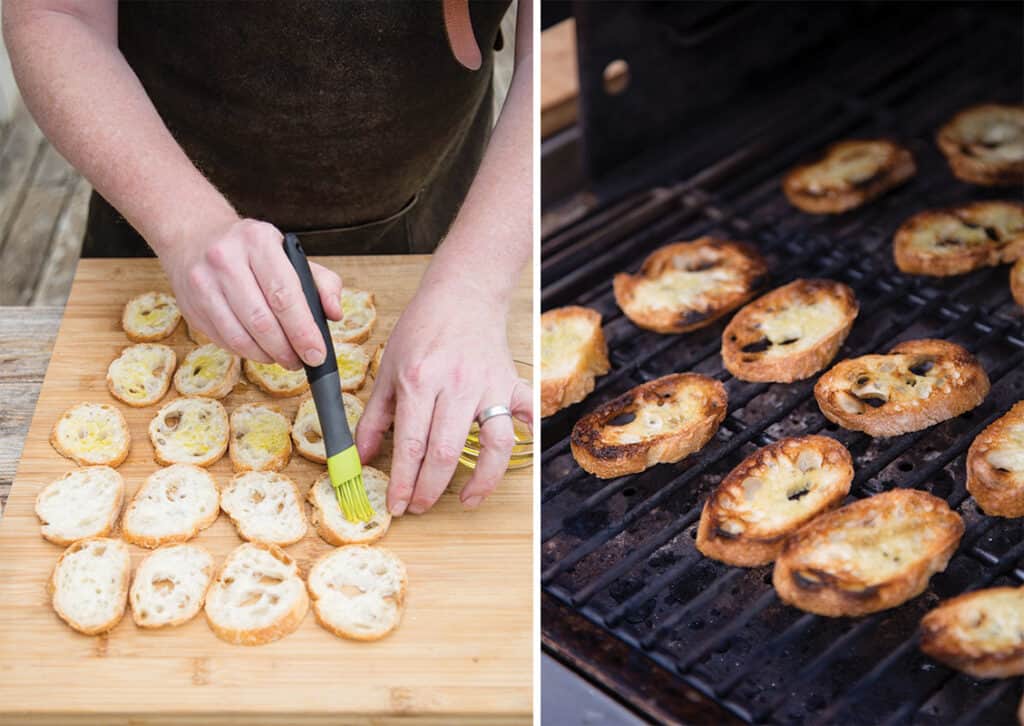 You can use anything to dip with this, but we love a crusty crostini with this baked brie recipe and we like to make grilled crostini right on the grill at the same time.
Slice a baguette into ½ inch slices. We like a slight bias, or angle to the slices for a little longer pieces. But that's a personal preference.
Coat one side of the slices with extra virgin olive oil with a brush.
Grill over direct heat for up to 2 minutes per side or you like the color.
Extra flavor bonus: Using a fresh garlic clove that has the husk removed, gently rub the clove along one side of the warm crostini. The garlic will melt into the warm crostini for a touch of added flavor.
If using an oven, preheat the oven to 375 degrees F and follow the steps above. In an oven there is no need to flip the slices, simply bake them in the oven for up to 12 minutes or the tops of the crostini are slightly golden.
Serving
Serve baked brie cheese from the grill as part of a meat and cheese board. Add some smoked almonds and grilled peaches and you are ready for an amazing grilled appetizer spread.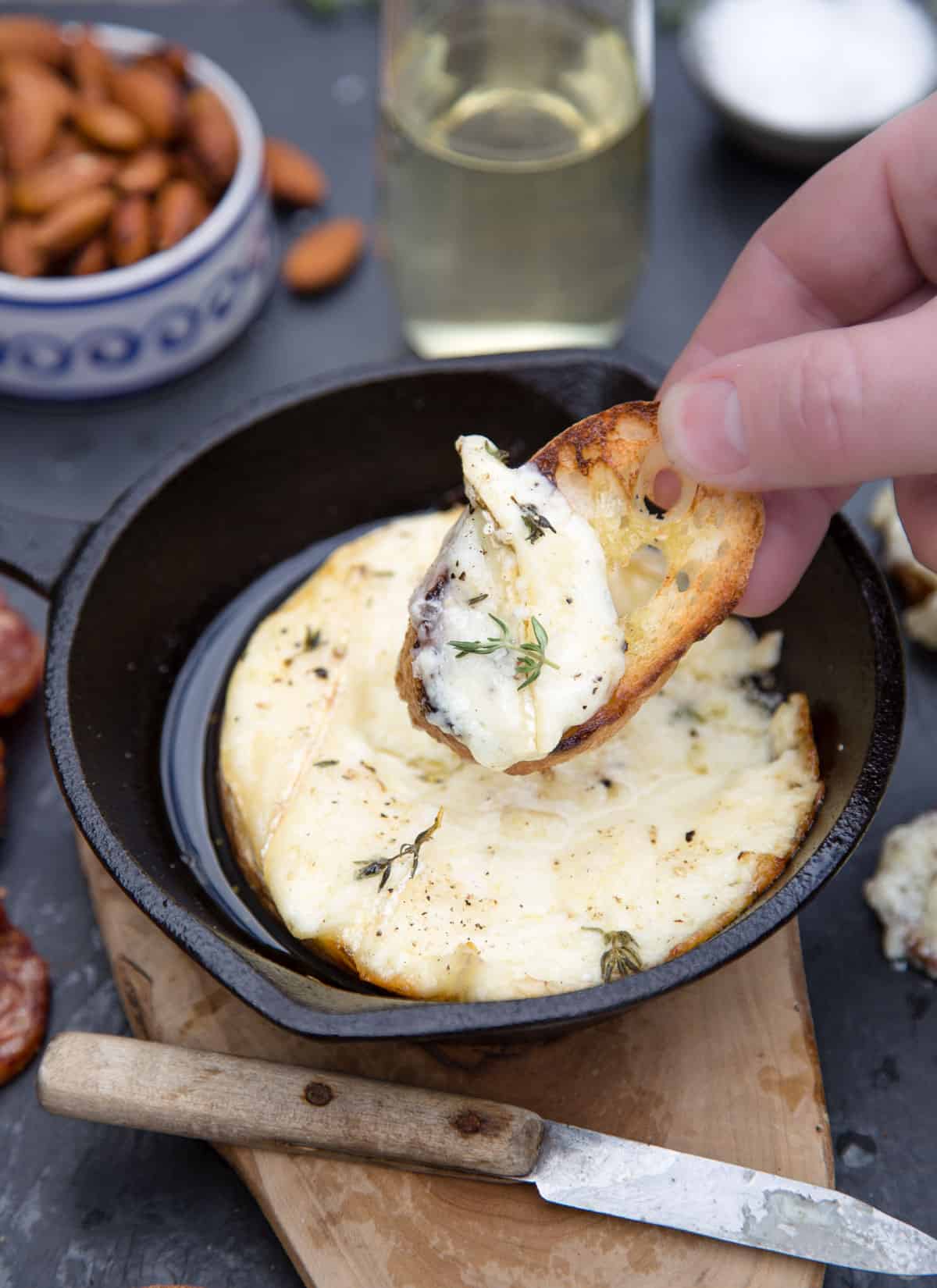 Wine Pairing for Baked Brie
I recommend using the same wine you used in the recipe. For the actual recipe we use a crisp white wine, dry sparkling wine, or a dry rosé, as they will provide fruity flavors and the acidity and brightness will cut through the creamy cheese and refresh your palate.
My favorite recommendations are dry sparkling wine, dry fruity rosé, unoaked or mildly oaked chardonnay.
Other Appetizer Ideas
If you want to go big, pair this baked brie with grilled olives and smoked almonds. It's also great as part of a meat and cheese platter. Or consider making our prosciutto wrapped poppers.
This post may contain affiliate links. This means if you click on the link, we may receive a small commission if you purchase through the link. We partner with brands we know and love and use and it helps keep the blog going!