12 Wine Recommendations Fantastic for Spring. From light bodied to full, white to red, there's a wine for all occasions this season.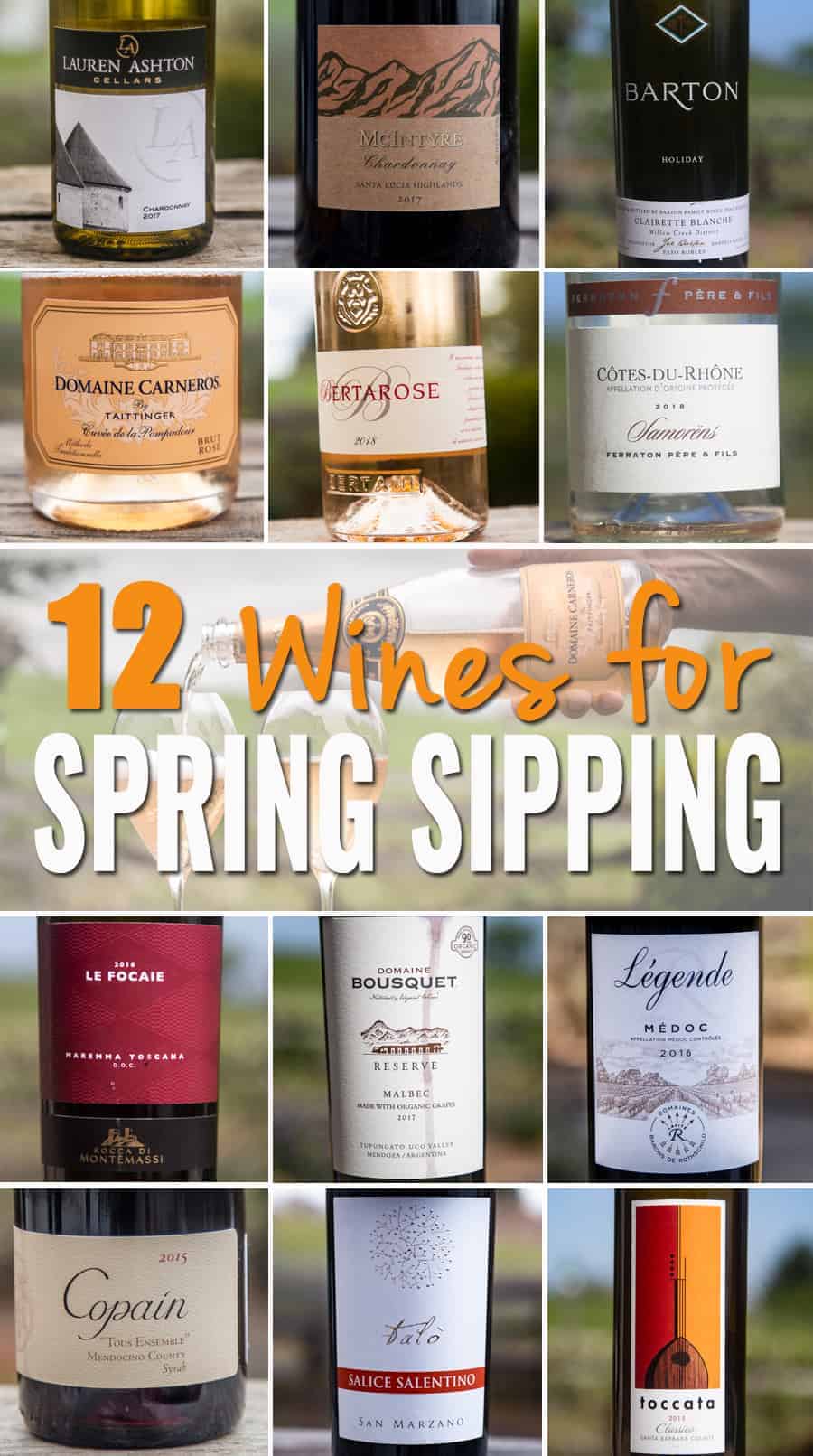 I like to review wines the way most people taste them, with food. Many of the wine reviews you'll see on this site are accompanied by a recipe. When we test recipes we usually open a few different wines of various styles that we think will work, then write about the best pairing.
But often we taste wines — either those sent as samples for review or those we purchase on our own – that are definitely worthy of mention even though they weren't part of a recipe. These wines below fit that bill.
Spring is in full swing here, and for me that means craving wines that are somewhere in the middle of hearty winter reds, and crisp light summer white wines. It's also when rosé wines start to be released. The wines in this list range from delicious rosés, to fuller bodied chardonnay, to fruity red wines that have been perfect for spring recipes this year. Rosé is a category all on it's own we plan to cover in the next several weeks… so stay tuned!
Bonus: a few of these were wines that made it to my Wine of the Week. That is a weekly feature I generally reserve for my newsletter subscribers, but wanted to give a sneak preview here. The reviews in my newsletter go into more detail and depth on the wines, and also show you where you can purchase the wines. If you're interested in our weekly WOTW feature, you can subscribe to our newsletter here to receive that and other exclusive features for our awesome group of subscribers.
---
12 Wine Recommendations for Spring
2017 Lauren Ashton Cellars Chardonnay (Columbia Valley, Washington)
Not gonna lie, it's hard for me to find a good Chardonnay I can stand by from Washington State. This is definitely one of the rare exceptions! I really enjoyed this and found it very well balanced coming from a state that tends to overdo some of the Chardonnays. This started out with fresh pears and apples, with mild citrus undertones, and mild oak and a smidge of minerality. It had just enough weight followed by a bright finish.
13.5% abv  | $25 
2017 McIntyre Chardonnay (Santa Lucia Highlands, California)
Lots of rich baked apple, baking spices, touch of lemon zest and almond. It's slightly savory and slightly rich, making it a lovely pairing for a roasted or smoked whole chicken.
14.2% abv  | $28
2017 Barton Holiday Clairette Blanche (Willow Creek District, Paso Robles, California)
Clairette blanche is grape variety widely grown in Provence and in the Rhône region of France. The varietal is often used in the production of vermouth as this grape naturally has high alcohol and lower acidity. This one is grown on steep, rugged hills in the Willow Creek District, known for its hot days and cooler nights, which provides some added acidity to the finished wine. Quite pretty with lots of melon and tropical notes (mango), and crisp pear, and fresh apples, this medium bodied wine finishes dry. This is a tasty one for a hearty salad or grilled chicken.
13.4%  abv | $32
NV Domaine Carneros Cuvée de la Pompadour Brut Rosé Sparkling Wine (Carneros, California)
Domaine Carneros is located in the Carneros region of Napa, and owned by Taittinger, one of the great Champagne houses of France. This Brut Rosé is named for Madame de la Pompadour, (the great courtesan and mistress of Louis XV). It was she who introduced sparkling wine to the court at Versailles and is famous for having said, "Champagne is the only wine that a woman can drink and remain beautiful."
This rosé sparkling wine is a blend of Pinot Noir (59%) and Chardonnay (41%) and is full of bright fresh strawberries, mild apples, and a touch of lemon zest, balanced with some brioche, toasted almonds, bright acidity and a creamy texture. Mildly (and pleasantly) tart and finishes dry. This is a lovely wine, and a great one to celebrate spring with!
12% abv  | $37
*Wine of the week, April 5, 2019
2018 Bertani Bertarose Chiaretto (Veneto IGT, Italy)
Light, bright, and refreshing, this rosé is an interesting blend of blend of 75% Molinara and 25% Merlot and was a winner for me and the hubs. In fact we both looked up at each other in agreement and said, "yeah, this one's a winner!"  It had an equal mix of citrus (lemon) and fresh strawberry with bright acidity, yet maintained that red berry character of a good rosé. A good one for salads, light appetizers, and summer sipping. I'm gonna be keeping my eyes out for more of this one.
12% abv  | $15 
2017 Ferraton Père et Fils Samorëns Rosé (Côtes du Rhône, France)
This wine hardly disappoints (both in it's fresh flavors and price). This bright rosé opens with loads of fresh strawberries, watermelon, and cherries. A blend of Grenache, Syrah, and Cinsault this elegant wine finishes dry and crisp with a touch of minerality on the finish. Get yourself some as these temps warm up and summer approaches! At $13 this is a good one to have on hand for a summer picnic or poolside.
13.5% abv  | $13 avg price
2016 Rocca di Montemassi 'Le Focaie' Sangiovese (Maremma Toscana, Tuscany, Italy)
This Sangiovese from Tuscany has quite pretty aromas full of red berries (cherry is quite dominant), blueberries, flowers and baking spices. It's quite vibrant in the mouth with more spice and rich red fruit, and an easygoing finish. At $12 this is a fantastic value and would be a great choice for your pizza night or to keep on hand for summer cookouts when you're craving a fruity red.
13% abv  | $12
2017 Domaine Bousquet Reserve Malbec (Tupungato Uco Valley, Mendoza, Argentina)
This wine was made with organic grapes from vineyards located in Alto Gualtallary, Tupungato, at an altitude of 4000 feet above the sea level, one of the highest points in Mendoza. A blend of 85% Malbec, 5% Cabernet Sauvignon, 5% Merlot, 5% Syrah, this big and rich wine was aged in French oak for 10 months and 4 months of bottle ageing. The bold flavors offer some black fruits, blueberries, plum, and toasty oak. Nice value for under $20.
14.5% abv  | $16
2016 Domaines Barons De Rothschild "Legend" Medoc (Medoc, Bordeaux, France)
Lafite Rothschild is the famed first growth producer out of Bordeaux, producing one of the most expensive wines in the world. The only time I've had the pleasure of tasting their first growth wine was on Sean's 30th birthday. He bought a bottle of his birth year wine for the occasion. It was the first time I had tasted a wine with that much age and depth before. I guess you could say it was one of those "wow" or "life changing" experiences.
For those who can't splurge on their prized wines, the famed Lafite-Rothschild winemaking team also produces the Légende series, for everyday drinking. These wines are produced from vineyards owned by the Rothschilds throughout the Bordeaux region. This particular one comes from the Médoc region of Bordeaux, and is a blend of 60% Cabernet Sauvignon and 40% Merlot.
Ripe with dark berry fruit, moderate tannins and a medium body, the wine is a bit tight upon opening, and really evolves with some air (decant or allow it to air out a bit in the glass). Eventually pretty dark cherries, blackberries, blackcurrants, with a hint of cinnamon, spice, and vanilla evolve. It's quite complex and darn tasty for the price. Compared to the prices of some of the more sought after Bordeaux on the market, this one comes at quite a value and high quality.
13.5%  | $24 
*Wine of the week, March 22 2019
2015 Copain "Tous Ensemble" Syrah (Mendocino County, California)
From Mendocino County, this Syrah really reflects that cooler climate in which the grapes grew. I loved this wine. It had blueberry fruit, blackberries, boysenberries, and a hint of white pepper. Silky and smooth with medium tannins and very nice acidity, it was perfect for a reverse seared ribeye! Elegant, with a mild gaminess, I wouldn't recommend it with anything rich or heavily sauced, or it will take away from the freshness of the wine.
As the name, "all together", suggests, Copain's Tous Ensemble series offers a perfect complement to any gathering, from a casual meal to an impromptu party. Sounds like a good excuse to invite some friends over for a party this weekend!!
14.1% abv  | $24
*Wine of the week, March 15, 2019
2015 San Marzano "Talò" Salice Salentino, Puglia, Italy
From Southern Italy's Puglia Region comes this tasty and fruity red blend of Negroamaro and Malvasia Nera grapes. The wine is dark and bold at first, but full of rich plums, and lots of deep red fruit (think black cherries and black raspberries), blueberries, and baking spices. It's bold and juicy (but not thick and jammy), full-bodied (but not tannic). Young, fresh, deeply fruity, and perfect for casual sipping, or for your Italian comfort dishes (pizza, lasagna, red sauce). Also great value at around $15 range!
13.5% abv  | $12-$15 range
2015 Lucas & Lewellen Vineyards "Toccata" Classico Red (Santa Barbara County, California)
We popped this when looking for something to pair with smoked sausage lasagna, and this was the perfect fit. This is a Super-Tuscan-style blend from Santa Barbara, comprised of Sangiovese (50%), with Cabernet Sauvignon (30%), Merlot (5%), Cabernet Franc (5%), Petit Verdot (5%) and the rare Friesa (5%). It opened with lots of deep berry notes (rich black cherry and cassis), smoky leather, and spice. It's got some power, and is quite rich, but not overpowering in any way, and is a great match for hearty rich food, like that lasagna mentioned earlier.
---
If you want to learn about our featured Wines of the Week, make sure to subscribe to our newsletter for exclusive reviews, recommendations, and tips!
*Most of these wines were were media samples for review.  See my sample policy here.