This homemade BBQ Chicken Pizza beats the pants off any restaurant version. This easy oven baked pizza is made with smoked chicken (or any leftover chicken), red onions, tomatoes, cheese, with a secret sauce that brings everything together.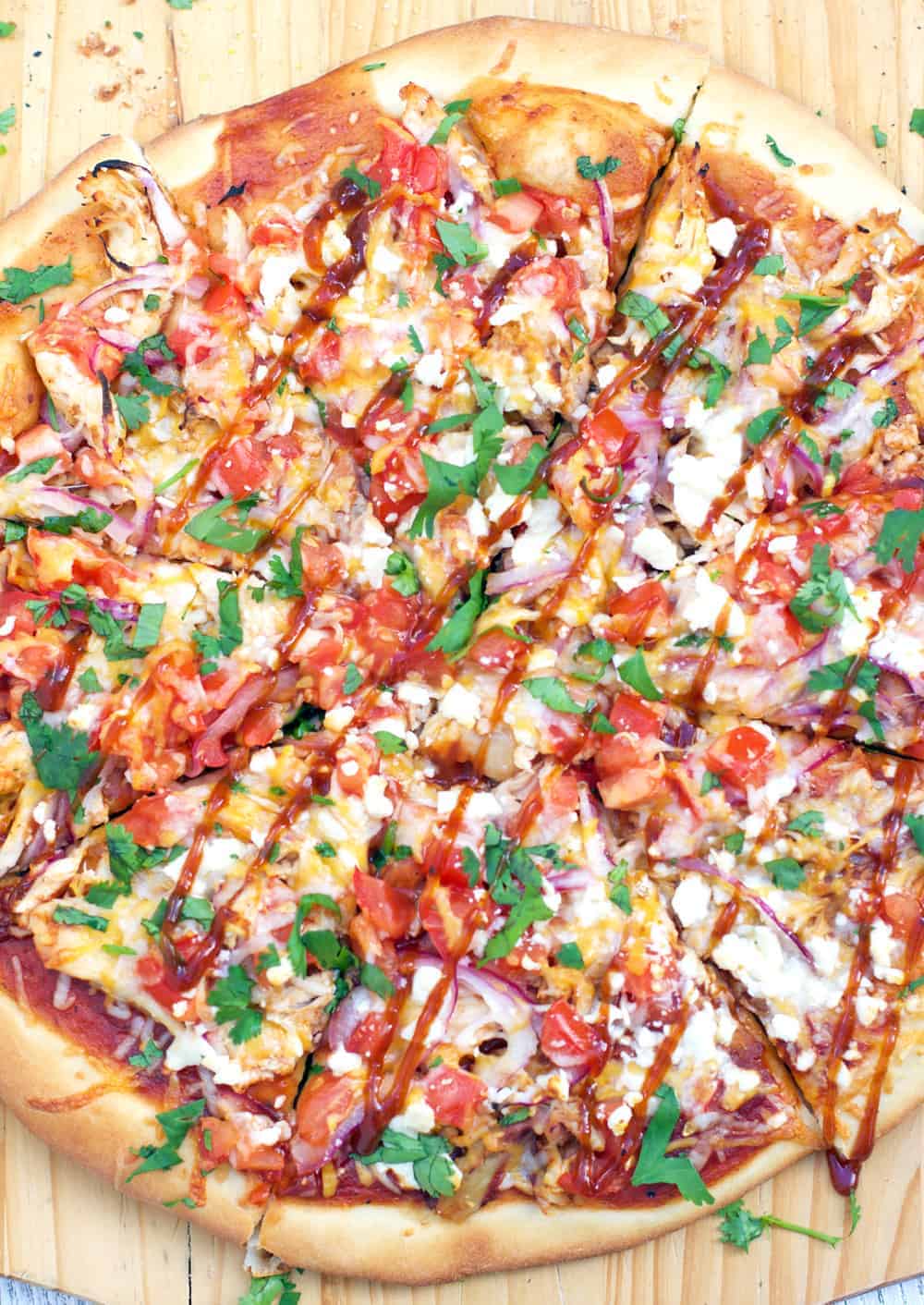 BBQ Chicken can be grilled or cooked in the oven, and is perfect for Friday Night Pizza Night! We also have a Neapolitan BBQ chicken pizza if you are looking for a recipe with a wood fired grill.
Jump to:
Friday nights in our house mean pizza night! We live in the country, far from any restaurants, so we're rarely going out for pizza. That means we've had to perfect our pizza game.
We cook our pizzas two ways around here, either in the oven on high heat using a pizza stone, or grilled pizza on our Big Green Egg. This BBQ Chicken Pizza can be successfully cooked on either.
Ingredients
Dough – For the oven we like to use a NY Style pizza dough and target 12 – 14 inches in diameter. You can use our Neapolitan style pizza dough as well.
Sauces – This BBQ chicken pizza shines with our Red Wine BBQ sauce and mixed in equal parts with a good pizza sauce.
Chicken – You can make this easy with a store bought rotisserie chicken. Alternatively you can use shredded grilled chicken breast or whole smoked chicken for more flavor.
Veggies – Fresh tomatoes (diced up) and thinly sliced red onions add a bright fresh flavor.
Cheese – Fresh Mozzarella is creamy and melts well. The fresh in water is best. Be sure it's drained. If all you have is the shredded mozzarella be sure it's low moisture. We also like to add shredded cheddar cheese for more of a tangy flavor.
Finish – Add fresh cilantro and some Maldon finishing salt after the pizza is done.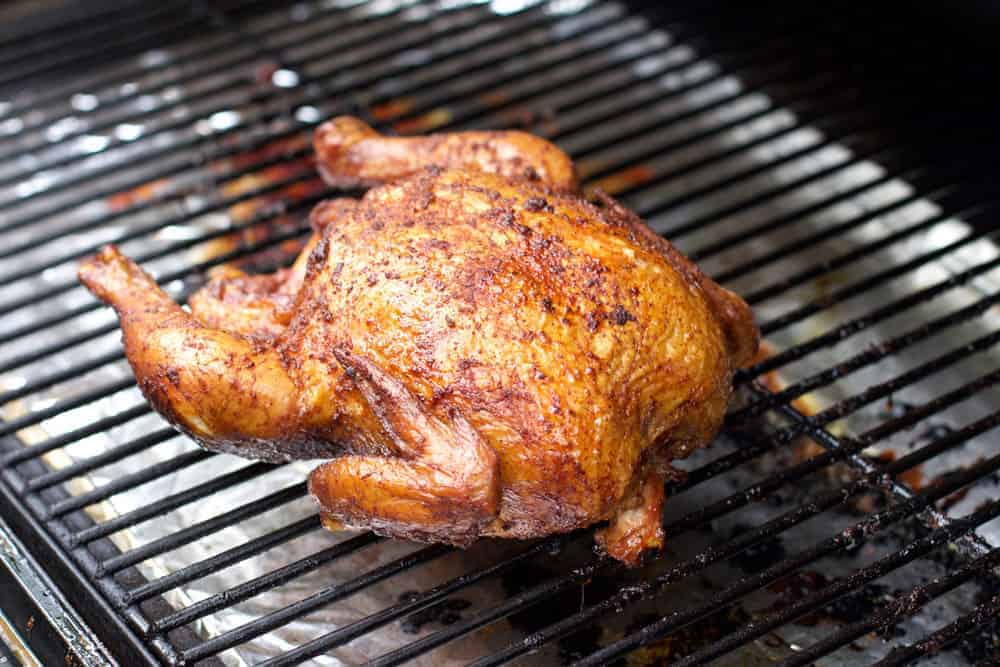 The Sauce
I'm not a fan of using 100% BBQ sauce as the base. I find most BBQ sauces have so much sugar in them that when you bake at a high heat the sauce starts to caramelize before the pizza is done cooking, and the end result is more like candy then a nice rich sauce.
So I like to mix ½ BBQ sauce with ½ regular pizza sauce (or just regular tomato sauce). It provides a richness and saucy texture that I'm going for, but you still get the BBQ flavor. We use the same ½ and ½ sauce technique with this killer Buffalo Chicken Pizza.
Best Cheeses
My favorite is a combination of shredded cheese (cheddar or smoked cheddar) and some mozzarella cheese.
Feel free to use any combination, or just stick with the traditional mozzarella.
Tools
In an oven you really want to use a good pizza stone. Be sure to measure your oven and buy the largest pizza stone that will fit in the oven. Note you want to measure from the door to the back of the oven as well as side to side so the stone doesn't prevent the door from shutting.
We like using a pizza stone versus steel because it's gentler on the base of the pizza as it cooks but needs time to warm up.
If using your grill we have a full list of essential pizza tools you want to be sure you have.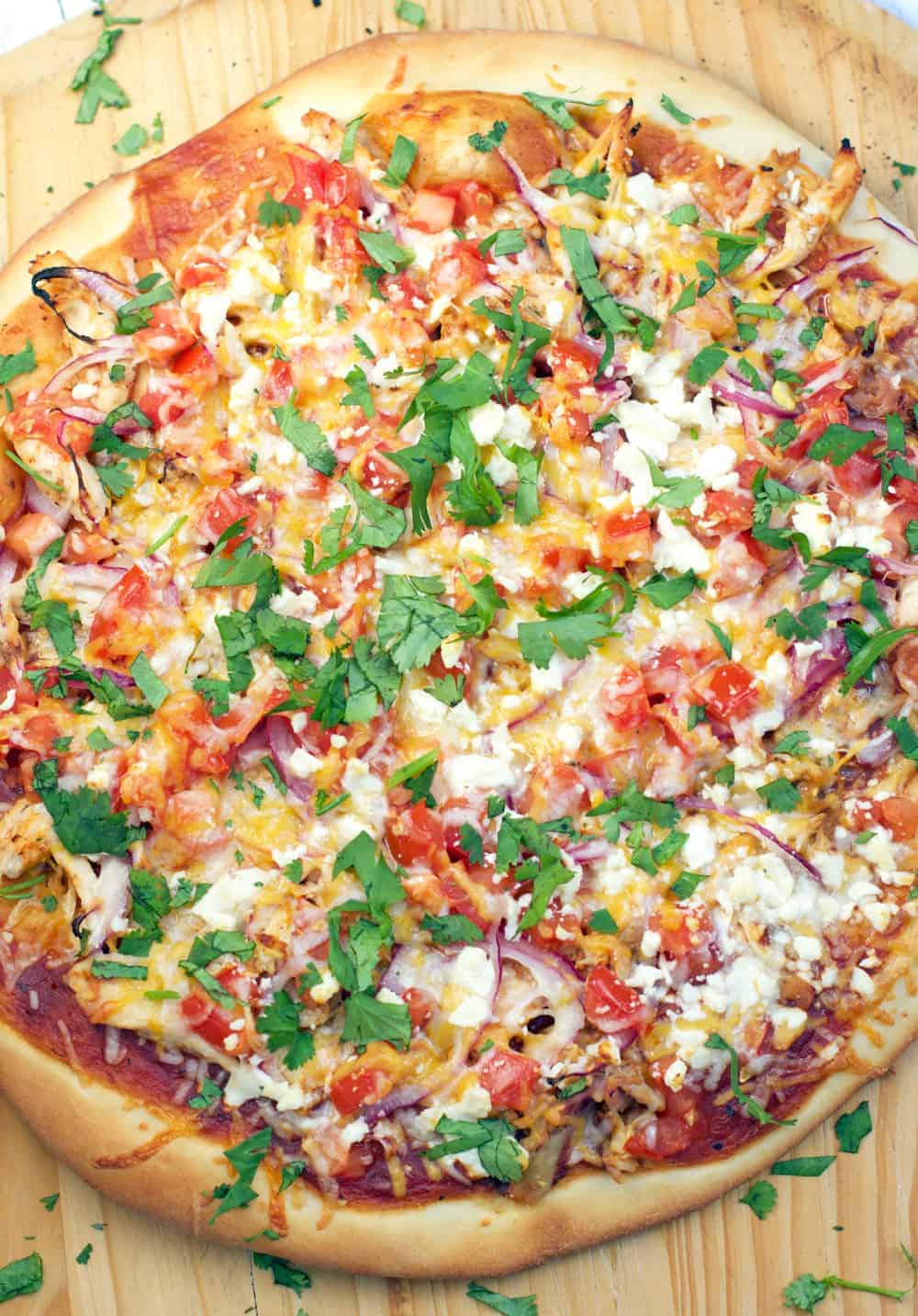 Preparation Tips
Prep your mis en place so you can make the pizza (or pizzas) easily with ingredients already prepped.
Be sure your dough is at room temperature. Working cold dough is a pain. Trust us.
Preheat your oven well before you plan to cook the pizza. You want the stone hot when the pizza hits.
As the dough cooks be sure to turn the pizza once 180 degrees half way through the cooking. Most ovens are hotter toward the backside and this prevents one side from overcooking and mirrors using a pizza oven.
Recipe Instructions
Preheat Oven: to 550 degrees Fahrenheit, with a pizza stone in the center of the oven. See notes for grilling your pizza.
Prepare Pizza Dough: we absolutely love Ken's Artisan Pizza dough for our pizzas. But feel free to use your favorite pizza dough. Roll it out to 12″.
BBQ Pizza Sauce: we combine equal parts BBQ Sauce and traditional pizza sauce. We've learned through experience that 100% BBQ sauce will start to burn before the pizza is done cooking. That's because most BBQ sauces contain a high amount of sugar, and sugar cooked at a high heat will burn quickly. So we mix in some traditional tomato sauce to reduce that risk. Plus the combination tastes great. Spoon your sauce evenly throughout your dough.
Toppings: layer your pizza with shredded chicken, sliced red onions, diced tomatoes, and a combination of cheeses (we use a combination of cheddar cheeses and mozzarella).
Cook Pizza: Gently slide the pizza onto the pizza stone, rotate the pizza 180 degrees after 6 minutes and finish baking (about 10-12 minutes total).
Garnish Pizza with fresh chopped cilantro, slice, and serve.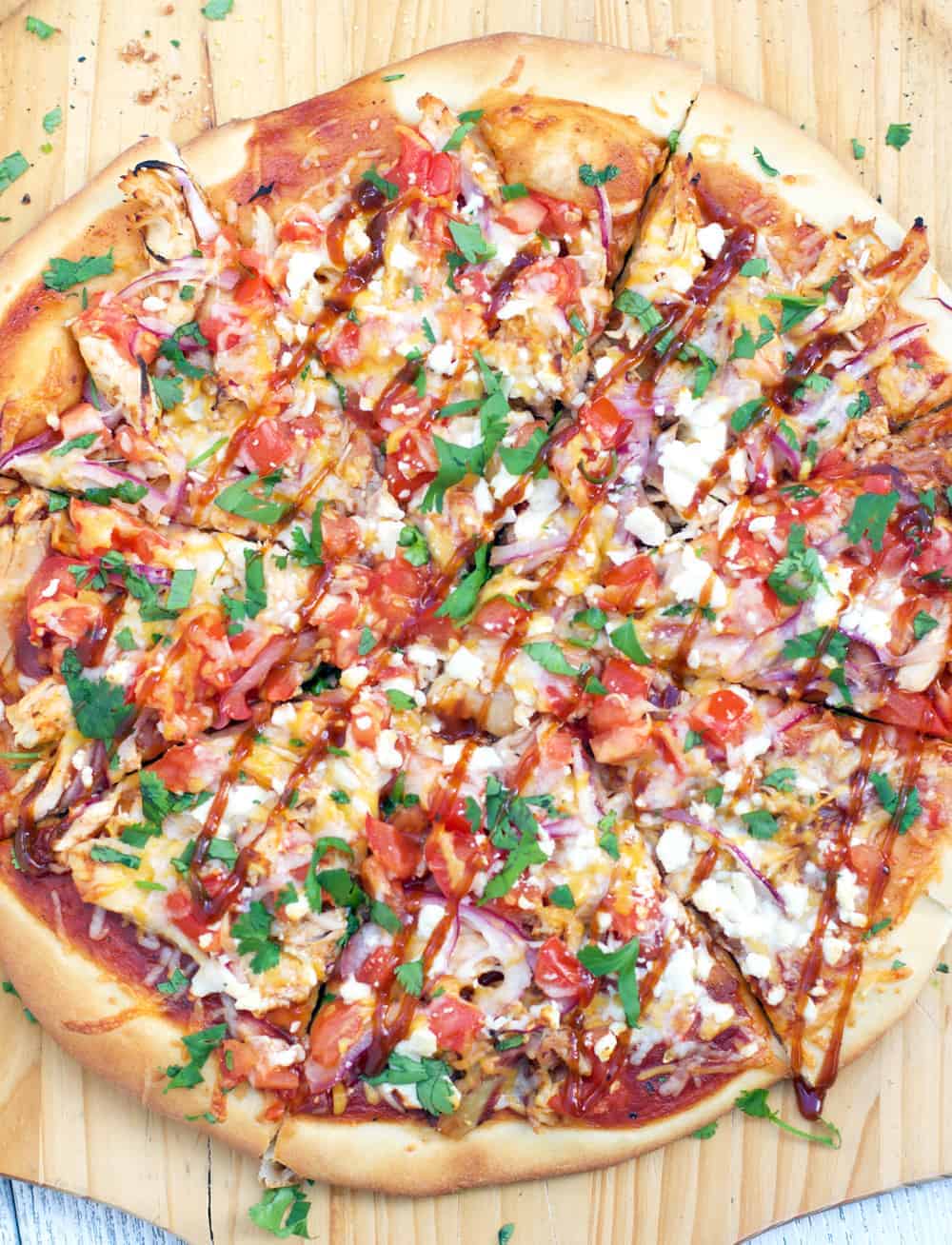 Wine Pairing for BBQ Chicken Pizza
You have lots of options here. You've got some smoky components from both the meat and the BBQ sauce, but you also have some sharp flavors from the onions and cheddar, and some herbal cilantro. If you go red this is where a low tannic fruity wine is great, like Zinfandel, Syrah, or Grenache.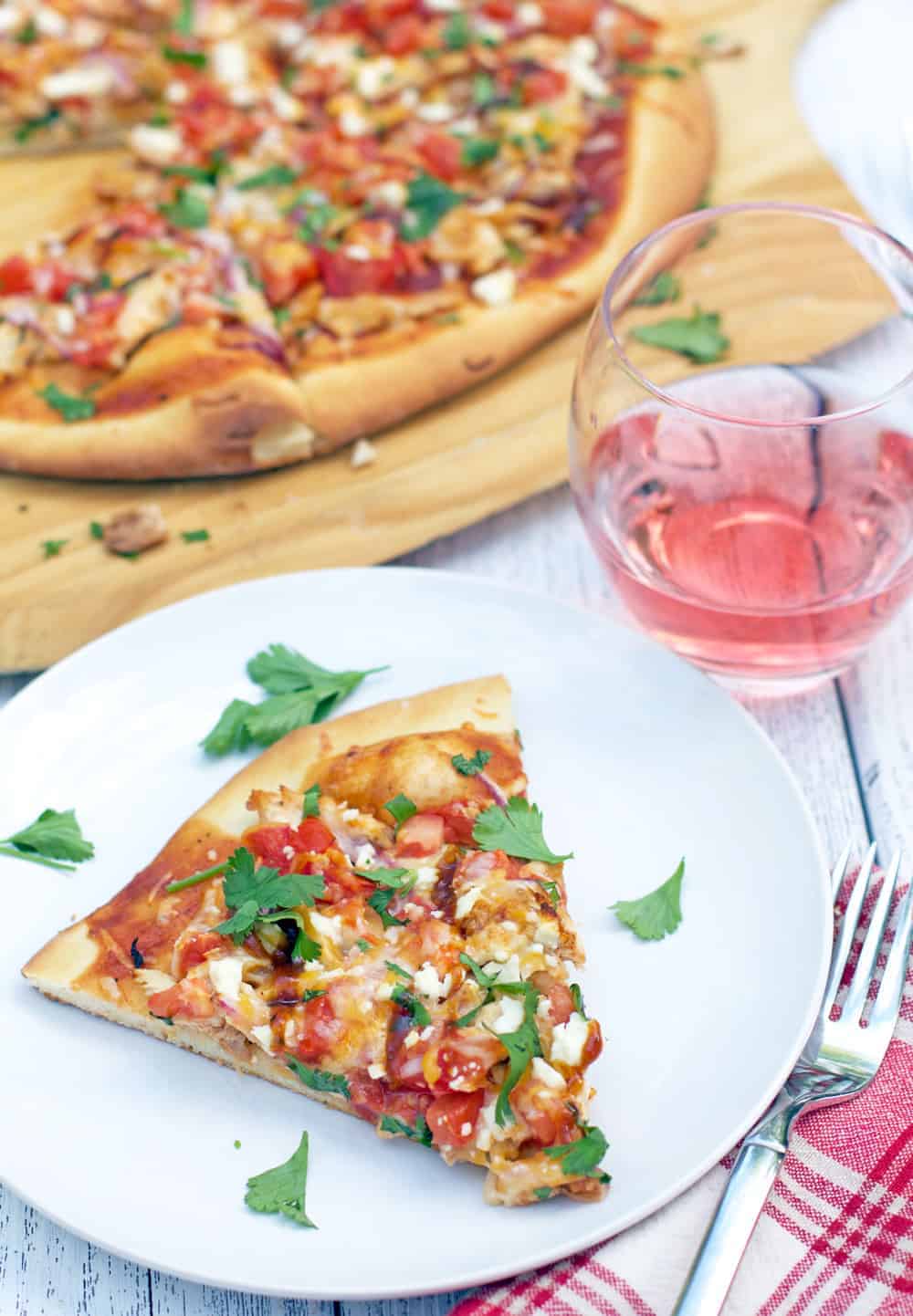 But I also love it with a bolder style Rosé. Rosés will have lots of fresh acidity and bright fruit flavors that will balance well with the multitude of flavors going on in the BBQ Chicken Pizza. They are very versatile and also super refreshing.
More Pizza Recipes:
Note: This post was originally published April of 2016 and updated April of 2020.
About Vindulge
Mary (a certified sommelier and recipe developer) and Sean (backyard pitmaster) are co-authors of the critically acclaimed cookbook, Fire + Wine, and have been creating content for the IACP nominated website Vindulge since 2009. They live in Oregon on a farm just outside Portland.
Tried this recipe? Give us a star rating and we would love to see! Mention @vindulge or use the hashtag #vindulge on all the social media handles. And consider subscribing to our newsletter where we drop all our favorite ideas and inspirations every week.
This post may contain affiliate links. This means if you click on the link, we may receive a small commission if you purchase through the link. We partner with brands we know and love and use and it helps keep the blog going!