Rosé has a reputation of being the quintessential summer wine. But rose is something to drink year-round and pairs with an incredibly wide range of food.
Find out about the many styles of this delicious and refreshing wine along with my top picks of 2020 wines.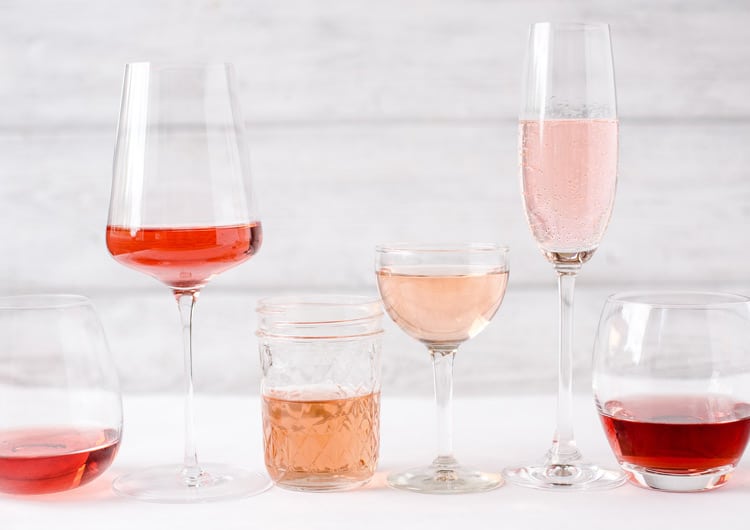 Jump to:
Rosé is an amazing expression of winemaking that takes on so many flavors and variations throughout the world. We aren't talking about White Zinfandel here (the sweet pink blush wine that was a fad throughout the 80's and 90's). Rosé wine of today is sophisticated, acidic, great with food, and will run the full range of flavors.
What is Rosé Wine
These wines are generally produced from red grapes. When grapes are pressed (before fermentation), the juice of nearly every single grape runs clear. Juice contact with the skins are what give wine its color. With red wines, the grapes are pressed and then fermented with their skins attached for days. White wines are pressed and separated from the skins before fermentation, leaving that pure juice and clear color.
Rosé Wine is a combination of both styles, where the grapes are pressed, and allowed minimal contact with the skins which give that pink color. They are then separated from the skin and then processed like a white wine. Sometimes it's only a few hours with skin, sometimes a day. The longer the contact with skin, the darker the color and most often a more intense berry flavor.
For a while it used to be said that only Provence produced consistent delicious rosé. But that's changed over the last 10-20 years. Rosé has exploded, with great rosé being produced throughout the world; from France to New Zealand, South America to North America.
Styles Of Wine Making
For rosé there are three primary ways to achieve the pink wine we know and love.
Skin Contact (Maceration): Letting skin of red wine grapes stay in contact with the juice for a few hours (up to 24 hours in some cases) to get a pinkish hue, before the juice is separated from the skins. The majority of rosé you see on the market is made this way.
Saignée (or "bleeding"): This refers to the practice of removing, or "bleeding off", some of the juice from the must in order to more deeply concentrate the flavor and color of a wine. Many consider this more of a by-product of red wine fermentation, "where a portion of the pink juice from the grape must is removed at an early stage, which is fermented separately to produce rosé." What then remains results in a darker and more powerful wine given all that concentration.
Blending: This is simply the process of blending finished red wine and white wine together. This is most commonly used in the production of sparking rosé wine (but not very common in still rosé).
The intent of the style will be very specific from winemaker to winemaker. Slightly fruity, acidic, or a range of dry to sweet, all represent what to expect. As far as the color you'll find everything from a very very light pale pink, to orange hue, to dark purple. The key is finding the style you like and experiment. Not a bad deal, right?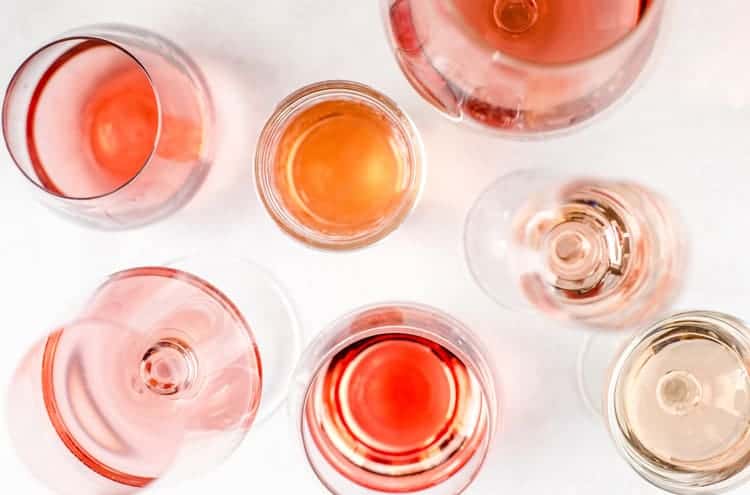 What Grapes Are Used For Rosé
Nearly any red grape can be used to make rosé. In Provence, known for incredibly high quality rosé wines, Grenache will be one of the primary grapes. Here in Oregon (where some of my favorite rosés are from) Pinot Noir will be the primary grape. You'll find them made from everything from Pinot Noir to Cabernet Sauvignon and even white grapes like Pinot Gris.
Rosé Wine and Food Pairing
The following recipes are a great combination when pairing rosé with food.
---
The Best Rosé Wine of 2020
Want to try a few of these for yourself? Below you'll find some of my favorite current releases. Bookmark this page to return as I discover more and more pink gems throughout the summer months to add to this list.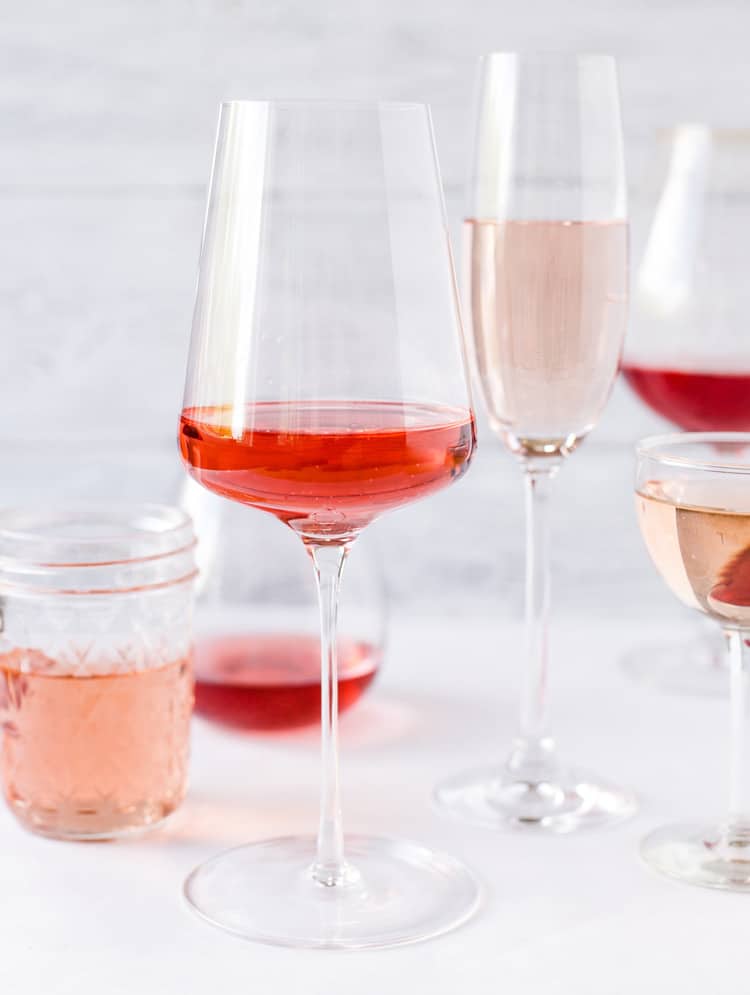 Oregon Rosé
Cramiosi Vineyard 2019 Rosé (Dundee Hills, Oregon)
We picked up a bottle of this wine on a whim at Red Hills Market in Dundee, and woah, am I glad I did! It's gorgeous! Bright, vibrant, fresh, with good acidity! Very much in the Provence style with its light color and body with fresh berry fruit with a savory lime and lime peel finish. It's got everything I love in an Oregon rosé and more. Only 100 cases made, so grab them if you see them. 13.5% ABV | $32
Stoller Family Estate 2019 Pinot Noir Rosé (Willamette Valley, Oregon)
Every year this wine shows subtle differences, but it's always a trustworthy delicious treat (and one I will buy by the case!). This year's result is as tasty as I expected, with flavors of watermelon, grapefruit, bright strawberries, fresh lemon and bright acidity. It's a great one to take to a picnic or pair with grilled chicken or a grilled beet salad. 12.5% abv | $28
Abacela 2019 Grenache Rosé (Umpqua Valley, Oregon)
This is another rosé I look forward to the release of this rosé each year. This one did not disappoint! It's really fresh and bright, with lots of citrus and strawberry. Nicely balanced, its one I'd love to sip on during any summer picnic or outdoor gathering. This was also featured on AM Northwest during a live TV cooking demo. 13.2% abv | $19
California Rosé
Lucy 2019 Rosé of Pinot Noir (Santa Lucia Highlands, Monterey County, California)
Beautiful and fresh rosé with fresh lime peel, orange peel, strawberries. There's also a really captivating tartness. I really like this wine (a lot!). Very well balanced and structured. This is a delicious wine worth seeking out! The Pisoni family donates one dollar of each bottle of this wine sold to Breast Cancer Research. Since inception, over $125,000 has been raised for this cause. 13.9% | $19
Washington Rosé
Long Shadows 2019 'Julia's Dazzle' Rosé (Horse Heaven Hills, Washington)
Rosé wines from Washington are on the rise in quality! From the winemaker, Giles Nicault: "Pinot Gris grapes were left to hang until they developed a bright tint, then gently pressed resulting in a fresh and lively pink!" The resulting wine has candied strawberries, orange peel, and some guava undertones with a savory finish. Light, bright, and dry, with fresh mineralogy and balanced acidity. Quite a nice summer sipper! 14.1% abv | $18
Walla Walla Vintners 2019 Rosé (Walla Walla Valley, Washington)
A lovely treat! This wine is made from 100% Sangiovese grapes and is perfect for a warm summer afternoon. It's bright with fresh picked strawberries, watermelon, tropical fruit, with bright acid and a very savory finish, begging for a cheese and charcuterie plate. 12.5% abv | $20
Seven Hills Winery 2019 Dry Rosé (Columbia Valley, Washington)
This beautifully balanced rosé, made from primarily Cabernet Franc, is crisp, fresh, and bright, with citrus and red berry (strawberries, cherries) and tropical fruit with a lingering citrus finish. It is light and refrained, and finishes dry. We took it to the beach on a hot afternoon and it was perfect for sipping and snacking! 12.5% abv | $18
Italian Rosé
Pietradolce 2018 Etna Rosato (Sicily, Italy)
This wine is made from 100% Nerello Mascalese grapes grown at a high altitude (around 2000 feet) which is rich in volcanic soils and minerals. I really enjoyed this wine for its freshness and balanced berry notes and long complex and mineral-focused finish with a touch of citrus. Overall, lovely, fresh, bright, citrusy, and tasty! 13% abv | $24
Lagaria 2018 Pinot Grigio "Ramato" (Vigneti Delle Dolomiti, Italy)
This wine is made with 100% Pinot Grigio grapes (a grape usually used for the production of a white wine) from the Dolmite Mountains, a high altitude region in northern Italy. Fresh, bright, and just lovely. Very light with tropical flavors, fresh strawberries, and a mineral finish along with some lingering lime zest. 12.5% abv | $13
Ferghettina 2015 Franciacorta Rosé Brut (Franciacorta, Lombardy, Italy)
This sparkling wine is made from Pinot Nero and Chardonnay grapes grown near Lake Garda in the Franciacorta region, it is presented in a standout square bottle (giving the wine more contact with the yeasts). The resulting bubbly is bright with a creamy and round mouse with a very savory and tart finish with lingering mineraity. Flavors of strawberry, cranberry, and fresh squeezed lime and lime zest throughout. Yum! Would be great with and elegant charcuterie and cheese board with some salty Marcona almonds. 12.5% abv | $35
French Rosé
Peyrassol 2019 Cuvée de la Commanderie Rosé (Côtes de Provence, France)
Citrus (lime and lime peel) and red berry fruit dominate (cherry, strawberry), with a mineral meets spicy and a savory finish. Classic light and fresh Provençal style! Really good and perfect for a summer afternoon with friends. Fresh. Clean. Bright. A tasty summer sipper! 13% abv | $15
Chateau Minuty 2019 "M de Minuty" (Côtes de Provence, France)
Light dusty strawberries with some fresh lime. It's fresh and light, with nice minerality with a bright acidic finish. Easy going easy drinking solid Provence style rosé and would be great with salads, seafood, or while having a (socially distant) conversation with your neighbor. (Original review from our spring wine finds). Blend: Grenache, Cinsault, Syrah | 13% abv | $17 average
2019 Château Minuty "Rose et Or" Côtes de Provence Rosé (Côtes de Provence, France)
Cinsault and Grenache are blended together for this elegant wine. It has a bright and fresh nose with mild strawberries, tropical fruit, and peach. Light. Fresh. Clean. Refreshing. Drink on its own, or with something light, like freshly prepared seafood, or salad with a mild dressing. This wine is definitely a splurge, but sometimes it's nice to see the wide range of elegance and styles that can be achieved with a rosé wine. (Original review from our Spring Wine Finds). Blend: 80% Grenache, 20% Cinsault | 12.5% abv | $55 (but can be found as low as $30-range)
---
If you want to learn about our featured Wines of the Week, make sure to subscribe to our newsletter for exclusive reviews, recommendations, and tips!
*Many of these wines were were media samples for review. See my sample policy here.