These Award-Winning Smoked Beef Brisket Nachos are the perfect way to use up leftover brisket! Easy to make and crowd friendly, these are sure to become your new favorite appetizer!
For the perfect Brisket recipe, click here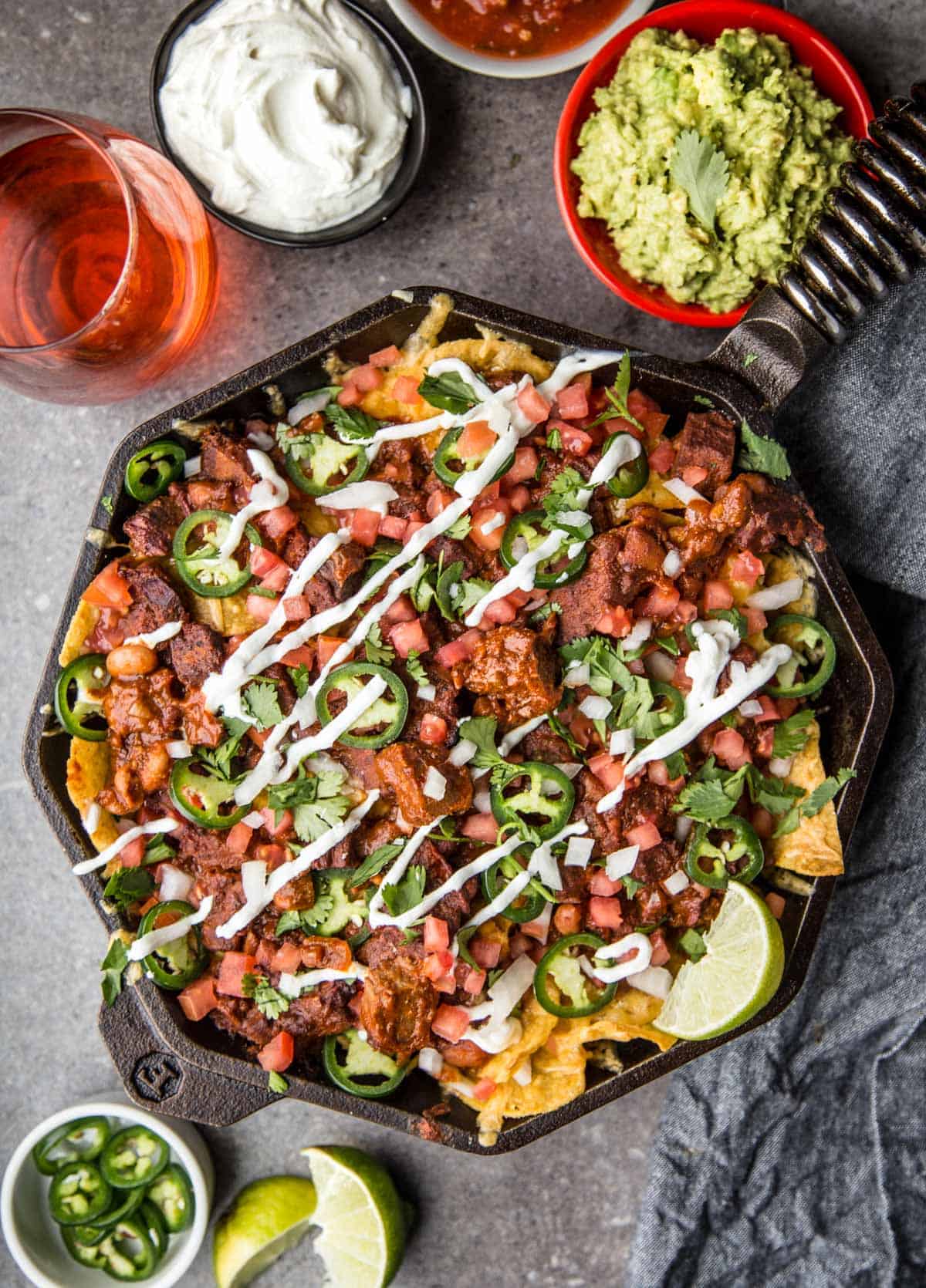 Update: This recipe was the grand prize winning recipe in the original Traeger Grills Meat Madness Competition in 2015. It's that good!
This recipe for Smoked Brisket Nachos originally came about on a fluke. We had a freak snowstorm (yes, it's a freak incident when it happens in Portland), leaving us unable to leave our house for days. One of these years the city will invest in a snow plow so the streets can be drivable with a couple measly inches of snow.
Having lived in our fair share of blizzards and storms, we knew to just stay put and ride it out and just eat all the things.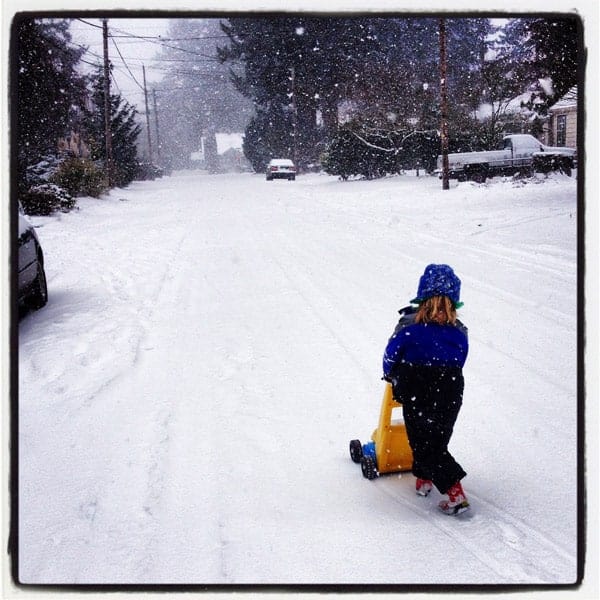 Unable to go to the store, we came up with this recipe using only what we had in the fridge and pantry. We originally called it our pantry purge nachos. And thank the lords that we had just smoked a brisket, because we had plenty to use as a base for these incredible and irresistible brisket nachos!
Smoked Brisket Nachos- A great way to use leftover smoked brisket
These nachos are more than simply chips with layers of cheese and meat.
Oh yes, my friends. These are no wimpy nachos!
We use leftover brisket to make a thick, rich, concentrated chili, and use that chili to make spicy, cheesy, and indulgent nachos.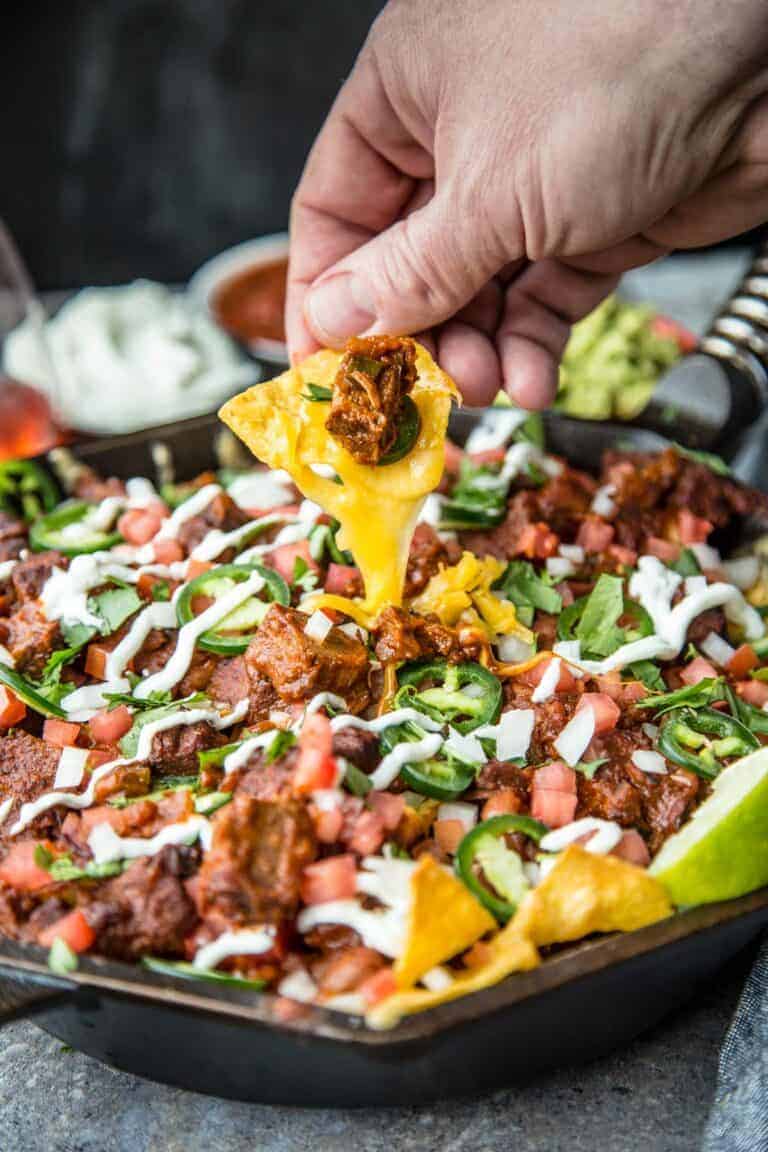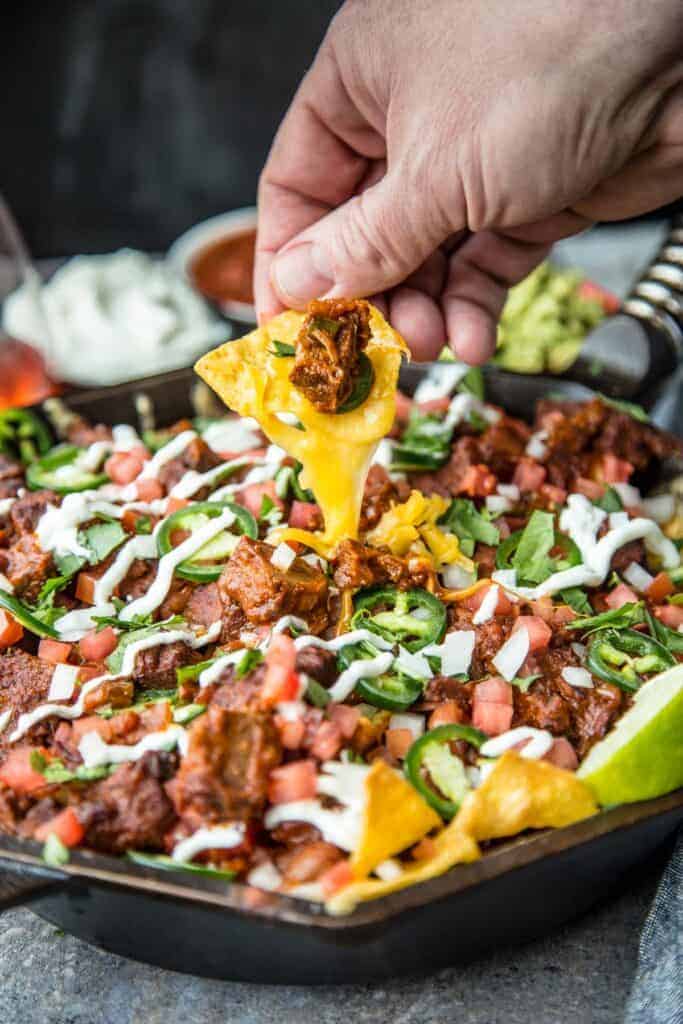 To be clear, we didn't make this brisket chili. This is more rich and concentrated. Something perfect to pour over thick corn chips and then top with cheddar cheese, tomatoes, onions, more spicy jalapeños, guacamole and sour cream. Incidentally, this is the kind of chili that would be awesome to pour over a hot dog (if you're into that sort of thing!).
The chili is everything — Thick, rich, spicy, and full of intense flavor.
Though the original recipe was a pantry purge, we decided it was good enough to write down, and make over and over and…! Basically, this is a recipe that needed to be shared with the world. And incidentally it was good enough to win the grand prize in the Traeger Meat Madness Recipe competition.
Chili is the secret to the Best Brisket Nachos
The key to the over the top indulgence level of these nachos is the intoxicatingly delicious chili. To make the chili:
Heat up 1-tablespoon olive oil in a large cast iron pot (or saucepan) and add chopped onions. Cook until soft, then add chopped leftover brisket and chopped jalapeño. Let that warm up.
Add beer and let it come to a simmer (about 1-2 minutes to let the alcohol reduce).
Then add coffee, tomato sauce, tomato paste, pinto beans, green chilies, and all the spices, and mix well.
Simmer for about 20-30 minutes until the chili thickens, and the flavors are well combined and you're happy with the flavor. Adjust seasonings to your preference. This is all about finding a richness and flavor you like!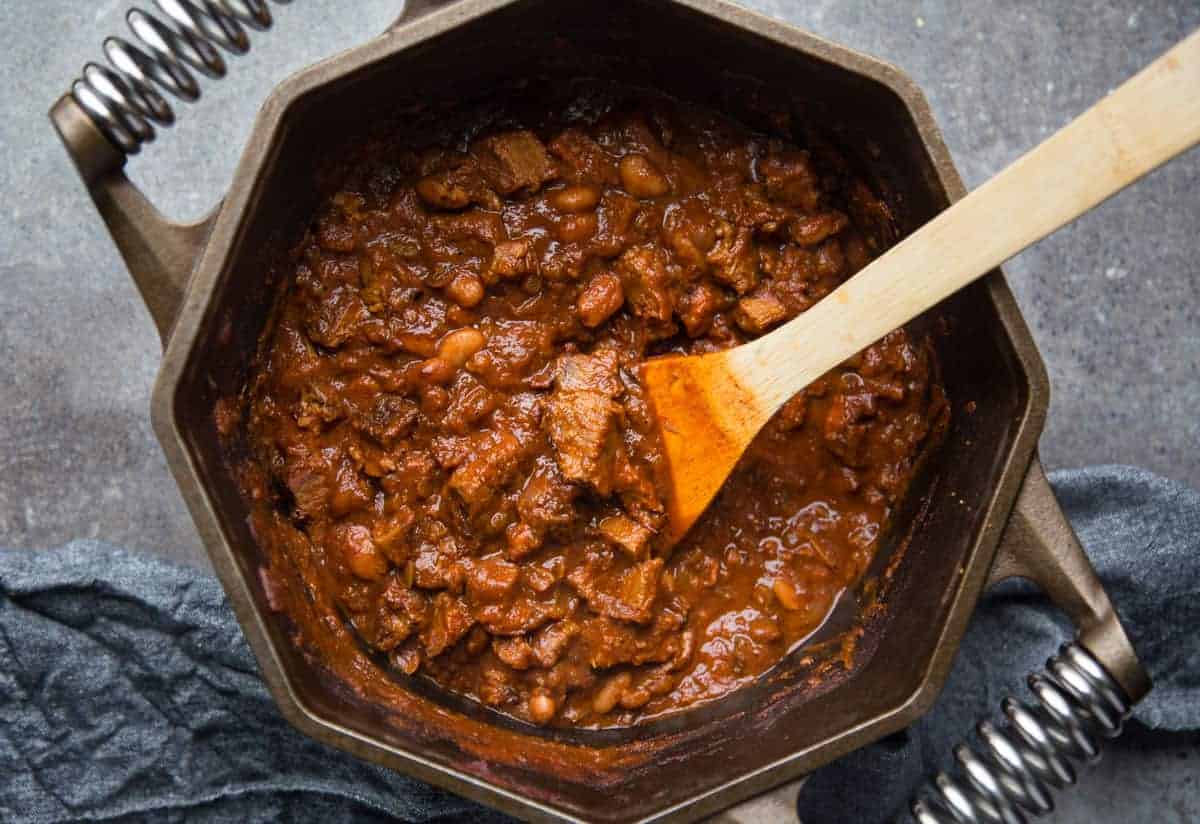 Once you have the chili, use it to layer your brisket nachos.
You can assemble your nachos on a sheet pan and heat up in the oven, or layer it in a cast iron skillet and heat it up directly on the grill or in the oven.
You and your friends are going to go crazy for these nachos!
Wine Pairing
You'd think on a cold snow day, cooped up inside, with the fire roaring, I'd be drinking a hearty red wine. Nope. I drank rosé.
A cold, crisp, rosé.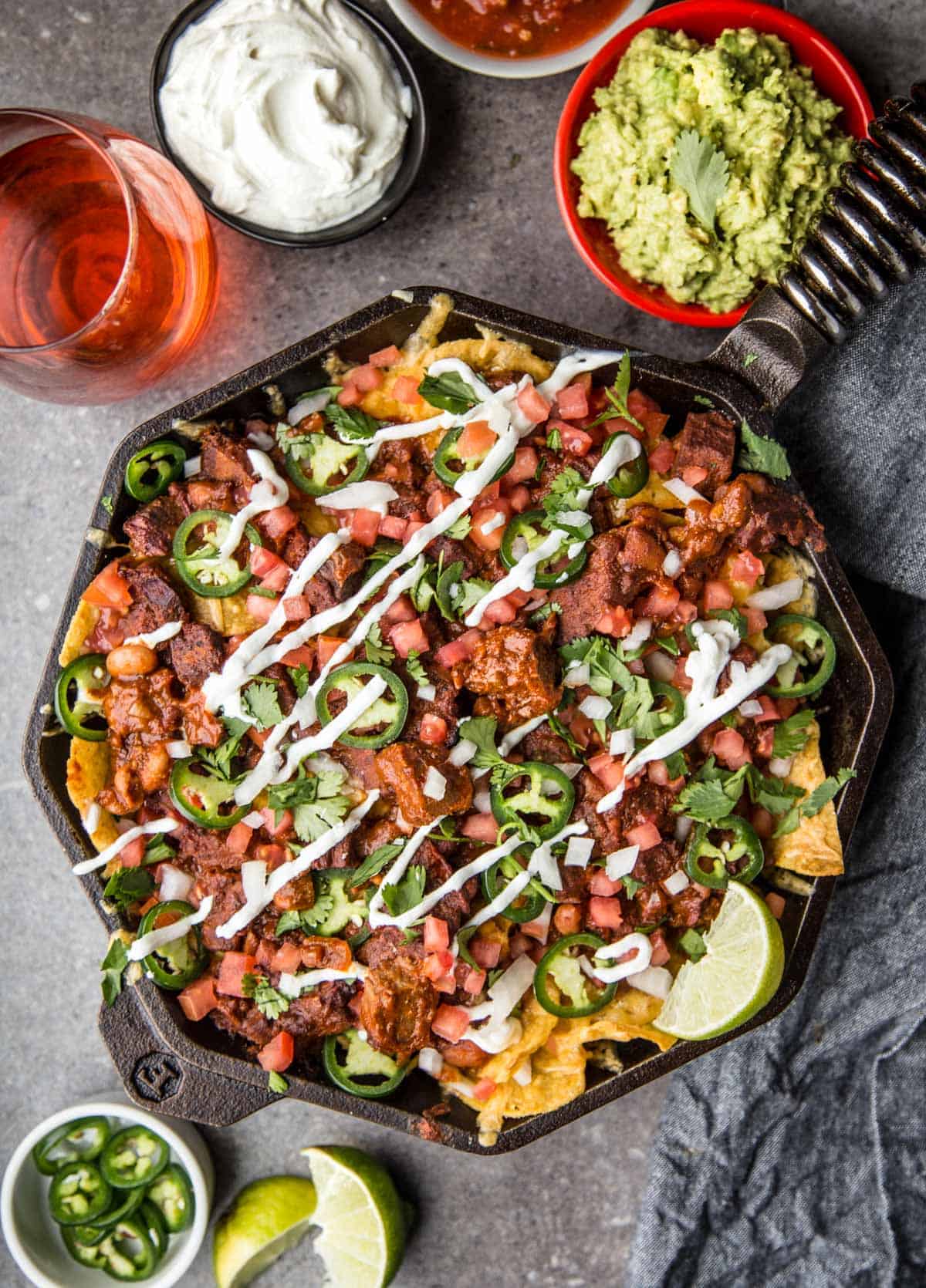 These Brisket Nachos have a combination of spicy, smoky, meaty as well as all the fresh toppings. Serving it with a dry red wine would have accentuated the heat and it would have made for a very unpleasant experience.
I prefer something refreshing, and cooling. Something to cleanse and refresh my palate, yet have enough flavor and umph to stand up to the flavors of the spicy chili with smoky brisket and salty corn chips.
Enter rosé!
Rosé is refreshing with bright red berry aromas and flavors. I recommend one with just a touch (smallllll touch) of sweetness, helping to offset the heat from the chili. The bold flavors and cooling effect were exactly what I was looking for. I tend to go with Rosado from Spain, ideally made from Garnacha grapes. You want one with big fruit flavors to stand up to this dish (stay away from the lighter Provençal style rosé for this).
Or you could just be like hubby and opt for a cold PBR.
More recipes with leftover brisket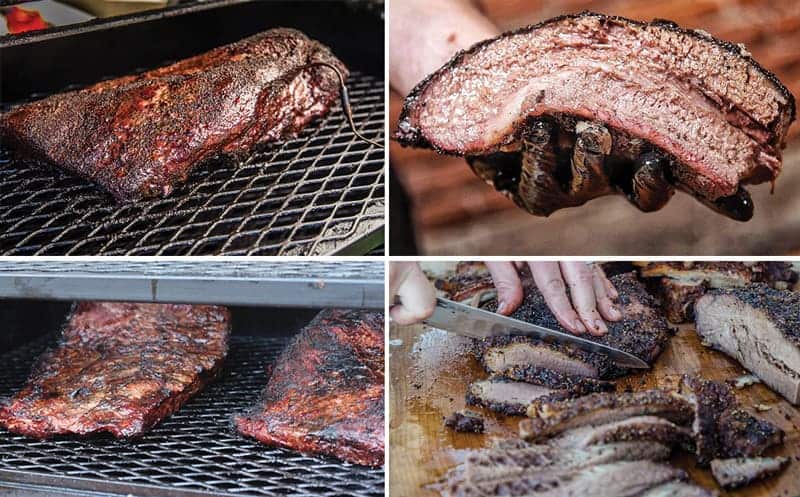 Brisket Nachos Recipe (using leftover Smoked Brisket)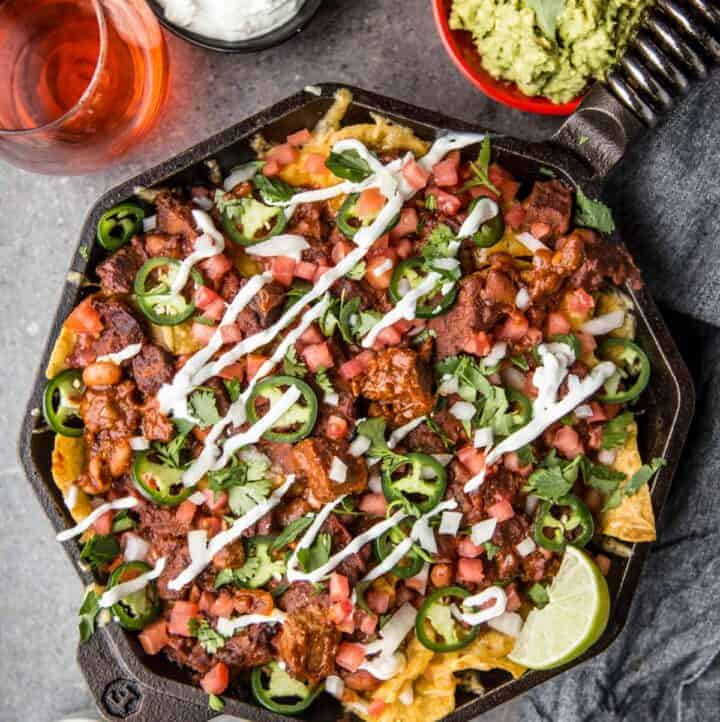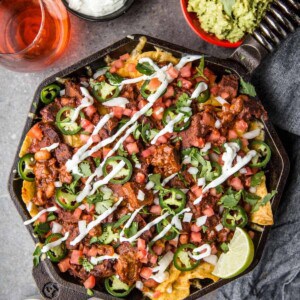 Smoked Beef Brisket Nachos
Brisket Nachos are the perfect use for leftover smoked beef brisket. Create a rich chili out of leftover brisket and use that chili to make indulgent, spicy, cheesy, nachos.
Print
Pin
Rate
Ingredients
To make the Chili:
1

small red onion, diced

3

cups

leftover smoked beef brisket, roughly chopped into small cubes

We love Snake River Farms Briskets

1

medium jalapeño, ribs and seeds removed, finely minced

1

cup

beer (we used a mild IPA)

¼

cup

coffee, whatever may be leftover in your pot from your morning brew

1

15 oz can tomato sauce

2

tablespoons

tomato paste

2

small chipotle peppers in adobo from a can, finely diced

(You can use just 1 if you're sensitive to heat. These can be very spicy)

1

15 oz can pinto beans, drained

1

tablespoon

canned diced green chili

1

tablespoon

chili seasoning

1

tablespoon

cumin

½

teaspoon

cayenne pepper

½

teaspoon

smoked paprika

1

teaspoon

salt
For the Nachos, including optional nacho toppings:
Thick corn chips

(they need to be sturdy enough to handle the weight of the toppings)

brisket chili (from above)

Shredded smoked cheddar cheese, or mixed cheddar blend (more or less depending on how cheesy you like your nachos)
Optional Nacho Toppings:
diced tomatoes, thinly sliced jalapeño, finely chopped onion, cilantro, sour cream, avocado slices (or guacamole), sour cream, salsa
Instructions
For the Chili:
In a large saucepan (or cast iron pot), over medium heat, pour 1-tablespoon olive oil and add your onions. Cook about 3-4 minutes, and then add the chopped leftover brisket and the jalapeño. Cook 1-2 minutes until warmed up.

Add the beer and let it come to a simmer (about 1-2 minutes to let the alcohol reduce).

Then add the coffee, tomato sauce, tomato paste, pinto beans, green chilies, and all the spices, and mix well.

Bring to a simmer and then reduce to low heat, for about 20-30 minutes, until the chili thickens, the flavors are well combined and you're happy with the flavor. Adjust seasonings to your preference. This is all about finding a richness and flavor you like!
To Make The Brisket Nachos:
Using a sheet pan or cast iron skillet, create one layer of corn tortilla chips (remember, make sure they are thick chips so they hold the weight of the chili).

Layer the chips with some chili and a layer of shredded cheese.

Create another layer of corn chips, followed by chili and shredded cheese.

If you are using an oven-safe platter you can place in the oven under broil. Broil until the cheese is melted (this won't take long, just a couple minutes).

Alternatively you can place a cast iron skillet loaded with nacho goodness in the grill and heat up until the cheeses are melted.

When the cheese is nice and melted, remove and top with your favorite cold toppings: sliced jalapeño, tomatoes, diced onion, cilantro.

Serve with your favorite dips: salsa, guacamole, and sour cream.
Notes
** Depending on how many nachos you plan to make, the chili may yield leftovers. Nothing wrong with that! Just use how much chili you are comfortable with on your nachos.
Check out this great smoked brisket recipe as a great starting place.
Find the perfect wine pairing at the Vindulge Wine Shop
*This post was originally published in February of 2014, and updated in March 2020 with new photos and updated information (the delicious recipe remained exactly the same!).
---
If you like this recipe for Brisket Nachos we'd truly appreciate it if you would give this recipe a star review! And if you share any of your pics on Instagram use the hashtag #vindulge. We LOVE to see it when you cook our recipes.
---