This Watermelon Salad Recipe is full of fresh and lively flavors!
This ain't your mama's watermelon salad recipe, nor is it your neighbors. This one is packed with some unexpected and delicious secrets. And you and your guests are going to go CRAZY for it! Hint: Basil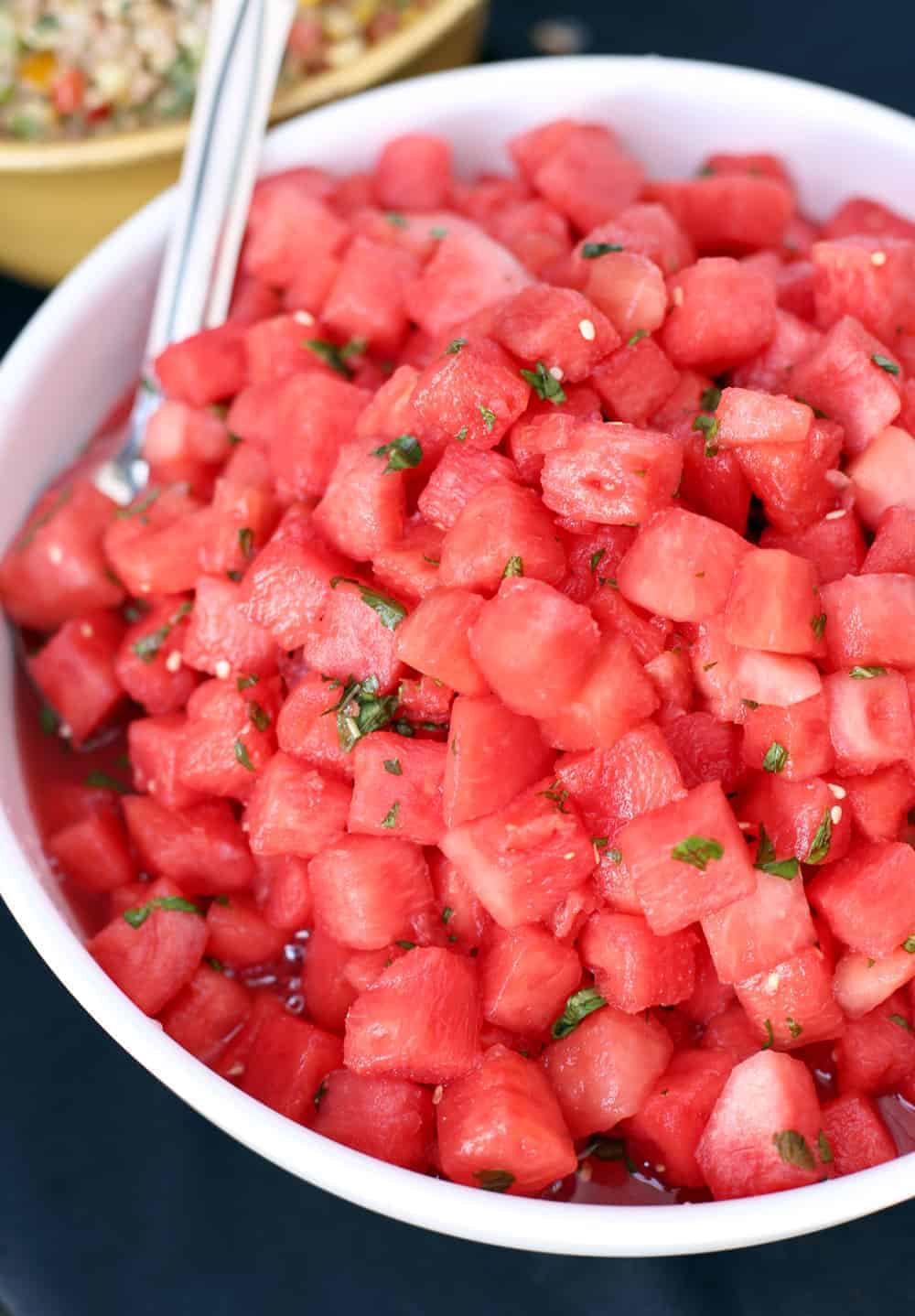 This has been THE salad of the summer for us. We've cooked it at tons of our Ember and Vine catering events so far and it's been a huge hit!
It's a great one for a small family or huge summer gathering.
Folks are always surprised when they take their first bite, because at first glance they think it's one of those typical watermelon salads with mint and citrus. But no…..
We've got some secrets tucked in there, and they don't involve mint or citrus.
For this watermelon salad we're leaning towards savory flavors to make it easier to pair with wine. Mint can be tricky with wine, and the citrus is really best left for acidic white wines.
Ingredient Highlights
Basil – Adds a touch of spice and a subtle influence that is fragrant.
White Balsamic Vinegar – A great contrast to the sweet from fresh watermelons and a light acidic touch.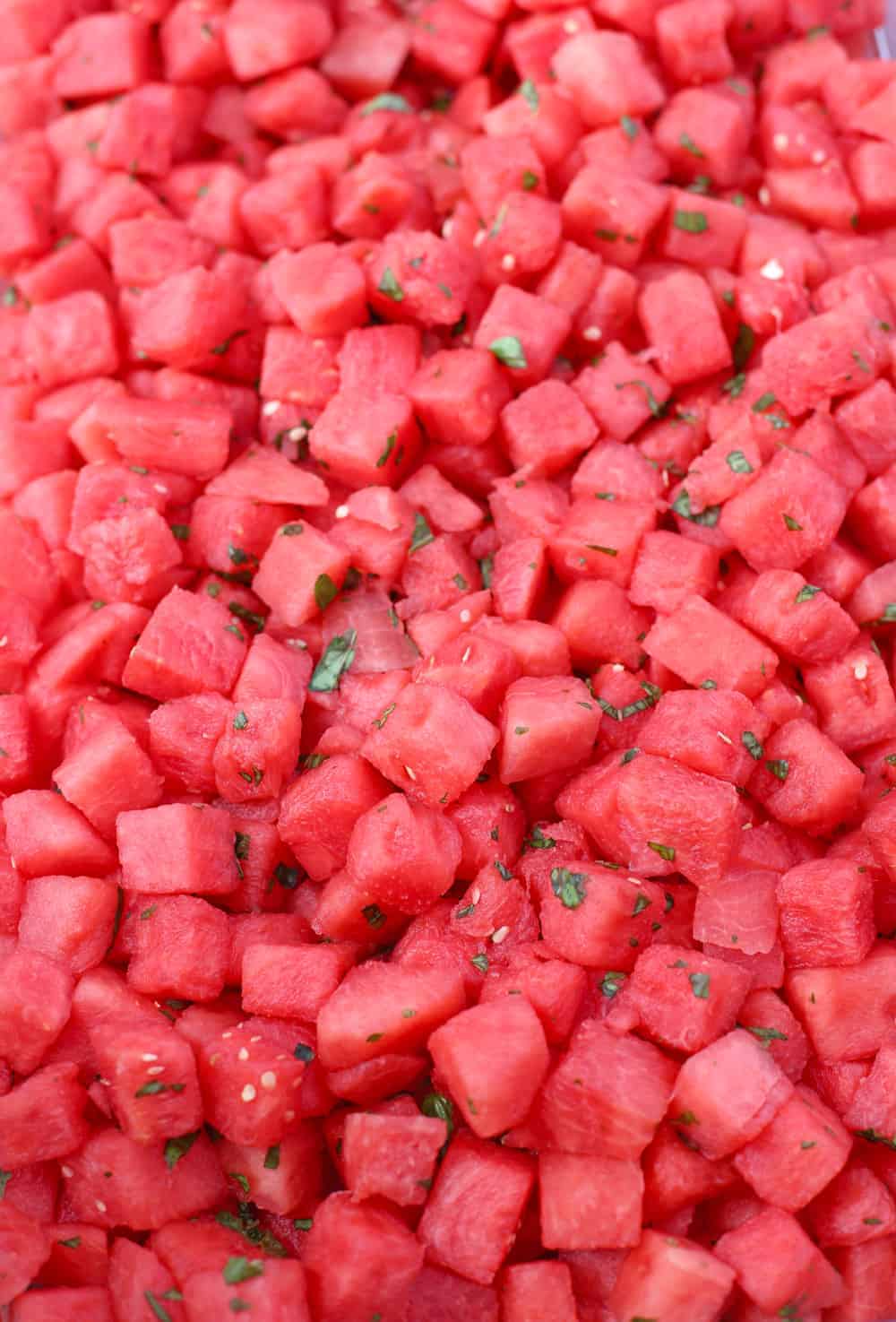 What what?
Yes! The combination is so delicious, and it may throw people off a bit at first, but after their first bite, eyes open wide and they look at you and give you that smile of approval that quietly says, "Oh yeah. This is goooood!"
"It's so different," they'll say. "But I love it!" they'll continue.
The flavors, combined with a hint of kosher salt, create this great balance of savory and sweet, and work great when you pair them with wine, even a red like Pinot Noir. No lie! We've even served this watermelon salad at a wedding (!!!), and it was served with Pinot.
And I was absolutely thrilled to get to share this salad with the awesome folks at AM Northwest!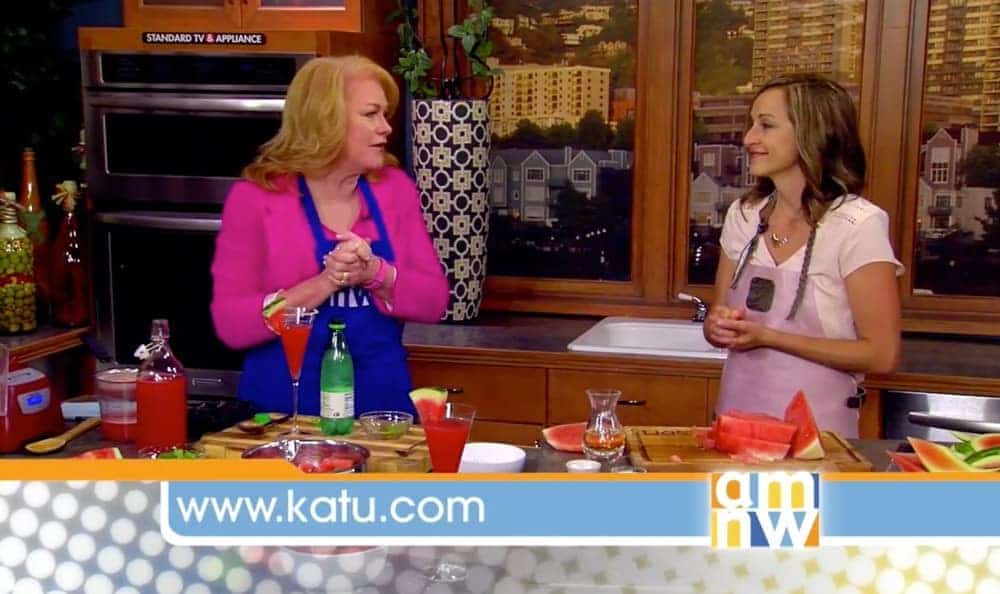 On the show I got to discuss my favorite ways to fully utilize a whole watermelon without resorting to the typical wedge slices. I used half for this salad, and the other half for this amazing Sparkling Watermelon Cocktail.
Both are creative and delicious uses for all that watermelon out there right now. And the best part is that they are both totally budget-friendly dishes!
How to make Watermelon Salad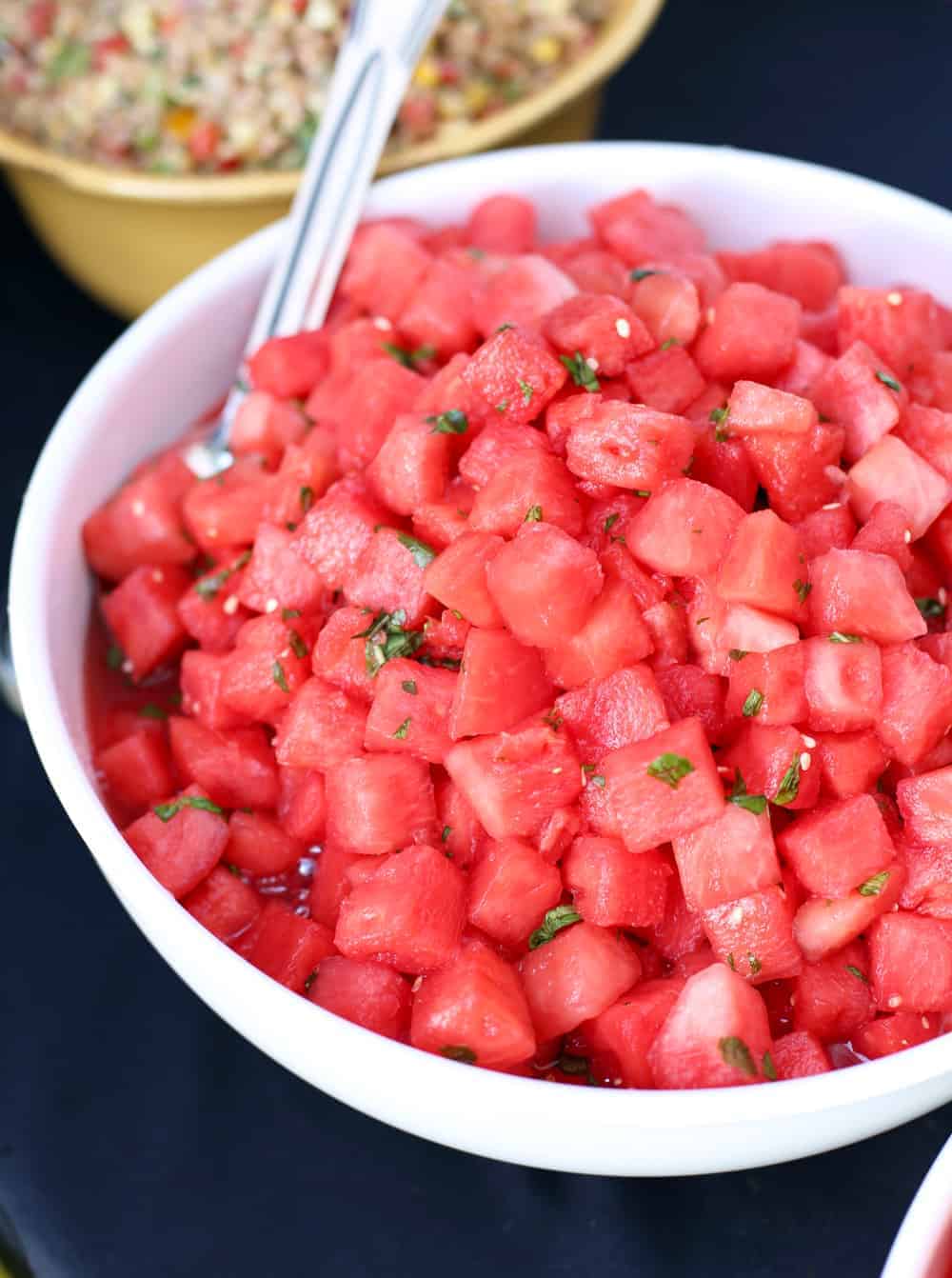 When we usually make it for large events or summer gatherings we use the entire watermelon. A medium-large size watermelon will usually serve around 20-25 people. But for a smaller portion you can start with just a quarter of a watermelon. This should yield roughly 8 cups. The proportions are so easy that you can adjust the flavors based on your size crowd.
Slice Watermelon: cut watermelon into 1" cubes.
Dressing: combine white balsamic, chopped basil, and kosher salt.
Toss: mix together and serve.
I've adjusted this recipe to quarter of a watermelon, which should happily feed around 6-8 people. The notes contain a whole watermelon portion, good for larger crowds.
Watermelon Salad Recipe with Basil and White Balsamic Vinegar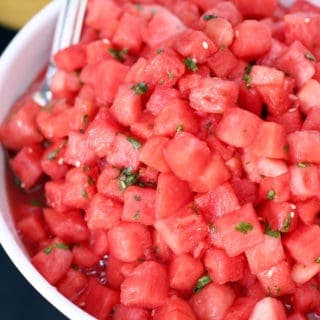 Watermelon Salad with Basil and White Balsamic Vinegar
A simple, delicious, and savory watermelon salad tossed with basil and white balsamic vinegar.
Print
Rate
Ingredients
A quarter of 1 medium-sized seedless watermelon, rind removed, and chopped into 1-inch cubes (roughly 8 cups)

2-4

teaspoons

white balsamic vinegar, taste to adjust

1

tablespoon

basil, chopped

pinch

kosher salt, about 1/8th of a teaspoon
Instructions
Combine watermelon cubes, white balsamic, basil, and salt in a large bowl. Gently use your hands to mix everything together. Adjust flavors to your preference (add more white balsamic if you desire).

Serve and enjoy this delicious and refreshing salad.
Notes
*Salad will keep up to 24 hours, after that it starts to get a bit soggy and not as crunchy and delicious like it should be. So enjoy it fresh!
*To adjust for a WHOLE WATERMELON: Take 1 watermelon (cut into 1" cubes). Add ½ cup of white balsamic, ¼ cup basil (chopped), and then about 1/2 teaspoon of salt. Mix together and serve. 
---
Thank you so very much to the amazing crew at AM Northwest for inviting us back again and again! We are truly honored to cook for you and your awesome crew!
---