Grilled Shrimp Tacos are not only easy to make, but absolutely delicious and crowd friendly. Add a slightly spicy lime crema and your favorite taco toppings and you have a great feast for a crowd or just a weeknight family dinner.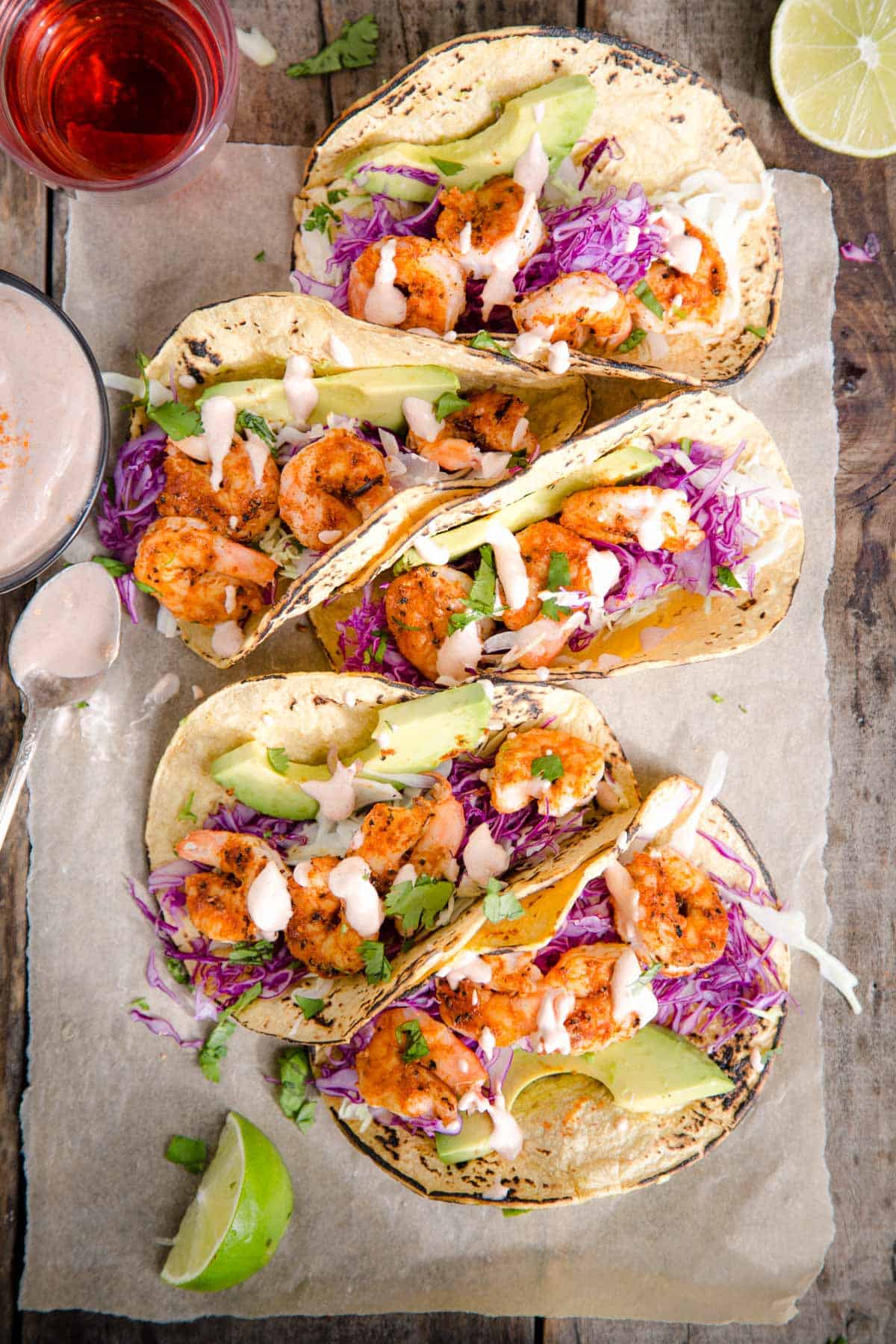 Tacos are on regular weekly rotation in our house. Almost any protein or vegetable can be used for your taco night. We're huge fans of trying to incorporate more seafood into our diets, and love to stretch our seafood dollar by making fish or shrimp tacos. These shrimp tacos are definitely a winner!
Jump to:
Buying Shrimp
Shrimp can come in many forms and sizes. When buying shrimp for grilled shrimp tacos, you will often see them described with a number, and that number is (on average) how many shrimp come in one pound. The smaller the number, the larger the shrimp.
Chef's Tip: Buy the shrimp peeled (shell removed) and deveined. It will not cost that much more, and will save you a ton of time. Always ask the butcher if they have peeled and deveined shrimp. (They might even devein for you if it isn't available when you ask. It's always worth it to ask!)
For grilled shrimp tacos we buy at least 26/30 shrimp. The larger variety can be placed on a skewer and grilled quickly but not overcooked. If you only have smaller shrimp, consider grilling them on a plancha (a flat cast iron grate) or cast iron pan.
Preparing Shrimp for the Grill
If the shrimp was not peeled and deveined, this is the time to remove the shell and then carefully pull the intestinal track from the shrimp. You'll see the small dark string that comes out where the head was and remove it with tweezers. You can remove the tails now, or do so after they grill. We leave the tails on until the shrimp cook, but that's a personal preference. For more information on how to peel and devein shrimp, see this shrimp recipe post.
Pat the shrimp dry to remove any left over shell or vein. Then place them on a skewer. If using wood skewers, soak them in water for at least 30 minutes.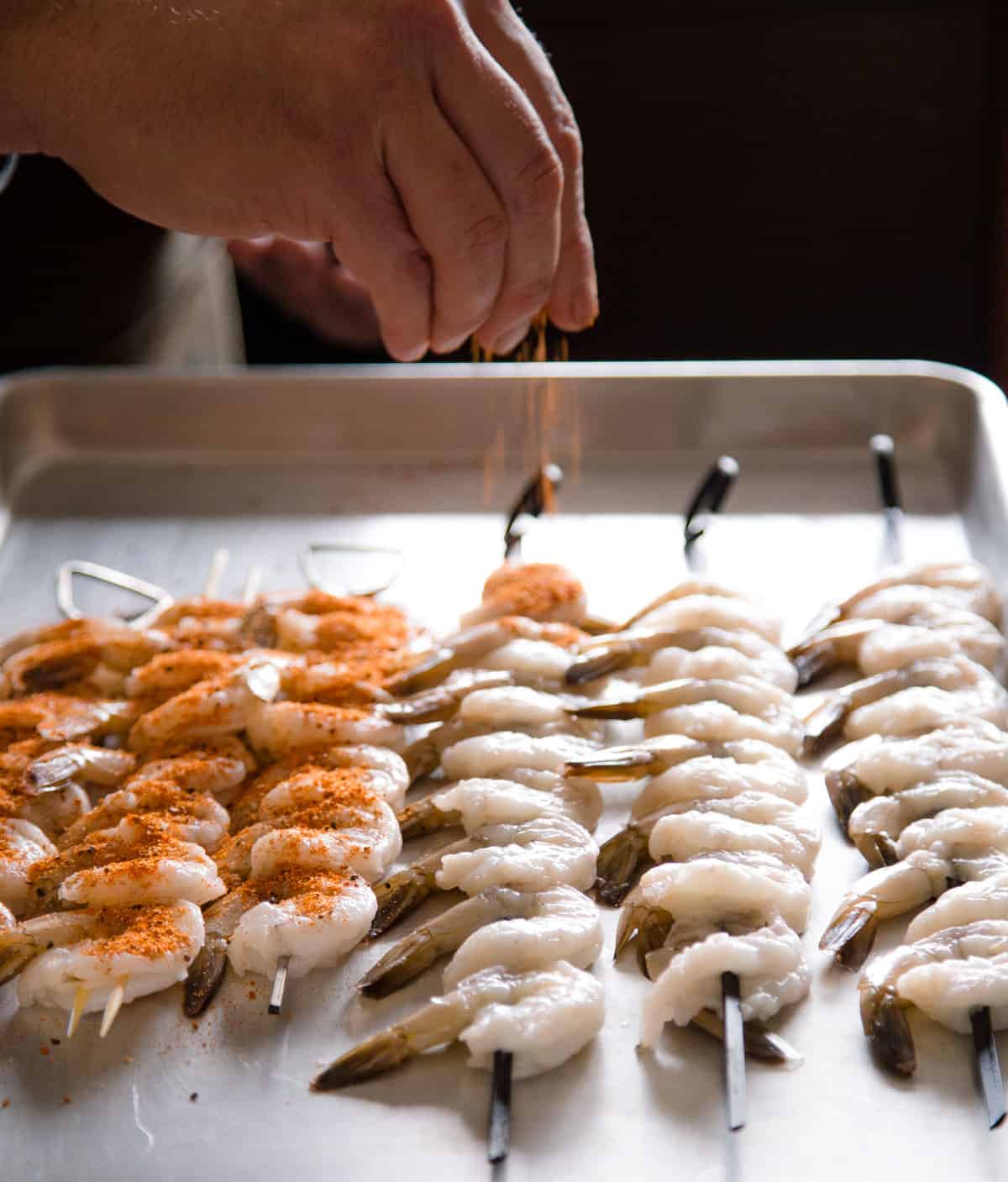 Season the grilled shrimp with our seafood seasoning or your favorite seafood rub.
Grilling Shrimp
Hot and fast is the method we are using with a grill set up for direct cooking. That means the heat source is right underneath the shrimp. We are using our amazing MAK Two-Star General pellet grill, which has a great feature in which you can cook with direct heat across the entire grill surface.
For Grilled Shrimp Tacos, it's important to stay near the shrimp as they will cook fast and can go from done to overcooked in less than a minute. This is why having an instant read thermometer like the Thermoworks MK4 Thermapen is a must have tool.
Prepare the grill for direct cooking. Target 500 degrees over the direct heat.
Place the skewered shrimp over direct heat, close the lid and grill for 3 minutes.
Flip the skewers once, close the lid and continue to grill for an additional 2 – 3 minutes or until the internal temperature of the shrimp is 140 degrees Fahrenheit.
Remove the shrimp from the grill, take the shrimp off the skewers and remove the tail if you did not do so when prepping the shrimp.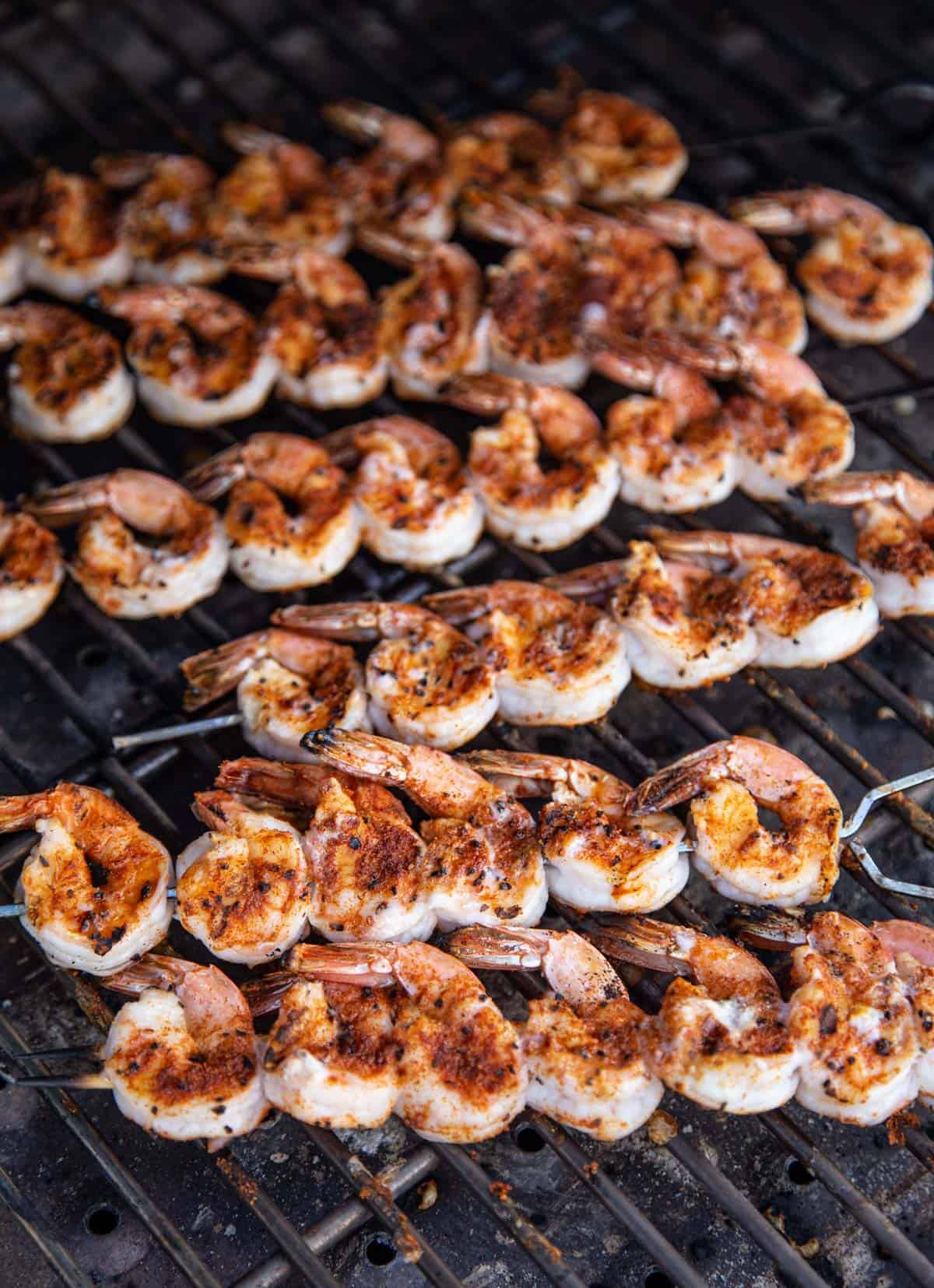 Easy Lime Crema Sauce for Shrimp Tacos
Making a crema is very easy. We use sour cream as the base for ours. There is also specialty Mexican crema as well that is thinner but a great alternative if you can find it. Simply add your favorite hot sauce if you want a touch of heat, freshly squeezed lime juice, and a touch of salt. Super simple, but adds great flavor!
For taco ingredients, we use corn tortillas that we warm up on the grill. And we keep it simple with fresh avocado, thinly sliced cabbage, and avocado.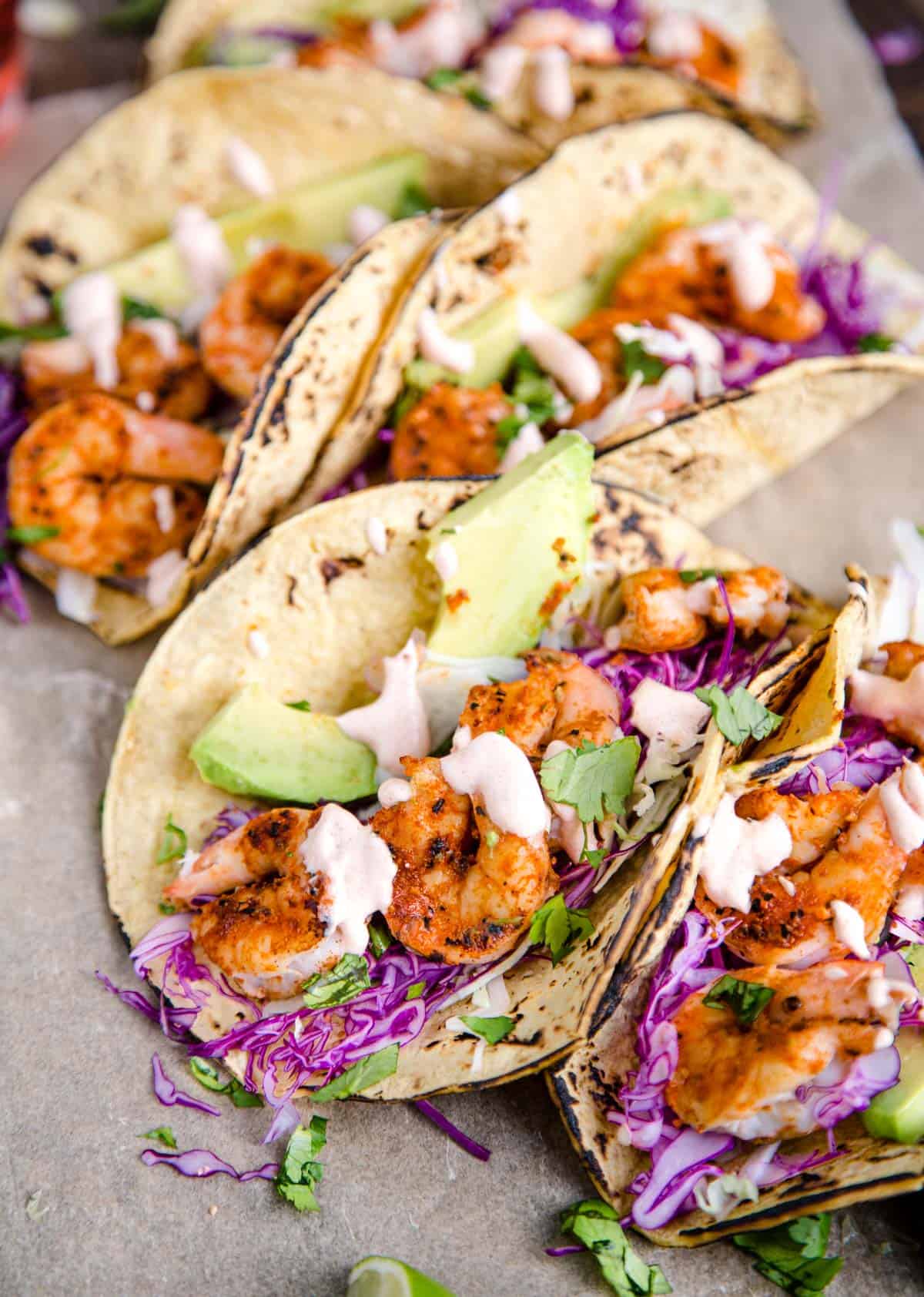 Wine Pairing for Shrimp Tacos
My go-to for most tacos, and especially these shrimp tacos, is a crisp and fruity rosé! Rosés typically have great acidity and bright fruity flavors that will balance out any heat from the seasoning and refresh the palate with each bite.
Other great options include Pinot Gris (Pinot Grigio), unoaked Chardonnay, Vinho Verde, or Albariño.
You can learn more about the MAK Two-Star General on our guide about pellet grills.
More Shrimp Recipe Ideas on the Grill
Here are a few more ideas for grilled shrimp:
This post may contain affiliate links. This means if you click on the link, we may receive a small commission if you purchase through the link. We partner with brands we know and love and use and it helps keep the blog going!
Grilled Shrimp Tacos Recipe