Making fresh salmon burgers is incredibly easy, and it doesn't require using the canned stuff. Start with high quality salmon, and add your favorite toppings for some incredible Grilled Salmon Burgers.
Looking for more fun salmon recipes? Check out our popular Cedar Plank Salmon with a maple chipotle glaze.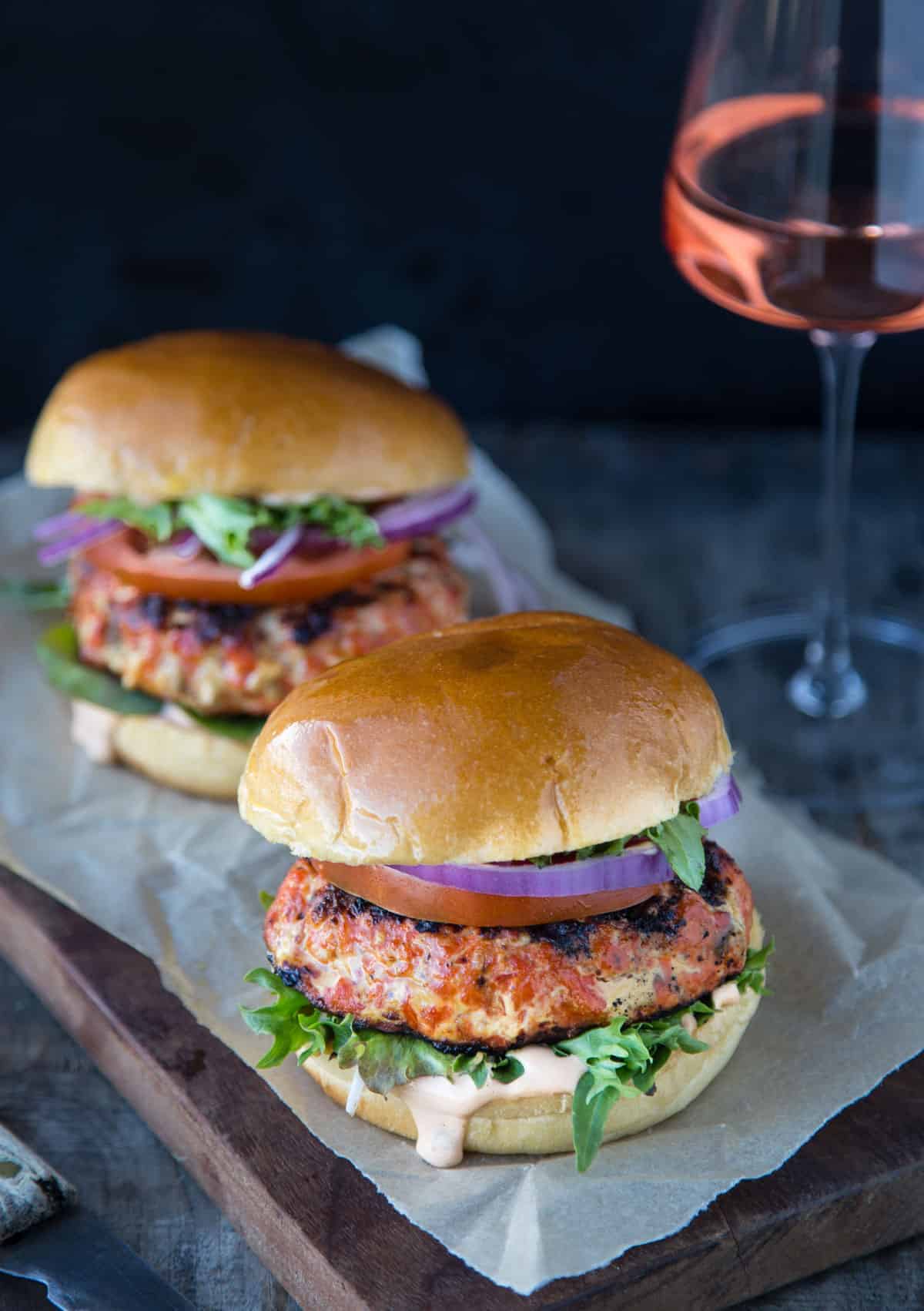 With any good burger, it's about balance. The balance of fat to meat is the biggest one for a salmon burger so they don't end up dry and don't fall apart on the grill. Texture is another. Texture is directly attributed to how you prepare the salmon. Whether using a food processor, or hand cutting like this useful article, you can get good texture with both methods.
Because we are grilling these salmon burgers, we focus on using fresh salmon, and use minimal binding agents in order to really focus on the salmon flavor and texture.
Start with Good Salmon
Fresh ingredients matter when it comes to flavor. We are huge advocates of using fresh wild or line caught salmon for the flavor. There are many species of salmon, but our favorite is Coho or King Salmon for burgers. The natural fat content make for the perfect balance.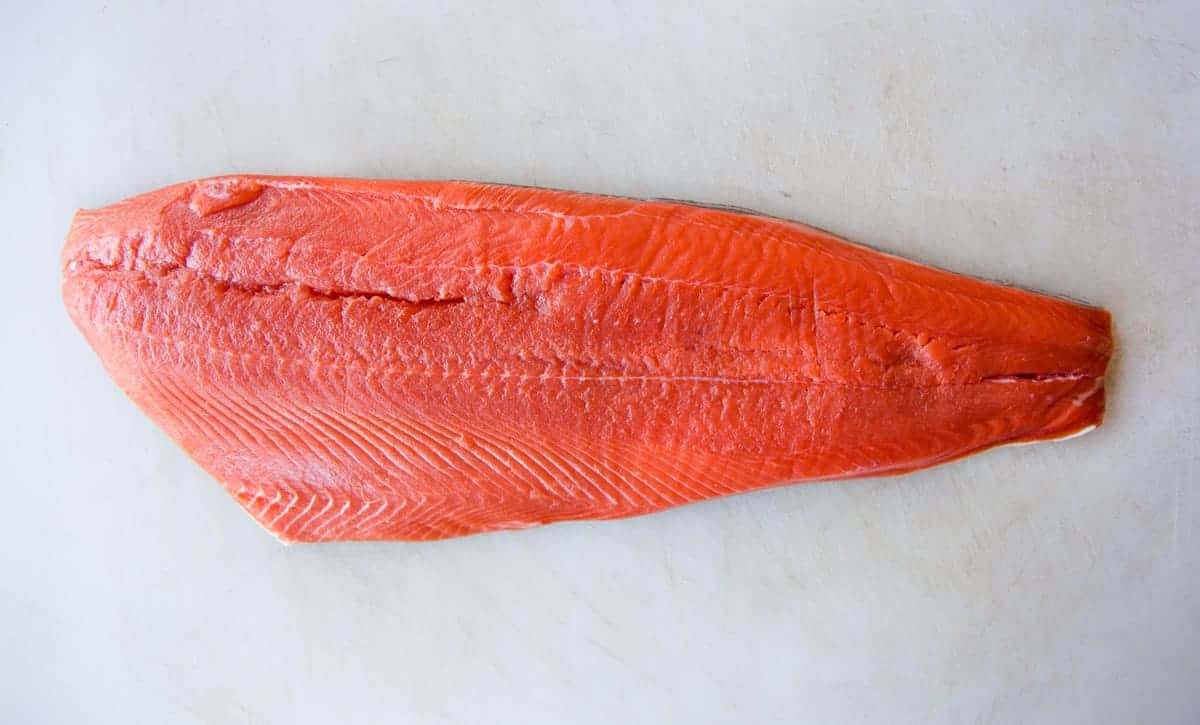 Fresh salmon should not have an odor to it, likely it has been flash frozen right after being caught and then thawed at the grocer. You should feel comfortable in asking to look at the filet you want and make sure it doesn't have a fishy smell.
Buy the salmon as a whole filet and ask your fish monger to take out the pin bones. The pin bones run along the fillet and are not pleasant to eat. Having them do it at store do it is easier than trying to do it yourself.
If farmed salmon is all you have access to that is fine. We just find that it has less flavor and seems oilier than the wild counterparts.
Prepping the Salmon
If you couldn't get the pin bones removed at the store, this is the time to do it. Using tweezers (we strongly recommend you have kitchen tweezers in your arsenal), pull out the small bones that run along middle of the salmon filet.
Also gently remove any silver skin along the belly meat with a filet knife. The belly meat is incredibly rich and tender and often is hidden under a white silver skin coating, sometimes with bones. Simply use a sharp filet knife and gently cut along the bone or silver skin to keep the flesh intact.
At this point, gently separate the salmon from the skin, chop into cubes, and place in a bowl. It's ok if the pieces fall apart, just take care not to overly crush the salmon meat.
How to Make Salmon Burgers
After preparing the salmon, it's time to make them.
Start by chopping up the salmon into small 1″ cubes.
Chop up the additional filling ingredients, like the bell pepper and shallots.
Next we'll use the food processor to gently pulse the salmon, bell peppers, shallots, and garlic together. Just pulse a few time (do not leave it on). You can hand chop and mix everything together too, but we find it's easier to use the food processor.
Move the salmon mix into a large bowl and add the dijon (which helps as a binder), salt, pepper and breadcrumbs (you can use gluten free breadcrumbs too). Mix gently to incorporate.
Shape the mixture into evenly shaped patties.
Store in the fridge for about an hour to firm up the patties.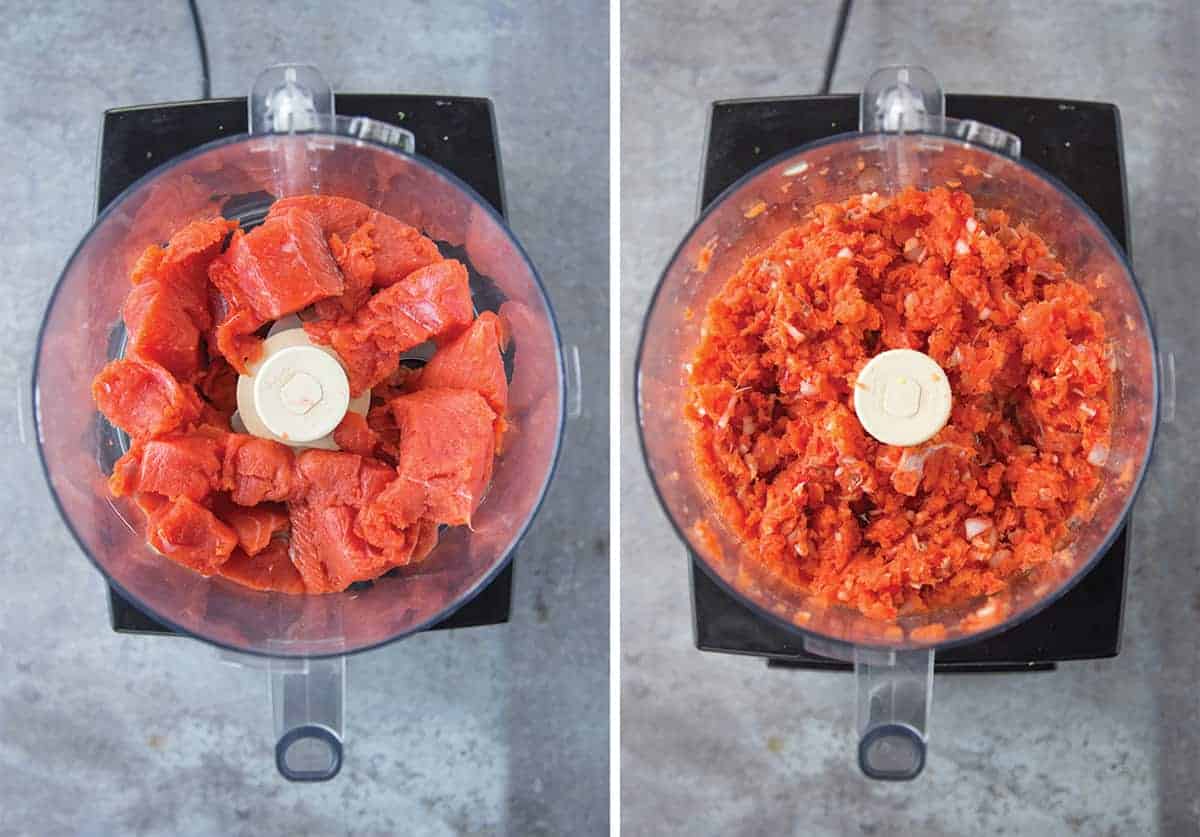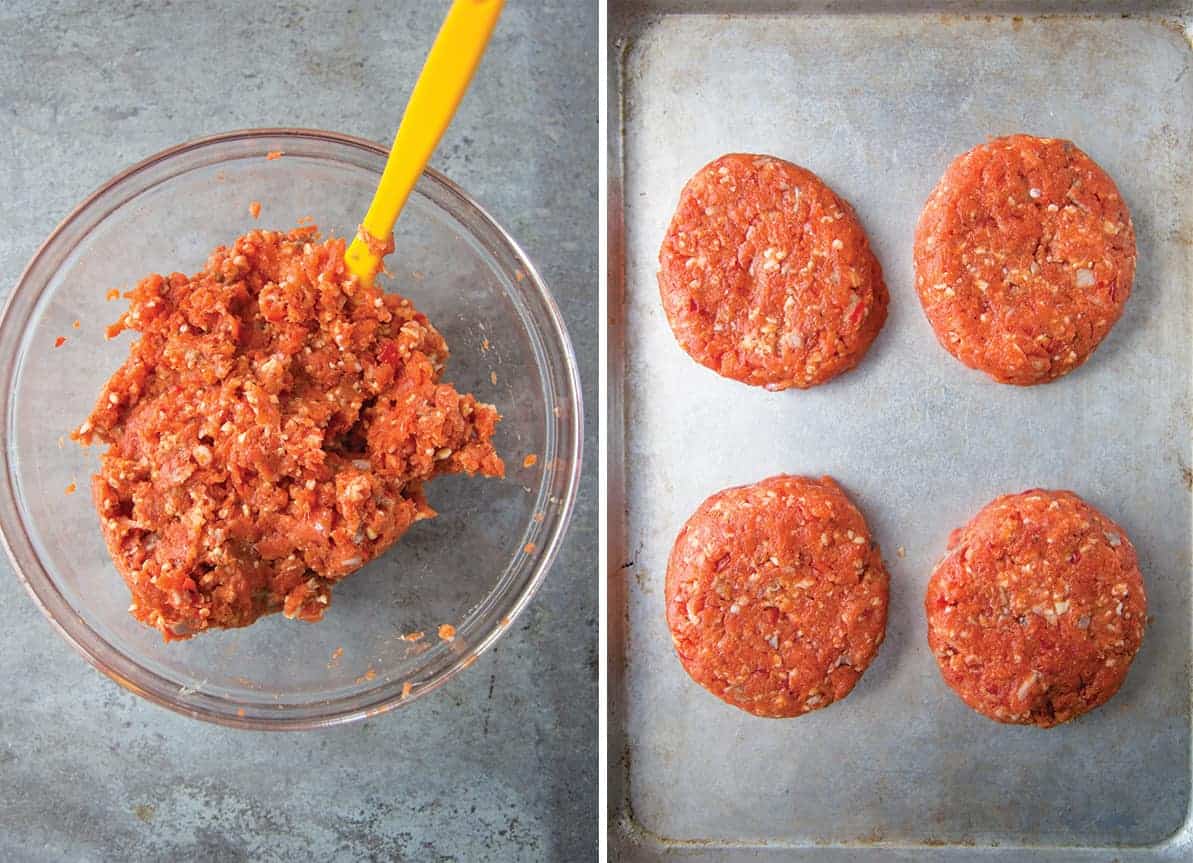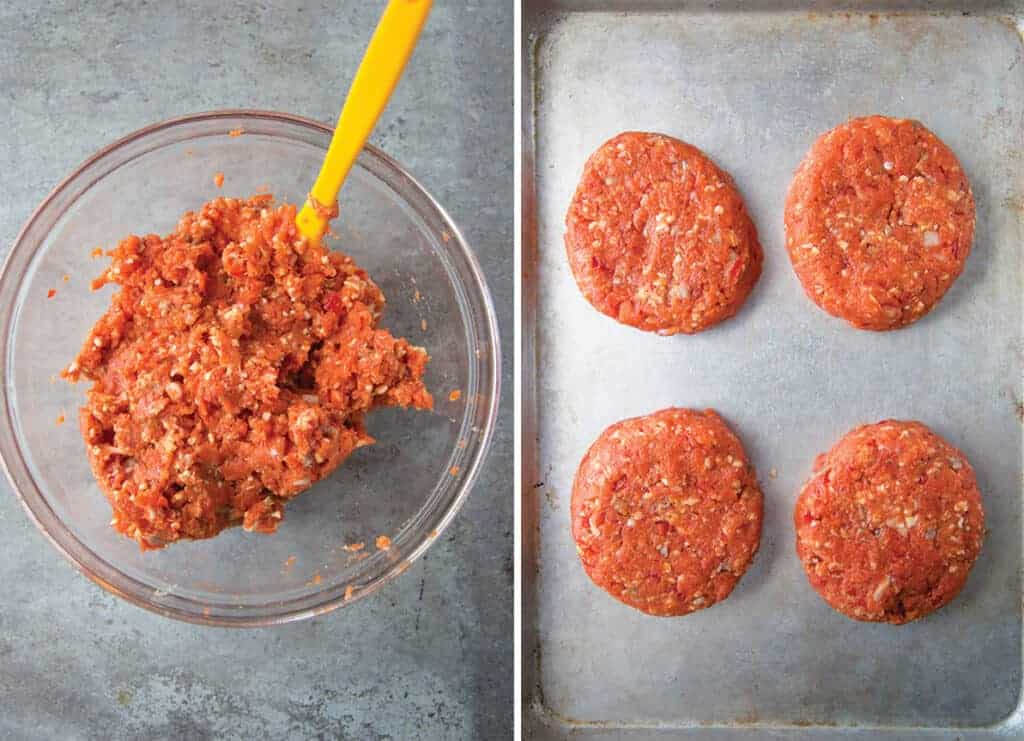 Grilling The Burger
The best way to cook salmon burgers is on a charcoal grill, just like any burger. The added smoky flavor from lump charcoal is a great flavor addition. When grilling follow the steps:
Pre-heat the grill using the two zone method to 500 degrees F. You need high heat to get a good sear.
Be sure the grates are clean and the burger (or the grates) has been oiled. This will help the salmon from sticking to the grill grates.
Grill each side of the burger over direct heat to get a nice crust. The salmon will come up to temperature quickly and likely not need to be moved to indirect heat.
If you have a thicker burger, avoid flipping them until they loosen up on the grill naturally. They will start by sticking to the grate until a good sear occurs, and then the sear will allow you to flip it.
Remove the burgers from the heat when they reach your desired internal temperature and then toast buns if you would like.
Temperature to Cook Salmon Burgers
If you are looking at how long to cook salmon burgers, that will depend on the heat source, but we cook our salmon burgers to 145 degrees Fahrenheit using an instant read thermometer like the Thermoworks MK4 Thermapen. When grilling we always cook to temperature, not time.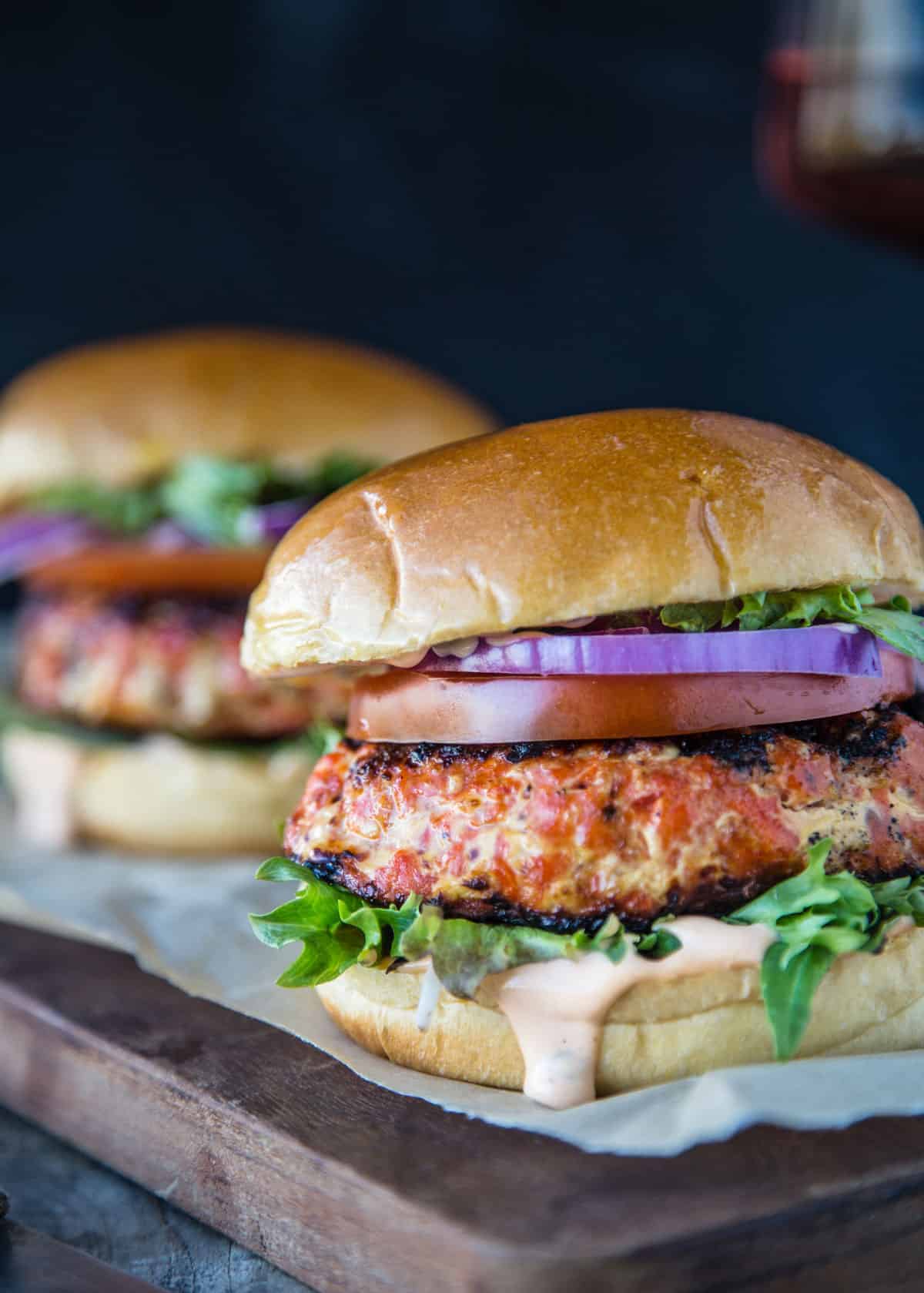 Burger Toppings
Like any good burger, it should be whatever you love most. We keep it simple with green leaf lettuce, fresh tomato, red onions and a simple sauce. Our sauce is equal parts mayo, freshly squeezed lime juice, and chipotle in adobo sauce.
Wine Pairing for Grilled Salmon Burgers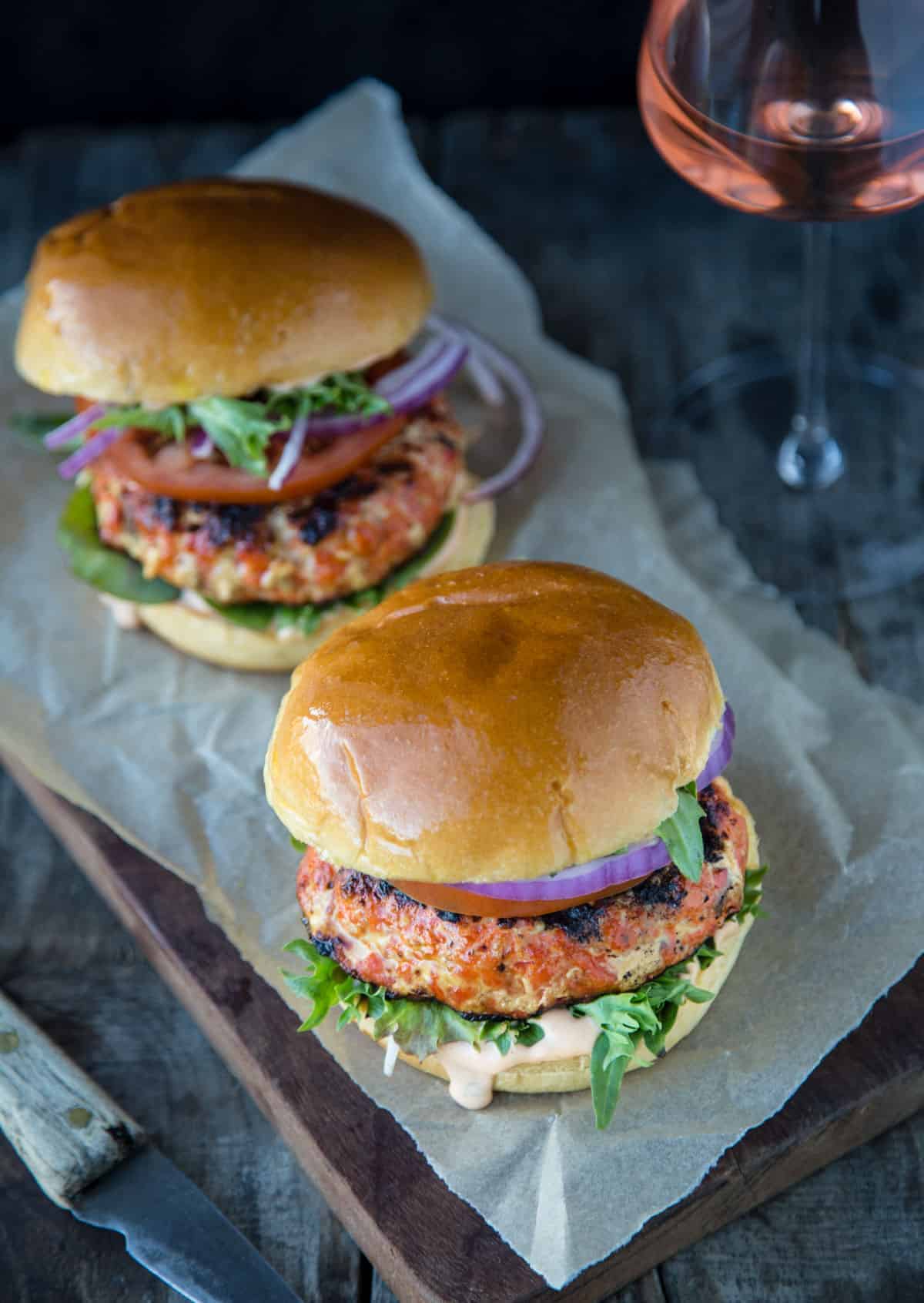 For red wine, Pinot Noir is a classic pairing for almost any kind of salmon preparation, and this is no exception. For white, stick with something rich and full-bodied, like Chardonnay or Rhone-style white wines. Or for something in the middle, a fruity rosé always works like a charm. The acidity in the rosé will help cut through the richness of the salmon meat.
More Popular Salmon Recipes
Salmon Burger Recipe
---
This post may contain affiliate links. This means if you click on the link, we may receive a small commission if you purchase through the link. We partner with brands we know and love and use and it helps keep the blog going!