This is a sponsored post written by me on behalf of Albertsons. All opinions are 100% mine.
Chocolate Truffles infused with red wine are a decadent (and easy to make) treat for Valentine's Day, or really anytime you're craving a delicious bite of chocolate. With only a few simple ingredients these come together quickly and can be coated with your favorite additions.
We also have some tips on making the most of your Valentine's Day shopping this year.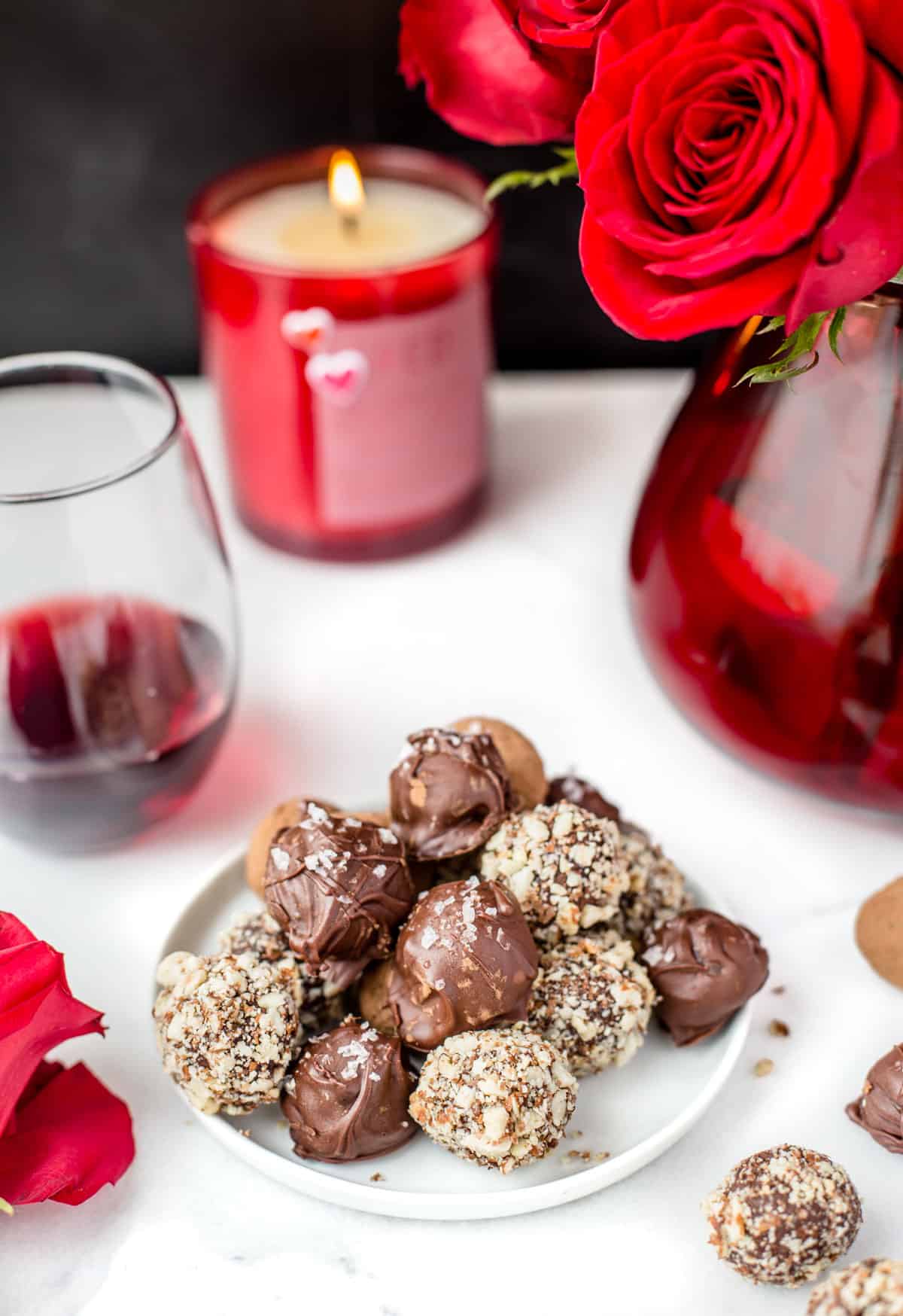 Jump to:
Homemade Chocolate Truffles with Red Wine
Homemade Chocolate Truffles are the #1 food that reminds me of my wedding day. When planning my wedding, I had the grand idea to hand-make chocolate truffles for my guests for dessert. We had a traditional cake but wanted something a little more personal to offer our guests as well.
Two days before the wedding, my bridesmaids and I found ourselves crowded into the kitchen of my tiny San Francisco apartment chopping chocolate and rolling approximately 200 truffles while sipping on wine (not a bad way to spend an afternoon), while my mom (who worked as a florist for Albertsons at the time) was at the flower market arranging the flowers for my centerpieces.
I don't remember eating a single truffle on my actual wedding day. I'm told they went quickly. But every time I've had a chocolate truffle since, then I am reminded of that wonderful day over 15 years ago.
With Valentine's Day coming up I can't help but want to recreate these, with a simple floral bouquet, to celebrate the day.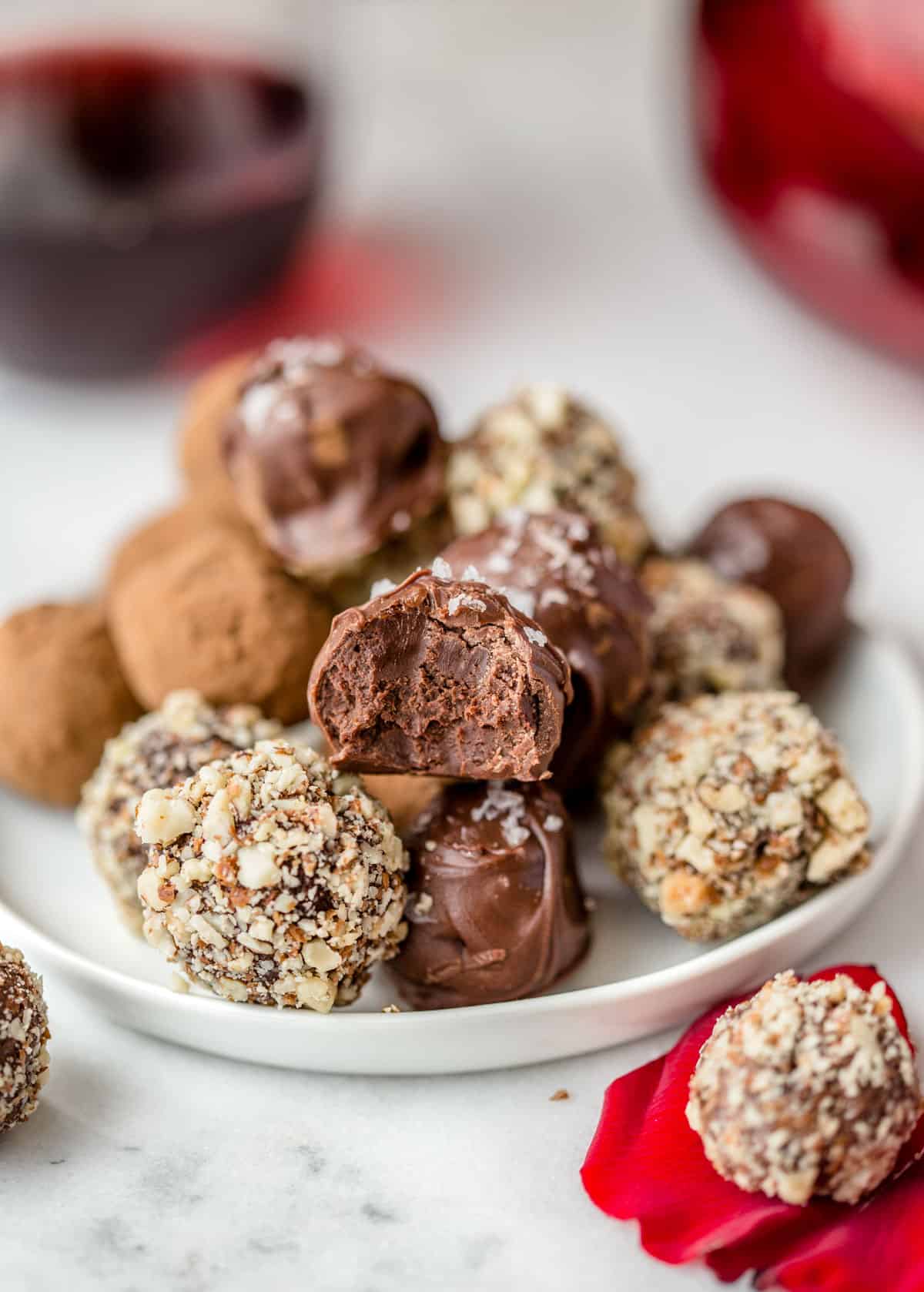 Ingredients for Chocolate Truffles
These homemade chocolate truffles are made with 5 simple ingredients; chocolate, heavy whipping cream, butter, vanilla, and red wine or Grand Marnier (optional). The two most important ingredients are the chocolate and cream, but the butter, vanilla, and wine add a wonderful depth of flavor to the truffles.
Chocolate: For my wedding truffles I used pure chocolate blocks and chopped them up. These are made with chocolate chips. DON'T let anyone tell you that you can't make truffles with chocolate chips, because you can. It's best to roughly chop them a bit before adding the cream. But if the chips don't melt entirely after adding the hot cream, then you can just temper the bowl over hot water for a few seconds while they melt. True story.
Cream: Heavy cream specifically, note that heavy cream can also be labeled whipping cream, or heavy whipping cream. These can all be used for this recipe. Just don't use milk for this.
Butter: This will help make the truffles extra creamy. When I was consulting with our caterer for this recipe 15 years ago she swore by butter in truffles. You don't mess with a seasoned wedding caterer!
Vanilla extract: Just a smidge, for added flavor.
Red Wine: This is going to add lovely flavor as well. Use a bold red wine, like a Syrah or Cabernet Sauvignon, as a lighter wine (like a Pinot Noir for example) will get lost in the flavor of the chocolate. For our wedding we used Grand Marnier in the truffles. You can also use Bourbon for a bold kick. See notes for adjustments if you use either of those instead of wine.
How to make Homemade Chocolate Truffles
Chop up the Chocolate: Whether you're using a block of chocolate or chocolate chips, you're going to want to chop them up to make them melt easier. See notes for troubleshooting. Place the chopped chocolate in a large stainless steel or glass bowl.
Heat up Cream and Butter: Heat the cream and butter in a small saucepan over medium heat, just until it starts to boil.
Combine Cream with Chocolate: As soon as the liquid starts to boil immediately pour it into the bowl over the chocolate.
Add Additional Liquids: Add the vanilla and wine and whisk until smooth.
Refrigerate/Cool: Cover the bowl with plastic wrap and transfer to the refrigerator for about an hour (or in the freezer for 30 mins-1 hour), until the mixture is firm.
Roll Truffles: Once the truffles have cooled, scoop them out using a melon baller and roll them with your hands. This will get messy! Then coat them with your desired toppings. I love crushed smoked almonds, cocoa powder, and melted tempered chocolate with sea salt.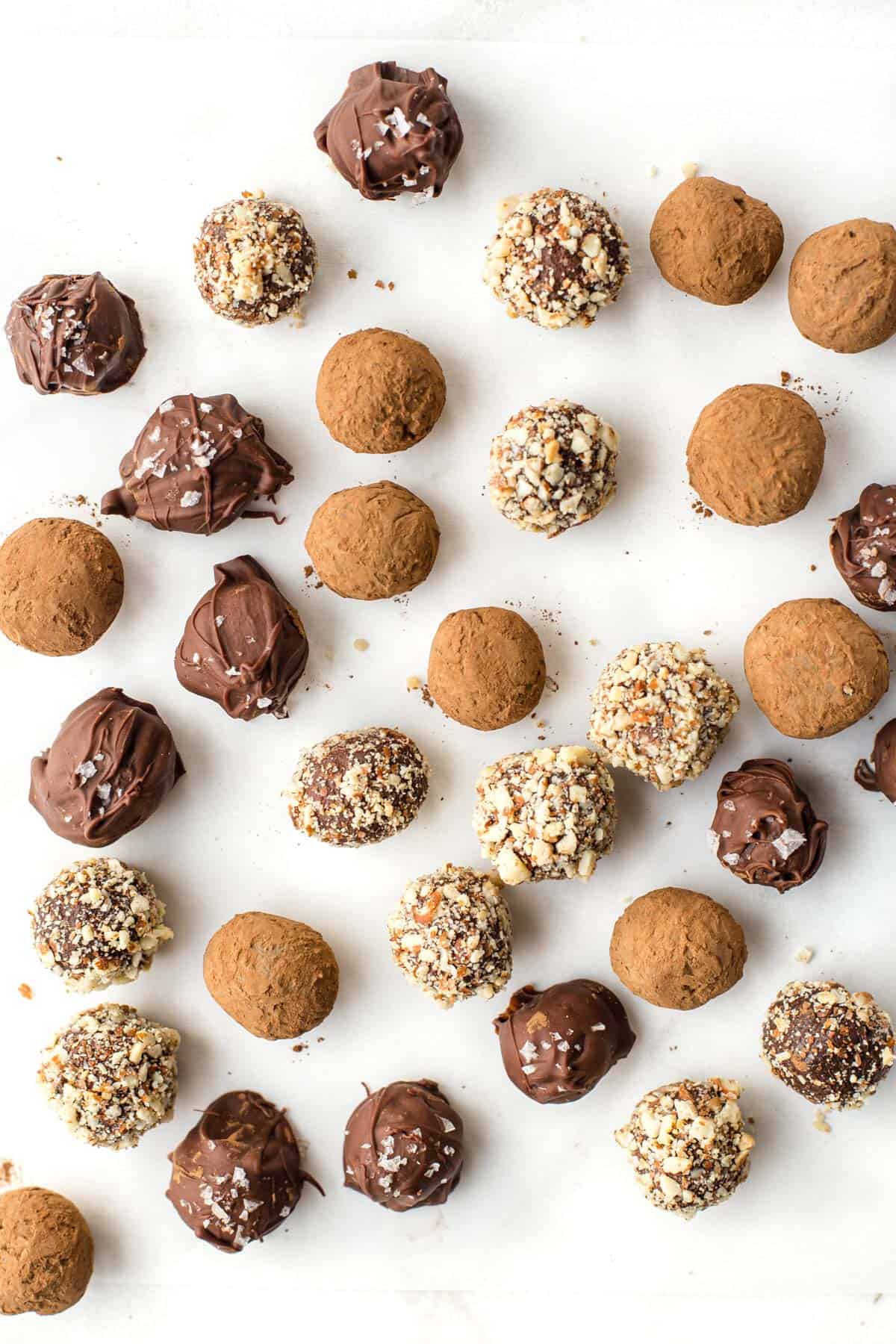 Tips for a Great Valentine's Day
Whether you are looking to show love to your family, friends and neighbors or your best gal pals, are looking to make your home upbeat and lovely for Valentine's Day, or simply want to treat yourself, Albertsons exclusive debi lilly design™ brand has high-quality, high-style pieces all at a value in the floral department. For gifting and creating special moments with family and friends this Valentine's day, you can find great products you are proud to enjoy and share with your family and friends in-store or online at Albertsons.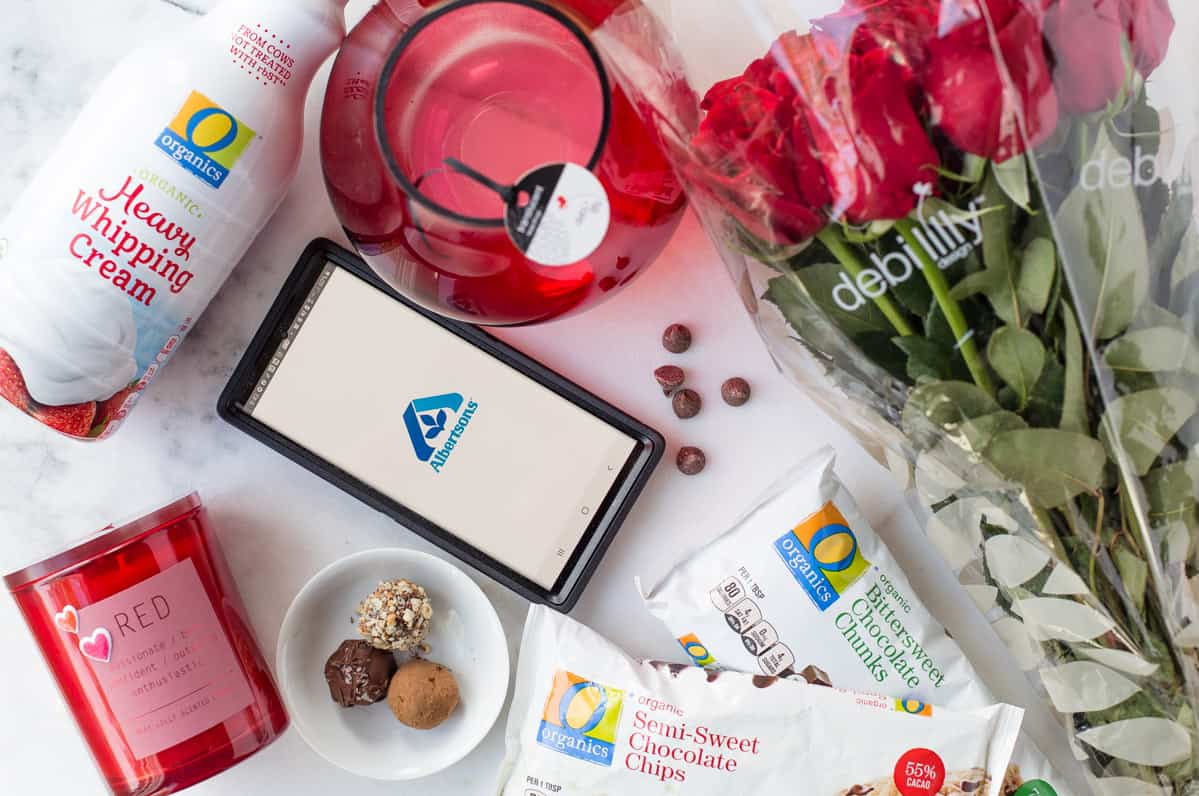 You can find all the ingredients you need for these truffles including O Organics® quality heavy whipping cream and chocolate, and some beautiful flowers, for a lovely and simple spread for your Valentine or good friends.
I shopped at Albertsons Barrows, but you can also find good quality chocolate and beautiful debi lilli floral arrangements at the Albertsons Companies family of stores, including Albertsons, Safeway, ACME Markets, Jewel-Osco, Vons, Randalls, Shaw's Supermarket, Star Market, Tom Thumb and Vons.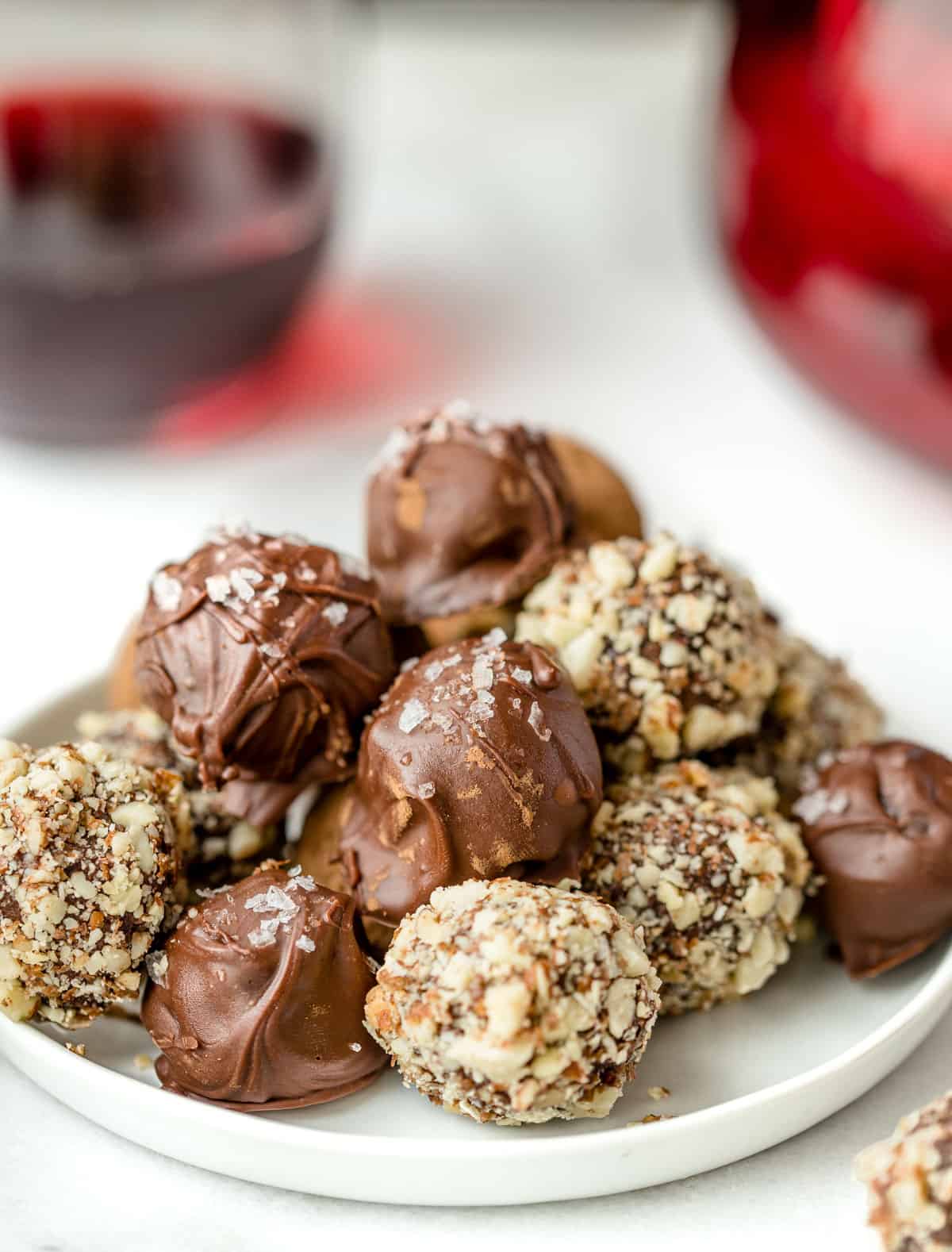 More Valentine's Day Recipe Ideas