The S'mores by TerraFlame Fire Bowl and Deluxe Kit Bundle is an at home S'mores kit that promises a delightful indoor/outdoor s'mores experience. Combining convenience with quality, it aims to bring the nostalgic campfire tradition right to your kitchen, living room, or outdoor deck.
TerraFlame is owned by the team behind Solo Stove. This product was sent as a media sample. All opinions are our own and we were not paid to write this review.
Jump to:
This post may contain affiliate links. This means if you click on the link, we may receive a small commission if you purchase through the link. We partner with brands we know and love and use and it helps keep the blog going!
Overall Impression
This S'mores by TerraFlame Fire Bowl and Bundle is beautifully designed and presents an incredible indoor and outdoor s'mores experience when you don't have access to a campfire (or desire the smoke and scents that come with a real campfire). This is the perfect product for the entertainer looking for an elevated way to serve a DIY dessert station or as a gift for the foodie in your life.
Pros
Cons
~ Sleek design with a great aesthetic feel. Great for the countertop during an indoor or outdoor party.
~ Easy to use and set up.
~ Safe for indoor use with appropriate precautions.
~ Flame source lasts 3 hours.
~ Concrete stone remains cool to touch.
~ The flame will go out in light to moderate rain if using outside.
~ Refueling Expense: Fuel sources are best sourced from Solo Stove/Terraflame, so planning ahead is key.
Contents of the Kit
Retail Price: $144.95 for the full Deluxe Kit Bundle, but on sale for $119.99 at the time of this article.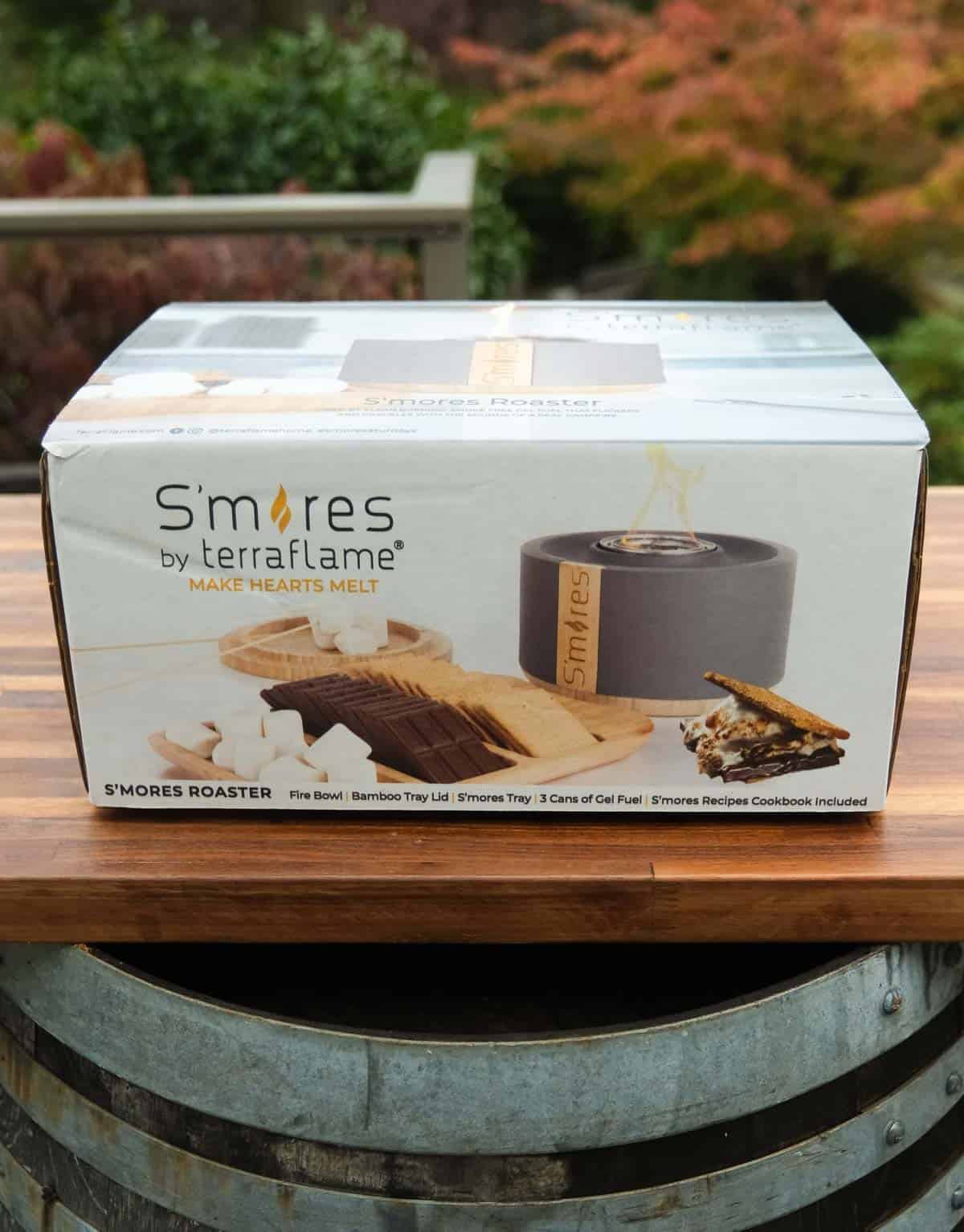 Note: There are no food ingredients included. You need to supply those.
S'mores by TerraFlame Kit Instructions
The kit comes well packaged with all of the items in one box. Upon unboxing it was ready to assemble and use in less than 10 minutes.
Remove all the contents and then placed one of the fuel canisters into the Fire Roaster Bowl. Save the packaging in case you need to return it within 14 days.
Layout the tray and lid with your ingredients.
Place the marshmallow on the skewer. Open the fuel cap with a strong butter knife or screwdriver. Save the lid if you plan on reusing the fuel source.
Light the fuel source and begin toasting the marshmallows.
Make your s'mores and repeat.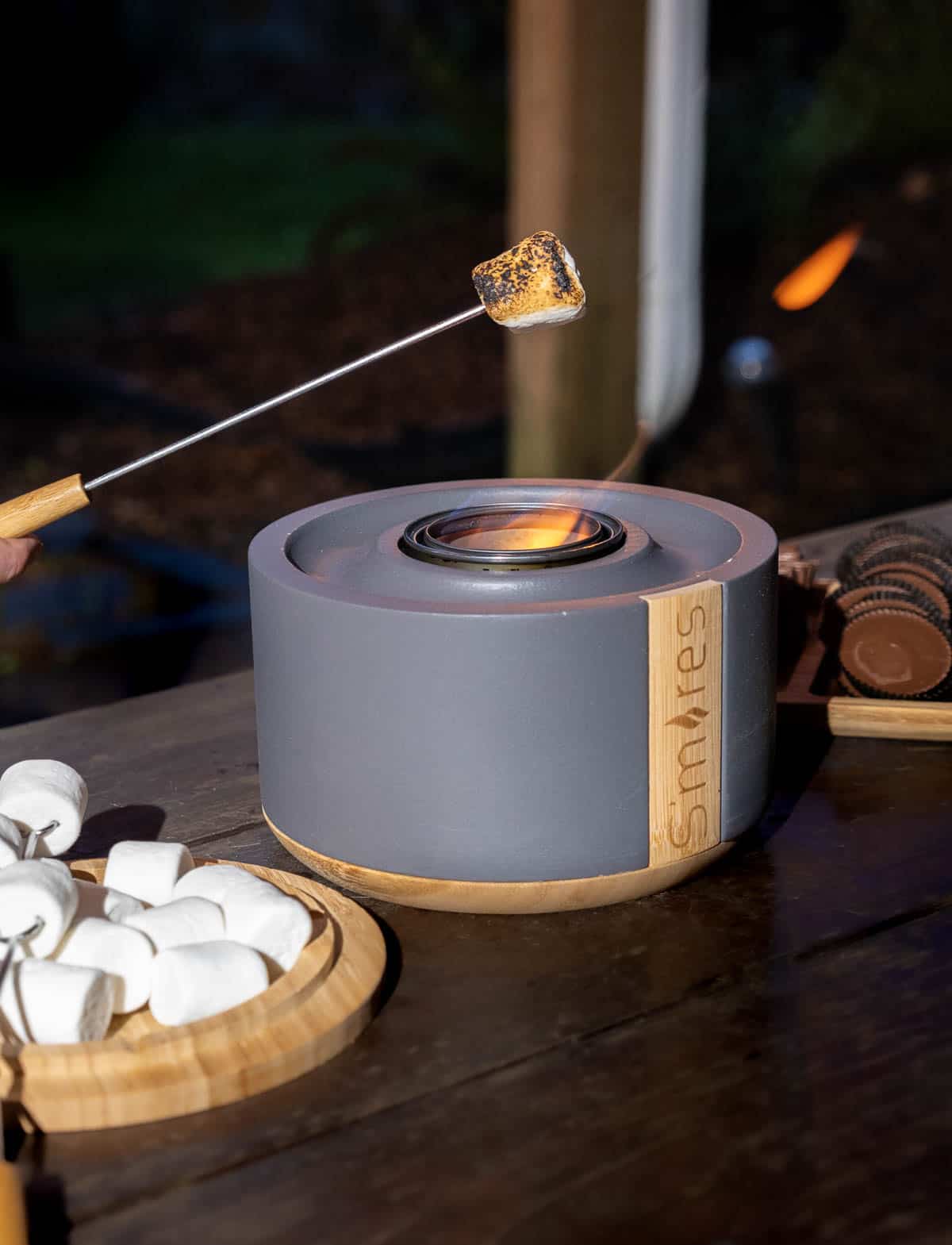 Dimensions and Details for the S'mores by TerraFlame Deluxe Kit
| Additional Information | Details |
| --- | --- |
| Materials | Concrete, Bamboo |
| Colors | White, Grey |
| Roaster Dimensions | 8.125"D x 5.125"H |
| Bamboo Tray | 11.125"L x 8"W |
| Weight | 15 pounds |
| Skewers | 10.625"D x 5.125"H |
| Fuel Type | Gel Fuel (food safe) |
| Heating Output | 3,000 BTUs |
| Made In | Mexico |
Sourced from TerraFlame/Solo Stove
Ease of Use
The TerraFlame S'mores kit is incredibly user-friendly. The flame source ignites smoothly is consistent enough to toast one or two marshmallows at a time. The skewers are of a decent length, ensuring users don't get too close to the flame.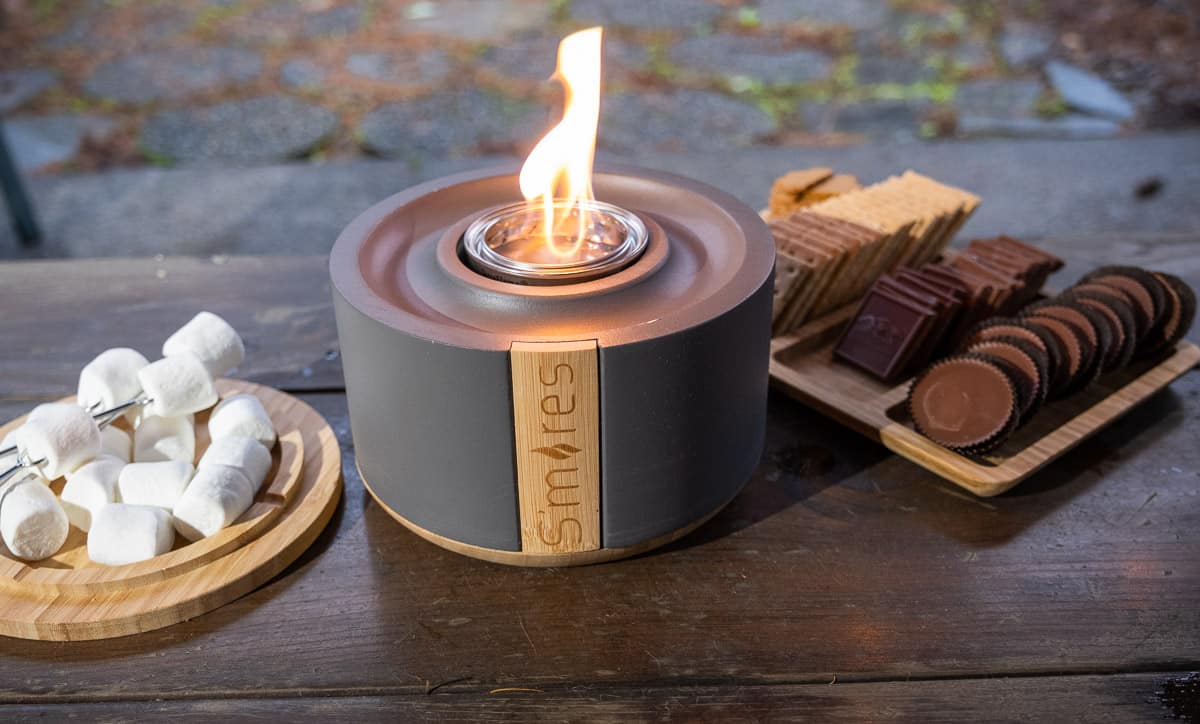 It also looks really nice and would be a great addition to anyone who loves to entertain and wants an interactive dessert feature at a gathering or party.
Where to Buy the S'mores by TerraFlame
Similar Products
While there are other kits available from specialty stores and Amazon, what stands out about this kit is the superior and modern design. This product will last for a long time if taken care of.
The fuel source is also a differentiator. Our fuel lasted 3 hours and most of the units under $50 seem to have limited fuel sources.
Safety
Safety is paramount when dealing with open flames indoors. The S'mores by TerraFlame Fire Bowl impresses with its sturdy construction and stable base. The wooden handle on the skewers ensures a cool grip. However, it's essential to keep the kit out of reach of children, and watch out if you have long hair. Also, never leave the flame unattended.
Returns and Exchanges
TerraFlame has a 14-day return policy if you are not satisfied with your purchase. You must return in the original packaging and shipping costs are non-refundable.
Recipe and Ingredient Ideas
You are only limited by your imagination. Our testing included the following ingredients and s'mores. What our guests enjoyed the most was having options and making any number of s'mores.
You can also check out our full list of product reviews.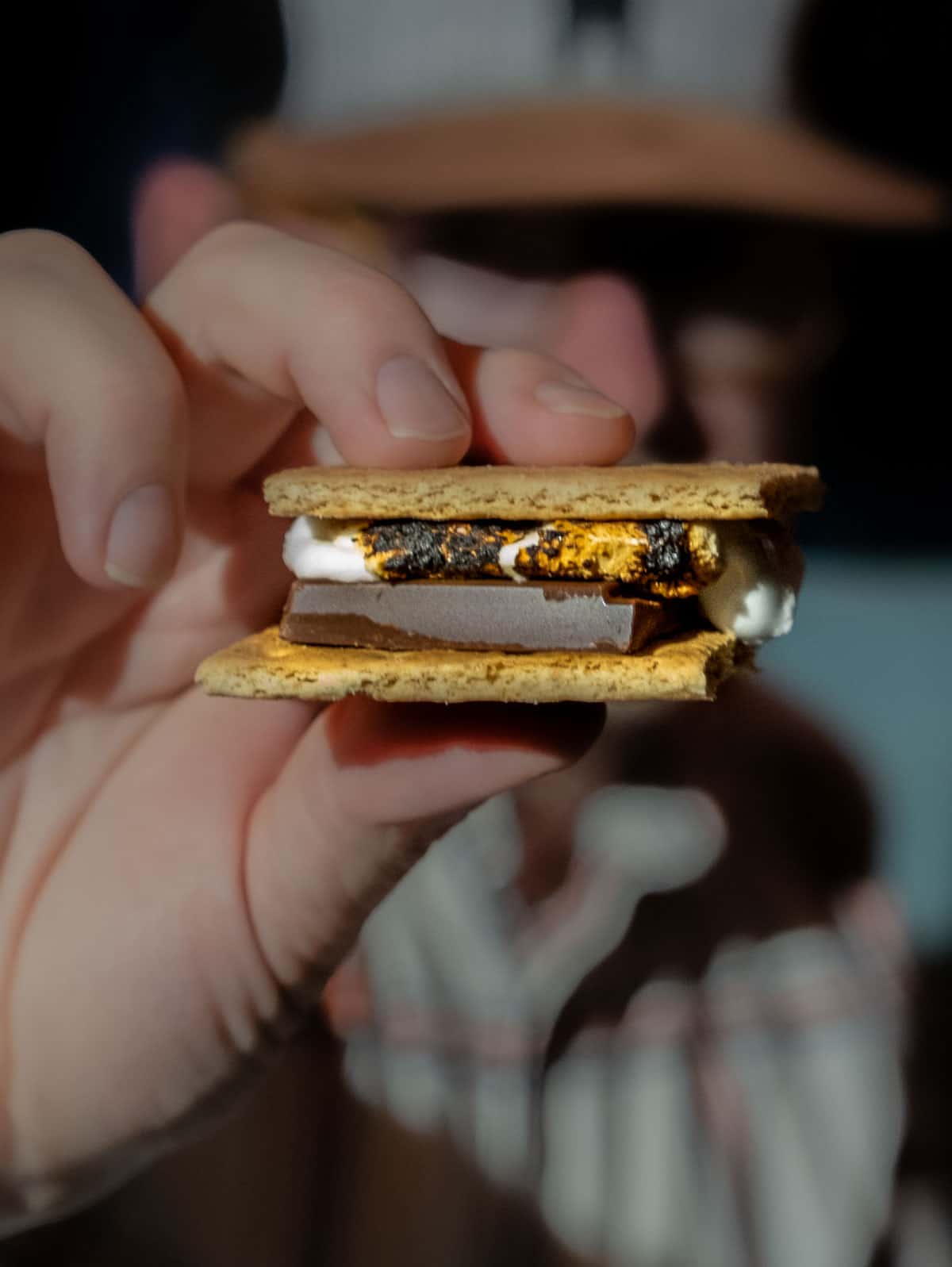 Other Outdoor Entertainment Ideas
Feeling inspired to entertain outside? Here are some of our favorite outdoor entertainment ideas.
---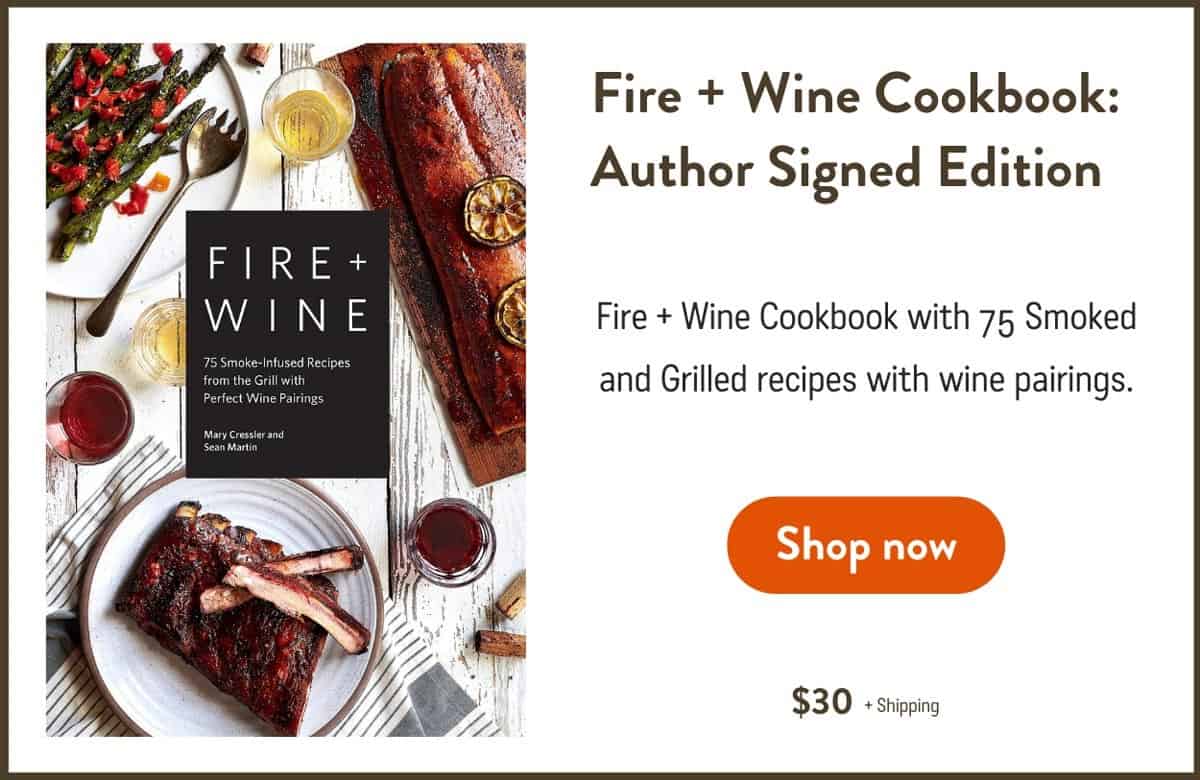 Mary (a certified sommelier and recipe developer) and Sean (backyard pitmaster) are co-authors of the critically acclaimed cookbook, Fire + Wine, and have been creating content for the IACP nominated website Vindulge since 2009. They live in Oregon on a farm just outside Portland.