Our favorite Easter recipes for your grill or smoker. Why not switch things up this year and host Easter outside on your back deck or patio? Set up is easy: Cover a folding table with a cloth, add a throw blanket to the back of each chair in case it gets chilly, and let nature do the decorating for you! Bonus: You can serve food hot off the grill.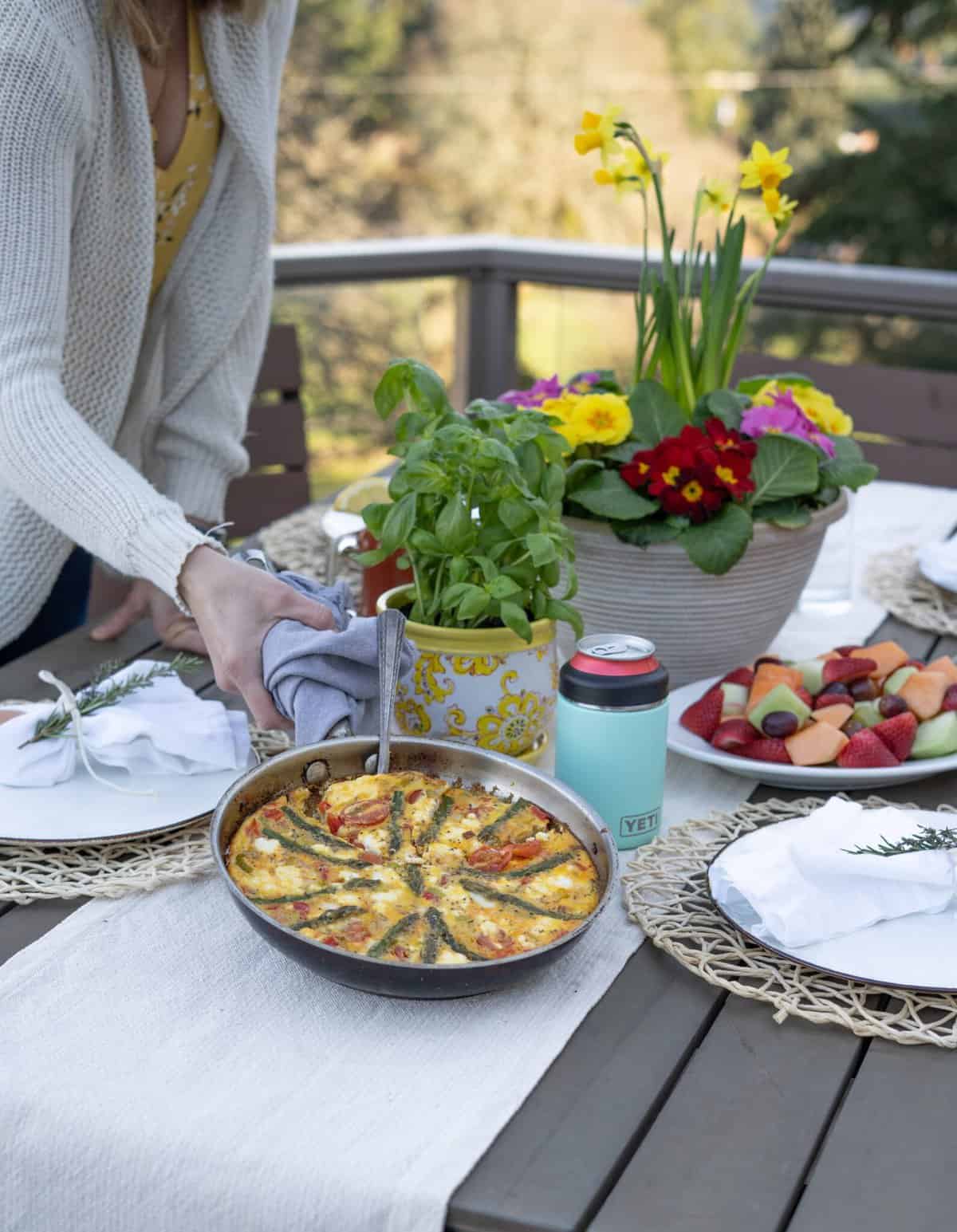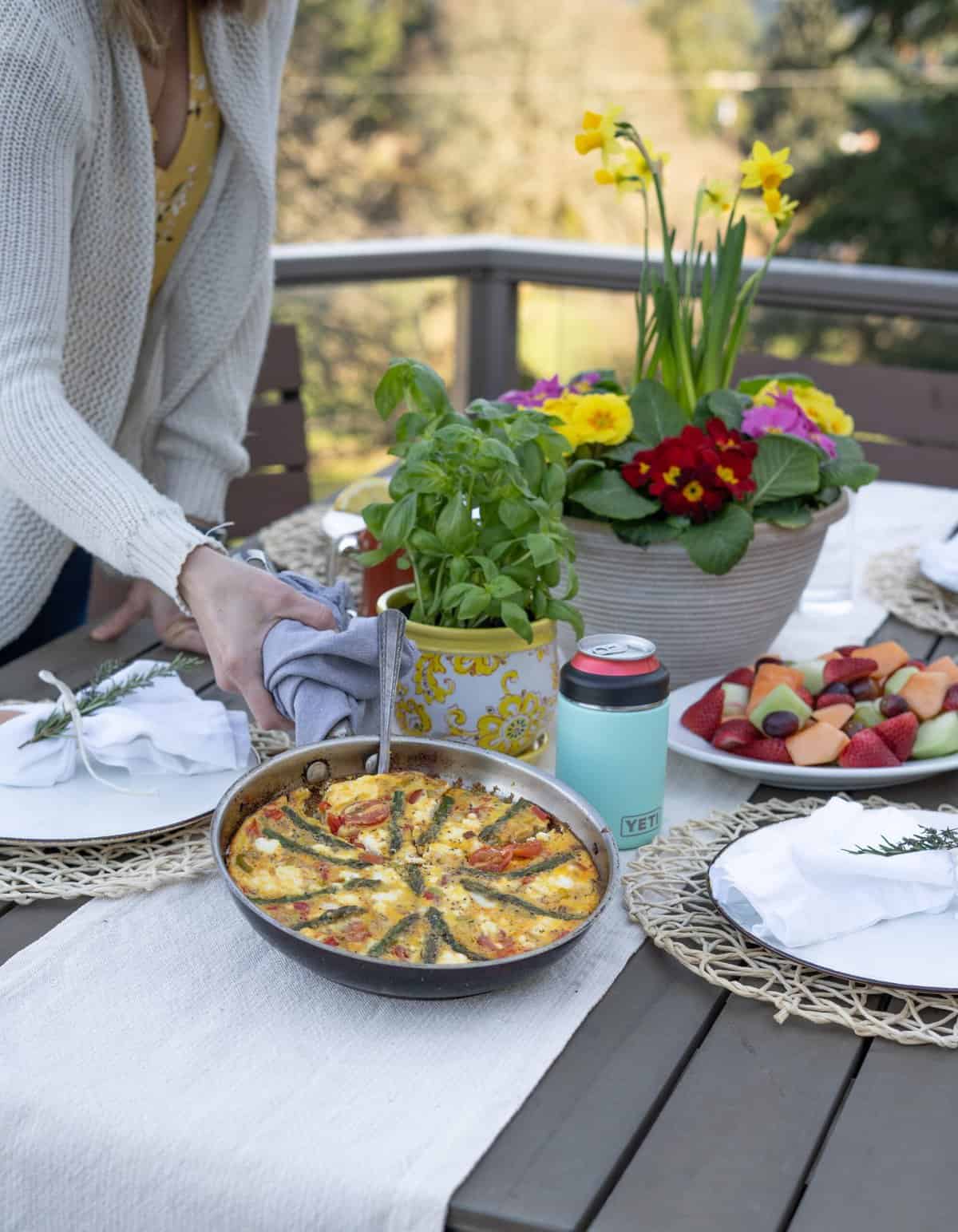 We are firm believers that anything you can cook inside (on the stove or in the oven) tastes even better when cooked outside on the grill or smoker, even Easter recipes!
Jump to:
What time of day should your Easter meal be?
The best time of day for an outdoor Easter meal is late morning to mid-afternoon. Many people who celebrate Easter attend church or an egg hunt in the morning, and a brunch or luncheon is an appropriate meal to follow. Since the holiday falls on a Sunday, an earlier meal also allows time for people to prepare for school and the work week ahead.
---
What recipes to serve for Easter?
In our house, ham and potatoes are the quintessential Easter foods. Many people also share hot cross buns as a reminder of Jesus Christ's crucifixion and enjoy eggs as a sign of new life and rebirth. Lamb, prime rib, and turkey are other popular roast options to feed a holiday crowd.
Since Easter is hosted earlier in the day, help yourself out by preparing as much as you can in advance the day before.
Here is a round-up of our favorite Easter recipes for the grill or smoker. Choose one or two from each category and you'll be good to go!
Party Appetizers for Easter Dinner
As people mingle and get settled, offer some pre-made appetizers. Turn some of those dyed eggs into Smoked Deviled Eggs, or offer up some homemade pickles.
---
Main dishes for Easter
While much of Easter is filled with deeper religious symbolism, it seems ham has become traditional simply because it was historically available during the springtime. Other great feasting options good for a crowd include salmon, lamb, prime rib, and turkey.
---
Easter Side Dish Recipes
Easter is all about new life, rejuvenation, and the coming of spring. What better way to celebrate than enjoying nature's bounty of spring produce?
---
Spring Drinks + Cocktails
Mimosas are the perfect cocktail for a mid-day brunch. Make a serve-yourself drink bar by laying out different juices and fruits and let your guests become their own mixologist! Swapping out champagne for mineral water is a great way to involve the kids and those who don't drink alcohol.
If you're looking for the perfect wines to serve with your holiday meal, check out the Vindulge Wine Shop. We've already done the work making sure they are high quality and pair beautifully with food.
---
Desserts
Now for my favorite part–dessert! Anything chocolate is always a hit, or try something new with our Rum-Soaked Grilled Pineapple.
---
Easter Brunch Recipes
If you prefer a more low-key brunch on Easter, here are our favorite breakfast options that are every bit as delicious as a full meal.
---
We hope this list inspires you for some Easter Dinner recipe ideas for your grill or smoker.
And from us at Vindulge we wish you the most amazing Easter. We'd love to hear what your favorite dishes are for the day. And if you made any of these recipes don't forget to drop a comment and rating. Cheers!
---