Smoked cream adds an incredible smoky undertone to a classic Chocolate Pot de Crème. It's silky, chocolaty, and absolutely indulgent.
Check out the recipe and video tutorial for this incredible Smoked Chocolate Pot de Crème..
Pot de Crème is one of my all time favorite desserts. Silky, smooth, velvety, chocolaty. What's not to love.
We've cooked this smoked version on dozens of occasions, including catering events like the International Pinot Noir Celebration – an event our catering company, Ember & Vine, catered a 60 person lunch at.
It's a great dessert for a crowd and can be easily made in large batches and poured into individual ramekins.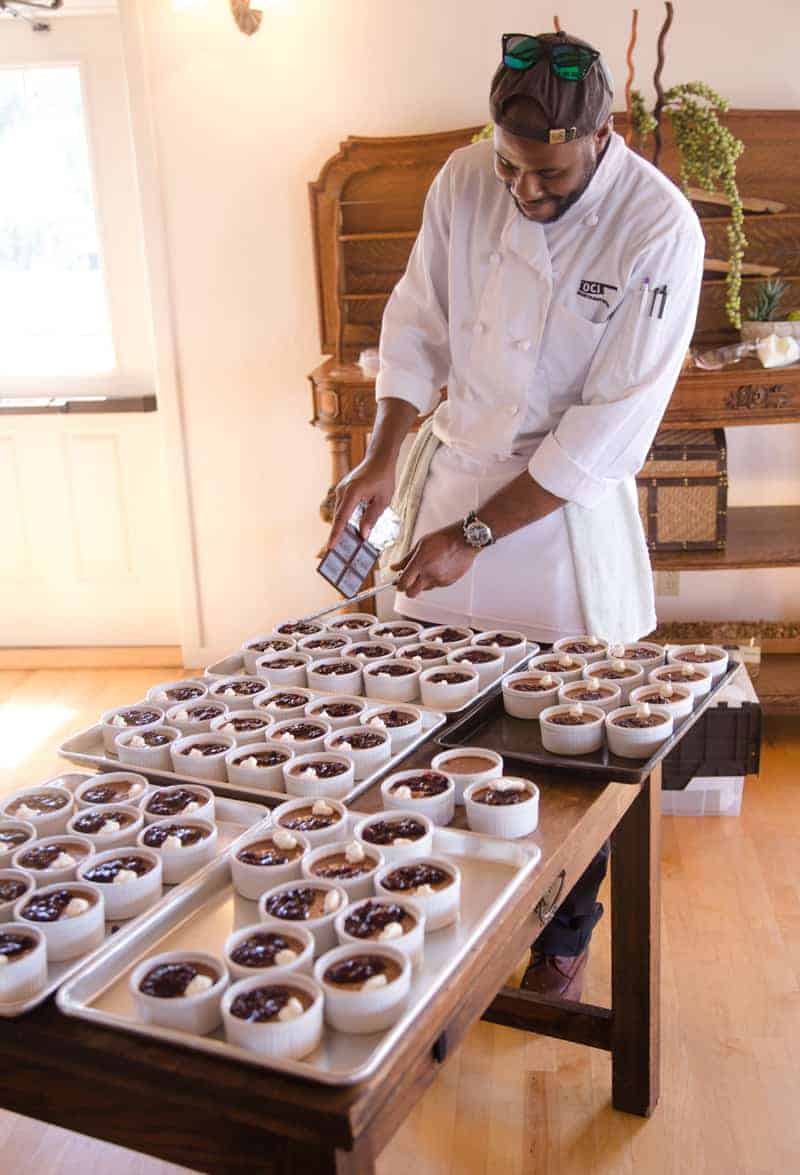 One of our team members putting the finishing touches on the Chocolate Pot de Crème with Smoked Blackberries.
What is Pot de Crème?
Pot de crème is a dessert custard with French origins. The term literally translates to "pot of custard" or "pot of cream".
To add that interesting twist of smoke flavor, we start by smoking the milk and cream used for the recipe, which adds a really subtle, yet present, smoky flavor.
And if berries are in season, we like to reduce them into a smoky and sweet sauce to drizzle over the top of the pot de crème, and top with a dollop of smoked whipped cream. These are out of this world!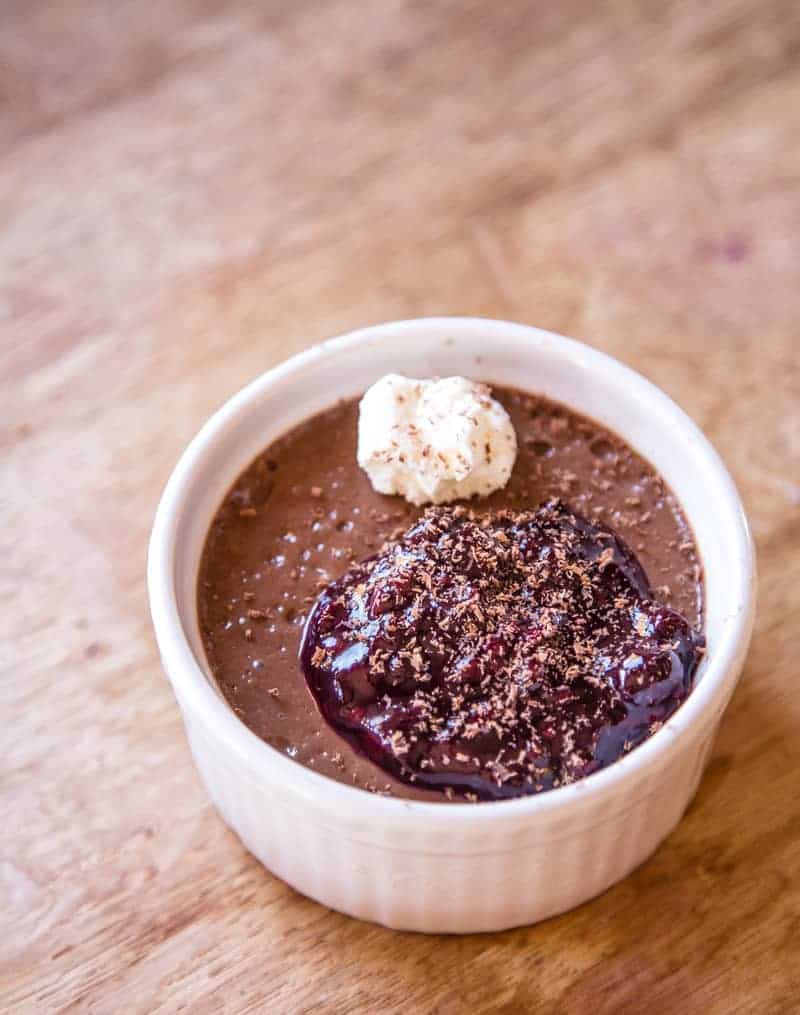 To Bake or Not to Bake Pot de Crème
We've done several variations of pot de crème. Many recipes call for you to bake your custard in a water bath. The idea is to allow the mixture to set slowly. Allegedly this offers a more even texture. I disagree. I find that doing this no bake method gets you a very silky smooth and indulgent result. Plus it's quicker! We were originally inspired by recipes such as these ones from the Food Network and Food and Wine Magazine that offered a no bake option.
And for our event we were cooking for over 60 people, and with only a small oven to work with, baking was not an option. This method was perfect for cooking for a large crowd (or small).
How to Smoke Cream
Smoking cream is simple.
Prepare smoker to 180 degrees F (or lower). If your smoker goes above this temperature you run the risk of your liquids boiling, and we don't want that. It's also nice to use a mild and sweet wood (like apple or cherry) for this as opposed to something more rustic and bold like mesquite.
Prepare milk and creme: Add equal parts milk and cream to a glass bowl and placed it in the smoker for up to an hour at a low temp, just allow the liquid to soak up some of that gorgeous sweet wood.
Once you are happy with the flavor (use your nose to tell), it's time to start making your custard.
Making Custard for Smoked Chocolate Pot de Crème
Place custard ingredients directly in a saucepan (or double boil it). The latter will be more gentile, but it may also take you more time. If you do it directly in a sauce pan just make sure, again, to not let your mixture boil (believe me, we've done it!), otherwise you'll have some scrambled eggs on your hands. Oops 😉
Gently whisk together your mixture until it thickens. Place a spoon in to test. If it coats the spoon fairly thick, then it's ready.
Blend
Place your chocolate in a blender. You can pre chop the chocolate if you want, but the hot custard will quickly melt it, so we find it's not necessary to chop your chocolate too much.
Once the chocolate is in the blender, add the hot custard. Blend until everything is combined and smooth, and pour into small bowls or ramekins, then refrigerate for a couple hours to set.
Note: the mixture will be very liquidy after you blend and pour into the cups (see the video), but they will set perfectly after just a couple hours in the fridge.
Best Chocolate for Pot de crème
In the video we used Ghirardelli chocolate squares, which work great in this recipe (plus we're big fans of Ghirardelli chocolate after living in San Francisco for several years), and require no chopping at all.
The type of chocolate is totally your preference! I tend to be a milk chocolate fan, my husband is dark.
We like to use ⅔ of a darker style chocolate and ⅓ of a sweeter/lighter style.
You can play around with dark, bittersweet, semisweet, milk, etc. Whatever you like.
For this version we used ⅔ bittersweet and ⅓ semisweet (if you were to do milk, I'd add that here so it's not too overly sweet).
Top with some smoked berries (or not), shaved chocolate and whipped cream.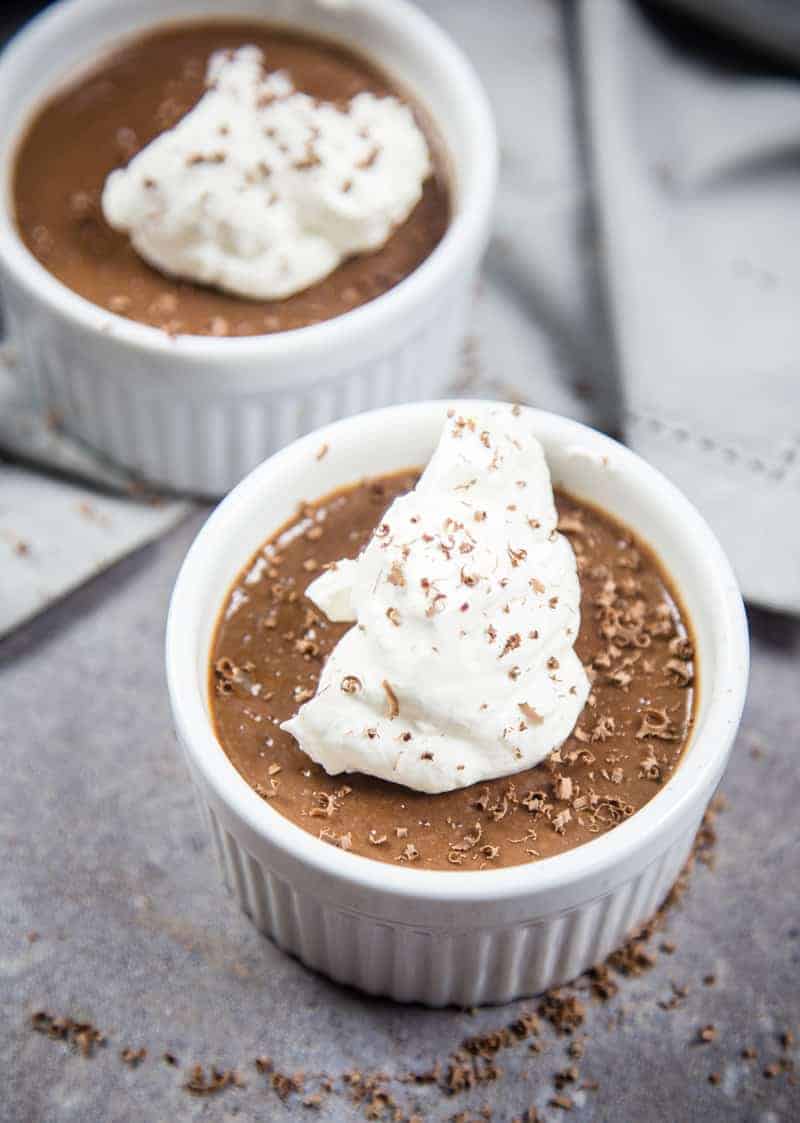 Smoked Chocolate Pot de Crème Recipe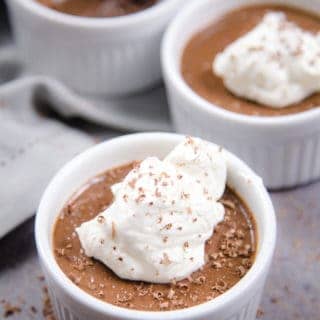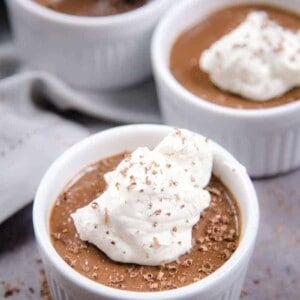 Smoked Chocolate Pot de Crème (no bake)
How to make a chocolate pot de crème with a smoky undertone. Smoke milk and cream to create a rich smokiness, then combine with the remaining ingredients for an easy, silky, and indulgent no-bake Chocolate Pot de Crème
Print
Pin
Rate
Ingredients
1 ½

cups

whole milk

1 ½

cups

heavy cream

6

egg yolks

¼

cup

granulated sugar

¼

teaspoon

salt

8

ounces

good quality bittersweet chocolate

could use dark chocolate too, chopped (or use squares)

4

ounces

good quality semisweet chocolate

could use milk chocolate too, chopped (or use squares)

Whipped cream and chocolate shavings for garnish
Instructions
To Smoke the Cream:
Set smoker to 180 degrees (f).

Place the milk and heavy cream in a large glass bowl, and place on smoker for 45 min-1 hour. You're looking for a good smoke smell on the cream. *Make sure the heat doesn't get above 180 or the milk mixture could start to boil! We don't want this. Remove from smoker.
For the Pot de Crème:
In a medium saucepan set to medium heat add the smoked milk mixture, then add the egg yolks, sugar, and salt and whisk. Continue whisking, constantly, until the mixture begins to thicken. You're looking for it to coat a spoon thickly. Do not let this come to a boil! Approx 5 mins. (alternatively you could mix this over a double boiler to ensure it does not come to a boil).

Place chocolate pieces in a blender. Add the warm custard mixture to the chocolate, cover and blend until smooth.

Pour equally into 8 ramekins (or small bowls) and place into refrigerator until chilled and set (about 2 hours).

Remove from fridge and serve with chocolate shavings and whipped cream.
Find the perfect wine pairing at the Vindulge Wine Shop
More Dessert Recipes for the Smoker or Grill
---
If you like this recipe we'd truly appreciate it if you would give this recipe a star review! And if you share any of your pics on Instagram use the hashtag #vindulge. We LOVE to see it when you cook our recipes.
---
This post may contain affiliate links. This means if you click on the link, we may receive a small commission if you purchase through the link. We partner with brands we know and love and use and it helps keep the blog going!
---