Our grilled Surf and Turf marries the best of the earth and the best of the sea with a Petite Filet Mignon and Lobster Tails, both grilled, and then finished with an herb compound butter.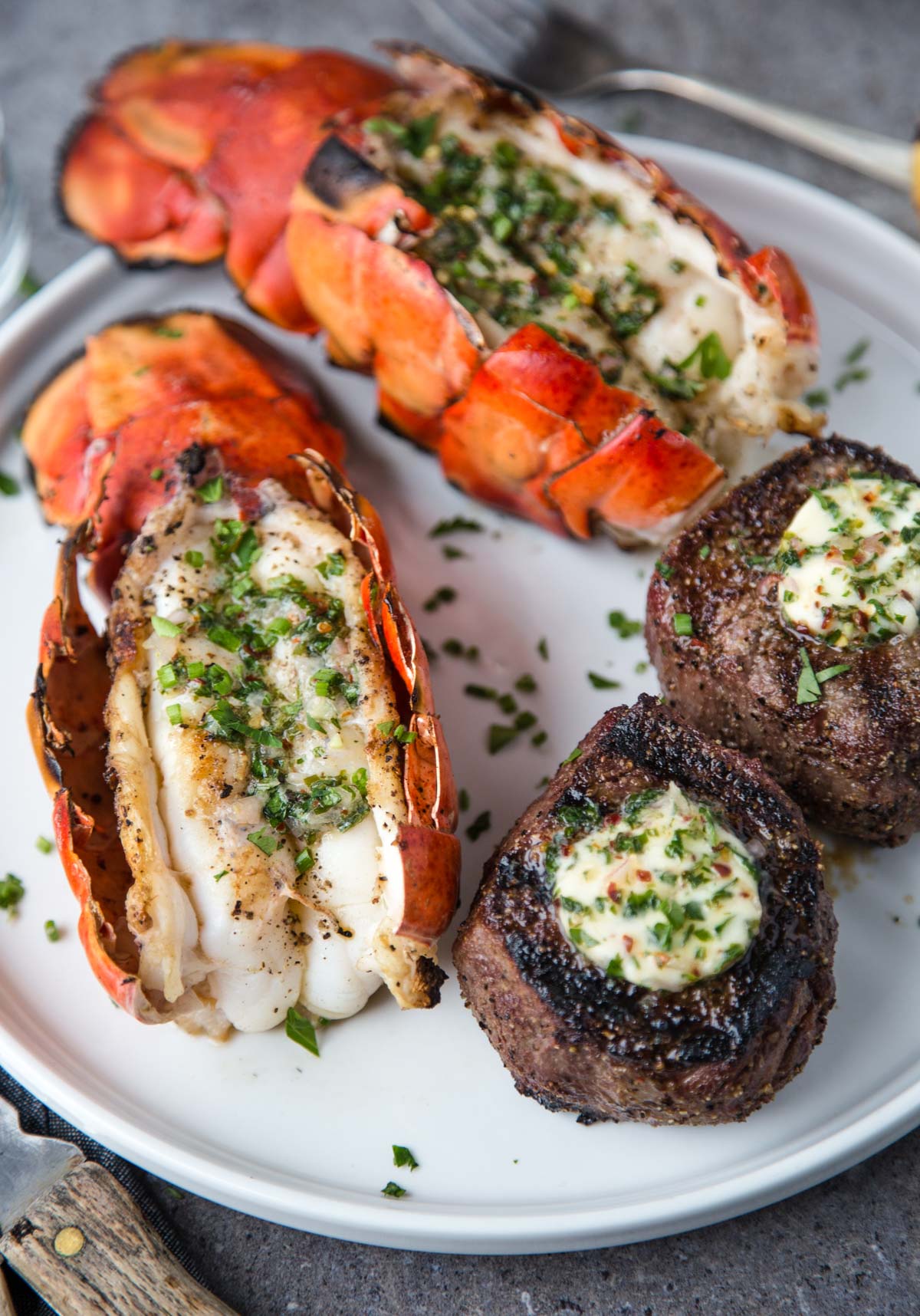 Looking for other variations for steak or seafood? Check out our grilled hanger steak, grilled tuna, or one of our awesome shrimp dishes!
Or Jump to the specific details below:
Jump to:
What is Surf and Turf?
Surf and Turf describes a meal that includes one food earth element like beef, and one seafood element, most typically shellfish, like shrimp or lobster. Because of the expense of such a meal, it's often made for special occasions. But when done right can be so much more satisfying (and delicious) than the up-charge at most restaurants.
Best Steak Options
Any quality steak works that you like. But we recommend a thick steak that ranges from 1 ½ inches to 2 inches thick is best for grilled surf and turf. For convenience of cooking time and flavor use:
Filet Mignon
Petite Filet Mignon
New York Strip or Manhattan Strip (Smaller version of the NY)
We love and use Snake River Farms for their American Wagyu Filet's, which are amazing. You can also get a USDA Prime from their Double R Ranch as well.
Best Seafood Options
Seafood grills quickly, so whatever you choose be sure it's a larger meat like:
Lobster Tails
Crab Claws
Jumbo Size Shrimp
Prawns
We love the lobster from Lobster Anywhere. The options for various lobster tail sizes is super convenient and lobster tails is our go to for surf and turf recipes.
Check out our grilled lobster tail recipe to learn about how to break down the lobster tail for grilling.
How to Make Surf and Turf on the Grill
The idea is to coordinate and grill the food so the meat all comes off and ready at the same time. Because it's ideal to let the beef rest 10 minutes before slicing, and to serve the lobster tails warm, coordinate by grilling the steak first, and then as it finishes and rests, to grill the tails.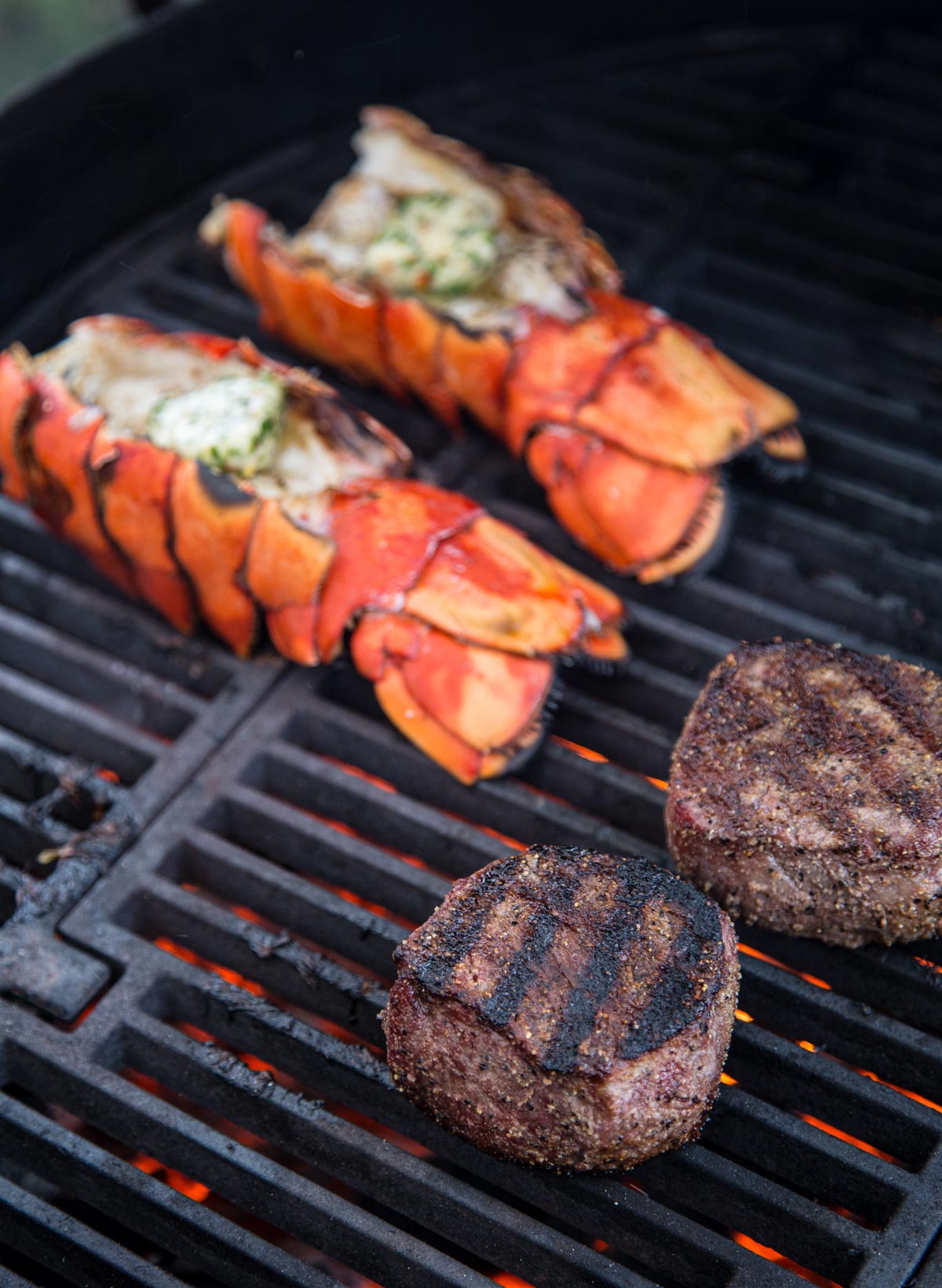 Make the compound butter in advance.
Season the steak and prepare the lobster tails.
Prepare the grill for two zone or direct/indirect grilling using lump charcoal.
Grill the steak over direct heat for 5 minutes per side or until a nice sear, and then move to indirect heat and cover the grill.
Remove the steak when the internal temperature of the steak reaches the desired finishing temperature (see chart below). If you have a cool side to the grill, then let the steaks just sit there until the tails are done.
Add a dollop of the compound butter to the stop of the steak while it rests or is on the coolest side of the grill.
While the steak rests, grill the lobster over direct heat for 5 minutes flesh side down.
Flip and finish flesh side up. Add a dollop of the compound butter to the lobster. Continue grilling until the internal temperature of the lobster tails is 135 degrees F using an instant read thermometer like the Thermoworks Thermapen MK4. This will take roughly 4 more minutes.
Remove and serve with your favorite sides.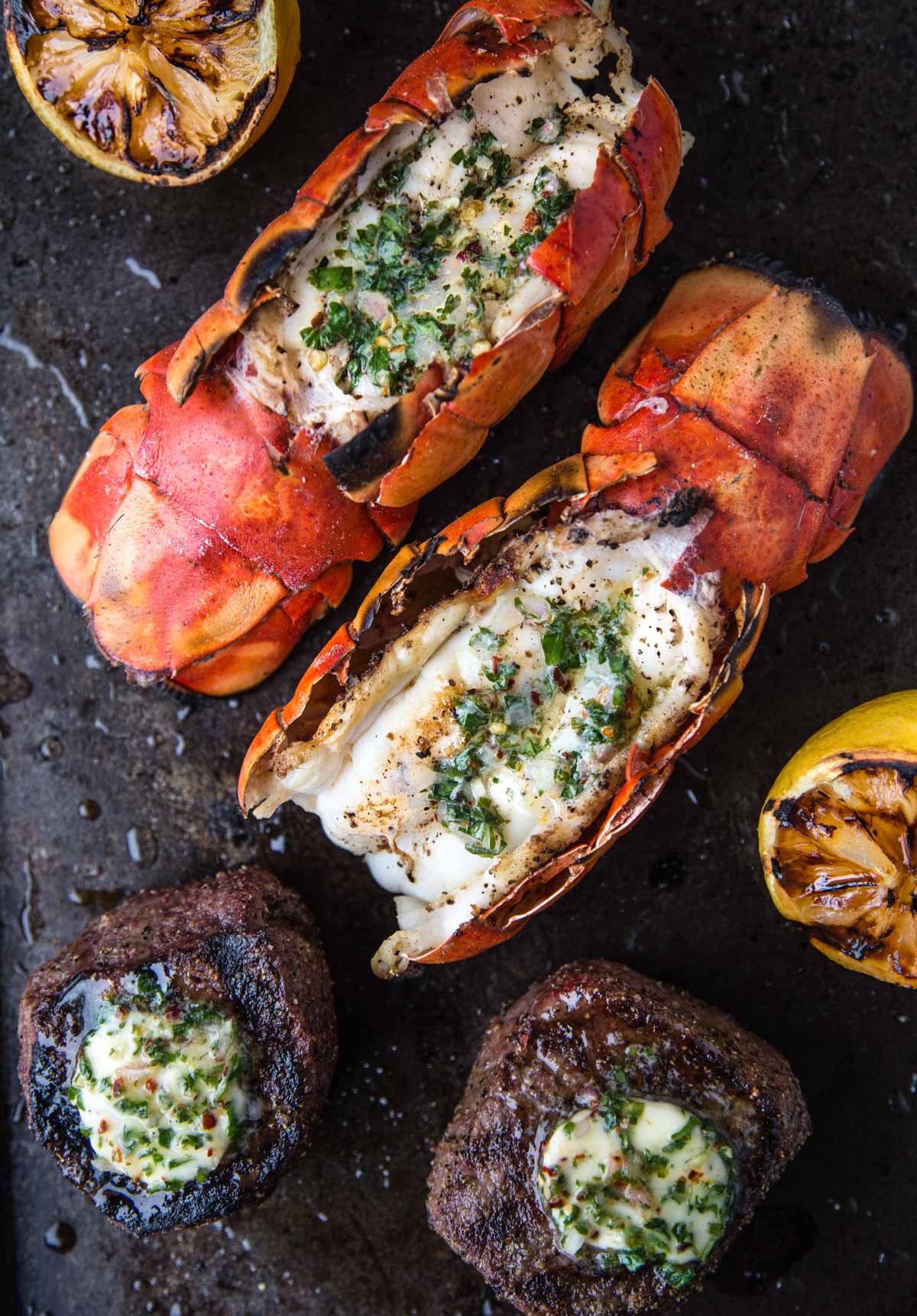 Chef's Tip – Have your side dishes prepared and finished prior to starting the steaks. You can keep it warm in the oven at 150 degrees F or your lowest setting in the oven.
Beef Temperature Ranges
Rare: 120-130 degrees F
Medium Rare: 130-140 degrees F
Medium: 140-150 degrees F
Medium Well: 150-160 degrees F
Well Done: 160 degrees F (and not recommended)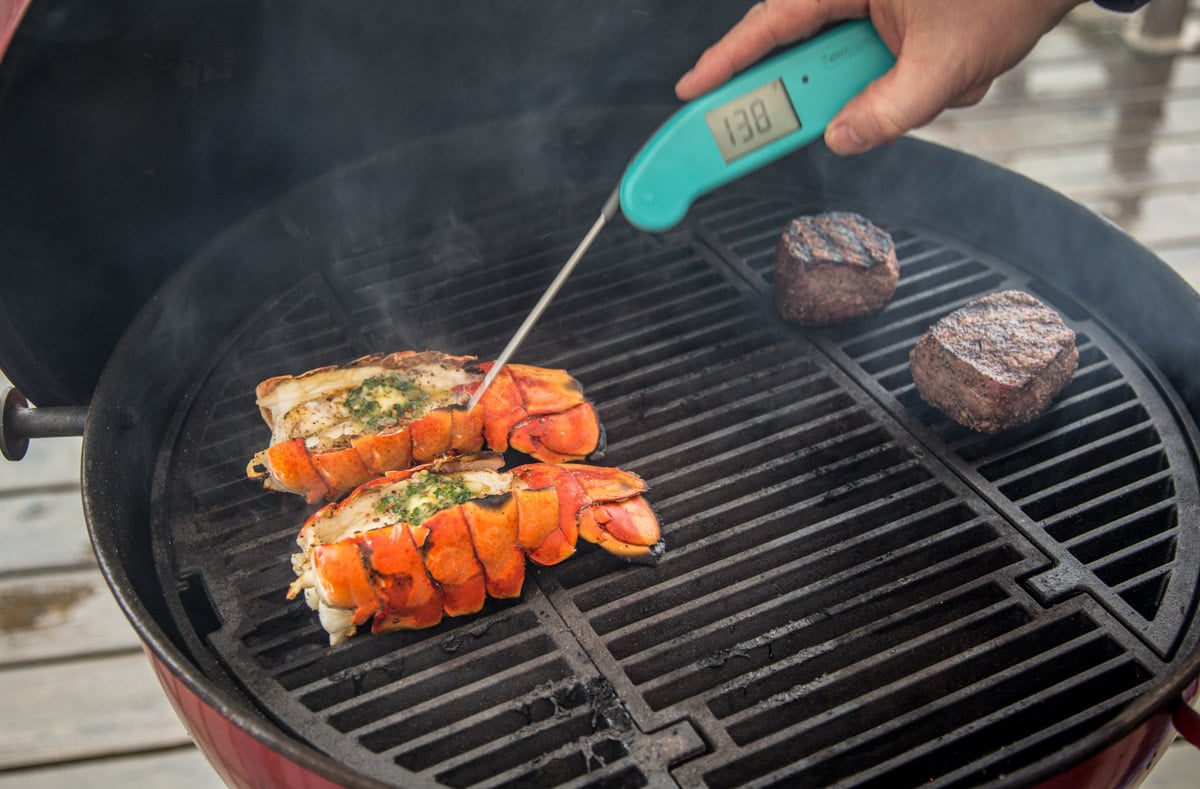 Side Options
Parsnip Puree or Mashed Potatoes
Wine Pairing for Surf and Turf
With two very different proteins for your typical surf and turf I highly recommend having two smaller glasses of wine (both a white and a red), so you can enjoy one with the lobster and one with the steak. This is a good opportunity to buy those half bottles you see at wine stores (or just save any unused wine for later in the week).
For the lobster look for a hearty white with some oak in it, like Chardonnay, or Champagne or sparkling blancs de blanc. For the steak, steer clear of something too big and tannic (tannins clash in a bad way with the lobster). Instead stick to lighter style reds like Pinot Noir or other red such as lighter style Zinfandel or Malbec.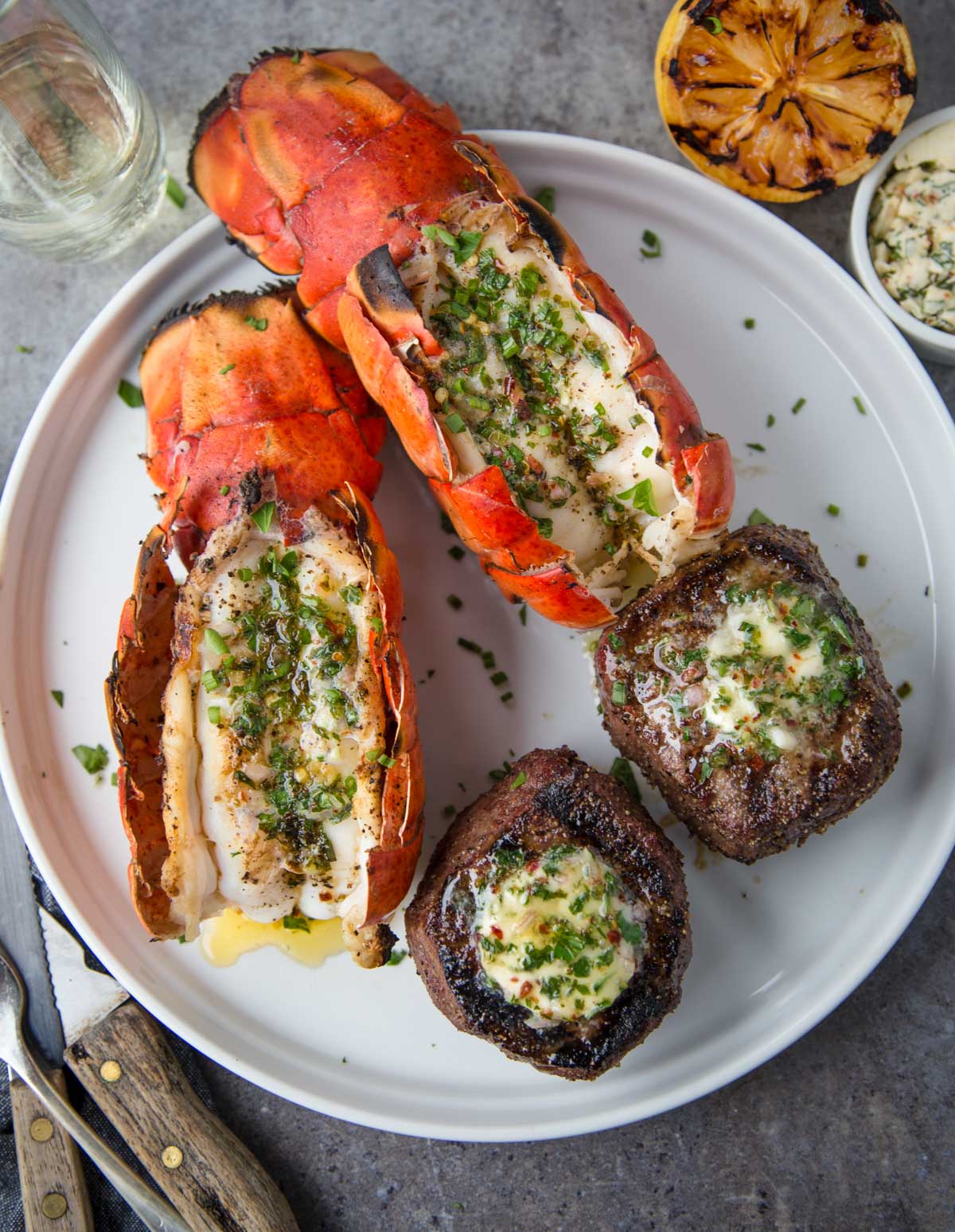 Surf and Turf on the Grill Recipe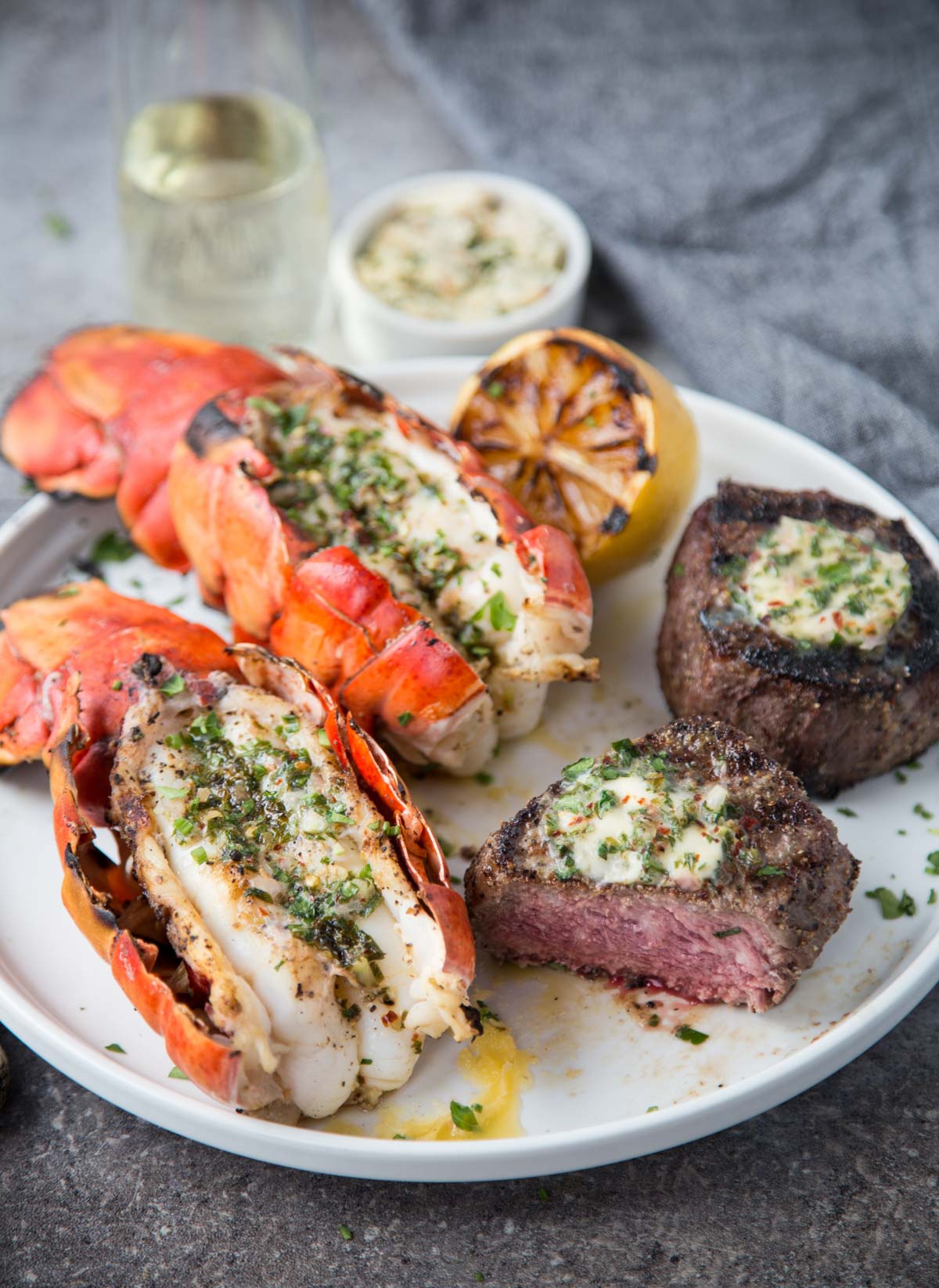 ---
This post may contain affiliate links. This means if you click on the link, we may receive a small commission if you purchase through the link. We partner with brands we know and love and use and it helps keep the blog going!