Grilled Apple Pie is the perfect treat to end any holiday meal. Adding an Apple Pie (in this case Dutch Apple Pie) to the grill is an incredible way to add a touch of smoky flavor to a classic fall favorite. Let us guide you through the secrets to an indulgent apple pie filling and crumble topping for our favorite holiday pie.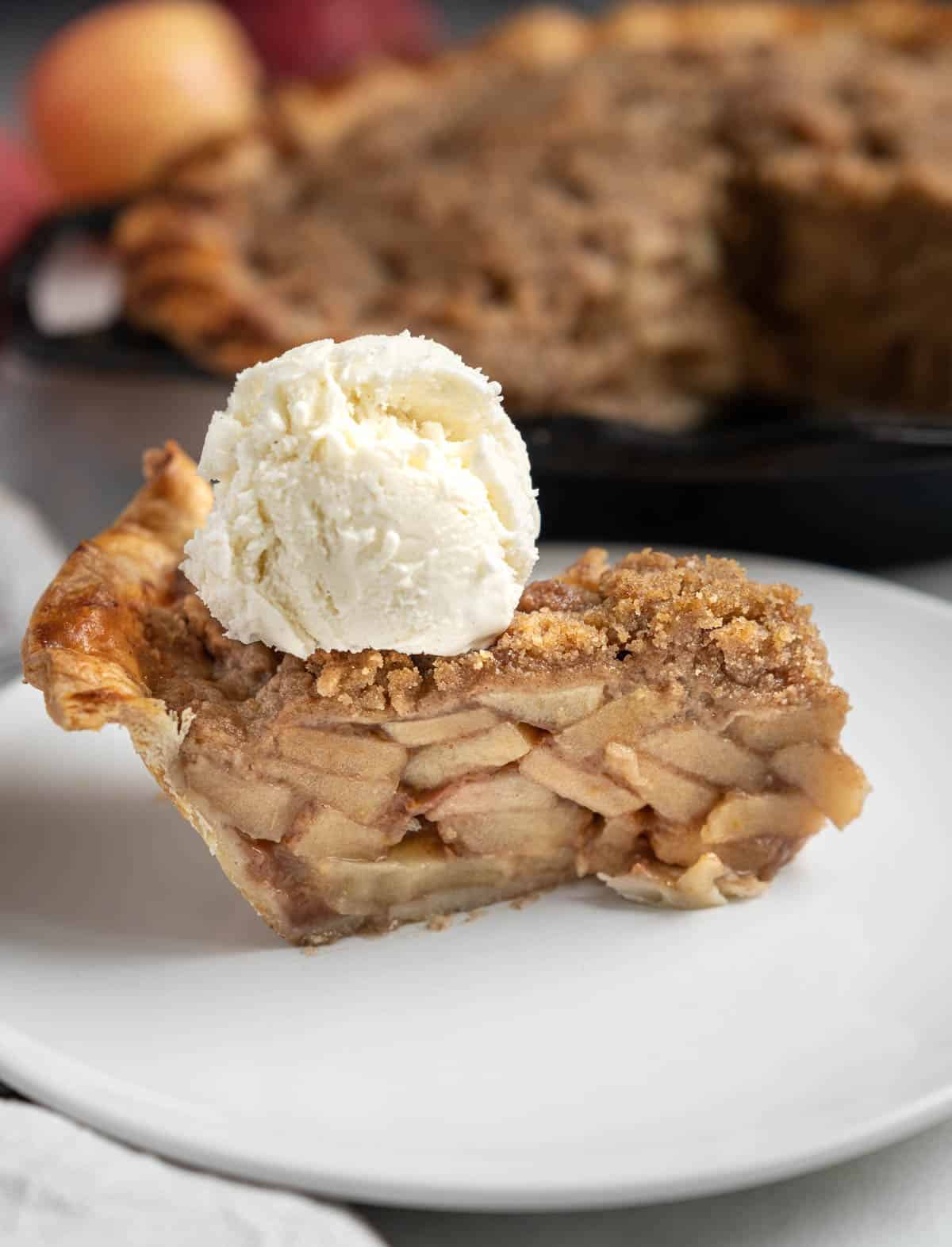 When we want pie, we want balanced flavors, not just sweet or a one dimensional flavor. And grilling pie adds a hint of wood smoke that you just can't get in your oven. Our homemade apple pie uses high quality store-bought pie dough to make it much easier to make, especially if making as part of a holiday recipe ensemble. Serve room temperature or slightly warmed with a scoop of vanilla ice cream.
Jump to:
Dutch Apple Pie versus Classic Apple Pie
A Dutch Apple Pie is more like a combination of an apple crisp and a pie. It has the classic pie dough base and is topped with a flour, sugar, and butter crumble mixture versus topping with a second pie dough. We prefer the flavor of this style over a classic double-crust pie dough topping because it's less work (and we like easy), it's also less heavy, and I love the sweet buttery crunchy topping!
Ingredients for Grilled Apple Pie
Pie Dough – We use a high quality store-bought dough that tastes just like a homemade pie dough. Since you won't be making this from scratch, we strongly encourage you to source the best quality pie dough you have access to from a local bakery or higher end market (vs those you may find pre-made in the freezer section of a grocery store in an aluminum pie tin. Try to avoid that style). If all you can find is single pie crust in tins, that will work in a pinch. But we find a dough you can buy and roll out yourself has a better flavor and makes for a better apple pie recipe. We use one from Grand Central Bakery in Portland, OR.
Apple Slices – It's best to use a combination of apples (I like tart baking style apples and also a hint of something sweet and crunchy like fuji) that will have good acidity. You will need a lot of apples – 8 cups of sliced apples.
Apple Pie Filling – In addition to the sliced apples, we use citrus to add acidity and flavor including orange juice, orange zest, lemon juice, lemon zest, granulated sugar, all purpose flour as a thickening agent.
Spices – To the filling we add classic apple pie spices like cinnamon, cloves, nutmeg, and vanilla extract.
Crumble: The crumble is a mixture of all purpose flour, brown sugar, cinnamon, nutmeg, and unsalted butter. As the butter melts it binds the additional crumble ingredients creating great texture and unforgettable flavor.
Egg Wash (optional): When the pie is assembled brush a mixed egg wash (egg and cold water) over the pie crust edges to allow it to turn a beautiful golden brown.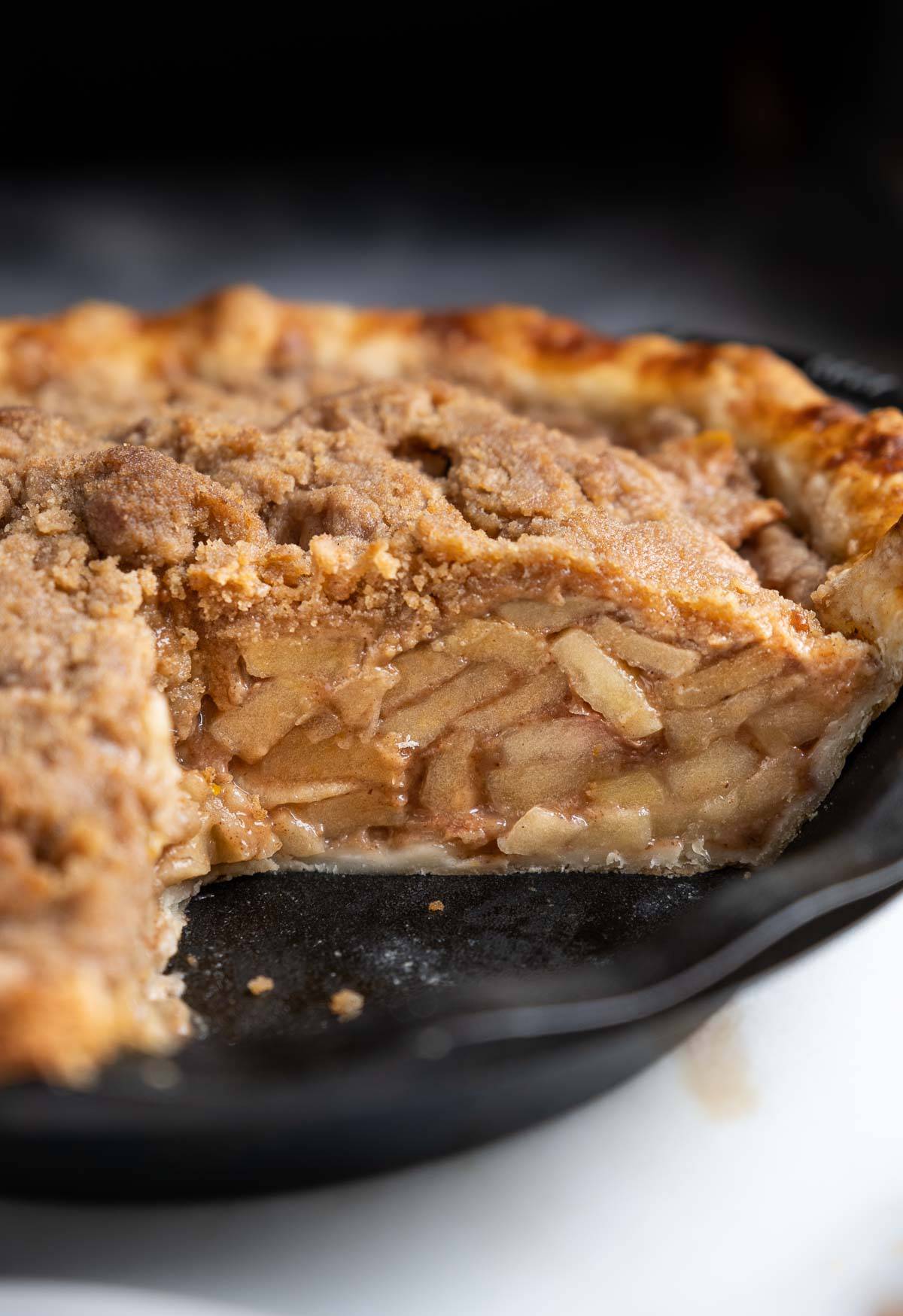 Best Apples For Grilled Apple Pie
The most common apples for grilled apple pie are tart apples like granny smith apples, golden delicious, braeburn apples, and other baking apple varieties.
Sweet apples and softer apples like red delicious don't add as much complexity to the flavor and can tend to get overly mushy. The goal is a tart flavor balanced with the sweet crumble topping and a flaky crust. If you want to really geek out on the best apples to use for baking I recommend this article on the subject.
Tools
Cast Iron Pie Pan: Because we are grilling the pie we recommend using a good cast iron 10-inch pie pan (or similar 9-inch cast iron skillet). Cast iron retains and distributes heat really well, especially when baking on a grill. Lodge has an affordable pan that works really well. You want to avoid using glass on a grill because the temperature fluctuations can cause it to break. If your store-bought pie crust is already in a tin, that is fine too.
Apple Peeler – You want easy for peeling the apples.
Aluminum Foil – As you get closer to the pie being done, it's helpful to use the aluminum foil to cover the pie crust edges to prevent burning.
Preparation
Oil or butter your cast iron pie dish. Layout the pie crust in the cast iron pan.
Remove skin from the fresh apples, and slice into ¼ inch slices, and prep filling ingredients.
For crumble topping be sure your butter is cut into smaller pieces.
Preheat your grill and set up for indirect or two-zone grilling. The ambient temperature of the grills should be 375 degrees Fahrenheit. You don't want to grill pie direct otherwise the bottom crust will burn as it bakes. Indirect set up will allow for a more even cook.
Make Apple Filling
In a large bowl combine the filling ingredients and toss together.
Place the apple pie filling into the crust lined pie pan. The filling will seem like it's mounded over the top of the pie crust, which you want. As it cooks liquid will steam out and the filling will settle, so you want there to be a large (almost overflowing) amount of filling in the pie.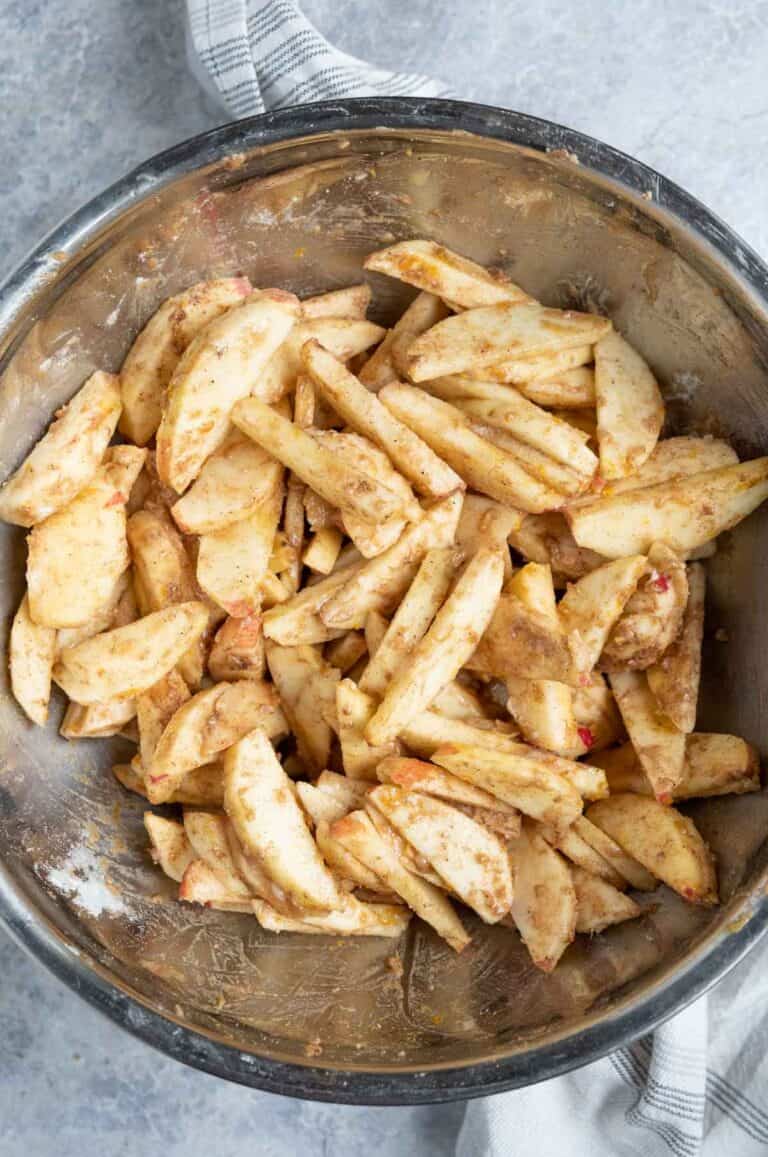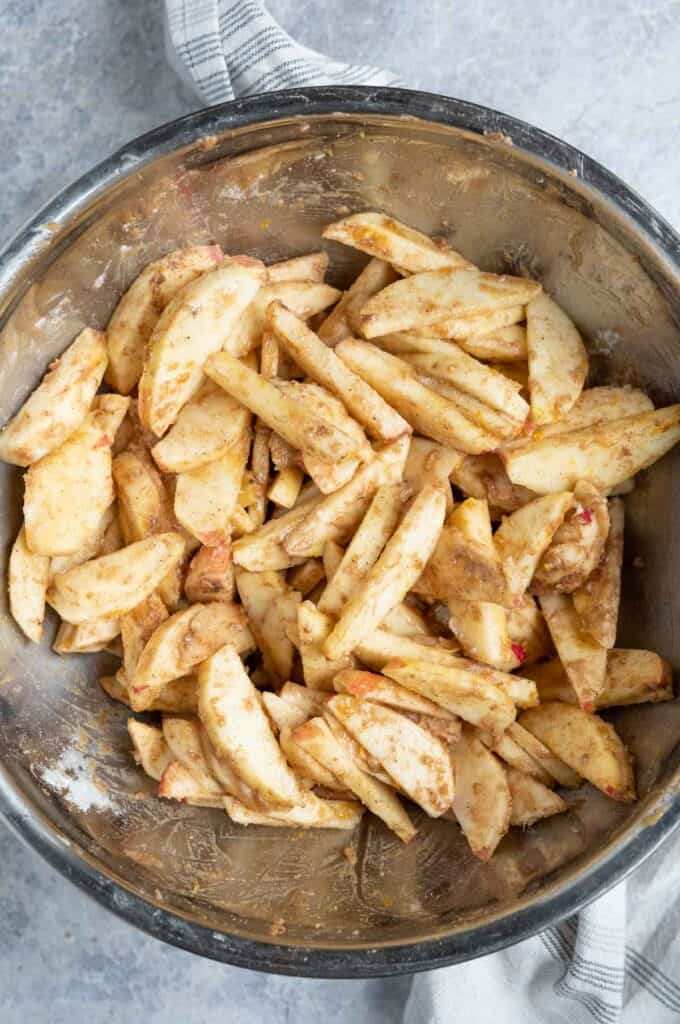 Make Crumble
In a food processor or stand mixer with paddle attachment combine all crumble ingredients. Pulse food processor multiple times or turn mixer on low for 2 minutes to combine. If the butter is still chunky, squeeze the mixture with your hands. The crumble should feel somewhat dry.
Cover the apple pie filling generously with the crumble topping. Then mix 1 egg with 1 tablespoon of cold water to make your egg wash and brush on the edges of the pie crust with a silicone basting brush.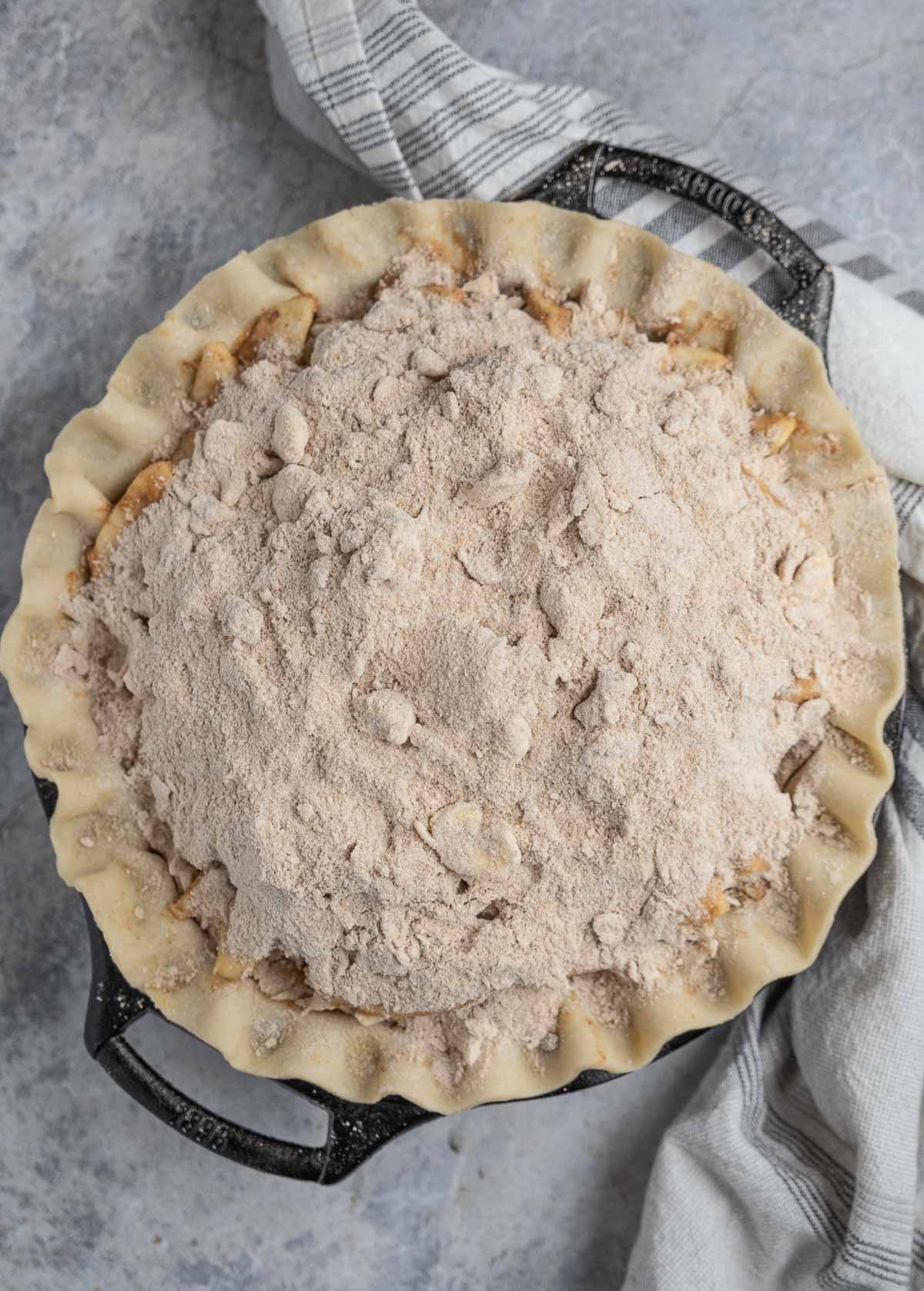 Grill Apple Pie – 60 Minutes
Place the pie, uncovered, in the grill over indirect heat. Grill for 30 minutes and then rotate 180 degrees. Continue grilling.
As you get to the 45 minute mark start to look at the edges of the pie crust. If they are starting to turn a golden brown, then gently cover the edges with the aluminum foil to prevent the butter pie crust from burning. Continue grilling until you reach a total of 60 minutes (from beginning to end).
Remove the apple pie from grill and then let rest on a wire rack or other surface that can handle the higher heat.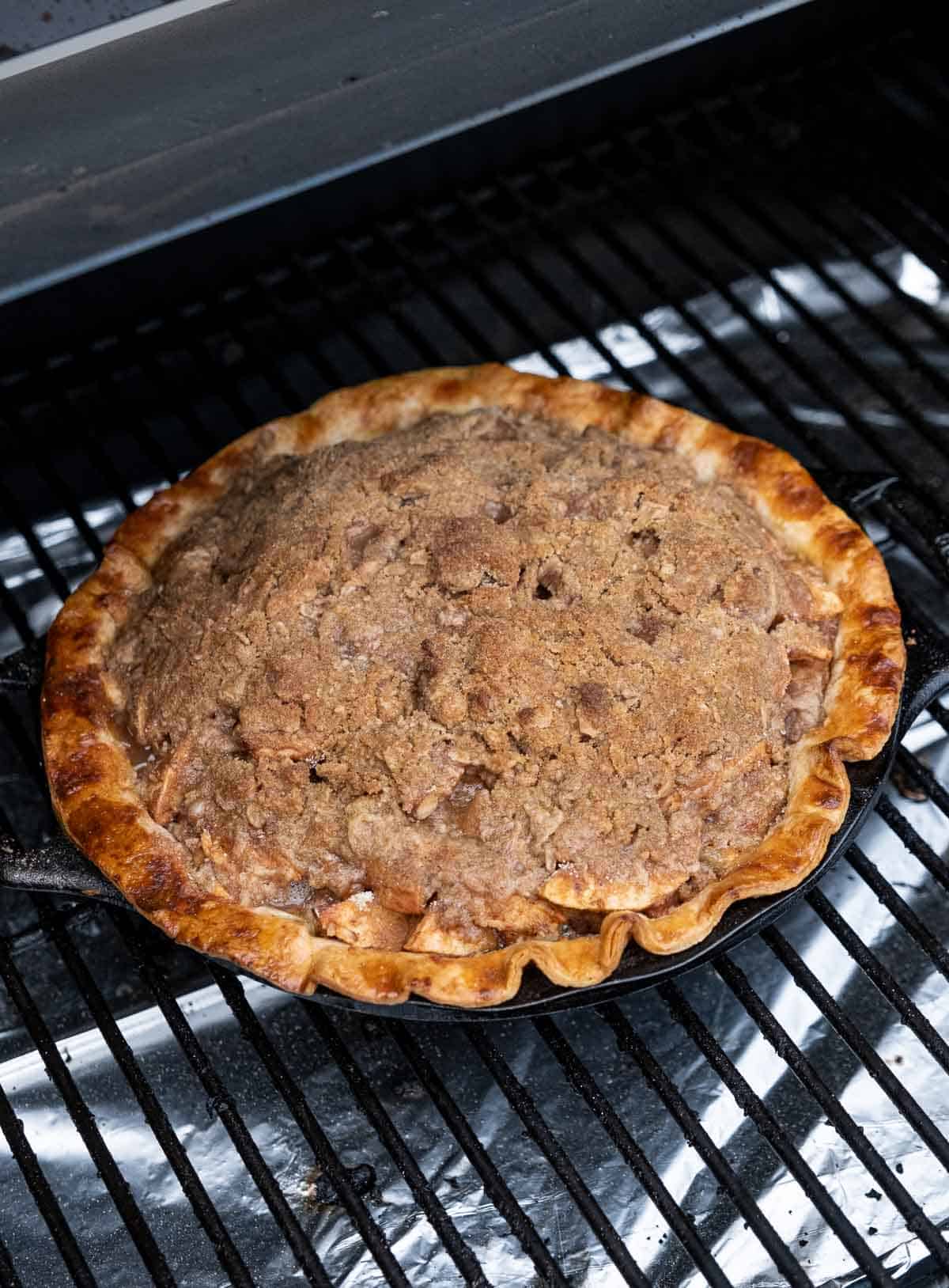 Cool – 2 hours
Let the grilled apple pie cool and come to room temperature. As the pie cools the apple pie filling will set and it will be firm enough to cut with a sharp knife. If you cut into the pie while it's warm it will fall apart. So give it at least 2 hours. Serve with your favorite ice cream. Our go-to is classic vanilla bean.
Making Ahead + Storage
For holiday meals like Thanksgiving we like to make this pie the day before we eat it. We let it cool overnight in the cast iron pie pan and serve right from the pan. Then we use a pastry cutter and serve the individual slices. If you want a slice of warm apple pie, you can warm the pie at 200 degrees for 30 minutes prior to dinner. It will be slightly warm and not break down when slicing.
FAQ for Grilled Apple Pie
Can I leave the skins on for apple pie?
Skin doesn't break down as well when baking. If you leave the skin on you will get some varied textures when biting into the pie. For a more consistent texture we recommend removing the skin.
Do I need to cook apples before putting them into an apple pie?
There is no need to pre-cook apples before adding to a pie. They will render and soften as you cook them.
What kind of fuel should I use for grilled apple pie?
If using charcoal we recommend a good lump charcoal versus briquettes. If using a pellet grill, use a fruit wood or fruit wood blend for sweet smoky flavor.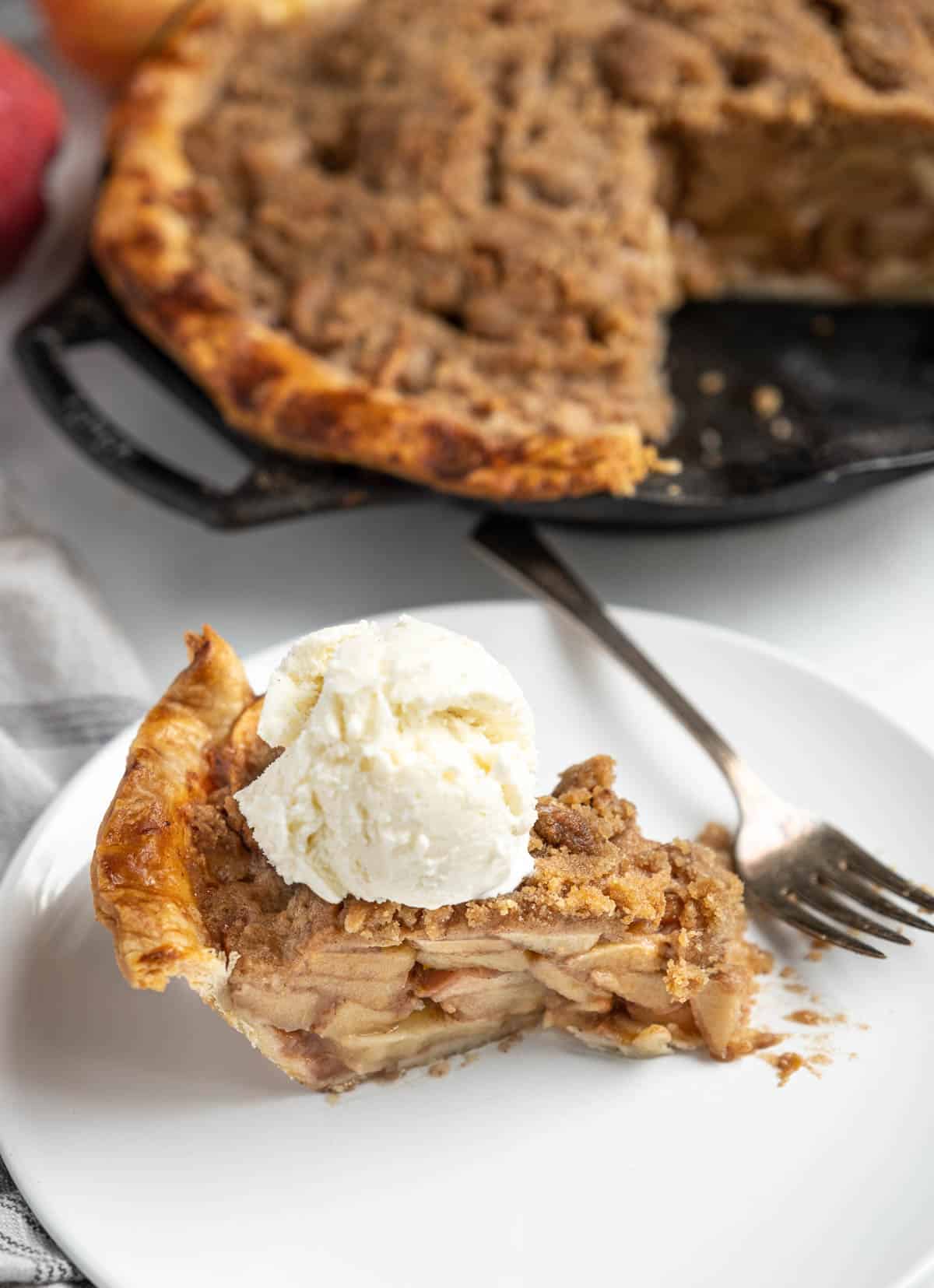 Other Apple Recipes
Other Pie Recipes On The Grill
---
Mary (a certified sommelier and recipe developer) and Sean (backyard pitmaster) are co-authors of the critically acclaimed cookbook, Fire + Wine, and have been creating content for the IACP nominated website Vindulge since 2009. They live in Oregon on a farm just outside Portland.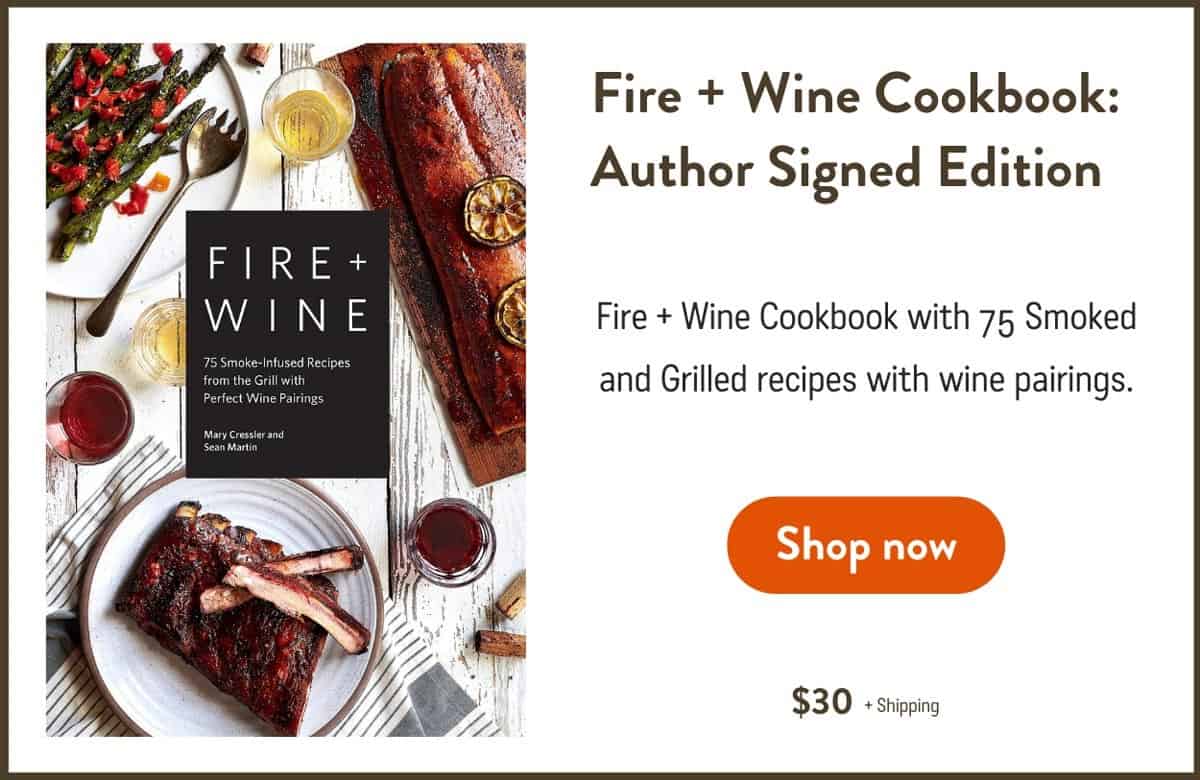 Tried this recipe? Give us a star rating and we would love to see! Mention @vindulge or use the hashtag #vindulge on all the social media handles. And consider subscribing to our newsletter where we drop all our favorite ideas and inspirations every week.