Smoked meatballs braised in a sweet and savory cranberry Pinot Noir sauce is one of our all time favorite holiday appetizers. It's always a hit at a party!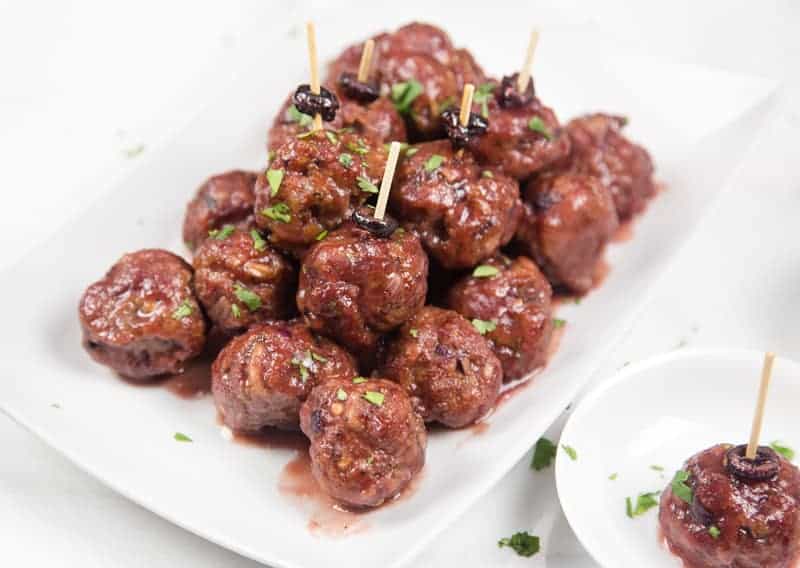 Guess what? The mystery of the Cranberry Pinot Noir Meatballs has been solved!!!
The first time I wrote about this recipe I told you about how we first discovered the idea. I was at a winery about a decade ago (holy crap that makes me feel old by admitting that), and this mystery winery was serving up some frozen Costco-bought meatballs in a delicious sauce made of Pinot Noir and canned cranberry sauce.
For years I had no idea which winery it was nor what the actual recipe was, only what I had pieced through conversations with them at the time and my handwritten notes.
Well I figured it out!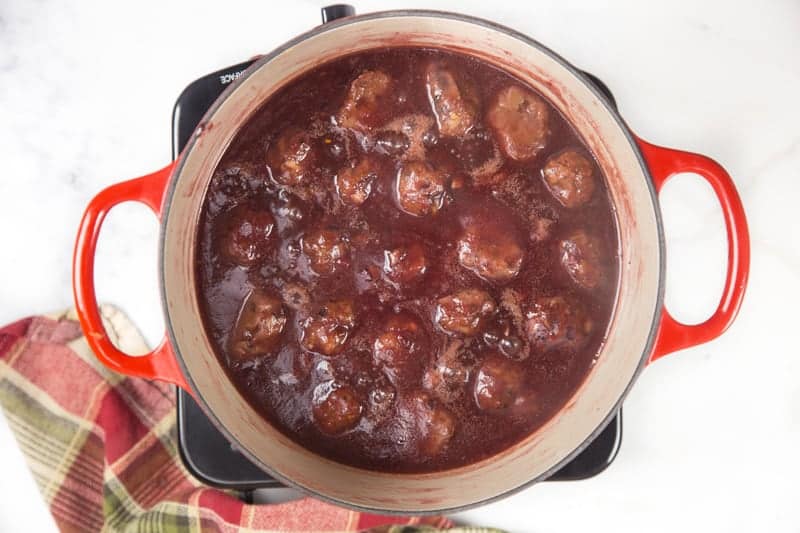 We were at a winery just down the street from us just before Thanksgiving weekend and they mentioned that they would be serving their "famous Cranberry Pinot Noir meatballs" for their holiday event at the winery.
Um, WTH?!
So I inquired.
"Wait, what? YOU guys are the ones that do those cranberry meatballs?!"
Turns out that the former owners of Beran Vineyards (who sold the winery to Ruby about six years ago), used to serve these meatballs. And during the first holiday season as Ruby, the new owners didn't serve these meatballs. People were pissed and demanded the meatballs!
So they decided to continue the tradition ever since.
Now they continue to serve them every Thanksgiving weekend at their winery located in the Chehalem Mountain AVA region of the Willamette Valley (basically our new backyard).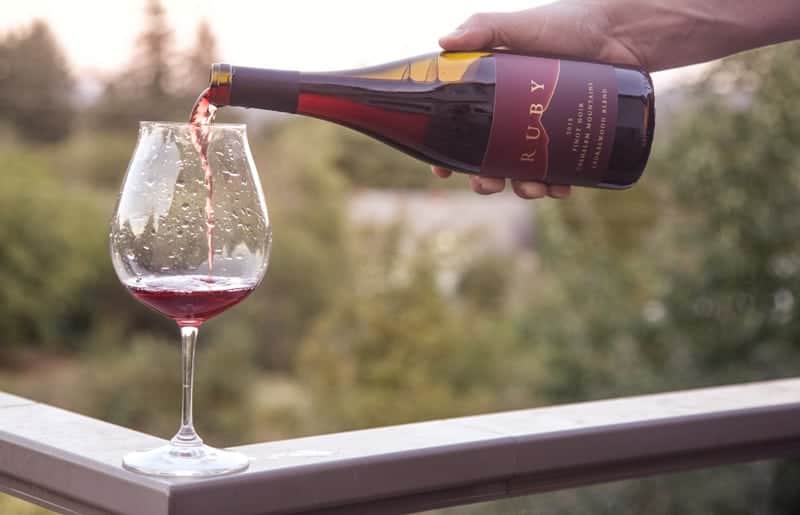 I'm so relieved that this 10 year mystery is FINALLY solved.
To celebrate we've made a video of our version of the recipe made with smoked meatballs.
Our sauce is simplified from the original. It's only 4 ingredients.
For the meatballs you can do what the winery does and get the frozen Costco meatballs, or you can go big and make our smoked pork/beef combination meatballs. They are absolutely delicious and really make this all around dish shine.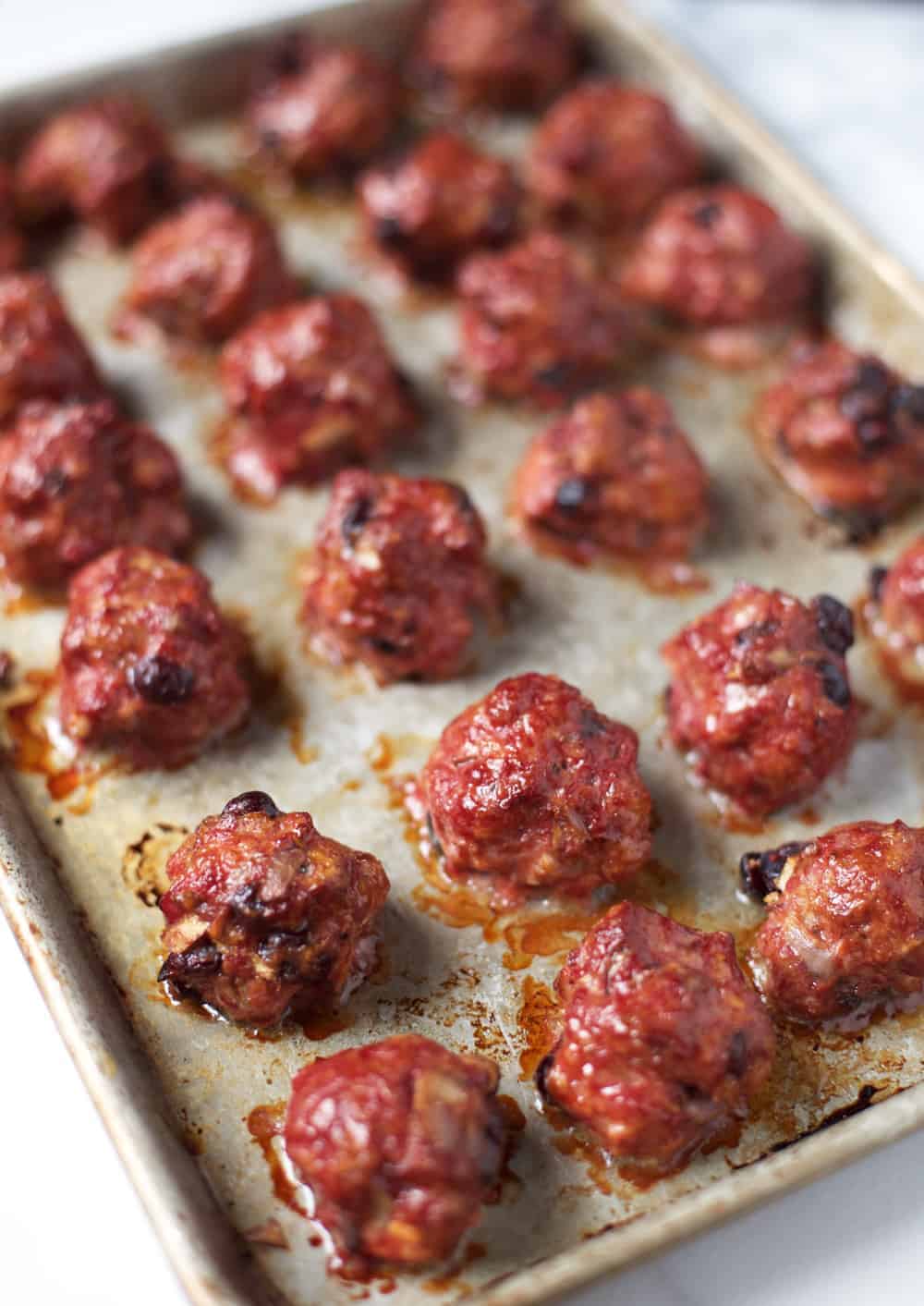 We used to make the meatballs stuffed with dried cranberries, which you can totally do (recipe here), but these are less sweet and more savory (though with the same delicious sauce). You can also make them with turkey meatballs too. Whatever you fancy.
Impress your friends this holiday season, and try these meatballs.
If you're traveling to a party or event and want to keep them warm, just transfer them into a slow cooker. Easy peasy (and oh-so-delicious).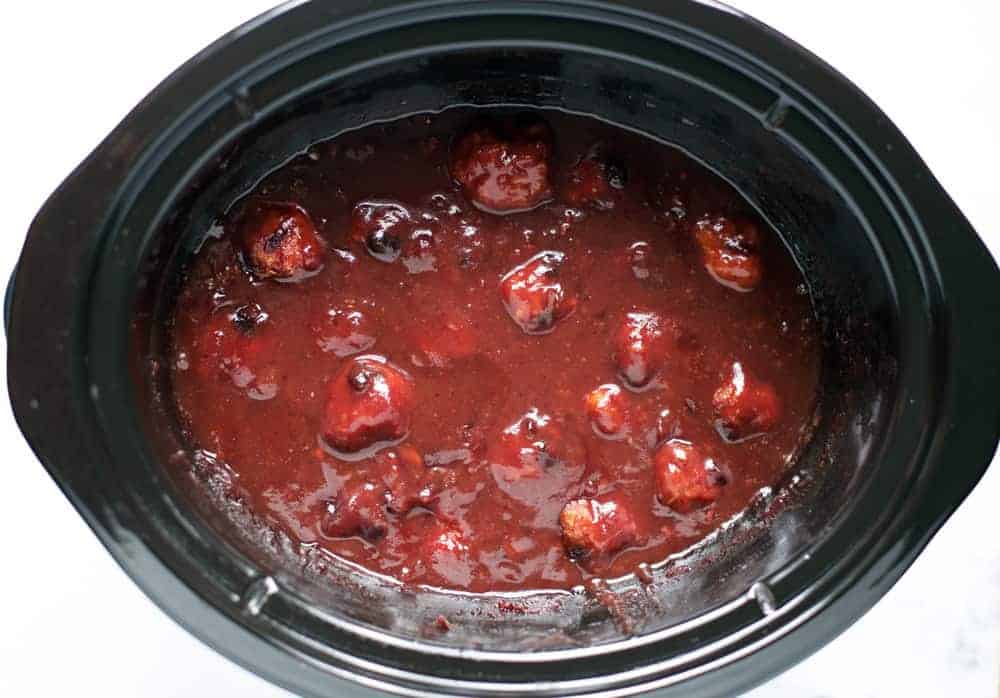 There's a reason they're (almost) famous. Believe me!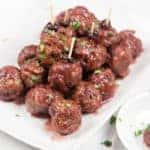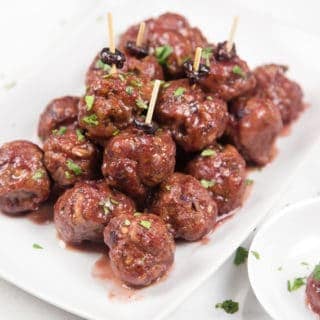 Smoked Meatballs in a Cranberry Pinot Noir Sauce
A simple, delicious, and elegant appetizer idea for the holidays. Smoked meatballs made with pork and beef, cooked on the smoker, and then braised in a sweet and savory cranberry wine sauce.
Cuisine:
appetizer, bbq, BBQ, Barbecue, holiday
Ingredients
For the Meatballs:
½

pound

ground beef

½

pound

ground pork

½

onion

finely chopped

1

clove

garlic

finely diced

½

cup

breadcrumbs

or breadcrumb substitute like Panko

1

egg

beaten

1

tablespoon

Dijon mustard

1

tablespoon

Worcestershire sauce

½

teaspoon

crushed red pepper

½

teaspoon

each

salt and pepper
For the Cranberry Wine Sauce:
1

16-ounce can cranberry sauce

1

cup

Pinot Noir

or other fruity red wine like Zinfandel

½

cup

brown sugar

2

tablespoons

Dijon mustard
Instructions
For the Meatballs:
Preheat smoker to 225 degrees.

Mix all meatball ingredients together in a large bowl. Mix well with your hands.

Shape into approximately 1-inch balls.

Place on the smoker until the internal temperature of the meatballs reads 165 degrees (roughly 1 hour on the smoker). Remove from smoker and add to the cranberry wine sauce (below).
For the Cranberry Wine Sauce:
In a medium size saucepan, combine the cranberry sauce, wine, brown sugar and Dijon mustard.

Bring to a simmer and whisk continuously for about 5 minutes to allow the sauce to begin to reduce and thicken.

Serve, or to keep warm for a long period of time, transfer the sauce to a crock-pot, add the meatballs, and gently stir together. Keep warm.
Recipe Notes
Alternatively you can cook the meatballs on the stovetop in a heavy pot or large pan, coated with oil and set to med heat. Cook, and rotate the meatballs so all sides get browned (roughly 4-5 minutes). After they are browned transfer to an oven set to 375 for an additional 10-15 minutes until the internal temperature of the meatballs is 165 degrees.
TIME HACK?
If you don't have time to make your own meatballs buy frozen meatballs and thaw them in the sauce for a super quick and easy holiday appetizer.
WINE PAIRING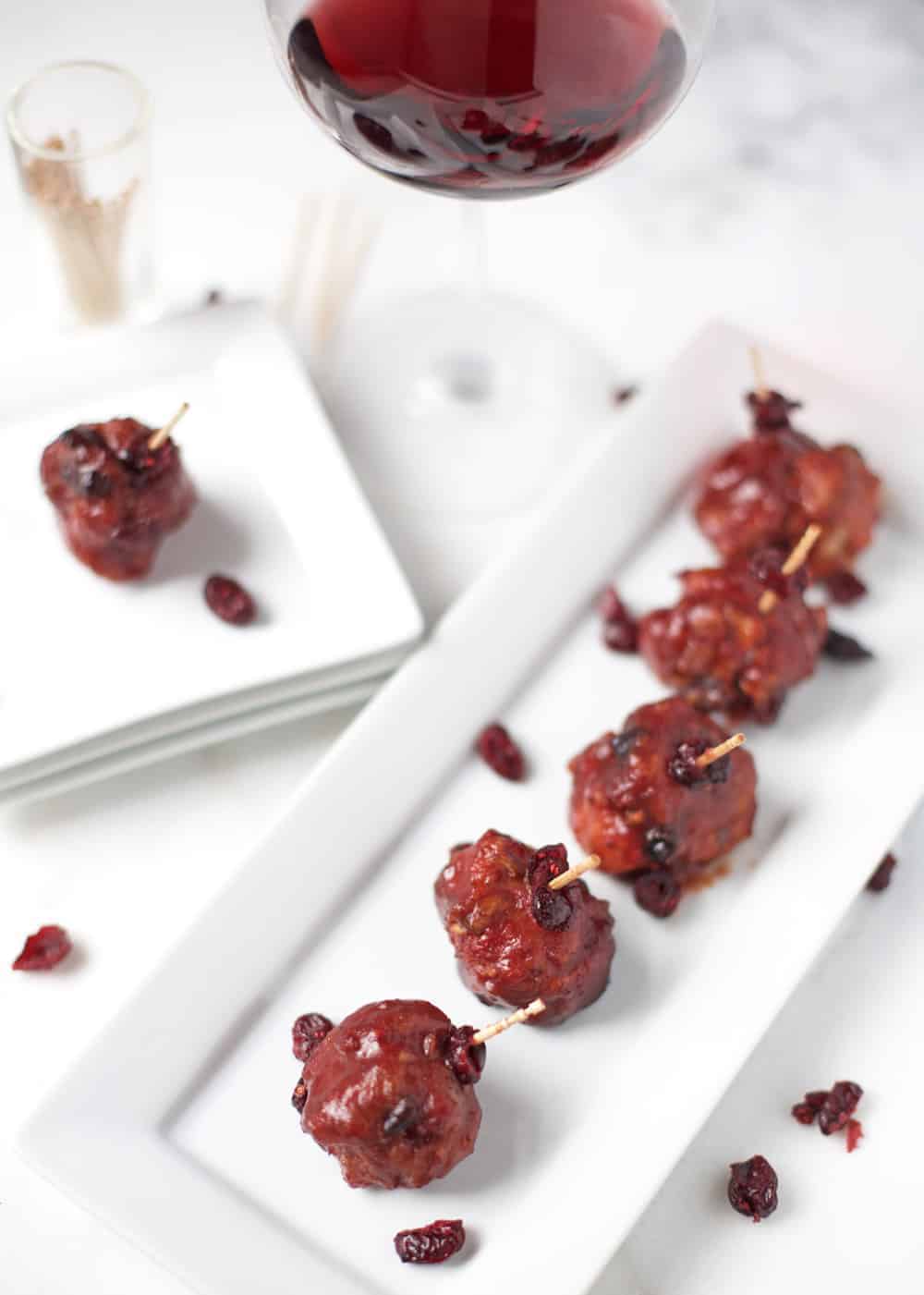 These meatballs may seem too sweet to pair with wine. But there's a delicate and intentional balance of smokey, sweet, and savory flavors, along with that acidic bite from the Dijon mustard, that make them rock solid with wine. I promise you these aren't sugary sweet meatballs.
Since the inspiration for this was in the Willamette Valley wine country we always default to Pinot Noir (ideally a bigger style or one from a warmer vintage). But you can use any fruity wine that is low in tannins. Zinfandel is another one that works well with this dish. It's also a crowd pleaser if you're serving these at a party.
At the end of the day, this is meant to be an appetizer, likely at a holiday party, where loads of flavors are going to be competing for one another. So no need to really overthink it. Whatever you used in the sauce is likely a good match for the dish!
THE VIDEO
If you like this recipe we'd truly appreciate it if you would give this recipe a star review! And if you share any of your pics on Instagram use the hashtag #vindulge. We LOVE to see it when you cook our recipes. 
---
For more tasty recipes, BBQ tips and tricks, check out the Recipe Index.