Grilled chicken breasts marinated in an easy spicy chipotle marinade, quickly grilled to perfection and topped with a cooling and refreshing avocado crema. These Spicy Chicken Tacos are perfect for a Taco Tuesday or weekday meal with your family!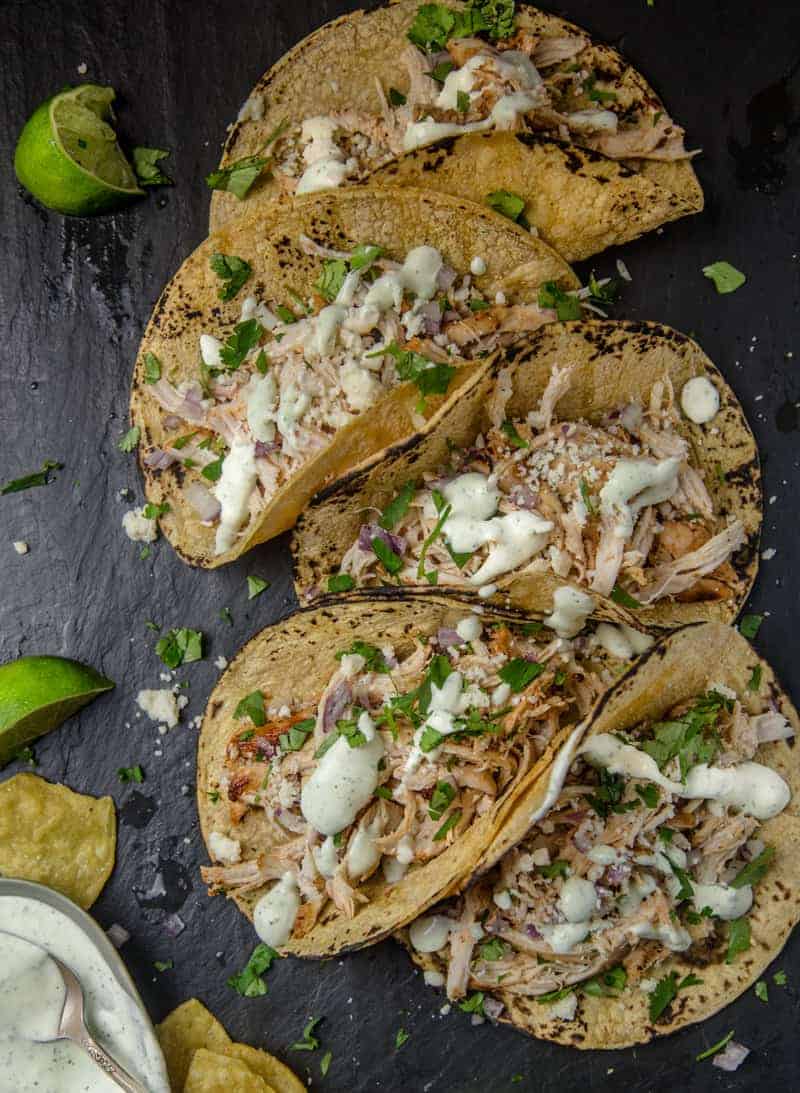 There's always room for a spicy chicken taco recipe in your arsenal! We make different kinds of tacos several times a week, and the go-to protein for our family is chicken. Sometimes we smoke a whole chicken on the weekend to use the shredded meat throughout the week, and sometimes we use chicken breasts.
Chicken breasts are perfect for when you don't have time to roast a whole chicken. They're easy and quick to marinade and grill in just a few minutes.
I like to go a wee bit spicy on the marinade, with either chipotle in adobo (you can also use your favorite hot sauce, or a combination of spicy dry seasonings), then cool it back down with a creamy and cooling avocado crema sauce.
Best Part of Chicken for Tacos
Like I mentioned, you can go the whole roaster and shred it. You can also use thighs. But for these, we're going with boneless skinless breasts.
Remember that chicken, from any part of the bird, is a blank canvass and will soak up whatever flavors you add to it. We find that breasts (when pointed out fairly thin) marinade nicely and grill up quickly. We keep it easy with skinless since we're shredding it and using it for tacos. No need to bother with any skin.
One thing to note, however, is that when grilling chicken I recommend pounding out your chicken to an even thickness. Most breasts will be thicker on one side. This also helps with marinating, as thicker pieces of chicken won't take well to a marinade.

Before you pound out chicken, note the difference in size from the one above, to the one below.
Just pound out that thicker side to make the chicken more even, so when you cook it you can cook it to proper temperature (165 degrees) throughout, and one side isn't overcooked.

After you pound out the left side. Note it's an even thickness throughout.
This will also help the chicken cook faster on the grill! #bonus!
Spicy Chicken Taco Marinade
To spice it up I'm adding chipotle to the marinade, because I love that smoky flavor. But if you don't have chipotle you can easily substitute your favorite hot sauce. Alternatively you can add some dry spices (like red pepper flakes, dried chipotle, cayenne). BUT just a warning, if you add dry spices use much less as they are more potent (like 1 teaspoon of your spicy dry seasoning vs. 2 tablespoons of the liquid chipotle in adobo).
How to Marinate Chicken for Spicy Chicken Tacos
Once you've pounded out your chicken to even thickness, place them in a large seal-able Ziploc bag and add the marinade ingredients.
Place the bag the fridge for a minimum of 30 mins (up to 24 hours).
We're keeping this marinade quick and easy, yet ultra flavorful!
Note: you want your thicken to be pounded out evenly, and thin. Thick pieces of chicken won't allow the marinade to fully soak in. Thinner is better for a marinade.
How to Grill Chicken Breasts for Tacos
Once you've marinated the chicken you can pull it and place it directly on the hot grill over direct heat. Since we pounded them out they'll cook fairly quick and consistent. Expect them to cook roughly 6 minutes per side, to an internal temperature of 165 degrees F.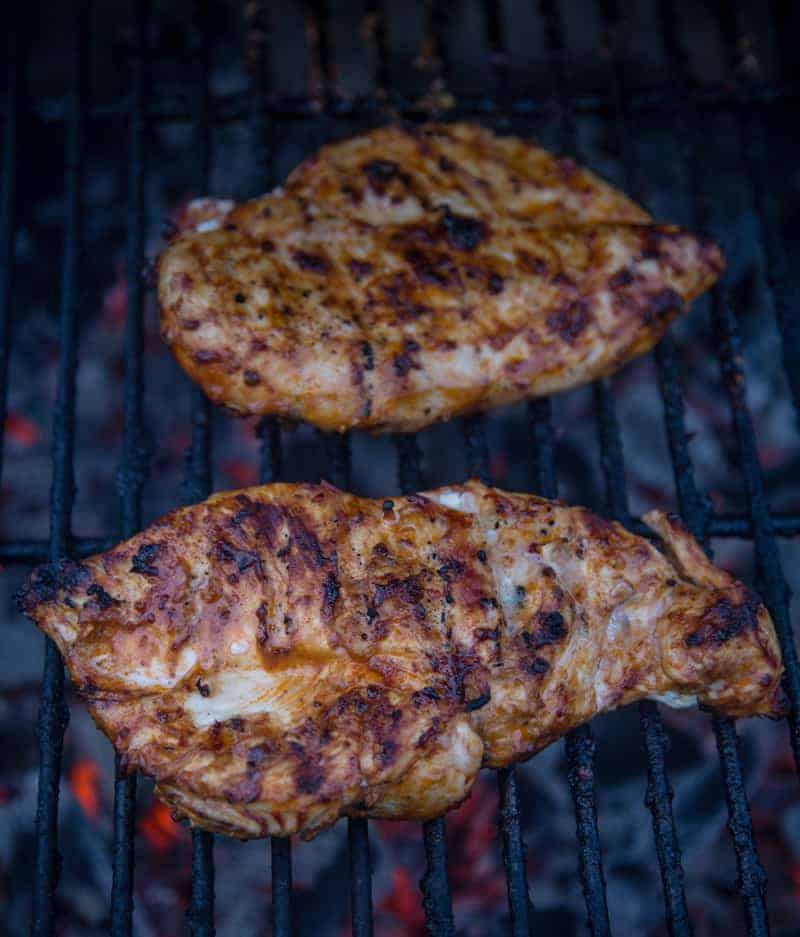 Once they're done, pull them from the grill and allow them to cool just enough to work with. Shred your chicken and you're ready to make your spicy chicken tacos!
Avocado Crema
This Avocado Crema is meant to cool down any spiciness from the spicy chicken taco marinade, and to give these tacos a great creamy topping.
What's a crema?
Well, exactly that. It's a thick, slightly sour, Mexican-style cream. Think of it as somewhere between sour cream and crème fraîche. You can find it in most grocery stores in the cooler near specialty foods.
Otherwise, you can go with sour cream if it's easier.
*Note: If you go with sour cream know that it won't be as thick of a consistency as crema, and tastes a bit sourer. But it's a good enough substitute.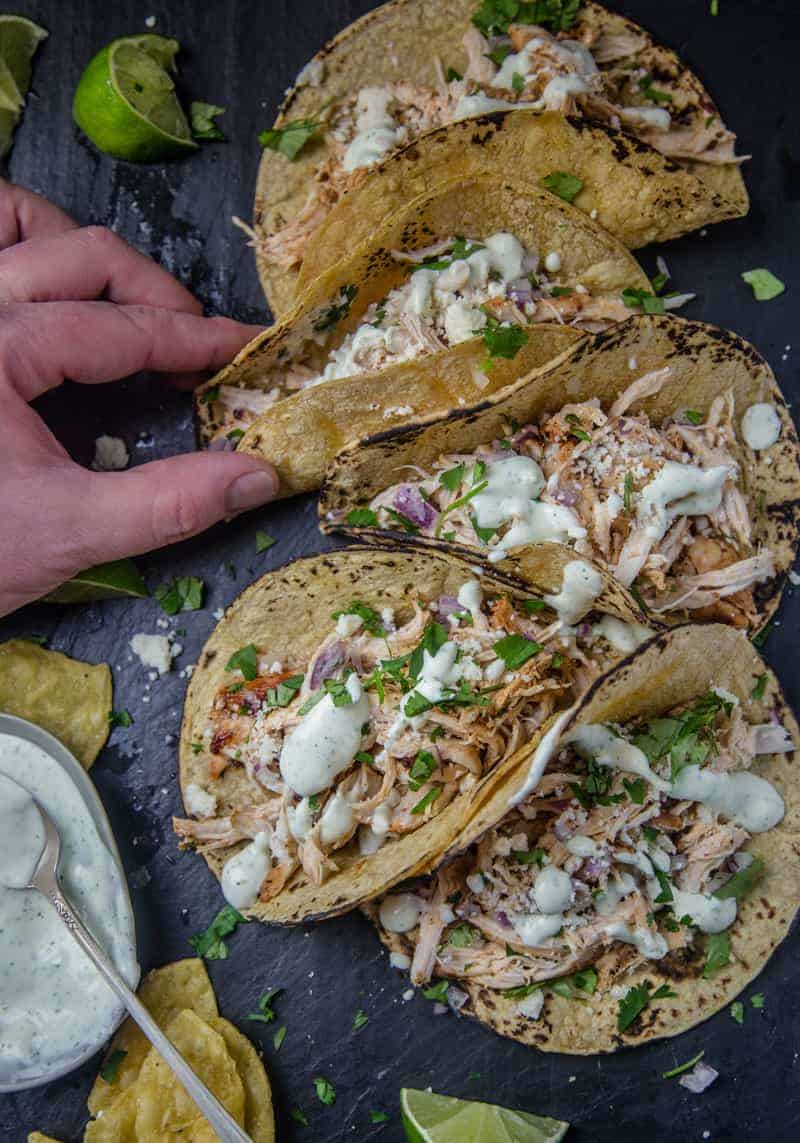 How to make Avocado Crema For Spicy Chicken Tacos
Place your crema (or sour cream) in the food processor with shallots, garlic clove, lime, salt, and a half an avocado, and pulse to combine.
Now all you need to do is build your tacos! I think you can handle that from here.
More Favorite Taco Recipes: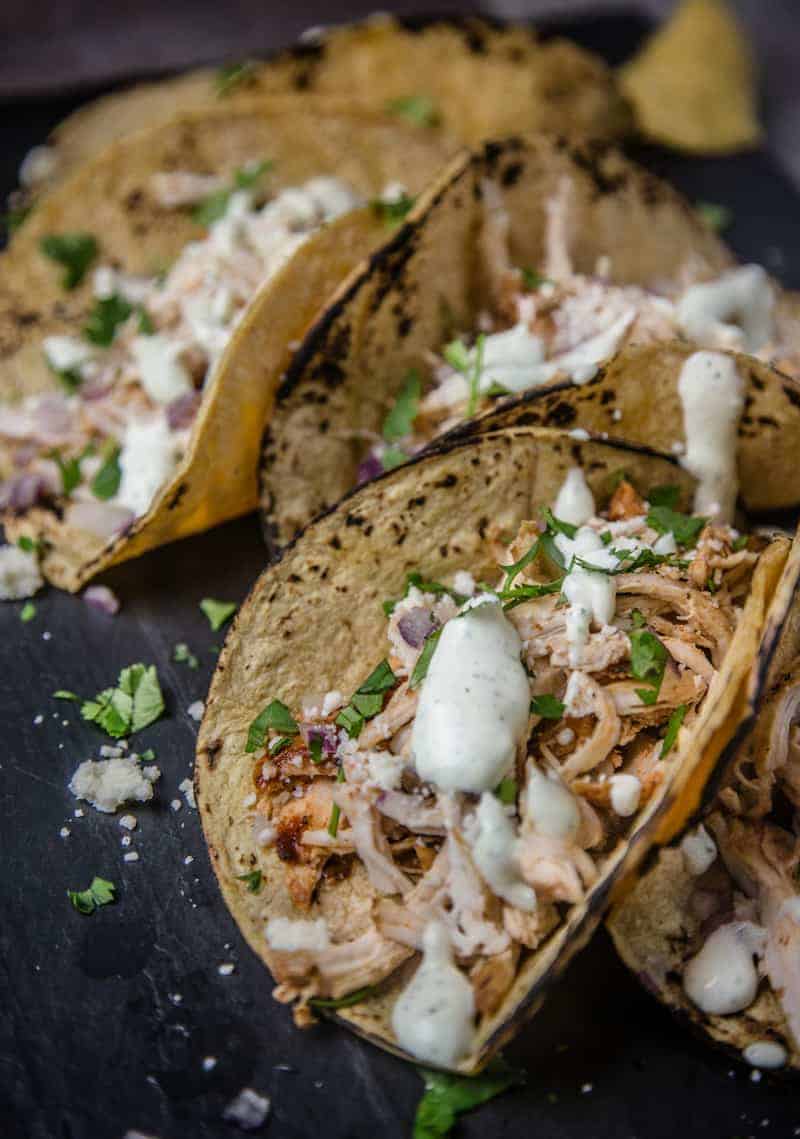 Spicy Chicken Tacos Recipe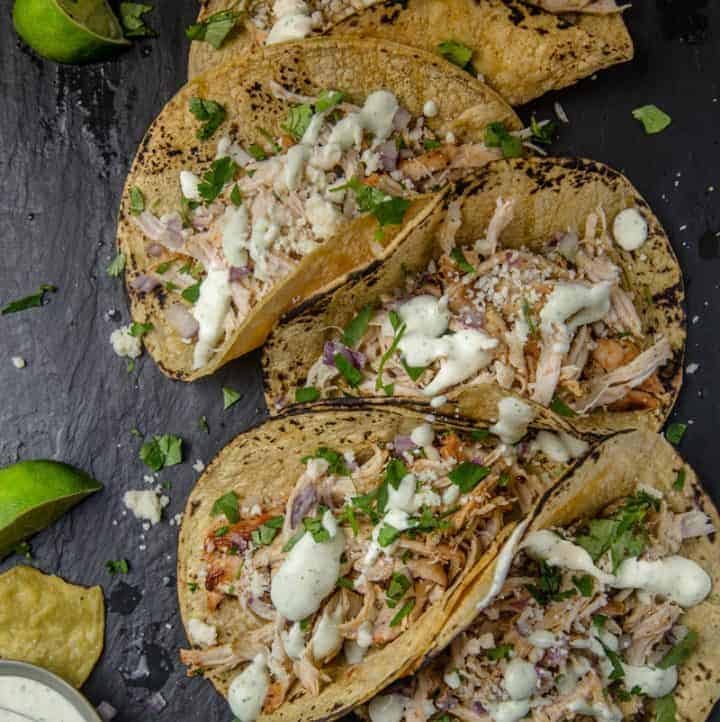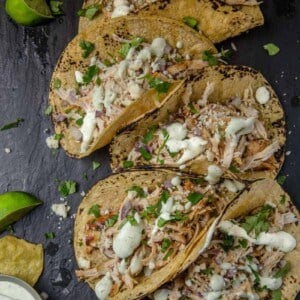 Spicy Grilled Chicken Tacos with Avocado Crema
Grilled chicken breasts marinated in a simple chipotle marinade, then quickly grilled and topped with a cooling and refreshing avocado crema. These are perfect for a weeknight meal with your family. 
Print
Rate
Ingredients
2

boneless skinless chicken breasts (approximately one pound)

8-10

corn tortillas
Marinade
2

chipotles in adobo sauce (2 of the actual peppers)

2

tablespoons

adobo sauce (from the chipotles in adobo)

½

cup

olive oil

1

clove

garlic, minced

¼

teaspoon

salt

juice of ½ a lime
Avocado Crema
½

cup

Mexican crema (or sour cream)

½

an avocado

1

tablespoon

shallots, diced

1

clove

garlic

juice of ½ a lime

¼

teaspoon

salt
Optional Taco Toppings
diced onions

cilantro

diced tomatoes

lime quarters

Cotija cheese

radishes

more avocado (because there's never enough avocado)
Instructions
For the Marinade and Chicken Prep
Place chicken on a cutting board and cover with plastic wrap. Pound out chicken so it appears uniform in width and place in a plastic bag. Add the remainder of the marinade ingredients into the plastic bag and let sit in the fridge for at least 30 minutes and up to 24 hours.
For Grilling
Prepare the grill for direct heat and remove the chicken from the marinade. Any excess marinade, you can pour over the chicken just prior to grilling.

Place chicken over the direct heat for six minutes and then flip over. Remove when the internal temperature of the chicken reaches 165 degrees F on an instant read thermometer.

Let sit for 10 minutes, and then shred with a fork.
Making the Avocado Crema
Place all ingredients in a food processor and pulse until everything is combined. Can be made in advance and should last in the fridge for five days.
Making the Tacos
Place a couple tablespoons of the shredded chicken on your corn tortilla and top with the crema. Add your favorite toppings like Cotija cheese, cilantro, white onions, or tomatoes.
Find the perfect wine pairing at the Vindulge Wine Shop
If you like this recipe we'd truly appreciate it if you would give this recipe a star review! And if you share any of your pics on Instagram use the hashtag #vindulge. We LOVE to see it when you cook our recipes.