Carne Asada Tacos made with marinaded skirt steak, then grilled hot and fast and sliced thin for the ultimate Taco Night meal.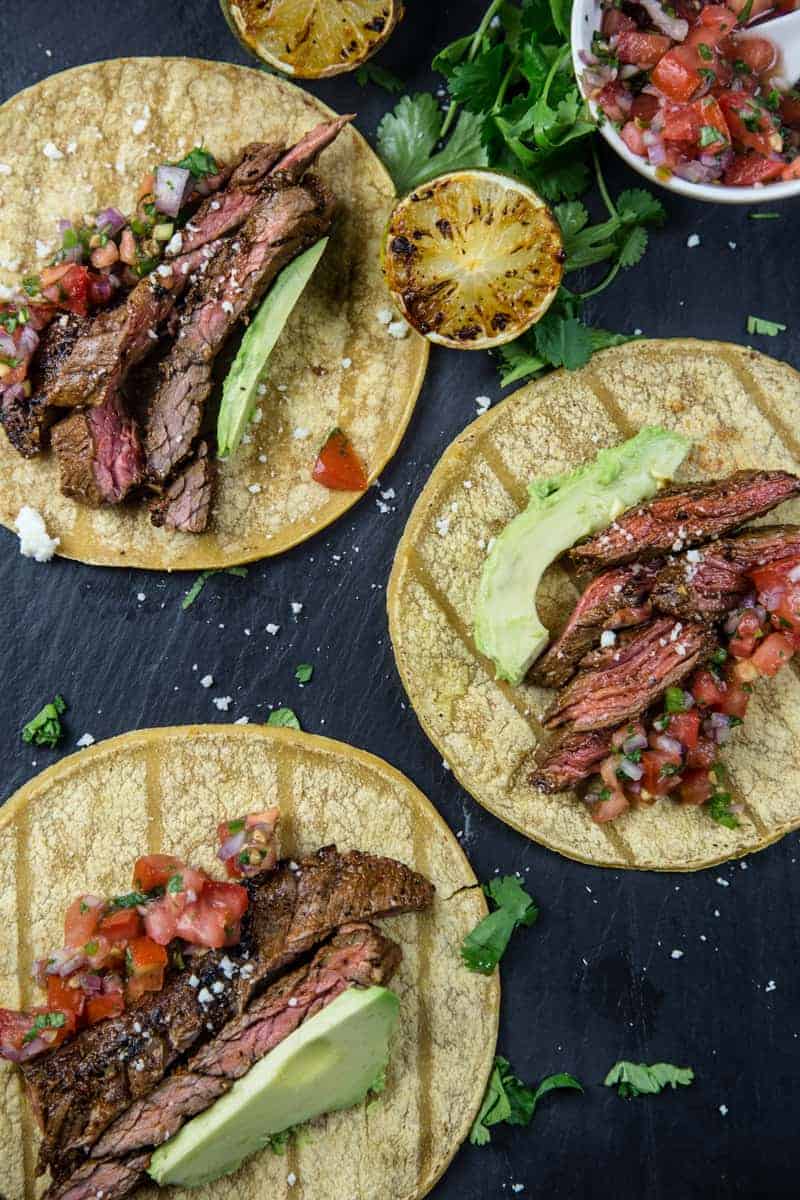 A friend of mine recently showed me a recipe for Carne Asada she made for her husband's birthday dinner. She expressed her disappointment because of the recipe and wondered why. She followed it to a T.
I read through the recipe and could immediately tell why. It was seriously lacking in flavor portions. There were several great sounding ingredients, but in poor proportions to the amount of meat it was suggesting.
So then I gave her a hard time. "Why didn't you just use one of our recipes, silly?"
Aaaand then she called me out. "Well, it's because you don't have a 'Carne Asada recipe on your site!"
And she was right.
We didn't have a specific "Carne Asada" recipe at the time, BUT we do have plenty of marinated steak recipes. And in reality that's what Carne Asada is — marinated steak.
What is Carne Asada?
Carne Asada is marinated steak (most commonly Skirt or Flank Steak), grilled hot and fast so as to get a nice char, and sliced for tacos or burritos.
Growing up in a Mexican-American household we ate a lot of marinated steak at home and also at restaurants, but I never really associated the meal with any specific recipe. Just really good, full flavored, grilled meat, that tasted damn good in tacos.
Demystifying Carne Asada
So instead of complicating anything here, we just wanted to demystify the idea of carne asada. We feel as if there is this perception that it is a secret meat that is hard to attain or cook. The reality is, carne asada is simply translated as grilled meat. That is it. Meat….grilled.
What I've discovered, however, is that this Mexican food favorite has close ties to one's memory. There's a strong nostalgia involved for those who seek to make it on their own. Those who crave it are yearning for something they remember from a favorite Mexican food restaurant. For the author of this article it's bringing the flavors he found from El Torito. For this recipe, she found her inspiration from her upbringing in Southern California, and created her recipe inspired by the one and only Rick Bayless (ps, I've tried this recipe and it's pretty darn delicious).
For me, growing up in Phoenix, surrounded by amazing Mexican food (a-hem, hi mom!!), it's just a memory of great meals with family.
Going back to the recipe my friend showed me. What this recipe was lacking was a proper ratio of seasoning and flavors to the amount of meat. Many recipes we see will marinate the meat, then transfer it directly to the grill. What can happen, with the lack of flavors, is that the grilled meat won't soak up enough flavor and the results will be bland.
What we do to bump up the flavor of these Carne Asada Tacos is to
a) marinate with a balance of umami, citrus, acid, oil, then …
b) we season it AFTER it has marinated. That way the flavor gets locked in and you won't lose it in the grilling process.
The Best Cut of Meat for Carne Asada
Traditionally for carne asada the cut is often flank steak, hanger steak, or skirt steak. All are great choices because they take marinade well, cook fast and still have great flavor. Technically, you aren't constrained to just those cuts, you can use any.
We like those specifically for the ease, and in this case we are using Snake River Farms Skirt Steak. (Flat Iron, Hanger, and Flank work great too)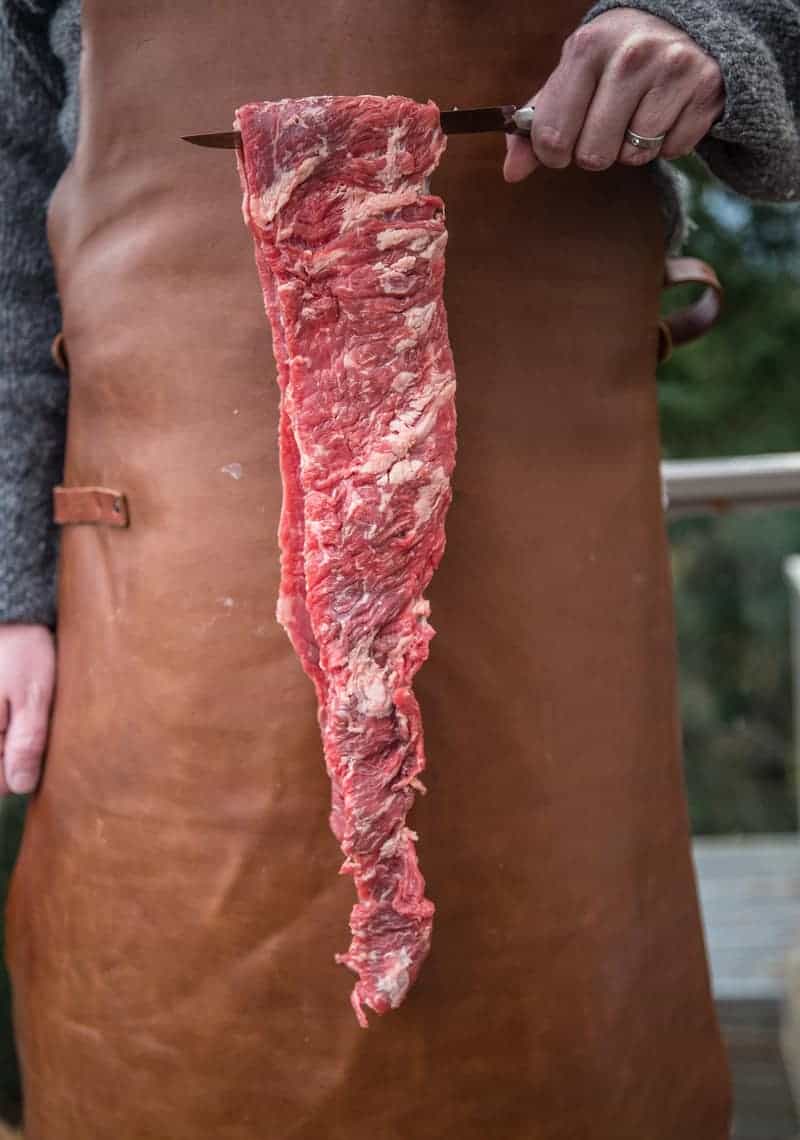 Skirt Steak comes from the underside or underbelly of the cow just behind the brisket. You'll hear this area as the plate. Marinating them will help reduce any toughness in the meat, which can come across as chewy. You can see from the picture they can come in one long piece. Feel free to cut it into 2-3 pieces to fit the size of your grill.
Best Marinade for Carne Asada
Our marinade for skirt steak will feature acid, which will assist in helping tenderize the meat. There are tenderizer shakes you can use too, but I find apple cider vinegar, wine, or Worcestershire all do the trick well. In addition, skirt doesn't take long for taking on the flavor. You can marinade for an hour and get nice flavor added to the meat (but we like to aim for 2 hours for full flavor).
We then add some citrus (a combination of fresh orange and lime juice), and some garlic and onion for added flavor (and also additional acid). You can also add jalapeño to add some spice, but the heat can vary from jalapeño to jalapeño. So for consistency we use red pepper flakes to insure the amount of heat we want to present to our guests.
Dry Rub for Carne Asada Skirt Steak Tacos
This is where that added kick of flavor comes in. We like to add the dry rub after it's been soaking in the marinade. Pull the meat from the marinade and pat dry, then season with a rub of your choice (we like a mix of salt, pepper, garlic powder, and smoked paprika for this).
How to Grill a Skirt Steak
We are going hot and fast on this one. After you've applied the dry rub on both sides, place over direct heat for a few minutes on either side.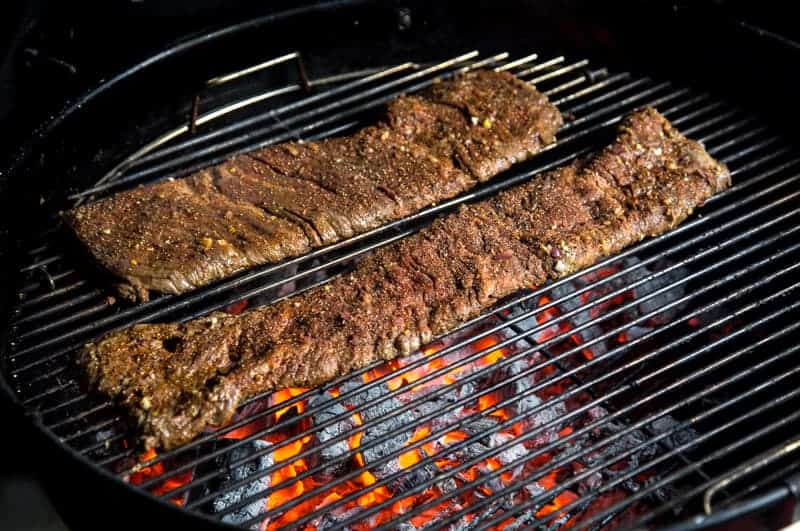 If you buy an entire length of skirt, you'll want to cut it up into manageable pieces for the grill.
You can cook to 125 degrees Fahrenheit for a tender and rare cut of beef or 135 for medium.
Cook to whatever your desired temp. Be sure you have a great instant read thermometer like the Thermoworks MK4 Thermapen!
How to Serve Grilled Skirt Steak
Slice against the grain and then serve with your favorite taco or burrito. It is that easy and delicious.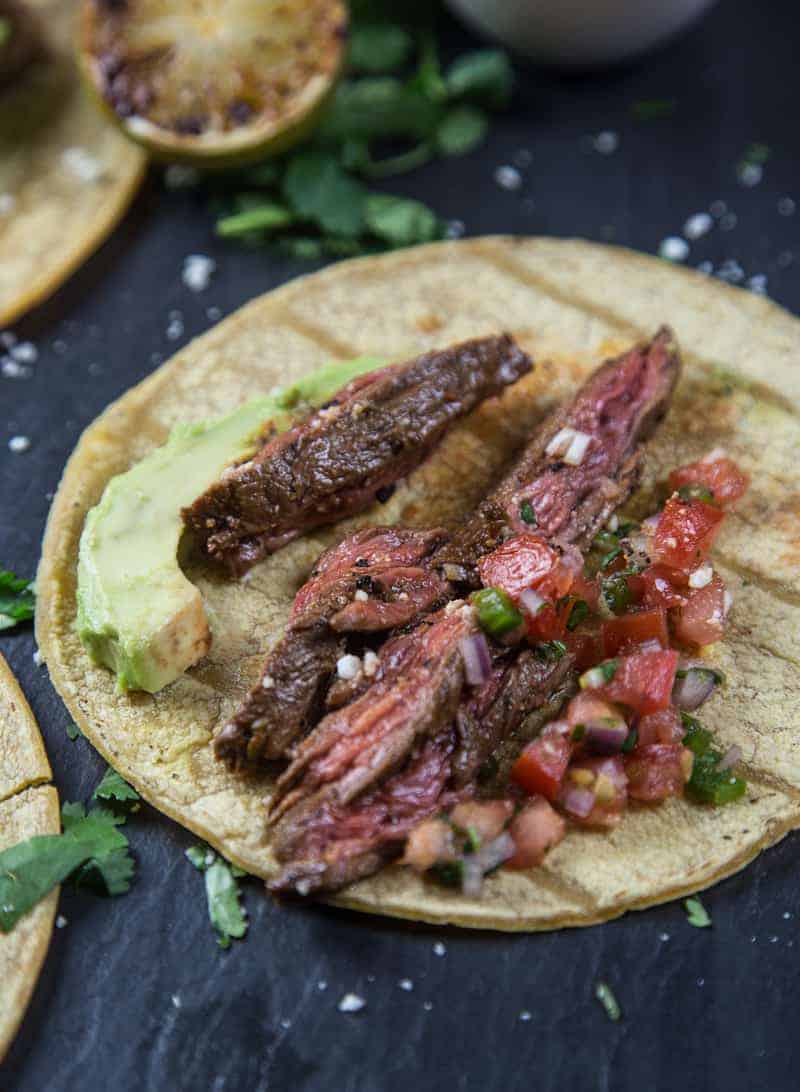 So for your next taco Tuesday, grab your favorite cut of meat and get rolling on your restaurant worthy carne asada.
Carne Asada Steak Tacos Recipe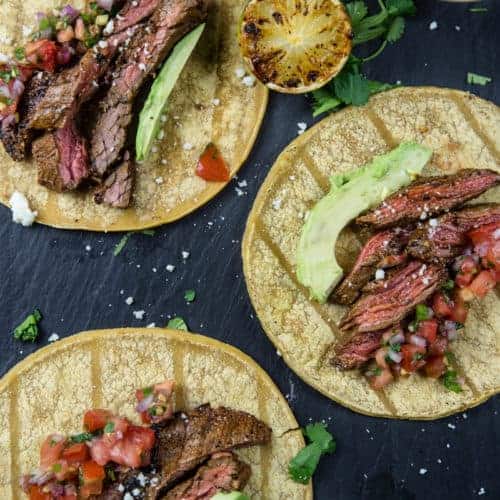 Carne Asada Steak Tacos
Carne Asada made with marinaded skirt steak, then grilled hot and fast and sliced thin for the ultimate Taco Night meal.
Print
Pin
Rate
Ingredients
For the Marinade
1/2

cup

Worcestershire sauce

1

orange, juiced (approx 1/2 cup)

1

lime, juiced (approx 1/4 cup)

zest of 1 lime

1/4

cup

onion, chopped

2

garlic cloves, crushed

1

teaspoon

red chili flakes
Dry Rub
3

tablespoons

your favorite dry rub

(we like a mix of salt, pepper, garlic powder, and smoked paprika)
Instructions
Place all marinade ingredients in a large gallon sized bag. Mix together.

Add the steak to the marinade. Mix again. Seal tight, and place in a large bowl and place in the refrigerator for a minimum of 2 hours, we cap at 6 hours to maintain the beef flavor.

Heat grill nice and hot, and prepare for direct cooking.

Remove the steak from the bag and pat dry (don't worry about removing pieces of the onion or garlic). Discard any extra marinade.

Liberally season your steak on both sides with your dry rub.

Place on grill for direct cooking. Grill approximately 3-4 minutes per side (this will depend on size of your steak). It's always best to check your temperature with a digital thermometer. We like 125 for rare, and also 135 for medium rare. *see notes

Remove from heat.

Let rest for 5-10 minutes and then slice against the grain, and serve as a filling for tacos or burritos.
Notes
Exact cooking times will depend on the size of your steak. We always like to use a digital thermometer to ensure proper cooking doneness. 
The nice thing about skirt steak is you can section it up and cook to different temperatures for your guests. You can cook one to 125 for those who like it medium rare, or 135 for those who aim for more of a medium. 
How to make Carne Asada Skirt Steak Tacos — The Video
---
Other Great Marinades for Steak
---
If you like this recipe we'd truly appreciate it if you would give this recipe a star review or leave a comment below! And if you share any of your pics on Instagram use the hashtag #vindulge. We LOVE to see it when you cook our recipes.
---