Grilled Fish Tacos are easy to make, super healthy and full of great flavor! Citrus marinated fish is grilled to perfection and topped with a grilled corn slaw and avocado crema. This taco recipe makes a great weeknight dinner or entertaining dinner on the weekend.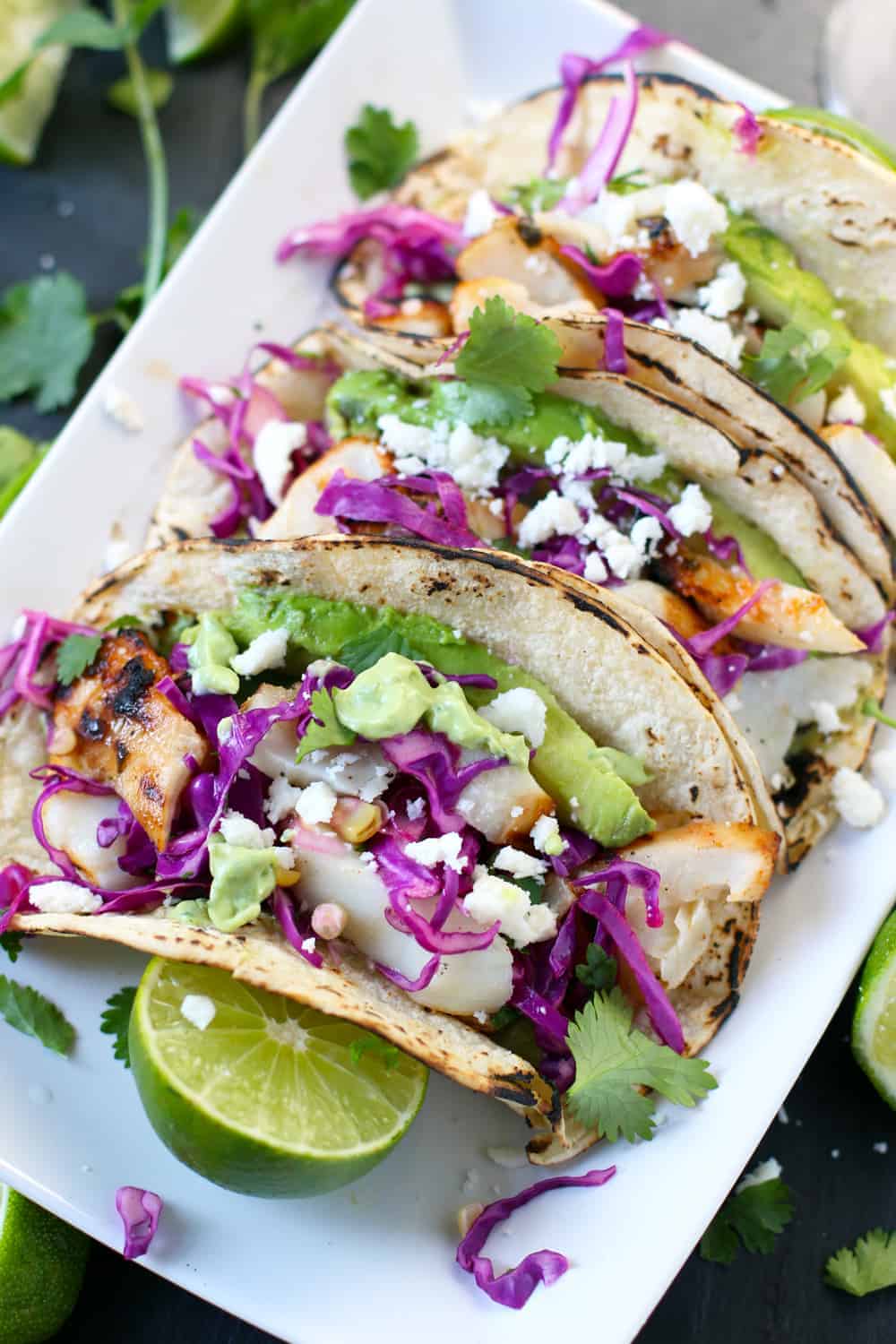 Grilled Fish Tacos
We're a little obsessed with tacos around these parts. I'm pretty sure I eat tacos for lunch at least 5-6 days a week. Usually what that means is throwing together whatever I see first in the fridge into a corn tortilla and heat it up with some cheese, then douse it with a ridiculous amount of hot sauce (Valentina hot sauce, I love you!). It's also our lazy go-to use for any leftover meat, like these recipes for brisket tacos, ribeye tacos, or pulled pork tacos.
But trying to stay in line with one of our New Year's goals to lay off the big heavy meaty foods a few days a week, we're trying to eat more fish. One goal is to cook fish for dinner at least once per week (if not more). And since Sean doesn't really consider fish "meat" he seems to think this qualifies as a vegetarian dish. Nice try, Sean, but no go. That means I have to try to make the NON-pork-beef-poultry foods that qualify "vegetarian" delicious and filling (yet healthy!) enough to satisfy my meat-loving family. I know I know, fish IS technically meat, but we're taking baby steps here.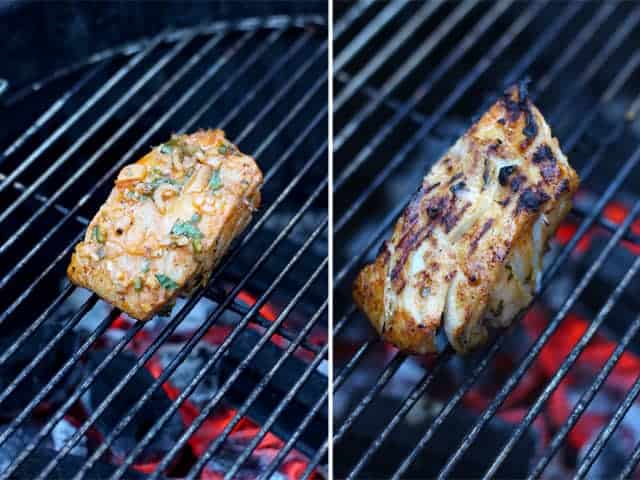 What Type of Fish to Use for Grilled Fish Tacos
The thing about these tacos is that we're grilling the meat (I mean fish. I mean vegetarian protein.), so Sean still gets to fire up his cooking vessel of choice (but you can totally grill the fish on your indoor grill since it is the dead middle of winter after all… I won't tell) and still feels like he's cooking up something smoky and meaty.
Many white fishes, like Mahi-Mahi, Cod, and even Halibut are rich in texture and work great for grilled fish tacos, as long as you add a little flavor with a marinade. I also recommend a thicker cut of fish for better grilling. Tilapia for example is pretty thin and dries out when grilling.
It doesn't take long to grill fish, so don't walk too far from the grill. It will be done in around 8-10 minutes, total.
How to Make Grilled Fish Tacos
Since we are using a white fish, it can definitely benefit from added flavor or seasoning. So to make the fish full-flavored, we marinate it for 30-60 minutes in a delicious citrusy, savory, and spicy mix of flavors, and then grill it for just a few minutes.
Grilled Corn Slaw
If you see corn on the cob at your local market (depending on the time of year, it may not be in season, but you should still be able to find some out there) then throw a couple ears on the grill for the slaw while the fish is cooking. Adding this second layer of grilled flavor really takes these fish tacos over-the-top.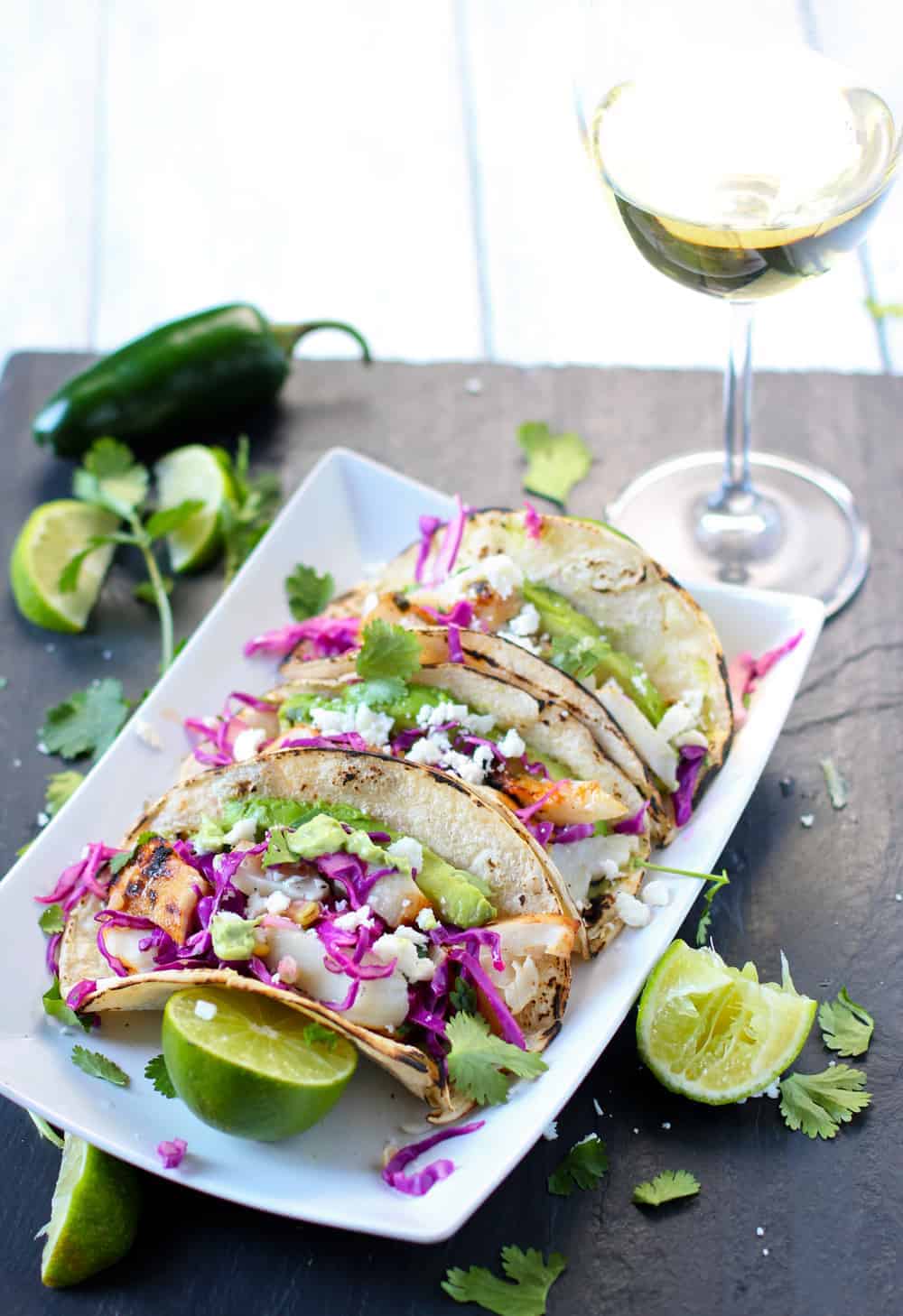 Avocado Crema
I love this part of the fish taco. The mixture of avocado and Greek yogurt adds a nice cooling counterpart to the jalapenos and cayenne pepper in this recipe.
Building the Grilled Fish Tacos
Start with a warmed corn tortilla, lay down a base layer of Avocado Crema, top that with the grilled fish, next add the crunchy grilled corn slaw, and finish with a little more Avocado Crema. The rest is up to you… do you want a fresh squeeze of lime, maybe a little cilantro, or Cotija cheese. Whatever you add, it is sure to be delicious!
Easy & Healthy Grilled Fish Taco Recipe
While it may seem like a few steps to accomplish this recipe, I can assure you this dish so EASY and quick to make. Many of the ingredients are used in all three steps, so you are really just reusing several components. Pay attention to the ingredient list to see where the same ingredients are use 2-3 times.
The best part of this dish is that it is healthy, yet filling, and jam-packed citrusy-spicy-creamy deliciousness. Meat-lovers rejoice!
The even better part is that there are some awesome wine options to pair with it (see below).
Taco Tuesday + Tasty Wine = Happy Me.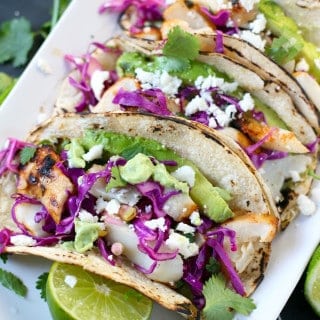 Easy and Healthy Grilled Fish Tacos
An easy and healthy recipe for grilled fish tacos topped with a grilled corn slaw and creamy avocado sauce. Comes with wine pairing recommendations.
Print
Rate
Ingredients
For the Marinade:
1

lb

thick white fish

cod, mahi mahi, or halibut

2

cloves

of garlic

smashed and finely diced

2

tablespoons

shallot

diced (about 1/2 medium sized shallot)

1

teaspoon

jalapeño

finely diced, about ¼ medium jalapeño (save the rest for the coleslaw)

1

tablespoon

cilantro

chopped (you will use more cilantro in the cream sauce and to top the tacos)

The juice of one Meyer lemon

(about one quarter cup)

2

tablespoons

extra virgin olive oil

1

tablespoon

apple cider vinegar

½

teaspoon

smoked paprika

½

teaspoon

salt

Fresh ground pepper

just a couple twists

Pinch

of cayenne
For the Grilled Corn Slaw:
1

ear of corn

grilled (can use warmed up frozen corn if you don't have any fresh in season)

2

cups

red cabbage

thinly sliced

¼

cup

shallots

chopped (4 tablespoons, or approx 1 medium shallot)

1

tablespoon

jalapeño

finely diced (about ½ medium jalapeño)

1

tablespoon

fresh squeezed lime juice

approximately ½ a lime (save the other half for the Avocado Cream Sauce)

Salt and pepper

to taste
For the Avocado Cream Sauce:
½

avocado

(save the other half for topping the tacos)

½

cup

thick Greek yogurt

(could also use sour cream or Crème fraîche)

The juice of ½ a lime

+ more for preferred flavor

¼

cup

cilantro

1

tablespoon

extra virgin olive oil

½

tablespoon

red wine vinegar

A couple dashes of hot sauce

optional
For the Tacos:
6-8

corn tortillas

Optional toppings: avocado slices

Cotija cheese, lime wedges, more cilantro
Instructions
For the Marinade:
Place all marinade ingredients in a large bowl (or large freezer bag). Place in refrigerator for 30-60 minutes.
To Grill the Fish and Corn:
On a charcoal grill preheat coal and then set for direct cooking.

Add ears of corn over direct heat, turning quarter turn every few minutes. You are looking for a charred exterior but not burnt. If the heat is too hot, then move to indirect to soften corn, and then finish over direct heat, turning the corn frequently.

Remove fish from marinade and discard the marinade while corn is cooking.

Over the direct heat, along side the corn, cook the fish for approximately 5 minutes on one side, or until you can pull the fish away from the grill without it sticking to the grill grates.

Flip the fish to other side and cook for another 3 – 5 minutes, then remove.

You'll know the fish is done when the fish is white all the way through but still moist.
For the Cole Slaw:
Toss all coleslaw ingredients (including the grilled corn) together in a large bowl. Taste and adjust flavors to your preference.
For the Avocado Cream Sauce:
Place all ingredients (except hot sauce) into a food processor. Pulse until well combined and creamy. Taste and adjust flavors. Add a couple dashes of hot sauce if you feel so inclined!
To Assemble the Tacos:
Heat up a corn tortilla. Layer the taco with about 1 tablespoon of the Avocado Cream Sauce, grilled fish, coleslaw, top with more cream sauce, and add preferred toppings (avocado slices, Cotija cheese, squeeze of lime, more cilantro). Pair with one of the wine recommendations below. Enjoy!
Notes
Quick note on the Avocado Cream Sauce: The consistency of this sauce should be thick, like a pureed guacamole. If you prefer a thinner or more runny sauce then you can add more lime juice, red wine vinegar, a tablespoon of olive oil, or even a bit of water (just a teaspoon at a time). I like it thick though. It also makes for a great dipping sauce for chips. Yum!
 Wine Pairing for Grilled Fish Tacos
Oh gosh, I could go on and on with great wine options for these tacos. You've got some spice from the marinade, some char from the grill, more spice and herbs from the coleslaw, and a creamy cooling effect from the cream sauce. The only real rule I like to follow is to avoid red wines! Red wines and white fish with lots of citrus flavors (like in these tacos) is a hot mess waiting to happen.
Stick to fresh, light to medium-bodied, citrusy white wines for this. You could go for a Sauvignon Blanc if you're feeling zippy. Vinho Verde if you're feeling for something light, super refreshing, and low alcohol. Grüner Veltliner can work well with its herbal flavors, complimenting the coleslaw and cream sauce. Even a nice Pinot Gris (Grigio) can cool the palate if you chose to make these spicy.
Me? For some reason I'm always drawn to Spanish white wines with fish tacos. The fresh fruity flavors of Albariño for example stand up so well to the multitude of flavors in these tacos.
---
If you like this recipe we'd truly appreciate it if you would give this recipe a star review! And if you share any of your pics on Instagram use the hashtag #vindulge. We LOVE to see it when you cook our recipes. 
---
For more recipes check out the Recipe Index.