Grilled Fish Tacos are easy to make, super healthy, and full of great flavor! Citrus marinated fish is grilled to perfection and topped with a grilled corn, cabbage slaw, and Avocado Crema. This is the best fish tacos for an easy and flavorful meal.
This taco recipe makes a great weeknight healthy dinner or entertaining dinner on the weekend.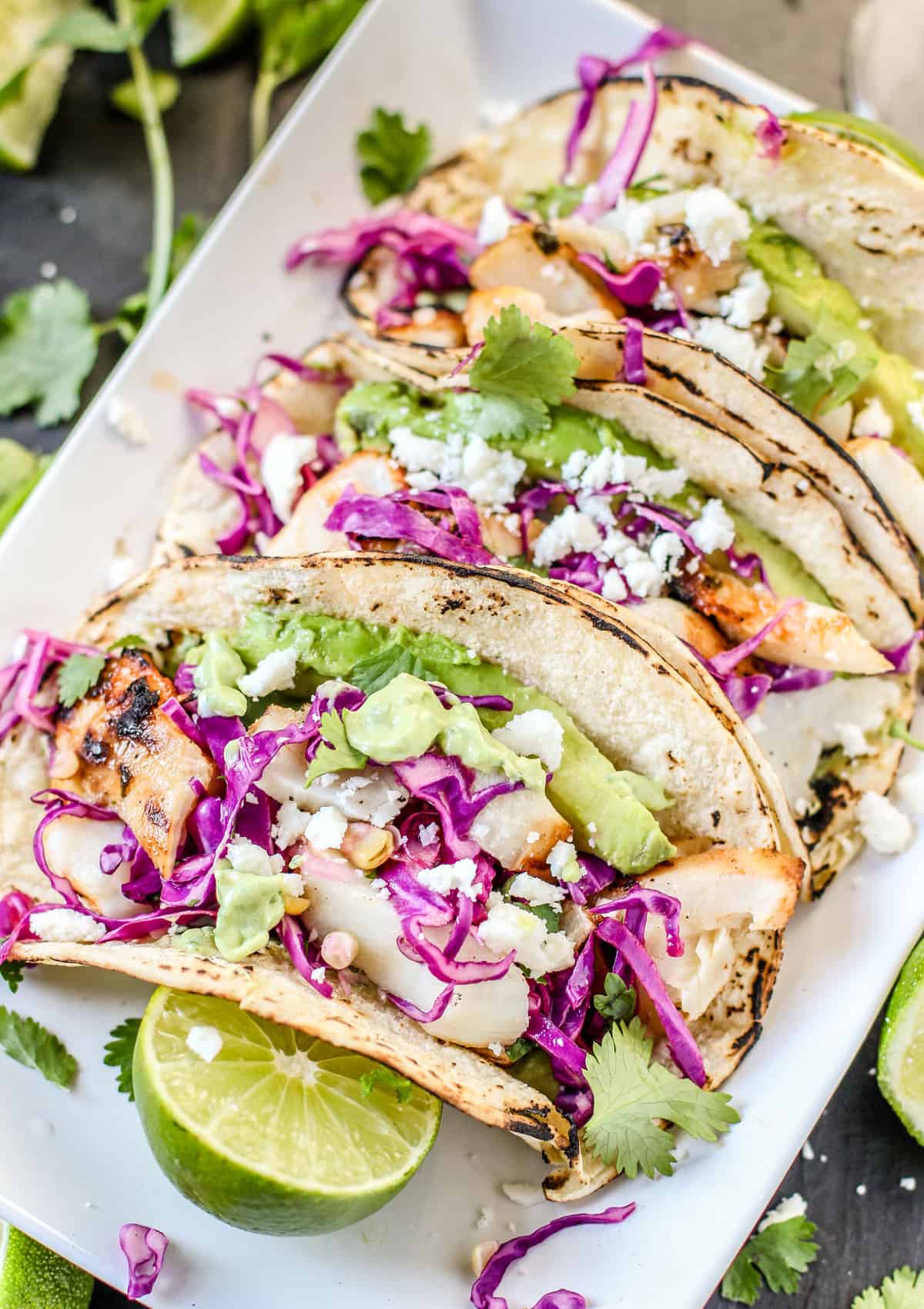 Jump to:
We're a little obsessed with tacos around these parts. I'm pretty sure I eat tacos for lunch at least 5-6 days a week. It's also our go-to use for any leftover meat, like these recipes for brisket tacos, ribeye tacos, or pulled pork tacos.
Recipe Highlights
Whether a gas grill or a charcoal grill this is an easy recipe to adapt to your style of grill.
You can use any white fish filets from mahi mahi to cod.
The secret to flaky fish is a hot grill and clean grates or just using this for your leftover fish.
We're a little obsessed with tacos around these parts. I'm pretty sure I eat tacos for lunch at least 5-6 days a week. It's also our go-to use for any leftover meat, like these recipes for brisket tacos, ribeye tacos, or pulled pork tacos.
It's not hard to make great grilled fish tacos. If it's your first time then here is what you need:
A simple marinade for your fish
Not overcooking your fish
A delicious cabbage slaw
Avocado crema
Tasty toppings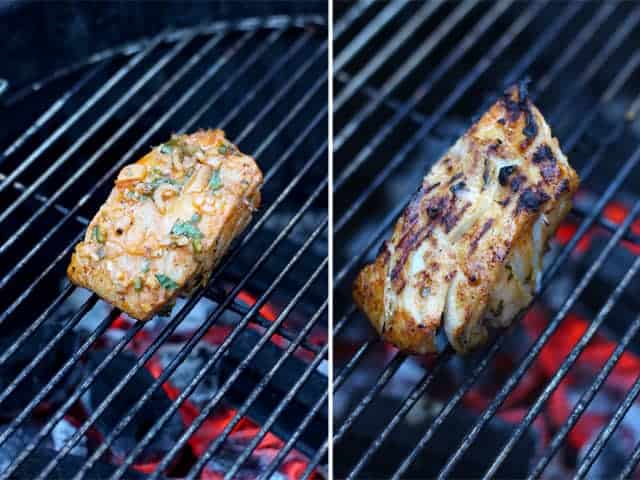 Ingredients
Start with a good savory marinade. Ours focuses on savory flavors and some heat.
The main ingredient is white fish fillets Many white fishes, like Mahi-Mahi, Cod, and even Halibut are rich in texture and work great for grilled fish tacos, as long as you add a little flavor with a marinade.
Instead of a traditional coleslaw mix we opt for a grilled corn version.
Top with an avocado crema more along the line of a Baja California taco.
Chef's Tip: Look for thicker cuts of fish for better grilling. Tilapia for example is pretty thin and dries out when grilling. We don't want to dry out our fish!
It doesn't take long to grill fish, so don't walk too far from the grill. It will be done in around 8-10 minutes, total.
Preparation
While it may seem like a few steps to accomplish this recipe, I can assure you this dish so EASY and quick to make. Many of the ingredients are used in all three steps, so you are really just reusing several components. Pay attention to the ingredient list to see where the same ingredients are use 2-3 times.
The best part of this dish is that it is healthy, yet filling, and jam-packed citrusy-spicy-creamy deliciousness. Meat-lovers rejoice!
The Marinade
Since we are using a white fish, it can definitely benefit from added flavor or seasoning. So to make the fish full-flavored, we marinate it for 30-60 minutes. The fish marinade ingredients are:
Savory flavors with garlic and shallots.
Citrus with freshly squeezed meyer lemon juice.
Bite with cayenne, apple cider vinegar, smoked paprika, and kosher salt.
Grilled Corn Slaw
If you see corn on the cob at your local market then throw a couple ears on the grill for the slaw while the fish is cooking. Adding this second layer of grilled flavor really takes these fish tacos over-the-top. Once the corn is cooked, remove the kernels and combine it with finely shredded cabbage, shallots, diced jalapeño, fresh lime, salt and pepper.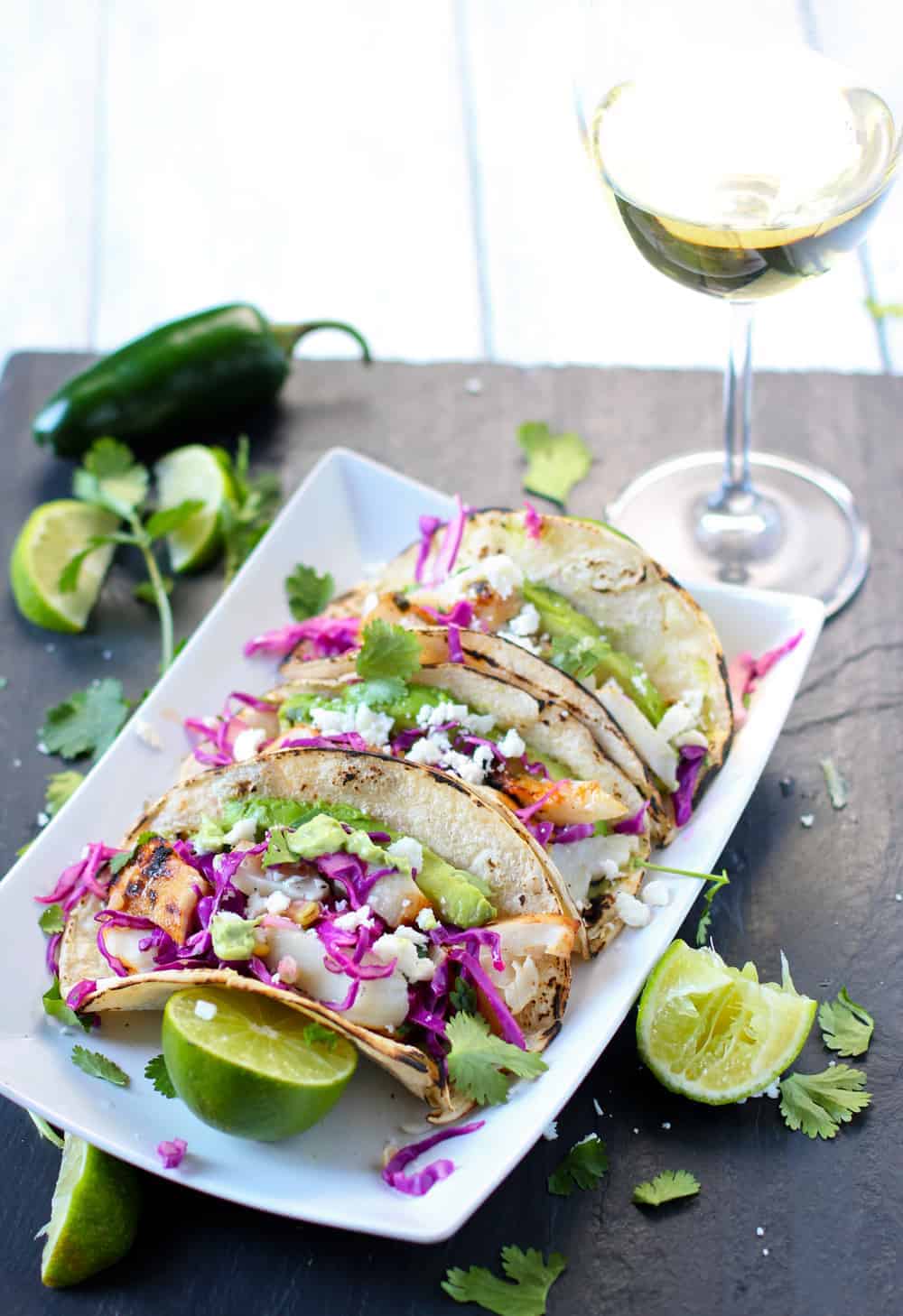 Avocado Crema
I love this part of the fish taco. The mixture of avocado and Greek yogurt adds a nice cooling counterpart to the jalapeño and cayenne pepper in this recipe. It's super simple, but adds great creaminess to the finished tacos.
Related Recipe: You can swap the corn slaw for a mango salsa.
Grilling
White fish cooks quickly so do not leave the grill unattended and be sure you have a good instant read thermometer like the Thermoworks Thermapen One to make sure you don't overcook it. The cook times will depend on the thickness of the fish.
The key is a hot grill using the direct cooking method and 500 degrees Fahrenheit in the cooking chamber. Be sure the grill grate is clean. For gas grills this would be medium-high heat.
Place fish over the direct heat and grill for 3-4 minutes.
Flip fish and grill additional 3-4 minutes.
Remove and rest.
Alternatively you can use a grill basket for fish. The timing is about the same.
Building the Tacos
Start with a warmed corn tortilla, lay down a base layer of Avocado Crema, top that with the grilled fish, next add the crunchy grilled corn slaw, and finish with a little more Avocado Crema. The rest is up to you… do you want a fresh squeeze of lime, maybe a little cilantro, or Cotija cheese? Whatever you add, it is sure to be delicious!
Wine Pairing for Grilled Fish Tacos
You've got some spice from the marinade, some char from the grill, more spice and herbs from the coleslaw, and a creamy cooling effect from the cream sauce. The only real rule I like to follow is to avoid red wines! Red wines and white fish with lots of citrus flavors (like in these tacos) is a hot mess waiting to happen.
Stick to fresh, light to medium-bodied, citrusy white wines for this. You could go for a Sauvignon Blanc if you're feeling zippy. Vinho Verde if you're feeling for something light, super refreshing, and low alcohol. Grüner Veltliner can work well with its herbal flavors, complimenting the coleslaw and cream sauce. Even a nice Pinot Gris (Grigio) can cool the palate if you chose to make these spicy.
Me? For some reason I'm always drawn to Spanish white wines with fish tacos. The fresh fruity flavors of Albariño for example stand up so well to the multitude of flavors in these tacos.
---
More Delicious Taco Recipes
If you like this recipe we'd truly appreciate it if you would give this recipe a star review! And if you share any of your pics on Instagram use the hashtag #vindulge. We LOVE to see it when you cook our recipes.
This recipe was originally published in January of 2016 and updated August of 2022 with more recipe details, guided steps, and specifics on the marinade. The recipe remains the same.
---