Ribeye Steak Tacos are the perfect meal for when you want to take an expensive cut, like ribeye steak, and stretch your dollar by turning them into the most incredible and indulgent tacos. Includes wine pairing.
This is also a great recipe for any leftover prime rib.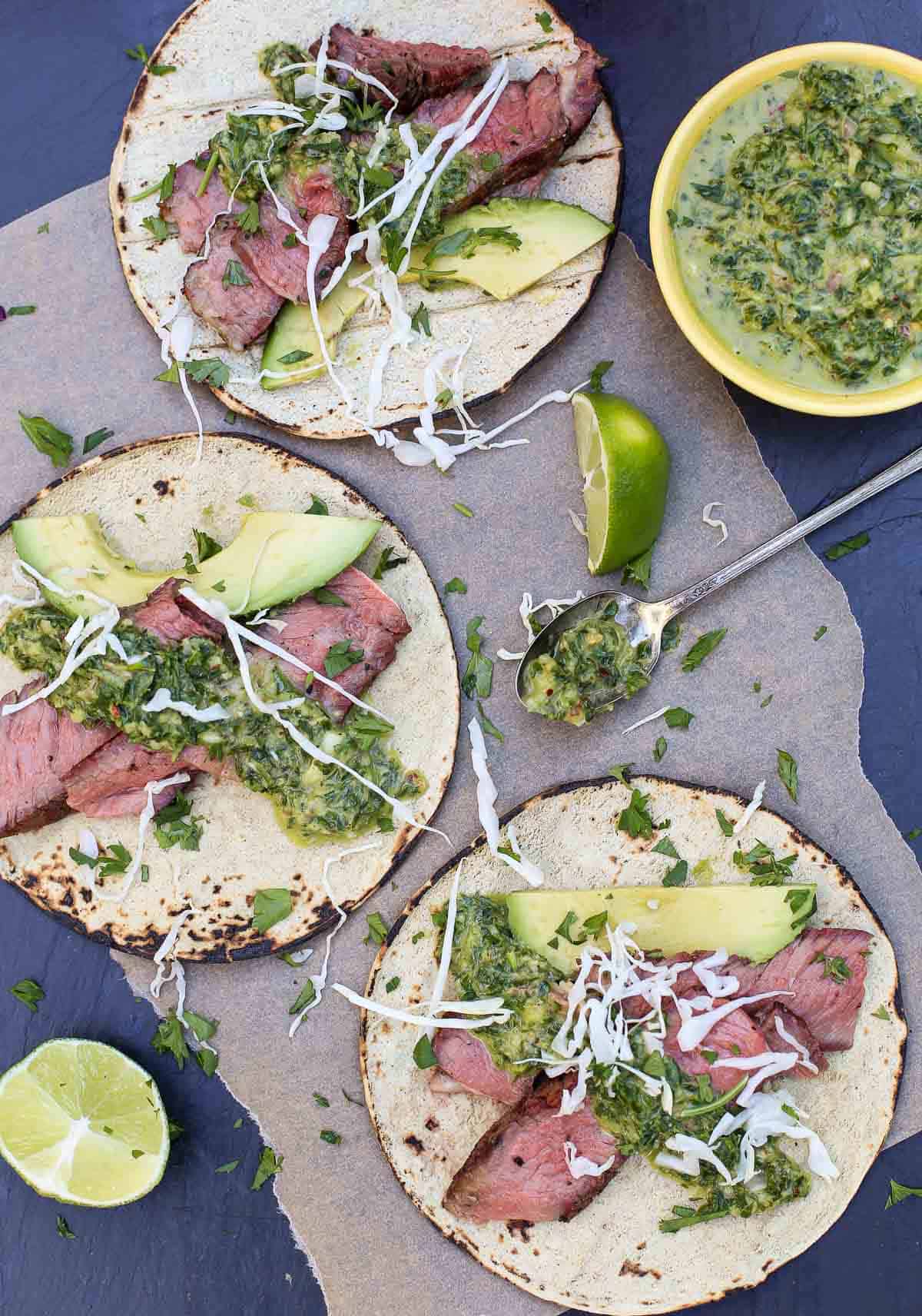 If you're a fan of tacos, then you know how versatile they can be. From traditional beef tacos to vegetarian corn tacos, there are endless possibilities when it comes to this delicious dish. However, if you're looking for a new and exciting twist on the classic taco, then look no further than ribeye steak tacos. These tacos are perfect for anyone who loves the rich, juicy flavor of ribeye steak and wants to enjoy it in a fun and flavorful way.
Jump to:
Ribeye Steak Tacos Ingredients
The key to making amazing ribeye steak tacos is to start with the right cut of meat and keep it simple with the taco filling. When it comes to steak, the ribeye is one of the most flavorful and tender cuts. Look for a well-marbled ribeye steak that is at least 1 inch thick for the best results.
For the taco topping we love a fresh chimichurri sauce, some coleslaw or lettuce for crunch, maybe a touch of shredded cheese, and a slice or two of fresh slices of avocado. Then we top with fresh cilantro.
Quality? Grade? Does it Matter?
For me, I truly believe in investing in quality foods that are going into my body as well as my family's. This is a personal preference here. I don't skimp when it comes to quality. That being said, I also don't like going overboard when it comes to my grocery shopping bill. To me, "quality" means a trustworthy source.
So if we want to take a moment and define what quality means to us; it's about meat that is raised in a sustainable way – no antibiotics, a life in pasture and free range, and sometimes finished on a non-GMO grain and then slaughtered humanely. All of that takes time and money and ends up making the price per pound more. I'm okay with that.
Related Article: Understanding Prime versus Choice Beef
Buying The Steak
When selecting ribeye be sure it's at least 1-inch thick (ideally 1 ½). Buying a thicker cut steak avoids overcooking it. If the steaks are already cut up and thin, then ask the butcher to cut more. They come from the Prime Rib and can easily be custom cut to your desired thickness.
And we use boneless ribeye for this taco recipe versus bone in – both options work.
Since we do tend to invest in higher quality (and thus more expensive) meats, like Snake River Farms and Double R Ranch Beef, we just choose to eat them less frequently. We're not eating expensive steak every day, but instead, maybe once every two to three weeks. This also makes me stop and appreciate the times and the meals when I do eat a steak.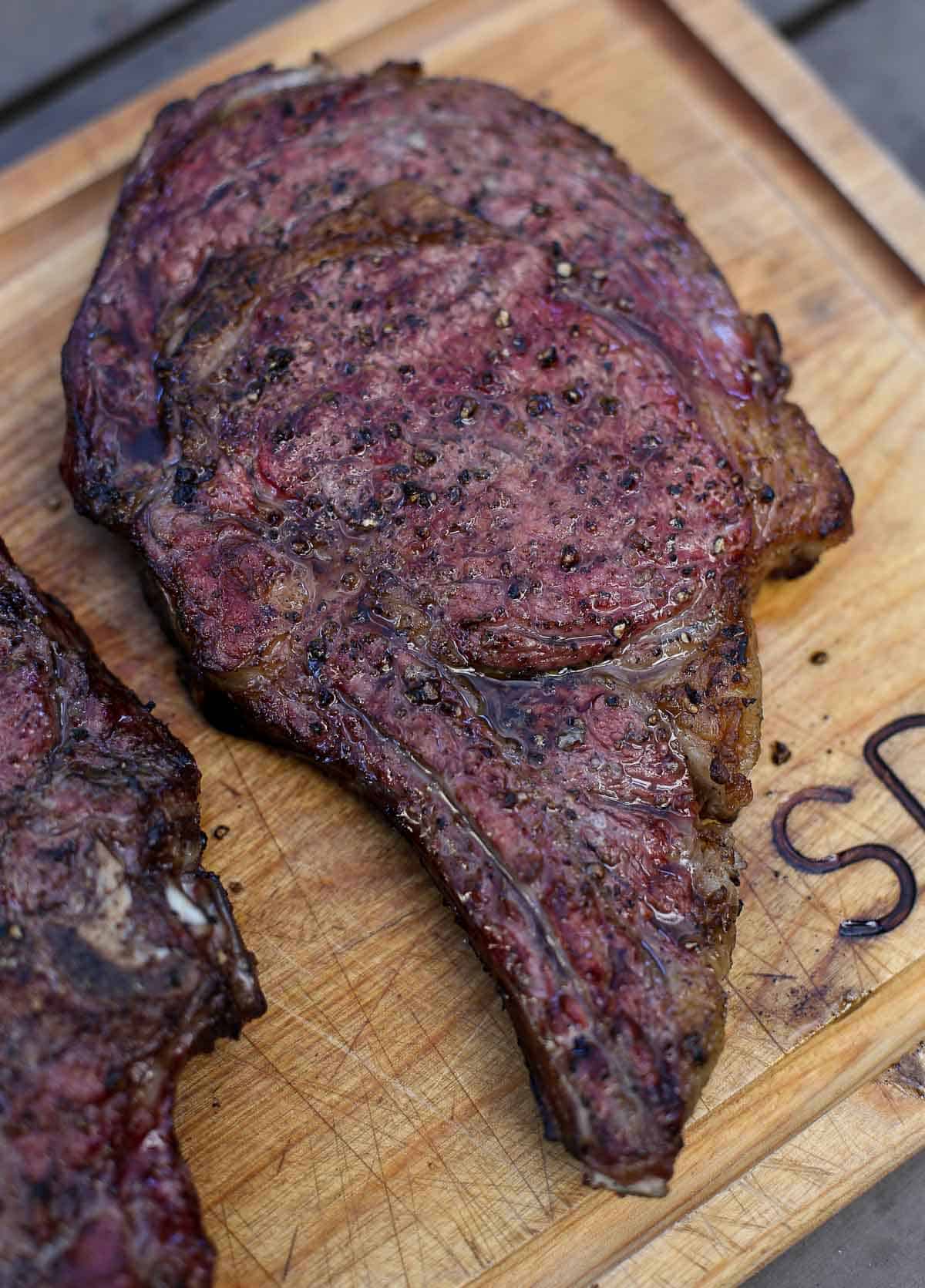 By using the meat in a dish like these tacos, you're stretching your dollar when it comes to eating a great cut of meat. So one large ribeye steak can be used for at least 4 people.
Taco Prep
Before we put the steak on the grill we like to make sure all our toppings and ingredients are prepared and ready so the ribeye tacos can be enjoyed warm.
Make Sauce and/or Salsa – we love our simple chimichurri sauce, or you can make a fresh roasted salsa or a blender salsa for a more traditional flavor. Want a verde (green) salsa? Try our smoked tomatillo salsa.
Cut and Layout Veggies – Be sure you have small bowls and have sliced up your onions, cilantro, and cheese.
Warm Tortillas – We almost exclusively use corn tortillas in our household and the quick hack for warming tortillas, especially for a crowd, is to wrap a stack of 8 tortillas in a dam sheet of paper towels. Then microwave for 30 seconds to both steam and warm. Otherwise my favorite way to prep tortillas is to throw them on the grill for about 10 seconds, then flip, and keep flipping in 10 second increments until you get a mild char on the outside.
Sides – Be sure any sides are ready to go or cooking while the steaks smoke.
By preparing these early you can go right into eating with no fuss. Feel free to add any other favorite ingredients like sour cream, grilled corn, or even a fresh pico de gallo.
Seasoning
Start by seasoning the steak with olive oil and our beef seasoning. If you want to keep it simple use an SPG rub (equal parts kosher salt, granulated garlic, and coarse black pepper).
The olive oil will help the seasoning stick while it smokes and then sears.
Tools
We strongly encourage you to own a good instant read digital thermometer. It reads the internal temperature of the steak in seconds (or less), which means no more overcooked steaks. We use the Thermoworks Thermapen One.
Long tongs are also important when grilling steak.
Cooking the Steak – Reverse Sear
Sure you can pan sear your ribeye or just use grilled ribeye steak. But to add a layer of flavor and if you have a smoker or smoker attachment for your grill consider reverse searing. Basically smoke it first at a low temperature and then finish over a hot and fast flame or heat source.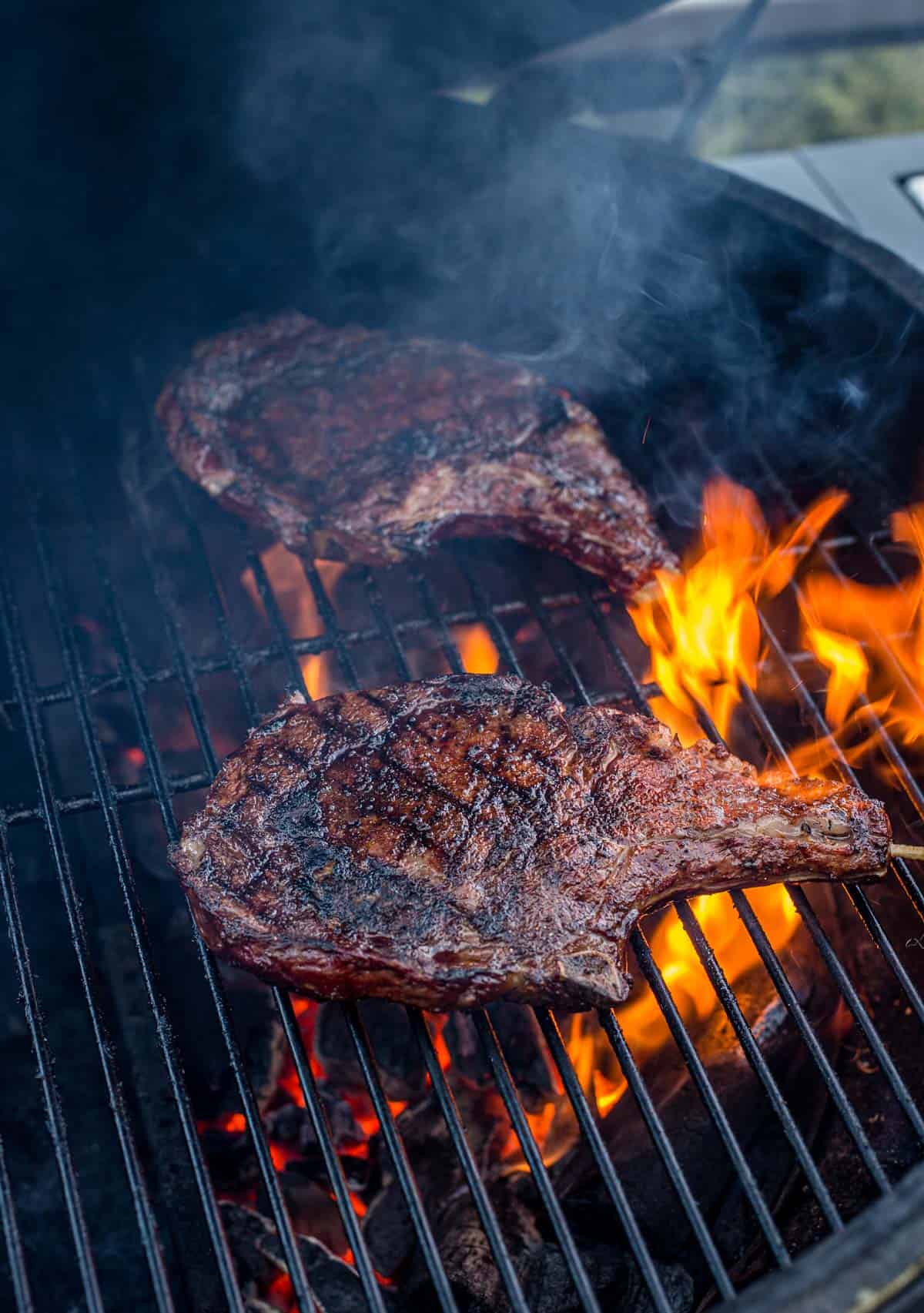 Prep: Prepare your smoker or grill for low heat cooking targeting 200 – 225 degrees Fahrenheit. We love fruit woods (cherry or apple), oak, or hickory for steak and reverse searing for the right smoke flavor.
Smoke: Place your seasoned ribeye steak in smoker on grill grates and smoke for 30 – 45 minutes covered or until the internal temperature reaches 110 degrees Fahrenheit.
Transfer: When the internal temperature of the steak reaches 110 degrees remove from the smoker. If your smoker also hits high heat, like our Big Green Egg, then prepare your grill for direct, high heat, grilling and rest the steak as the grill comes to temperature. Otherwise have your high heat grill or other source ready once the steak is at 110 degrees.
Grill: Place the smoked ribeye on the grill over direct heat. Sear each side for 2 minutes. Closely monitor the meat with a high quality instant read meat thermometer. Then remove the steak when it hits 127 degrees (you want it between 125 and 130 for rare). Once you remove the steak, let it rest, allowing the juices to settle. It'll also keep cooking a little bit with that residual heat.
Make Tacos: After the rest period slice the ribeye steak against the grain into thin slices no thicker than a pencil. Then make the tacos.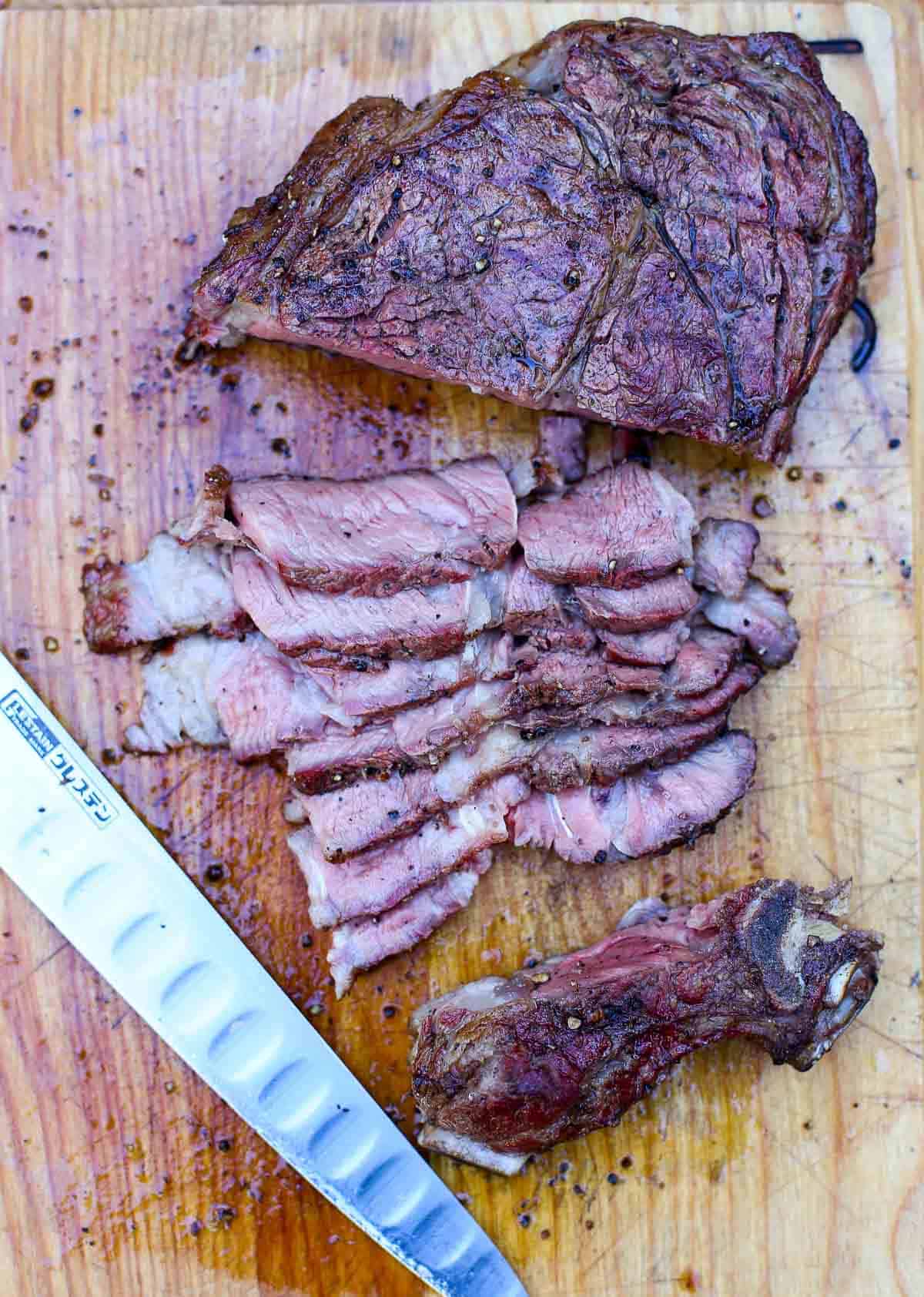 Since we're using such a great cut of meat and we took the time to reverse sear it, we didn't want it drowning in toppings that would have taken away from our hard work. So we kept it simple with some chimichurri sauce and a slice of fresh avocado. Absolutely perfect.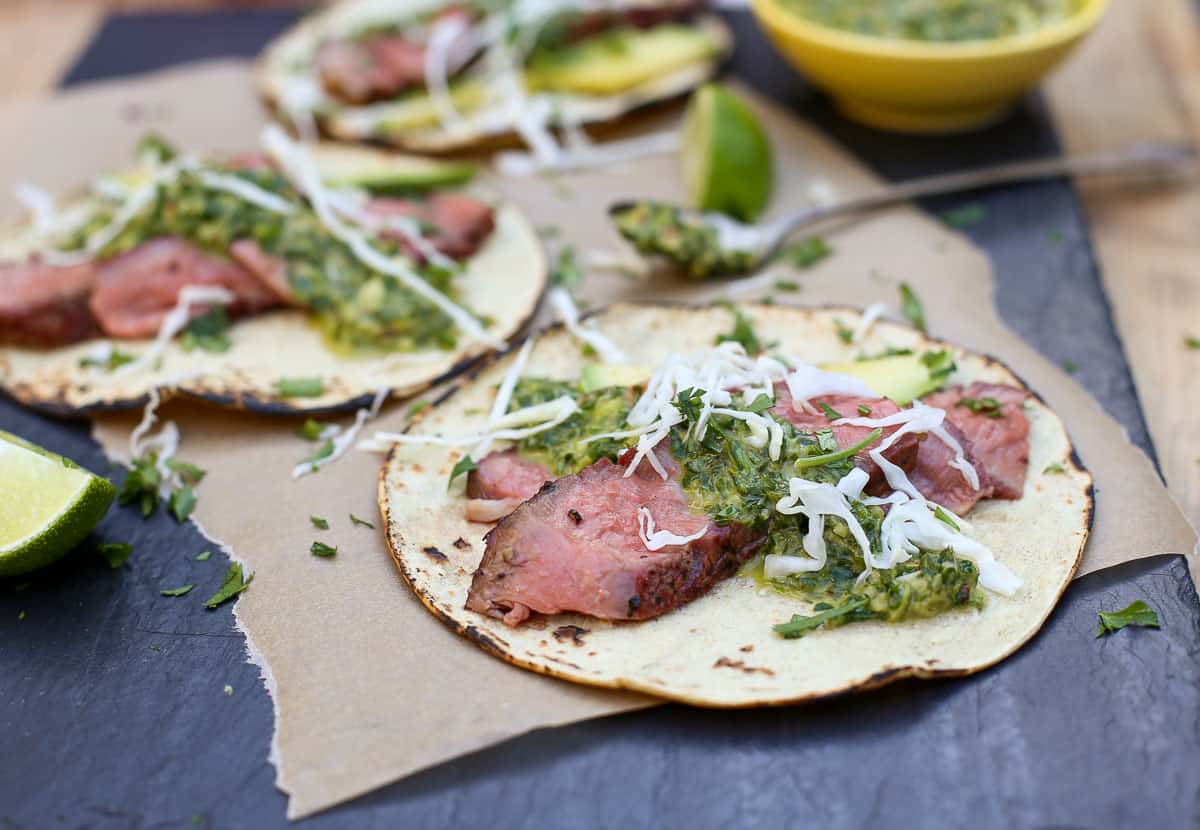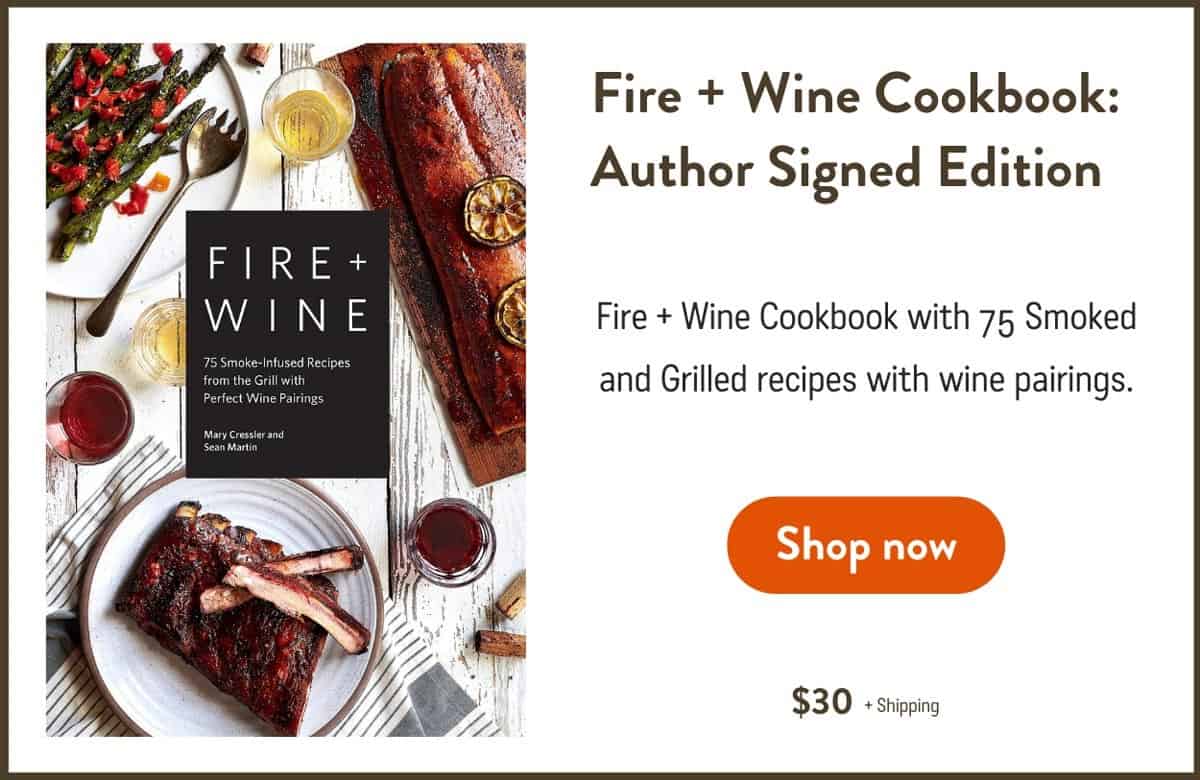 Wine Pairing for Ribeye Steak Tacos
When it comes to stretching your budget with wine the same can apply by using a winery's "second label". There are several wineries that have their main label, like Soter Vineyards for example. They then have another label that still offers great quality but at a more affordable price. Now there are several reason for doing this. In Bordeaux for instance, a winery (or Chateau) may use only their very best fruit for their main wine. And then the remaining in their second label. The vineyards are often the same, but the fruit just didn't meet a specific standard. The second wine is often pretty darn amazing too.
In this case, Planet Oregon, made by one of my favorite winemakers, Tony Soter of Soter Vineyards. It was founded with a goal to, "make delicious, environmentally responsible wine at an accessible price. In short, a wine you can enjoy on a Tuesday and feel great about."
It's a delicious wine, and a great value for Oregon (found under $20).
We're still not skimping here. Instead we're receiving great value for a high level of quality. The wine has some deep dark fruit, great richness and texture. This is the kind of Pinot that has the umph to stand up to steak tacos!
More Taco Recipe Ideas
---
Tried this recipe? Give us a star rating and we would love to see! Mention @vindulge or use the hashtag #vindulge on all the social media handles. And consider subscribing to our newsletter where we drop all our favorite ideas and inspirations every week.
Mary (a certified sommelier and recipe developer) and Sean (backyard pitmaster) are co-authors of the critically acclaimed cookbook, Fire + Wine, and have been creating content for the IACP nominated website Vindulge since 2009. They live in Oregon on a farm just outside Portland.
This post may contain affiliate links. This means if you click on the link, we may receive a small commission if you purchase through the link. We partner with brands we know and love and use and it helps keep the blog going!
---