How to take an expensive cut of meat, like a thick cut Ribeye steak, and stretch the portions so that you can have your steak without worry of breaking your budget by making Ribeye Steak Tacos.
This is also a great recipe for any leftover ribeye or prime rib.
Ribeye Steak Tacos
We had a reader reach out to us recently asking if we ever use cheaper or less expensive cuts of meat. He mentioned that we're often talking about using expensive cuts and if we had any advice to offer someone not wanting to spend so much money on meat and thoughts on lesser cuts or grades of meat.
Quality? Grade? Does it Matter?
For me, I truly believe in investing in quality foods that are going into my body as well as my family's. This is a personal preference here. I don't skimp when it comes to quality. That being said, I also don't like going overboard when it comes to my grocery shopping bill. To me, "quality" means a trustworthy source. I don't want meat that's coming from a large processed meat facility that jacks up their cows with antibiotics.
So if we want to take a moment and define what quality means to us; it's about meat that is raised in a sustainable way – no antibiotics, a life in pasture and free range, and sometimes finished on a non-GMO grain and then slaughtered humanely. All of that takes time and money and ends up making the price per pound more. I'm okay with that.
Limiting Beef Intake
Since we do tend to invest in higher quality (and thus more expensive) meats, like Snake River Farms and Double R Ranch Beef, we just choose to eat them less frequently. We're not eating expensive steak every day, but instead, maybe once every two to three weeks. This also makes me stop and appreciate the times and the meals when I do eat a steak.
But let's be honest, I also live with a husband who's constantly wanting to try new methods of cooking steaks and perfecting his craft (it's a blessing and a curse!).
So, for those days when he's craving a steak and I'm feeling frugal, we agree to do one steak and spread the wealth, so to speak.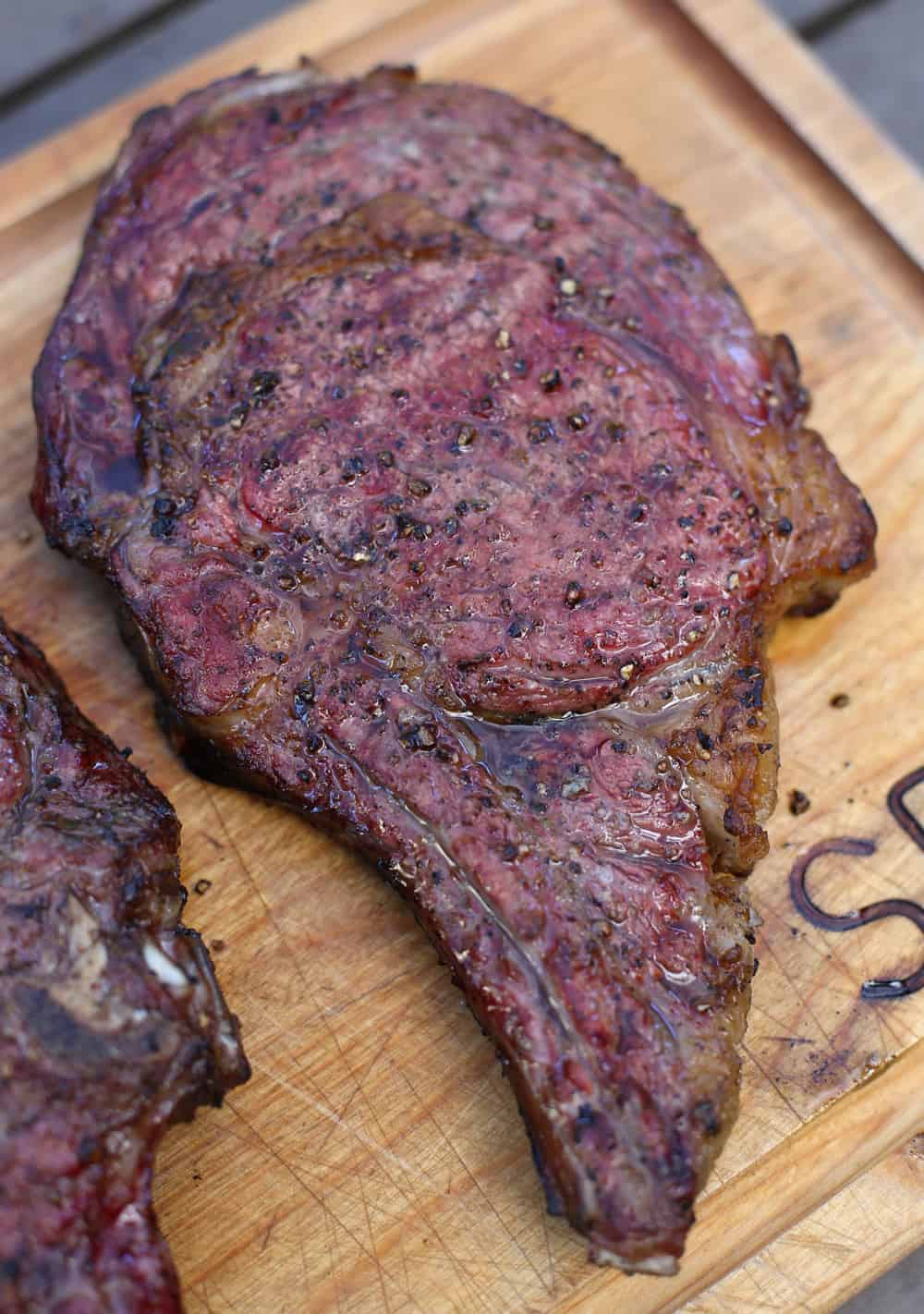 By using the meat in a dish like these tacos, you're stretching your dollar when it comes to eating a great cut of meat. Instead of one gargantuous steak per person, we're taking one steak and spreading it out among four people.
That's what I'm talking about here. Not skimping on quality, but still being able to fit within a given means.
Reverse Searing
You can still eat on a budget without sacrificing quality. And when it comes to steak, I do believe you should still strive for a quality cut from a trusted source, but limit your intake (when you're not making steak weekly, then you can splurge on the rare the times you do), and stretch your dollar by using the ingredients in other ways, like tacos.
What we did here was take a thick cut 1-lb Ribeye steak and smoked it using the reverse sear method, like we did in this post.
We smoked the steak at a low temperature, around 160 degrees using fruit wood (we used cherry). Then when the internal temperature of the steak reached 110 degrees we transferred it to a hot grill to finish cooking.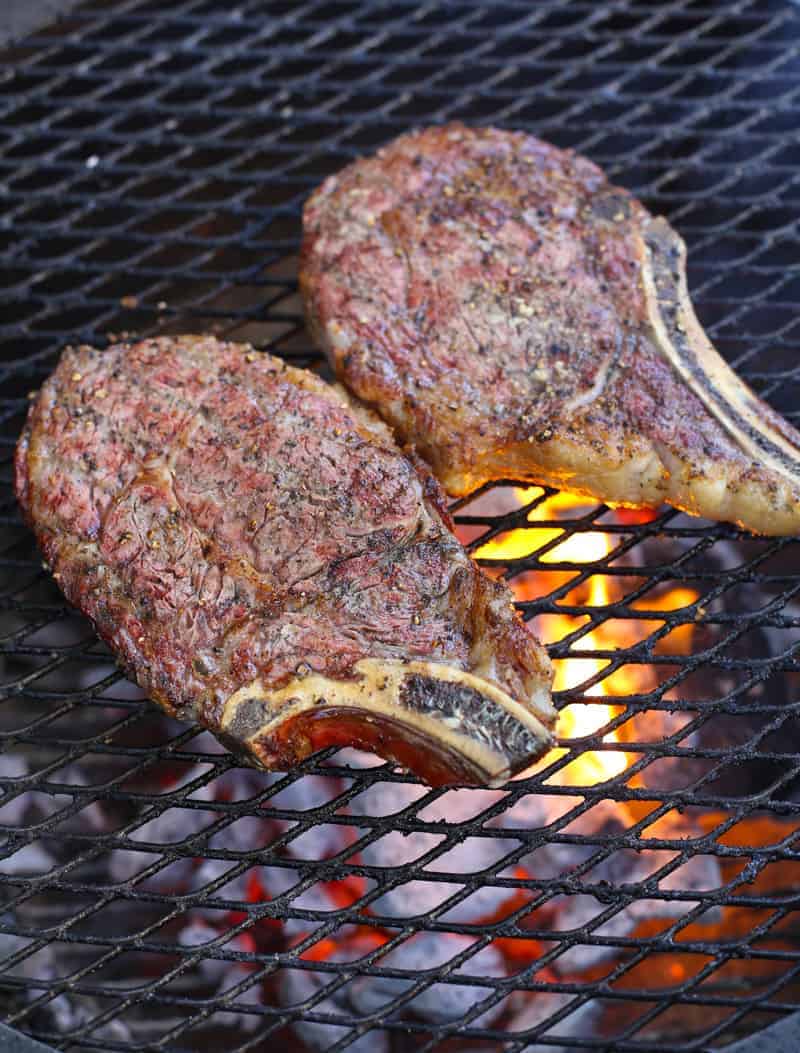 Closely monitored the meat, and flip the meat once so that it gets an awesome char on both sides. Then remove the steak when it hit 127 degrees (you want it between 125 and 130 for rare). Once you remove the steak, let it rest, allowing the juices to settle. It'll also keep cooking a little bit with that residual heat.
Slice it up and use for a filling in your tacos. Remember to slice against the grain.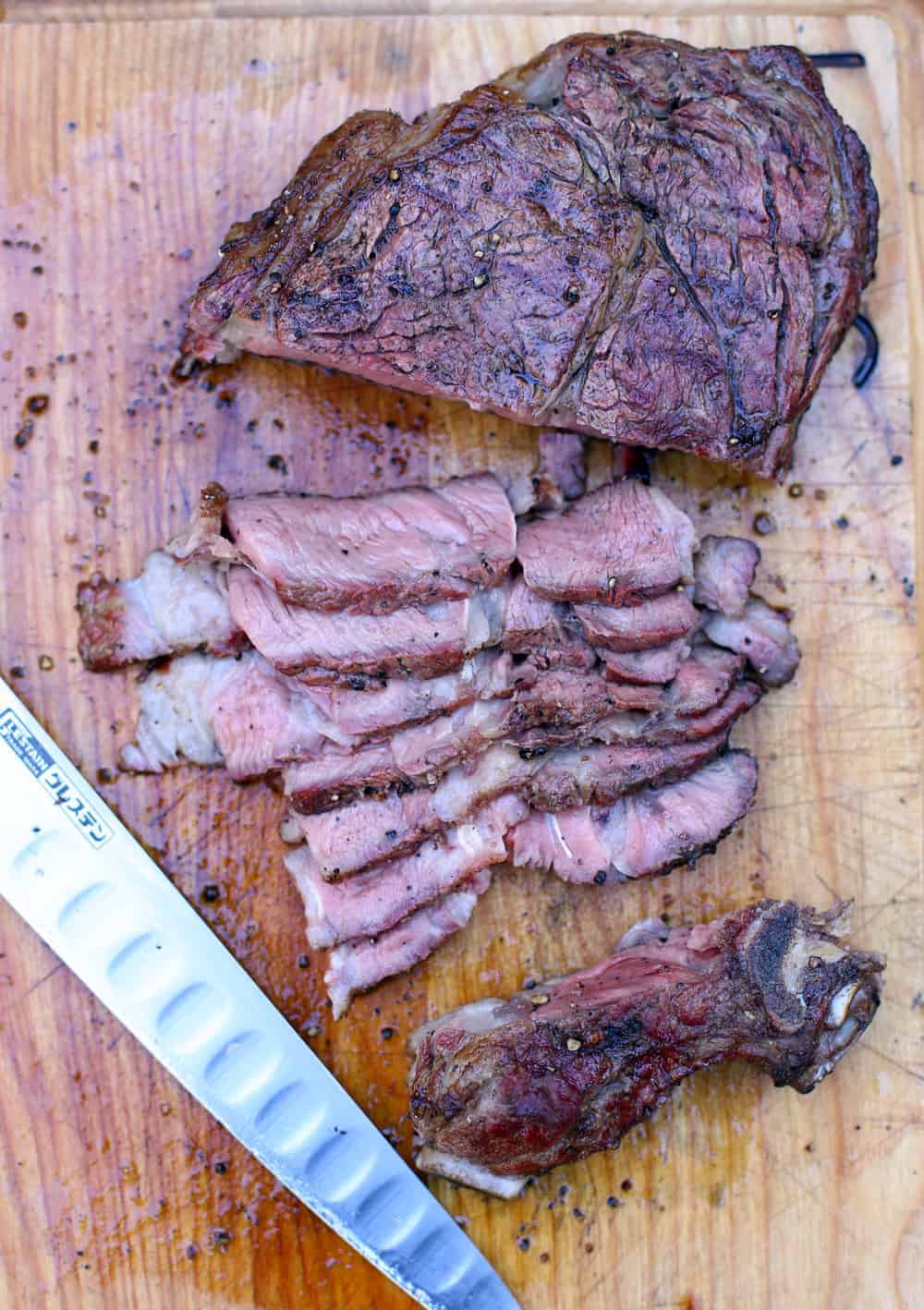 Since we're using such a great cut of meat and we took the time to reverse sear it, we didn't want it drowning in toppings that would have taken away from our hard work. So we kept it simple with some chimichurri sauce and a slice of fresh avocado. Absolutely perfect.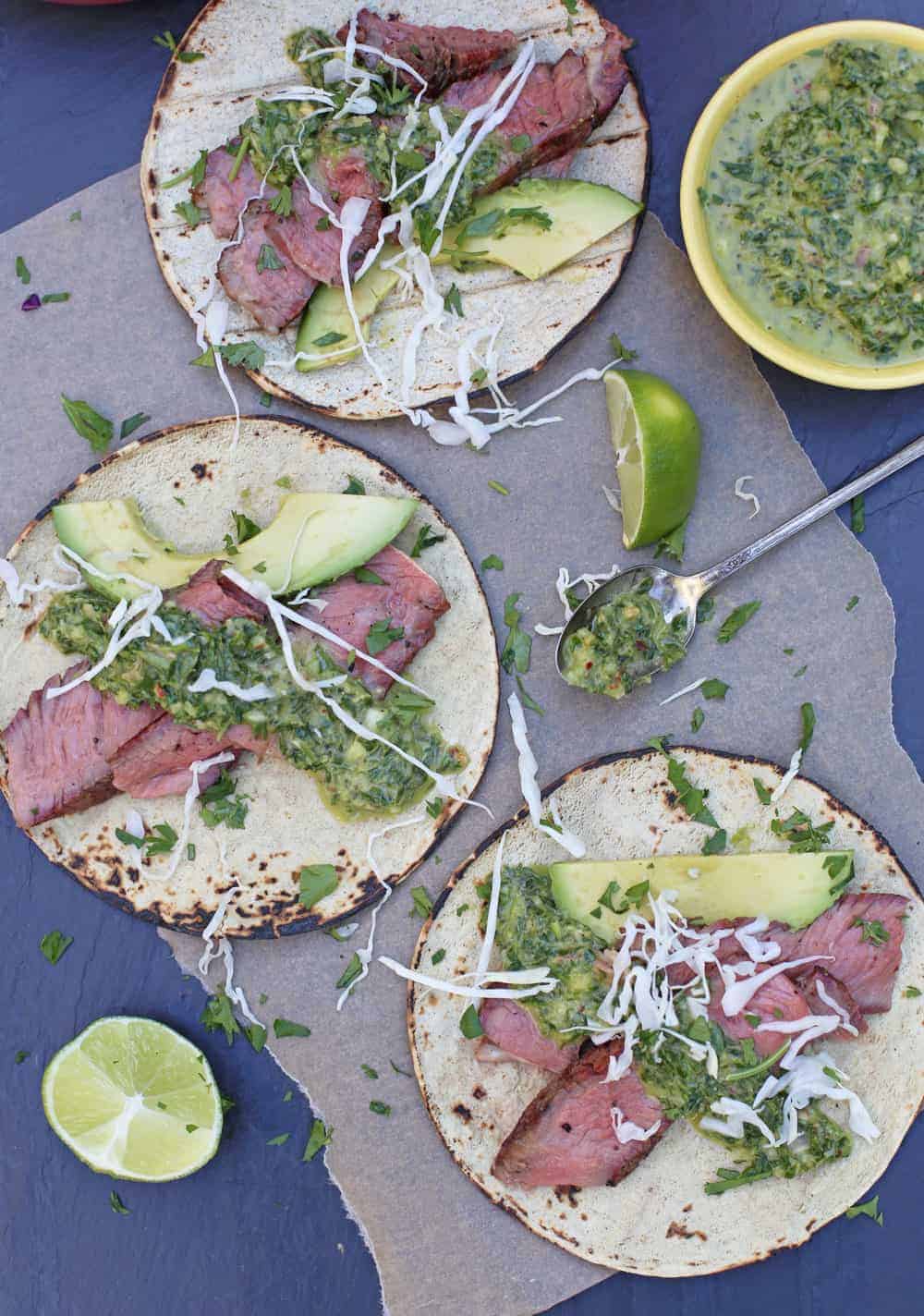 Wine Pairing for Ribeye Steak Tacos
When it comes to stretching your budget with wine the same can apply by using a winery's "second label". There are several wineries that have their main label, like Soter Vineyards for example. They then have another label that still offers great quality but at a more affordable price. Now there are several reason for doing this. In Bordeaux for instance, a winery (or Chateau) may use only their very best fruit for their main wine. And then the remaining in their second label. The vineyards are often the same, but the fruit just didn't meet a specific standard. The second wine is often pretty darn amazing too.
In this case, Planet Oregon, made by one of my favorite winemakers, Tony Soter of Soter Vineyards. It was founded with a goal to, "make delicious, environmentally responsible wine at an accessible price. In short, a wine you can enjoy on a Tuesday and feel great about."
I respect anything Tony Soter makes. So even though this is not of their "Soter Vineyards" label, it's still a delicious wine. And you can find it for under $20 (vs. $6o).
We're still not skimping here. Instead we're receiving great value for a high level of quality. The wine has some deep dark fruit, great richness and texture. This is the kind of Pinot that has the umph to stand up to steak tacos!
Ribeye Steak Tacos Recipe
Note: We had 8 people over when we served these tacos, hence the 2 steaks shown in the pictures. But one 1-lb steak is a good amount for 4 people when making tacos.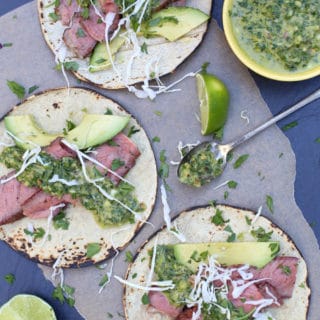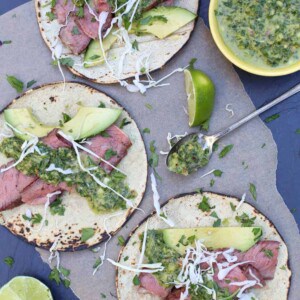 Ribeye Steak Tacos – Stretching your budget
Ribeye Steak Tacos are a great solution when you want an expensive cut of meat, like a ribeye, but want to stretch your dollar.
Print
Pin
Rate
Servings:
4
people (2 tacos per person)
Ingredients
For the Reverse Sear Smoked Ribeye Steak:
For the Tacos:
8

corn tortillas

the cooked steak slices

(from above)

½

cup

chimichurri sauce

1

avocado, sliced
Optional Taco Toppings:
¼

cup

chopped cilantro

½

cup

cole slaw

½

cup

cotija cheese

2

limes

cut into small wedges
Instructions
For the Reverse Sear Ribeye Steak:
Salt the steak on both sides and place on a cookie sheet in a refrigerator for up to two hours to dry brine. Remove about 20 minutes before smoking and add pepper. (we're not using an oil here due to the dry brine or salting)

Smoking: Preheat smoker to 160 degrees (we used cherry wood), and remove the steak from the fridge.

Apply the pepper on the steaks, and then place them on the smoker. They will take on that flavor and start to turn a reddish hue. When the internal temperature (IT) reaches 110 degrees, remove from the smoker and prepare for the grill.

Grilling: Prepare your cooker for direct heat. In this case we used a simple kettle grill. You can also do this before the steak reaches 100 degrees. Or you can wait while you prep your sides.

Place the steak over the hot direct heat for about 2 minutes at the most. You're looking for a nice crust. The IT will come up fast on the steak, especially if you have just taken off the smoker. (* some folk may want to re-season at this point, it's up to you. We didn't. The dry brine or salt with the pepper was all we needed. Try it without re-seasoning first and then adjust. It's easier to add salt and flavor later rather than taking it away)

Flip the steak for another two minutes until the IT reaches your desired doneness, we went for 125 – 130 degrees. Let rest with a loosely tented foil for the juices to reabsorb into the meat then cut and serve.
For the Tacos:
Warm up your corn tortillas.

Load up the tortillas with a couple slices of the steak, a drizzle of chimichurri sauce, an avocado slice, and any other additional toppings. Enjoy
Video
[adthrive-in-post-video-player video-id="Zk5ci2iq" upload-date="2020-12-02T14:42:06.000Z" name="How To Reverse Sear a Ribeye Steak" description="Learn how to reverse sear for the best flavored steaks. Slowly smoke and then sear your steak over high heat. In this video we do this with ribeye steaks." player-type="default" override-embed="default"]
Find the perfect wine pairing at the Vindulge Wine Shop
Nutrition
Calories:
176
kcal
|
Carbohydrates:
26
g
|
Protein:
6
g
|
Fat:
6
g
|
Saturated Fat:
3
g
|
Cholesterol:
17
mg
|
Sodium:
821
mg
|
Potassium:
182
mg
|
Fiber:
4
g
|
Sugar:
2
g
|
Vitamin A:
778
IU
|
Vitamin C:
14
mg
|
Calcium:
148
mg
|
Iron:
1
mg
---