Merlot is a grape known for its approachability and smooth body with dark fruit characteristics. But Merlot is so much more than that. These are wines of high quality and an excellent ability to pair with foods (especially grilled foods!).
Let's explore this versatile wine.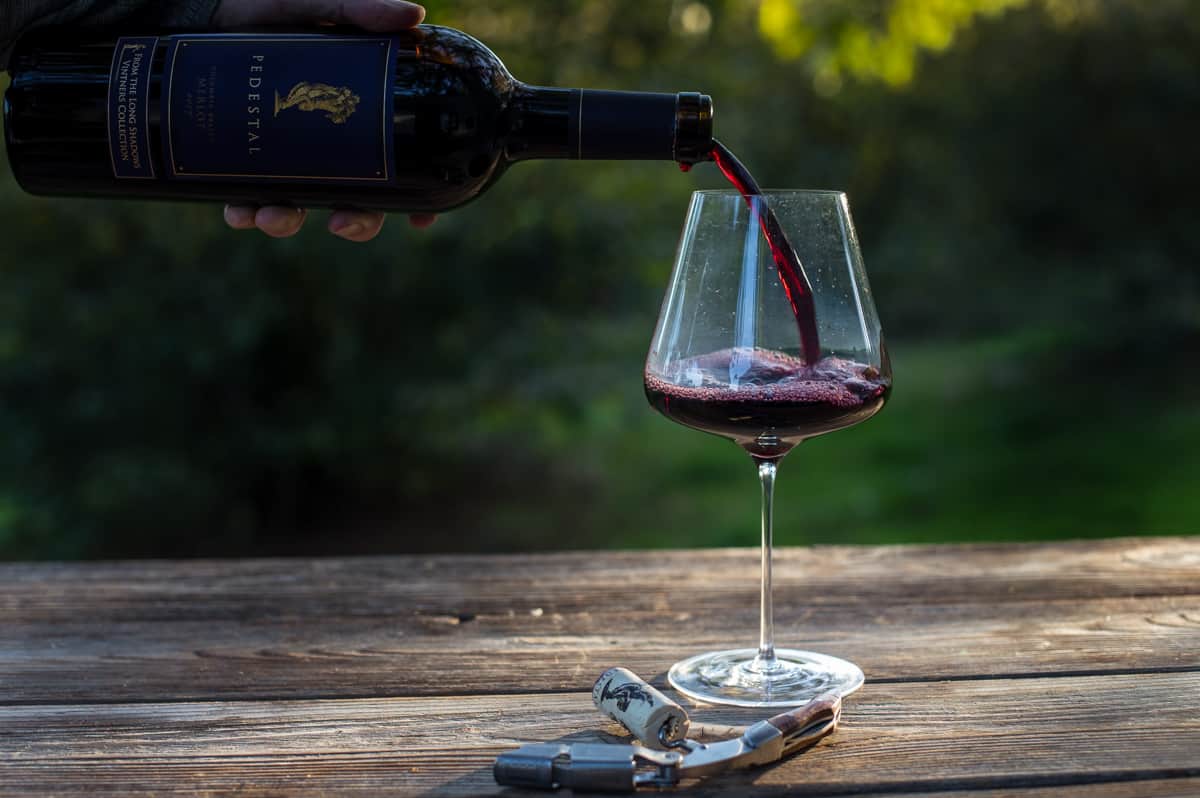 Jump to:
Merlot is one of the most popular red wine grapes in the world, and the second most popular red grape in the US (neck and neck with Cabernet Sauvignon). Known for its soft textures, approachable style, and adaptability to a wide range of climates and growing regions, good Merlots can be found in all price ranges and are extremely versatile with food. They range from easy drinking and fruity, velvety and delicious, to rich, luscious and oaky. This is a grape all wine lovers should be familiar with.
The month of October represents International Merlot Month! So it's a great time to jump on board and learn more about this grape. Several wine producers band together using the hashtag #MerlotMe all month, making it a good time to find some delicious examples and share them with your friends.
Merlot is French for "little blackbird" (after the blackbirds, "merlau", who apparently love to dine on the grapes).
You can find examples made from 100% Merlot grapes, but you'll also commonly find it blended with other grapes (the softness of Merlot is a great balance for the highly tannic Cabernet Sauvignon for example).
Merlot Wine Growing Regions
Merlot grapes originated in the Bordeaux region of France, where it is still the leading grape grown there in terms of production and used in Bordeaux red blends. Most of the Merlot in Bordeaux is planted outside the Médoc and on the Right Bank (and most famously in the regions of Pomerol and St. Emilion) where it is blended with Cabernet Franc, Cabernet Sauvignon, and sometimes Malbec and Petit Verdot.
Merlot also thrives in Chile, Australia, Argentina, Italy, and the United States (predominantly Washington State, California, and also New York). My favorites US Merlots can be found in Washington, followed by California.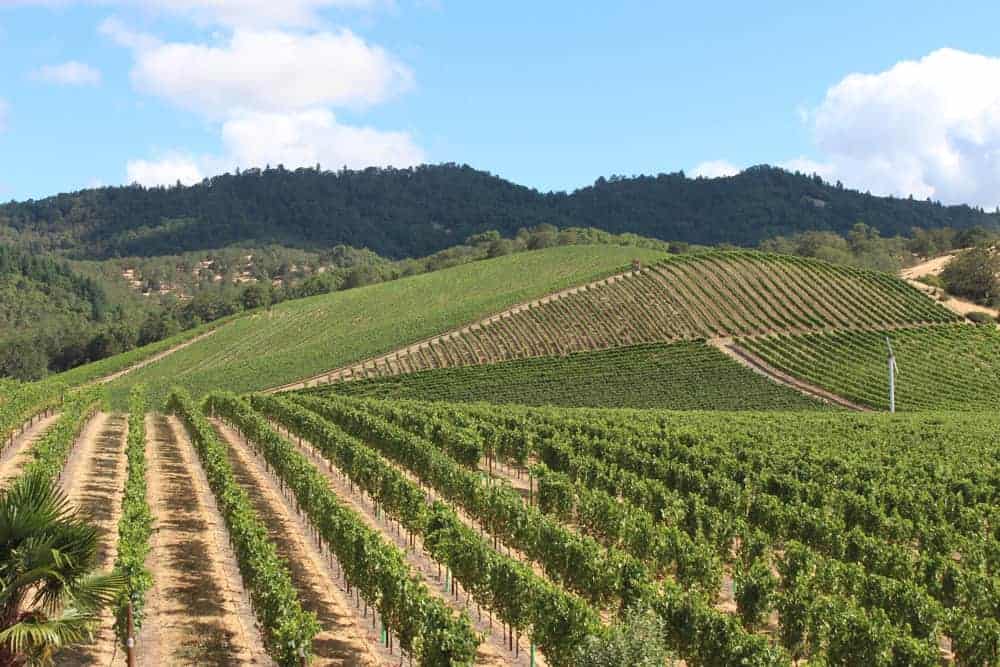 What does Merlot Taste Like
Because Merlot is grown all over the world, in all sorts of climates, the flavors will vary based on where it is grown and also winemaking styles and techniques.
Style: dry, medium to full-bodied wines with moderate acidity, medium tannins, and medium to high alcohol.
Taste Characteristics: deep black cherry, raspberry, blackberry, blueberry, plum, cassis, dark chocolate, mocha.
Oak Aging: Those aged in oak will give way to flavors of vanilla, vanilla bean, cocoa, coffee, cloves, cinnamon.
Additional characteristics/traits: violet, velvety, smooth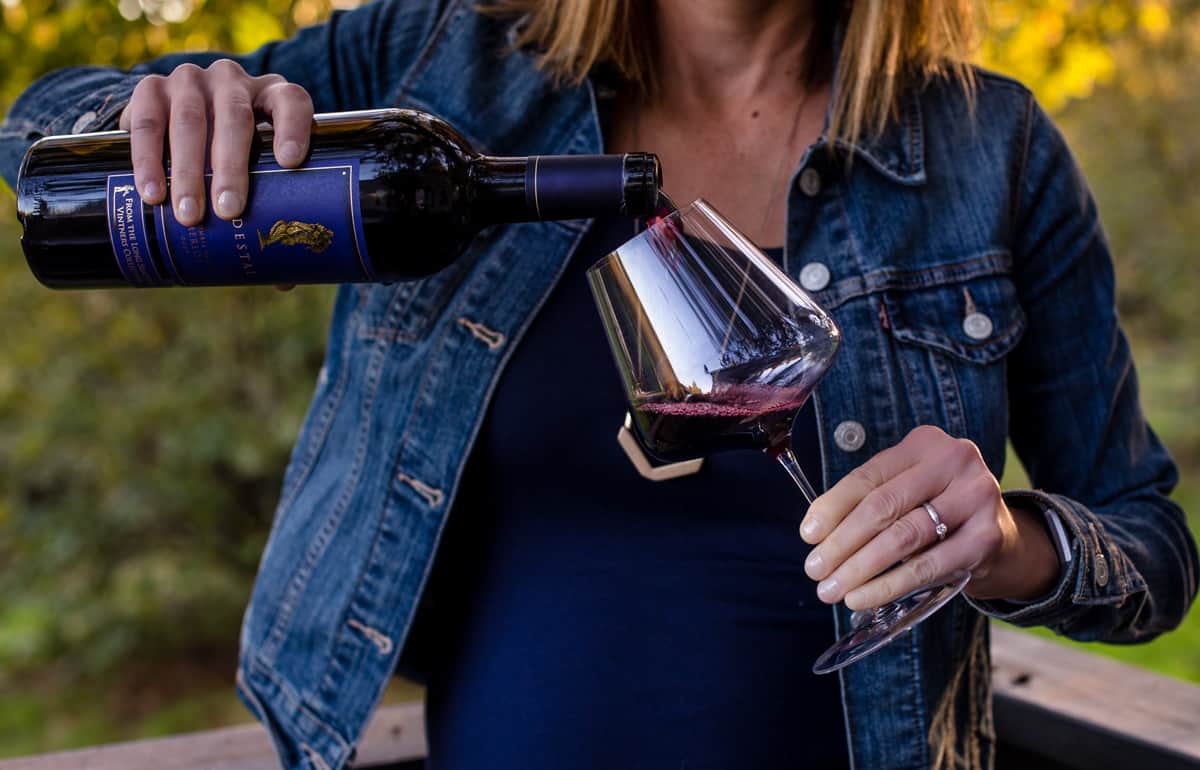 What Food Pair Best with Merlot
Merlot is a very versatile food pairing wines, and as such there are a wide range of foods you can choose from for your next bottle. For your everyday, fruity, and easy drinking examples, pair with burgers, pizza and pasta, lean grilled meats like tri tip.
For the richer, bolder, full bodied styles, pair with richer and heartier dishes such as stews, smoked roasts, steaks with red wine sauces, or even lamb dishes. Remember, match light bodied wines with light dishes, and full bodied wines with richer and full bodied foods.
Recipes to Pair with Merlot
You can find more recipes to pair with Merlot in our cookbook, Fire + Wine, including our Merlot Spritzed Brisket recipe.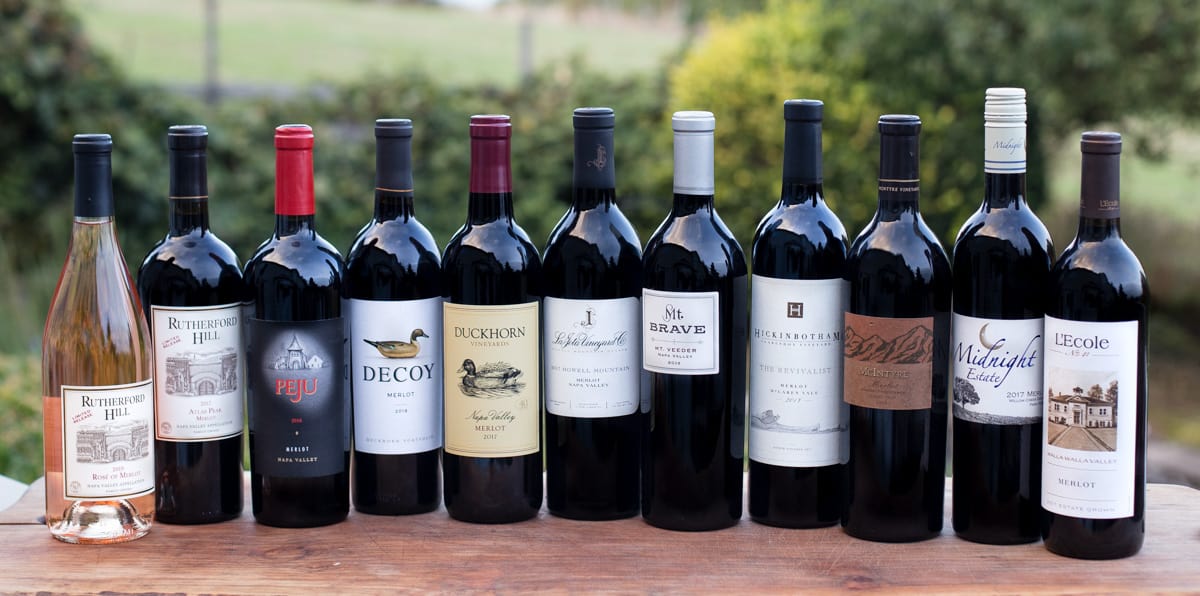 Merlot Wines to Seek Out
In honor of Merlot month, the following are some great domestic examples to seek out.
L'Ecole No. 41 2017 Merlot (Columbia Valley, Washington)
Great mix of structure and enticing fruit, with cranberry, raspberry and blackberry fruits, and some baking spices. Great all around wine for the price! 14.5% abv | $25
L'Ecole No. 41 2017 Merlot Estate (Walla Walla Valley, Washington)
Structured, bold, and serious (like a good Cabernet Sauvignon), with deep dark fruit, peppercorn and barrel spice notes. Very good! 14.5% abv | $37
Rutherford Hill 2017 Atlas Peak Merlot (Napa Valley, California)
This limited production wine is outstanding! It has intoxicating aromas of cranberry, black cherry, pomegranate, lime peel, along with baking spices (think cinnamon and cloves) and vanilla. This is a full bodied and lush style that is absolutely delicious. 15.5% abv | $60
La Jota Vineyard 2017 Howell Mountain Merlot (Napa Valley, California)
Rich. Luscious. Seriously delicious! Smooth from the first sip to the last, with balanced black cherry, cassis, chocolate and blueberry pie aromas and flavors. Full bodied and jam packed with flavor. This was a delight to drink! Definitely in my top 3. 14.5% abv | $85
Peju 2016 Merlot (Napa Valley, California)
Bold and powerful style, but opens up quite nicely with some time. Full bodied with strong tannins, and flavors of red berry fruits, baking spices, and a toasty finish and strong tannins. 15% abv | $48
Pedestal 2017 Merlot (Columbia Valley, Washington)
Dark, rich, and full bodied with lots of deep dark berry, toasty vanilla and cocoa flavors, with a lengthy finish. This is one that could use a few years in the cellar to do it justice. Decant if drinking young. 14.9% abv | $65
Duckhorn Vineyards 2017 Napa Valley Merlot (Napa Valley, California)
Smooth with rich black cherry, plum, boysenberries, and herbs and baking spices linger throughout. Medium bodied and well balanced with a savory finish. Very tasty! 14.5% abv | $56
Decoy 2018 Merlot (Sonoma County, California)
Ripe and fruity with plum and prunes, opening up nicely to black cherries, blueberries, chocolate, and tobacco. A nice value Merlot from Duckhorn Vineyards. 13.9% abv | $25
Midnight Cellars 2017 Estate Merlot (Paso Robles, California)
Smoky, powerful, leathery! Lots of high toned red berry fruit with lots of barrel spice. If you like them dark and big this is for you. This is big style Merlot, high in tannins and alcohol. 15.9% abv | $44
McIntyre 2016 Merlot, Kimberly Vineyards (Arroyo Seco, California)
Tight at first, but opens up nicely with some time (or decanting) to flavors of blueberries, raspberries, and raspberry jam. Deep concentrated dark fruit in the mouth with chalky tannins. Bolder style and full bodied begging for a good grilled steak.
Rutherford Hill 2019 Rosé of Merlot (Napa Valley, California)
YES, they make rosé our of Merlot too! Delicate, fresh, and bright style rosé with fresh picked strawberries, light cherry, lime, lime peel, and mandarin orange aromas and flavors. Bright acidity makes this one a good one to pair with foods, like salads or a charcuterie place. Yum! 13.5% abv | $34
---
For value Merlot (Under $25) seek out some of the following producers:
Pedroncelli, Robert Mondavi, Cline, Franciscan, St. Francis, Seven Hills, Chateau Ste. Michelle.
---
Many of these wines were sent in as samples for review. See my review policy here.