Cabernet Franc is one of the oldest red grape varieties and is the parent grape of Cabernet Sauvignon, Merlot, and Carmenère. Commonly used in red blends, where it adds herbaceous and dark spice notes, it is increasingly making its own way as a single varietal wine.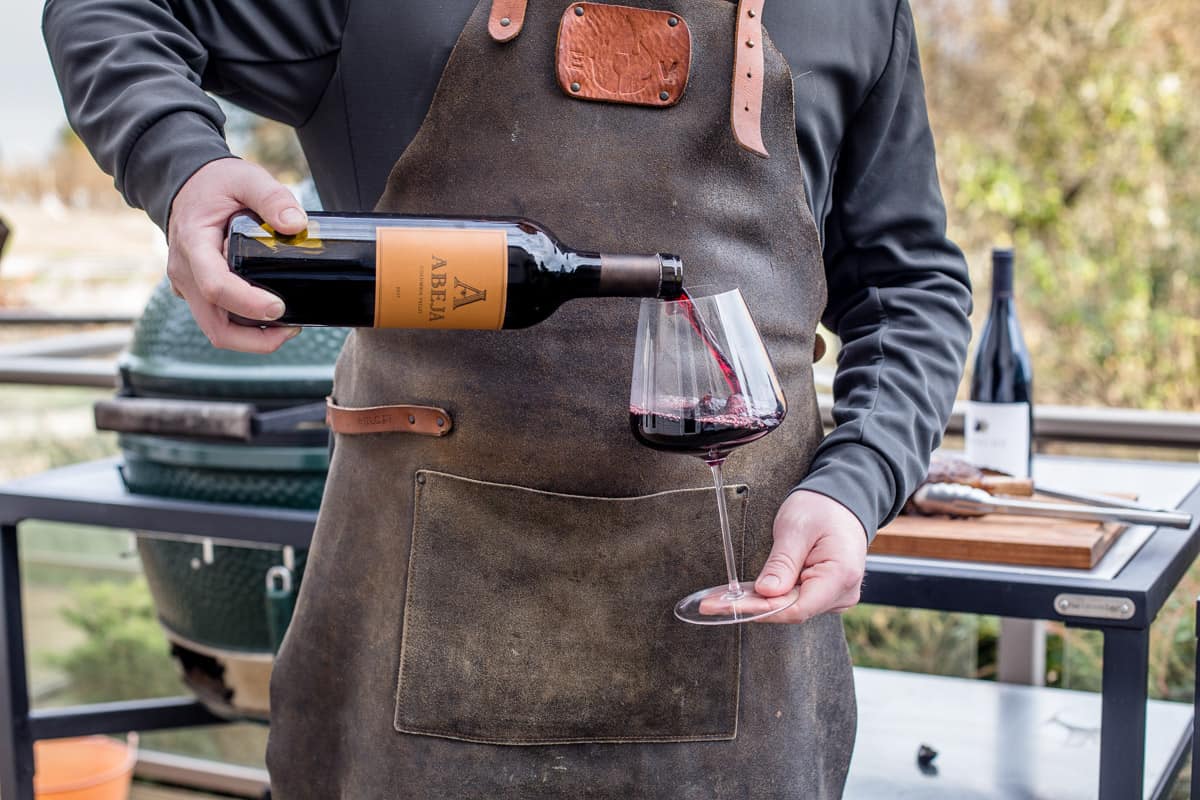 The Creator of Bordeaux and the Chilean Wine Industry
Jump to:
History
Cabernet Franc is a black skin grape that has been growing in France's Loire valley for 500 years. In this cool region where Sauvignon Blanc and Chenin Blanc dominate, Cabernet-Franc is the primary red wine grape. In villages like Chinon, Bourgueil, and Samur-Champigny it makes a fresh, bright, acidic red with peppery, raspberry fruit flavors. The origins of the grape are believed to be in the Libournais region of South-West France.
The vines then somehow found their way to Bordeaux in the 18th century where the grape thrived in the warmer climate producing a fuller-bodied red with lower acidity than in the Loire and more cassis, blueberry, and floral notes. The fascinating part of this story is that Cabernet Sauvignon did not exist when Cabernet Franc arrived in Bordeaux. The more assertive Cabernet Sauvignon is a hybrid coupling of Cabernet Franc and Sauvignon-Blanc. One can just imagine Cabernet Franc contributing pigment, black fruit flavors and tobacco notes while Sauvignon Blanc lends thicker skins (which means more tannin in red wines) and a tendency to produce herbaceous aromatics and flavors when not enough sunlight reaches the grapes.
But that is not the only magic Cabernet Franc performed. It also is one of the parents of both Merlot and Carmenere due to cross pollination with another mystery grape. Can you imagine Bordeaux or Chile ever developing as wine powerhouses without Cabernet Sauvignon, Merlot and Carmenere? They certainly would look much different two centuries later.
Where is it Grown Today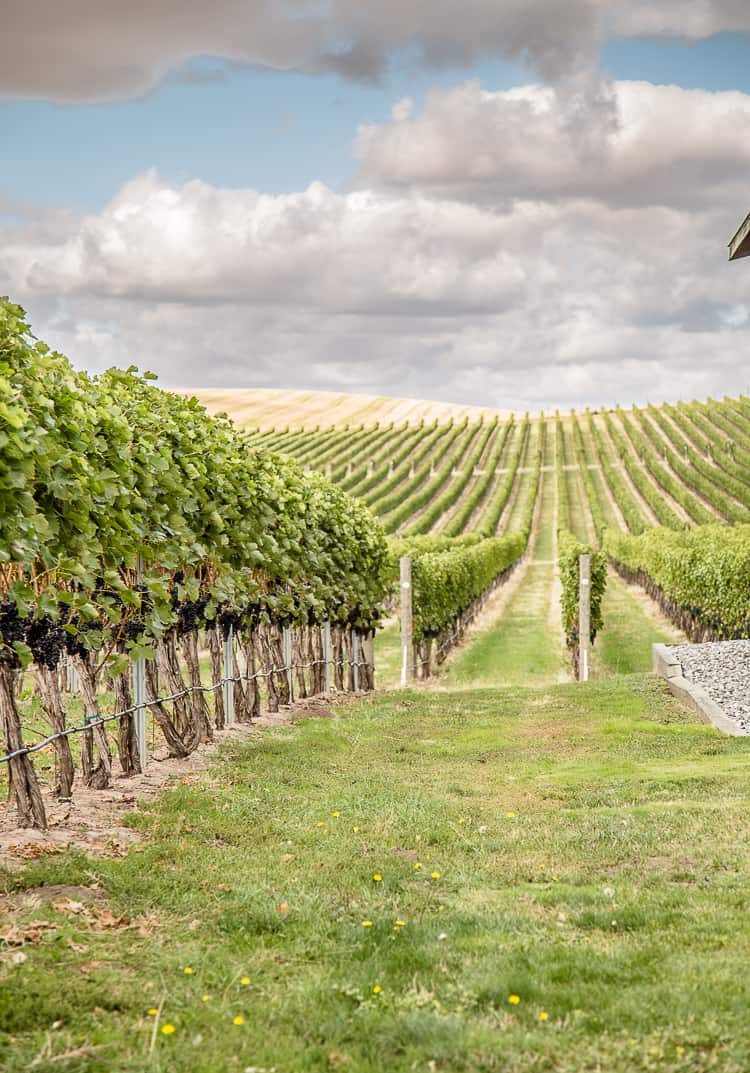 Europe
Today, the grape remains a tour de force in the Loire region of France where it makes those delicious Summertime quaffing reds and it is fermented into sparkling wine without skin contact (usually blended with Chenin-Blanc).
In that same cool climate style, Cabernet-Franc is grown extensively in the Northern Italian regions of Friuli and Veneto where it is estimated 80% of the total acreage in the country called "Cabernet" is indeed Franc. It is frequently grown more expansively in the coastal Tuscan regions of Maremma and Bolgheri where it lends finesse and softer fruit to more assertive international varietals.
It is an important variety in eastern Europe and because it is an early ripening grape with a short growing season it can be found in Canada where it is common to see it represented as a sweet dessert wine (Ice-wine).
But it is in warmer climates that Cabernet-Franc has shown its full potential. The first plantings of Cabernet-Franc in Bordeaux were on the right bank enclaves of Fronsac, St-Emilion and Pomerol and that is where the grape most notably stands side by side with Merlot to this day. Merlot offering the body and velvety structure and Cabernet-Franc the "Je ne sais quoi" which could translate as the pizzazz, the lift, brightness, vitality, and character. One of the finest Bordeaux chateaus, Chateau Cheval-Blanc is made almost entirely of Cabernet-Franc and Merlot. It is also a prominent varietal in the Madiran, Bergerac and Libournais regions of South-West France.
Spain lays claim to Cabernet-Franc around the Catalan region, particularly in Priorat where it is blended with other French or Northern-Spanish varietals. In Greece where it is known as Tsapournakos and Cab-Franc has a large presence in the Balkans.
Americas
Cabernet-Franc is grown in California where it is often blended into Bordeaux style blends and it is equally important in Washington state, where the wines from these regions tend to be big and plush with soft tannins and a bit more acidity and black/blue fruit flavor than Cabernet-Sauvignon.
Cabernet-Franc offers real advantages to the few viticulture regions in the world that see major rainfall during the growing season and that is why the grape is grown extensively in Virginia, New York's Finger Lakes Region, and the central Mexican regions of Queretaro and Guanajuato. Cabernet Franc can be harvested up to a month earlier than Cabernet-Sauvignon and despite the thinner skins that offer little protection from mildew, a late season storm (rain or hail) can wipe out your Cabernet-Sauvignon when the Cabernet-Franc has already fermented and is resting soundly in barrels. Virginia and Finger Lakes Cab Franc has higher acidity than California and Colonial Mexican Cabernet-Franc is closer to St-Emilion. Both have lower alcohol levels (12.5-13%) which means less ripeness and that of course translates to higher acidity.
Cabernet-Franc excels in Argentina where the dry weather and large temperature swings between night and day produce exceptional, full-flavored reds rivaled only by the country's Malbec. Expect important things out of this grape in the future.
Australia and New Zealand
In Australia and New Zealand, Cabernet-Franc is used primarily as a blending grape with excellent, structured, and high acid, Bordeaux style reds being made on New Zealand's North Island and bold, assertive reds being crafted in the cooler regions of Australia.
China
China is of course positioning itself to be a major player in the global wine market and they seem to be primarily targeting French varietals to invest in. There are already plenty of acres of Cabernet-Franc in China but sadly I have been unable to sample any of the wines. Based on the Chinese wines I have tried, they seem to take the French model as their template so expect something between Chinon and Fronsac.
Cabernet Franc vs Cabernet Sauvignon
The main differences between Cabernet-Franc and its offspring Cabernet Sauvignon are Cabernet Franc tends to be lighter in color, with brighter, less muted fruit aromatics that can veer towards raspberry if the climate is cool enough. Peppery spice notes with floral aromatics of violets are also unique to Cabernet Franc.
If these two grapes were sisters in metaphorical sense, Cabernet Sauvignon would be the oldest sister, driven, focused, serious, no doubt about where she is going or her future success. Cabernet Franc would be the youngest sister, the familiar resemblance is unmistakable but she is filled with whimsey, impulsiveness, adventure. The future can wait, she wants to have fun today. Cabernet Sauvignon dutifully organizes the party but it is the surprise appearance of Cabernet Franc that brightens the attendee's day. Always the life of any party, Cabernet Franc delivers the character of Cabernet Sauvignon but with more vivaciousness and verve.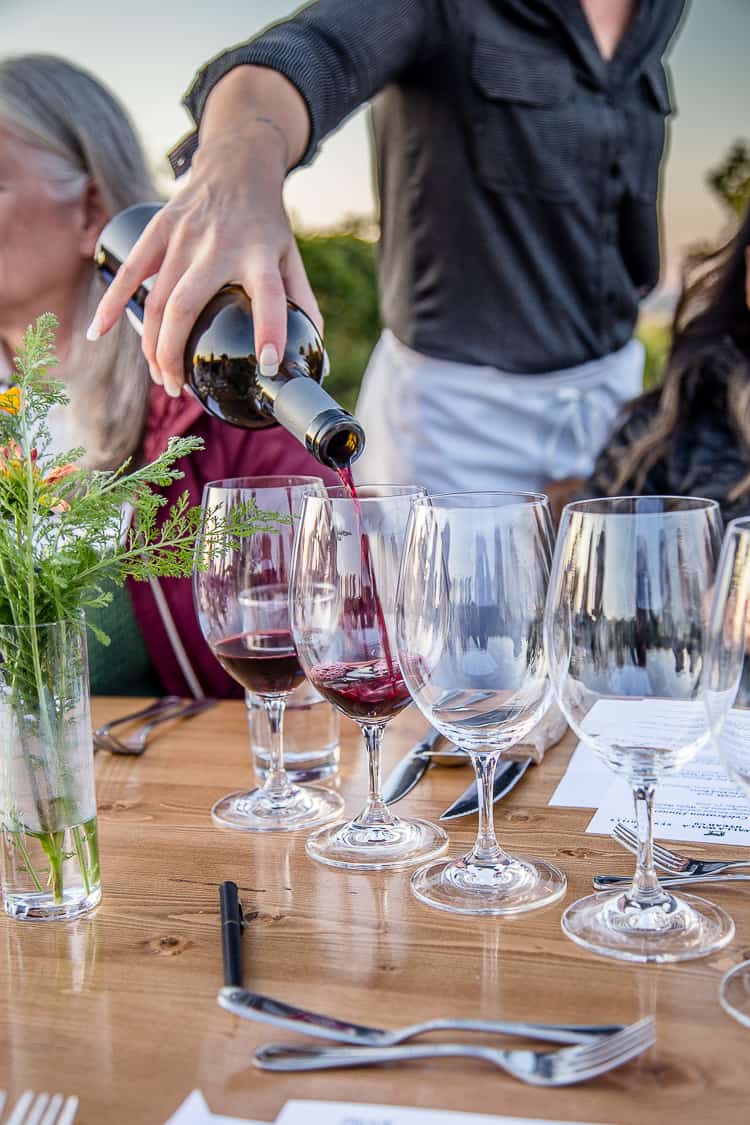 Flavor Profile
Style: dry, medium-bodied red wines with notable acidity, medium tannins, and low to medium alcohol (depending on where its grown).
Taste Characteristics: red berry fruits (cherries, raspberries, strawberries), dried herbs, peppery spice, earth/soil, and can sometimes take on a bell pepper note
Cool Climate Cab Franc: cooler climate versions will have higher acidity, brighter fruit (sometimes even tart fruit), and a lighter overall profile.
Warm Climate Cab Franc: Cab Franc grown in warmer climates will have bolder fruit characteristics, and bolder mouthfeel.
Additional characteristics/traits: can grow and thrive in a variety of climate, both warm and cool.
Pairing Cabernet Franc with Food
The high acidity and medium body and medium to low tannins makes it very versatile to pair with a variety of foods. Whereas Cabernet Sauvignon has such high tannins, it really needs something like red meat (with some fat) to mellow it out, Cabernet Franc can pair with much more.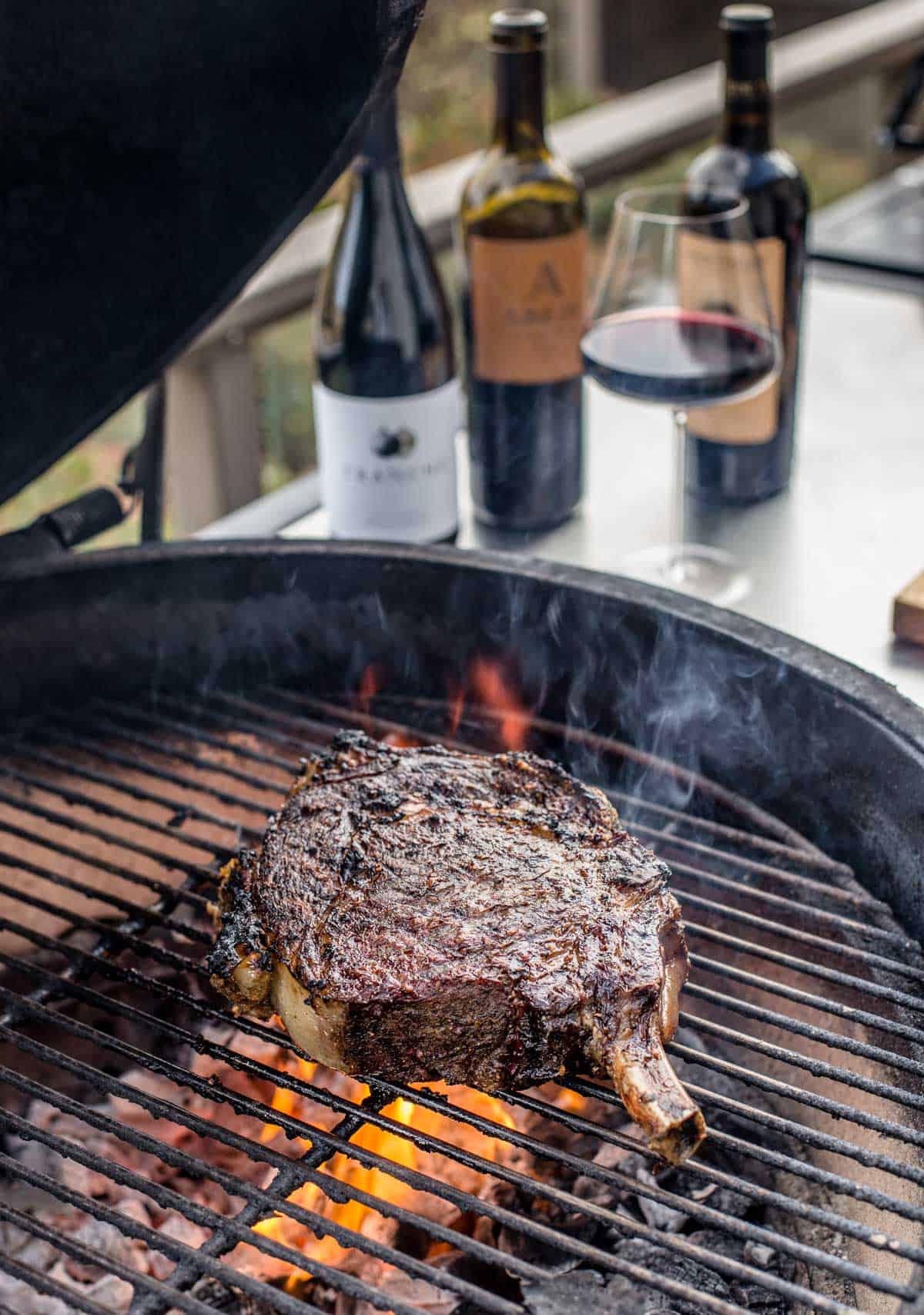 Recipes
Other Wine Guides
---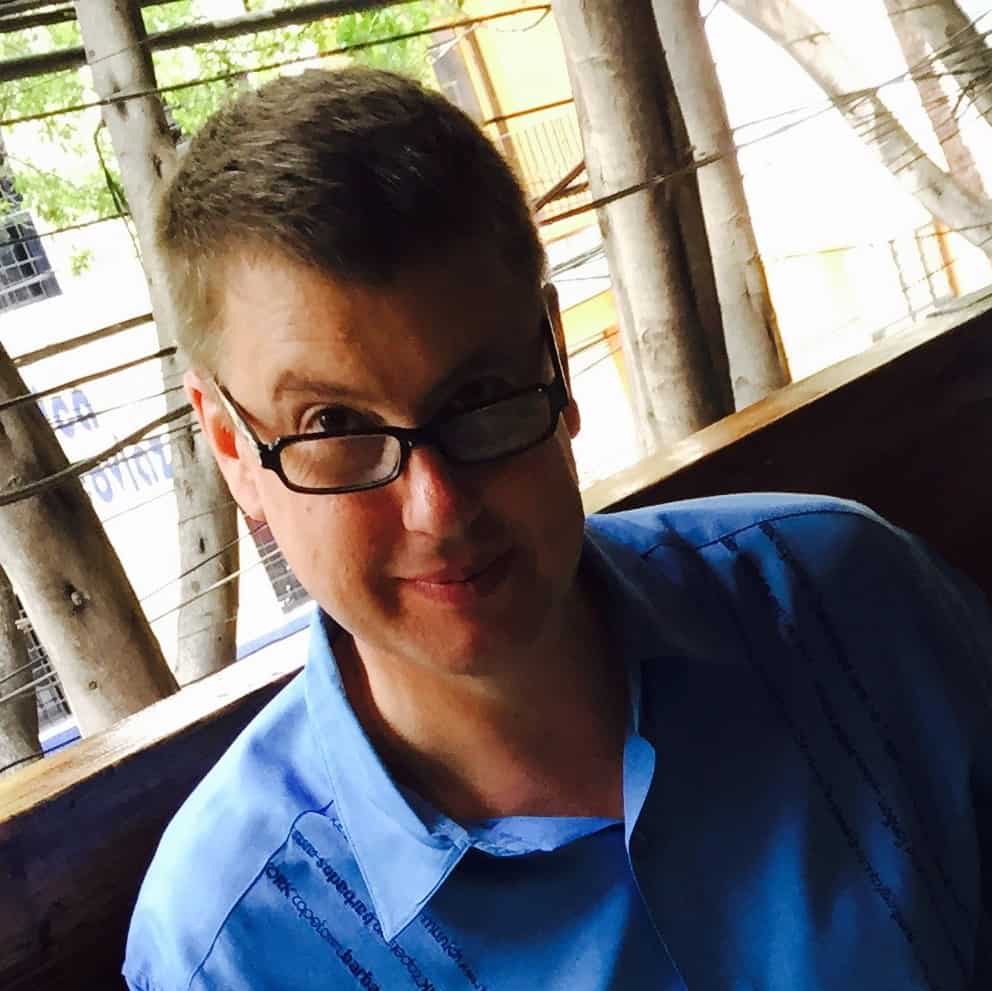 Contributor: Tom Pence
Tom Pence is a life-long wine industry professional having worked as a supplier/winery marketing manager in the 80's and 90's and owning a retail wine business until 2020. He now owns Heart of Mexico Wine Tours in Querétaro and San Miguel de Allende with his wife Tiffany.
---