Lamb Shoulder is slow smoked to perfection, and then tenderly pulled making incredible smoked pulled lamb sliders.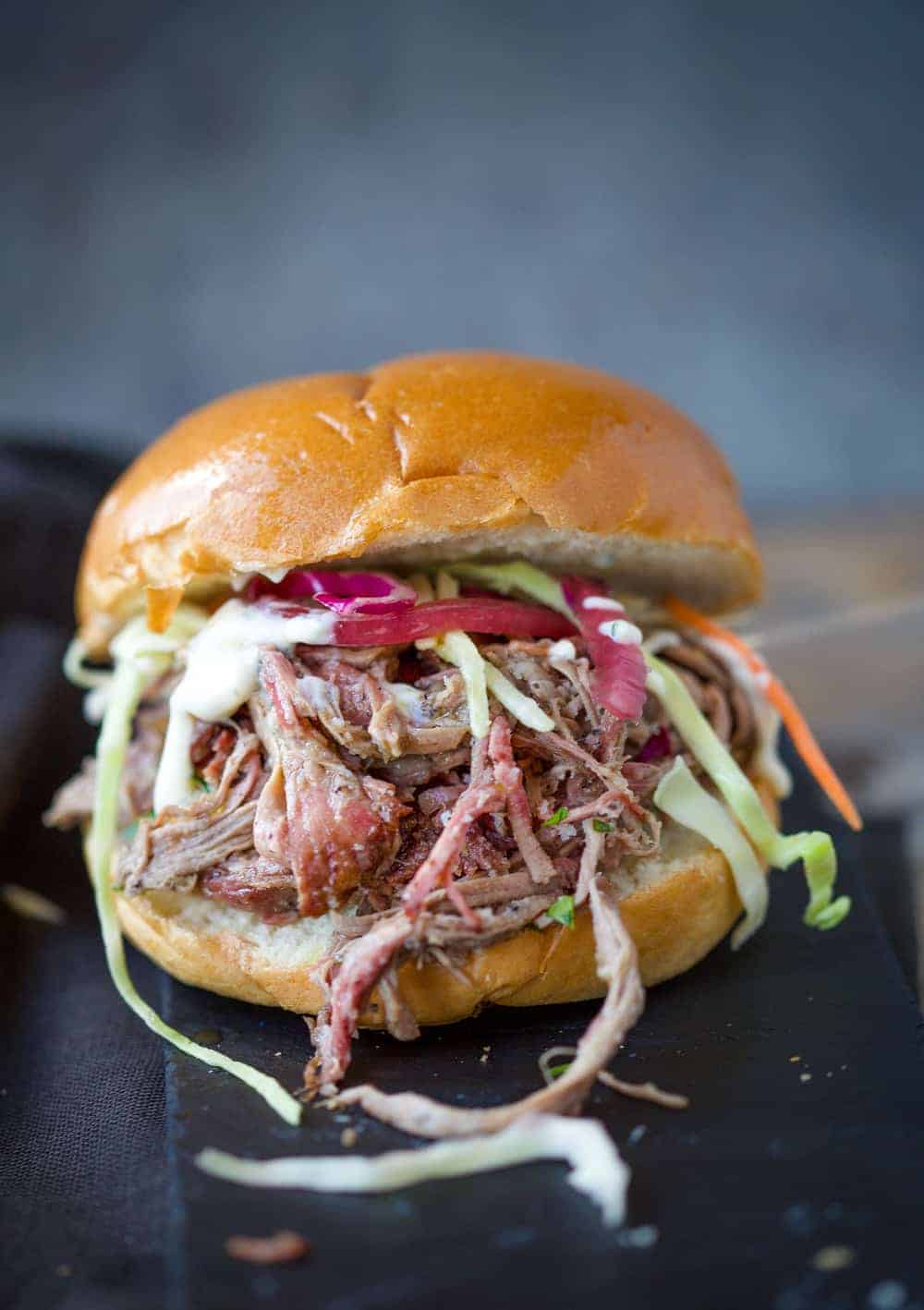 You are familiar with using a pork shoulder, which is usually slowly smoked to perfection and then used to make delectable pulled pork sandwiches. But have you tried the same method with a lamb shoulder, and using that elegant, flavorful meat to make pulled lamb, then take that tender, juicy, delicious pulled lamb to make pulled lamb sliders?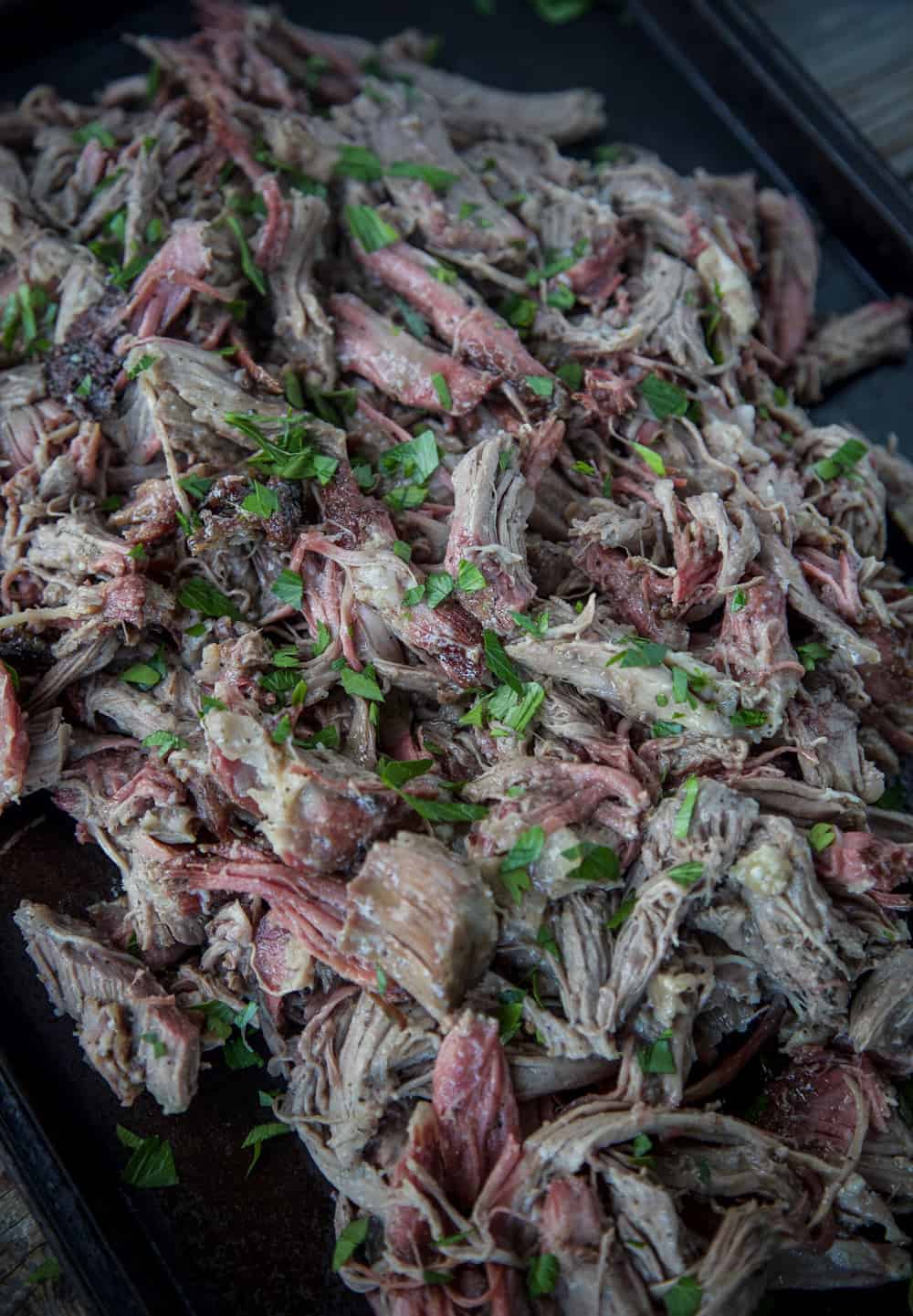 The idea came to us several years ago. I'm a lamb fan and the hubs is a pork fan. Pulled pork is one of his favorite things in the world. Not saying I'm not a fan of pork. I most certainly am. But we were wondering if we could accomplish the same results using a lamb shoulder, vs a pork shoulder (the cut used to make pulled pork, also called the pork butt, or Boston butt).
So we did.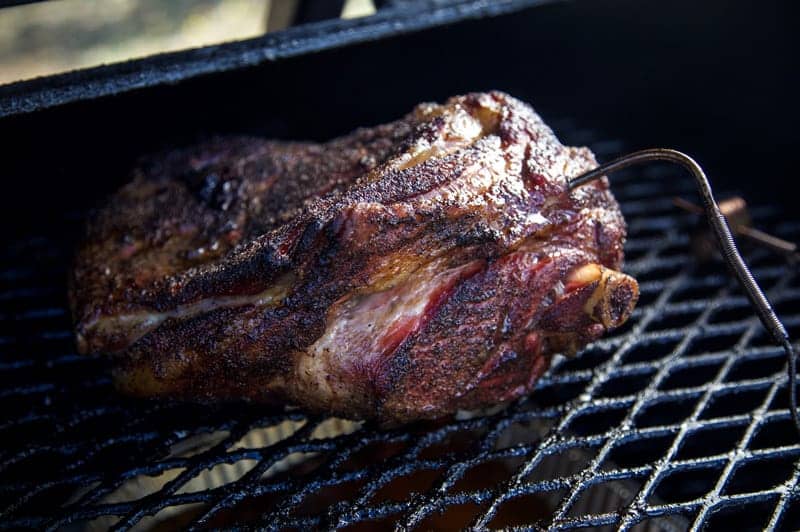 And the results are fantastic.
You get that same tenderness and juiciness like you would with pulled pork, but with that incredible flavor that only lamb meat could provide.
You see, living here in the Pacific Northwest (PNW) gives us access to amazing meat. And one meat that stands out to me is lamb. Often seen in Australia or New Zealand, lamb is common among PNW restaurants and is prepared in so many ways. Well, we had to put our own spin on it, so today we're talking about pulled lamb shoulder.
The Cut for Lamb Sliders
Lamb shoulder is going to come from the same area of the animal as pork shoulder.  The primary difference is that most lamb you buy is smaller, and I find it runs a little leaner than a pig.  You can buy it bone-in, or you can ask for it boneless.  It is easiest to just get boneless, it will cost a little more for the butchering, but it saves you time.
Going bone-in?  It can come in many ways, commonly will have the rack on it, or the upper portion of the ribs.  I will typically remove this along the rib line.  It doesn't add to the meat at all when cooking, you can salvage some of it for cooking like a lamb rib or lamb lollipop.  Discard the rib rack, and focus on the meat that is remaining.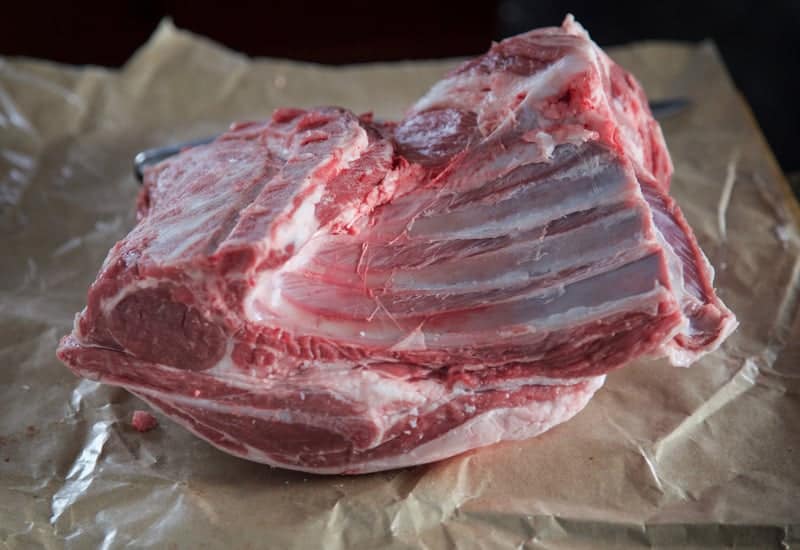 In these pictures, and in the video we have a bone-in. But if you want to see both examples you can see that on a previous post we did on pulled lamb using both boneless and bone-in.
How to Trim a Lamb Shoulder
As I said, lamb is smaller and it's leaner than pork, so I like to trim a fair amount of fat off, and I like to score the side of the meat that you will see when the rib bone is removed.  Scoring will allow the fat to render more and I find it gets more flavor into the meat.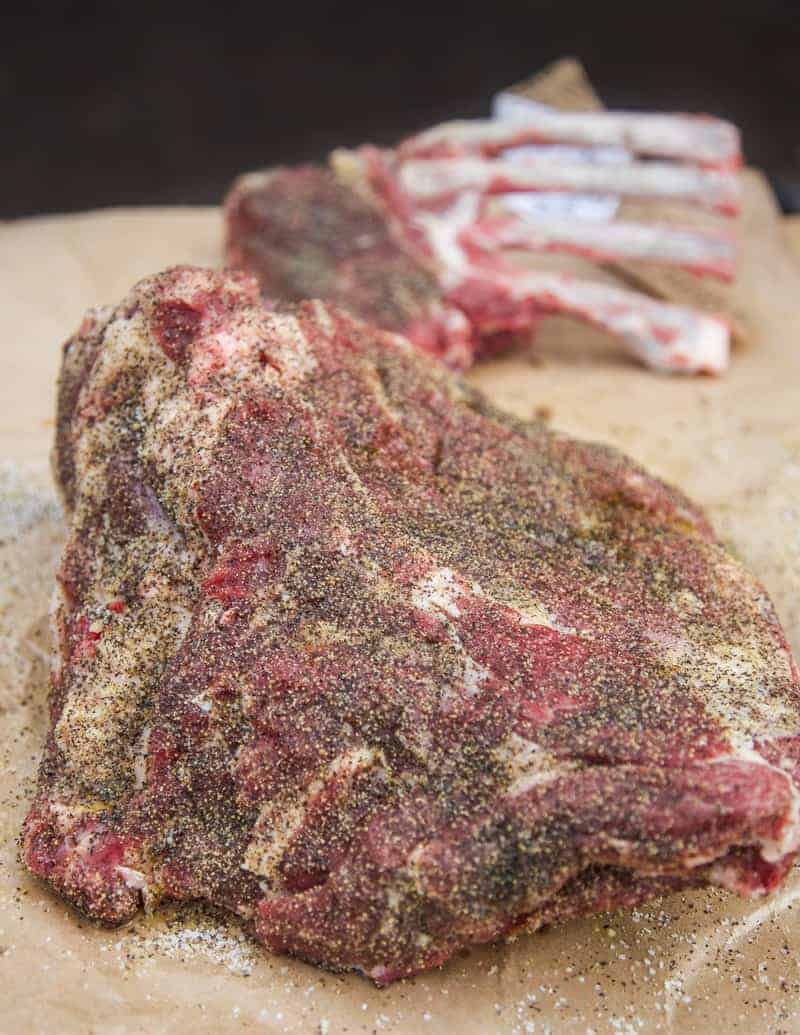 Best Seasoning for Lamb Shoulder
I love the taste of lamb, so in our case we keep it simple with salt, pepper, and garlic powder in equal parts.  The ole' SPG rub.  You can add dried herbs too, like sage, oregano, thyme or rosemary. Because of how long we are cooking this, I stay away from fresh herbs as I have found they turn bitter over five plus hours of cooking.
How to Cook Lamb Shoulder on the Smoker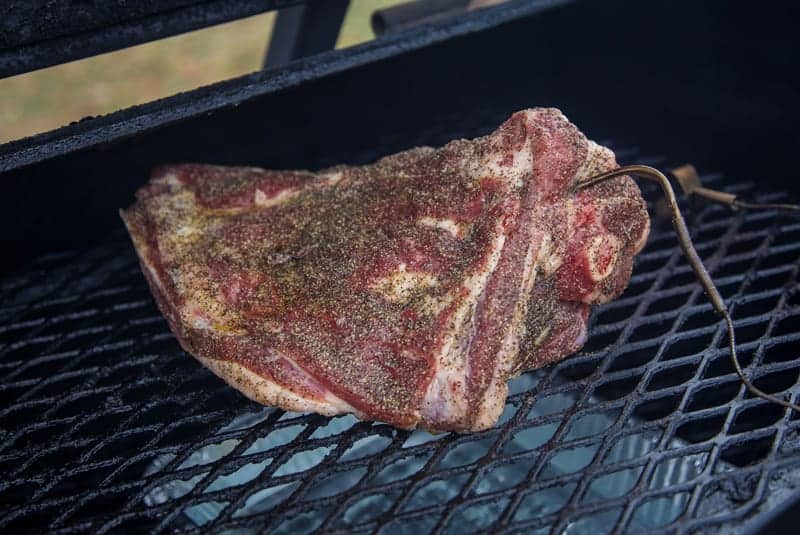 It's a shoulder and I find I follow my pork shoulder method.  Smoke – Spritz – Wrap – Rest – Pull.  What we're doing is getting smoke and the initial bark going, then we are spritzing to get liquid and acidity onto the exterior.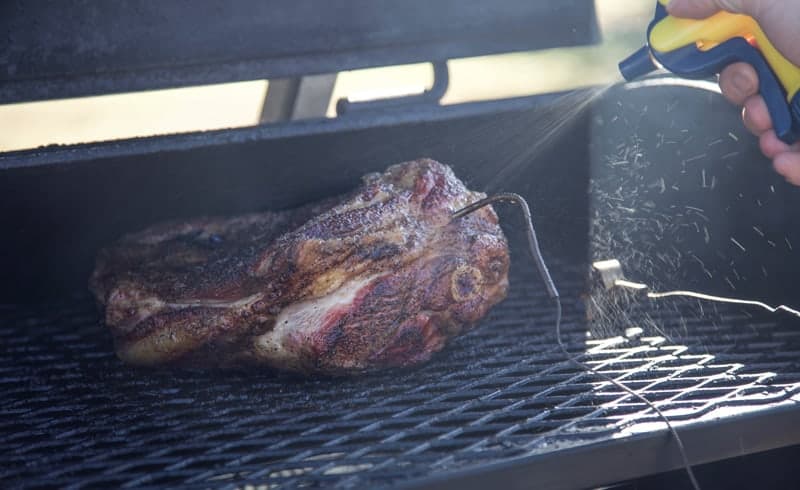 That liquid helps in adding more smoke flavor as the smoke adheres to the liquid.  I wrap to baste in a little of the spritz liquid and let the fat render out.  Then let it rest in order to let moisture re-distribute back into the meat.  The temperature milestone for the wrap is 165 degrees F.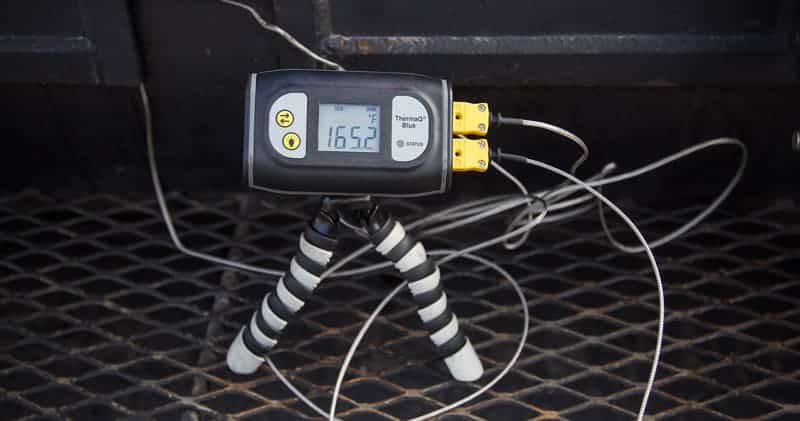 We use this thermometer to continuously monitor the internal temperature of the meat. 
Unlike pork, I have not found much of a stall, so it'll happen within the first five or six hours of your smoke. Then I pull when it hits between 200-205 degrees, when I have found my meat probe inserts easily into the meat like warm butter.
But lamb is lean, and its flavor is highly dependent on your region. If it's more gamey, then it'll be leaner and may get to that stage around 190, which is why you have to pay attention as it is wrapped and avoid drying it out.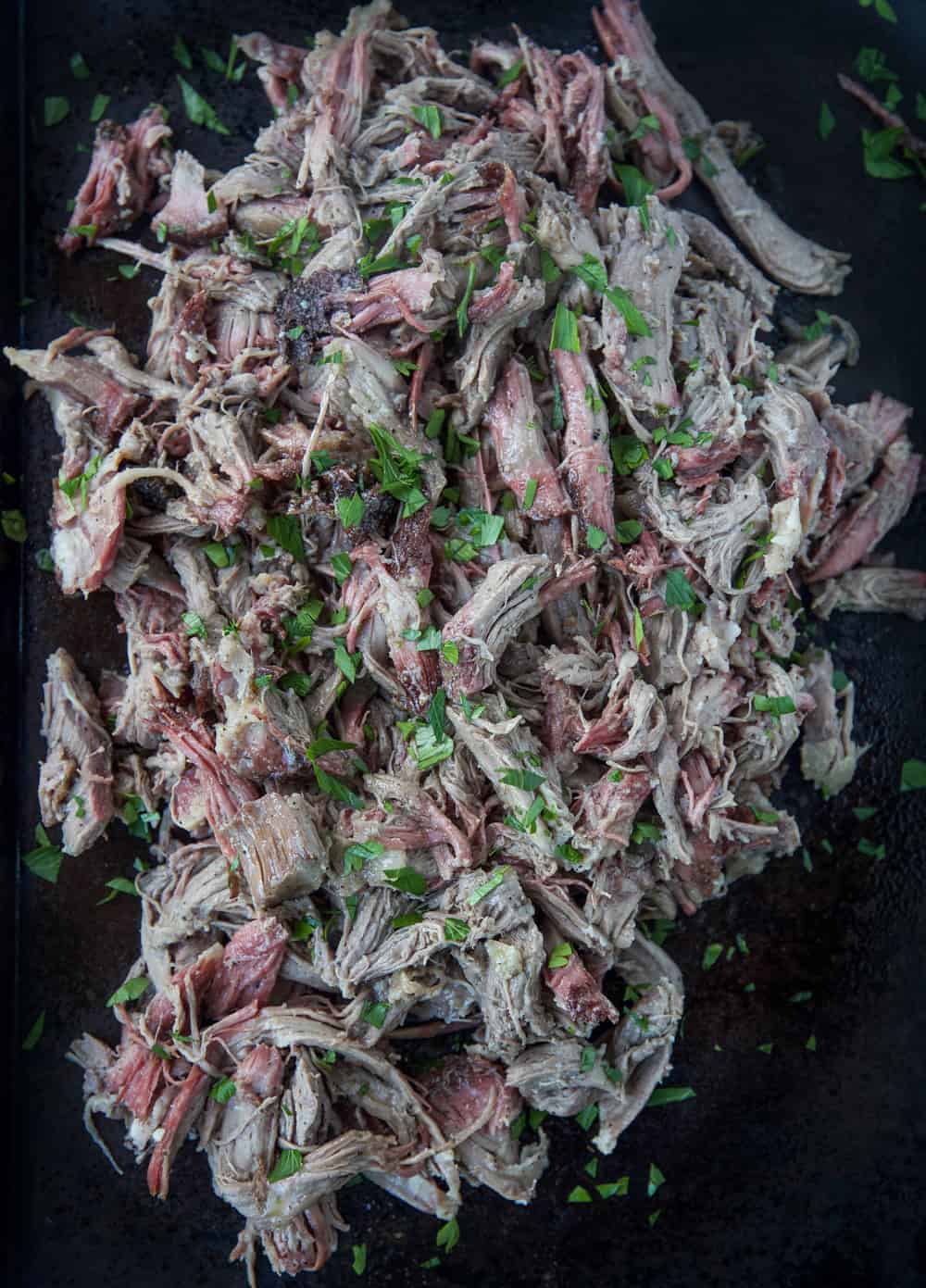 Then we pull/shred the lamb and serve, most often as a sandwich or slider with a slaw and aioli topping.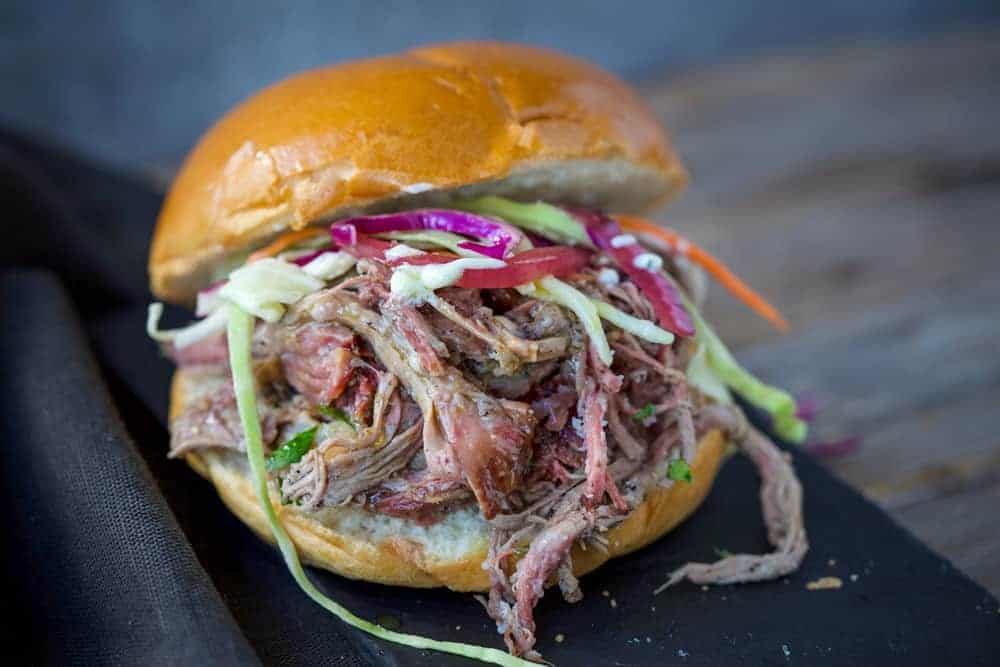 Lamb Slider Toppings
Yes, you may hear that mint and lamb are a thing….but frankly I am not a mint fan with my lamb, so we use a simple rosemary aioli with a little garlic. For the aioli, we simply take a cup of mayo, add one finely diced garlic clove, and add 1/2 tablespoon of finely diced fresh rosemary, and then squeeze a little lemon in there.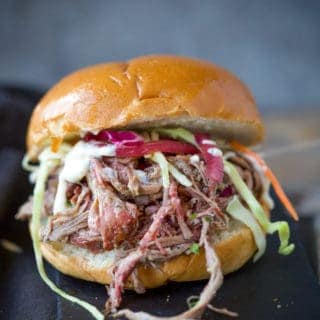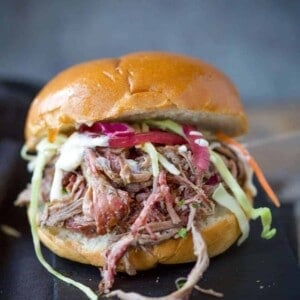 Ingredients
To Smoke the Lamb Shoulder:
4-5

lb

boneless lamb shoulder

or 6-7 lb bone-in lamb shoulder

¼

cup

olive oil

¼

cup

dry rub

10

ounces

spritz
For the Dry Rub:
1/3

cup

kosher salt

1/3

cup

coarse ground pepper

1/3

cup

granulated garlic
For the Spritz:
4

ounces

Worcestershire sauce

6

ounces

apple cider vinegar
Instructions
Preheat smoker to 250 degrees, we use oak wood for lamb. Add a water bath for moisture in the smoker.

Trim excess fat off of the lamb. Coat with olive oil and dry rub.

Place lamb on smoker uncovered for 90 minutes.

After 90 minutes begin spritzing with a spray bottle every 30 minutes until the internal temperature of the lamb shoulder is 165 degrees. This could take anywhere from 4 to 6 hours.

At 165 degrees place the lamb shoulder in a foil pan, with the rest of the spritz liquid and then cover tightly with foil.

Place back into smoker until the internal temperature reads 200 – 205 degrees or your meat thermometer goes into the lamb like soft butter. This will take roughly 2-3 more hours (but remember, cook to temperature not time).

Remove from smoker and let rest for 30 minutes, it is best to place into an cooler (that does NOT have ice) for an hour allowing the temperature to slowly decrease.

Pull lamb and serve with slaw, aioli and your favorite bun, we go brioche for the bun.
Wine Pairing for Pulled Lamb Sliders 
Lamb has so many amazing wine pairing options. This is one where you should go with your gut. It's great with Rhone style wines, but it's also fantastic with Italian wines like Chianti. One of my favorites is Tempranillo from Ribera del Duero in Spain. My default is usually a bigger style Pinot Noir (the obvious reason for that is that I live in Oregon's Pinot country). But try to find something that can show some fun fruit characteristics mixed with some earthy notes to match the gamey flavors of the lamb, with a touch of herbal notes.  Stay away from the big heavies like Cab or Zin as they will overpower the gorgeous flavor of that meat.
For more videos like this check out our Facebook page.
---
The Products We Used
In the video and some of these photos you'll find a few of our favorite products such as the:
There are a lot of wifi and blue tooth thermometers out there.  First, we are huge fans of the durability and craftsmanship of all ThermoWorks products.  This one has great range and most importantly connects with an app for your phone so you can track and save your cook.
Durable gloves for cooking are key, you are grabbing meat off the smoker that may be 200 degrees or more.  So these insulated gloves are great because they are dishwasher safe.  I made the mistake of using a pair that was not, and the interior of gloves gets mildewy and gross after a few uses. One downfall is that they're pretty bulky so you don't have a lot of fine motor skills to do detailed work, but they're good for the price.
Great for open fire. I can physically touch a burning log and move it to an appropriate place in the fire chamber. I can also touch a scolding hot cast iron pan and wouldn't feel it. They're no good for directly touching food, but pretty awesome for everything else that's hot.
---
More Smoked Lamb Recipes
Like Lamb? You'll love these.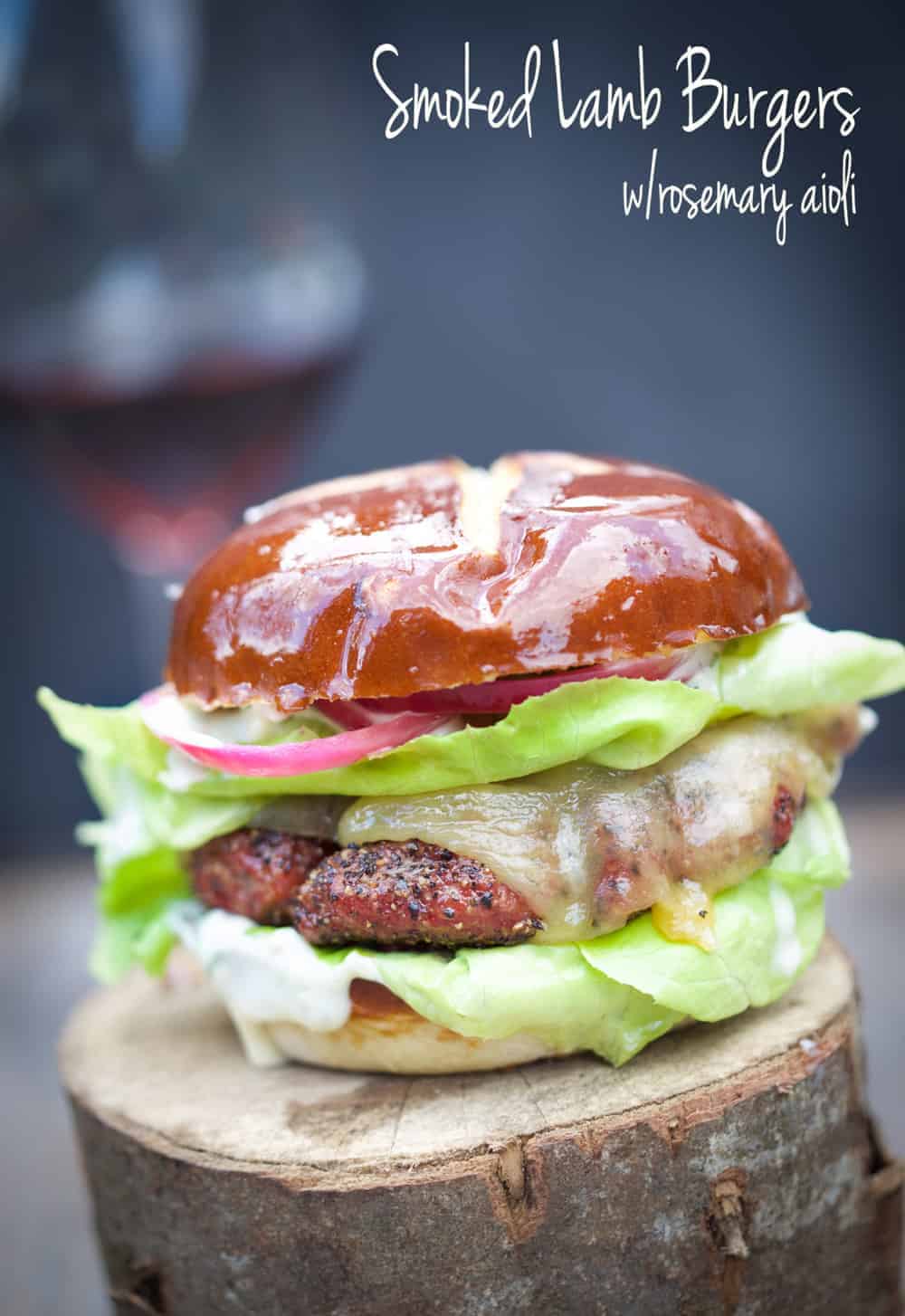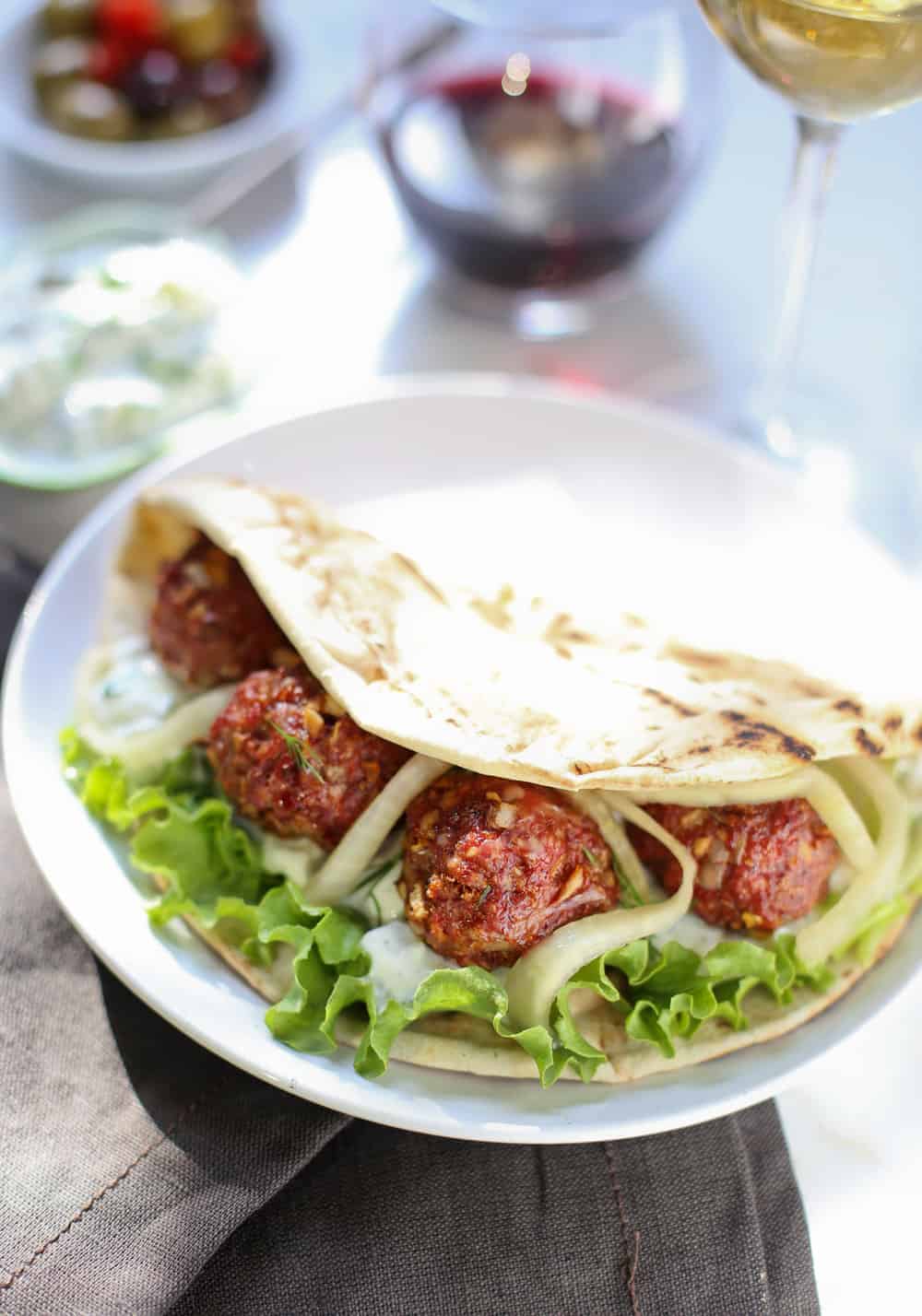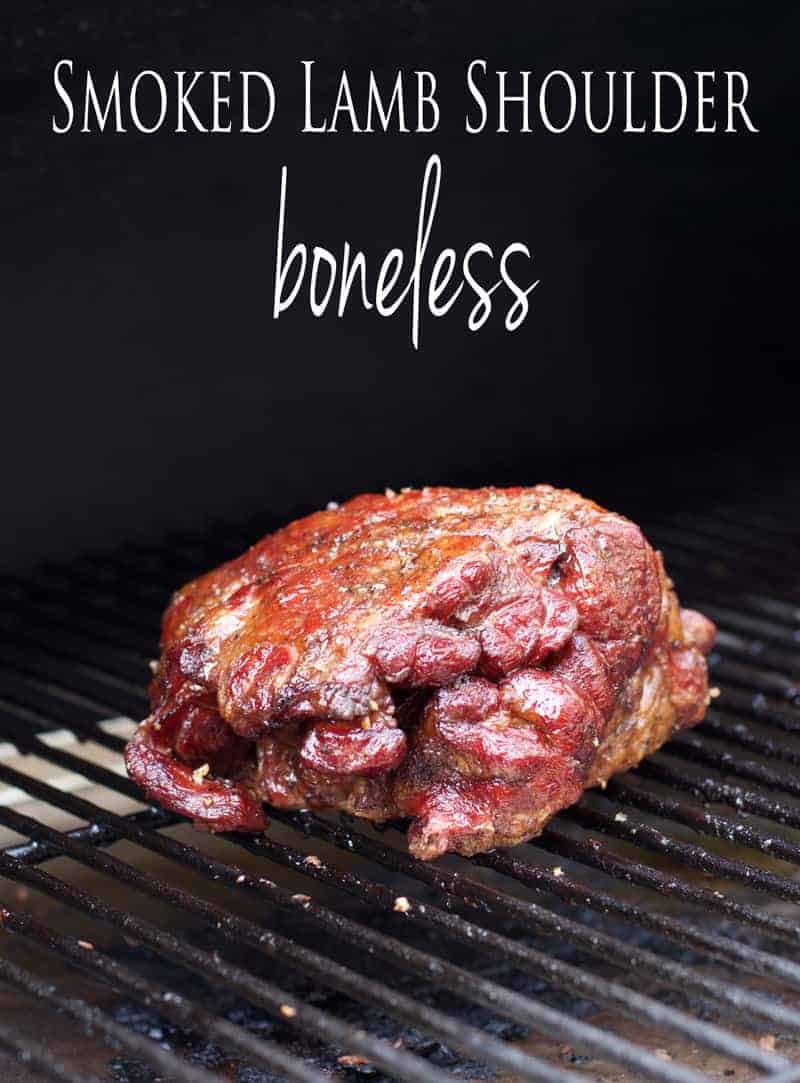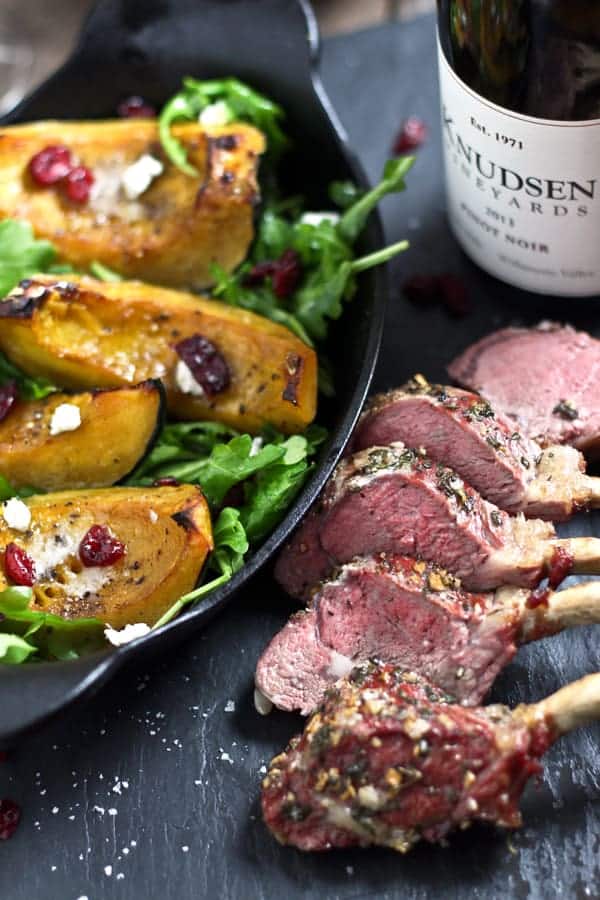 ---
*This post contains affiliate links for the gloves and thermometer. We only recommend products we use and love! And all of the products mentioned above are those we use regularly.
---
For more tasty recipes, BBQ tips and tricks, check out the Recipe Index.
If you like this recipe we'd truly appreciate it if you would give this recipe a star review! And if you share any of your pics on Instagram use the hashtag #vindulge. We LOVE to see it when you cook our recipes.
---