Smoked Beef Ribs are the ultimate treat for beef lovers. Slowly smoked, these giant ribs are rich, tender, and melt in your mouth like butter! For this recipe we're using Plate Short Ribs, because it's my all time favorite cut of beef. Find out why these dinosaur style beef ribs are so popular.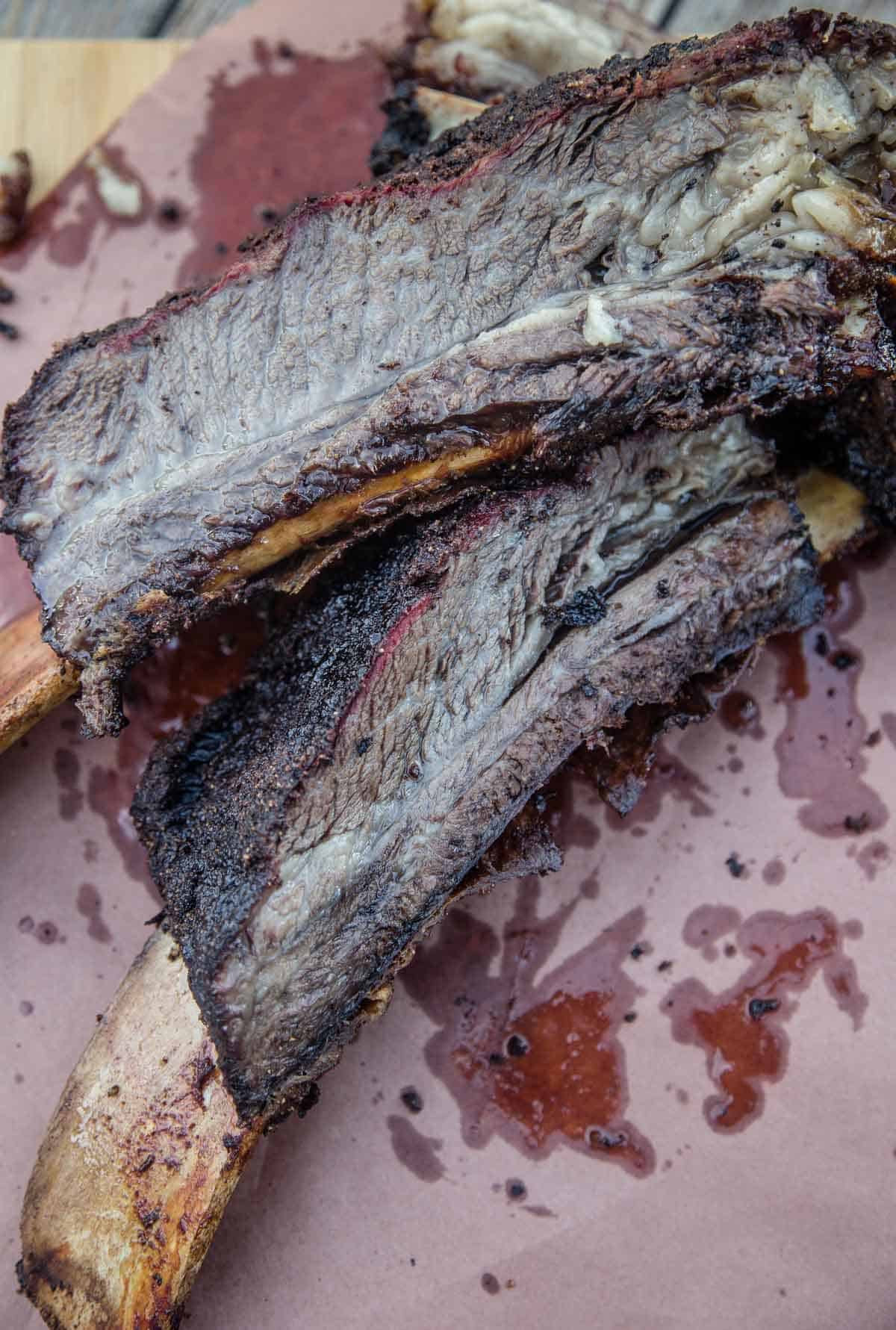 Jump to:
Short ribs are my favorite cut of beef of all time. Slowly smoked, sometimes finished in a wine braise, until tender as butter, and served alone or over some kind of root vegetable puree. It's what I request for Mother's Day every year.
But one year Sean surprised me with a whole plate of my favorite cut of beef, and decided to smoke the whole thing. It was fantastic and made us more curious about cooking the whole plate vs the store-bought pre-sliced ribs. What do I mean by this?
Types of Beef Ribs
There are three primary beef ribs you can buy including; chuck ribs, beef back ribs, and our favorite, short ribs. But there are only two that you want if you are trying to make dino style beef ribs.
Chuck Ribs – Also called Chuck Short Ribs, these come from the first five ribs as you move toward the back side of the animal and typically surrounded by the chuck roast or shoulder. These have a lot of intramuscular fat and are dense. The bones are straight versus curved. This beef ribs recipe works exactly the same for chuck ribs if that's all you can find.
Plate Ribs – Also called Plate Short Ribs, these are from the lower portion of the rib cavity and close to the brisket and the flank steak. They are often called "brisket on a stick" because of how similar the flavor and texture is to beef brisket. The bones are flat.
Back Ribs – Back Beef Ribs come from the rear portion of cattle. They come from the same area that you cut for prime rib and ribeye steaks. When the butcher decides to cut up boneless cuts, these Beef Back Ribs are what's left. They will have a curvature to them and do not have the same amount of meat to them as the Chuck and Plate ribs. If you are looking for classic dino beef ribs, do not use back ribs.
For this smoked beef ribs recipe, we are using plate short ribs. Short ribs (or the plate ribs when they are not cut up into smaller proportions) come from the belly area of beef ribs versus closer to the spine. The bones are straight, and often you see short ribs already butchered in small 2 to 3-inch pieces.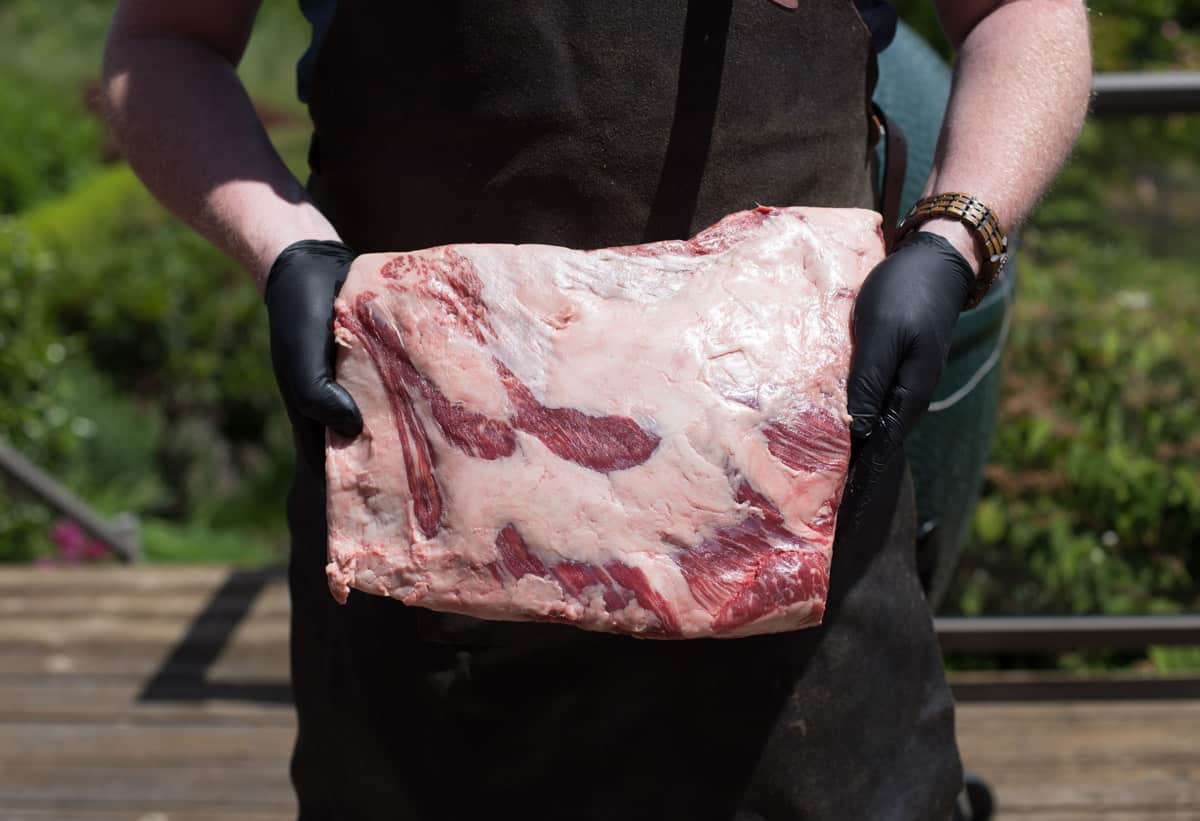 This cut is similar to pork spare ribs for reference. Because the ribs are closer to the belly, the marbling is incredible, and requires a slow cooking process to best get the fork tender texture.
You may also see flanken style ribs which refer to a style of cut versus the actual muscle and bone. These can be bone-in or boneless and derived from the plate or chuck rib.
Pro Tip – Call your butcher in advance, ask them when they get their beef ribs delivered and cut. Reserve the entire plate before they butcher it into smaller portions, as it is not common for people to go into a store just for a plate. You can also shop online and have it delivered.
Beef Rib Preparation and Seasoning
Smoking beef ribs low and slow allows the intra-muscular fat to break down over time. Keeping the ribs whole prior to smoking is important so they can cook evenly. You can certainly smoke short ribs in the smaller cuts from your butcher, or as single ribs, but these large plates serve a crowd really well. Single beef ribs fall over during the cooking process, and it just looks really cool for your photo bragging.
Trim excess silver skin off the top of the ribs. This exposes more of the meat and that silver skin is not going to render out.
Use a binding agent for the rub. This helps the rub stick. We recommend olive oil. You can also use Worcestershire, mustard, or other similar liquids.
Keep the rub simple. Beef ribs are often called brisket on a stick, and good quality beef really does not need much dry rub. Keep it simple with a kosher salt, pepper, garlic seasoning (or SPG rub), with a touch of cayenne for heat.
For more savory flavors you can also try our beef seasoning, which is a mix of savory herbs and spices most often used on our Tomahawk Steak.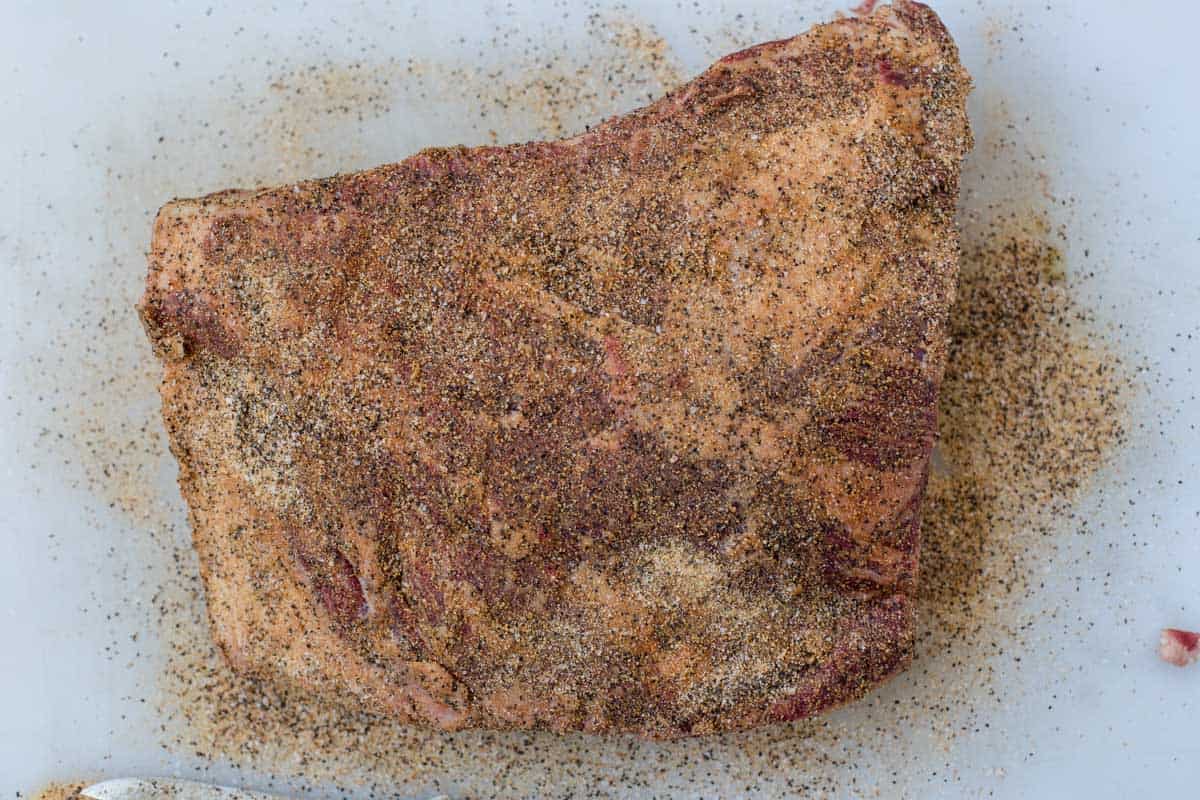 Tools and Equipment
Bluetooth Remote Thermometer – Having the ability to watch the temperature of your cooking chamber and your meat is important. We use the Thermoworks Smoke Unit, which you can insert into the beef ribs and place on your grill grate. Better thermometers should broadcast to your phone via Bluetooth so you can adjust your heat and monitor cooking time.
Instant Read Thermometer – We like to have an instant read thermometer for probing the beef ribs when they are close to being done.
Cooler – You want to rest your beef ribs after they are done smoking. And they may finish early. If this is the case you want a cooler. By resting your ribs in the cooler (with NO ice), it allows the ribs to maintain that tender texture. And if your ribs are done early you can hold them in the cooler for up to 4 hours without any food safety issues. It's also great if you want to make them and take them on the road.
How to Smoke Beef Ribs
As mentioned, plate short ribs are similar to spare ribs from pork. Our process is simple for smoking, it just takes time. We add extra flavor by adding wine to our spritz combined with beef stock. For wood we like hickory for that balance of sweet and smoke, oak also works really well. The steps are as follows:
Smoke: Prepare and maintain your smoker at 275 degrees Fahrenheit with oak or hickory as the primary wood for a rich flavor. Plan up to 8 hours of total cook time unwrapped.
Spritz: Spritz to add moisture and allow the smoke to adhere to the meat in a food safe spray bottle.
Rest: When the beef ribs reach an internal temperature of 200 – 210 degrees F in the thickest part of the ribs it's ready to rest. Typically the thermometer you use will insert easily like you're inserting it into room temperature butter. Let it rest in a color with no ice for an hour. You can rest it up to four in case it is done early.
Serve: Using a long slicing knife cut in between the bones. You can then choose to cut up into small pieces, or you can serve by the bone.
Why a spritz? It adds a little more flavor to the beef as it cooks and the moisture helps as the smoke looks to adhere to the meat during the cooking process. We wait to spritz until we see a nice bark form, generally around the 2 hour mark from the start of smoking.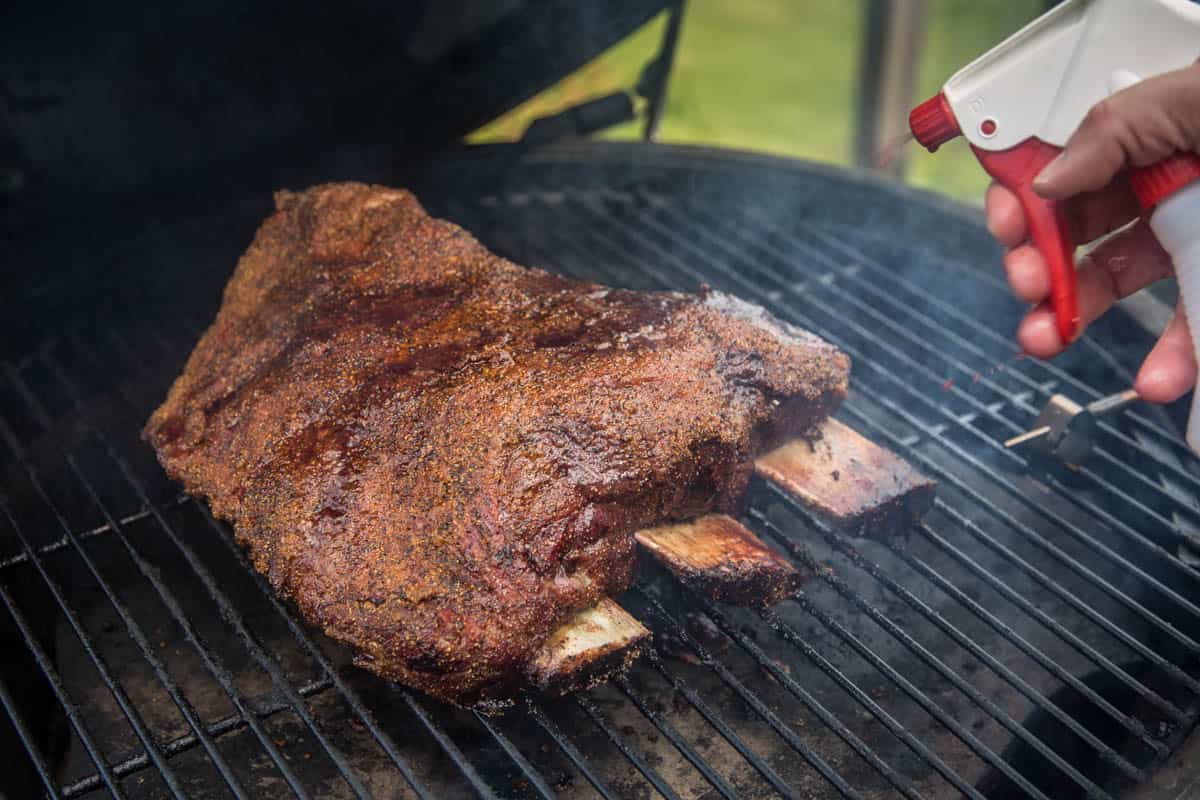 Key Tip
The most important part of cooking ribs is letting the fat render out. This is achieved by allowing the beef ribs to smoke until they reach the proper internal temperature. So be patient.
When To Start Spritzing
As the beef ribs cook, the meat will pull back on the bone, which is normal. That is when to start spritzing as they start to peak out and turn a mahogany color.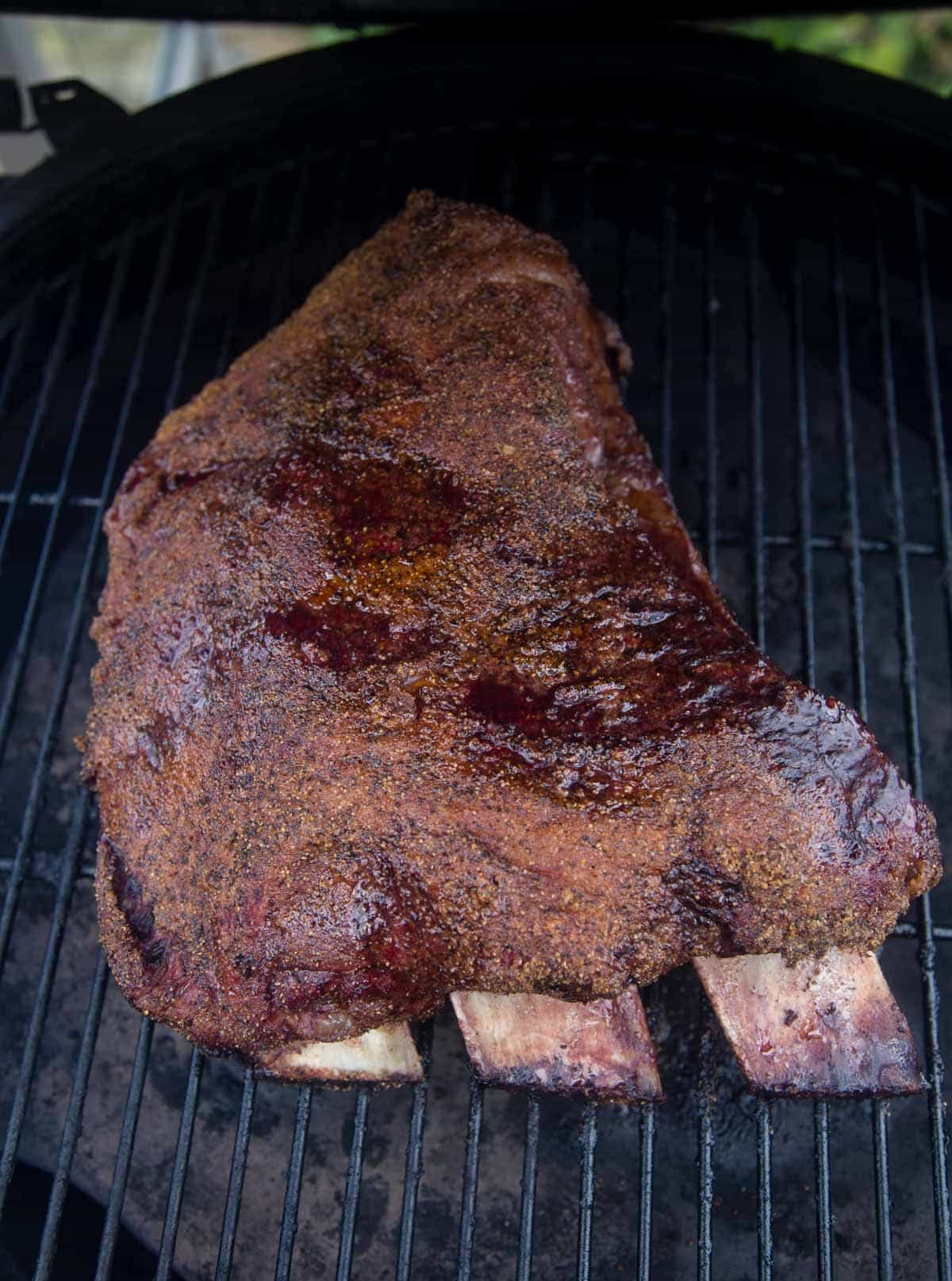 The photo on the left is the cook at about 2 hours. That's when we knew it was time to start spritzing. The photo on the right was after 7 hours of total cook time, just before we pulled them off the grill. See the difference in how much they pulled back from the bones?
At What Temperature Are Beef Ribs Done?
Between 200-210 degrees (F) internal temperature is the sweet spot. Similar to brisket, this will take several hours to slowly get to. There is no exact time as each rack will be different (it could take 6 hours total, or up to 8, there are always factors that will effect total time).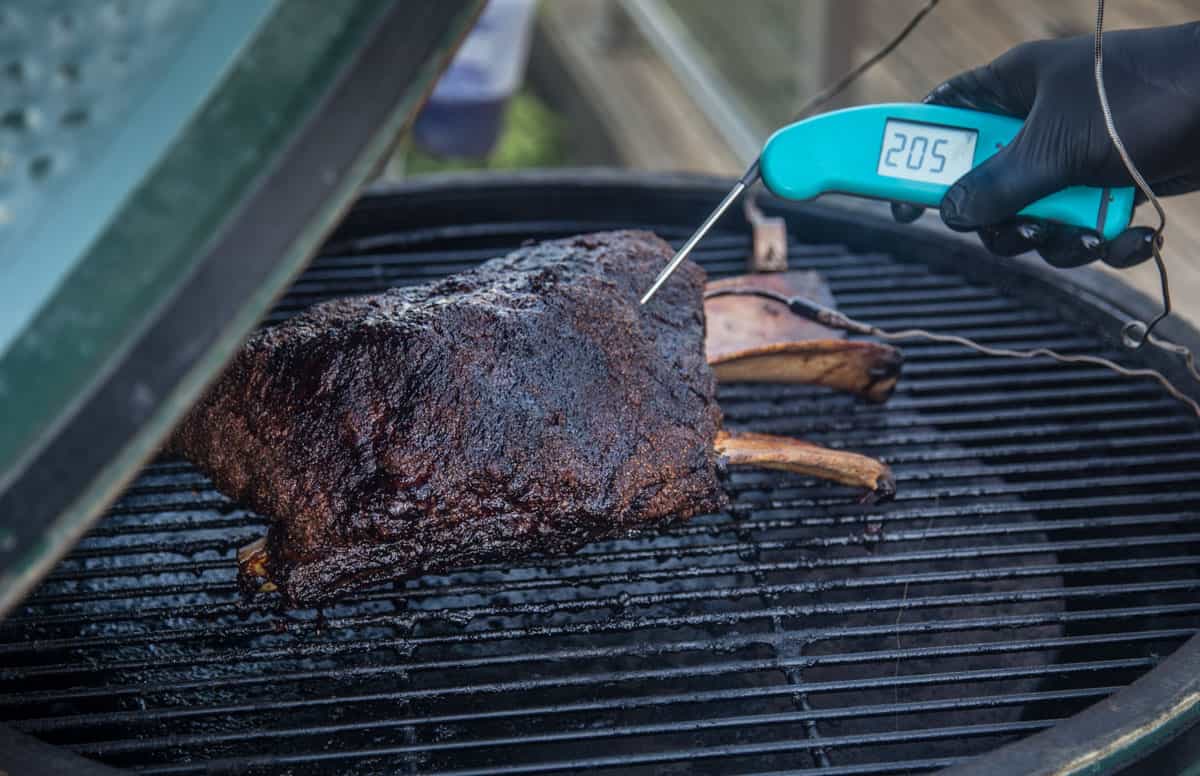 Be patient. It's worth every minute! We like to use a bluetooth probe thermometer to monitor the cook throughout, and double check with an instant read thermometer like the Thermapen Mk4.
Your efforts will reward you!
Slicing
Place the beef ribs bone side down on your cutting board. Using a carving knife slice in between the bones first. Serve the entire bone of ribs if you wish or slice it up into smaller portions.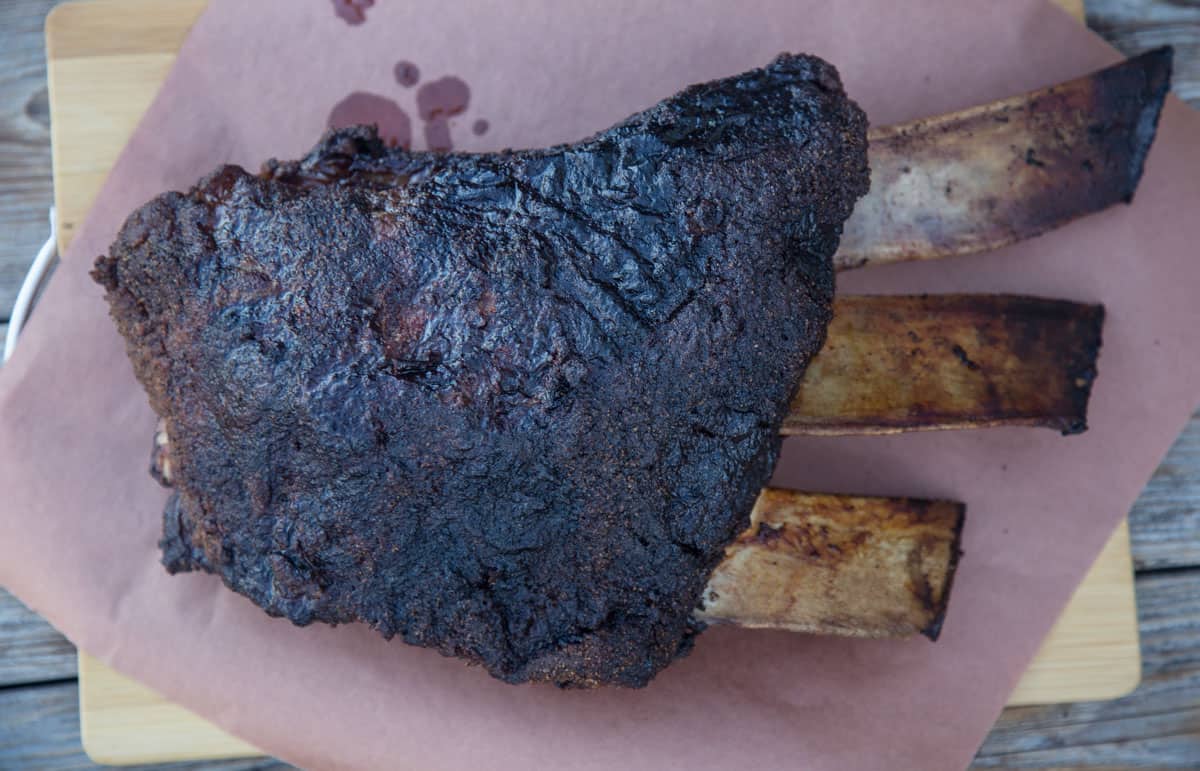 If you want to portion it out then pick up one of the rib bones and run the carving knife along the bone down and away from you to remove the majority of the meat.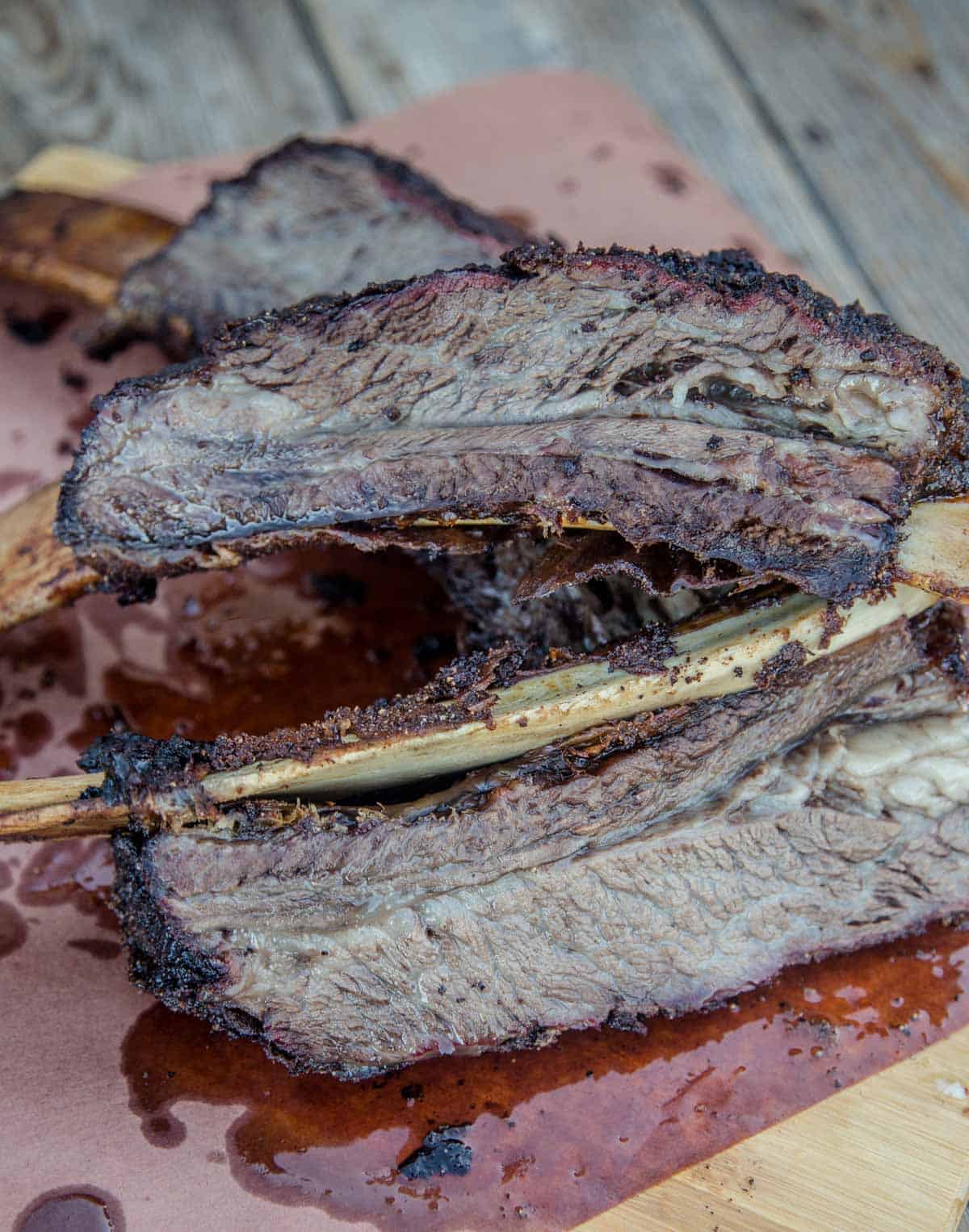 From there you can slice the meat against the grain, or serve the entire meat on its own. Be sure to remove any internal fat pockets.
Making in Advance
For best results this beef ribs recipe is optimal the day you want to eat it. However, you may want to make in advance as we have with some catering events.
If you want to prepare these in advance, follow the recipe in its entirety by smoking and resting the day prior to serving. We recommend carving the individual bones after the resting. Place in the refrigerator.
When you are ready to serve preheat your oven to 275 degrees Fahrenheit. Wrap the ribs in aluminum foil and drop a small amount of beef stock into each rib foil pack. Place onto a sheet tray and then place in the pre-heated oven.
The beef stock will help keep the ribs juicy as it reheats. They should be back to 160 degrees F internal temp and ready to serve after warming for 30 minutes. There is no need to let rest a second time.
Best Sides for Beef Ribs
The rich flavor from the ribs are best balanced with acidic and lighter sides that don't have as much fat or starch. It's also most common you'll serve these with a crowd and these are easy to make for a larger group of people.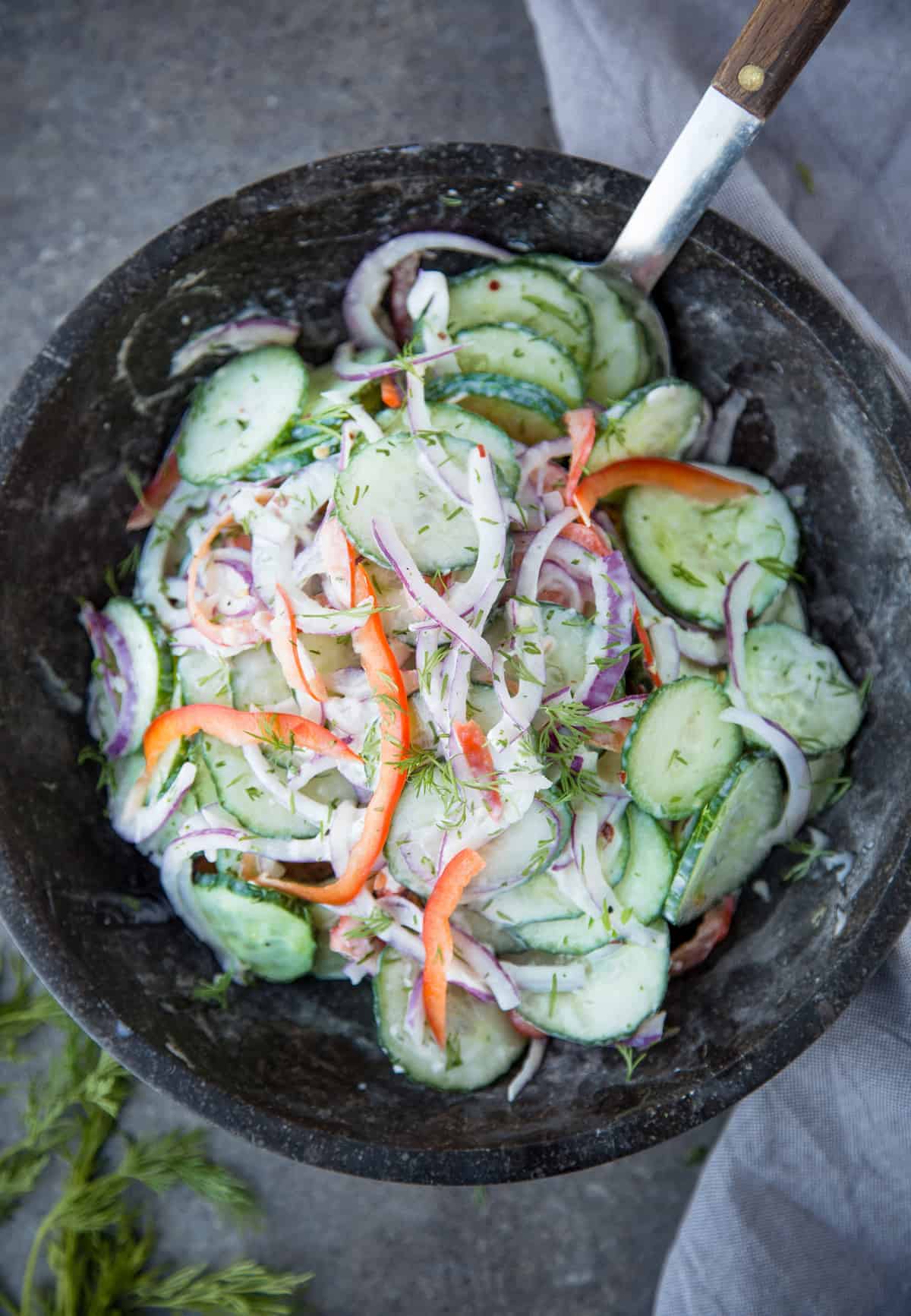 Frequently Asked Questions
Do I need to wrap my beef ribs?
No, wrapping isn't necessary. While it may speed up the cook, the lower heat and the intramuscular fat in the beef ribs will keep the beef juicy as it comes to temperature. If you do wrap, it will speed up how quickly the internal temperature rise to 200 degrees, so adjust your total cooking time appropriately.
Should I rest my beef ribs?
Yes. As meat warms, the cells expand and the intramuscular fat renders down. Resting the beef ribs, or any meat, allows the carry over cooking to complete, and the cells to start to contract and pull that moisture back in. This is often why you hear that cutting a hot piece of meat straight off the grill will spill the juices all over.
Where to find plate ribs?
As we mentioned you can call your local butcher for them. We use Snake River Farms and they can mail order all over the US. You can find short ribs here. The best part is they will mail order to your door. The marbling on the American Wagyu beef is tremendous and worth any special occasion.
Does 3 2 1 method work for beef ribs?
Technically you can use the 3 2 1 method commonly used with pork ribs (smoke-wrap-smoke unwrapped). However, we find that the beef ribs don't need it and are best if smoked all the way with no wrap.
Can I smoke beef ribs in under 4 hours?
The short answer is yes. If you cook them at a higher temperature than 275 degrees and/or wrap them to speed up the cooking process. However they won't have the same texture nor as much smoke influence. So avoid shorter windows and consider cooking them at the recommended 7 or 8 hours.
Wine Pairing for Beef Ribs
These incredible melt in your mouth ribs are juicy and tender and super rich. Typically I pair bold food with bold wine, but this cut of meat, when slowly smoked, is incredibly rich. I don't want an overly rich wine because I'm going to be full and tired from the first bite and sip.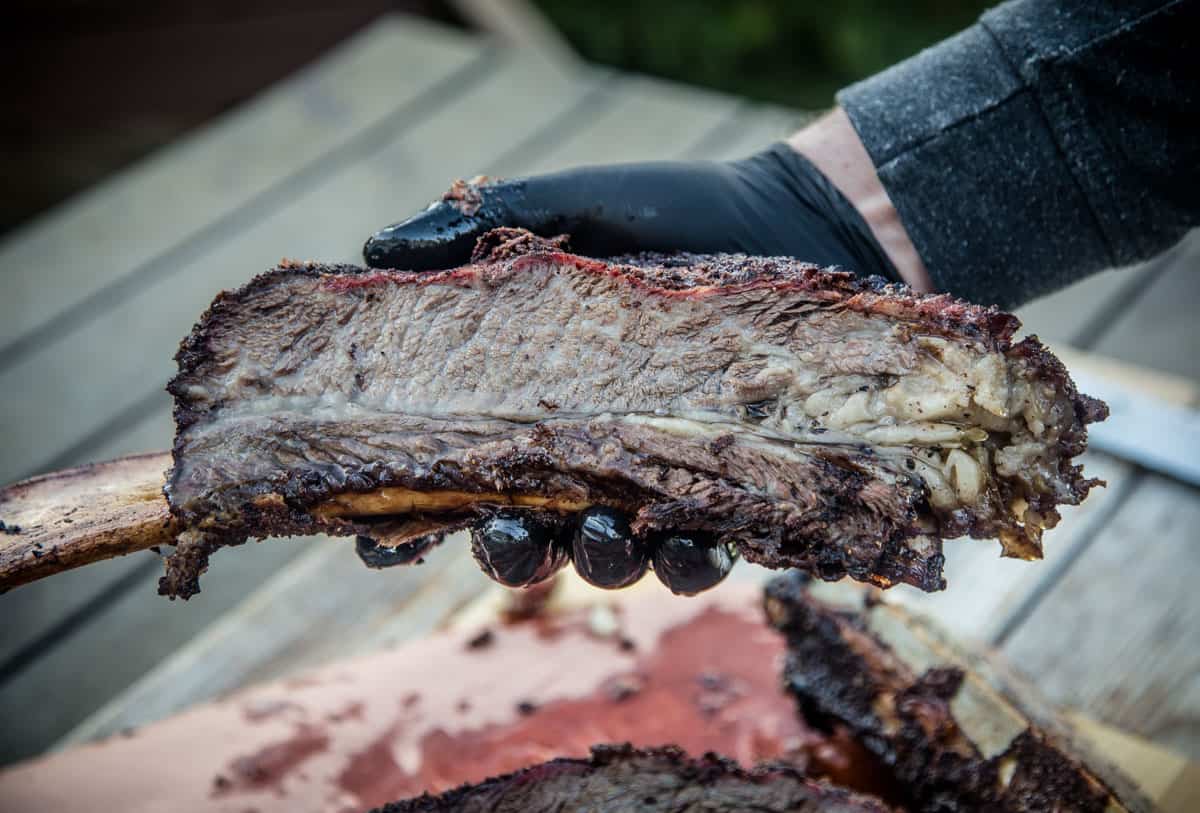 Instead I want a red that's not going to weigh me down, but still strong enough to not get lost in the flavors of the meat. Sonoma Valley Cabernet Sauvignon can be great with this (and not as intense as its neighbors in Napa). The fruit is prettier, and the tannins aren't as bold.
Rhône based blends, or Rhône-style GSM blends (Grenache, Syrah, Mourvedre) made outside of France, Italian reds (such as Sangiovese and Barbera), even some Zinfandels (those on the lower alcohol side), all work great with this dish.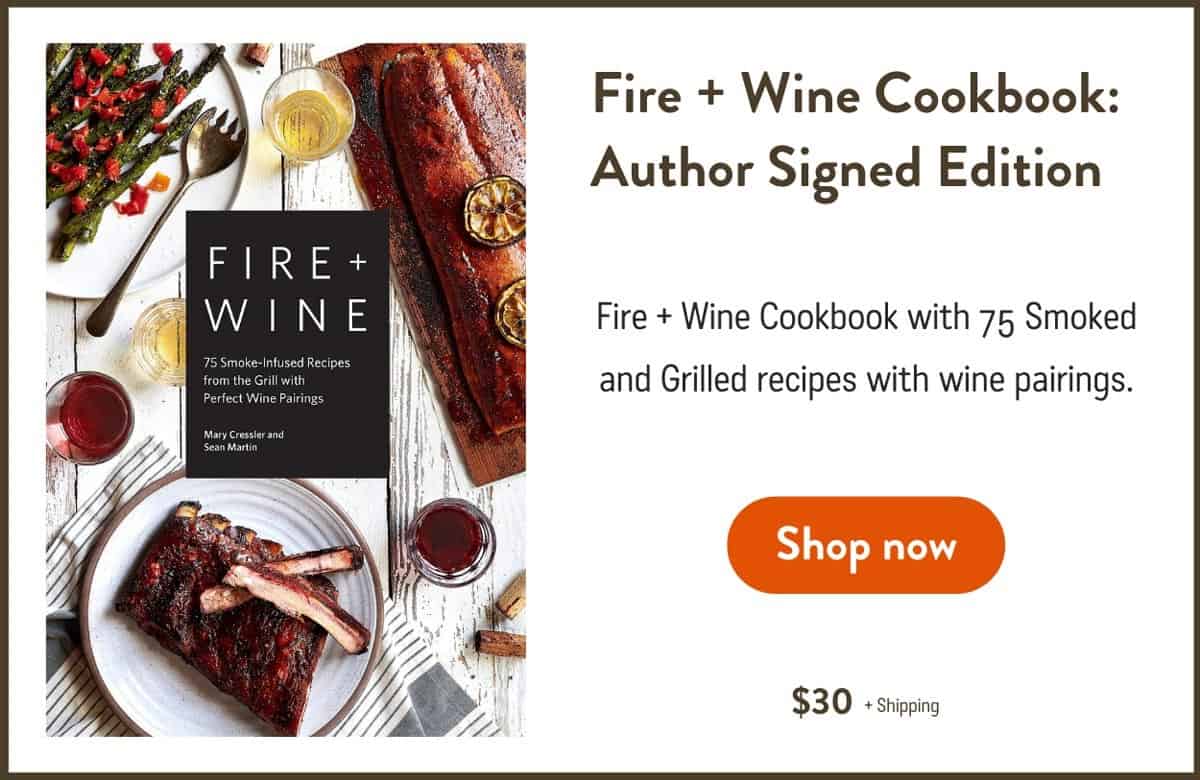 This recipe was first published in June, 2019 and updated in March 2023 with more detailed process photos as well as recipe details.
Tried this recipe? Give us a star rating and we would love to see! Mention @vindulge or use the hashtag #vindulge on all the social media handles. And consider subscribing to our newsletter where we drop all our favorite ideas and inspirations every week.
*This post contains affiliate links for Thermoworks digital thermometers. We only recommend products we use and love! And to make this recipe, a good digital thermometer is key!