If you love classic Jalapeño Poppers, you are going to love this Jalapeño Popper Dip Recipe. It can be grilled or made in the oven, and it is so EASY, and an oh-so-tasty cheesy dip. But easy does not mean lacking in flavor. Did I mention it's topped with crispy bacon? Whether a game day snack or go-to appetizers you will want to throw this together for your next party.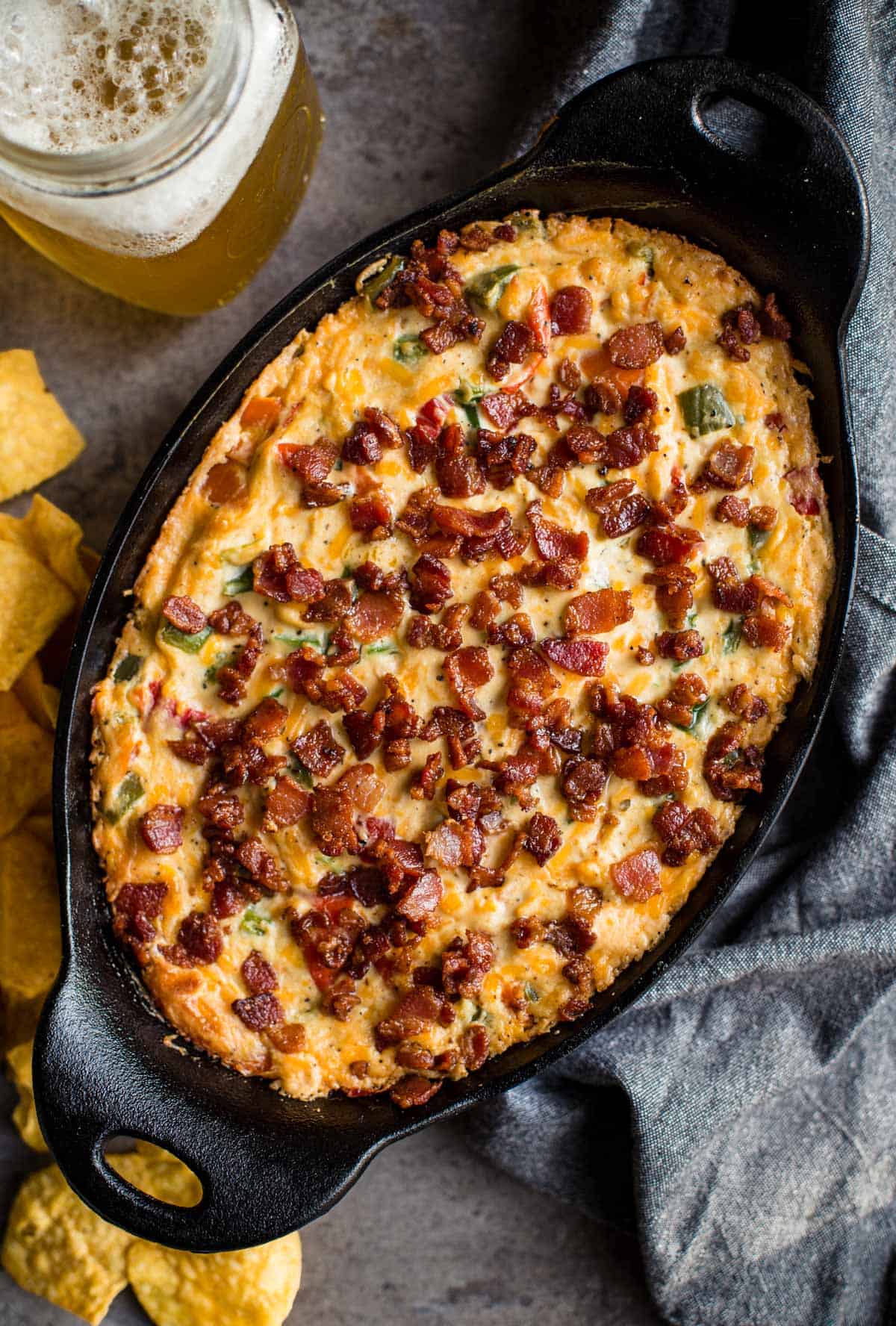 Recipe Highlights
We're taking all the flavors from a classic jalapeño popper, and combining them into a creamy dip.
The best way to use up fresh jalapeños.
Whether you are prepping for the Big Game, or looking for a fun queso dip idea, this Jalapeño Popper Dip is a combination of of the amazing flavors that will result in an indulgent cheesy texture, but also a nice bite from spicy pickled peppers, and crunchy topping from the bacon.
Jump to:
Ingredients
Dice up the fresh jalapeños and pickled peppers in advance.
Pre-crisp the bacon in a pan to add to the top of the dip as you grill or bake it (this is to keep the bacon crispy. Mixing the bacon INTO the cheese dip cooked, will result in soft or soggy bacon). I love adding it to the top to maintain a nice bacon-y crunch!
We're also using spicy red pickled peppers (like Mama Lil's) in our jalapeño popper dip because it's one of our obsessions. If you can't find them, an alternative is banana peppers, or any hot pepper from the pickle section of the grocery, for that vinegary tang.
For creamy flavor we use a cream cheese base combined with sour cream, cheddar cheese, and Dijon mustard. You can sub sour cream with Greek yogurt if you wish.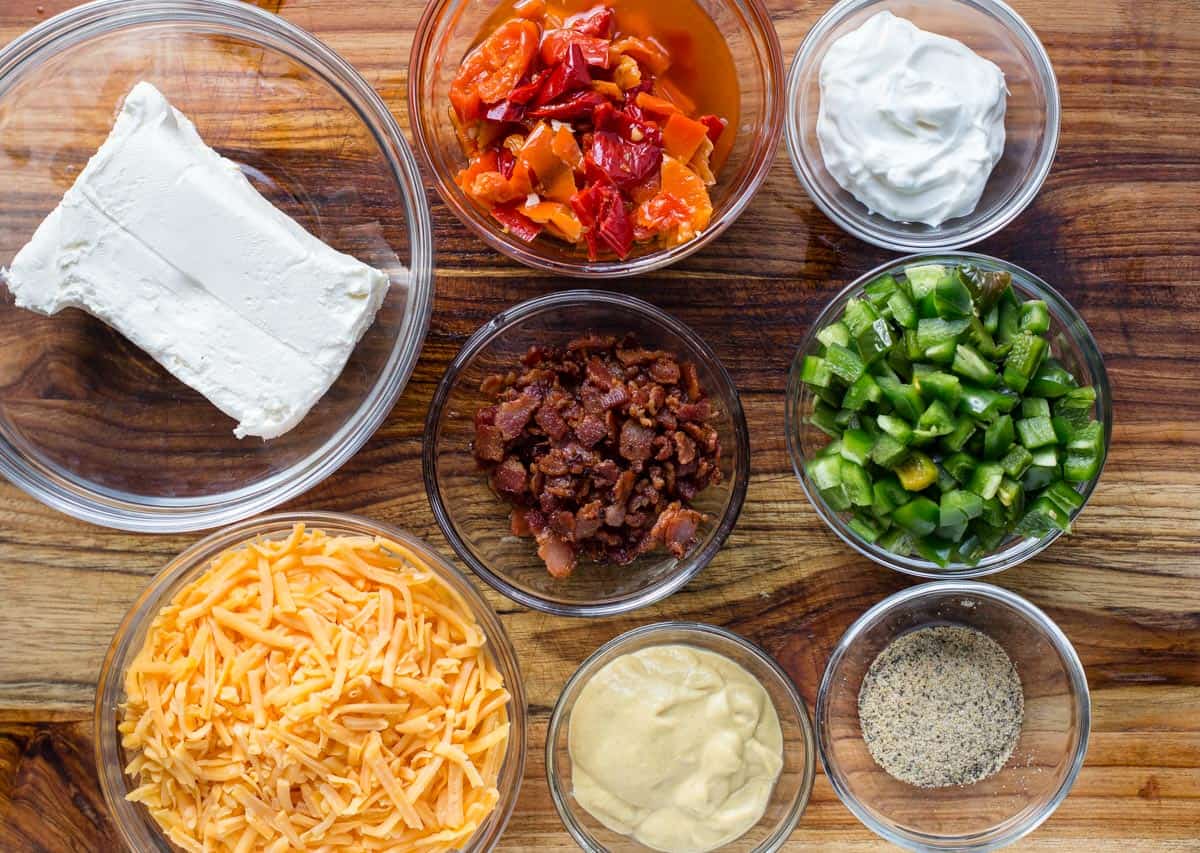 Heat Factor
If you are sensitive to spicy foods this recipe is moderate in heat units.
Remove the ribs and seeds from the jalapeños before dicing them, which removes most of the heat element. If you want it spicier you can leave the seeds and ribs. For any jalapeño popper dip recipe where you don't want as much heat, remove the ribs and stems.
How to Make Jalapeño Popper Dip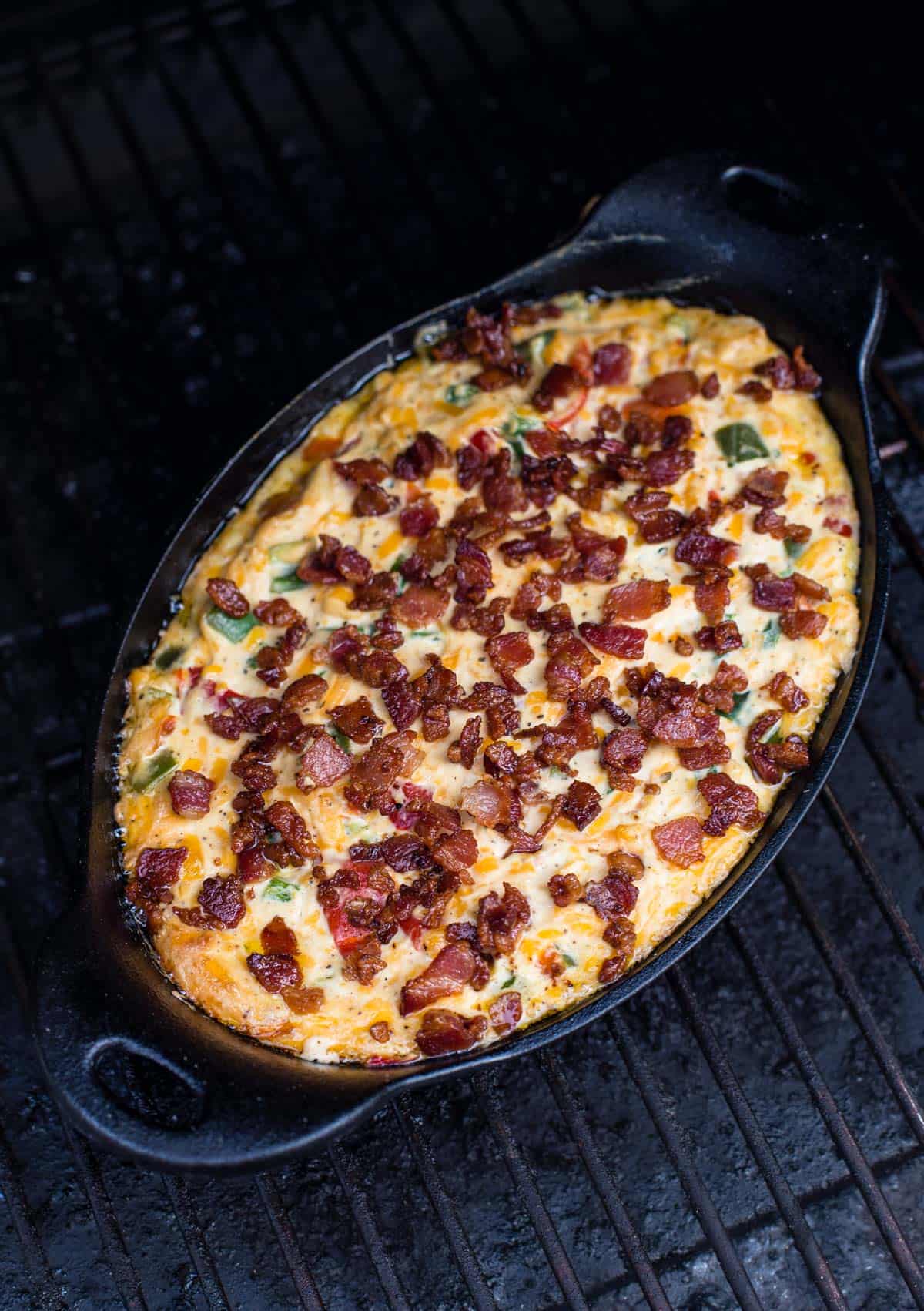 Preheat the grill for indirect cooking, targeting 375 degrees ambient cooking temperature. (If using the oven, set it to the same temperature).
In a large skillet over medium heat, crisp up diced bacon (about 12 minutes, stirring consistently). Strain and discard the fat and reserve the crispy bacon pieces.
In a large mixing bowl add softened cream cheese, sour cream, and mustard. Stir to combine and then add the remainder of the ingredients (except the bacon). Stir again to combine.
Using a spatula, pour the mix into a grill or oven-safe casserole dish or baking dish. For the grill, we use a cast iron pan. Even out the filling using the spatula, top with the crispy bacon, and place on the grill.
Grill for 25 – 30 minutes over indirect heat or until you see the cheese melt and bubbling on the sides. Remove with heat-safe gloves and let rest 5 minutes. Serve with chips, bread, or your favorite veggies.
Note: if the cream cheese isn't soft enough prior to mixing, place the cream cheese in the microwave and cook for 15 second increments until soft. BE SURE THE WRAPPER IS OFF.
Serving
Since we make this as a party food we try to use a mix of various things when serving. For garnish you can dice up some green onion as well. If you have any leftover dip the next day you can warm it up in the oven for 10 minutes at 375 degrees F.
Use tortilla chips, ritz crackers, pita chips, or your favorite buttery crackers.
Serve with fresh vegetables like carrots or celery sticks.
It's great paired as well with baguette slices and a charcuterie platter.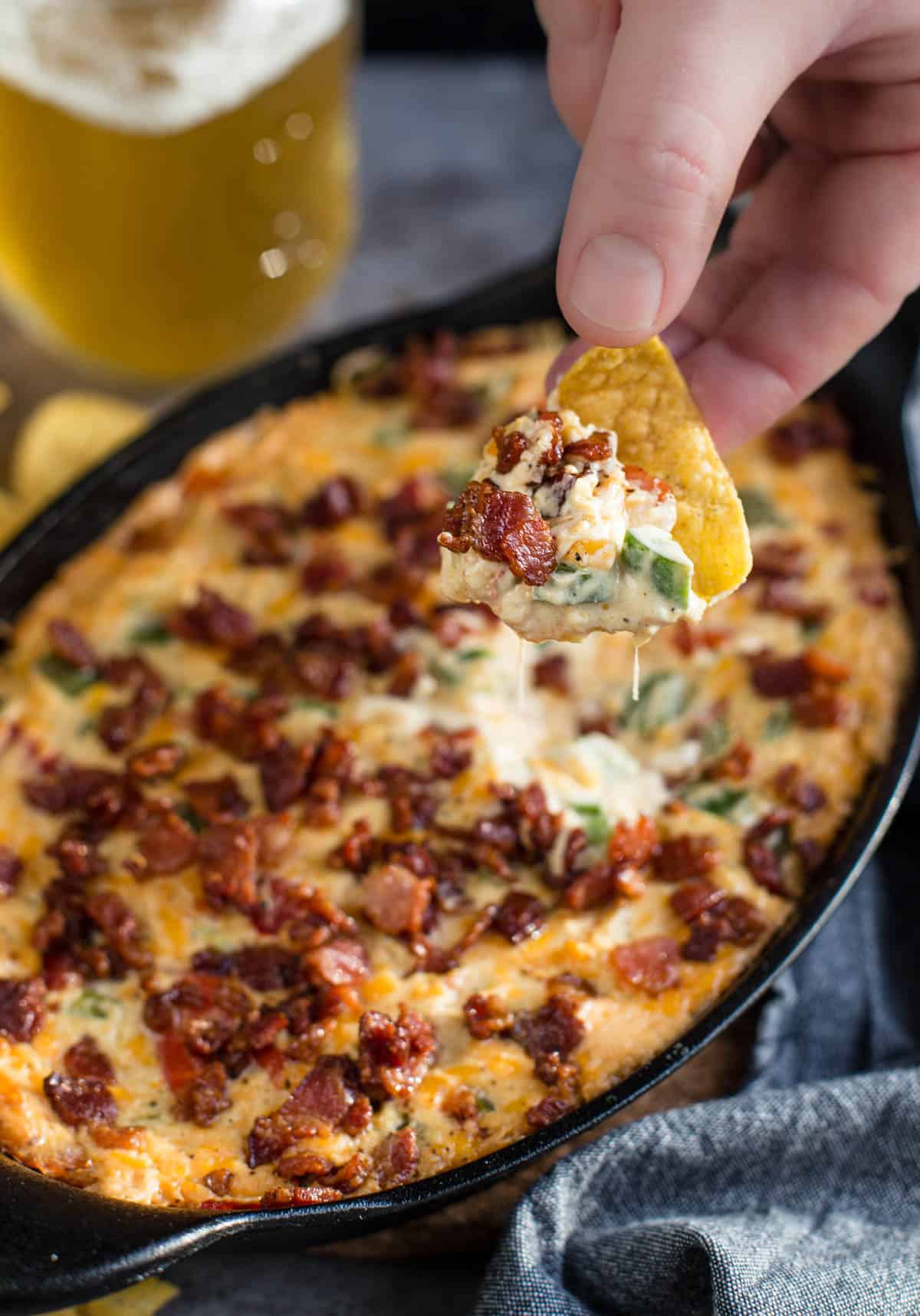 Similar Recipes
Equipment
Our jalapeño popper dip recipe can be baked easily in the oven, or on your favorite grill of any kind. We cooked this on our MAK Two-Star General pellet grill. Convenient shelving and ease of indirect cooking to keep that steady 375 degree F cooking temperature.
Tried this recipe? Give us a star rating and we would love to see! Mention @vindulge or use the hashtag #vindulge on all the social media handles. And consider subscribing to our newsletter where we drop all our favorite ideas and inspirations every week.
This post may contain affiliate links. This means if you click on the link, we may receive a small commission if you purchase through the link. We partner with brands we know and love and use and it helps keep the blog going!
---